1. Message from the Editor
2. A small matter of knowledge
3. Africa's 2015's Hazards, Incidents, Accidents and Safety Occurrences
4. Emergency Response Planning
5. Henley Global Safety and Quality Training
6. Why airlines hate squished bugs on aircraft wings
7. NASA's volcanic ash test aims to improve engine health
8. Certifying third country operators to cut red tape and boost air safety
9. News from the Johannesburg Airports
10. News from the Regulatory Authorities
11. Safety and Security
12. SAAFA donations
13. Finale
1. MESSAGE FROM THE EDITOR

During July I had my hands on a rogue item which was to have been fitted to an aircraft. The item was made from commercial metal and not the type required to ensure the safety of the crew and their aircraft. Luckily the filters designed to protect worked as the AMO refused to fit the item to the aircraft. It seems that there is a trend to try to cut costs by using non approved suppliers/parts which must be stamped out.
Vivienne
2. A SMALL MATTER OF KNOWLEDGE

Whilst here in South Africa we all know that aircraft operators under Parts 121, 135, 127, 127, 138 etc., aerodrome operators of CAT 4 and above, AMOs and other specialist engineering companies all needed to have an approved SMS in place by the 31st July 2015 do we know about the safety via an SMS of the other third party operators such as Catering Companies, Ground Handling Agents, Fuelling Companies and others who operate on airside. In general the answer would have to be a resounding no.
Airside Service Providers as detailed above all come under the jurisdiction of the specific aerodrome operator's SMS. Therefore it follows that the Aerodrome Operator is responsible, not just pay lip service to it, for all activities which may have an impact on the safety of the aerodrome, the aircraft operating into it, the staff, the passengers and the infrastructure. Therefore we must all ensure that we not only attend the monthly aerodrome safety meetings but also pay a great deal of attention to the aerodrome operator's SMS in order to gain a better understanding of our third party service providers daily activities. It also means that as these parties are not regulated by the SA CAA that we have to be most diligent when carrying out Safety and Quality Assurance Audits on all service providers.
2. AFRICA'S 2015 HAZARDS, INCIDENTS, ACCIDENTS AND SAFETY OCCURENCES

ACCIDENTS INVOLVING FIXED WING AIRCRAFT IN AFRICA DURING 2015
DATE A/C TYPE FATALITIES LOCATION

8 Jan Bantam B22J 2 Hoedspruit, RSA
14 Feb Lancair 360 2 Close to R59 near Parys, RSA
12 Mar Raven 500 2 Near the army base, close to Potchefstroom Aerodrome, RSA
25 Mar RAF200 GTX 2 Outside of Uitenhage Aerodrome, EC, RSA
20 Apr Magni MI6-Gyro 1 18km NE of Citrusdal, WC, RSA
24 Apr Karakorum-8 (K-8) 0 Gweru, Zimbabwe
15 May RV7 0 The Coves, Hartebeesport, NW, RSA
24 May Aero Trike 1 Ditlou, Limpopo Province, RSA
26 May Microlight 1 RWY03 Springs Aerodrome, GP, RSA
28 May C206 0 Maun, Botswana
31 May Light Aircraft TBA 1 Limuru, Kenya
07 Jun Windlass Aquila 1 Kroone Airfield, GP, RSA
18 Jun Spotter Aircraft 0 Witflag, Limpopo, RSA
05 Jul Maule M-7-235 0 East London Airport, EC, RSA
Source, amongst others, PlaneCrash info.com; News24, Aviation Herald, Flight Safety Information
ACCIDENTS INVOLVING ROTOR WING AIRCRAFT IN AFRICA DURING 2015
DATE A/C TYPE FATALITIES LOCATION

28 Feb MI17 0 Khartoum Airport, Sudan
08 Mar Bell UH1H 1 Cape Point, Cape Town, RSA
17 Mar Apache 2 Nr Gao, Northern Mali.
09 Apr Eurocopter B3 Squirrel 1 Mazabuka, Zambia
10 Apr RH44 0 Verulam, KZN, RSA
19 Apr MIL Mi24 2 Illizi, Algiers
22 Apr Bell UH1H 2 Bainskloof, Cape Town, RSA
30 Apr RH22 0 Rand Airport, GP, RSA
30 May RH44 1 Delareyville. NW, RSA
HAZARDS & INCIDENTS INVOLVING FIXED WING AIRCRAFT DURINGJUN 2015
HAZ INC DATE A/C TYPE LOCATION FATAL ITIES CIRCUMSTANCES OP TYPE INC

06 Jul B777-200 Lagos Nigeria 0 A/C had minor wingtip contact with another a/c whilst taxiing COM INC
08 Jul C172 Rand Airport, GP, RSA 0 Radio failure - a/c landed safely TRNG INC
11 Jul C172 Rand Airport, GP, RSA 0 Aborted take off TRNG INC
21 Jul B737 Lagos, Nigeri a 0 Burst tyre on take-off necessitated an unscheduled return from airborne COM INC
23 Jul B734 Port Elizabeth, EC, RSA 0 Minor electrical failure necessitated an unscheduled diversion into Port Elizabeth COM INC
26 Jul RJ85 O R Tambo, GP, RSA 0 Hydraulic failure necessitated an unscheduled return from airborne COM INC
26 Jul A343 O R Tambo, GP, RSA 0 Hydraulic failure necessitated an unscheduled return from airborne COM
HAZARDS & INCIDENTS INVOLVING ROTOR WING AIRCRAFT DURING JUN 2015
HAZ INC DATE A/C TYPE LOCATION FATAL ITIES CIRCUMSTANCES OP TYPE INC

20 Jul MI 17 Between Al-Fula and Balila, West Kardofan, Sudan 0 A/C carried out an emergency landing GVT
AERODROME HAZARDS

Goma, DRC: Construction Hazards - Aerodrome being fenced and runway is being rehabilitated. Unmanned aircraft. Very poor ATC. Possible volcanic activity.
Libreville, Gabon: Poor ATC coupled with inadequate navaids. Poor Marshalling combined with inappropriate behaviour of drivers on the ramp and taxiways.
Lubumbashi, DRC: Construction Hazards - runway and taxiway lighting rehabilitation taking place
Kadugli, Sudan: Poor ATC control of aircraft in the area
Juba, Sudan: Very poor ATC with only 1 frequency. Crews must be on the lookout for other aircraft in their vicinity. Vehicular traffic not obeying any regulations in terms of overtaking aircraft on taxiways and weaving in and out of aircraft on the apron
Rand Airport, RSA: Birds
Lanseria Airport, RSA: Birds
Wau, Sudan: Yellow Billed Kytes
4. EMERGENCY RESPONSE PLANNING

Blake Emergency Services is the International Crisis Management and Contingency Planning Consultancy who, although based in the UK, have serious experience in Africa having handled accidents, incidents, counselling, repatriation, DNA sampling and confirmation, in amongst others Lagos, Nigeria; Fez, Morocco; Pointe Noire, Congo; Moroni, Comores; Maputo, Mozambique and more recently Ukraine for MH017, Air Asia and Mali for Air Algerie. Please go to www.blakeemergency.com or contact rethea.mitchell@blakeemergency.com.
If you are interested in becoming a volunteer for Blake Emergency Services please contact Rethea at the address given above.
An Emergency Response Plan is a required section of your SMS and may also be added to your Operations Manual.
5. HENLEY/GLOBAL AVIATION TRAINING

Should you wish to make a booking for any of these courses please contact Candice on 011 024 5446 or by email to
candice@gaconsultants.net
DATES COURSE LECTURER COST EXCL. VAT PER DELEGATE
12 August 2015 CRM - Refresher Verity Wallace R 1,050-00
12 August 2015 DG Verity Wallace R 850-00
17 - 18 August 2015 Human Factors / CRM Initial Dr. Joel Hughes R 2,475-00
31 Aug - 1 Sept 2015 SMS Course Various R 2,420-00
31 Aug - 4 Sept 2015 Integrated Safety Management Course Various R 6,050-00
9 Sept 2015 CRM - Refresher Verity Wallace R 1,050-00
9 Sept 2015 DF Verity Wallace R 850-00
21 - 22 Sept 2015 Human Factors / CRM Initial Dr. Joel Hughes R 2,475-00
28 - 29 Sept 2015 Quality Assurance Auditor Course Dan Drew R 2,475-00
On request

Part 108 Air Cargo Security Familiarisation Doug Smit
Note: Cost per delegate includes all training materials, refreshments and lunch.
Note: Attendees paying in cash on the day are eligible for a 10% discount
Note: Both Recurrent CRM and Dangerous Goods Training Courses are available upon request - even at short notice.
First Aid and the Law, please contact candice@gaconsultants.net
Emergency Response, Incident Response, Operations Control, Emergency Response and Family Assistance training together with the writing of Emergency Response Plans and Procedures training is now offered. For more information, please contact Rethea on
rethea@gaconsultants.com
.
6. WHY AIRLINES HATE SQUISHED BUGS ON AIRPLANE WINGS


For most of us, bugs are annoying, itchy, yucky summer pests. For airlines, they are quite literally a drag - a fuel-wasting, money-eating drag. Scientists from NASA and leading plane manufacturer Boeing are pooling their collective genius to tackle the dilemma of keeping bug guts from sticking to airplane wings. Experimental flights above the insect-rich swamps of Louisiana are testing the value of non-stick coatings and new wing extensions.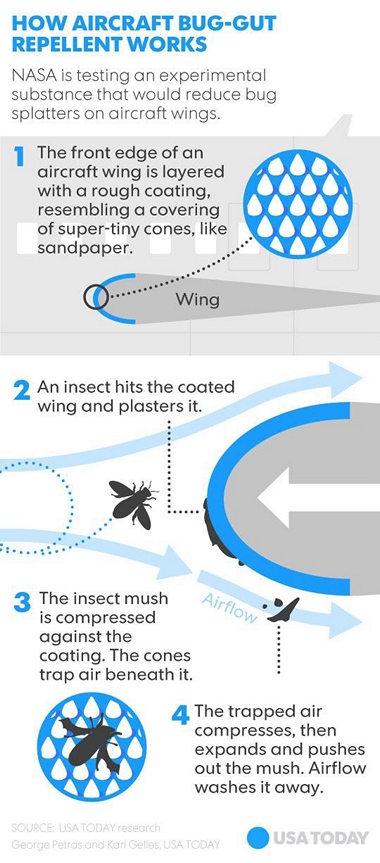 The incentive for pest control is nothing to swat at. The U.S. Department of Transportation says the airline industry spent $48 billion on fuel last year for passenger and cargo planes. Wing improvements that carry planes more smoothly through the air could save the industry as much as $2.4 billion a year - with bugs counting as a slice of that pie.
Fayette Collier, director of NASA's Environmentally Responsible Aviation program, says giving bugs the brush off could shave 0.5% off fuel costs, or $240 million in savings. "It is huge," Collier said of overall wing improvements. "The carrot is so huge, you can't ignore it." Tiny critters pose huge problems. No matter how clean a plane is on the ground, taking off through a cloud of bugs roughens the wing's leading edge. Bumpy wings from that momentary encounter increase drag and require the plane to burn slightly more fuel during hours of the entire flight.
The goal of wing research is to keep air flowing as smoothly as possible for as long as possible across the wing. NASA and Boeing are each eager to find solutions, which will be shared with the rest of the industry, to save fuel and reduce pollution. "When you burn less fuel, the engines require less maintenance. We produce less emissions. There's less carbon dioxide," said Mike Sinnett, Boeing's vice president for product development. "Across the board, burning less gas is a good thing."
ASA has been looking to give bugs the brush off for at least 30 years. Decades ago, efforts included spraying a substance on the wing with anti-icing fluid, like buttering a skillet, so bugs would slip off, or attaching paper that peeled away after takeoff like a used napkin. But each had their own costs and environmental concerns. "You really don't want to have littering in the sky," said Mia Siochi, a senior materials researcher at NASA's Langley Research Center in Hampton, Va. Early experiments used a gun to fire bugs - first crickets and then fruit flies - at the wings of planes to replicate the 150 mph speed of a jet taking off, she said. But it was tricky in the lab to match the sticky impact of bugs hitting a wing during takeoff. The insect, not knowing that it's been catastrophically hit, is actually trying to heal, like blood coagulating to heal the wound," Siochi said. "It's getting stickier."
Recent efforts to reduce fuel consumption, pollution and noise are now the province of NASA's Environmentally Responsible Aviation program or ERA. Since 2009, ERA has spent about $420 million to identify and test eight strategies to improve jet performance and efficiency, Collier said. About $2 million to $3 million went toward bug research, with private partners such as Boeing also contributing, he said. Boeing and NASA scientists flew a Boeing 757, nicknamed the ecoDemonstrator, over the swamps around Shreveport, La., from April 27 to May 15 to test a couple of options - a coating like Teflon and a wing extension that shields the wing from bugs during takeoff. "We don't have the answers yet," Sinnett said. "That literally is what caused us to go out and find a plague of locusts."
NASA developed five experimental surfaces, which were attached to the 757's right wing in 2-foot-by-3-foot plates. Researchers counted 100 to 200 bug splatters on a regular metal section of wing, but as much as a 40% reduction in splats on the best experimental panel. "It was visible as you walked up to the wing," Siochi said. The best surface was inspired by the lotus leaf, she said. Tiny ridges that aren't visible to the naked eye let bug gunk run off like water rolling off a leaf. "It looks like mountains," Siochi said.
Another option that looked promising in the Louisiana swamp was a wing extension that provides extra lift at takeoff, but then retracts to fit snugly beneath the wing at cruising altitude. The unexpected benefit is that, like a glove, the so-called Krueger flaps also shielded the wing of the ecoDemonstrator from bugs.
"That gives us an unintended capability to block the leading edge of the wing from bugs because the bugs smack into the Krueger first," Sinnett said. "Then that Krueger folds away when you get up at cruise."
While the flaps are installed on newer versions of the Boeing 747, they wouldn't necessarily work for all planes because of the shape and design of the rest of the wing, Sinnett said. Special coatings like the ones NASA is exploring could work on other planes.
Now researchers are huddling to gauge the results. Airlines must weigh the costs and benefits of the adding the technology to the fleet, and whether the technology can withstand tens of thousands of flights. If the analysis looks promising, researchers say the gleaming result could appear routinely outside airliner windows in the mid-2020s.
"We're looking into the future," Collier said. "The wing is the next thing."
7. NASA'S VOLCANIC ASH TEST AIMS TO STUDY ENGINE HEALTH, IMPROVE AVIATION SAFETY


EDWARDS (CBSLA.com) - One of the more tragic aspects of a flight crash is the circumstantial fact that, sometimes, the pilot simply does not have control over the anomaly that causes the aircraft to fail. Ice build-up on the wings, external weather variables and other environmental elements can be decreased, even avoided, by experienced pilots who know the manoeuvres or adjustments necessary to reduce their effects. Too little can often be done, however, to predict or address the issue most commonly associated with in-flight disasters - engine failure.
The lack of control over a situation caused by engine failure or shutdown is a dire reality indeed, and it is responsible for the majority of aviation apprehension.
Researchers at NASA's Armstrong Flight Research Center, located in the deserts of Antelope Valley, north of Los Angeles, are working to eliminate, or at least alleviate, part of the engine failure factor from the aviation equation.
The VIPR (Vehicle Integrated Propulsion Research) project, the product of a partnership between NASA, the U.S. Air Force and a number of other agencies and companies, is a series of tests to evaluate health management technologies on commercial engines.
"Our objective is researching engine health technologies," principal investigator John Lekki of NASA's Glenn Research Center said. "We're looking at technologies that will be able to identify aircraft engine faults at the beginning stages. We want to be able to identify those and diagnose them, and then also give an idea of how they're going to change over time."
These tests began in 2011, and have focused on how engine compromise is associated with the pollution or corruption of that engine's sensors. Through implementing environmental fault scenarios in these tests, AFRC researchers are learning more about engine health through new sensors, and are able to assess advances in engine diagnostics.
Two F-117 turbofan engines, provided by the Air Force, were mounted on a C-17 aircraft, on which the tests are performed as the aircraft is grounded. These tests include studying the engine through normal engine operations, seeded mechanical faults, seeded gas path faults, and finally, accelerated engine life degradation through the ingestion of volcanic ash.
The subjection to volcanic ash represents the next stage of NASA's VIPR testing at AFRC. "Volcanic ash for us, initially, was a medium that we could use to fully degrade the aircraft's engine, and we're interested in degrading the engine to see how well our health management technologies pick up these faults, and how well we can determine what the trend of the engine is going to be. We chose volcanic ash because it's an interesting way to fault an engine, but it's also something that hasn't been carefully studied, and it's something that is definitely a need that we have."
USGS estimates that there are about 1,500 active volcanoes on the planet. Any time there are eruptions, it can create problems for aviation. When Eyjafjallajökull erupted in Iceland in 2010, the result was a shutdown of much European airspace for two weeks, which had a $2 billion impact on the industry. What damaged the aviation industry further was the subsequent scramble to figure out what airspace was safe to fly in, and what had to be avoided.
This confusion stemmed from the fact that there hadn't been any studies on the effect of this volcanic ash on engine health - until now.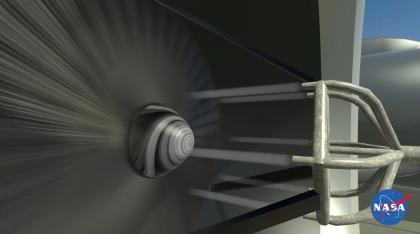 The test works by using a "spider" spray rig, developed by General Electric, to deposit "low to moderate" concentrations of volcanic ash, collected by project partner Rolls Royce, into the C-17's running engine. Among the sensors under study is a vibration sensor, as well as a thin film sensor - a dynamic temperature sensor which picks up quick temperatures fluctuations in the engine. In the turbine section of the engine, which is a challenging space for instrumentation due to high temperatures, and which is where the "heavy lifting" of the aircraft is done, a microwave tip clearance sensor, developed through the NASA Small Business Innovation Research program, was installed.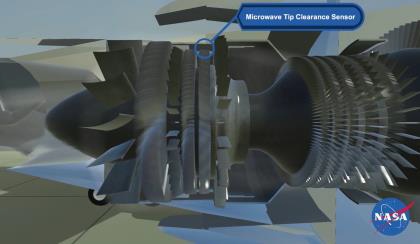 "This sensor can measure the gap between the outer wall of the turbine and the tips of the turbine blades," Lekki described. "This is a key measurement in aircraft engines, because if we can measure this, and measure precisely, not only can we tell whether or not there are problems with the turbine blades, which has been one of the really difficult areas to get health management information out of, but we can also look at adding what we call active clearance control to the engine. Active clearance control will give us the benefit of having a more fuel-efficient engine."
Ash accumulation on the engine's compression blades contributes to erosion, ultimately compromising the health of the engine, and therefore, the safety of the flight.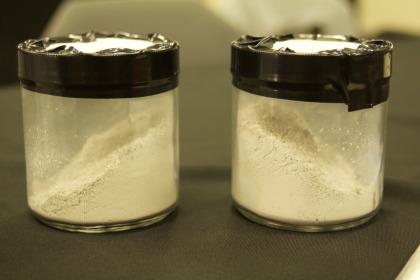 Behind the engine, emissions sensors are installed to read the combustion of the engine, giving more insight to the health of the engine.
Through the volcanic ash test, researchers aim to study the effect of several hours of exposure to the ash. The tests have three primary objectives:
The incorporation of smarter sensors designed to improve flight safety and reduce aviation costs.
The detection of potential engine faults.
The evaluation of advances in engine diagnostics.
"The primary benefits of health monitoring, in the long term, are mostly economic benefits," Paul Krasa of NASA's Langley Research Center said. "They let you really take a look into the health of the engine that you can work on things when there are issues. That's the primary direction that the (aviation) industry is looking at health monitoring."
NASA considers itself as being in a position of responsibility, to lead the way to frontiers unknown, as well as to make safer those endeavours which we have discovered, and continue to master. The goal of making aviation safer for all of us is one NASA takes seriously, and one which the researchers at AFRC are making a reality.
8. CERTIFYING THIRD COUNTRY OPERATORS TO CUT RED TAP AND BOOST AIR SAFETY


At the beginning of July, the Commission and the European Aviation Safety Agency (EASA) issued the first single air safety authorisations to 22 third country operators. These certifications will be valid throughout the EU. By 2016, all non-EU airlines wishing to fly to the EU will be required to hold such authorisation certifying their compliance with international safety standards. The objective of this new scheme is twofold: cutting red-tape by replacing today's maze of national authorisations with a single document and maintaining high level of aviation safety in Europe. EASA will be the "one-stop shop", delivering the authorisation to airlines.
EU Commissioner for Transport Violeta Bulc said, "The new safety authorisation scheme has a clear European added value. It will take the safety of Europeans one step further by ensuring that third country operators flying to Europe match the highest safety standards, comparable to those the EU requires from European carriers. The "one-stop-shop" approach means cutting red-tape and reducing administrative costs for airlines."
EASA's Executive Director Patrick Ky added, "I am honoured to deliver the first single safety authorisations to 22 airlines originating from all over the world and covering different business segments. This new system further increases the safety standards that passengers expect. A total of 700 foreign air carriers from more than 100 countries have already applied to be authorised to fly in the European Union." These 22 authorisations were signed by Mr Patrick Ky during a ceremony held at Brussels airport, in the presence of Commissioner Violeta Bulc. By November 2016, all third country operators, regardless of whether they already fly to the EU, will be required to hold such authorisation. This new system complements the two existing EU-wide tools to prevent unsafe airlines from operating in the EU: the air safety list, which was updated on 25 June 2015, and the system for aircraft ramp inspections SAFA (Safety Assessment of Foreign Aircraft).
The new authorisation system does not apply to EU airlines, which are still subject to safety oversight and certification by National Aviation Authorities. Next steps. Additional authorisations will be signed in the coming months. All will be published on EASA's website.
Background
The Third Country Operators (TCO) authorisation is provided by the European Aviation Safety Agency (EASA) and confirms EU-wide compliance with international safety standards. The authorisation is therefore valid throughout the EU.
TCO safety authorisations are provided by EASA under the mandate of a European Commission Regulation known as PART TCO adopted by the Commission on 29 April 2014. This marked the beginning a of a formal single EU-wide safety assessment process for foreign airlines that wish to fly to the EU. EASA manages the assessment process on behalf of the European Commission.
Obtaining such an EU-wide safety authorisation will become a prerequisite for obtaining an operating permit in each Member State. EASA is perfectly well placed to carry out the required safety assessment and subsequent monitoring of TCOs.
PART TCO complements the existing EU Air Safety List Regulation as well as the SAFA Programme (Safety Assessment of Foreign Aircraft).
For Airlines registered in the EU certification and safety oversight is conducted by the National Aviation Authorities on the basis of EASA standards. In addition EU wide safety inspections are conducted under the Safety Assessment of Community Aircraft (SACA) programme.
For More information:
EASA website: http://easa.europa.eu/TCO
List of foreign airlines receiving TCO authorisations in early July:
AEROFLOT RUSSIAN AIRLINES JSC , AEROVIAS DE MEXICOS S.A. , AIR NEW ZEALAND Ltd. ,ALL NIPPON AIRWAYS, LTD, DELTA AIRLINES, INC., EL AL ISRAEL AIRLINES LTD, EMIRATES AIRLINE, ETIHAD AIRWAYS P.J.S.C, GUNES EKSPRES HAVACILIK (SUN EXPRESS), JAPAN AIRLINES COMPANY, LTD., KOREAN AIRLINES CO., LTD, MNG HAVAYOLLARI VE TASIMACILIK A.S., NIPPON CARGO AIRLINES CO. LTD, OMAN AIR (S.A.O.C.), ORENBURG AIRLINES, PEGASUS HAVA TASIMACILIGI A.S., QANTAS AIRWAYS LIMITED, QATAR AIRWAYS (Q.C.S.C.), SINGAPORE AIRLINES LTD., SOUTH AFRICAN AIRWAYS SOC LTD., TAM LINHAS AEREAS S.A., UNITED AIRLINES, INC.
9. NEWS FROM THE JOHANNESBURG AIRPORTS


Users of the Johannesburg aerodromes must be aware of the fact that they all take Aviation Safety and AVSEC very seriously. If you want to use them as a Pilot or are employed in any way on them then we would recommend that you make yourself very aware of Part 139 in the SACARs and the Rules and Regulations applicable to that particular aerodrome. Be prepared for fines being levied if you breach any of the SARPs.
RAND AIRPORT, GERMISTON
- www.randairport.co,za
Next Safety Meeting will be held on Tuesday 1st September 2015 at 09.00 in the Old Customs Hall.
The wearing of high visibility jackets/waistcoats is mandatory for all persons, excepting for passengers under escort, on airside. (SA CAR 139.02.22(6))
Drivers found to be speeding on airside will have their access remote taken from them.
Vehicles being driven on airside must carry proper mandatory insurance cover
All delivery vehicles and visiting vehicles requiring access to airside MUST be escorted from the access gate to the premises and then after closure of their business back to the gate for egress.
All operators are required to report Bird Strikes to the Safety Office even if there has been no structural damage to the aircraft as a result of the strike.
A date for your diary - The Grand Rand Show will be held on 23 August 2015
LANSERIA AIRPORT
- www.lanseriaairport.co.za
Next Safety, Security and Stakeholders Meeting will be held on Tuesday 8th September 2015 at 12.00 in the LIA Training School.
The wearing of high visibility jackets/waistcoats is mandatory for all persons, excepting for passengers under escort, on airside. (SA CAR 139.02.22(6))
Drivers shall obey the published speed limits which are 30 on airside and 40 on landside - these will be enforceable from 1st May 2015
The ring road is under repair from the water treatment plant through to the entrance. Check with the Operations Centre for up to date information.
GRAND CENTRAL AIRPORT
, MIDRAND
Next Safety Meeting will be held on Tuesday 1st September 2015 at 12.00 in the Boardroom
The wearing of high visibility jackets/waistcoats is mandatory for all persons, excepting for passengers under escort, on airside. (SA CAR 139.02.22(6))
Drivers found to be speeding on airside will have their access revoked
10. NEWS FROM THE REGULATORY AUTHORITIES


Part 101 which covers Remotely Piloted Aircraft Systems came into effect on 1st July 2015.
Part 140 is undergoing an upgrade. A Safety Management Industry interactive Sessions was held on the 31st July during which the industry was advised of the status of the new Part. All A.S.O.s are requested to please keep a close eye on the CAA website as the SACAA will publish the draft version on it following its release from CARCOM in the next couple of weeks. Any comments should be referred to
sms@caa.co.za
.
11. SAFETY AND SECURITY


US aviation giant Boeing said it has asked airlines to address a maintenance issue after a passenger jet's landing gear panel fell off after takeoff and fell on a Shanghai suburb. The sheet of metal weighing 130 pounds (60 kilograms) plunged to the ground shortly after Air France Flight 111 took off from Shanghai headed for Paris on Monday, Boeing said. No one was injured in the Boeing 777 incident.
"We've been working real closely with our customers and have provided guidance on how to make any maintenance required," spokesman Chris Villiers told AFP. "It does not affect the structural integrity of the landing gear nor the safety of the flight." He said Boeing was treating the incident "with utmost concern and urgency." The panel, which Villiers stressed was not part of the landing gear structure itself, is one of the parts that open and close as the landing gear deploys.
Boeing has issued a service bulletin to the fleet providing instructions on how to resolve the issue. The problem has to do with the fasteners that hold the panel in place. In a statement, Boeing said: "We have implemented the change for airplanes produced in our factories." More than 1,100 Boeing 777 aircraft are in service with dozens of airlines around the world.
On the Security Front the radicalisation of Air Crew who are persuaded to throw in their lot with ISIS has increased in recent months. "Pilots, air crew and others with access to and within the aviation environment can pose obvious threats if these persons are radicalized. Their access and knowledge of security and safety regimes provides the ability to attempt attacks as witnessed by past global events," In a recent issue of Inspire, the magazine published by Al Qaeda in the Arabian Peninsula, encouraged attacks by those involved in aviation.
So the old adage of know you fellow crew members and if you don't check them out with Operations before the flight is the way to go to ensure the Security of your operations. You should keep an eye on fellow crew members and report any change in behaviour or outlook - confidentially if need be - to the person responsible for Aviation Security in your organisation.
12. SAAFA DONATIONS


Should you wish to make a donation to this more than worthy cause then please pay it (via EFT or as a deposit) into;
Standard Bank Bedford Gardens; Bank Code 018 305; Account Name: SA Air Force Association (JHB Branch); Account Number: 022 605 568. You may use either your Company or Individual name along with the word donation as the reference.
13. FINALE


SITUATIONS VACANT. If you are interested and qualified please send your CV to global@gaconsultants.net
Part Time Consultant Air Safety Officers required who comply with the requirements of SA CARS Part 135, Part 121, Part 127, Part 140, Part 141 and Part 145 - must have had appropriate SMS training, previous experience and preferably been approved by the South African Air Services Licencing Council.
Part Time Quality Assurance Consultants required who are appropriately qualified and comply with the requirements of Part 135, Part 121, Part 127, Part 140, Part 141 and Part 145.
Part Time Aviation Security Consultant required who is appropriately qualified for RSA and International Operations.



Can we help you with your aviation safety and / or quality requirements?


Under SA CAR 140.01.2 if you and your organisation hold one of the following
a category 4 or higher aerodrome licence;
an ATO approval;
an aircraft maintenance organisation approval;
a manufacturing organisation approval ;
an ATSU approval;
a design organisation approval;
an AOC issued in terms of Part 121, 127, 135, 141;
a procedure design organisation approval; and
an electronic services organisation approval,
then you shall establish a Safety Management System for the control and supervision of the services rendered or to be rendered by that organisation.
If you do not already have an approved Air Safety Officer and an approved Safety Management System then please contact us for assistance.
We, at Global Aviation Consultants, deliver the following SA CAA Approved training courses for Air Safety Officers at Rand Airport;
Safety Management Systems
Integrated Safety Officer Course
Quality Assurance Auditor
Crew Resource Management (Initial and Recurrent)
Dangerous Goods
Human Factors for AME's
Should your operation be of a size whereby the full time employment of an Air Safety Officer and/or Quality Assurance Officer is not financially viable then we can provide you with Consultants who have previously held Air Services Licensing Council approval. We can also provide you with a tailor made SA CAA approved Safety Management System.
For further information on how we can help you please contact Rethea or Candice in Hanger 6, Rand Airport, Germiston on 011-024--5446/7 or e-mail
global@gaconsultants.net

Global Aviation Consultants accepts no liability for the content of this email, or for the consequences of any actions taken on the basis of the information provided, unless that information is subsequently confirmed in writing. If you are not the intended recipient you are notified that disclosing, copying, distributing or taking any action in reliance on the contents of this information is strictly prohibited.