THIS WEEK IN MIDWEEK UPDATE


Plan your weekend
Forthcoming events
Notice Board
This week in aviation history
Worldwide incidents and accidents
Aviation News
Advertising rate card

20 - 29 August: Sports Aerobatics Club Unlimited World Championships - France Contact Annie Boon chunge@mweb.co.za
23 August: Grand Rand airshow (Sunday) Contact Stuart Coetzee e-mail: manager@randairport.co.za Tel: 011 827 8884

29 August: Bethlehem Aero Club fun navigation rally. Contact Izak Venter e-mail: izak@motsu.co.za or Francois Marais e-mail: info@stanfra.co.za
5-6 September: Fly & Braai @ FAGL (Groblersdal). If you want to stay over bring your tent or stay at a B&B in Town. Bring along: Your own Dop & Tjops. Contact: Fanie: 0834498638, Oom Piet: 0741601429, Dries: 0829077817, Christo: 0824162159 or Dawie: 0823884401
12 September: Kitty Hawk is pleased to once again host the RV lotus day. Free caps and an American breakfast for participating RV pilots. All aircraft are welcome! More detail closer to the time! Contact our airport manager Dawie for more detail: 0767980235
12 - 13 August: Sports Aerobatics Club Gauteng regionals and Judges Trophy - Vereeniging Contact Annie Boon
chunge@mweb.co.za

4-6 September: Petit Vintage and Classic Fly-in. Contact Ivan van der Schaar 0823759180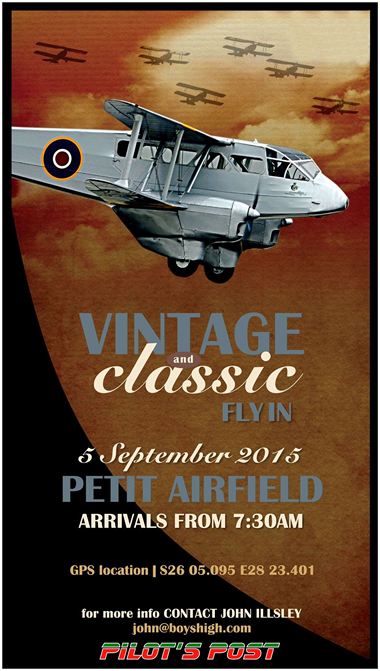 5 September: SAAF Museum flying training and open days. Contact Capt. Kobus Kapp 012 351 2342 or E-mail: webmaster@saafmuseum.org
18-20 September: Pyramid Air Park Aviators Weekend Barberton. Contact Peter Lea peter@irricon.co.za or 0825534908
17-20 September: Botswana Air Race at Matsieng, It is going to be the best ever race with sponsored fuel, tents and lots more. Contact
admin@airrace.co.bw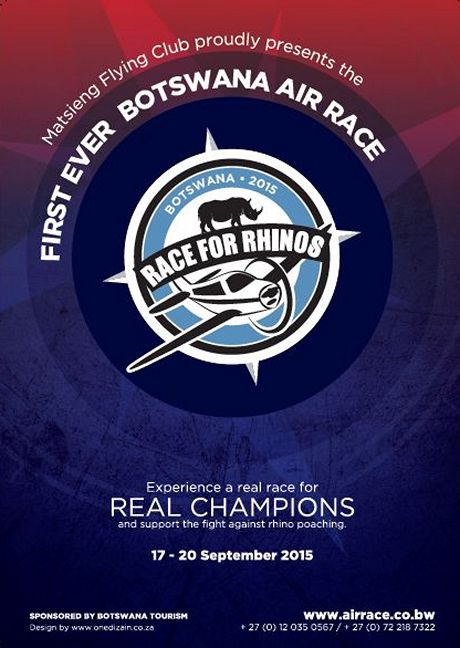 3 October: SAAF Museum flying training and open days. Contact Capt. Kobus Kapp 012 351 2342 or E-mail: webmaster@saafmuseum.org
3 October: SAPFA Fun Rally Grand Central. Contact Jonty Esser e-mail: jontye@x7online.co.za Cell: 076 302 0451
10 October: Spring 2015 TMG Fly in at Bundu Inn Flying Estate. Contact Marietjie van Niekerk on 0827656670 or marietjievn@gmail.com
24 - 25 October: Sports Aerobatic Club KZN regionals - Ladysmith. Contact Annie Boon chunge@mweb.co.za
31 October: Bethlehem Aero Club fly-in and hangar dance. Contact Izak Venter e-mail: izak@motsu.co.za or Francois Marais e-mail:
info@stanfra.co.za

7 November: SAAF Museum flying training and open days. Contact Capt. Kobus Kapp 012 351 2342 or E-mail: webmaster@saafmuseum.org
13 to 15 November: Mafikeng annual fly-in and hangar dance. Contact Connie Conradie 082 449 1546 e-mail: info@mafikeng-flyingclub.co.za
21 November: SAPFA Fun Rally Brits. "Peter Hengst Memorial Fun Rally Contact Jonty Esser jonty@aircraftoc.co.za for Rally information and entries and Trixiie Heron editor@afskies.co.za for EAA"
5 - 6 December: SAC ACE of Base - Baragwaneth airfield (Syferfontein) Contact Annie Boon chunge@mweb.co.za
5 December: SAAF Museum flying training and open days. Contact Capt. Kobus Kapp 012 351 2342 or E-mail: webmaster@saafmuseum.org
7 December: ICAD (International Civil Aviation Day) Contact Mark Swarts e-mail: SwartsM@caa.co.za Cell: 082 878 0875




BE A SAFETY FIRST AVIATOR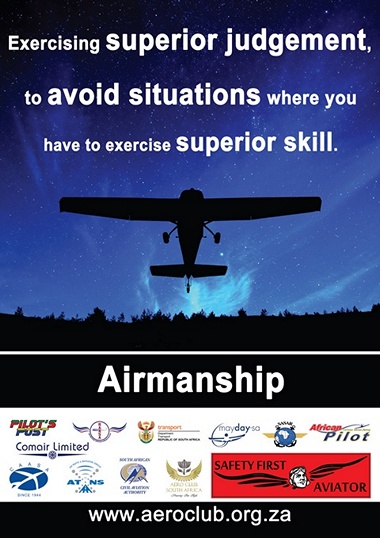 August 20 1953 - Using aerial refueling, 17 U. S. Air Force F-84G Thunderjets make the longest-ever nonstop flight by jet fighters, flying 4,485 miles (7,218 km) from the United States to the United Kingdom.
August 20 1939 - The last rigid airship, the Graf Zeppelin (LZ 130) makes its last flight.
August 20 1913 - 700 feet above Buc, France, parachutist Adolphe Pegond becomes the first person to jump from an airplane and land safely.
August 21 1989 - Unlimited class racer Rare Bear, a highly-modified Grumman F8F-2 Bearcat, sets a new piston-powered speed record of 850.24 kilometers per hour (528.32 miles per hour) at Las Vegas, Nevada.
August 22 1970 - Two Sikorsky HH-53 C helicopters complete a non-stop transpacific flight of 9,000 miles (14,484 km) using in-flight refueling.
August 22 1918 - Lieutenant Frigyes Hefty of the Austro-Hungarian Air Corps successfully parachutes from his burning fighter after a dogfight with Italian aircraft. He is the first person to survive a combat parachute jump.
August 22 1909 - The first great aviation meeting in Bétheny, France, opens as 23 European airplanes make 87 flights during one week. The meeting will have a strong influence on the technical and military aspects of flight.
August 23 1977 - Gossamer Condor became the first human-powered aeroplane, flying a figure-8 course to demonstrate sustained, controlled flight
August 23 1878 - The British government uses its first military aviation budget (£150) to build and fly their first balloon, the Pioneer
August 24 1979 - A Stearman biplane, aircraft registration number N48784, flew into electrical transmission lines that cross Lake Natoma at Mississippi Bar. Jacquelyn Burnett, a passenger in the biplane, was killed. The pilot, Stephen Francis Williams, was convicted of manslaughter. His conviction marked the first time in United States history that a pilot was held criminally responsible for the death of a passenger. Williams had previously killed his own 12-year-old daughter, Patricia Anna Williams, by attempting a take-off in dense fog at the Salinas Municipal Airport.
August 24 1932 - Amelia Earhart is the first woman to fly across the United States non-stop (from Los Angeles to Newark, New Jersey).
August 25 1976 - The British Airways Concorde registered G-BOAD makes her maiden flight out of Filton, England. Today she is on display at the USS Intrepid Sea, Air & Space Museum in New York.
August 25 1912 - Royal Navy aviator Wilfred Parke becomes the first pilot ever to recover from a spin, regaining control of his Avro Type G biplane 50 feet from the ground at Larkhill, England.

Japan, Tokoky: A U.S. Army UH-60 crashed into the sea about 20 miles east of Kadena Air Base on Okinawa injuring seven people aboard. Others aboard the helicopter were uninjured.
Germany, Bavaria: A U.S. F-16 crashed in a Bavarian forest in southern Germany. The pilot managed to eject and suffered only light injuries. The jet had taken off from the Grafenwoehr military training ground and subsequently crashed during a manoeuvre.
USA, Tampa: A 63 year old pilot was seriously injured when his Evans Volksplane VP-1 plane crashed in a wooded area near the Brooksville-Tampa Bay Regional Airport.
USA, Fresno
:
Pilots on board a medical emergency helicopter transporting a patient from the mountains to a hospital had to take evasive action when a drone flew right into their path near Fresno. The pilot made a sharp turn just barely dodging the drone that was mere feet away.




THE MOST BEAUTIFUL PLANE NEVER FLOWN IS JUST WEEKS FROM ITS MAIDEN FLIGHT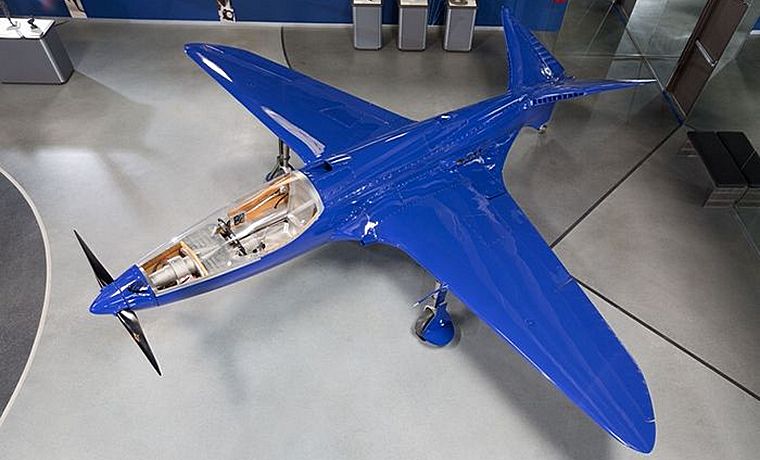 The year was 1939. Ettore Bugatti - one of the most interesting and innovative individuals involved with the auto industry's formative years - was furiously working on his company's only aircraft. But this wasn't just any aircraft: like his cars, Bugatti's 100P was a technological marvel, featuring two engines driving concentric propellers in opposite directions. Air intakes gracefully integrated into the plane's V-tail would keep those engines cool, while unusual forward-swept wings would give the 100P a striking profile in flight. Ettore was hoping that by racing this beautiful machine - and winning - he'd burnish his brand.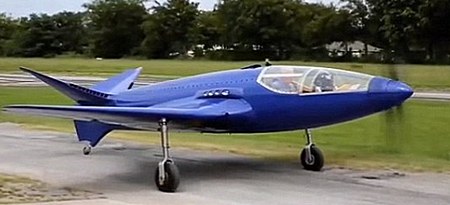 But World War II soon gripped Paris, and Bugatti was forced to scuttle the project. The only 100P ever made never flew and was left to rot for a half century before eventually being restored to non-flying condition (it rests today on display in the EAA AirVenture Museum in Oshkosh, Wisconsin).
Fast forward to 2013, when a team led by former Air Force pilot Scott Wilson launched a Kickstarter project to create an airworthy 100P from scratch. At that time, construction was nearly complete, but Wilson needed more money to finish the project. "Reve Bleu" - Blue Dream - eventually raised a little over $62,000, and today, the new aircraft is nearly ready to take to the skies for the first time.
In recent days, the 100P has run its engines and performed taxi tests, and it looks amazing on the ground. It'll look even better from above.

THE ROYAL JORDANIAN AIR FORCE CHOOSES THE PILATUS PC-9 M TRAINING SYSTEM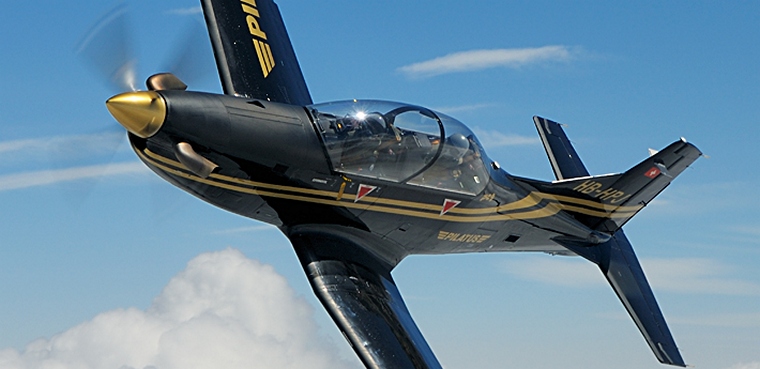 Photo © Pilatus

Pilatus Aircraft Ltd is delighted to announce that the Royal Jordanian Air Force (RJAF) has signed a contract for the purchase of nine Pilatus PC-9 M training aircraft. The order also includes a simulator, training equipment and a comprehensive logistics support package.
Keen to modernise its pilot training facilities, the RJAF has opted for the Pilatus PC-9 M, knowing that it will provide a resolutely up-to-date, high performance, cost-effective system for basic and advanced pilot training. The order was only awarded after several years of hard negotiations, from which the PC-9 M finally emerged as the winner.
Oscar J. Schwenk, Chairman of the Board of Directors at Pilatus, commented: "We are very pleased to welcome the Royal Jordanian Air Force as a new member of the Pilatus family. I am equally happy that Pilatus won the deal against several other international competitors and that, in the final round, the Royal Jordanian Air Force chose our PC-9 M over all other aircraft!"
Markus Bucher, CEO of Pilatus, adds: "We are truly delighted to have a new customer and are confident that this purchase will encourage other air forces to consider our efficient Pilatus training aircraft for their own pilot training needs in the future. This decision is further proof that we are a world class provider of training aircraft!"
The PC-9 M is a proven and efficient training system already used with great success by many air forces around the world. The PC-9 Ms acquired by the RJAF will be ready for delivery from January 2017 and will form the future backbone for training the pilots tasked with flying the latest generation of military jets.
Pilatus guarantee to provide the RJAF with premium Swiss quality, working with our customer to implement the optimum training system for its requirements in respect of basic and advanced pilot training - the Pilatus PC-9 M.
TEXTRON AVIATION'S NEWEST PRODUCTS FLY SOUTH FOR LATIN AMERICA DEBUT AND DEMO TOURS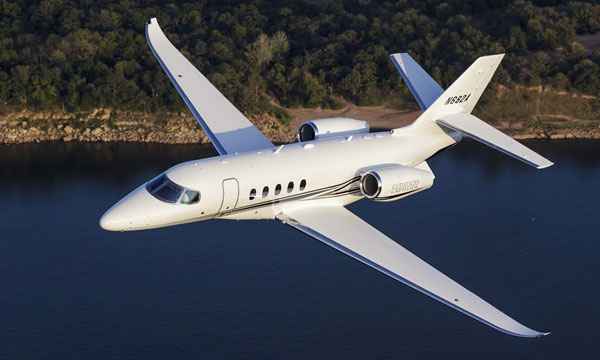 Photo © Textron


Textron Aviation, a subsidiary of Textron Aviation Inc., a Textron Inc. company announced its plans to headline the Latin American Convention & Exhibition (LABACE) in Sao Paulo, Brazil, with its three newest aircraft models - the Citation Latitude, Citation CJ3+ and Beechcraft King Air 250 with Pro Line Fusion avionics system - all of which have certified in the last year.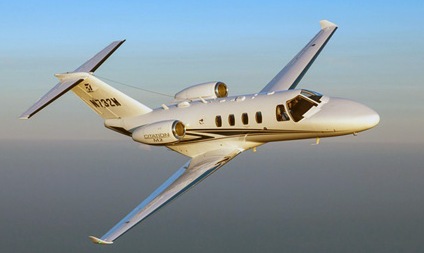 "Since our appearance at LABACE last year, we have demonstrated our leadership in certifying and bringing new products to market, which is evidenced by the debut this year of the Citation Latitude, Citation CJ3+ and Beechcraft King Air 250 with Pro Line Fusion," said Bob Gibbs, vice president, Sales, Latin America and Caribbean, Textron Aviation. "With the breadth of the product portfolio offered by Textron Aviation, operators throughout the region can be assured that virtually any mission need can be satisfied by Beechcraft or Cessna products."
Cessna Citation Leading the way for Textron Aviation is the newly certified Citation Latitude. With a range of 2,850 nautical miles, the aircraft boasts exceptional mission capability. The Latitude's flat floor and six feet of cabin height affords the most open, spacious, bright and refined cabin environment in the midsize category. Combined with its midsize acquisition price and low operating costs, the Latitude provides unmatched value and comfort for customers in its class.
DISCOVERY AVIATION EXHIBITS AT EAA AIRVENTURE AT NEW LOCATION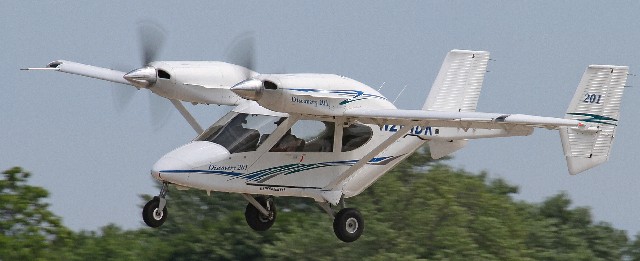 Photo © Willie Bodenstein

Discovery Aviation, Inc. exhibited at EAA AirVenture in Oshkosh 2015. On display at Discovery's booth was the 7 seat, twin engine, amphibious utility aircraft - the Discovery 201 and the 2 seat, IFR Certified, flight training aircraft - the Discovery XL-2. Both aircraft meet the demands of aviation business and training needs.
"As Discovery continues to expand its operations with the recent announcement to build a $4 million, 50,000-square-foot manufacturing facility in Melbourne FL; AirVenture is a key event to connect with customers, work with our manufacturing partners, and grow our dealer network" said Paul Bartlett, Discovery's C.O.O.

Photo © Discovery Aircraft

About the Discovery 201
The Discovery 201 is a flexible, multi-role utility aircraft, capable of operating from paved runways and rough fields. When equipped with optional floats or skis, the 201's versatility extends itself to operations from water and snow.
The 201 is powered by two 210hp Continental IO-360 engines with Hartzell props, giving a maximum cruise speed of 124 knots, a useful load of 1800 lbs. and a maximum range of 1000 NM. The cabin area can be configured for up to 5 adults, or given over to cargo with easy access from the unique rear entry doors. Other popular configurations include air ambulance and parachute/photography.
About the Discovery XL-2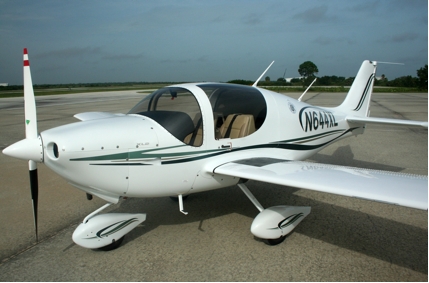 The Discovery XL-2 is the world's best value IFR Certified flight training aircraft. With an average fuel burn of 4.8gph, and powered by a Continental IOF-240B FADEC equipped engine, the XL-2 is geared for optimal efficiency and low operating costs.
The upgraded Discovery XL-2 is now available with Garmin's G500 dual screen glass panel and G650 avionics, and all integrated with many other features including autopilot. To meet the growing technical advances, and address the 30+ countries where the XL-2 is now certified, other options include, ADS-B, DME, ADF.
VIKING EYES BRAZILIAN MARKET FOR TWIN OTTER SERIES 400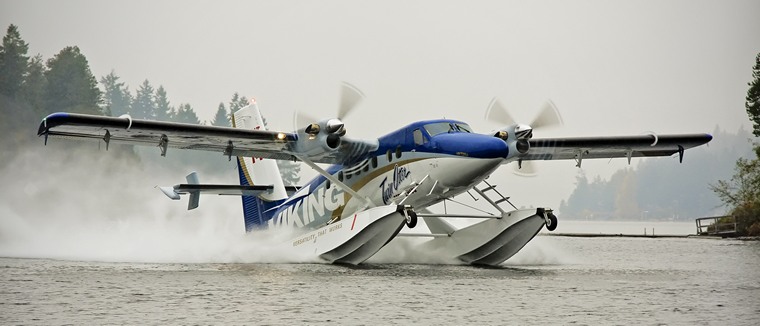 Photos © Viking Aircraft

Viking Air Limited of Victoria, British Columbia, has set its eyes on the aerospace market in Brazil, the second largest aviation industry by registered aircraft fleet in the world. In order to pursue sales opportunities in such an active aviation market, Viking is displaying a Series 400 Twin Otter owned by Barrick Gold Corporation as part of the 2015 Latin American Business Aviation Conference & Exhibition (LABACE) this week in Sao Paulo, Brazil.

To further the aircraft's reach in the region, Viking has assigned Manaus Aerotaxi Participacoes (MAP) of Manaus, Amazonas, Brazil, to become the sales representative for the Series 400 Twin Otter in-country. MAP's demonstrated regional expertise and central location in the heart of the Amazonian rain forest will be an asset in reaching potential customers who will benefit most from the Twin Otter's capability of reliable operation in extreme environments.
"We are very excited to display the Series 400 Twin Otter for the first time in Brazil as part of LABACE," said David Caporali, regional sales director for Latin America. "We are also excited to join forces with MAP, and look forward to developing the market for both civilian and military operation of the Series 400 Twin Otter in Brazil."
SINGULAR AIRCRAFT - A NEW CONCEPT DRONE


A new concept of drone reaches the market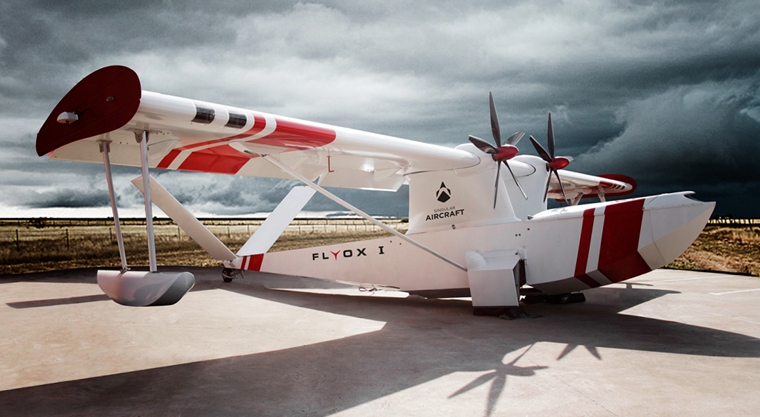 Photo © Singular Aircraft

Singular Aircraft, based in Malta, London and Barcelona, released the first amphibian RPA (Remotely Piloted Aircraft) to the market, equipped with a twin engine, with capabilities to land and take off on unpaved runways or on water, ice and on snow, both at day or at night. Its adaptation to any environment is absolute, while being also the most affordable in its sector and fully customizable to any client's needs.
Singular Aircraft wanted to bring a versatile UAV to the market, that reduces significantly the cost of acquisition and the costs of maintenance and achieved its goal.
The Flyox I has been designed to suit the individual needs of each client, being fully customizable. Nevertheless, they designed five basic configurations for the following specific applications: cargo, firefighting, agriculture and surveillance. Multi-functionality is one of its great attributes, accompanied by a substantial price decline, not only the acquisition, but also the operation.
Some of the hallmarks of Flyox I are its cargo transport capacity, its high autonomy in flight hours, and its capacity to take off and land on short runways. Additionally Flyox I has automatic take-off and landing functions, as well as various flight modes, like the option to program pre-set flight paths, etc.
Several countries have expressed an interest in purchasing Singular's Aircraft for its multifunctional abilities.