Douglas DC-3/C-47 construction number 13541 left the Douglas factory on 9 June 1944 for service in the USAAF. On the 22 June she was transferred to the RAF and the next day to the SAAF where she served until 1958 when she was allocated to the Department of Transport (DoT) and was registered as ZS-CAI on the civilian register. She served with the DoT and the CAA in the navigation calibration and other roles until January 2002 when she was sold to Democratic Republic of the Congo based Business Aviation.

She returned to SA and spend a while parked at Wonderboom Airport. On 25 May 2007 she was bought by Skyclass Aviation and named Marilyn and was based at ORT International from where she faithfully plied her trade as a freighter between OR Tambo International and Sir Seretse Khama International Airport, Gaborone in Botswana.

During 2011she was sold to Darrell Lush's Lush Aviation where she continued her role as freighter and also appeared in two movies, the last time in the TV series "Strike Back". She still carried the Liberian lettering applied during the filming when during December 2013 she experienced an engine fire in the number 2 engine whilst taxing to the apron at Port Elizabeth Airport. Fortunately the loadmaster was able to extinguish the fire.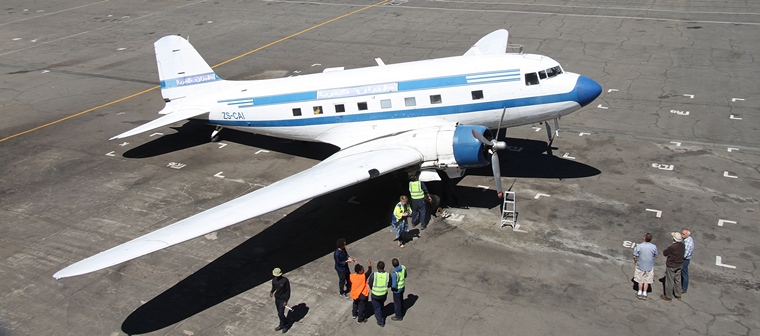 The engine was repaired but red tape caused her to spend time at Port Elizabeth until Flippie Vermeulen of Springbok Classic Air who has sold DC-3 ZS-NTE bought her. Ben Vermeulen, Timothy Maritinyu, Lorrie Du Preez and Thinus Potgieter were despatched to PE to get her airworthy and she flown first to Orania By Flippie, Brian Stableford and Carl Heupsch where Andre Langenhoven and his team attended to some snags.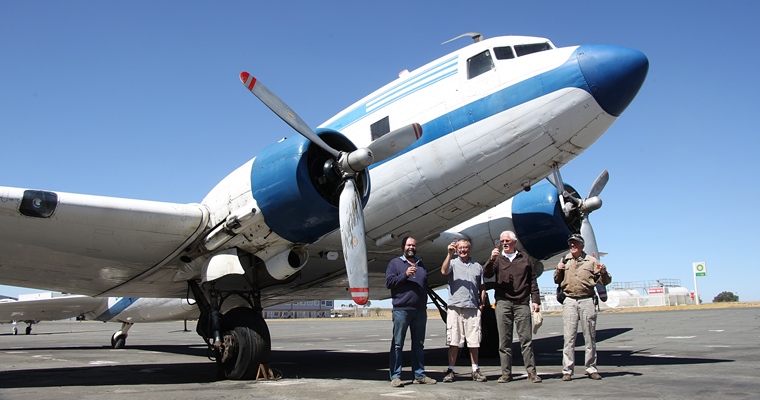 From left to right Carl, Darrell Lush, Flippie & Brian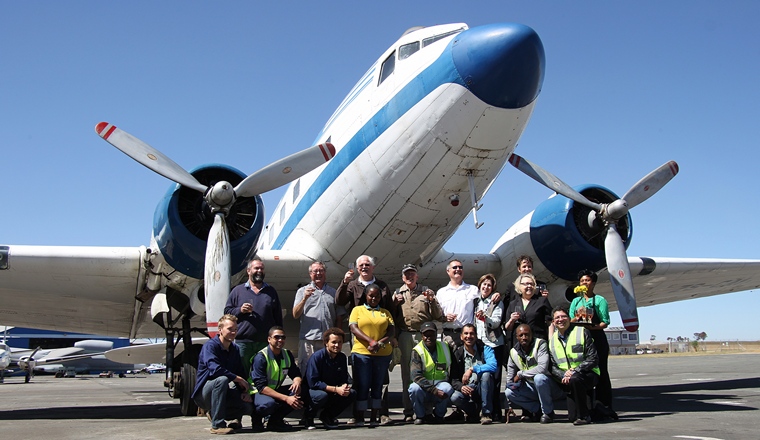 The Springbok Classic Air Team

She left Orania at 12h00 on Wednesday 2 September and arrived at her new home at Rand Airport two hours later where she joined the Beech 18 and where she will be refurbished to fly in Classic Air's popular aerial safaris.
For more information on Springbok Classic Air go to:
www.springbokclassicair.co.za