THIS WEEK IN MIDWEEK UPDATE


Plan your weekend
Forthcoming events
This week in aviation history
Worldwide incidents and accidents
Aviation News
Advertising rate card

26 - 27 September: Groblersdal Fly & Braai. If you want to stay over - bring your tent or stay at a B&B in Town. Contact Fanie: 0834498638 or Oom Piet: 0741601429.
25-26 Sept 2015: Fun Rally Durban Wings Club. Friday 25th 15H00 Rally Classroom Training at Northwood. 18H00 registration and braai at DWC (sponsored by DWC). Sat 26th 07H30 briefing, coffee and Bacon rolls. Cost is R200 per Aircraft to cover cost of loggers etc. Contact: Cate cate@eastcoastsa.net/0834301918

3 October: Petit Veteran and Vintage Fly In. Contact john@boyshigh.com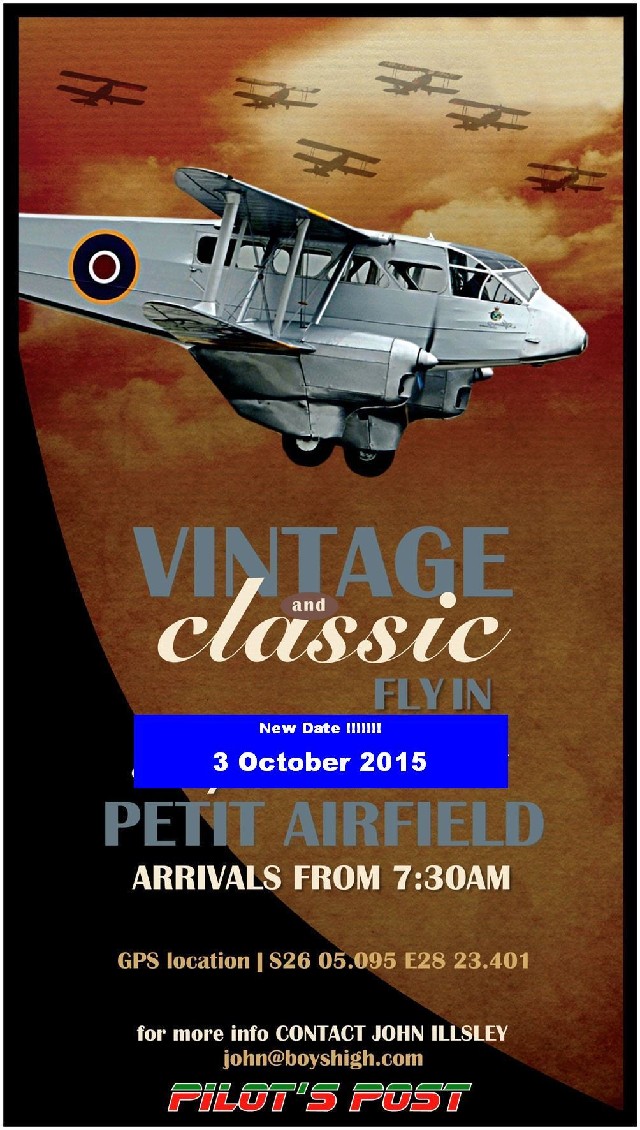 3 October: SAAF Museum flying training and open days. Contact Capt. Kobus Kapp 012 351 2342 or E-mail: webmaster@saafmuseum.org
3 October: SAPFA Fun Rally Grand Central. Contact Jonty Esser e-mail: jontye@x7online.co.za Cell: 076 302 0451
3 October: Extreme & Fun Sports Day - Uitenhage Airfield, Eastern Cape. Skydiving,Paragliding, Powerparagliding, Gliding, Flying, Extreme 4x4 Challenge, Vw Beatle Parade, Stalls and live music. Contact Lourens Kruger 082 320 2615.
10 October: Spring 2015 TMG Fly in at Bundu Inn Flying Estate. Contact Marietjie van Niekerk on 0827656670 or
marietjievn@gmail.com

11 October: Rag and Tube Day at Baragwanath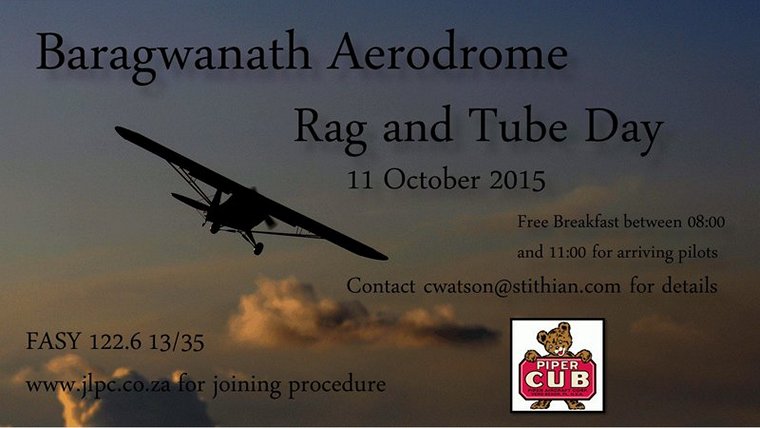 24 - 25 October: Sports Aerobatic Club KZN regionals - Ladysmith. Contact Annie Boon chunge@mweb.co.za
31 October: Bethlehem Aero Club fly-in and hangar dance. Contact Izak Venter e-mail: izak@motsu.co.za or Francois Marais e-mail:
info@stanfra.co.za

7 November: SAAF Museum flying training and open days. Contact Capt. Kobus Kapp 012 351 2342 or E-mail:
webmaster@saafmuseum.org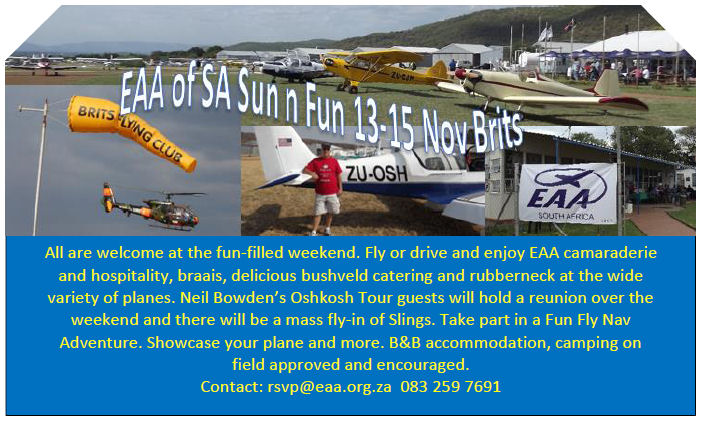 13 - 15 November: The EAA of SA Sun 'n Fun Fly-in to Brits will include the following: Peter Hengst Memorial Breakfast Fly-in on 14 November, Neil Bowden Oshkosh Pilgrims Reunion, Mass Airplane Factory Sling Fly-in and SAPFA organised 'Poker Run'. Camping on the airfield, numerous B&B accommodation in town. Braai on Friday evening at the BFC Clubhouse, sit-down dinner on Saturday - come and experience bushveld hospitality and EAA camaraderie with the famous delicious catering of BFC. All aircraft and pilots welcome. Further info rsvp@eaa.org.za 083 259 7691
13 to 15 November: Mafikeng annual fly-in and hangar dance. Contact Connie Conradie 082 449 1546 e-mail: info@mafikeng-flyingclub.co.za
21 November: SAPFA Fun Rally Brits. "Peter Hengst Memorial Fun Rally Contact Jonty Esser jonty@aircraftoc.co.za for Rally information and entries and Trixiie Heron editor@afskies.co.za for EAA"
5 - 6 December: SAC ACE of Base - Baragwaneth airfield (Syferfontein) Contact Annie Boon chunge@mweb.co.za
5 December: SAAF Museum flying training and open days. Contact Capt. Kobus Kapp 012 351 2342 or E-mail: webmaster@saafmuseum.org
7 December: ICAD (International Civil Aviation Day) Contact Mark Swarts e-mail: SwartsM@caa.co.za Cell: 082 878 0875
4th & 5th March 2016: Uitenhage Wings and Wheels Fesitval Incorporating the Doug Davidson Memorial Airshow - Uitenhage Airfield, Eastern Cape. Stalls, Entertainment, Beer Garden, Plane and Stock Car race, Parades, Vintage and New Car exhibits, Bike Raffle and more…. Contact Lourens Kruger 082 320 2615.

September 23 1913 - Roland Garros makes the first air crossing of the Mediterranean Sea. He flies the 729 km (453 miles) from Saint-Raphaël to Bizerte in 7 hours 53 min.
September 23 1911 - The first US airmail flight is made. Earle Ovington flies 9.7 km (6 miles) from Nassau Boulevard, New York to Mineola, New York.
September 24 1987 - A Tornado F3, ZE155, from Boscombe Down, made the first non-stop un-refuelled crossing of the Atlantic by a British jet fighter. The sortie covered 2,200nms in 4 hr 45 min, and took place as the aircraft returned from Arizona after a series of tropical trials.
September 24 1958 - Guided air-to-air missiles are used in combat for the first time when Republic of China Air Force F-86 F Sabres use AAM-N-7 Sidewinder IA - Later known as AIM-9 B Sidewinder IA - missiles to down several People's Republic of China MiG-15 fighters.
September 25 1939 - Nicola di Mauro of Italy sets a world seaplane altitude record of 13,542 m (44,429 feet) in a Caproni Ca.161Idro. This record still stands for piston-engined seaplanes.
September 25 1929 - Jimmy Doolittle performs the first blind take-off, flight and landing from General Mitchell International leading to the development of Instrument Flying.
September 26 2008 - Yves Rossy, Swiss airline pilot and former fighter pilot, crosses the English Channel with his homemade jet-powered wing strapped on his back.
September 26 1973 - The Concorde makes its first non-stop crossing of the Atlantic in record-breaking time, though the record would go on to be broken a few more times until the aircraft's retirement in 2003.
September 27 1910 - First test flight of a twin-engined aircraft took place in France.
September 28 1928 - Lieutenant Dick Bently of the South African Air Force arrives in South Africa completing the first solo flight there from England. He had left London on September 1.
September 28 1920 - American pilot Howard Rinehart, flying a Dayton-Wright R. B Racer, becomes the first person to fly an airplane fitted with retractable landing gear.

Bernin, Kebbi: A Boeing of Max Air with 545 pilgrims on board developed technical problem after having aborted three attempts to take off from Sir Ahmadu Bello Sardauna International Airport. The pilgrims were on their way to Jedda in Saudi Arabia.
Tampa, Florida: A drone buzzed a KC-135 Stratotanker over Tampa Bay, Florida in what has been described as the closest encounters in America this year. It is the third incident of Drones close to the airport this year. The first happened March 3rd, when a drone crashed just outside the perimeter fence that surrounds the base. On April 17th, a drone were spotted flying less than 20 feet from an Air Force jet as it was getting ready to land at MacDill.
USA, Texas: A man who armed with a stick crashed his vehicle through a gate at Waco Regional Airport Texas was seen by airport staff as he tried to remove to chocks of a Lear Jet and then tried to enter the aircraft. An off-duty police officer working airport security approached the man, and after several shocks with a stun gun had no effect he was assisted by Texas Aero employees. The suspect was subdued and arrested.
USA, Washington D.C.: A woman was arrested after she brought a gun loaded with seven rounds, with one bullet in the chamber to Ronald Reagan Washington National Airport attempting to board a flight to Memphis. The gun was detected by a TSA officer at an x-ray checkpoint machine. It's the ninth gun found at the airport this year. Fourteen were taken from the airport in 2014. The woman could face criminal charges and a fine of up to $11,000.
Canada' Toronto: An Air Canada pilot became one dog's hero when he noticed one of the cargo hold heaters was malfunctioning and that Simba, a seven-year-old French bulldog traveling in the cargo hold on his first flight, was in possible danger of dying. He diverted the flight to save the dog's life.
UK: It's not the best of times for British airlines. Drunken flying incidents are on the rise in the UK to the point that airlines begun doling out lifetime bans to troublemaking passengers and is attempting to make a national database of disruptive fliers. The latest incident took place Thursday night on an easyJet flight scheduled to go from London Gatwick Airport to Barcelona. A rowdy bachelorette party got so out of control they delayed the flight for more than two hours as the pilot refused to take off with the six inebriated women on board. Police eventually arrived and escorted them off the plane, but needless to say other passengers were seething.




ROBERT "HOOT" GIBSON NEW UNLIMITED WINNER AT RENO AIR RACES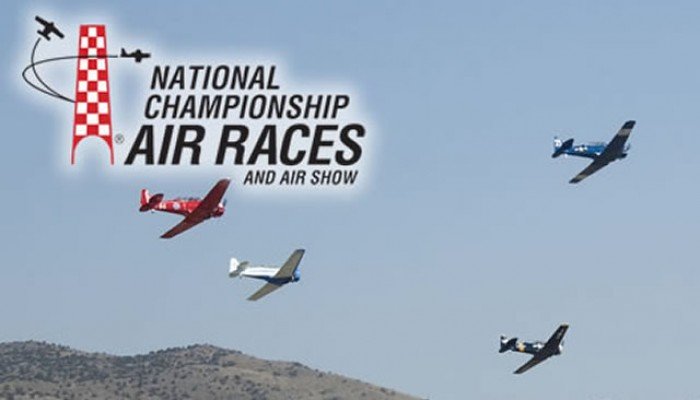 Photos © Reno Air Races

Robert "Hoot" Gibson broke Steven Hinton Jr's six-year winning streak in the Unlimited Class when he crossed the checkered flag and took the Gold at the 52nd the 52nd annual Reno National Championship Air Races. Gibson flew his North American P51 Mustang "Strega" reaching a top speed of 489 mph beating Stewart Dawson who finished in second in "Rare Bear," a 77 F8F-2 Bearcat. Dawson reached a speed of about 471 mph. Hinton withdrew during the race.
Dennis Sanders in a TMK 20 Sea Fury "Dreadnought" was placed 3rd followed by Curt Brown in a FB 11 Sea Fury "Sawbones" in 4th. Korey Wells in a TMK 20 Sea Fury was placed 5th.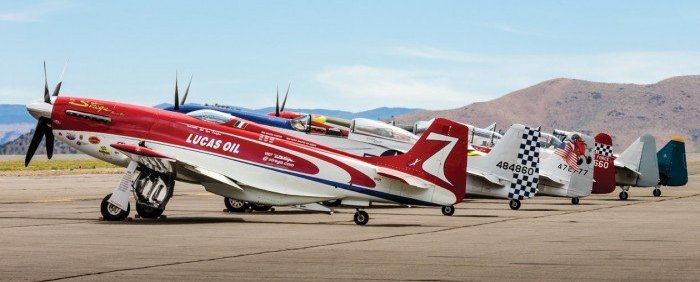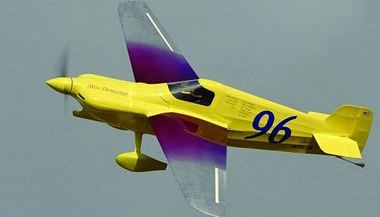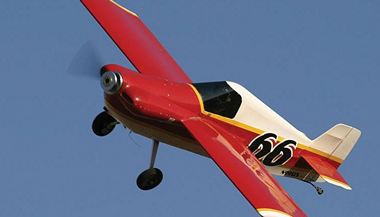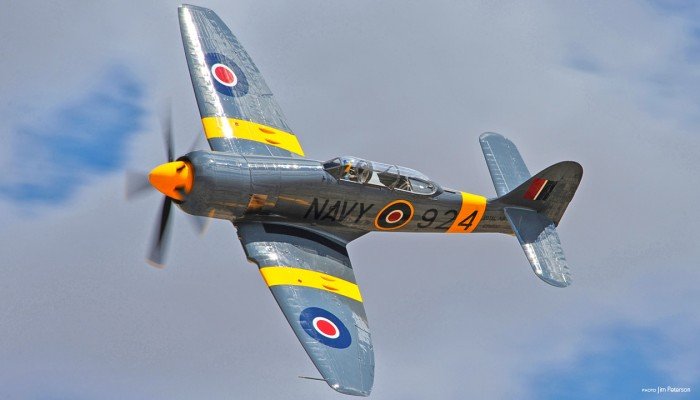 Pete Zaccagnino in a de Havilland Vampire was the winner of the Jet class with a speed of 502.370 mph. The T6 class went to Dennis Buehn who clocked 238.073 mph. John Parker in Blue Thunder II won the Sport Class in 377.403 whilst the Bi-Plane Class went to Tom Aberle in a Phantom with a speed of 245.109 mph. The winner of the Formula One Class Steve Senegal who in Endeavor clocked 239.432.
SUCCESSFUL UAV ANTI POACHING TRIALS IN TANZANIA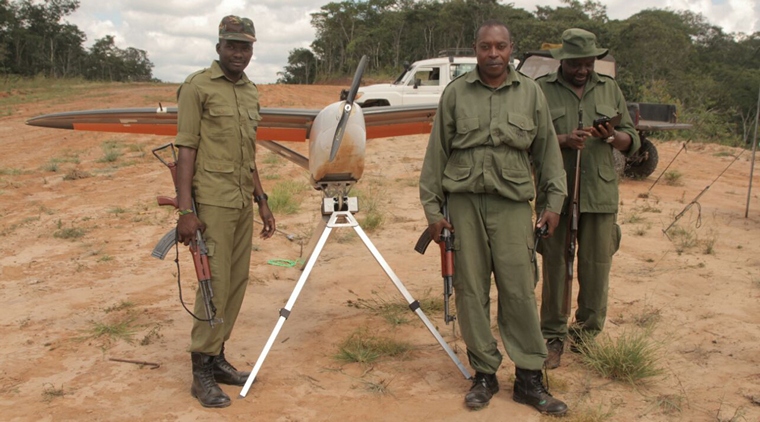 Photo © Bat Hawk

Bathawk Recon, a Tanzanian UAV Anti Poaching surveillance company, has hosted UAV trials at Mkomazi National Park. The trials featured the American made Super Bat DA-50 and were held 12th to 16th September. They were set up to determine if the gas powered long endurance drone could meet Bathawk's anti-poaching concept requirements. After 5 days of flights the Super Bat has hit all the targets.
Bathawk, Aviation Unmanned from the States and TANAPA put the Super Bat through its passes over 5 days and tested sound, sensors, range, endurance and operating in support of rangers. The Super Bat, operating at maximum altitude could detect and track people, zoom in on game both in Video and Infra Red. The Super Bat's range and endurance were confirmed at 30 kms distance and 8 hours in the air. Currently the issue is the specific technology to meet a specific concept and that's what the trial was designed to demonstrate.
Bathawk is a private company proposing a service but under the auspices of the Tanzania Private Sector Foundation's Private Sector Anti Poaching Initiative which incubates private sector projects to accelerate Tanzania's reaction to the poaching crisis.
RWANDAIR FIRMS-UP ORDER FOR TWO AIRBUS A330 FAMILY AIRCRAFT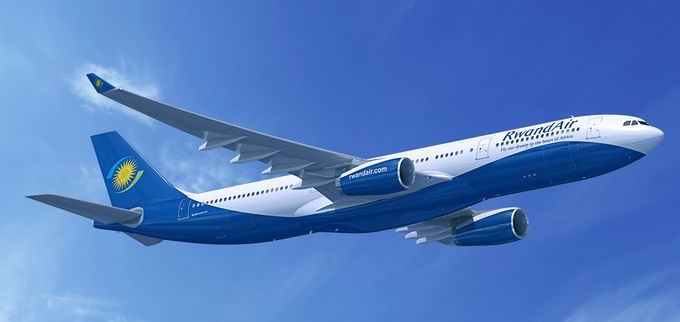 Photo © Airbus

Airline will be East Africa's first to benefit from the A330s proven efficiency

RwandAir, the national flag carrier of the Republic of Rwanda, has signed a firm contract with Airbus for an A330-200 and a larger A330-300, at a signature ceremony in Kigali, Rwanda. With this order RwandAir becomes a new Airbus customer and is the first East African customer for the long-haul airliner. This agreement firms up a commitment announced earlier this year.
Aircraft deliveries will begin in the second half of 2016, enabling the country's carrier to deploy its new flagship aircraft on medium and long-haul routes serving destinations in Europe, the Middle East and Asia.
The two aircraft will feature a three class cabin layouts. The A330-200 will have 244 seats (20 business class, 21 premium and 203 economy class) and the A330-300 will have 274 seats (30 business class, 21 premium and 223 economy class). The aircraft will be equipped with Rolls Royce Trent 772B engines.
"As we look to introduce wide body aircraft for the first time into our fleet, with its proven economics, reliability and passenger comfort, we have found the A330 to perfectly support our plans to expand into Europe and Asia, to enhance our regional presence, to open up new routes and to grow our market share. We are also delighted to have these aircraft powered by Rolls-Royce, as the Trent 700 engine delivers the most efficient and reliable power, and will maximize the revenue earning potential of our new aircraft'' said John Mirenge, Chief Executive Officer of RwandAir.
"We are extremely pleased that RwandAir has confirmed its confidence in the A330, and are happy to welcome them as a new A330 customer," said Christopher Buckley, Executive Vice President, Africa, Europe and Asia Pacific. "Their Passengers will enjoy best-in-class passenger comfort that only Airbus offers as well as the newest state of the art in-flight entertainment system. Rwandair will be able to benefit with the A330s from the unique combination of unbeatable economics, versatility and fuel efficiency."
GRIPEN NG CONTRACT WITH BRAZIL BECOMES EFFECTIVE



Photos © SAAB

Saab announced the conclusion of a contract with the Brazilian Federal Government for the development and production of 36 Gripen NG aircraft. The contract has now come into effect as all required conditions have been fulfilled. Today, the order value of approximately SEK39.3 billion is booked by Saab as order intake. Gripen NG deliveries to the Brazilian Air Force will be undertaken from 2019 to 2024
The associated industrial co-operation contract (including technology transfer to Brazilian industries), which was signed in October 2014, also comes into effect today.
"Through the Gripen NG programme, we continue to build on the industrial relations between Brazil and Sweden. I am confident that this important programme will serve as a platform for new business and contribute to the growth of both the Brazilian and Swedish industry," says Marcus Wallenberg, Chairman of Saab's Board of Directors.
"This important milestone marks the formal start to the Brazilian Gripen NG programme. We will now work full speed ahead to ensure timely deliveries of Gripen NG to Brazil. Our partnership with Brazilian industry strengthens Saab's position in Latin America and supports our strategy for growth through industrial co-operation," says Håkan Buskhe, President and CEO of Saab.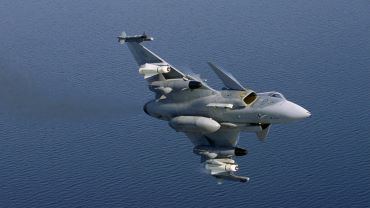 The technology transfer programme will further contribute to the development of an independent, advanced defence industrial base in Brazil. Brazilian engineers and technicians will come to Saab for education and on-the job-training in Sweden starting in October 2015.
"The acquisition of Gripen NG will provide benefits beyond the enlargement of the Brazilian Air Force's operational capacity. In addition to equipping FAB with one of the world's most modern fighters, the participation in the development of Gripen NG means a technological breakthrough for Brazilian industry," says Lieutenant-Brigadier Nivaldo Luiz Rossato, Commander of the Brazilian Air Force.
Saab's Gripen is a multi-role combat aircraft capable of undertaking the full range of air-to-air and air-to-ground missions, including specialist roles such as intelligence, surveillance, target acquisition and reconnaissance (ISTAR) and electronic warfare. Gripen is equipped with the most modern sensors and mission systems, including an active electronically scanned array (AESA) radar and infra-red search and track (IRST) system. It can be armed with any air-launched weapon that a customer requires, and integration of new capabilities is speedy and affordable. Gripen is easily deployable, with a very low maintenance and support footprint coupled with high reliability.
DENEL PRODUCTS ON SHOW IN LONDON


Denel's growing status in the global defence industry is on display in London this week when the South African technology company is participating in the Defence and Security Equipment International (DSEi 2015).
Group CEO, Riaz Saloojee says Denel has expanded the range of its products and services and improved the capabilities of many of its systems since the last DSEi, the largest international defence exhibition in the world.
New acquisitions and the establishment of a new division, Denel Integrated Systems and Maritime enabled the group to move deeper into the command and control and cyber security environments. Denel is now listed among the top 100 defence companies in the world and the second largest in the southern hemisphere.
Denel has a strong global reputation in the landward defence environment with leading artillery products such as the G5, the Badger infantry combat vehicle developed for the South African Army and the Casspir mine-protected vehicle range. This position was strengthened with Denel's recent acquisition of BAE Systems Land Systems, a leading manufacturer of protected vehicles, rebranded as Denel Vehicle Systems.
"We now offer clients an integrated, turnkey solution from a landward perspective with our ability to manufacture all vehicle types, covering firepower, mobility and support," says Saloojee.
The RG21 mine-protected vehicle will be on display for the first time at DSEi. The 4x4 vehicle is designed to look less-aggressive than most military vehicles and is ideally suited to be utilised in internal security roles. However, it still provides all round protection against rifle fire and can withstand a 21kg blast under any wheel or a 14kg charge under the hull.
Denel Land Systems will display its modular combat turret variants equipped with the locally-developed GI-30 rapid-fire CamGun and the M10 60mm breech-loading long-range mortar. The GI-30 has an effective range of 4 000 metres and can fire up to 100 round per minute.
The Personal Area Weapon - PAW - manufactured by Denel PMP is an ideal weapon for modern infantry units on the move, including paratroopers and special forces. It can be carried and fired by a single soldier and is most effective against high-value targets such as light-armoured vehicles, thin-skinned transport and machine gun nests.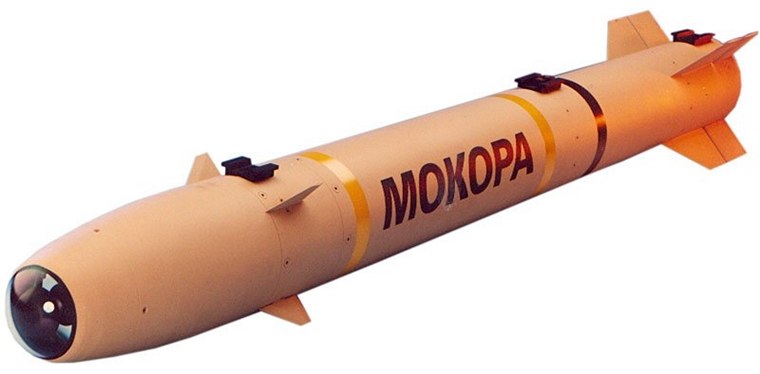 With a range of more than 10km the Mokopa precision-guided missile produced by Denel Dynamics is highly rated for its accuracy and explosive power. The missile is being integrated on the AgustaWestland Super Lynx 300 helicopter and recently completed a launch clearance trial.
Designed initially as an air-to-ground missile the latest versions of the Mokopa can now be fired from a variety of launch platforms such as land vehicles, shore battery installations and naval vessels.
More than 1 500 exhibitors from 121 countries will display their products at DSEi which started on the 15th September at the ExCel Centre in London.
THE ARGENTINE COAST GUARD IS RENEWING ITS FLEET WITH NEW-GENERATION HELICOPTERS.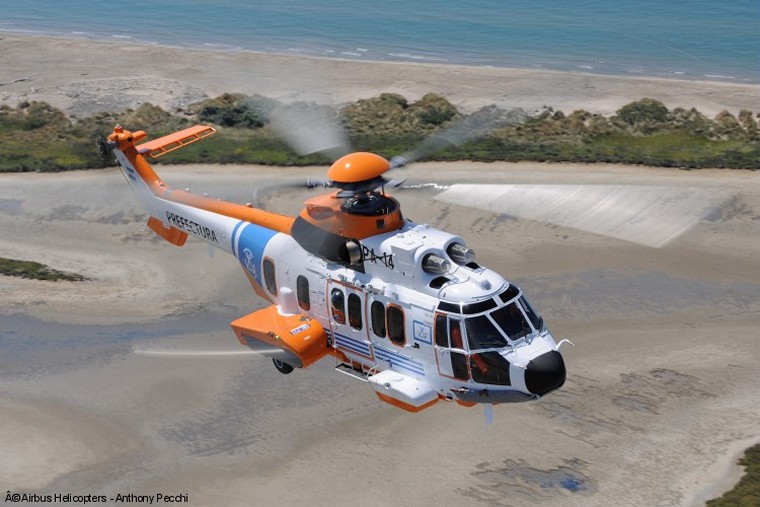 The new rotorcraft will be used for rescue operations on the high seas.


Photo © Airbus Helicopters

The Argentine Coast Guard receives its first H225 helicopter at a ceremony presided by the Prefecto Nacional Naval Luis Alberto Heiler, Airbus Helicopters officially handed over an H225 helicopter to the Argentine Coast Guard.
This new helicopter, which will be based in the city of Mar del Plata and used for search and rescue missions in the Argentinian sea, marks the start of the renewal process for the Coast Guard's fleet of SA330 Puma helicopters.
"We thank the National Government and the Ministry of Security for supporting the Coast Guard's fleet renewal process with new-generation helicopters that will increase our effectiveness when it comes to saving lives at sea", declared the Prefecto Nacional Naval, Luis Alberto Heiler. "This helicopter's extensive range will allow us to fly to zones far from the coast. In addition, it is equipped for day and night rescue operations and extreme weather conditions."
The H225 delivered to the Argentine Coast Guard has an Automatic Flight Control System (AFCS), an invaluable flying aid that allows SAR missions to be carried out with greater precision, safety and effectiveness. In its SAR role, the aircraft is equipped with searchlights, a winch and a rescue basket, although it can also be rapidly reconfigured to carry out other missions such as coastal surveillance, port security or aid missions for coastal communities.
"I'd like to express my gratitude to the Argentine Coast Guard for choosing the H225, which makes it the first customer for this helicopter in the Southern Cone," said Mesrob Karalekian, Airbus Helicopters Vice-President-Head of Latin America Region. "Not only will they operate an aircraft that is a global leader for SAR missions, they will also benefit from Airbus Helicopters' support in the region to ensure optimum availability."