THIS WEEK IN MIDWEEK UPDATE


Plan your weekend
Forthcoming events
This week in aviation history
Worldwide incidents and accidents
Aviation News
Advertising rate card

10 October: Spring 2015 TMG Fly in at Bundu Inn Flying Estate. Contact Marietjie van Niekerk on 0827656670 or marietjievn@gmail.com
11 October: Rag and Tube Day at Baragwanath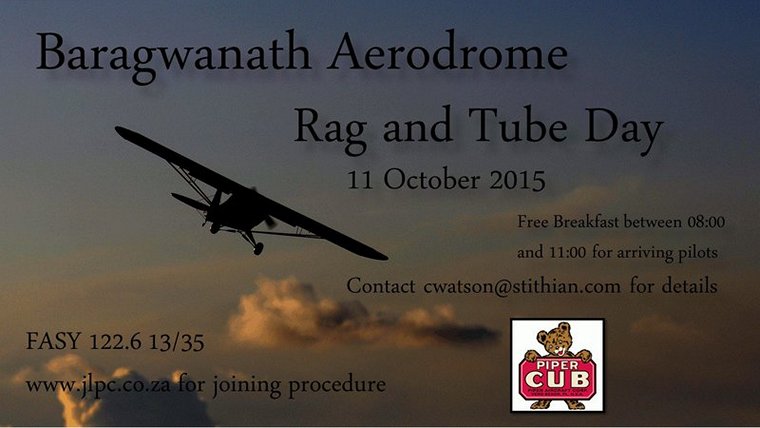 6 - 11 October National Hot Air Balloon Championship in New Castle .Contact Felicity Clegg at felicityc@absamail.co.za or Contact Danie Minnaar at danieminnaar@outlook.com
10 October SAPFA Stellenbosch Fun Rally. Contact Alewyn Burger email: alewyn@burger.org.za Cell: 082 416 1951 Book on line at ttp://www.sapfa.org.za/events/Entryadd.php

15 October: EAA Auditorium. Guest: Commandant Rynier Keet (SAAF Retired). Rynier was appointed as the Project Officer of Project Brahman and the Cheetah was the result. He retired as OC of 5 Squadron which was equipped with Cheetah E's at the time. Before this he flew and instructed on the usual suspects such as Harvards but was also fortunate enough to fly Vampires, Sabres, Impalas and Mirages. His list of recollections will no doubt include his ejection from a Cheetah E during a test flight. Venue: EAA Auditorium adjacent to TAC and holding point of Runway 29, Rand Airport, Hurricane Road. Germiston. Time: 18h30 for 19h30 (time to order your drinks & Boerewors/ Steak roll). Cost: R50.00 each (R30 for card carrying EAA, members). Booking: Send an e-mail to book at eaa.talkshow@icon.co.za
24 - 25 October: Sports Aerobatic Club KZN regionals - Ladysmith. Contact Annie Boon chunge@mweb.co.za
28 - 29 October SADC Aviation Safety & Security conference at Gallagher Convention Centre Contact Obert Chakarisa e-mail: sassc2015@obcaviation.co.za Cell: 076 895 6868
31 October: Bethlehem Aero Club fly-in and hangar dance. Contact Izak Venter e-mail: izak@motsu.co.za or Francois Marais e-mail:
info@stanfra.co.za

7 November: SAAF Museum flying training and open days. Contact Capt. Kobus Kapp 012 351 2342 or E-mail:
webmaster@saafmuseum.org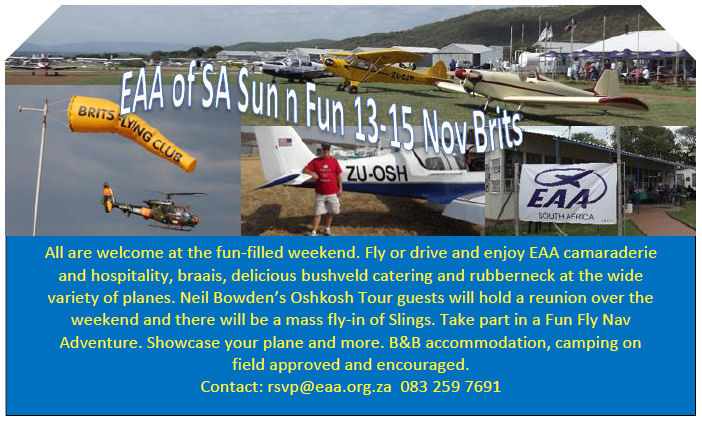 7 Novembe Aero Club of South Africa annual awards SAAF Museum Swartkops. Contact Sandra 011 082 1100 e-mail: office@aeroclub.org.za
13 - 15 November: The EAA of SA Sun 'n Fun Fly-in to Brits will include the following: Peter Hengst Memorial Breakfast Fly-in on 14 November, Neil Bowden Oshkosh Pilgrims Reunion, Mass Airplane Factory Sling Fly-in and SAPFA organised 'Poker Run'. Camping on the airfield, numerous B&B accommodation in town. Braai on Friday evening at the BFC Clubhouse, sit-down dinner on Saturday - come and experience bushveld hospitality and EAA camaraderie with the famous delicious catering of BFC. All aircraft and pilots welcome. Further info rsvp@eaa.org.za 083 259 7691
13 to 15 November: Mafikeng annual fly-in and hangar dance. Contact Connie Conradie 082 449 1546 e-mail: info@mafikeng-flyingclub.co.za
21 November: SAPFA Fun Rally Brits. "Peter Hengst Memorial Fun Rally Contact Jonty Esser jonty@aircraftoc.co.za for Rally information and entries and Trixiie Heron editor@afskies.co.za for EAA"
5 - 6 December: SAC ACE of Base - Baragwaneth airfield (Syferfontein) Contact Annie Boon chunge@mweb.co.za
5 December: SAAF Museum flying training and open days. Contact Capt. Kobus Kapp 012 351 2342 or E-mail: webmaster@saafmuseum.org
7 December: ICAD (International Civil Aviation Day) Contact Mark Swarts e-mail: SwartsM@caa.co.za Cell: 082 878 0875
4th & 5th March 2016: Uitenhage Wings and Wheels Fesitval Incorporating the Doug Davidson Memorial Airshow - Uitenhage Airfield, Eastern Cape. Stalls, Entertainment, Beer Garden, Plane and Stock Car race, Parades, Vintage and New Car exhibits, Bike Raffle and more…. Contact Lourens Kruger 082 320 2615.

October 7 1963 - First flight of the Learjet 23 prototype, the very first Learjet built.
October 7 1919 - KLM is formed.
October 7 1908 - Edith Berg became the first American woman airplane passenger when she flew with Wilbur Wright.
October 8 1939 - First RAF victory of World War II when a Lockheed Hudson shoots down a Dornier Do 18 over Jutland.
October 8 1929 - Two cartoon comedies shown on a Transcontinental Air Transport Ford Trimotor were the first movies shown in an aircraft.
October 8 1883 - French brothers Albert and Gaston Tissandier make the first flight with an airship powered by electricity.
October 9 1900 - French aeronaut Count Henri de La Vaulx sets a world record for non-stop long-distance balloon flight. He flies for over 35 hours after taking off from Paris, France.
October 10 1907 - Robert Esnault-Pelterie made the first airplane flight with a control stick; he used a single, broom handle-like lever.
October 11 1984 - Kathryn D. Sullivan becomes the first American woman to perform spacewalk aboard the Space Shuttle Challenger.
October 11 1956 - A Vickers Valiant of No. 49 Squadron RAF drops Britain's first air-dropped atomic bomb, over Maralinga, South Australia
October 11 1928 - The Zeppelin LZ 127 Graf Zeppelin crosses the Atlantic in 71 hours.
October 13 1972 Andes flight disaster / Uruguayan Air Force Flight 571: A Fairchild Hiller FH-227D, T-571, c/n 572, carrying a rugby union team from Montevideo to a match in Santiago, Chile, crashes in a remote region of the Andes on the Chile-Argentina border. Of the 45 on board, 12 died in the crash, five died by the following morning, and one died from his injuries a week later. The survivors were eventually forced to resort to cannibalism to live, feeding off the bodies of the dead that had been preserved by the freezing temperatures. On 12 December, the remaining survivors sent three of their own to find help. After sending one of the party back to the crash site to preserve rations, the remaining two found help. The 14 survivors remaining at the crash site were rescued in a mission that ended on 23 December. The story would spawn a critically acclaimed book in 1974, along with several film adaptations.
October 13 1930 - First flight of the Junkers Ju 52.

USA, SEATTLE: No one was injured after two slow-moving Southwest Airlines jets rolled into another jet as they were taxiing to gates to pick up passengers and crew at Seattle Tacoma International Airport. Southwest officials did not say when the planes are expected to be back in service.
USA, JFK Airport: A man armed with knife breached security at JFK Airport to try to meet the Pope who was walking on the tarmac before boarding his flight to Philadelphia. Chris Cannella, 39, a retired New York City firefighter, was driving a black Chevy Tahoe, similar to Secret Service cars, and pretending to be part of a VIP motorcade when he made it onto the tarmac. He had a knife more than four inches long and authorities also recovered a 9 mm magazine containing five hollow point rounds, as well as marijuana from Cannella's car.
UK, London: In a bizarre incident a Scottish man tried to open a KLM plane's door at 30,000 feet, mistaking it for the loo entrance. He, was arrested when the flight touched down at Schiphol Airport and was whisked away to a nearby detention centre where he spent the night before he was fined 434 pounds (600 euros).
USA, Troutdale: A Troutdale Airport mechanic was taken to the hospital after being hit by a moving airplane propeller. The mechanic was working on a secured twin-engine plane, with the engines running. However, a second mechanic inside the plane adjusted the controls, causing the plane to lunge forward. The propeller struck the mechanic on the outside was struck in the left arm causing severe but not life-threatening injuries.

MD HELICOPTERS DELIVER NEW MD 500ER TO RESPECTED BUSHVELD GAME CAPTURE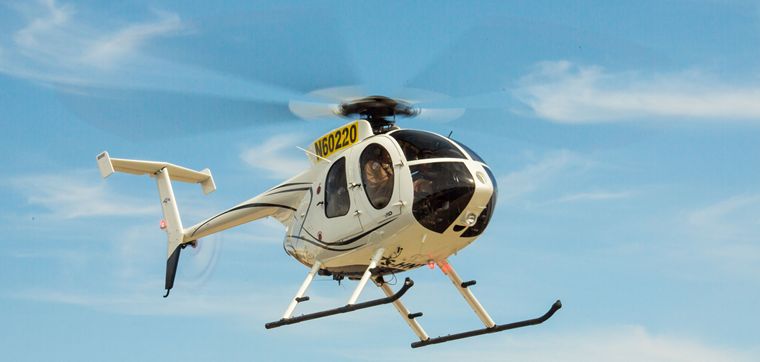 Photos © MD Helicopters

MD 500ER to enhance Bushveld Game Capture's ability to protect and preserve South Africa's

MD Helicopters, Inc. (MDHI) announced the sale and delivery of a new MD 500ER single-engine helicopter to Bushveld Game Capture, Vryburg, South Africa. As South Africa's premier provider of wildlife capture, purchasing, selling, transport, veterinary services, and the darting and counting of game by helicopter, Bushveld is expanding their helicopter fleet to more effectively and efficiently protect and pre-service these revered icons of the South African savanna.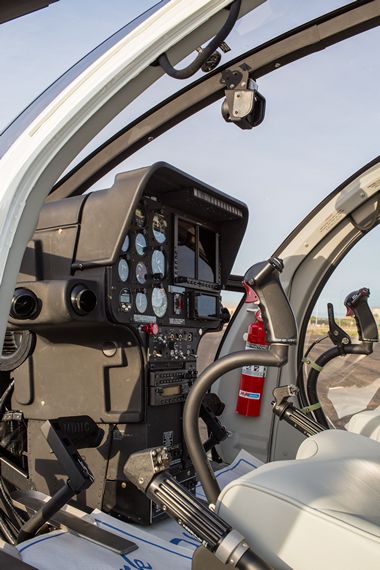 "The MD 500ER delivers the highest speed, payload capability and productivity in its class," said Craig Kitchen, MD Helicopters Chief Commercial Officer. "We are honoured that Bushveld Game Capture chose to make this aircraft, with its unparalleled durability and manoeuvrability, to be their second MD purchase in less than three years. It's got the power and proven performance required to meet the challenges of big game preservation in the South African savanna."
This right-hand command MD 500ER is the second MD Helicopter purchased by Bushveld Game Capture and features air conditioning, upgraded leather seating and cabin panels, the 420-shp Rolls-Royce 250-C20 turbine engine, extended heavy-duty landing gear, Fargo auxiliary fuel tank and cargo hook to support external loads up to 2,000 pounds. The cockpit configuration features the Garmin 500H EFIS all glass avionics flight display, Garmin GTN650H touchscreen GPS/Navigation and communications panel and Garmin GMA 350H all digital audio panel.
Founded in 2006 to ensure professional, honest and ethical service in all aspects of wildlife capture and transport, Bushveld takes extreme measures to insure all game is captured and transported safely and efficiently.
"The decision to add this MD 500ER to our Bushveld fleet was an easy one for me," said Tina de Jager, chief pilot and owner of Bushveld Game Capture. "We fly in some pretty difficult conditions on a daily basis, so safety is of paramount importance. Not only are MD's the safest helicopter in the world, they have power to spare, high cruising speed and are very economical to run.
Additionally, and just as important as the helicopter itself, is the after sale service. I've always found this to be excellent with MD, and the peace of mind that comes from knowing they will always be there is invaluable!"

ST HELENA AIRPORT-NEXT STEPS AFTER CALIBRATION FLIGHTS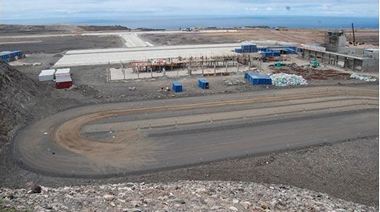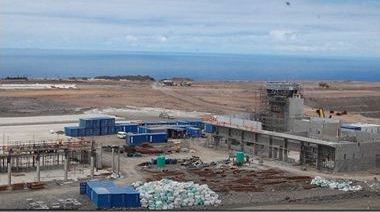 Photos © Basil Read


The Beechcraft King Air 200 aircraft departed St Helena at 6.10am on Friday, 25 September 2015, having completed a series of calibration flights. On board were the teams from TAB Charters - Grant Brighton, Dillan Van Niekerk and Jeffrey McKenzie - and from Flight Calibration Services Ltd (FCSL), Nick Whitehouse and Stuart Rawlinson.
FCSL is currently in the process of collating and analysing the information gathered during the flights in order to prepare its final report. This report will then inform any further work that might be required on the NavAids. Basil Read Island Director, Deon de Jager said: "We fully expect to have to undertake some corrective action. This is normal after any calibration procedure and is, of course, the reason we had the calibration flights in the first place - so that we can make sure that the NavAids are functioning properly. We will not know the extent of the work required until we receive FCSL's final report and are able to discuss this with our design teams."
Alongside this, work is continuing to prepare for certification of the Airport. Training has commenced, including training for security personnel at the Airport, and Basil Read is planning a number of exercises to take place in October and November. Emergency exercises are also planned, which will involve personnel at the Airport and also from the local emergency services who would respond in the event of a major incident. Further Airport Operational Trials will be ongoing in readiness for the Airport opening.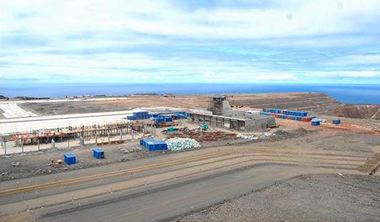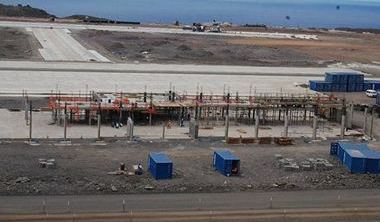 Penspen, the fuel management contractor, is also busy planning for deliveries of Jet A1 fuel so that there is a stock of fuel on-Island in readiness for Airport operations. Comair is actively planning for its Implementation Flight to St Helena, when it will bring a Boeing 737-800 to the Island at least one month in advance of Airport operations. This visit by the Comair team will be used to test all aspects of the operations at St Helena Airport. SHG Airport Project Director, Janet Lawrence commented:
"There are a number of different organisations with a role to play in delivering an operational airport and there is a still lot to be done. We have really good teams in place in Basil Read, Halcrow, SHG, Penspen and Comair (to name but a few of the organisations involved) and there is an immense amount of work taking place in the background. We can finally see the various strands beginning to come together - with a view to commencing Airport operations in late February 2016."
FORTHCOMING COMAIR AIR SERVICES


Comair's air services between St Helena Airport and OR Tambo International Airport in Johannesburg are scheduled to commence in late February 2016. Naturally, this date is dependent on final certification and operational readiness of St Helena Airport.
One flight a week will depart from Johannesburg every Saturday morning at 08.20am (GMT+2) and will arrive at St Helena Airport at approximately 11.30am (GMT). The return flight will depart from St Helena at 12.30pm (GMT) and will arrive at OR Tambo International Airport at approximately 6.30pm (GMT+2).
Given that the recommended minimum connecting time at OR Tambo International Airport for international-to-international flights is 60 minutes; this timing will allow seamless connections to and from a range of international destinations. For example, the 08.20am departure to St Helena will provide sufficient time to connect customers off, for example, the BA 055 flight arriving from London Heathrow.
St Helena Government, in consultation with Comair, is in the process of determining the final pricing structures, and bookings will open for sale once St Helena Airport has been granted certification.
TOO HOT TO HANDLE? FORT WORTH RED BULL AIR RACES

The Texas heat had an effect on the pilots - some more than others...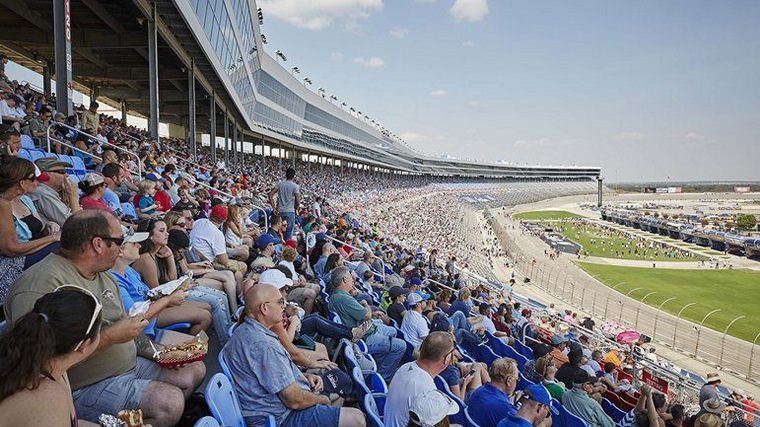 Photos © Red Bull

To those pilots not so used to warm weather, the searing summer heat of Fort Worth, Texas had the potential to be a little too hot to handle. Reaching temperatures of around 36°C during the day with a humidity of around 50%, the sixth stop of the 2014 Red Bull Air Race World Championship was one of the hottest yet.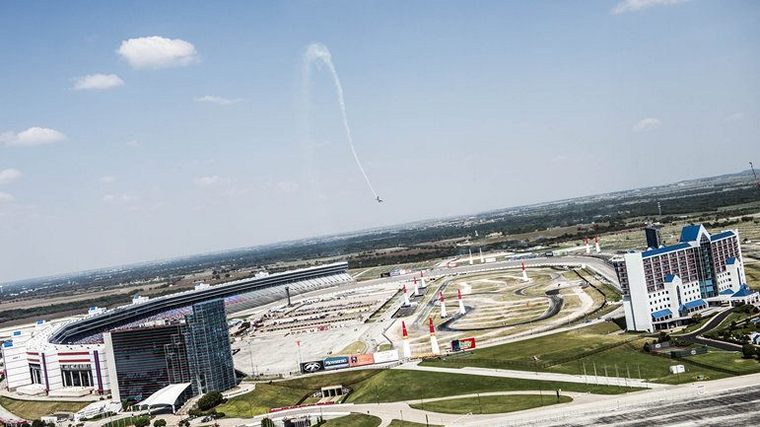 But what effect does this have on the pilots and their planes? "It's a little bit like chewing gum," says Nicolas Ivanoff (FRA). "When you fly in somewhere like Ascot - where it was between 20°C and 25°C - the air seems to be really stable and strong. And here it seems to be really inconsistent; you cannot pull as much as you want. It's not just the plane that's affected but me too because the heat makes me less receptive. I didn't expect it to be like this."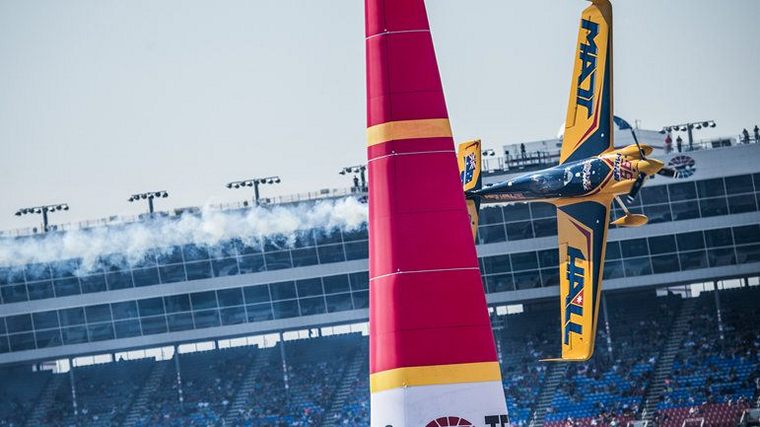 Australian pilot Matt Hall sees things a little differently: "It's very hot here, but that goes in our favour because we're used to the hot weather." Hall first showed he had what it takes to be a key player in this year's World Championship when he claimed 3rd place in Putrajaya, Malaysia - the hottest race to date this season.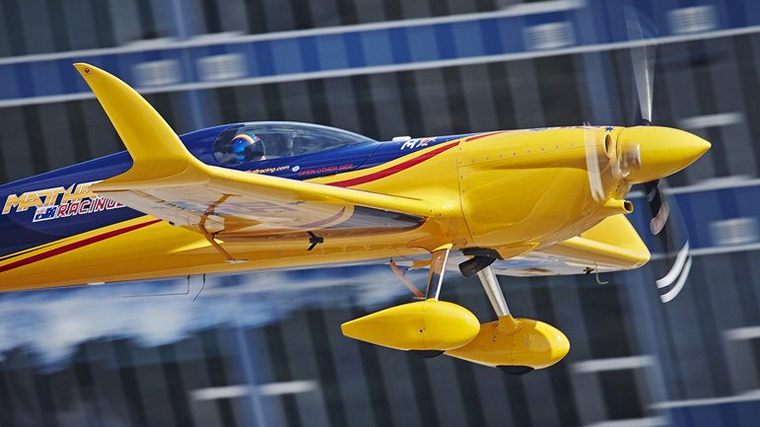 Weather conditions including high winds above 25 knots and thunderstorms in the near vicinity of the Texas Motor Speedway at Fort Worth have forced the Race Committee to cancel the Qualifying round for the Master Class of the Red Bull Air Race World Championship.
The starting order for Sunday's race was based on the fastest time of each pilot throughout today's two training sessions. The race continued as scheduled moving directly into the Finals for the Master Class.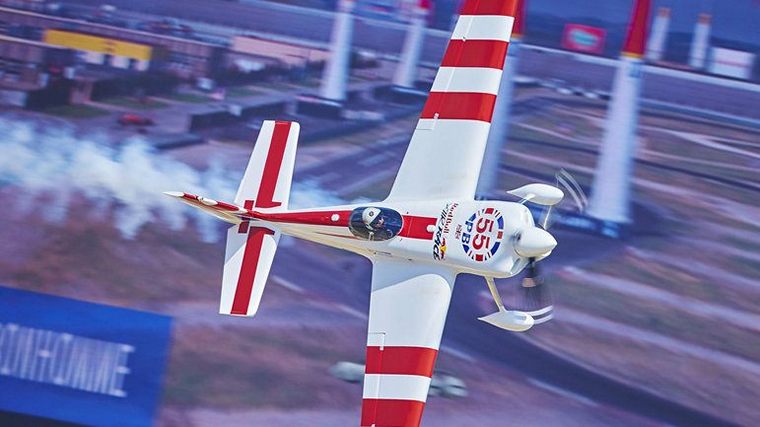 The changeable conditions and wind direction out on the racetrack have seen a series of Safety Climb Out (SCO) results for the pilots as they battle to find the right racing lines. With the winds forcing both Martin Sonka and Hannes Arch to scratch their runs, performing a clean run through the racetrack is proving a massive challenge for each pilot.
Matt Hall racked up two pylon hits, and struggled with a remnant of fabric from the second pylon when it got stuck on the spade of his wing. Despite performing a tail slide manoeuvre to try to dislodge the fabric, Hall was forced to divert, landing safely at Alliance Airport.

It was ultimately Ivanoff who conquered the racetrack and posted the fast time in the final Training session before Qualifying
Final Four:

1 Paul Bonhomme GBR - Winner
2 Matt Hall AUS
3 Yoshihide Muroya JPN
4 Martin Sonka CZE
Standings:

1 Paul Bonhomme GBR 67
2 Matt Hall AUS 59
3 Hannes Arch AUT 30
4 Martin Sonka CZE 28
5 Nigel Lamb GBR 20
6 Pete McLeod CAN 19
BOEING RECEIVES ORDER FROM INDIA FOR 22 APACHE AND 15 CHINOOK HELICOPTERS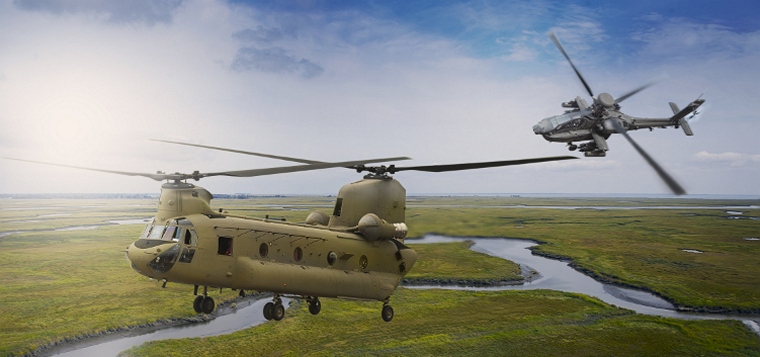 Photo © Boeing


The India Ministry of Defence has finalized its order with Boeing [NYSE: BA] for production, training and support of Apache and Chinook helicopters that will greatly enhance India's capabilities across a range of military and humanitarian missions.
India will receive 22 AH-64E Apache attack helicopters and 15 CH-47F Chinook heavy-lift helicopters. Both are the newest models of those aircraft.
"This is a milestone in Boeing's expanding commitment to India," said Pratyush Kumar, president, Boeing India. "This acquisition enhances the Indian Air Force's capabilities and offers us an opportunity to further accelerate 'Make in India.' Large sections of the Chinook fuselage are already manufactured in India and discussions are ongoing with our Indian partners to make Apache parts."
The Apache is the world's leading multi-role attack helicopter. The AH-64E Apache, the most modern variant also flown by the U. S. Army, features enhanced performance, joint digital operability, improved survivability and cognitive decision aiding.
The CH-47F Chinook is an advanced multi-mission helicopter operated by the U.S. Army and 18 other defence forces. The Chinook has proven its ability to operate in the range of conditions that typify the Indian subcontinent, including delivering heavy payloads to high altitudes.
"These new aircraft will provide world-class capabilities to meet the Indian Air Force's missions today, tomorrow and well into the future," said David Koopersmith, vice president and general manager, Boeing Vertical Lift division. "This agreement represents another major step forward in our long and successful relationship with India."
India is the 14th nation to select the Apache and the 19th nation to select the Chinook.
"The Apache and Chinook represent the best of high-performing technologies that will modernize India's defence capabilities," said Dennis Swanson, vice president, Defence, Space & Security in India. "We look forward to delivering the newest Apache and Chinook to our customers and remain focused on delivering on its commitments to the Indian Air Force and India's Ministry of Defence."
PIPER DELIVERS FIRST M500 INTO POLAND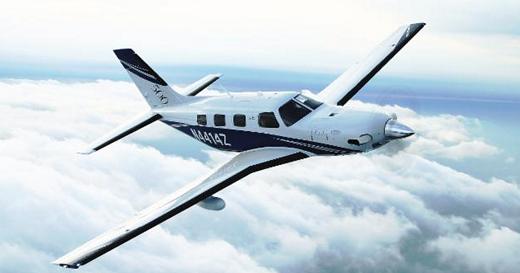 Photo © Piper
.
Piper Aircraft will deliver the company's first M-Class single-engine pressurized Piper M500 to Poland. The aircraft has been retail sold by JB Investments to a customer in that region who will operate the aircraft in support of his business. JB Investments is Piper's dealer for new aircraft, serving the country of Poland.
"The delivery of the first Piper M500 into Poland demonstrates the global demand for aircraft with uncompromised safety and underlying sound economics, as well as unparalleled performance," said Piper President and CEO Simon Caldecott. "Reliable, single-engine Piper M-Class aircraft continue to outperform anything in the same class."
JB Investments President and Owner Jan Borowski said, "The Piper M500 is a large, cabin class, pressurized aircraft with club seating and the amenities of a much larger aircraft, while delivering the economies of a single-engine piston." JB Investments offers new aircraft sales, as well as service via its sister company, Aero Club Sp. z o.o. JB Investments is one of the largest private airbases in Poland, located 15km from Warsaw in the Konstancin-Jeziorna commune.
Currently, there are eleven PA-46 aircraft registered in Poland, six that have been delivered by JB Investments. This is the first aircraft of Meridian descent delivered into the country. The owner will take possession of the plane this week at an airbase just outside of Warsaw.
FLEXJET TAKES DELIVERY OF ITS FIRST EMBRAER LEGACY 500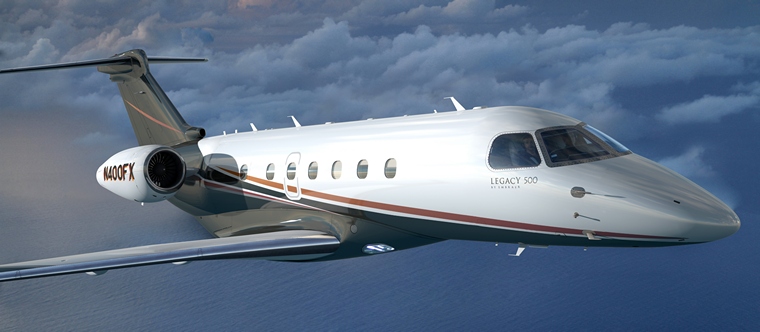 Photo © Embraer

Embraer Executive Jets announced that Dallas-based Flexjet LLC, a leading provider of fractional jet ownership services, received its first Legacy 500 business jet.
"It's a great privilege to have been selected by Flexjet for the expansion of its world-class fleet," said Marco Tulio Pellegrini, President & CEO, Embraer Executive Jets. "The Legacy 500, and soon the Legacy 450, will deliver true innovation to Flexjet customers, and we are committed to providing the highest level of customer support and service."
Flexjet Chief Executive Officer Michael Silvestro said, "We know that current and prospective Owners are seeking cabins that are larger and more luxurious than those typically found in this category, complemented by the newest technology and optimized performance. We are thrilled to bring the innovative Legacy midsized cabin solution to the market starting this month."
Flexjet's fractional program already features the Embraer Phenom 300 light jet.
Since certification by Brazil's ANAC (Agência Nacional de Aviação Civil) in August 2014, the Legacy 500 has been certified by another five aviation authorities in the U.S., Mexico, the European Union, the Middle East, and Australia.