THIS WEEK IN MIDWEEK UPDATE


Plan your weekend
Forthcoming events
This week's specials
This week in aviation history
Worldwide incidents and accidents
Aviation News
Advertising rate card

18 November: EAA Aviation Legends Talk Show. Our esteemed guest for November is none other than the current SA Unlimited Aerobatic Champion, Captain Nigel Hopkins. In 2008, at the AWAC (Advanced World Aerobatic Championships). He had great expectations of winning this year at the AWAC in France but his almost brand new MX2 specialty aerobatic aircraft broke up in the air during a practice session prior to the competition. Time: 18h30 for 19h30 (time to order your drinks & Boerewors/ Steak roll). Venue: EAA Auditorium adjacent to TAC and Holding point of Runway 29, Rand Airport, Hurricane Road. Germiston. Take the entrance at Hurricane Road (NOT thru the main gate). Cost : R50.00 each (R30 for card carrying EAA, members). Booking: e-mail to book at eaa.talkshow@icon.co.za
13 - 15 November: The EAA of SA Sun 'n Fun Fly-in to Brits will include the following: Peter Hengst Memorial Breakfast Fly-in on 14 November, Neil Bowden Oshkosh Pilgrims Reunion, Mass Airplane Factory Sling Fly-in and SAPFA organised 'Poker Run'. Camping on the airfield, numerous B&B accommodation in town. Braai on Friday evening at the BFC Clubhouse, sit-down dinner on Saturday - come and experience bushveld hospitality and EAA camaraderie with the famous delicious catering of BFC. All aircraft and pilots welcome. Further info rsvp@eaa.org.za 083 259 7691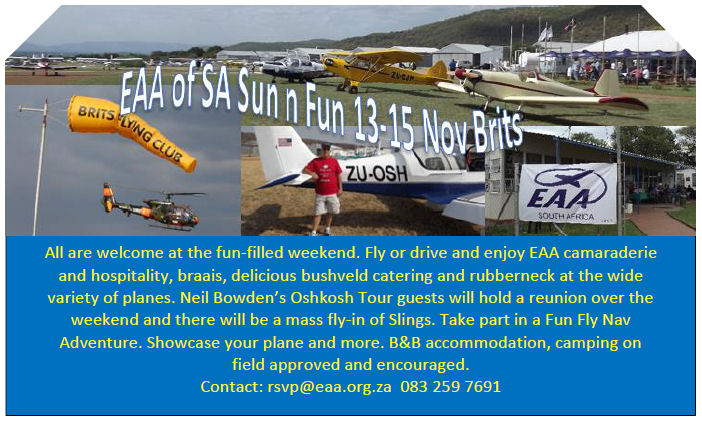 14 November: Panorama Fly in
FORTHCOMING EVENTS

21 November: SAPFA Fun Rally Brits. "Peter Hengst Memorial Fun Rally Contact Jonty Esser jonty@aircraftoc.co.za for Rally information and entries and Trixiie Heron editor@afskies.co.za for EAA"
28 November: Sawgrass Airfest, Winspark.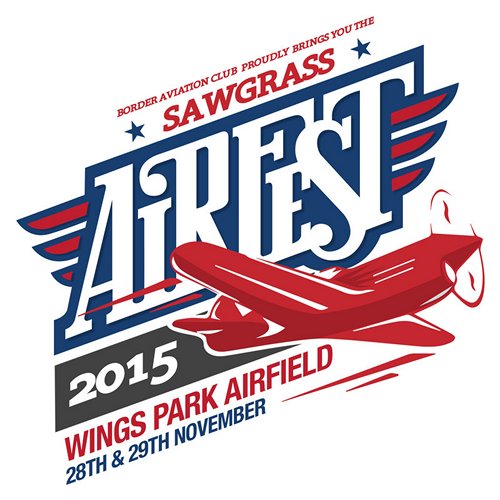 28 November: SSSA TMG Fly in Brits: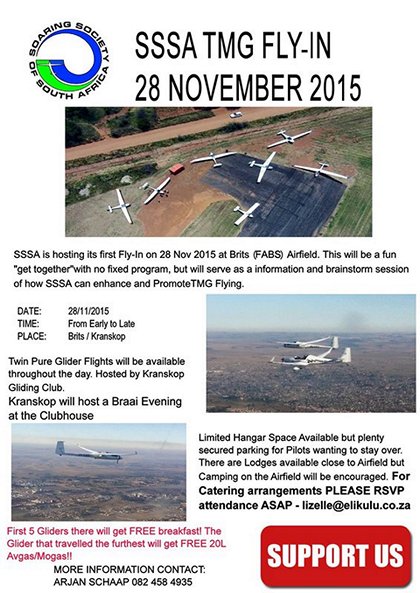 28 November: SAC ACE of Base - Vereeniging. Contact Annie Boon
chunge@mweb.co.za
6 December: Henley Model Airfield Fun Day. Contact Marius or Susan Vosloo 084 602 1101
5 December: SAAF Museum flying training and open days. Contact Capt. Kobus Kapp 012 351 2342 or E-mail: webmaster@saafmuseum.org
7 December: ICAD (International Civil Aviation Day) Contact Mark Swarts e-mail: SwartsM@caa.co.za Cell: 082 878 0875
17 December: DC-3 80th Anniversary function Rand Airport. Springbok Classic Air's CEO, Captain Flippie Vermeulen, invites you to Dress Up and come and enjoy an evening of celebrations at Hangar 5, Rand Airport! Dress Code: 1935 - 1944, Gatsby/Al Capone. Ticket Cost: R500.00 pp. R5,000.00 for a table seating 10 people. 3-course meal, Cash Bar, Live Entertainment. Programme includes: DC-3 formation flight display done by Capt Flippie Vermeulen and his daughter Petro Swanepoel. Presentation on the DC-3 history. Welcome to ZS-CAI. Contact: info@springbokclassicair.co.za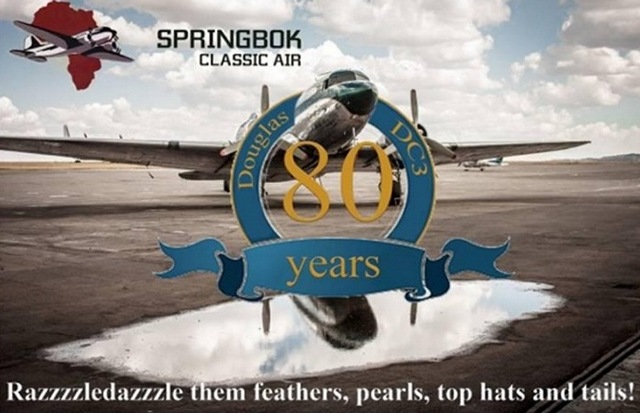 30 December: Annual Open Day. St Francis Airpark (FACF)
2016

6-7 February 2016: Aerobatics SACNW regionals, Klerksdorp. Contact Annie Boon
chunge@mweb.co.za

4-5 March: Swellengrebel Fly in: Swellendam. Contact Pieter Venter 082 250 9504 or pventer@vgv.co.za
4-5 March 2016: Uitenhage Wings and Wheels Fesitval Incorporating the Doug Davidson Memorial Airshow - Uitenhage Airfield, Eastern Cape. Stalls, Entertainment, Beer Garden, Plane and Stock Car race, Parades, Vintage and New Car exhibits, Bike Raffle and more…. Contact Lourens Kruger 082 320 2615
lmk@telkomsa.net
17-20 March: SA Navy Festival, Simonstown. Contact Brian Emmenis
brian@icon.co.a
2-3 April: Arobatics SAC Western Cape regionals.
Contact Annie Boon
chunge@mweb.co.za
6-7 May: Lowveld Airshow, Nelspruit. Contact Willemien
willemien.hodgkinson@ffa.co.a
13-15 May: Battlefields annual fly in: Dundee. Contact Dave O'Halloran
gm@battlefieldslodge.co.za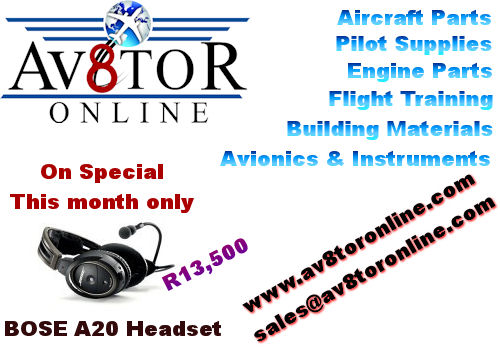 11 November 1937 - The Messerschmitt ME-109 V13 flies world record 379mph/610kph.
11 November 1935 - Jean Batten becomes the first woman to fly solo across the South Atlantic, taking 2 days 13 hours to cross from Senegal to Brazil in a Percival Gull. She also breaks the speed record for this crossing, by a full day.
11 November 1935 - A. W. Stevens and O. A. Anderson set a new balloon altitude record of 72,395 feet (22,066 m).
12 November 1989 - California Polytechnic State University flies the first human-powered helicopter
12 November 1921 - The first air-to-air refuelling was made when Wesley May stepped from the wing of one aircraft to that of another carrying a five-gallon can of gasoline strapped to his back.
12 November 1919 - Keith and Ross Smith set out to fly a Vickers Vimy, G-EAOU, from England to Australia, the first flight between these two places. They arrive in Darwin on December 18.
15 November 1967 - The only fatality of the X-15 program occurs during the 191st flight when Air Force test pilot Michael J. Adams loses control of his aircraft which is destroyed mid-air over the Mojave Desert.
15 November 1965 - A Boeing 707 makes the first polar circumnavigation of the world.
16 November 2004 - NASA's X-43 reaches a record speed of Mach 10 (7,000 mph, 11,200 km/h)
17 November 1910 - Ralph Johnstone, a pilot for the Wright Exhibition Team, becomes the first American pilot to die in a plane crash when his machine breaks apart in mid-air in full view of about 5,000 spectators at Denver, Colorado.

USA, Hawthorne: A 19-year-old man who pointed a laser at an airplane and two helicopters near Hawthorne Municipal Airport on Valentine's Day was sentenced Monday to a year in jail and three years' probation. Two of the pilots said they were temporarily blinded.
Kuala Lumpur, Malaysia: A Singapore Airlines Boeing 747-400 freighter en-route from Sydney, Australia with 2,186 sheep on board was forced to make emergency landing at Bali Denpasar after gas set off smoke alarms. No smoke was found but the gas and manure of 2,186 sheep on board caused the alarm to sound.
USA, Las Vegas: An American Airlines aircraft with 160 people on board, landed safely back at the airport after it had to make an emergency after having hit a bird shortly after take-off. This was the 16th reported bird strike at McCarran Airport this year.




HH SHEIKH MOHAMMED BIN RASHID AL MAKTOUM OFFICIALLY OPENS DUBAI AIRSHOW 2015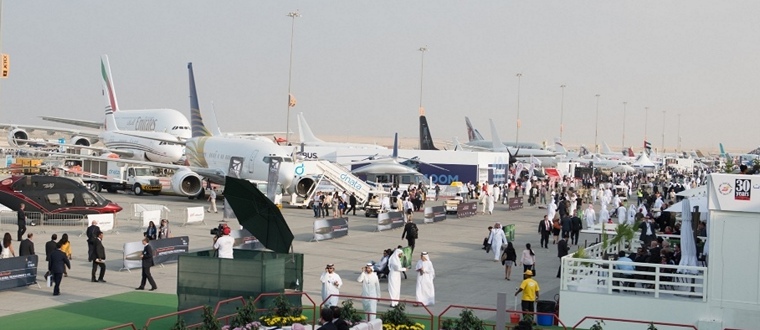 Photos © Dubai Airshow

Dubai Airshow, the world's fastest growing aerospace exhibition, was officially opened this morning by His Highness Sheikh Mohammed bin Rashid Al Maktoum, Vice President and Prime Minister of the UAE and Ruler of Dubai.
Sheikh Mohammed took part in a ribbon cutting ceremony, before taking a tour of the site with Michelle van Akelijan, Managing Director of Dubai Airshow organisers F&E Aerospace. Beginning his tour with a visit to the liveried search and rescue helicopter fleet of the UAE Joint Aviation Command, he then greeted the pilots of the UAE Air Force aerobatics team, Al Fursan. The team, which flies seven Aermacchi MB-339A jet trainer aircraft, will be taking part in daily demonstrations during the Dubai Airshow 2015, displays which will be open to the public at the event's Skyview arena.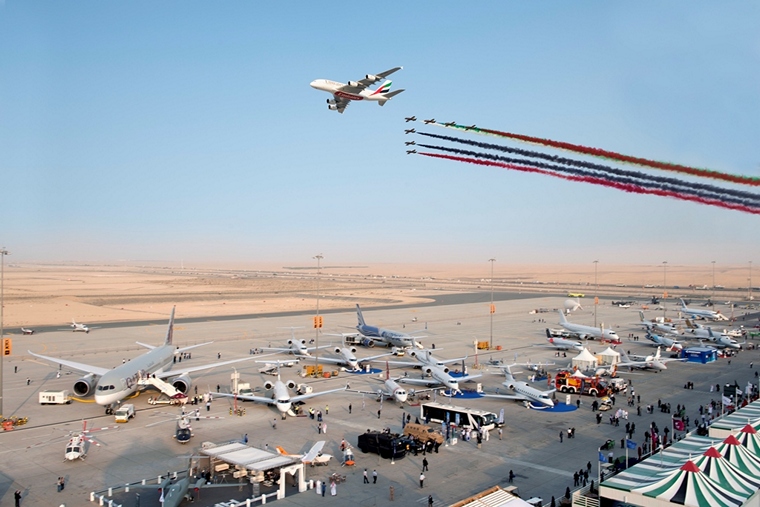 Commenting on the official opening, Michelle van Akelijan said: "It is an honour to welcome Sheikh Mohammed bin Rashid Al Maktoum to officially open this year's event. With exhibitors coming from 61 countries, we are expecting to see some exciting and innovative additions to the show this year."
A total 1103 exhibitors at the show will receive 65,000 trade visitors are expected to attend throughout the Dubai Airshow's five days at DWC, Dubai Airshow Site, which for the first time will feature a 3D print pavilion, 3D Printshow Dubai, and an exhibition by the newly formed UAE Space Agency.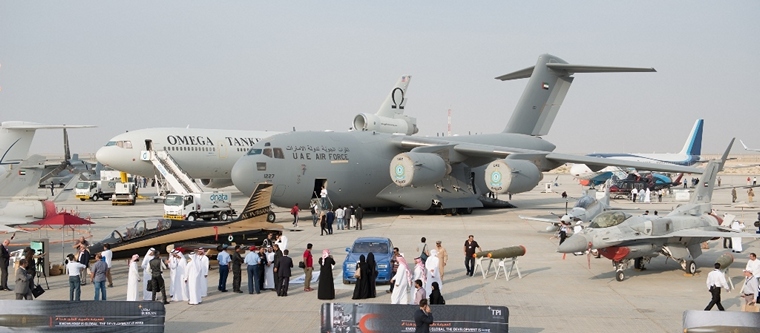 Dubai Airshow is organised under the patronage of HH Sheikh Mohammed bin Rashid Al Maktoum, Vice President and Prime Minister of the UAE and Ruler of Dubai, and in co-operation with Dubai Civil Aviation Authority, Dubai Airports, Dubai World Central and the UAE Armed Forces.
LEBANESE AIR FORCE SELECTS A-29 SUPER TUCANO FOR CLOSE AIR SUPPORT ROLE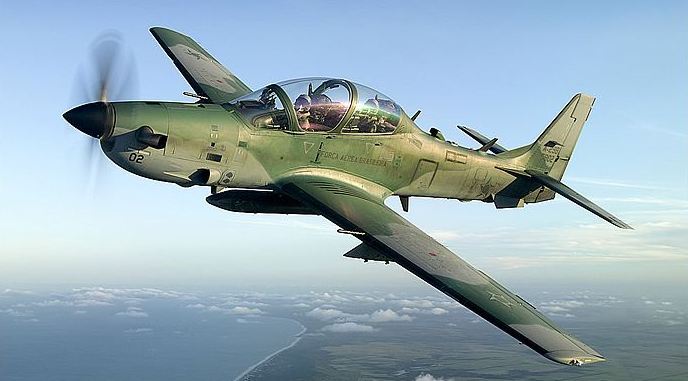 Photo © Embraer

The Republic of Lebanon confirmed the acquisition of six A-29 Super Tucano turboprop aircraft from Embraer Defence & Security and Sierra Nevada Corporation. The contract includes logistics support for aircraft operation as well as a complete training system for Lebanese Air Force pilots and mechanics. The sale was approved in June by the U.S. State Department.
The aircraft sale is part of a larger, more comprehensive package, including infrastructure improvements that will be fulfilled by other parties not involved in the Embraer/SNC partnership. The planes, which are currently in operation with 10 Air Forces around the world, will be built in the Jacksonville, Florida.
"The selection of the A-29 by the Lebanese Air Force is a great testament to the superiority of the Super Tucano and its ability to meet the challenges of the operating theatre in the Middle East," said Jackson Schneider, president and CEO of Embraer Defence & Security. "The Super Tucano is the best and most capable aircraft in the market with a proven record of success with Air Forces around the world."
The A-29 Super Tucano is a durable, versatile and powerful turboprop aircraft capable of carrying out a wide range of light air support (LAS) missions, even operating from unimproved runways. Due to its original concept design, high speed and excellent manoeuvrability, the Super Tucano is the only aircraft in its class to present superb cockpit visibility, extremely high efficiency and low vulnerability in the close air support role. The blend of advanced, robust and redundant systems allows the aircraft to outmanoeuvre and outperform nearly any competitor in its class.
After more than 10 years in service, the Super Tucano has gained an excellent performance record, earning Embraer more than 230 firm orders. With more than 140 certified load configurations, it is equipped with advanced electronic, electro-optic, infrared and laser system technologies, as well as secure radio systems with data links and unrivalled munitions capacity.
"SHADES" LIVERY NOW ALSO ON NEW A330NEO


Airbus' A330neo is joining the A350 XWB in its distinctive cockpit windscreen design.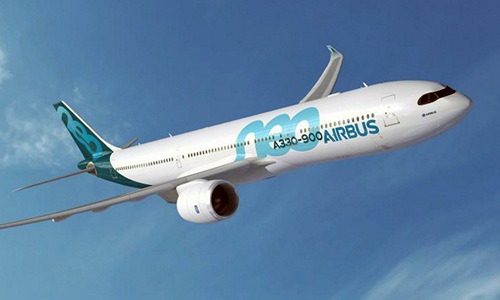 Photo © Airbus "The A330neo complement the A350 XWB in the new Airbus Long-Range family, so it was only natural that the A330neo should have the same cockpit shades design than its larger sibling" said Eric Zanin, Head of A330 programme.
The new A330neo share the latest innovations and technologies matured on the A330 and the A350 XWB with composite Sharklets, new generation engines and systems. Both complement each other in terms of capacity and range - they address different payload and range requirements and operate together seamlessly. A common type rating allows A330 pilots to qualify on the A350 XWB in only eight days and fly on both aircraft under a single license - thus offering unbeatable cost efficiencies for airlines.
Passengers on-board the A330neo and A350 XWB will equally enjoy the newest technology and comfort experience, including line-fit full connectivity, a new full LED mood lighting allowing unlimited customiza­tion of colour and intensity, as well as 4th-generation high-definition in-flight entertainment (IFE) without compromising on Airbus' comfort standard of 18-inch wide seats
Based on the proven reliability of the A330 Family, the A330-800neo and the A330-900neo are two new members of the Airbus Widebody Family launched in July 2014 with first deliveries scheduled to start in Q4 2017. The A330neo incorporates latest generation Rolls-Royce Trent 7000 engines, aerodynamic enhancements and new cabin features. Benefitting from the unbeatable economics, versatility and high reliability of the A330, the A330neo reduces fuel consumption by 14% per seat, making it the most cost efficient, medium range Widebody aircraft on the market. In addition to greater fuel savings, A330neo operators will also benefit from a range increase up to 400 nautical miles and of course all the operational commonality advantages of the Airbus Family.
TECNAM OFFERS EU BASED FLIGHT TRAINING ORGANISATIONS NEW AIRCRAFT FINANCING OPPORTUNITIES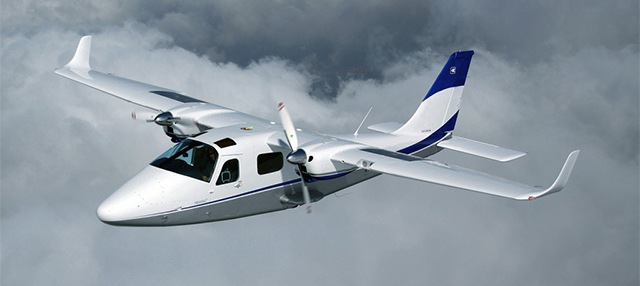 Photo © Tecnam

Tecnam announced a co-operative financing programme with Flight Support, a Softeks Group ™ company, that will enable EU based Flight Training Organisations to acquire Tecnam aeroplanes at lower initial capital expenditure terms.
Softeks are affording existing and newly established EU based FTO's to expand or modernise their training fleets with just a typical 30% initial payment, based on a minimum four year repayment period.
Tecnam new leasing programme is designed to be very flexible and will support FTO's that require financing less or mare than a typical four year period.
"Flight Training Organisations around the world are choosing Tecnam's wide range of superlative aircraft to modernise their fleets." FTO's have been delighted with the reliability, efficiency and ease of maintenance that Tecnam aircraft afford. The financial support Softeks is offering potential Tecnam customers is aimed to make it even easier and more cost-effective for FTO's to successfully grow their businesses". Said Paolo Pascale, Tecnam's Managing Director.
"We are very proud to offer to Tecnam customers a new way to acquire the aircraft and keep their business more and more smart and financially possible." said Ruslan Usarov, Softeks CEO.
PNG AIR ENTERS NEW ERA WITH FIRST ATR 72-600 AIRCRAFT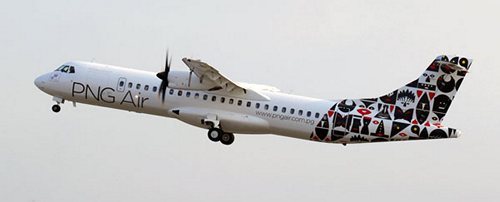 Photo © ATR Papua New Guinea's carrier, PNG Air, formerly Airlines PNG, marks the new era with the entry into service of their first ATR 72-600 aircraft, revealing the airline's new look - with livery and interiors designed to reflect the nation's heritage. The aircraft is the first of seven ATR-600 series aircraft ordered in 2014, with six directly purchased by the airline. Deliveries of the remaining six aircraft will run into 2017. The carrier also holds options for another 14 aircraft.
The investment in new ATR aircraft will support PNG Air's growth plans, marking an important phase in the airline's restructuring and fleet renewal program. The new planes will gradually replace the fleet of ageing 36-seat turboprops. PNG Air will deploy its ATR 72-600s on routes over its regional network.
The newly delivered ATR aircraft took to the skies in a passenger-cargo "combi" layout. The recently certified "combi" configuration of the ATR aircraft allows combining cargo which nearly doubles its capacity with up to 44 passenger seats section providing PNG Air with greater operation flexibility. PNG Air has become the first airline to operate the ATR 72-600 aircraft in the "combi" configuration.
PNG Air's selection of the ATR-600 series aircraft was driven by their superior economics, unbeatable performance on short and unpaved runways and best dispatch reliability in its segment.
"The arrival of the new ATR 72-600 to our fleet will enable PNG Air to enhance its service offering and redefine regional travel in Papua New Guinea. The new ATRs are the cornerstone of the PNG Air new developments, offering exceptional operational flexibility with the right range and lowest costs," said Muralee Siva, Chief Executive Officer of PNG Air. "Changing the corporate name from Airlines PNG to PNG Air is also a natural progression in the development of our airline investment."
PNG Air's ATR 72-600s will join a strong ATR presence in the Pacific, where the company's aircraft underpin all fleet modernizations in the region.
UAE AIR FORCE ANNOUNCES US$1.27 BILLION DEAL WITH SAAB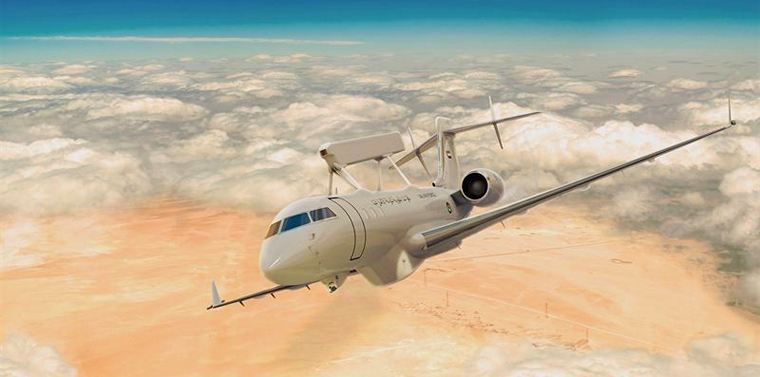 Photo © SAAB

The United Arab Emirates Air Force has today signed a purchase agreement with Swedish Aerospace firm Saab at Dubai Airshow, worth US$1.27 billion. The deal will see the UAE purchase two new Global 6000 long-range surveillance aircraft, featuring brand new to market operating systems, while a further two Saab 340 jets already in UAE ownership will undergo systems upgrades.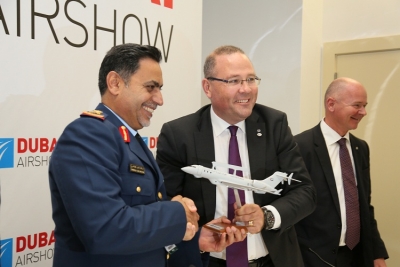 Unveiling the deal at the Dubai Airshow this afternoon, Major General Abdullah Al Hashimi said: "I am really happy to announce the first deal that has been signed between the United Arab Emirates Air Force and Saab Industrial this year, to buy two new aircrafts for the amount of US$1.27 billion. By buying two new aircraft, and upgrading two existing aircraft, we are very happy to continue our relationship with Saab."
In response, Saab Group President and CEO, Håkan Buskhe, said: "We are an extremely proud supplier to the UAE Air Force, and we think, in cooperation with the UAE Air Force, that this deal is the start of something new. The new platform offers increased endurance and a newly developed suite of sensors that the UAE will be the launch customer for. This will be a game changer for surveillance capability going forward."
While a time frame for the deal is still to be formally agreed, the UAE says it expects to take delivery of the aircraft, which have air-to-air, ground-to-air and air-to-sea capability, in around two years' time.
The deal was welcomed by Michele van Akelijen, Managing Director of Dubai Airshow organisers F&E Aerospace, who said: "The Dubai Airshow is at the forefront of the aviation industry and this agreement demonstrates once again that is a place to do business. We are seeing a huge military presence at the show this year and we are pleased that it is once again the choice of those looking to make significant and ground-breaking deals."
EMIRATES AIRLINE SELECTS CIRRUS AIRCRAFT SR22 FOR FLIGHT TRAINING ACADEMY FLEET



Cirrus Aircraft today announced Emirates Flight Training Academy, the flight training program operated by Emirates airline, selected the technologically advanced SR22 for its primary training aircraft. A fleet of twenty-two (22) Cirrus SR22 aircraft will lead pilot training at Al Maktoum International-Dubai World Central Airport in support of the Emirates' National Cadet Pilot Programme. Emirates airline is the world's largest international carrier with a strong record of service excellence and profitability. The partnership marks the latest milestone where Cirrus Aircraft has been chosen by a premier global pilot training program to provide advanced, easy-to-fly modern aircraft to prepare students to fly tomorrow's commercial airliners.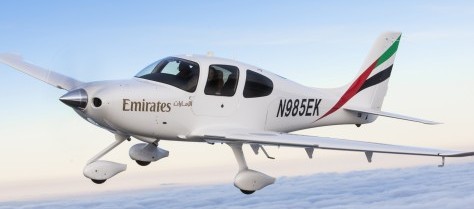 The Cirrus fleet of SR22s selected by Emirates offers a broad range of industry leading capabilities that will prepare cadets to fly Emirates' commercial airliners on global routes. With Cirrus Perspective™ by Garmin®, cadets will view a flight deck with two large 12 inch flight displays, a Flight Management System (FMS) keypad controller, plus integrated engine indication and crew alerting systems. The flight deck includes an automatic flight control system (AFCS) and flight director as well as ADS-B NextGen capabilities. Each aircraft is also equipped with a state-of-the-art electronic stability system similar to the envelope protection systems Emirates has on its air transport fleet. These advanced capabilities, along with the wide array of other innovations and standard features on the SR22, allow pilots to train on systems similar to what they will be operating in their future careers. Cirrus standard safety equipment, such as the Cirrus Airframe Parachute System® (CAPS®) and composite structures, will also allow these future Emirates pilots to train day in and day out with the best safety innovations available today.
"The Cirrus SR22 is the ideal training platform for the Emirates Flight Training Academy," noted David Moser, Cirrus Aircraft's Vice President of Fleet and Special Mission Aircraft. "Emirates is creating a dedicated flight training center that showcases the industry's most advanced approach to pilot training in a fully integrated facility. Cirrus speaks to the demands of this program through the innovation, advanced technology and avionics that are found in the SR22."