THIS WEEK IN MIDWEEK UPDATE


Plan your weekend
Forthcoming events
This week's specials
This week in aviation history
Worldwide incidents and accidents
Aviation News
Advertising rate card

21 November: SAPFA Fun Rally Brits. "Peter Hengst Memorial Fun Rally Contact Jonty Esser jonty@aircraftoc.co.za.

28 November: Sawgrass Airfest, Winspark.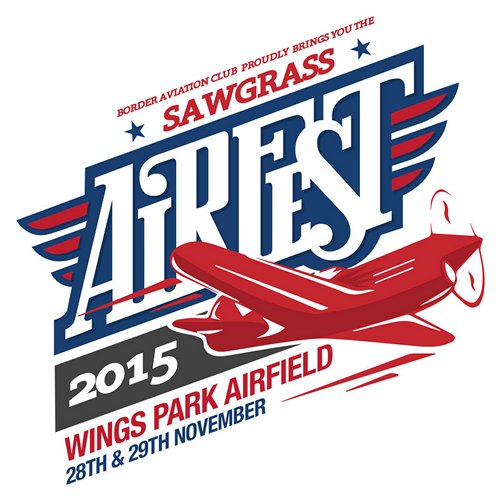 28 November: SSSA TMG Fly in Brits: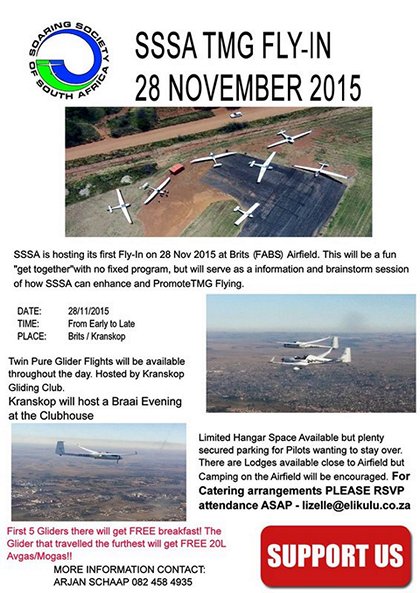 28 November: SAC ACE of Base - Vereeniging. Contact Annie Boon
chunge@mweb.co.za
5 December: SAAF Museum flying training and open days. Contact Capt. Kobus Kapp 012 351 2342 or E-mail:
webmaster@saafmuseum.org
6 December: Henley Model Airfield Fun Day. Contact Marius or Susan Vosloo 084 602 1101
7 December: ICAD (International Civil Aviation Day) Contact Mark Swarts e-mail: SwartsM@caa.co.za Cell: 082 878 0875
17 December: DC-3 80th Anniversary function Rand Airport. Springbok Classic Air's CEO, Captain Flippie Vermeulen, invites you to Dress Up and come and enjoy an evening of celebrations at Hangar 5, Rand Airport! Dress Code: 1935 - 1944, Gatsby/Al Capone. Ticket Cost: R500.00 pp. R5,000.00 for a table seating 10 people. 3-course meal, Cash Bar, Live Entertainment. Programme includes: DC-3 formation flight display done by Capt Flippie Vermeulen and his daughter Petro Swanepoel. Presentation on the DC-3 history. Welcome to ZS-CAI. Contact: info@springbokclassicair.co.za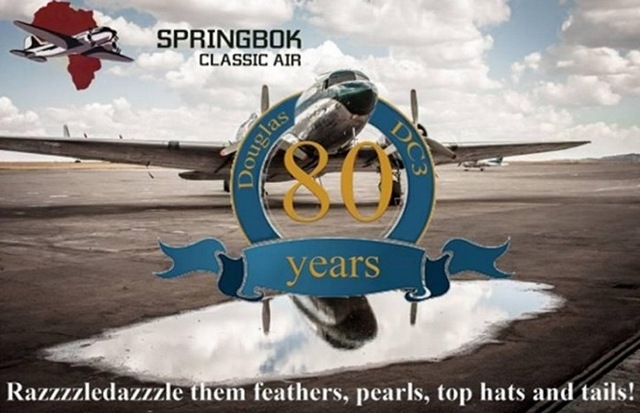 30 December: Annual Open Day. St Francis Airpark (FACF)
2016


6-7 February 2016: Aerobatics SACNW regionals, Klerksdorp. Contact Annie Boon
chunge@mweb.co.za

4-5 March: Swellengrebel Fly in: Swellendam. Contact Pieter Venter 082 250 9504 or pventer@vgv.co.za
4-5 March 2016: Uitenhage Wings and Wheels Fesitval Incorporating the Doug Davidson Memorial Airshow - Uitenhage Airfield, Eastern Cape. Stalls, Entertainment, Beer Garden, Plane and Stock Car race, Parades, Vintage and New Car exhibits, Bike Raffle and more…. Contact Lourens Kruger 082 320 2615
lmk@telkomsa.net
17-20 March: SA Navy Festival, Simonstown. Contact Brian Emmenis
brian@icon.co.a
2-3 April: Arobatics SAC Western Cape regionals.
Contact Annie Boon
chunge@mweb.co.za
6-7 May: Lowveld Airshow, Nelspruit. Contact Willemien
willemien.hodgkinson@ffa.co.a
13-15 May: Battlefields annual fly in: Dundee. Contact Dave O'Halloran
gm@battlefieldslodge.co.za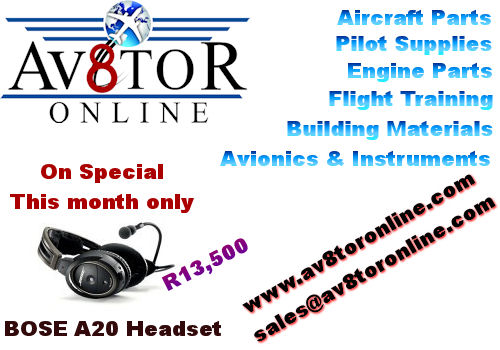 18 November 1923 - The first aerial refuelling-related fatality occurs during an air show at Kelly Field, Texas, when the fuel hose becomes entangled in the right wings of the refuelled and the receiver aircraft. The Army Air Service pilot of the re-fueller, Lt. P. T. Wagner, is killed in the ensuing crash of DH-4B, 23-444.
19 November 1969 - Apollo 12 lands on the Moon, allowing Charles "Pete" Conrad and Alan L. Bean to become the third and fourth humans to walk on its surface.
19 November 1952 - A North American F-86D Sabre fighter sets a new world speed record of 698.505 mph.
19 November 1919 - The first municipal airport in the United States opens in Tucson, Arizona and is still in use today.
20 November 1917 - The Zeppelin LZ-104 "Das Afrika-Schiff" makes a 6,757 km journey through Africa in 96 hours (average speed 71 km/h).
20 November 1783 - In a flight lasting 25 min, de Rozier and d'Arlandes take the first untethered ride in a Montgolfière in Paris, the first human passengers carried in free flight by a hot-air balloon.
23 November 1959 - First flight of the Boeing 720
24 November 1924 - A KLM Fokker F.VII makes the first flight from the Netherlands to the Dutch East Indies, taking 127 hours 16 min.

USA, Akron: A privately chartered Hawker H125 business jet with nine on board crashed into an apartment building in Akron, Ohio. None on board survived. The jet was approaching Akron's Fulton Airport, about four miles away, when it clipped power lines and plunged into the building, setting it ablaze. There were no reports of deaths or injuries on the ground.
Sudan, Malakal: A cargo aircraft chartered by the WFP with four on board crashed about 2 km from the runway into the Nile River shortly after take-off. Four crew were rescued from the water by SPLA soldiers and taken to the UNMISS clinic in Malakal for medical checks.
USA: Laser strikes on planes are growing even as the federal government enacts tougher penalties for people caught shining the devices. The Federal Aviation Administration recorded 5,352 laser strikes through Oct. 16, up from 2,837 for all of 2010. Some airports have reported more than 100 laser strikes this year: Los Angeles had 197; Phoenix had 183; Houston had 151; Las Vegas had 132, and Dallas-Fort Worth had 115. On July 15, during a 90-minute period, 11 airliners and one military aircraft reported laser strikes near New York City-area airports. People convicted of pointing a laser at a plane can be sentenced to 20 years in prison and a $250,000 fine.
Australia, Sydney: A Qantas 737 jet carrying 152 passengers and crew scraped its tail on the tarmac at Sydney Airport after the pilots tapped the wrong data into an iPad linked to the aircraft's computer. After landing at Darwin, the captain discovered some paint damage and scrape marks to the 737 but found a cartridge containing a tail strike sensor was intact. It indicated that the plane's tail had "only just contacted the ground during take-off." The pilots also later checked the performance figures on their iPad for the plane's take-off at Sydney. The first officer found the take-off weight was 10 tonnes less than the plane's actual weight of 76.4 tonnes. This resulted in the pilots calculating the speeds for take-off differently and changes to the aircraft's thrust setting.






COBALT UNVEILS CO50 VALKYRIE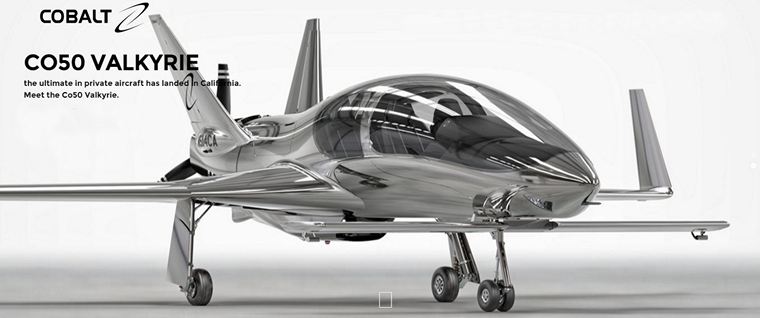 Photo © Cobalt Aircraft

San Francisco-based Cobalt as it has unveiled its new sleek aerodynamic single-engine five seater Co50 Valkyrie. The stylish canard wing Valkyrie powered by a turbocharged 350-hp Fadec-equipped Continental engine mounted at the rear will have a claimed speed of 260 knots whilst the forward mounted canard wing will makes it harder to stall.
With the canard is tucked beneath the nose and the engine and propeller in the rear there is nothing to spoil the view from the extra-large helicopter like glass enclosed nose section.
According to David Loury founder of Cobalt and an ex Airbus Engineer the project has been underway for about 10 years. Original design started in France before moving to Canada. Founding the certification process in both countries arduous the company relocated to San Francisco during 2014. Five prototypes have been built and flight testing is already well underway and first deliveries are expected in 2016. Buyers will be able to order either an experimental or certified version.



PIAGGIO AEROSPACE -FIRST ROLL OUT FOR THE NEW MPA - MULTIROLE PATROL AIRCRAFT




Photo © Piaggio Aerospace

The first roll out of the first MPA (Multirole Patrol Aircraft) took place in Genoa and represented a key milestone in the development of this innovative new airplane, which is now approaching ground and flight tests activities to achieve its complete flight envelope configuration.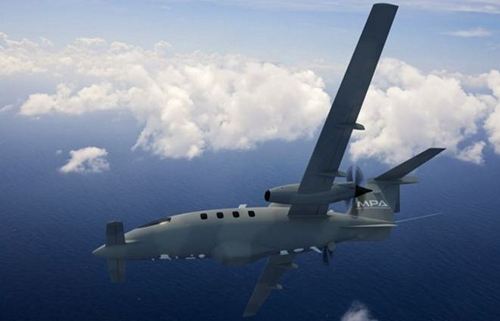 Fully compatible with the unmanned HammerHead system, the MPA is developed by Piaggio Aerospace in partnership with ADASI - Abu Dhabi Autonomous System Investments - and represents a significant evolution of the P.180 Avanti platform, including: 50% increasing of the wing span; 35% increasing of the horizontal tail and 20% increasing of the forward wing surfaces; Significant upgrade of the power plant with new scimitar propeller blades and noise reduction; Increased fuel tanks capacity (50%)
New SAAB Albatros Mission System by with Radar 1700 G2, EO/IR and Rockwell Collins Pro Line Fusion Avionic Suite.
Simultaneously with the Italian roll-out, the MPA Ground Demonstrator is show-cased at the Dubai Air Show within the stand of Mubadala, shareholder of Piaggio Aerospace. It is constituted by the forward section of the aircraft, fully equipped with the new avionic and mission systems. The main goal of this Ground Demonstrator is to offer a realistic representation of the system capabilities and perform ground testing of equipment, anthropometric evaluation, cockpit lighting/glare, and human machine interface evaluation.
Carlo Logli, CEO of Piaggio Aerospace, commented in Dubai the MPA roll-out by saying: "We are very pleased about this step ahead in the MPA programme, as we consider this new aircraft as a key strategic asset of our product portfolio. In the very near future, we will be able to offer an integrated range of manned and unmanned solutions, tailored on the needs of each Customer, boosting unique capabilities, and able to match the growing and sophisticated demand of security of many Nations".
Jonas Hjel, SAAB's Head of Business Area Support and Services, said: "We have worked closely together with Piaggio Aerospace to integrate SAAB's advanced multi-mission surveillance systems for maritime and overland missions, with equipment that includes a mission management system, radar and electro-optics. Today we are proud to present this system, which is the most advanced technology for airborne surveillance, in the MPA product".
Claude Alber, Rockwell Collins Vice President and Managing Director, Europe, Middle East and Africa added: "Piaggio Aerospace's new MPA represents a significant technological step forward for completing special missions, and Pro Line Fusion delivers information to the flight deck faster and more efficiently on customised, empowering pilot interfaces. This aircraft is another proud milestone in our long-standing relationship with Piaggio".
BOMBARDIER CHALLENGER 350 AIRCRAFT OWNED BY VISTAJET SETS WORLD SPEED RECORD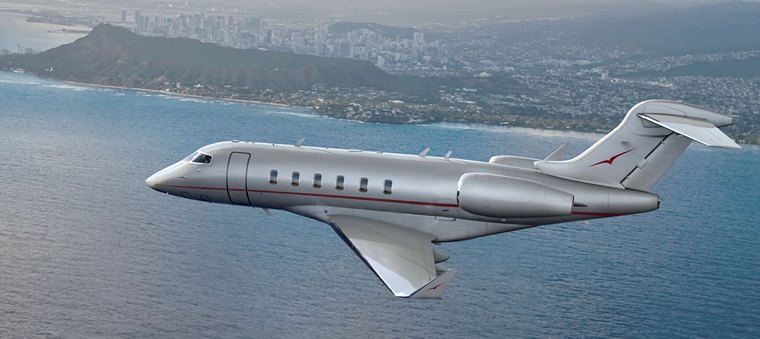 Photo © Bombardier

A Bombardier Challenger 350 aircraft, owned by VistaJet, a global leader in premium long-range private jet travel, set a world speed record in its class, flying from Napa Valley to the Cayman Islands - a distance of 2,774 miles (4,463 km) - in five hours and five minutes.
The US-registered Challenger 350 aircraft, managed and operated by Priester Aviation, departed Napa County Airport in California at 8:22 a.m. PDT on October 28, 2015 with three crew and two passengers on board. The maximum cruising speed was M 0.83 at a cruise level of 41,000 feet (12,497 m). The pilots touched down at Owen Robert International Airport in Grand Cayman at 1:27 p.m. PDT with more than sufficient fuel reserves.
"The Challenger 350 aircraft handled beautifully throughout the flight," said Priester Aviation's Captain Andy Wegman. "Thanks to its unmatched climb characteristics, we took it straight to 41,000 feet (12,497 m) in under 20 minutes, where we cruised comfortably at ground speeds up to 545 knots to set the record."
"This achievement is another example of the impressive speed, climb and range capabilities of the super midsize Challenger 350 aircraft," said David Coleal, President, Bombardier Business Aircraft. "We are pleased to share this honour with our valued customer VistaJet and congratulate the entire VistaJet and Priester Aviation team on achieving this new world record."
"We've taken delivery of 13 Challenger 350 jets over the past year, and to date, our experience with this aircraft has been very positive," said Nick Van Der Meer, Chief Operating Officer, VistaJet International. "We provide our customers with the best aircraft options for their intercontinental and transcontinental travel needs, and the capability showcased by the Challenger 350 jet on this new world speed record serves to reinforce this commitment."
NEARLY $30 BILLION IN DEALS AGREED ON DAY TWO OF DUBAI AIRSHOW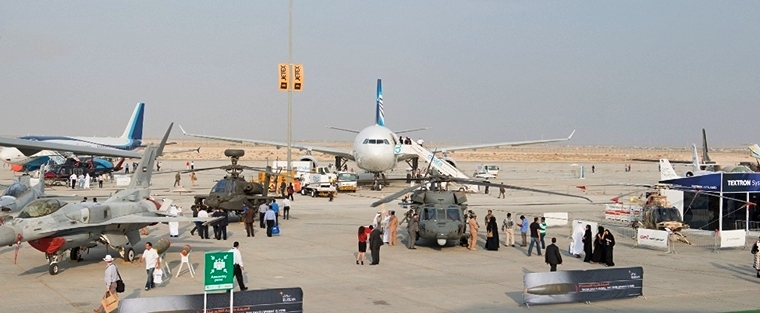 Photo © Dubai Airshow

Etihad, Jet Airways, Emirates and the UAE Ministry of Defence among the spenders

Orders at the Dubai Airshow flowed in thick and fast on Monday, as deals worth almost $30 billion were agreed.
Among those agreeing new purchases at the world's fastest growing aerospace event were Boeing and Jet Airways, who signed a deal worth approximately $US8billion which will see the manufacturer build 75 new 737 MAX aircraft for the Indian carrier, a partner airline of Abu Dhabi's Etihad.
Speaking upon the signing of the deal, Jet Airways Founder Naresh Goyal highlighted the need for new aircraft to service a growing customer base, with more than 30 million Indians now overseas and a domestic market predicted to grow to around 140 million passengers in the next ten years.
He said: "We work extremely well and very closely with Boeing and we would like to expand that relationship further. We believe now is the time to take that partnership to new heights."
Ray Conner, President and CEO of Boeing Commercial Airplanes, added: "This has been a tremendous partnership for well over 20 years now, and it's a partnership built on trust, friendship and a deep understanding of what's necessary to be successful in a market that is extremely tough and competitive. These aircraft are the tool with which Jet Airways will compete in a very dynamic market and the 737 Max, we believe, is the right aircraft to enable them to do that."
Elsewhere at the Dubai Airshow, the UAE Air Force unveiled a deal with Swedish aerospace firm Saab worth US$1.27 billion. The deal will see the UAE purchase two new Global 6000 long-range surveillance aircraft, while a further two Saab 340 jets already in UAE ownership will undergo systems upgrades.
Meanwhile, UAE national carrier Etihad signed a Memorandum of Understanding with Abu Dhabi investment and development firm Mubadala worth a potential US$1billion. The ten-year agreement covers a range of new contracts and would see Etihad appoint Mubadala's SR Technics as its preferred service provider.
In addition, national carrier Emirates announced the signing of a $16 billion OnPointSM solution agreement with GE Aviation for the maintenance, repair and overhaul (MRO) of the GE9X engines that will power the airline's fleet of 150 Boeing 777X aircraft over a period of 12 years. This is Emirates' largest single engine MRO contract to date.
As trading continued on day two of the event, Michele van Akelijen, Managing Director of Dubai Airshow organisers F&E Aerospace, said: "We have always said that the Dubai Airshow is the place for leaders in the aerospace industry to do business. Today's purchases are proof that continues to be the case in 2015."
MITSUBISHI MRJ COMPLETES FIRST FLIGHT




Photo © Mitsubishi Aircraft Corporation

Mitsubishi Aircraft Corporation and Mitsubishi Heavy Industries, Ltd. (MHI) conducted the first flight of the first flight test aircraft for the MRJ (Mitsubishi Regional Jet), their next-generation regional jet.
The MRJ took off from Nagoya Airport and confirmed its basic characteristics and functionality in ascent, descent and turning in airspace off the Pacific coast during its 1.5-hour first flight.
"The MRJ successfully took to the sky today thanks to ongoing cooperation and support from all members involved," said Hiromichi Morimoto, President, Mitsubishi Aircraft Corporation. "We will make our utmost efforts towards type certificate acquisition, committing all our resources to develop and produce the finest regional jet aircraft to enter commercial service in 2017."
"Operational performance of the MRJ was far better than expected. We had a significantly comfortable flight," said Pilot Yasumura, who served as captain.
Mitsubishi Aircraft and MHI will continue to conduct flight tests for the first delivery scheduled for the second quarter of 2017. The flight tests in the US are scheduled to start in the second quarter of 2016, from the MRJ base at Grant County International Airport at Moses Lake in Washington State.
Going forward, Mitsubishi Aircraft and MHI continue to devote their collective resources towards the successful completion of the MRJ project.
EMBRAER PROMOTES ITS FULLY CERTIFIED BUSINESS JET PORTFOLIO FOR THE FIRST TIME AT NBAA 2015




Photos © Embraer

Embraer Executive Jets will promote its fully certified business jet portfolio for the first time at the NBAA's annual Business Aviation Association Convention & Exhibition (NBAA2015), business aviation's biggest show, in Las Vegas, NV, from November 17 to 19.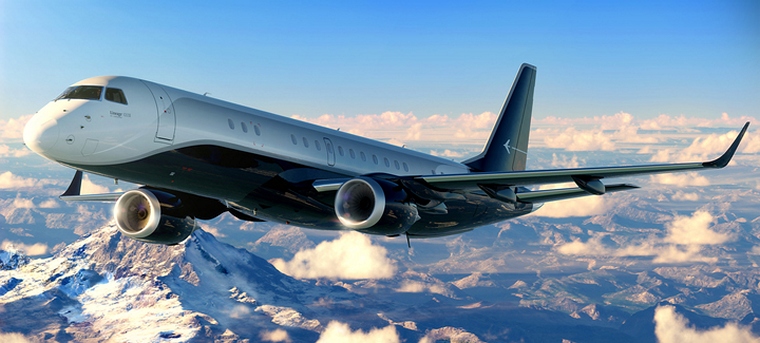 Lineage 1000E

The Company will host a press conference at 11 a.m. November 16 in Room N116 at the Las Vegas Convention Center to present its latest news, program updates and a market forecast for business aviation to the media.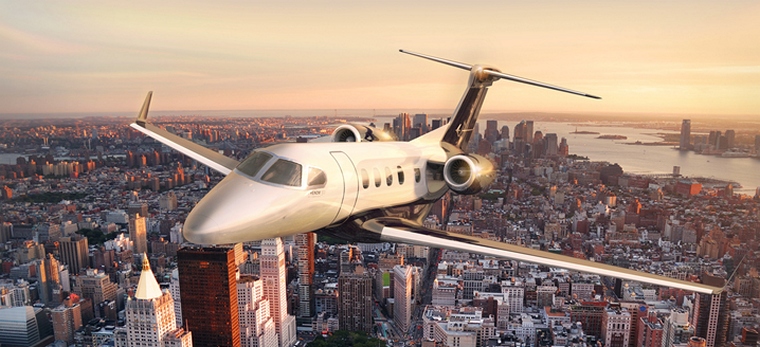 Phenom 300

Embraer Executive Jets' Phenom 100E, Phenom 300, Legacy 450, Legacy 500, Legacy 650 and Lineage 1000E, the broadest business jet portfolio in the market, will be on static display at Henderson Executive Airport, exhibit #1520.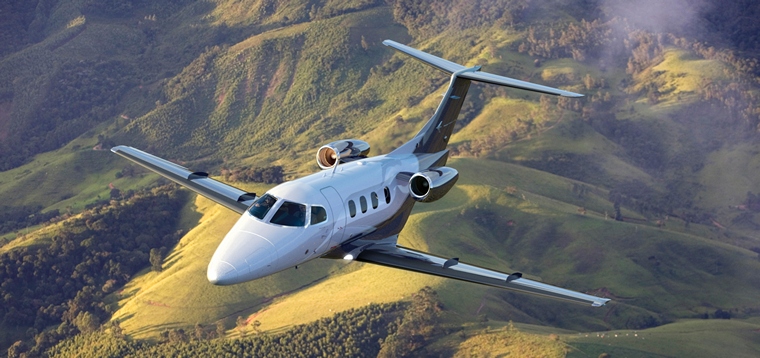 Phenom 100E


Completing 10 years in the market, Embraer Executive Jets' global fleet exceeds 930 aircraft, which are in operation in more than 60 countries and are supported by the Company's global Customer Support and Services network of 75 owned and authorized service centers, complemented by a 24/7 Contact Centre.
RUSSIAN HELICOPTERS TO SHOWCASE NEW MI-171A2 ALONGSIDE VIP ANSAT AND KA-32A11BC FIREFIGHTER AT DUBAI AIRSHOW


Photos © Russian Helicopters


Russian Helicopters, part of State Corporation Rostec, will demonstrate the latest medium multirole Mi-171A2 alongside the light multirole Ansat in VIP configuration and the firefighting version of the Ka-32A11BC at Dubai Airshow on 8-12 November.

Mi-171A2


The Mi-171A2 combines the finest qualities of the Mi-8/17 series with the latest aircraft manufacturing technologies. Key upgrades include a new, more powerful and more economical Klimov VK-2500PS-03 engine; a main rotor with composite blades and improved aerodynamics; an X-shaped tail rotor; completely new integrated avionics deployed using an open-architecture KBO-17 glass cockpit; as well as an improved flight management system with manual, fully automatic and semi-automatic modes. The Mi-171A2 is effective when operating in mountainous areas, as well as regions of high humidity and temperatures. Thanks to its on-board piloting and navigation systems, the helicopter can operate equally well during the day or at night, in any weather conditions, and also over water.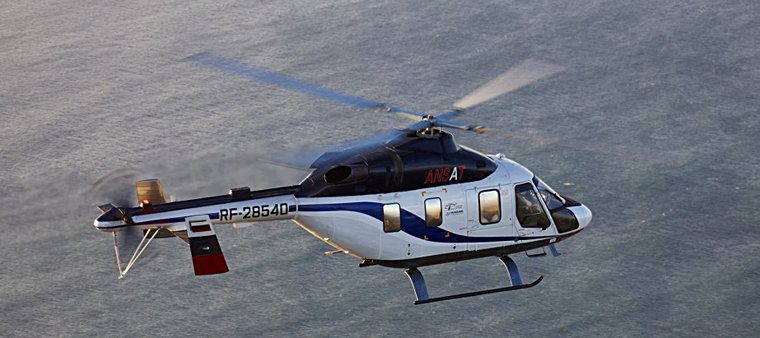 Ansat


The light Ansat is reliable and easy to use. It is a single-rotor helicopter with a tail rotor, two turboshaft engines and ski landing gear. The Ansat can operate in various climatic zones and be stored outdoors. Thanks to its easily reconfigurable equipment, the multirole Ansat can be rapidly adapted to fly a wide range of missions - from cargo and passenger transport to medevac and search and rescue.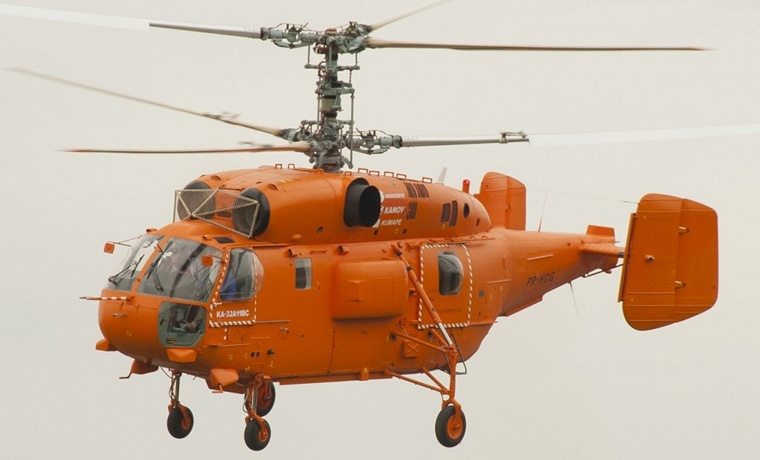 Ka-32A11BC



At the Dubai Airshow, Russian Helicopters will brief state officials on the Ka-32A11BC's successful experience as a firefighting helicopter. The multirole Ka-32A11BC is a leader in its class, and experts say that the Ka-32A11BC is one of the best rescue and fire-fighting helicopters around. Extinguishing fires in high-rise buildings is impossible without specialised equipment, and the most effective way to tackle blazes in skyscrapers is by using fire-fighting helicopters. In 2012 a Ka-32A11BC successfully fought a fire on the 66th and 67th floors of the Moscow-City skyscraper, one of the highest buildings in Russia and Europe. The helicopter operated at an altitude of 270 metres and successfully extinguished the blaze.
At the Dubai Airshow there will also be presentations of the Ka-52 Alligator, the Mi-35M and the Mi-28NE Night Hunter for official delegations from Africa and the Middle East. Russian Helicopters will hold talks with security officials from across the region to brief them on opportunities for deploying the Mi-171Sh, Mi17V-5 and Mi-35M to combat armed militant groups.
Mi-8/17 helicopters, the Mi-24/35 series and the Mi-28NE Night Hunter have repeatedly proved their worth in military operations around the world. Today, Mi-8 and Mi-24 helicopters from Russia's Air Force are taking part in military operations against the so-called Islamic State in Syria, while Mi-171Sh, Mi-28NE and Mi-35M helicopters are fighting IS as part of the Iraqi Air Force.