THIS WEEK IN MIDWEEK UPDATE


Plan your weekend
Forthcoming events
This week's specials
This week in aviation history
Worldwide incidents and accidents
Aviation News
Advertising rate card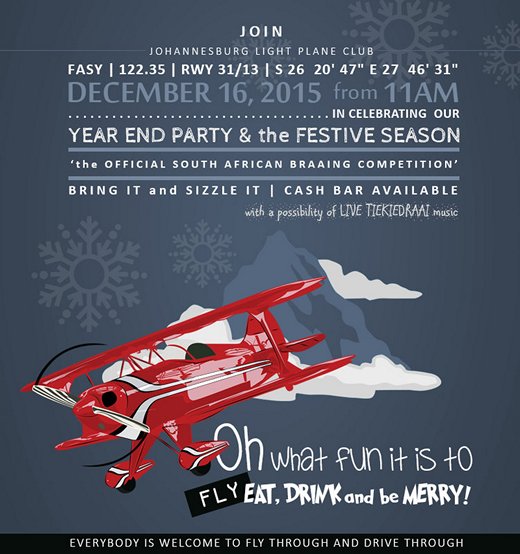 17 December: DC-3 80th Anniversary function Rand Airport. Springbok Classic Air's CEO, Captain Flippie Vermeulen, invites you to Dress Up and come and enjoy an evening of celebrations at Hangar 5, Rand Airport! Dress Code: 1935 - 1944, Gatsby/Al Capone. Ticket Cost: R500.00 pp. R5,000.00 for a table seating 10 people. 3-course meal, Cash Bar, Live Entertainment. Programme includes: DC-3 formation flight display done by Capt Flippie Vermeulen and his daughter Petro Swanepoel. Presentation on the DC-3 history. Welcome to ZS-CAI. Contact:
info@springbokclassicair.co.za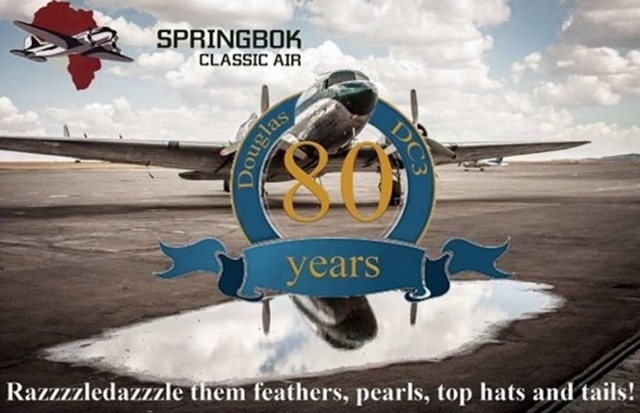 30 December: Annual Open Day. St Francis Airpark (FACF)
2016


13 January: EAA Chapter 322 monthly meeting, Dickie Fritz Moth Hall Edenvale. Contact editor@afskies.co.za
24-30 January: Gliding Cape Regionals, Worcester Airfield. Contact Gary Whitecross gary@airplay.co.za
Date to be decided Port Elizabeth Airshow. Contact Crystal Watson e-mail: cwatson@mweb.co.za
30 January: SAPFA Rand Airport Challenge fun rally. Contact Frank Eckard Cell: 083 269 1516 e-mail:
frank.eckard@mweb.co.za
3 Februay: EAA Chapter 322 monthly meeting, Dickie Fritz Moth Hall Edenvale. Contact editor@afskies.co.za
6 February: SAAF Museum flying training and open days. Contact Capt. Kobus Kapp 012 351 2342 or E-mail: webmaster@saafmuseum.org
6 February: MISASA Best of the Best Wings Wheels Water showcase. Venue to be advised Contact John Boucher e-mail:
jb.brokers@gmail.com
6-7 February: SAC NW regionals Klerksdorp. Contact Annie Boon e-mail: chunge@mweb.co.za
27 February: SAPFA Stellenbosch fun rally. Contact Alewyn Burger Cell: 082 416 1951 e-mail:
alewyn@burger.org.za
2 March: EAA Chapter 322 monthly meeting, Dickie Fritz Moth Hall Edenvale. Contact editor@afskies.co.za
5 March: SAAF Museum flying training and open days. Contact Capt. Kobus Kapp 012 351 2342 or E-mail: webmaster@saafmuseum.org
4 - 5 March: Swellengrebel Fly In - Swellendam. Contact Pieter Venter e-mail: pventer@vgv.co.za Cell: 082 250 9504
5 March: SAPFA Durban Wings Club fun rally. Contact Mary de Klerk e-mail:
mary@expandingbranding.co.za
or Cate Juselius e-mail: cate@eastcoastsa.net
5 March: Wings and Wheels festival Uitenhage. Contact Lourens Kruger e-mail: lmk@telkomsa.net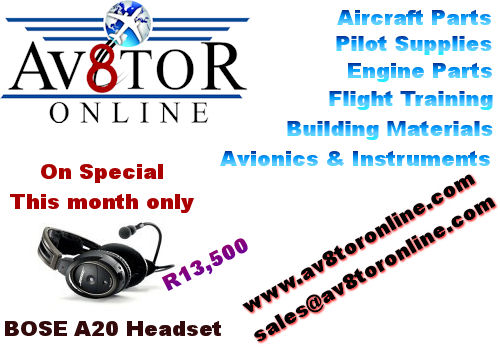 December 9 1988 - First flight of the Saab JAS 39 Gripen
December 9 1961 - USAF Major Robert M White takes the X-15 to a height of 30,970 m (101,610 ft).
December 9 1957 - Introduced: Lockheed C-130 Hercules.
December 11 1986 - First flight of the McDonnell Douglas F-15E Strike Eagle
December 12 1953 - Mach 2.5 (2 ½ times the speed of sound) is achieved for the first time by Major Charles "Chuck" Yeager in the Bell X-1 A. The rocket-propelled experimental aircraft reaches 1,650 mph (2,660 km/h) at 70,000 ft (21,000 m).
December 13 1951 - Maj George Davis of the 334th Fighter Interceptor Squadron shoots down four MiG-15 s in a single day.
December 13 1955 - The de Havilland Comet 3, the world's first jet airliner, visits an American airport for the first time when it stops at Honolulu International Airport during an around-the-world flight. It then flies to Vancouver, British Columbia, Canada, in 5 hours 39 min.
December 13 1913 - German balloonist Hugo Kaulen stays aloft for 87 hours. This record lasted until 1935.
December 14 1965 - A Learjet 23 executive transport shows off its impressive capabilities by climbing to 40,000 feet (12,000 m) in 7 min 21 seconds with seven people aboard
December 14 1903 - Wilbur Wright makes the first and unsuccessful attempt at powered flight at Kill Devil Hills, North Carolina. His aircraft stalls after 3 ½ seconds in the air and crash-lands 105 feet (32 m) away.
December 15 2010 - Last operation by a Harrier Jump Jet, from RAF Cottesmore.
December 15 2009 - First flight of the Boeing 787 Dreamliner
December 15 2006 - First flight of the Lockheed Martin F-35 Lightning II
December 15 2005 - Lockheed Martin F-22 Raptor reaches an altitude of 15,000 feet (4,600 m) in less than three minutes
December 15 1965 - Gemini program: Gemini 6A, crewed by Wally Schirra and Thomas P. Stafford, is launched from Cape Canaveral. Four orbits later, it achieved the first space rendezvous with Gemini 7.
December 15 1959 - Maj J W Roberts sets a new airspeed record of 1,526 miles per hour (2,456 km/h) in a F-106 Delta Dart
December 15 1955 - The de Havilland Mosquito flies its final operational sortie with the Royal Air Force
USA, Fort Campbell: Two Army pilots were killed flying a two-seat AH-64D Apache during a routine training mission. The helicopter was found in a river bottom Fort Campbell in rural Tennessee. The cause of the crash has not been determined.
Canada: All Buffalo Airways commercial air services have been suspended indefinitely by Transport Canada because of its poor safety record. Buffalo Airways is the airline, which starred for six seasons in the hit reality TV show Ice Pilots NWT and is renowned for its fleet of ageing aircraft.
On the day of Ice Pilots NWT's final broadcast, in December 2014, a DC-3 form the 1930s experienced engine trouble shortly after departure from Hay River. It turned back and landed without any reported injuries. In September 2015, a Buffalo-operated Curtiss C-46 Commando dating to the 1940s was involved in a crash-landing in Deline. Nobody was hurt. An incident in August 2013, where another Buffalo DC-3 suffered an engine fire on take-off from Yellowknife, drew criticism from the Transportation Safety Board of Canada (TSB). Though the flight's 21 passengers and three crew escaped unharmed, the TSB's report listed a series of failings in the airline's management and safety practices.
Australia, Melbourne: Two serious Jetstar incidents involving Jetstar domestic flights in October are being investigated by the ATSB. On 29 October a Jetstar A321 was found to be so nose heavy during the take-off roll from Melbourne bound for Perth that it required an almost full aft control input to raise the aircraft's noses and become airborne. On 19 October a Jetstar A320 left Brisbane for Melbourne with 16 more passengers on board than advised, meaning the aircraft was about 1,328 kg heavier than the take-off weight used to calculate the take-off and landing data for the flight.
USA, San Bernardino County: A L-39, , a two-seat, high-performance jet trainer aircraft developed in Czechoslovakia, crashed and burned after taking off from the Apple Valley Airport in San Bernardino County, about 70 miles northeast of Los Angeles killing both people on board.
USA, Mississippi: Actor Morgan Freeman's SyberJet SJ30-2 suffered tire failure upon landing that resulted in a runway excursion when it over ran the runway. No injuries reported, and no damage information as yet.
Belgrade, Serbia: A man aboard a Lufthansa flight from Frankfurt to Belgrade has been arrested Sunday after banging on a cockpit door threatening to bring down the aircraft while it was flying over Austria if he was not allowed inside. The Lufthansa cabin crew and passengers on the flight managed to restrain him for the rest of the journey.





FAI WORLD AIR GAMES DUBAI

Photos © World Air Games


The World Air Games, conducted under the rules of the Fédération Aéronautique Internationale (FAI), is the premier international multi-discipline air sports event fielding the world's top Air Sports athletes.
The FAI World Air Games 2015 has been awarded to the United Arab Emirates and will be held in Dubai. This multi-discipline event will be organised by the Emirates Aerosports Federation under the patronage of the Crown Prince of Dubai, His Highness Sheikh Hamdan bin Mohammed bin Rashid Al Maktoum and will take place from 1 to 12 December 2015.
The first aerobatic Aircraft for the World Air Games 2015 for the Aerobatics event was the first to arrive in Dubai. Several other contingents of teams and officials are on their way the host city of Dubai.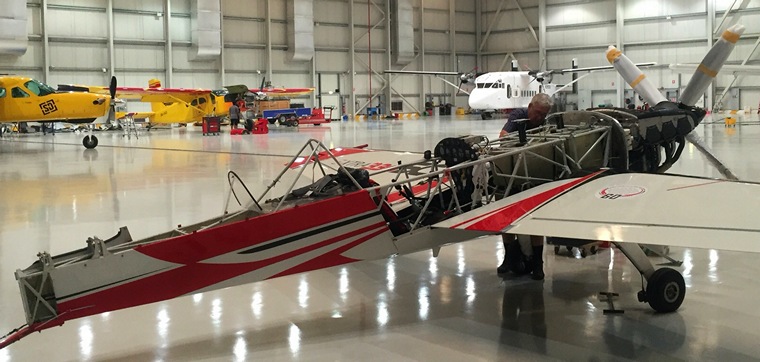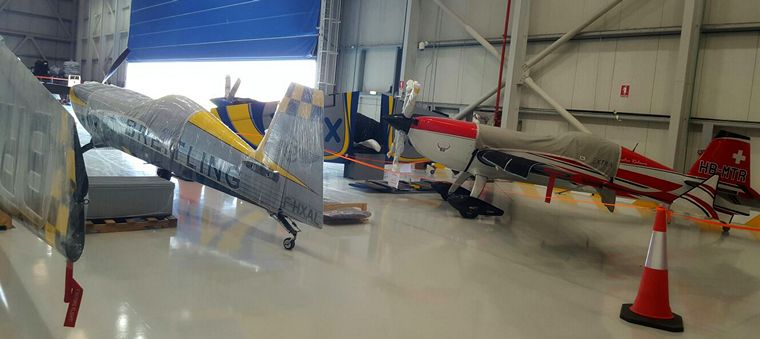 The Games officially kick off on December 1st with the opening ceremony on 3rd December at Skydive Marina and the competition will take place across 3 venues in Dubai; Skydive Marina, Skydive Margum and Dubai Mall.
"We have had the most excellent start to this competition. We are thrilled to see the efforts put in by the local organisers led by Nasser Al Neyadi and Yousuf Al Hammadi in ensuring that everything is in order to stage the best Games-ever in the history of the World Air Games," Dr John Grubbstrom said after the presentation ceremony.
2 December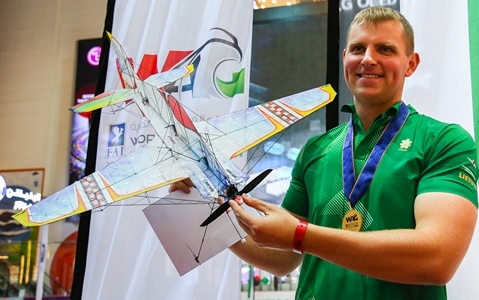 Donatas Pauzuolis of Lithuania successfully defended his world crown with a perfect score to win the Aeromodelling F3P indoor aerobatics crown at the Dubai Mall ice rink late on Tuesday.
Donatas Pauzuolis, who hails from Lithuania had won the title at the previous World Air Games hosted by Italy in 2009. On Monday night, the Lithuanian competitor posted two perfect scores of 1,000 points and followed this up with another two perfect scores on the second day of the competition.
03 December 2015

Masurel and Lemordant battle for top honours French pilots Olivier Masurel and Aude Lemordant were tussling for the top spot as the aerobatic competition got under way at the Skydive Dubai drop-zone.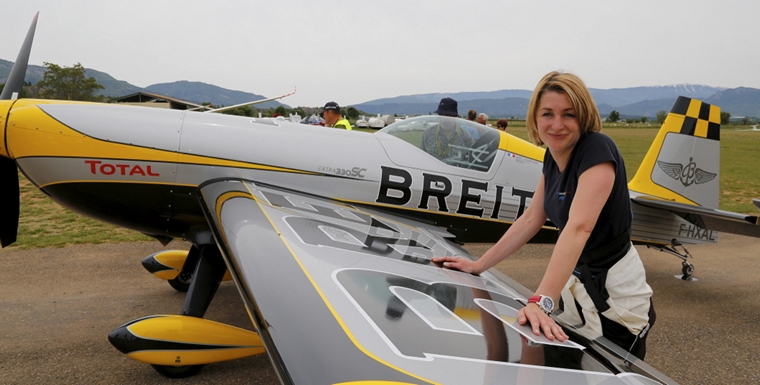 Lemordant

In a field of eight hand-picked pilots from across the world, it was Masurel and Lemordant - incidentally the only woman in this event - going for top honours in their top of the range aeroplanes (each costing nearly 500,000 Euros) that have been flown in especially for this event.
04 December 2015


The Impressive opening to the World Air Games took place in Dubai where some of the brightest minds in the health and aviation industry have been gathered to find ways and means to develop the sport.
More than 100 delegates, mainly world-leading health and aviation experts from across the world had been attending the three-day international symposium on air sport medicine that was hosted by the Meydan Hotel till Saturday, December 5.
Multiple world record holder Dr Klaus Ohlmann was the highlight of the closing day of the 'International Symposium on Air Sport Medicine' that was held on the sidelines of the 2015 FAI World Air Games (WAG), on Saturday.
The German glider pilot, who has till date established a total of 36 world records approved by the FAI, had the total attention of the audience at the symposium as he narrated his experiences while setting his record-breaking feats.
Among his feats is the record for a free distance flight with up to three turn-points by flying 3,009 kms from Capelco Airport in San Martin de los Andes in Argentina along with co-pilot Karl Rabeder in January 2003. He also broke Hans-Werner Grosse's free distance record - that had existed for more than 30 years - by making a flight of 2,247.6 kms, also in January 2003.
In February last year, Dr Klaus became the first-ever glider pilot to fly over Mount Everest. Though born in Germany, Dr Klaus now lives near Serres in southern France where he has a glider centre called Quo Vadis.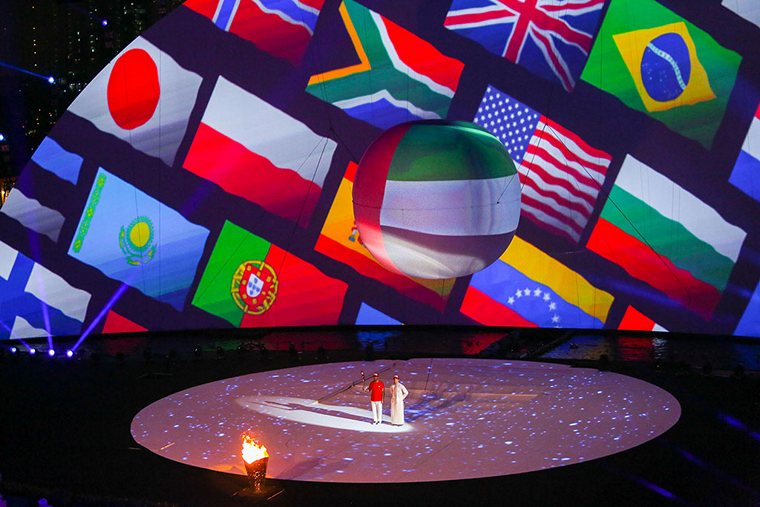 05 December 2015

The top pilots and Skydivers from across the world continued to entertain the huge crowds at the 2015 FAI World Air Games (WAG) at various drop-zones and venues in Dubai.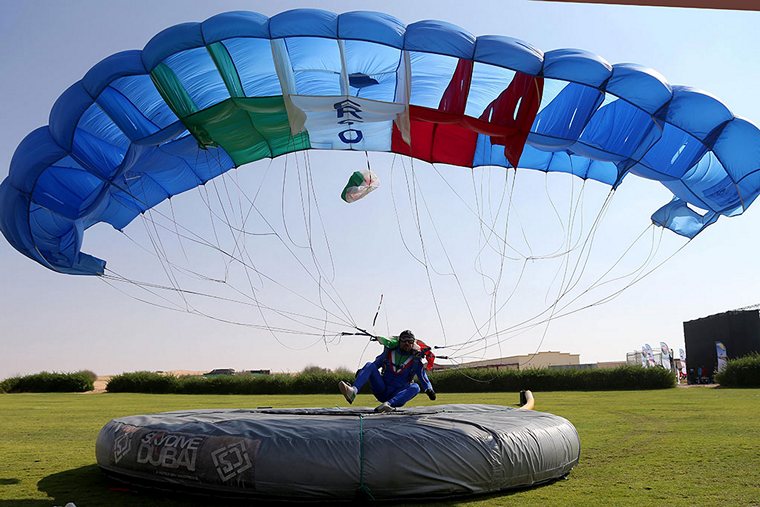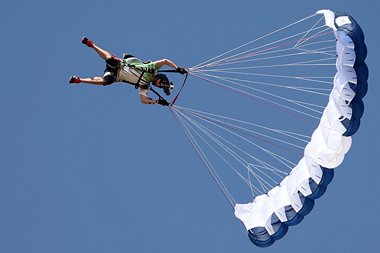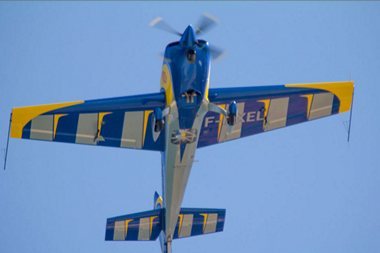 06 December 2015

The day's competition was dominated by countries from Europe with Olivier Masurel of France winning the gold medal in the Powered Aerobatics category, while Luca Bertossio clinched the gold medal in the Glider Aerobatics category.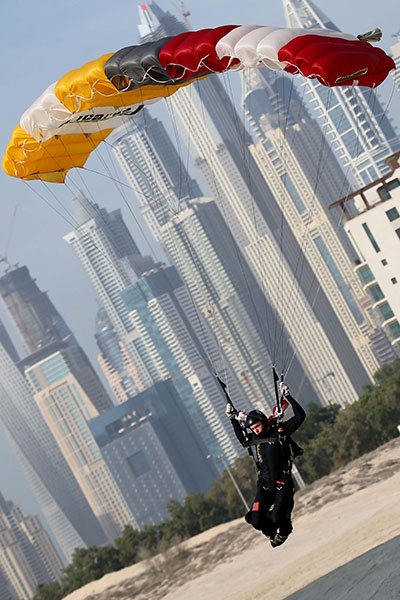 George Cotet continued his good work in the Paragliding Accuracy Landing category with the pilot from Romania finishing in first place ahead of Qiang Ma of China and Serbia's Goran Djurkovic. Nunnapat Phuchong of Thailand was placed tenth overall, but she took the top standing among all women competitors.
The Aerobatics competition at the World Air Games has been divided into two categories - powered and glider.
In the Powered Aerobatics, Frenchman Olivier Masurel maintained his strong start as he ended three days of competition with a total of 13,548.89 points for an overall percentage of 76.851 to take the gold medal.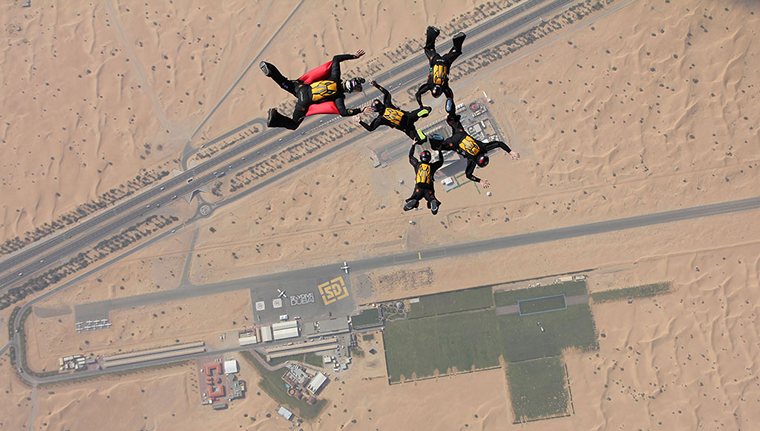 Russia's world champion Mikhail Mamistov did not have the best of competitions here as he ended way down while making place for Poland's Artur Kielak to take the silver and American Rob Holland the bronze medals.
In the Gliders category, Luca Bertossio stayed unchallenged to take home the gold medal, while Ferenc Toth of Hungary won the silver medal and Premsyl Vavra from the Czech Republic claimed the bronze.
07 December 2015

USA lead medals standings at Dubai WAG 2015 The United States of America (USA) were the early leaders as the 2015 FAI World Air Games took a reprieve due to inclement weather on Monday.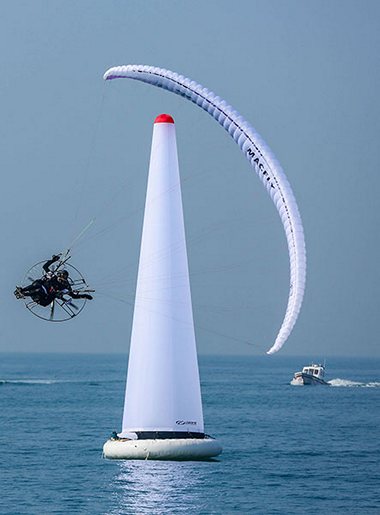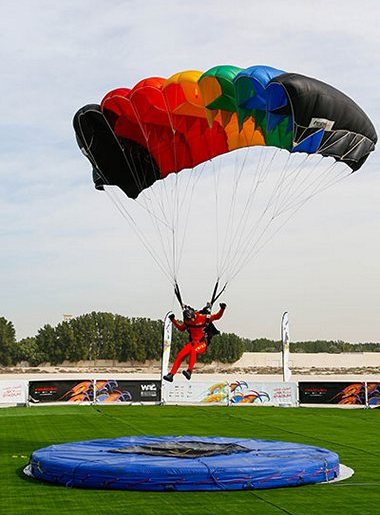 The USA had a total of ten medals, including five golds, three silver and two bronze following frenetic activities on the first seven days of this competition.
The UAE were surprising challengers in second place, largely due to Cornelia Mihai's three medals that included a gold and two bronze medals, while Abdulbari Qubaisi added a bronze medal when he was placed third in the Freestyle Canopy Piloting on Sunday.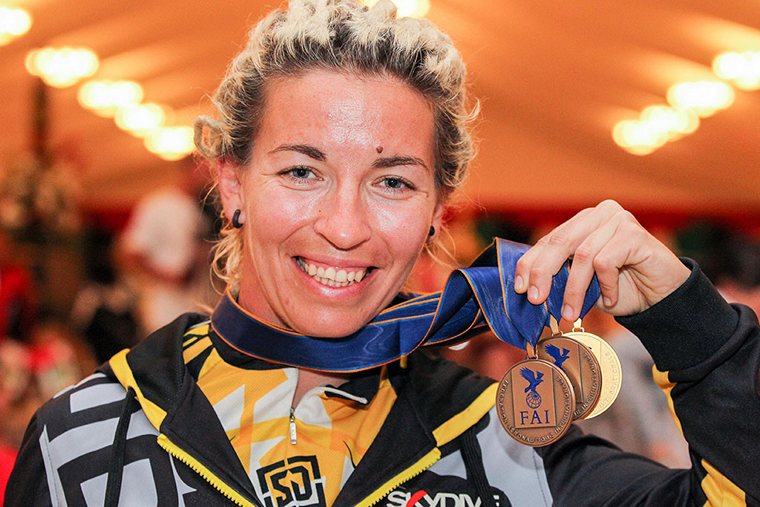 Cornelia Mihai

Leading the US domination at this edition of WAG was Curtis Bartholomew and Nick Bachs as they accounted for all five gold medals in various disciplines of Canopy Piloting.
VOLOCOPTER VC200 : FIRST EASY-TO-FLY HELICOPTER TAKES OFF

Photo © Volocopter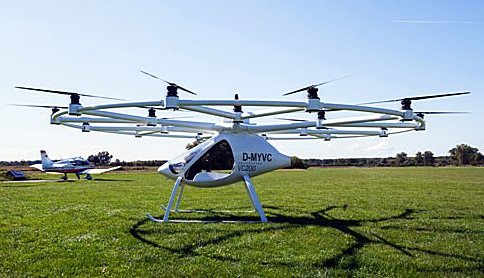 Safely piloting a helicopter requires a very high degree of piloting skill. Up until now, flying a helicopter has been one of the ultimate challenges in the aviation world. Karlsruhe-based company e-volo GmbH recently finished its first easy-to-fly helicopter, the 2-seater Volocopter VC200, and performed test flights in the open. In the process, the company's CEO Alex Zosel remotely flew the Volocopter for the first time - single-handed and only with a joystick. Zosel himself is extremely impressed by how easily and intuitively the VC200 is operated.
Alex Zosel is thrilled after his first flight and explained that "for years, we have claimed that the Volocopter is super easy to fly, now we've proven it in a very impressive way. I did not have any experience flying the VC200 before the flight. Nevertheless, it was extremely easy to control and land from the ground. This is a revolution in the history of helicopters. I thank our fantastic development team, which made this possible."
In the course of a November test-flight program, comprising of multiple unmanned flights with the VC200 on the airfield adjacent to the company work shop, e-volo was able to extensively test various technical innovations that don't exist in conventional helicopters. The e-volo team was able to put the automatic altitude control, position hold, and landing systems into operation. These enable the Volocopter to stay in one position accurately and automatically, even in turbulence or crosswinds. To land, the pilot only needs to operate the altitude control. The Volocopter will descend towards the ground, automatically slowing when close, until it touches down softly. As soon as all requirements of the responsible aviation authorities are fulfilled, first manned flights will follow shortly.
BOEING, U.S. NAVY ENHANCE EA-18 TARGETING, SITUATIONAL AWARENESS CAPABILITIES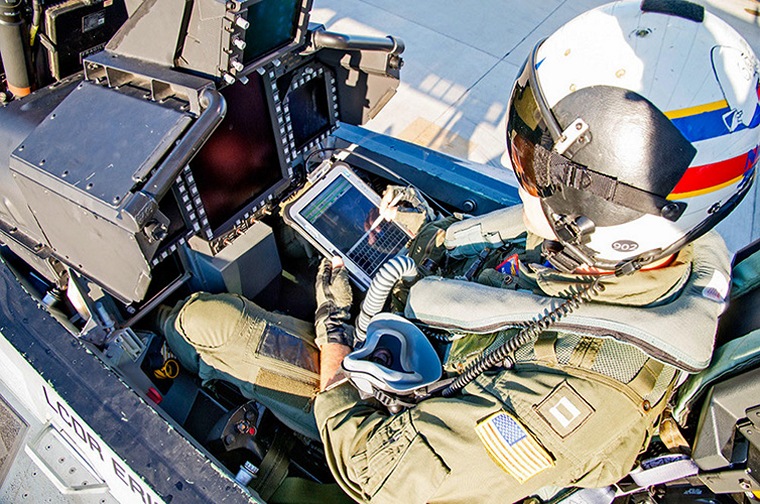 Photo © Boeing

A Naval flight officer from NAVAIR's Air Test and Evaluation Squadron Two Three (VX-23) enters information on a Windows-based tablet prior to flight.

The U.S. Navy and Boeing [NYSE: BA] recently demonstrated new targeting technologies that greatly enhance aircrew safety and effectiveness through the rapid integration and distribution of target information across multiple aircraft.
Utilizing an advanced targeting processor, an open architecture, high-bandwidth data link, and a Windows-based tablet integrated with the mission system, the demonstration proved that Boeing EA-18G Growler electronic attack aircraft can detect targets over longer distances and share information more rapidly than ever before.
"This enhanced targeting capability provides our aircrews with a significant advantage, especially in an increasingly dense threat environment where longer-range targeting is critical to the fight," said Capt. David Kindley, U.S. Navy F/A-18 and EA-18G program manager.
Naval aviation history was made during the Navy fleet experimentation campaign when data was integrated from multiple Growlers operating with an E-2 Hawkeye aircraft, utilizing the new high-bandwidth data link and increasing the speed and accuracy of target locating.
Use of the tablet device integrated with the aircraft mission system was another first for a Navy platform. That technology allowed aircrews to more easily access data and communicate with crews in other aircraft.
Existing Growlers will be retrofitted with the upgrades while the technology will be included as a standard offering on all new aircraft currently in production.
"The complexity of global threat environments continues to evolve," said Dan Gillian, Boeing F/A-18 and EA-18G programs vice president. "This long-range targeting technology is essential as we advance electronic attack capabilities for the conflicts of today and tomorrow."
The EA-18G Growler is derived from the combat-proven F/A-18F Super Hornet and is the United States' newest and most advanced airborne electronic attack platform, providing electronic intelligence, surveillance and reconnaissance data to other aircraft. The Growler has been deployed since 2010 supporting U.S. and allied forces.
FIRST H225M CARACAL IN-FLIGHT REFUELING DURING COMBAT BY THE FRENCH ARMED FORCES




First H225M Caracal In-Flight Refueling During Combat by the French Armed Forces

Photo © Armee de Air


The French Armed Forces recently achieved an in-flight refueling of an H225M Caracal by a C130 Hercules over the Sahel desert this October. This is the first in-flight refueling of an H225M while in combat and promises to open new possibilities in terms of how the helicopter can be used in overseas conflict situations.
Operation Barkhane, the counter-terrorism operation in the Sahel-Saharan strip, requires complex logistical planning in the vast Sahel desert. In-flight refueling becomes a major asset by multiplying the helicopters' area of intervention dramatically.
The latest member of Airbus Helicopters' military Super Puma family, this 11-metric-tonne helicopter is used in logistic support missions, disaster support, medical evacuation, search and rescue, combat search and rescue, presidential transport, troop transport, and humanitarian actions. Since 2006, the H225M has been used in combat and crisis areas in Lebanon, Afghanistan, Chad, Ivory Coast, Central African Republic, Somalia and Mali, while also supporting NATO-led operations in Libya. France, Brazil, Mexico, Malaysia, Indonesia, and Thailand also rely on the H225M for their most demanding missions. With its cutting edge avionics, communications systems and defensive aids, the H225M has proven its reliability and durability in the field.
BOEING DELIVERY OF 14TH NEW-BUILD MK6 CHINOOK COMPLETES CURRENT ORDERS FOR THE UNITED KINGDOM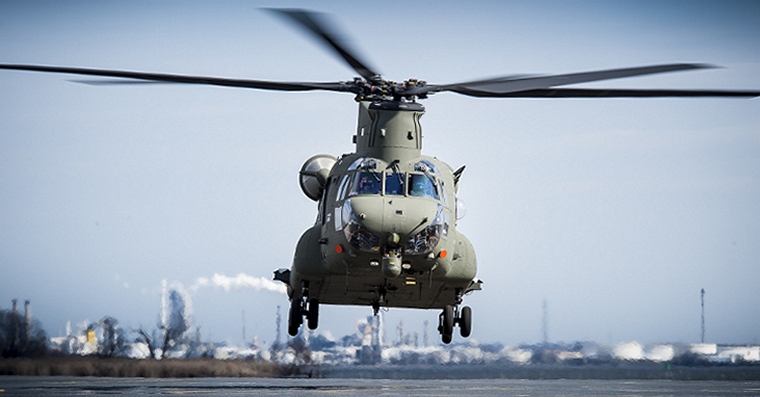 Photo © Boeing

Boeing [NYSE: BA] has delivered its 14th Mk6 Chinook, completing the United Kingdom's most recent order and growing the RAF Chinook fleet to 60 aircraft. The order completion coincided with the 35th anniversary of Chinook operations for the U.K.
"Since they were introduced into service in 1980, our Chinook fleet has played an integral supporting role for British forces and have been deployed on an almost continuous basis since," said Royal Air Force Air Vice-Marshal Julian Young, director of Helicopters in the United Kingdom's Defence Equipment & Support organization. "These new Mark-6 helicopters will significantly enhance our existing heavy-lift helicopter and Special Forces capability. Our overall fleet of 60 Chinooks will support our frontline troops in current and future operations for decades to come."
The RAF has operated Chinooks in every major NATO engagement since 1980 and on virtually every continent. The service uses its Chinooks to perform troop transport, air assault and medical evacuation missions. In addition, the RAF and U.K. Ministry of Defence Equipment and Support have worked closely with Boeing to implement performance-based logistics initiatives to increase the readiness of Britain's Chinook fleet. The Mk6 Chinook has a new, machined monolithic airframe, U.K.-specific avionics, rescue hoist and interoperable communication and navigation equipment.
"As our company approaches its centennial, milestones such as this one demonstrate the significance of Boeing's long and close partnership with the United Kingdom," said Steve Parker, vice president, Cargo Helicopters and Boeing H-47 Chinook program manager. "The new Mk6 Chinooks offer the Royal Air Force a modern, capable asset for meeting its mission requirements today and well into the future."
SUKHOIAIRCRAFT PLANT IN NOVOSIBIRSK HANDED SU-34 FRONTLINE BOMBERS TO THE RUSSIAN AIR AND SPACE FORCES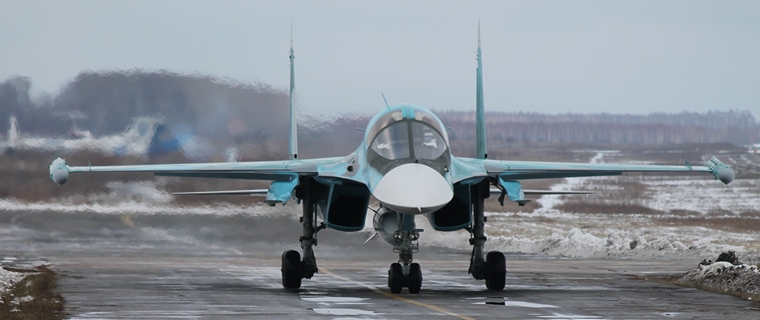 Photo © Sukhoi

The Sukhoi Company handed over another batch of Su-34 frontline bombers to the Ministry of Defence of the Russian Federation according to the 2015 State Defense Order. The aircraft took off from the V.P.Chkalov Novosibirsk Aircraft Plant's airfield and headed to the place of their deployment.
At the present time the aircraft plant operates with maximum efficiency. The State Contract with the Ministry of defence of the Russian Federation for supplies of the Su-34s to the Russian Air and Space Forces up to the year 2020 guarantees a stable work load of the Sukhoi Company for the coming years and identifies long-term development prospects. Currently, Su-34s operate successfully in the troops and demonstrate high performance.