To publicise the Experimental Aircraft Association of South Africa's National Comvention to be held at Mosselbay from 29 April to 1 May 2016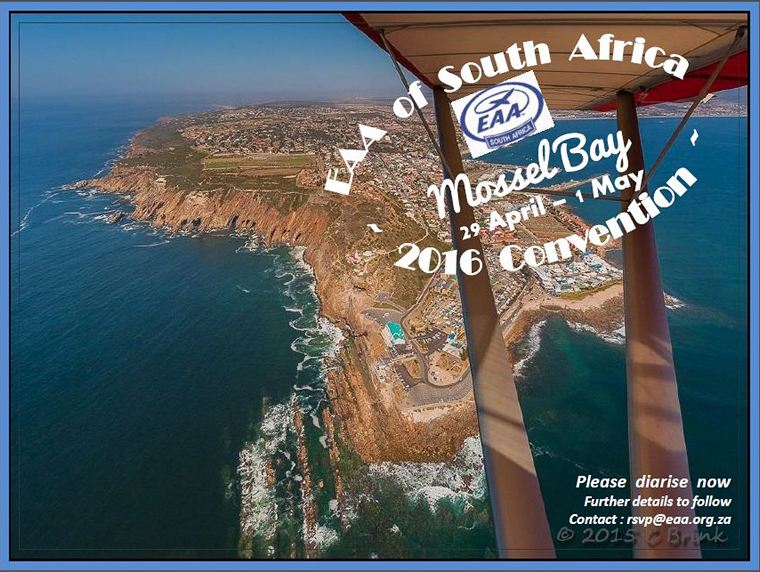 When I embarked on this journey, it was not to do the trip as fast as possible and I had a week to complete this. I was not under time pressure at any stage and was happy to stay where I landed in all of the locations as they all have infrastructure that will make a stay comfortable.

I could probably have done legs 1-3 in a day and legs 4-6 in in a day, very comfortably. A shorter route would possibly be FAKR-FATP (refuel) -FABW (refuel & stay if required)-FAMO. My actual trip panned out as follows:
Leg One

Date: Sunday 06 Dec 2015
Route: FAKR (Krugersdorp) to Buitenzorg Kroonstad
Fuel Tank: 22 L (13.75 L p/h) Mogas. Landed with 41 L
Distance: 113.3 nm
Duration: 1h25m
HOBBS: 1.6 hours
Average Speed: 70 kts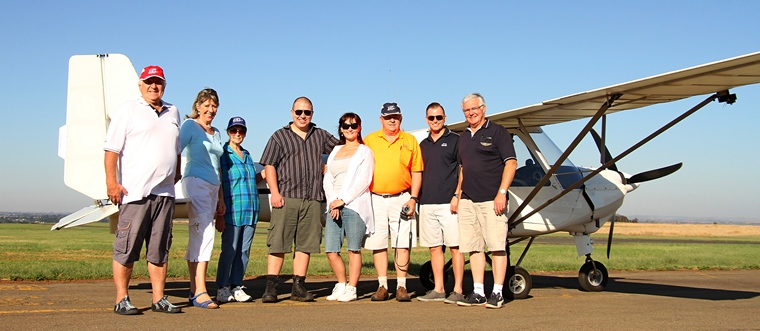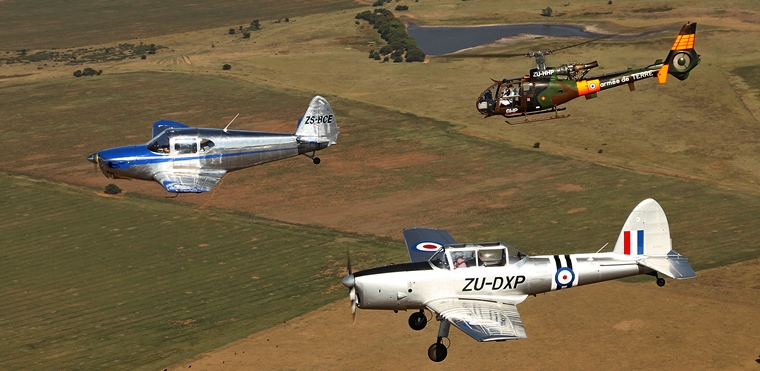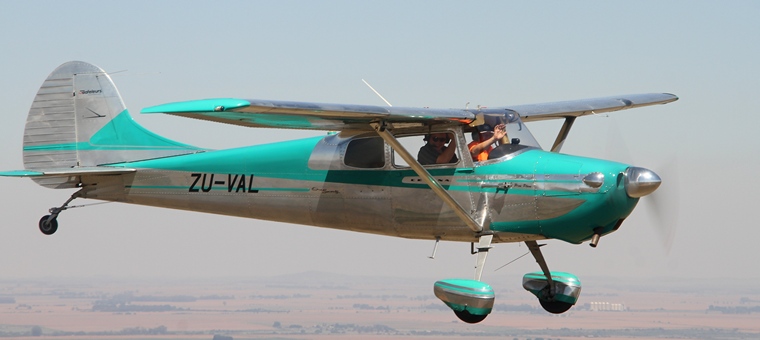 High: The people that came out to greet me at FAKR, which surprised me. Starting to better understand how my Garmin actually works. (not just the theory)
Low: Reality sinking in as I realised that I had a long journey ahead of me to places I have never been to and people I have never met.
Thankful: For the company that flew along with me and the people on the ground at Buitenzorg. Thanks for the fuel and being there - Niel Terblanche, Hennie Roets and Teuns Welgemoed.
Comment: This is the farthest I have ventured in ZU-EEE into an area I have never been to.
Leg Two

Date: Sunday 06 Dec 2015
Route: Buitenzorg-FATP (New Tempe, Bloemfontein)
Fuel Tank: 23 L (14.375 L p/h) Mogas. Landed with 38 L
Distance: 120.1 nm
Duration: 1h32m
HOBBS: 1.6 hours
Average Speed: 80 kts
High: Flying into an airfield that is easy to understand and to spot!
Low: It was extremely hot and the ride was bumpy.
I started wondering if I would easily find the airfield as I got closer.
Thankful: For Bertus and Maryke Kritzinger and their lovely family that hosted me for the day. Jack Onderstall and Jeanne Fincham that took care of my sleeping arrangements and got me to the airfield super early for my next leg of the journey.
Comment: EAA in Bloem is very much alive and well. A lovely location and wonderful people. I'm pleased to have met these wonderful people and look forward to seeing them again.
Leg Three



Joining overhead Gariep


Date: Monday 07 Dec 2015
Route: FATP-FAHV (Gariep Dam)
Fuel Tank: 22 L (12.94 L p/h) Mogas. Landed with 41 L
Distance: 102.3 nm
Duration: 1h22m
HOBBS: 1.7 hours (1.5 + .2 taxi )
Average Speed: 75 kts
High: A wonderful early morning flight with peace and quiet. Just cruising slowly and taking it all in.
Low: On checks all seemed fine. It's quite a distance to taxi. When turning at the threshold I realised something was wrong as I pulled to the right. My right tyre was completely deflated.
Thankful: I had to backtrack on the runway and turn sharp at the threshold, which forced me to discover the puncture. I'd much rather this than land without knowing I had a flat at my next destination.
The dam is visible from far out, which helped me relax, knowing that the airfield would be easy to find. Bruce Hay and Steve Clark, both gliders operating at Gariep, were fantastic!
Steve Clark donning his EAA cap


Comment: I had originally planned to overnight here and as I was not under time pressure, I'm very pleased I stayed. The facilities are great in such a little town and the people are helpful. As soon as I saw the flat, I decided that I would relax and take the time to repair the puncture, stay over and avoid travelling on a super-hot day.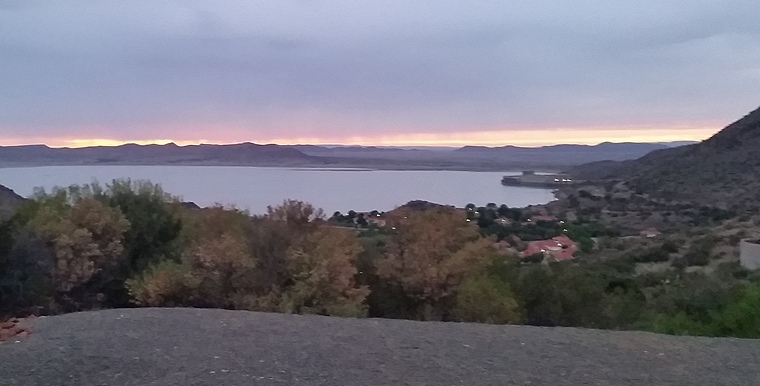 Gariep look-out




Gariep Farewell

Leg Four
Date: Tuesday 08 Dec 2015
Route: FAHV-FABW (Beaufort West)
Fuel Tank: 42 L (11.66 L p/h) Mogas & Avgas mixed. Landed with 21 L
Distance: 201.4 nm
Duration: 2h52m
HOBBS: 3.6 hours (including taxi for aborted flight at FAHV)
Average Speed: 72 kts
High: Spectacular flight. Awesome views and heading to a destination I was looking forward to visiting. FABW is an awesome location. You don't have to leave FABW as all facilities are available on the airfield. I enjoyed the people so much, I will definitely go back.
Low: Radio worked intermittently.
Thankful: Knowing that I could ask people for assistance. Santjie White and I were in constant communication and it was a relief that she knew where I was, if all else failed.
Thanks to Ronnie Johnsson and his wife, Sylvia for being such great hosts. Also thanks to Jaco van Eeden for taking the time to show us around and look after us.
Comment" AIFA are based at FABW, in fact they are really all that is there, part from Karoo Gateway Lodge. A beautiful location, easy to find, well organised, friendly, helpful, accommodating and a very impressive large scale facility. Well done to AIFA (Avic-International Flight Training Academy) on such a brilliant operation.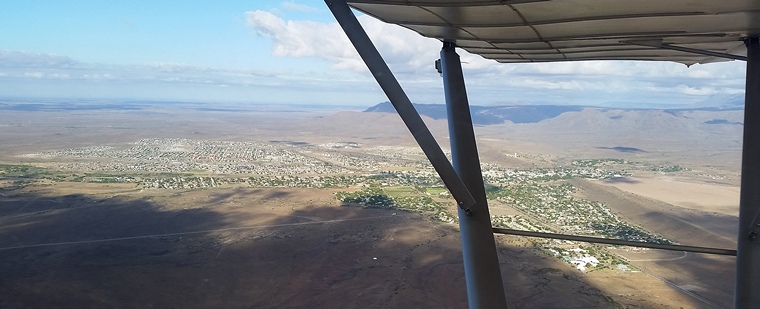 Farewell Beaufort West

Leg Five (1)
Date: Wednesday 09 Dec 2015
Route: FABW-FABW
Fuel Tank: 25 L (11.36 L p/h) Mogas. Landed with 45 L
Distance: 113.3 nm
Duration: 1h27m
HOBBS: 2.2 hours
Average Speed: 75 kts
Comment: On reaching the mountain range, the cloud cover was too low and I could either proceed to Prince Albert, which was close by, or I could return to FABW. I had lots of fuel and was not sure of the runway quality at Prince Albert so decided to avoid more possible punctures and return to FABW, where I could stay over if I needed or try again later.
Leg Five (2)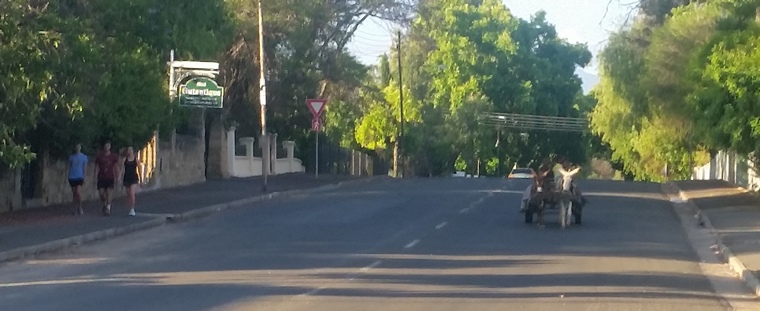 Oudtshoorn Town


Date: Wednesday 09 Dec 2015
Route: FABW-FAOH (Oudtshoorn)
Fuel Tank: 20 L (15.62 L p/h) Mogas. Landed with 25 L
Distance: 94.1 nm
Duration: 1h16m
HOBBS: 1.6 hours
Average Speed: 72 kts
High: Knowing that Horace Blok was travelling in the same direction and I could radio for news of what to expect ahead. Beautiful scenery as you come over Meiringspoort into the valley. Meeting Petri Van Zyl at TFASA (Test Flight Academy of South Africa) and finding out more about my aircraft type. As the original importers of the Ikarus, they have the skills and parts available to assist me. Relief.
Oudtshoorn was not a planned stay over and is a surprisingly lovely little town.
Low: Not having any use of my trim.
Thankful: For Petri Van Zyl at TFASA. His assistance and generosity in providing transport and accommodation in Oudtshoorn was fantastic. It really felt like the TFASA team went out of their way to assist me and get me back in the air safely. I am extremely appreciative of everything they did for me and I do not believe I could repay them for their kindness.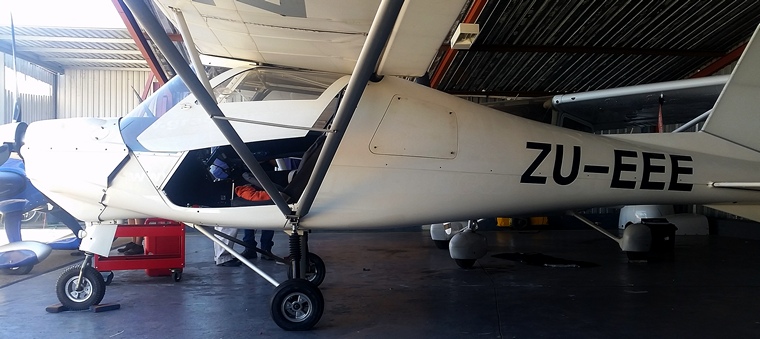 ZU-EEE getting repairs at FAOH


Comment: TFASA and AIFA are based at FAOH. Apart from them, there is an Aero Club that operates from FAOH as well, managing the fuel bay, landing fee's and a bar and "eatery". TFASA provides AMO and Test Pilot Services to AIFA and their facilities in Oudtshoorn, which are once again large scale and quite impressive. While there may be a large number of Chinese pilots between George and Beaufort West, both of these companies are making a huge contribution to aviation in South Africa as well as boosting their local economies. They control the towers in FAOH and FABW for increased control and safety, and are setting high standards of operation for Flight Schools.
Leg Six Journey's End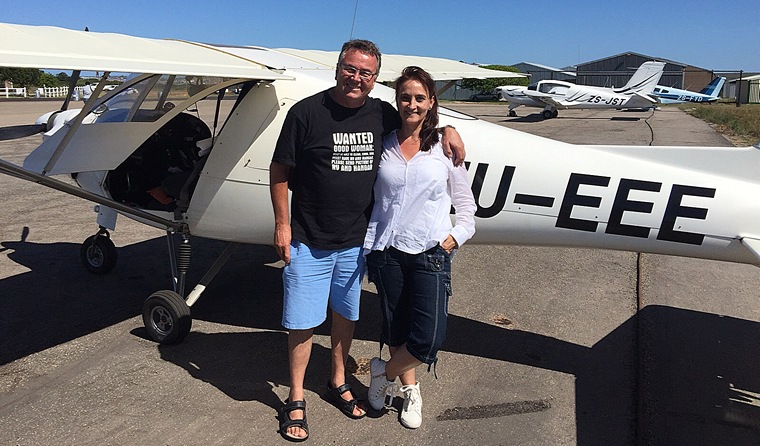 With Horace Blok after landing at Mossel Bay


Date: Thursday 10 Dec 2015
Route: FAOH-FAMO (Mossel Bay)
Fuel Tank: 7 L (11.66 L p/h) Mogas. Landed with 36 L
Distance: 37.1 nm
Duration: 30m
HOBBS: 0.6 hours (+2.5 hours for Technical work)
Average Speed: 74 kts
High: A short flight with amazing views. I have completed the journey for now, in good spirits and safely.
Low: Deciding not to join overhead FAMO but to join downwind the active runway, based on the previous caller's landing. I should have used every moment and practiced better airmanship and do the the full check myself.
Thankful: Dickie and Glodina Hagermann (fellow Aero Club members I met a year ago at a dinner) hopped across from George to welcome me. They were ahead of me and Horace landed just after me. These people are amazing, welcoming and are all available to assist wherever they can.
Comment: Mossel Bay is a lovely destination, welcoming and friendly and I'm looking forward to returning on 29th April 2016 for the EAA's National Convention.