THIS WEEK IN MIDWEEK UPDATE


Plan your weekend
Forthcoming events
This week's specials
This week in aviation history
Worldwide incidents and accidents
Aviation News
Advertising rate card

17 December: DC-3 80th Anniversary function Rand Airport. Springbok Classic Air's CEO, Captain Flippie Vermeulen, invites you to Dress Up and come and enjoy an evening of celebrations at Hangar 5, Rand Airport! Dress Code: 1935 - 1944, Gatsby/Al Capone. Ticket Cost: R500.00 pp. R5,000.00 for a table seating 10 people. 3-course meal, Cash Bar, Live Entertainment. Programme includes: DC-3 formation flight display done by Capt Flippie Vermeulen and his daughter Petro Swanepoel. Presentation on the DC-3 history. Welcome to ZS-CAI. Contact:
info@springbokclassicair.co.za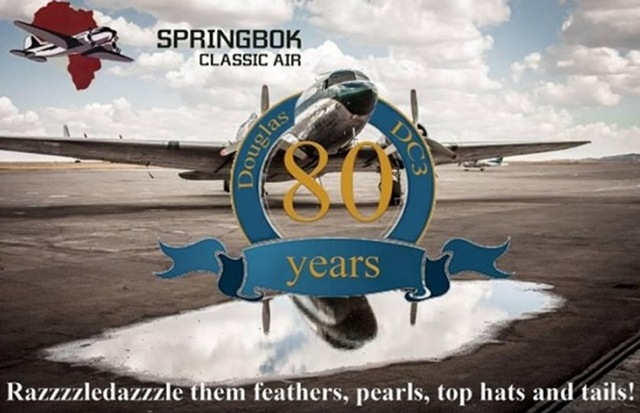 30 December: Annual Open Day. St Francis Airpark (FACF)
2016


13 January: EAA Chapter 322 monthly meeting, Dickie Fritz Moth Hall Edenvale. Contact editor@afskies.co.za
24-30 January: Gliding Cape Regionals, Worcester Airfield. Contact Gary Whitecross gary@airplay.co.za
Date to be decided Port Elizabeth Airshow. Contact Crystal Watson e-mail: cwatson@mweb.co.za
30 January: SAPFA Rand Airport Challenge fun rally. Contact Frank Eckard Cell: 083 269 1516 e-mail:
frank.eckard@mweb.co.za
3 Februay: EAA Chapter 322 monthly meeting, Dickie Fritz Moth Hall Edenvale. Contact editor@afskies.co.za
6 February: SAAF Museum flying training and open days. Contact Capt. Kobus Kapp 012 351 2342 or E-mail: webmaster@saafmuseum.org
6 February: MISASA Best of the Best Wings Wheels Water showcase. Venue to be advised Contact John Boucher e-mail:
jb.brokers@gmail.com
6-7 February: SAC NW regionals Klerksdorp. Contact Annie Boon e-mail: chunge@mweb.co.za
27 February: SAPFA Stellenbosch fun rally. Contact Alewyn Burger Cell: 082 416 1951 e-mail:
alewyn@burger.org.za
2 March: EAA Chapter 322 monthly meeting, Dickie Fritz Moth Hall Edenvale. Contact editor@afskies.co.za
5 March: SAAF Museum flying training and open days. Contact Capt. Kobus Kapp 012 351 2342 or E-mail: webmaster@saafmuseum.org
4 - 5 March: Swellengrebel Fly In - Swellendam. Contact Pieter Venter e-mail: pventer@vgv.co.za Cell: 082 250 9504
5 March: SAPFA Durban Wings Club fun rally. Contact Mary de Klerk e-mail:
mary@expandingbranding.co.za
or Cate Juselius e-mail: cate@eastcoastsa.net
5 March: Wings and Wheels festival Uitenhage. Contact Lourens Kruger e-mail:
lmk@telkomsa.net
3 April: SAAF Museum flying training and open days. Contact Capt. Kobus Kapp 012 351 2342 or E-mail: webmaster@saafmuseum.org
2-3 April: SAC Western Cape regionals Saldanha. Contact Annie Boon e-mail: chunge@mweb.co.za
6 April: EAA Chapter 322 monthly meeting, Dickie Fritz Moth Hall Edenvale. Contact editor@afskies.co.za
9-11 April: Airport show in Dubai United Arab Emirates. Contact Reed Exhibitions Middle East e-mail: ria.andaya@reedexpo.ae
15 April: SAPFA National Rally Flying Championships at Brits airfield. Contact e-mail: chairmanatsapfa@gmail.com
20 -23 April: AERO Friedrichshafen - Germany. Contact website: www.aero-expo.com
29-30 April: Lowveld airshow - Nelspruit. Contact Willemien Hodgkinson e-mail: willemien.hodgkinson@ffa.co.za
29 April-1May: EAA National Convention, Mossel Bay.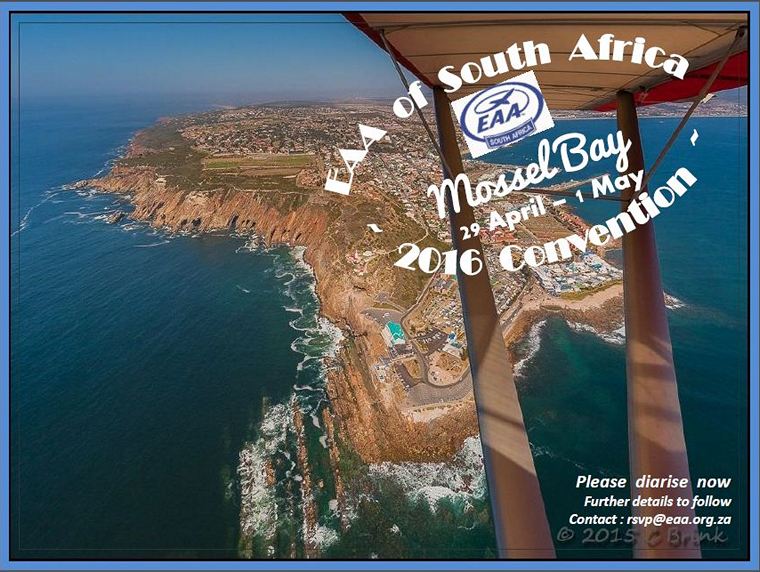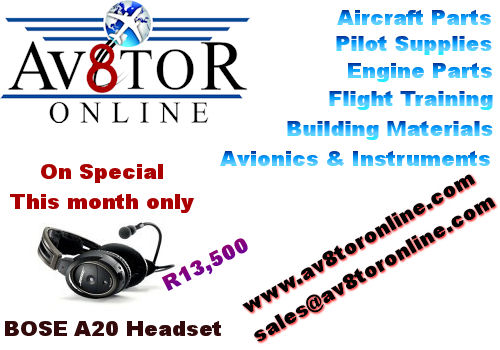 December 16 1979 - The British Airways Concorde lands in London after flying from New York in less than three hours (2 hours 58 min) at an average speed of 1,172 miles per hour (1,886 km/h).
December 16 1960 - The 1960 New York air disaster: United Airlines Flight 826, a Douglas DC-8, and TWA Flight 266, a Lockheed L-1049 Super Constellation, collide in mid-air over Staten Island in New York; all 128 aboard the two planes and six people on the ground are killed. This was the first crash in which a flight recorder was used to provide details in a crash investigation.
December 17 1947 - First flight of the Boeing B-47 Stratojet
December 17 1935 - The Douglas DC-3, one of the most successful airliners of all time, makes its first flight
December 17 1903 - The Wright Brothers make four flights in their Flyer at Kitty Hawk, North Carolina. After years of dedicated research and development, the brothers Orville and Wilbur Wright fly 120 feet (37 m)) in the first practical aeroplane. This may be the first controlled powered heavier-than-air flight and the first photographed powered heavier-than-air flight. On their fourth flight they manage 850 feet (260 m).
December 18 1933 - First flight of the Northrop XFT, American prototype fighter aircraft, single engined low-winged monoplane, designed and built to meet a United States Navy order for an advanced carrier based fighter.
December 18 1908 - Wilbur Wright at Camp d'Auvours, 11 kilometres (6.8 mi) east of Le Mans. flies 99.8 kilometres (62.0 mi) in 1 h 54 min 2/5 s. rising to 110 m (360 ft) - A new world record.
December 19 1908 - The world's first aerodrome, Port-Aviation, is opened 12 miles (19 km) outside of Paris.
December 20 1969 - The highest-scoring North Vietnamese ace of the Vietnam War, Nguy?n Van C?c, scores his final victory, claimed as over an AQM-34 Firebee unmanned aerial vehicle but possibly over an OV-10 Bronco. The North Vietnamese Air Force credits him with nine victories, while the United States confirms seven.
December 20 1957 - First flight of the Boeing 707 commercial airliner.
December 21 1993 - First flight of the Cessna Citation X
December 21 1990 - Kelly Johnson, creator of the SR-71 and U2 spy planes dies, aged 80.
December 21 1970 - First flight of the Grumman F-14 Tomcat
December 22 1998 - First flight of the Beechcraft Premier I
December 22 1976 - First flight of the Ilyushin Il-86
December 22 1964 - First flight of the Lockheed SR-71 Blackbird
December 22 1949 - First flight of the North American F-86D Sabre
December 22 1945 - First flight of the Beechcraft Bonanza

USA, Minneapolis: A Delta Airlines Airbus A320-200, en-route from Tampa to Minneapolis was descending towards Minneapolis when there was a loud bang followed by severe vibrations for about 20 seconds after which the crew shut the left hand engine down. The aircraft landed safely.
China, Shanghai: A Chinese American national, Lu Yong, on a flight bound for New York had to be literally dragged, kicking and screaming, from the airplane by police. Lu Yong asked flight staff for an upgrade to first but his request was denied. Lu then sneaked into first class and took a free seat. When he was found out he eventually returned to the economy section snatching a bottle of champagne on the way and caused such a commotion that the pilot asked him to leave the plane. He refused and when the police was called he laid lie down in the middle of the aisle, refusing to budged. Police were able to successfully drag Lu off the plane with the help of some fellow passengers. In the process, he injured three of the officers with some kicks and was immediately detained for "disrupting public service," a charge that can result in a maximum of three years in jail.
USA, California: Four people, including a critically ill patient, have been killed after a Skylife Bell 407 medevac helicopter crashed in Kern County, California. The helicopter crashed ten minutes into flight.
USA, Seattle: A Delta Embraer 175 was diverted back to Sea-Tac Airport after experiencing a pressurization caused by one of the aircraft doors. The Embraer 175 is not able to dump fuel, so the pilots had to circle around in the air for a while before landing. The issue did not cause de-pressurization of the plane and it landed safely.
USA, Washington: There has yet to be a confirmed U.S. collision between a drone and a manned aircraft, but there's a growing number of close calls as drones fly where they least belong - near airports. A report counted at least 241 reports of close encounters between drones and manned aircraft that meet the Federal Aviation Administration's definition of a near-collision, including 28 incidents in which pilots had to veer out of the way. The FAA defines a near-collision as two aircraft flying within 500 feet of each other. In 51 of the incidents studied, the drone-to-aircraft clearance was 50 feet or less, the report said. Most of the sightings occurred within 5 miles of an airport and at altitudes higher than 400 feet. Those are spaces in which the FAA prohibits drones from flying, raising questions about the effectiveness of the rules.
USA, New York: The inaugural U.S. flight of one of Airbus's newest aircraft models was supposed to be a big deal, showcasing the impressive new jumbo jet on its very first trip from New York's John F. Kennedy Airport. Instead, it was spectacularly terrifying and embarrassing fail. The high tech jet's computer system aborted its own take off because it deemed the runway too short. Journalists and staff were among the passengers on the Airbus A350 for the chartered Qatar Airways flight that was supposed to travel 12 hours to Hamad International Airport. The airplane even had screens on each seatback via which the passengers could watch the taxi and take-off as it happened. Unfortunately, rather than watching the plane soar to 30,000 feet, it taxed, picked up speed and then came to a startling and screeching halt.






FAI WORLD AIR GAMES DUBAI

Photos © World Air Games


08 December 2015

Bruce de Chastel wins it for Australia at 2015 WAG Bruce de Chastel claimed gold in the Aeromodelling F3T division as Australia got its name on the medals table at the 2015 FAI World Air Games being held in Dubai till December 12.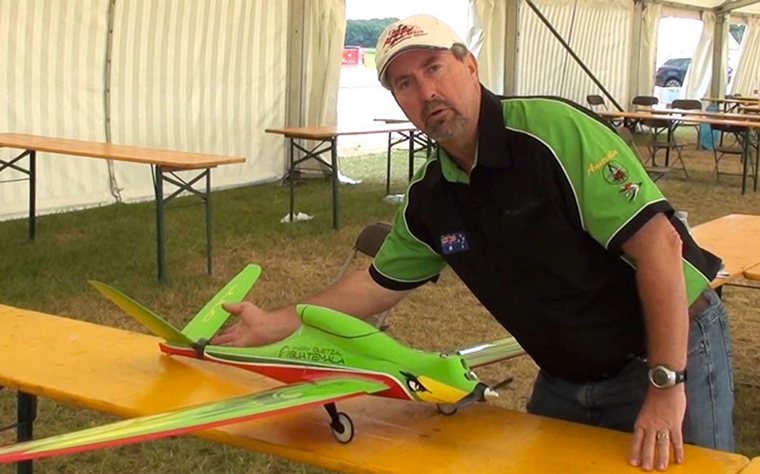 Bruce de Chastel

With truant weather once again forcing the cancellation of several planned events on the World Air Games schedule, organisers decided to go ahead with the Aeromodelling F3T division.
The USA has been at the top of the medals standings with eleven medals including five gold's and three silver and bronze each.
France occupied second place with one gold, two silver, while Poland completed the top three with gold and silver each. The UAE who had Cornelia Mihai in excellent form is in fourth with one gold and three bronze medals, while Lithuania is in fifth with a gold and bronze each.
However, it was Bruce de Chastel hogging all the limelight on the eighth day of competition as he teamed up with his wife Linda to land the gold medal for Australia in the Aeromodelling F3T or Semi-Scale Pylon Racing.
Held under the patronage of His Highness Sheikh Hamdan Bin Mohammed Bin Rashid Al Maktoum, Crown Prince of Dubai and Chairman of Dubai Sports Council, the fourth edition of the World Air Games is being held in 23 different disciplines at various dropzones in Dubai. The main venue for the competition is the Skydive Dubai dropzone where activities will be held daily till the finals on December 12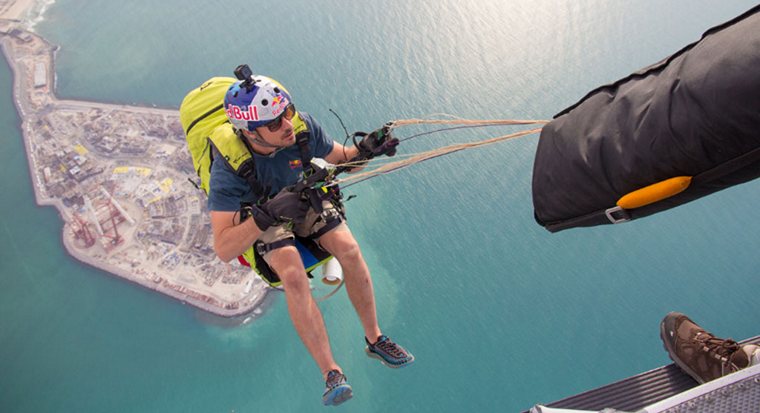 11 December 2015

China in reckoning for medals as WAG nears end China jumped onto the medals bandwagon at the end of the penultimate day of competition at the 2015 FAI World Air Games being held at the Skydive Dubai drop zone.
China was among the dominant countries in various categories of the parachuting competition that is scheduled to conclude with the final two rounds of jumps on the final day of the event on Saturday (December 12). China had its jumpers at the top of the standings in the parachuting male team, parachuting individual female and junior male and female categories.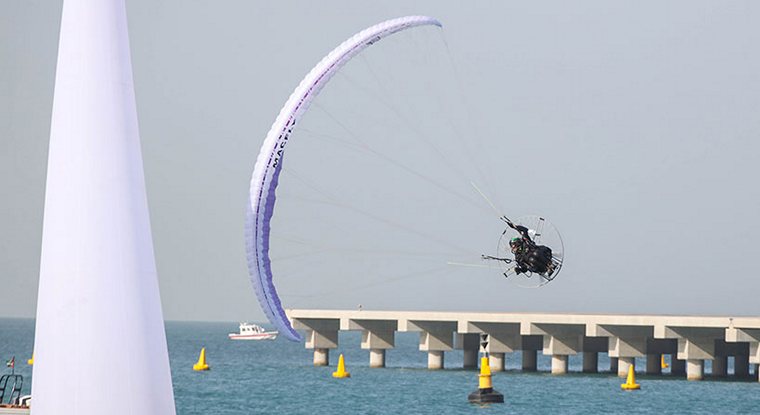 Zhang Ling and Yanan He were in the lead in the junior female and male categories respectively, while in the parachuting individual female category the Chinese were all set for a clean sweep with Han Qiu Li, Zhang Yun Fei and Zhao Tian Tian tied for the top spot with an identical 3 points after five jumps.
Meanwhile, the Golden Knights from the US broke their own record in the 8-way for the second time in two months. Their original world record in the 8-way stood at 31 points, set by the Knights, way back in 1997. However, the Americans managed to set a new one of 32 in October this year, and set a new one of 33 points here.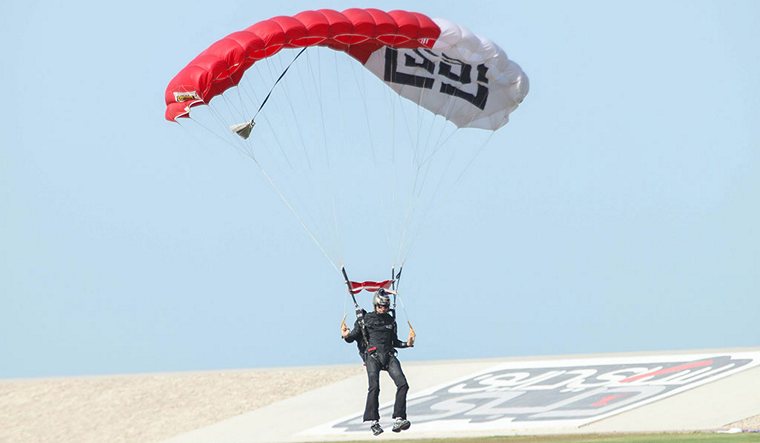 12 December 2015

Dubai Launches Million Dollar World Drone Prix International Drone Prix Federation to Lead Global Competitive Drone Racing
The first annual World Drone Prix will take place in Dubai on March 11th 2016, launching the international Drone Prix racing federation. The competition, comprising freestyle and speed races, is the first of its kind in the world and carries prize money of over a million US dollars.
"We aspire to be the world's most dynamic city and this championship is one of a number of emerging sports we are proud to have been part of encouraging," said Sheikh Hamdan bin Mohammed Al Maktoum. "Designing and producing racing drones is expected to become a $4 billion industry by 2020 and Dubai intends to lead the way in encouraging innovation and the development of pioneering drone technologies."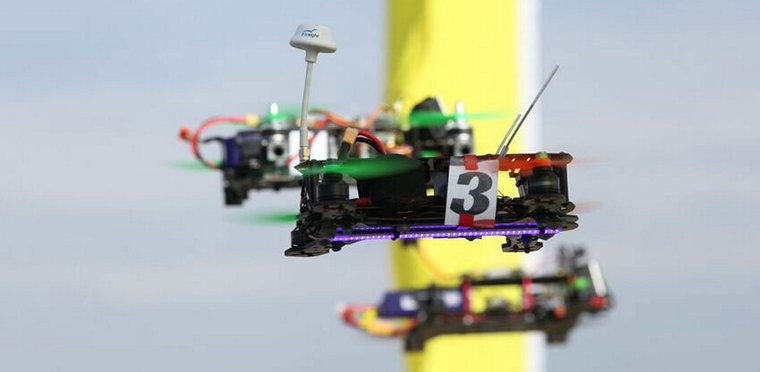 The million dollar prize is to be awarded to the winner of the speed racing event, while a further prize award will be made for the freestyle event. Applications to take part in the qualification rounds will be accepted until 15th February 2016 and the race is open to any team or individual in the world. "The World Drone Prix is expected to merge science fiction with reality, giving its audience an unparalleled experience," said Mohammed Al Gergawi. "We hope this event and others like it will accelerate innovation in this important emerging technology."
Twelve sets of medals were awarded at the Closing Ceremony of the FAI World Air Games in Dubai, as the sun set on the two-week event celebrating air sports from around the world.
While competitors collected their medals, a stunning Airshow including aerobatic planes, gliders, hot air balloons and skydivers filled the sky, entertaining the crowd of more than 1,000 people.
Paramotoring gold medallist Alex Mateos of France said: "This ceremony is exceptional. It's the first time I've been part of anything so big."
The bulk of the medals presented at the ceremony were for skydiving events that finished either late yesterday or this morning, with the USA, Russia, and China among the nations collecting golds.
Eugene Tarakhomin of Russia collected his medal with his two-year-old son, Konstantin, on his shoulders. "We are a team," said the skydiver who won gold in the Freeflying Artistic Event and silver in the Freestyle. "He supports me in every way, so we shared the medal."
The Czech team lead the parachute accuracy landing for most of the competition, but were eventually trumped by the Russians, who took gold with a strong performance in the final rounds.
World Air Games 2015 Dubai Aerobatics Results: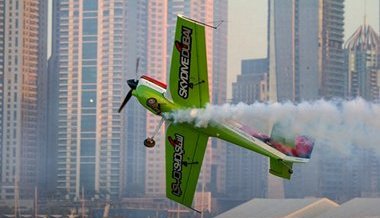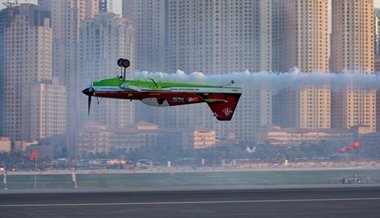 1 FRA M Olivier Masurel Extra 330SC
2 POL M Artur Kielak XA-42 SP-EED
3 USA M Rob Holland MX2
4 CZE M Martin Sonka Extra 330SC
5 FRA F Aude Lemordant Extra 300SC
6 RSA M Nigel Hopkins MXS
World Air Games 2015 Dubai Landings Results: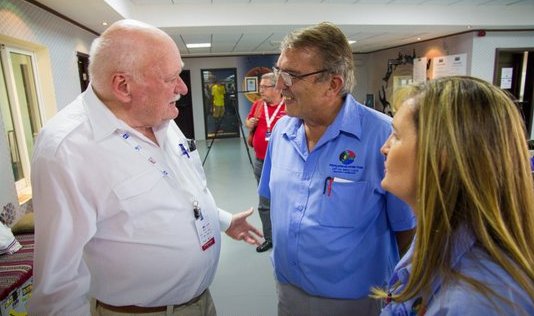 Frank & Cally Eckard

1 Frank Eckard & Cally Eckard South Africa
2 Ciesielski & Ciesielski Germany
3 Kalugin & Bykov Russia
4 Hiltunen & Züger Finland
HIGHEST HONOUR: AIRBUS' A380 IS AWARDED BEST AIRCRAFT TYPE IN A MAJOR PASSENGER SURVEY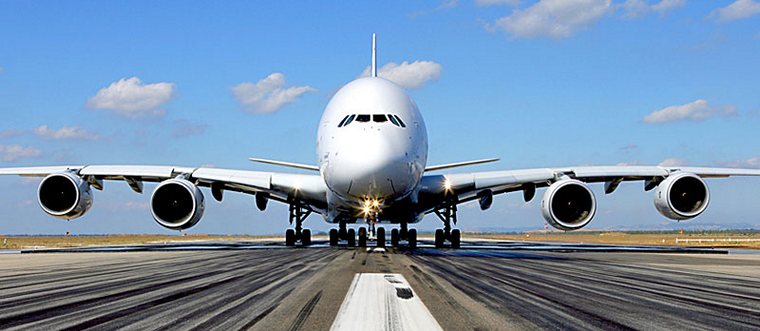 Photos © Airbus


More than a decade after its maiden flight, the popularity of Airbus' A380 has never been higher among airline passengers around the world - evidenced in part by this game-changing jetliner's recent recognition as Best Aircraft Type by the U.S. publication Global Traveler.
The honour was voted by Global Traveler's travel-savvy readership as part of its 11th annual Tested Reader Survey Awards, which were presented last night during a ceremony held in Beverly Hills, California, USA. It marked the first time the Best Aircraft Type distinction was won by a non-Boeing airliner.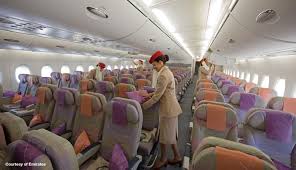 On hand to accept the award on 8 December was Airbus' Head of A380 Business Acquisition, Didier Nasarre - who in his speech explained how passenger preference increases brand value for airlines, citing the A380 as a primary example.
The A380 provides a typical capacity of 525 passengers in a three-class configuration, seated on two spacious decks. Boosting the strong customer appeal is its unmatched passenger comfort and quietness, to the point where 65 per cent of passengers would take the extra effort to fly on an A380, according to recent studies.
Airbus knows how much passengers appreciate the A380, as well as how vocal they can be. It is for this reason the company launched its A380love.com website with a digital "social wall" that gathers and displays all the incredible feedback from A380 travellers worldwide.
The A380 love isn't exclusive to passengers, however, as airlines are quite smitten as well. This flagship Airbus jetliner is proven to attract high-revenue travellers day after day, stimulating demand and offering the best capacity to match requirements at peak hours. By combining the opportunity to capture growth, unmatched comfort and global accessibility, the A380 enables airlines to define new opportunities - and own the sky.
In addition, the A380 boosts branding sentiment - showing an average increase of 40 per cent, and clearly stands out as the most popular aircraft in an airline fleet.
BOEING DEBUTS FIRST 737 MAX 8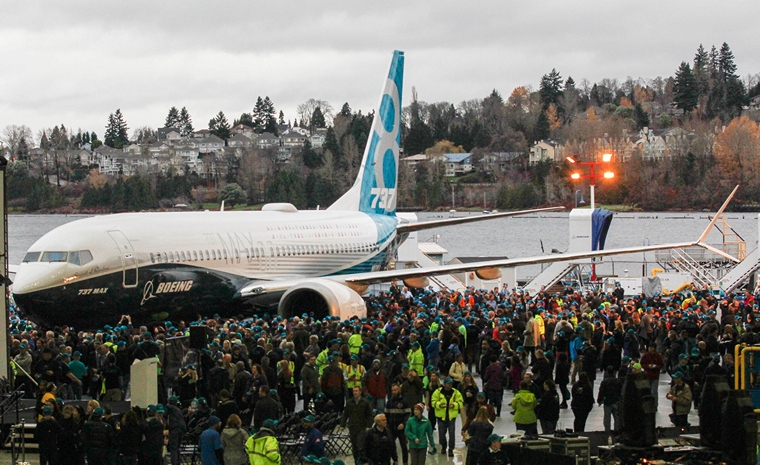 Photo © Boeing

On 8 December 2015 thousands of Boeing (NYSE: BA) employees in Renton, Wash., celebrated the completion of final assembly of the first 737 MAX 8.
"Today marks another in a long series of milestones that our team has achieved on time, per plan, together," said Keith Leverkuhn, vice president and general manager, 737 MAX, Boeing Commercial Airplanes. "With the rollout of the new 737 MAX - the first new airplane of Boeing's second century - our team is upholding an incredible legacy while taking the 737 to the next level of performance."
The production-complete airplane rolled out of the Renton factory and into the paint hangar on Nov. 30, the precise date determined when the MAX development schedule was defined more than four years ago. Today the freshly painted 737 MAX 8, named the Spirit of Renton, was revealed to employees in a special teal version of the Boeing livery. After celebrations are complete, the airplane will undergo pre-flight preparation in the factory before departing for Renton Field to continue flight test readiness. The airplane is on track for first flight in early 2016.
With the second and third 737 MAX 8 flight test airplanes currently in final assembly and the fourth (and final) in sub-assembly, the 737 MAX remains on track for first delivery to launch customer Southwest Airlines in the third quarter of 2017.
The new single-aisle airplane will deliver 20 percent lower fuel use than the first Next-Generation 737s and the lowest operating costs: 8 percent per seat less than the A320neo.
The 737 MAX incorporates the latest technology CFM International LEAP-1B engines, Boeing-designed Advanced Technology winglets and other improvements to deliver the highest efficiency, reliability and passenger comfort in the single-aisle market. The 737 MAX 8 is the first member in Boeing's new family of single-aisle airplanes - the 737 MAX 7, MAX 8, MAX 200 and MAX 9 - to begin production. The 737 MAX family has nearly 3,000 orders from 60 customers worldwide.
PIPISTREL TAURUS ELECTRO G2



Photos © Pipistrel


The Taurus Electro G2 was the first electric 2-seat aeroplane in serial production available on the market. It offers complete freedom and independence thanks to the retractable electric engine; double retractable main landing gear, excellent gliding performance, inexpensive maintenance and a well-ventilated spacious cockpit.
Pipistrel believes it is the only truly useful electric aircraft out there, because the electric drive is applied to the glider airframe, where battery capacity is not a limiting factor in performance/endurance. Taurus Electro G2 represents a leap forward in performance, safety, functionality and user friendliness.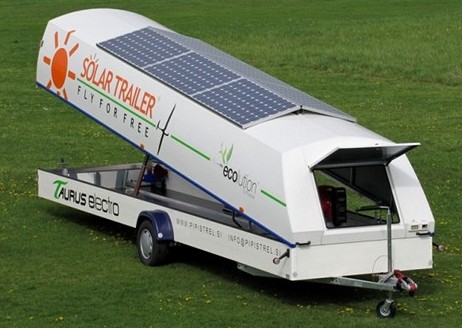 Pipistrel is presenting another World's first - the concept of Flying For Free. Pipistrel developed the Solar Trailer(R), which can charge-up the Taurus Electro G2 absolutely free and with zero emissions! Charging with the help of the Solar Trailer offers 1 kW of usable energy, this means charging time 10 hours for 30-Ah batteries and 12 hours for 40-Ah batteries.
Furthermore, when the Taurus Electro G2 is stored in the trailer during a week of bad weather, it will still be charged and ready to fly by the weekend. The Solar Trailer and Taurus Electro G2 are perfect companions and demonstrate how it is possible to fly free of charge, quietly and with absolutely zero emissions, with today's technology! The trailer offers both the 12 V connection (to charge your aux. instruments, etc) and 110V/220V connections at front and back of the trailer, where you connect the Taurus Electro G2's charger.
Based on extensive testing of the Taurus Electro prototype, we decided not only to refine the product to serial production state, but rather to rethink, redesign and implement completely new solutions into the initial design. The result is what our Research and Development team calls Taurus Electro,Generation 2 or G2 in short. It is the production version and represents a great step up from the prototype. The aircraft now has much better reliability, handling and performance.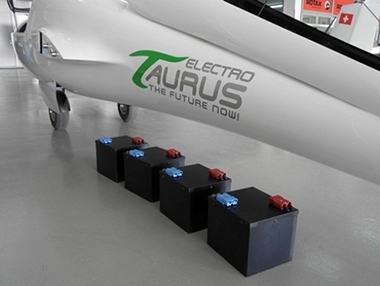 The tailor-developed Lithium-technology batteries come in two configurations, capable of launching the aeroplane to 1200 m (4000 ft) or 2000 m (6500 ft) respectively. They are placed in self-contained boxes, monitored constantly by the super-precise Pipistrel's own battery management system (BMS), compete with data-logging and battery health forecasting.
The propulsion motor weighs an impressive 11 kg (rather than 16 kg) and generates 10 kW more power, resulting in a total of 40 kW. Due to this 33% increase in power and 40% decrease in weight we developed a whole new propeller, which has proven to be more efficient than the version flying on the Taurus Electro Prototype.
For the first time electric power outperforms its gasoline-powered counterpart - the Taurus. Taurus Electro G2 can use a shorter runway, climbs faster and is performs much better than the gasoline-powered version when it comes to high altitude operations. All this is possible thanks to the specially-developed emission-free Pipistrel's 40kW electric power-train.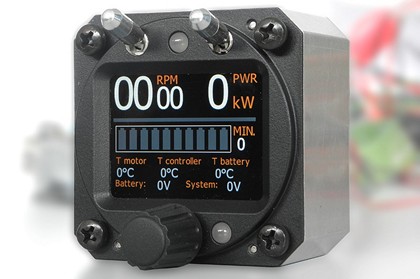 The first element of this networked system is the state-of-the-art hybrid battery management system which was developed entirely in house to be able to function with tighter tolerances than commercially available systems, yielding better performance and longer battery life. The Battery Management system monitors the batteries, which were specially developed to be used in the Taurus Electro G2. They represent the absolute pinnacle of today's battery technology, combining low weight, high power and high energy density to levels that seemed impossible as recently as 2009. The batteries are placed in aluminium boxes with dedicated power and signal connectors. Each battery cell's performance is monitored, temperature measured and future performance predicted.
Combining all elements, we have developed an aircraft which offers more performance and an almost care-free use of this revolutionary technology.
BOEING DELIVERS FINAL PEACE EAGLE AEW&C AIRCRAFT TO TURKEY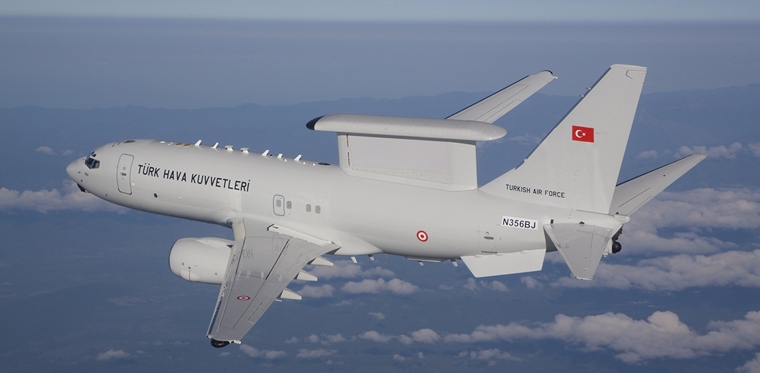 Photo © Boeing

Turkish fleet reaches full strength with four aircraft and ground support systems

Boeing [NYSE: BA] delivered the fourth and final Peace Eagle Airborne Early Warning & Control (AEW&C) aircraft to the Turkish Air Force at Konya Air Base today, completing the Turkish AEW&C fleet and enhancing Turkey's airspace surveillance and battle management capabilities.
This final aircraft includes upgraded software for the platform and the final element of the ground support segment, the Software Support Centre (SSC). Previously delivered Peace Eagles will receive the upgraded software soon.
Boeing worked with Turkish industry partners Turkish Aerospace Industries, Turkish Airlines, HAVELSAN and ASELSAN to complete the delivery of the final aircraft as well as establish technology capabilities like the Software Support Centre, updated mission simulator software and mission support centre software.
"Turkey is currently the only nation in this region with the AEW&C capability. By combining Boeing's innovative engineering with the expertise provided by local Turkish industry partners, we've delivered an advanced world-class airborne surveillance system to our customer," said Aysem Sargin Isil, managing director, Boeing Turkey.
Turkey, Australia and South Korea operate AEW&C platforms.
Based on Boeing's 737-700 commercial airplane, the 737 AEW&C aircraft's advanced radar and 10 state-of-the-art mission crew consoles can track airborne and maritime targets simultaneously. The battle management capabilities allow mission crew to direct offensive and defensive forces while maintaining continuous surveillance of the operational area.
EUROFIGHTER TYPHOON STRENGTHENS CAPABILITY ON SERVICE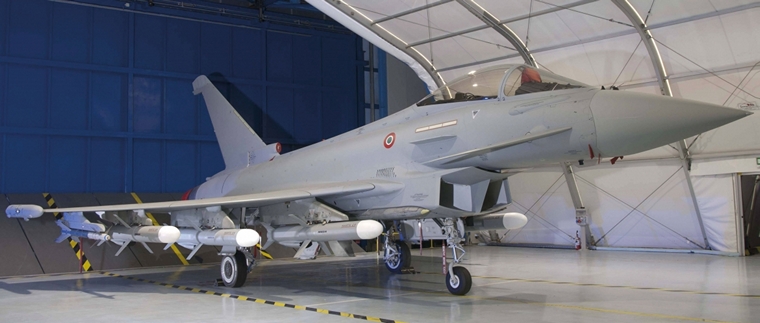 Photo © Eurofighter



As Eurofighter Typhoon engages in significant global deployments delivering high levels of effectiveness and reliability, speaking at the Dubai Air Show, the Programme's Capability Manager, Paul Smith, a former UK RAF Pilot and Fighter Weapons School Instructor, today (November 9th) revealed that work on integrating major new capabilities onto the aircraft is now 'well advanced' and 'delivering promising results'.
Paul Smith said: "We are having one of the busiest Flight Test periods in the Programme's history and the integration of the enhanced weapons-mix is well advanced and delivering promising results."
He added: "Throughout 2015 we have been conducting a series of flight tests with our Instrumented Production Aircraft (IPA) working on the integration of major new weapon-systems capability with a particular focus on both Storm Shadow and Meteor missiles. At the same time, the Eurofighter continues to deliver effective and proven air power in both the Middle East and the Baltic States. This is a dynamically challenging and exciting time for the Programme, with its weapon system capabilities continuing to grow."
Central to this last month's capability enhancement work on the Eurofighter Typhoon has been flight testing for the P2E Programme - the Phase 2 Enhancement Capability Update which introduces a broad range of capability enhancements to the aircraft. As well as the Storm Shadow and Meteor missiles, there are enhancements to the radar, DASS (defensive aids sub-system) and other avionics which will enhance the aircraft's lethality and survivability across all roles.
Smith said: "The testing regime over the last few months has been relentless, and IPA6, a BAE Systems-based Eurofighter Typhoon, made the first flights with the new software and completed the 5th Meteor missile firing. Flight test of multiple enhancements to the integration and functionality of the Laser Designator Pods (LDP) has primarily been carried out by flight test engineers and aircrew from Airbus Defence and Space, Germany. IPA6 has since been joined by Finmeccanica-Alenia Aermacchi's IPA2 as work on the integration of Storm Shadow continues."
The effects deliverable by both weapons are enhanced by the high-kinetic characteristics and highly integrated sensors of the Eurofighter Typhoon. This improves the weapons' range and gives the pilot the situational awareness to employ them most effectively.
Smith continued: "In the last week of October, in the UK, the Customer had a first opportunity to test the new P2E software for themselves through a series of typical operational Air-to-Air and Air-to-Surface scenarios. IPA6 was joined by a number of other RAF assets (up to 8 aircraft including IPA6, tankers, co-operators and targets) to conduct Operational Assessment Testing. The flights were conducted by pilots from the UK's 41 TES (Test and Evaluation) Squadron who gave some positive initial feedback. This early operationally focused input enables industry to make final tweaks to ensure that the final product is tailored to customer air forces requirements."
He added: "The During November we will see further integration work with Storm Shadow, including missile releases, and preparation for the next Meteor missile firing. Airbus Defence & Space, Spain will join as the fourth Flight Test Centre as IPA4 is cleared to commence testing with a focus on Weapons System Performance and Comms. This is the entire flight test community operating together to deliver real capability enhancement."
With the P2E enhancements scheduled to be delivered to the Customer in steps between 2015 and 2017 Smith said that work is now underway on the next batch of enhancements, P3E which will enable the Eurofighter Typhoon to deploy several more capabilities including precision-guided air-to-surface weapons at fast-moving targets with low-collateral damage.
Smith told media in Dubai: "Our Phase 3 Enhancement (P3E) Programme will enable Eurofighter operators to integrate the Brimstone 2 on the aircraft and will also further enhance other existing weapons capabilities - including Storm Shadow, Meteor, Paveway IV and ASRAAM. We aim to deliver P3E to the Customer in 2017."
He said: "Beyond P3E, our customers are currently agreeing the content and schedule of future weapon system programmes. These will include avionic enhancements, such as MIDS JTRS, and the potential integration of other weapons such as SDB II and the Marte-ER anti-ship missile, which we know are of interest to some of our customer community. It will also see the integration of Eurofighter's new E-Scan Radar."
"Bring all these elements together," said Smith, " and it becomes clear why we talk about Eurofighter Typhoon operators having the 'Combat Edge' - the situational awareness and a suite of flexible weapons options that offer pilots a real advantage in the battlespace."
HELIBRAS COMPLETED THE FIRST STAGE OF IN-LABORATORY TESTS THIS WEEK TO INTEGRATE EXOCET AM39 MISSILES WITH THE NAVAL MISSION SYSTEM DEVELOPED FOR THE BRAZILIAN NAVY'S H225M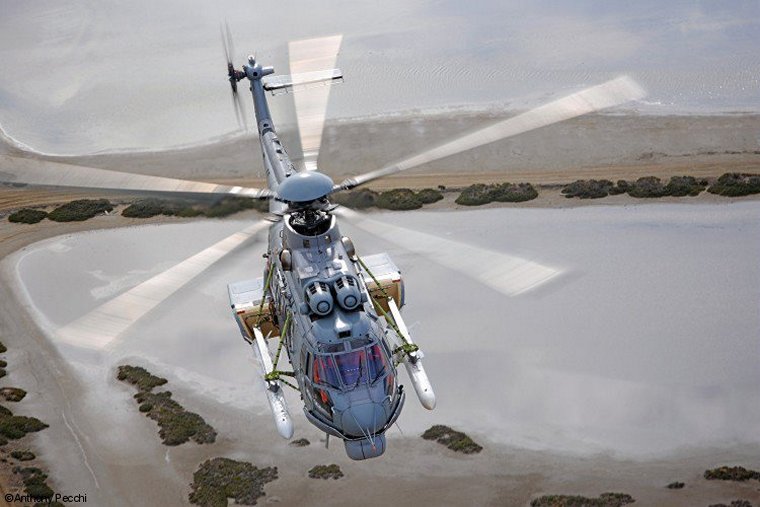 Photo © Airbus

During the three weeks of laboratory activities, the team successfully completed several simulated missile launches. This testing phase is intended to verify the connection between the Naval Mission System and missile launchers, to test different modes of operation and to check the instruments that will be used during test flights.
In early 2016, test benching will resume in order to test missiles with the prototype aircraft while in flight in Brazil. Activities are being coordinated by the teams at the Helibras Engineering Center in close cooperation with Airbus Helicopters, MBDA, the manufacturer of Exocet AM39, Atech and Airbus Defence and Space.
"This is another milestone for the H-XBR program, one that confirms Helibras' total commitment to the project and highlights the professionalism and high level of expertise of Helibras in Brazil," commented Richard Marelli, Vice President of Helibras Operations.
The successful systems integration also demonstrates the maturity of the Brazilian Navy's H225M Naval Mission Systems development - a completely new configuration that was designed in Brazil by Helibras in collaboration with the customer, Airbus Helicopters and other partner companies.