The South African Airways Museum Society was founded in 1986 by individuals within South African Airways and interested outside parties with the aim of preserving the history of South African Airways as well as that of general civil aviation in South Africa. This was sparked off by the purchase by South African Airways of the famous Junkers Ju-52/3m aircraft. Members of the South African Airways Museum Society were instrumental in restoring that aircraft, and have ever since been proactive in preserving the colourful history of South African Airways. One of South African Airways Museum Society's stated aims is to create an awareness of the greatness of South African aviation, and the role it has played in society.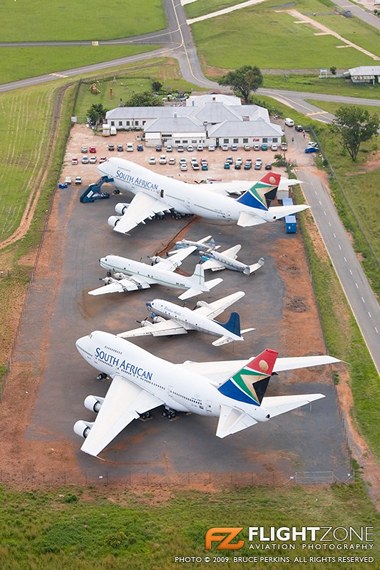 Photo by kind permission Bruce Perkins

As a Non-Profit Company (NPC) Registration number 2007/005176/08 the Society is also registered as a Public Benefit Organisation (PBO), PBO Registration number 930025667 as well as registered with the South African Museums Association (SAMA) Gauteng North Branch.

Photo © Willie Bodenstein

The South African Airways Museum Society is based at the ex-Transvaal Aviation Club complex at Rand Airport in Germiston. The management of Rand Airport have generously donated a tract of land adjacent to runway 29 for the SAA Museum Society to use, to display its collection of Static Display Aircraft. Historic items such as photographs, aircraft instruments, timetables and other important documentation are on display in the Society's display hall. The display hall is open to the public, and the Society regularly participates in open days to encourage particularly the younger generation of South Africans to take an interest in aviation as a potential career.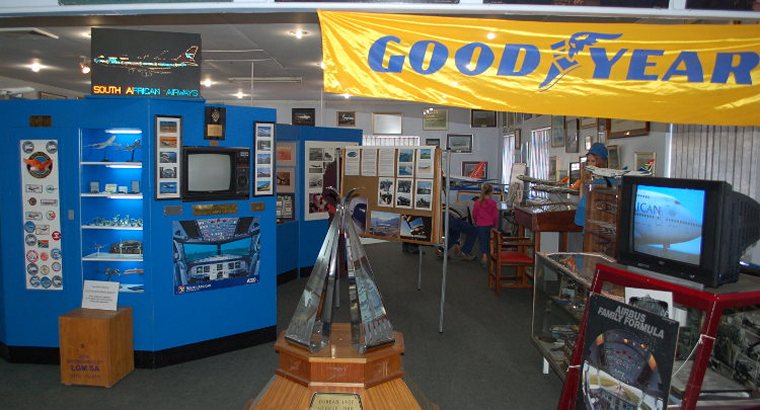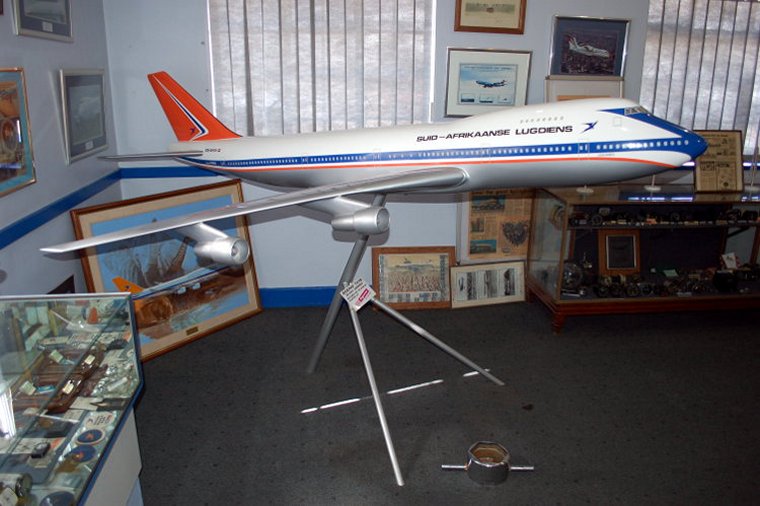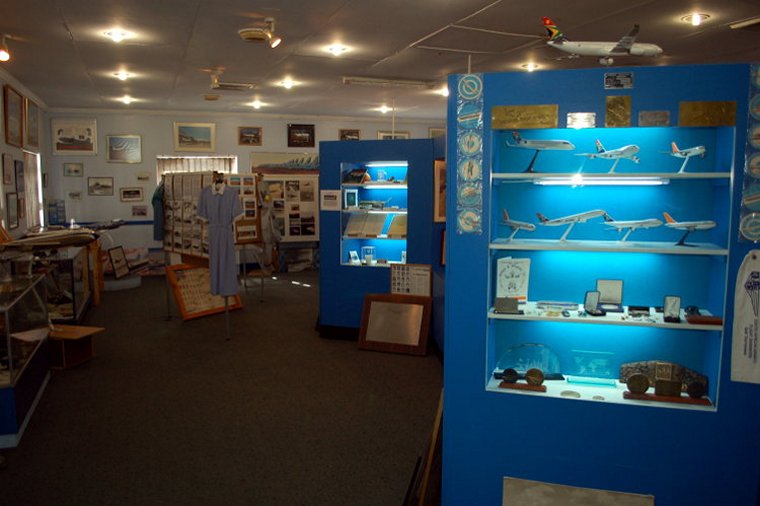 Photos © SAA Museum

Over the years, the SAAMS has amassed a wonderful collection of aviation related books, technical manuals, historical documents, photographs, magazines and historic footage, etc., which are now housed the Ian Carrol Library. The material in the library is available for research purposes. It may not however be removed from the library. Besides the library the Museum also operates a shop that carries a wide range of aviation related items that will appeal to both young and old. Items included: T-Shirts, Magazines, Books, Toys, Aircraft Models, Caps, Badges and DVDs.
Static display aircraft are used to their fullest extent for aviation awareness programmes as well as for fund raising for the society. The aircraft are available for small corporate related functions such as board meetings and conferences, product launches, award ceremonies, even weddings. Much needed funds for the society's preservation efforts are generated from the utilisation of Lebombo and the other static display aircraft.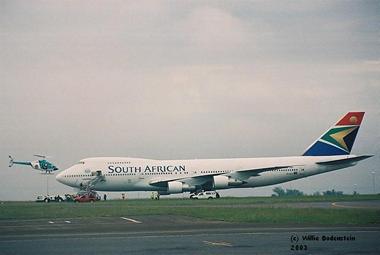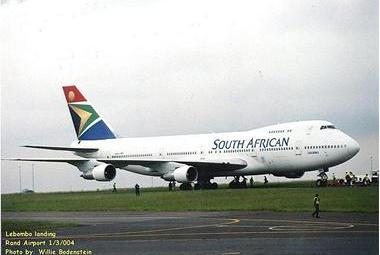 Arriving Boeing 747 Lebombo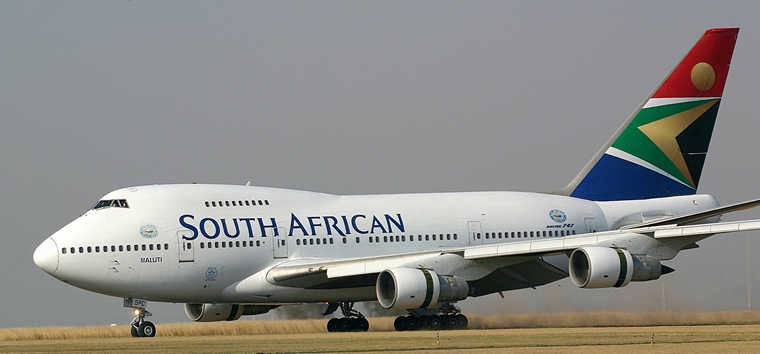 Arrival Boeing SP 747 Maluti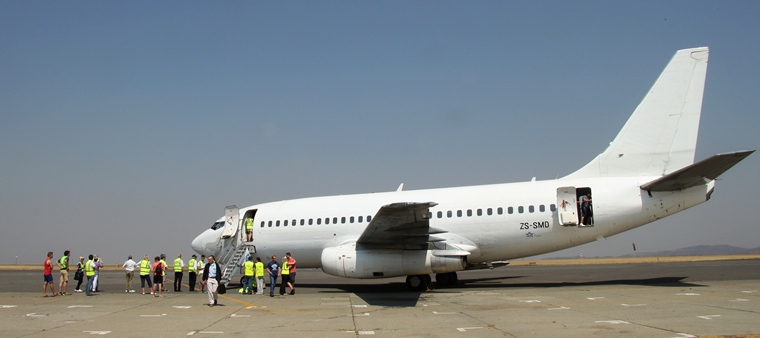 Arrival Boeing 737

Photos © Willie Bodenstein

The B747, ZS-SAN, Lebombo, is open for viewing. However the cockpit is closed as the aircraft is considered "Live". There is however a B747 "Classic" Simulator which is identical in all respects to the B747 cockpit and this may be viewed. The simulator is not operational. Members of the public are welcome to take photographs of the aircraft. The aircraft may also be utilised by training organisations for training of aircraft mechanics and technicians. It may be possible for certain maintenance procedures to be undertaken as training exercises, which will assist the society with its on-going preservation task, as well as being beneficial to students who will get an opportunity to work on "the real thing".
Operational aircraft are leased to Skyclass Aviation who operates them on charter work to Southern Africa's exotic tourist destinations.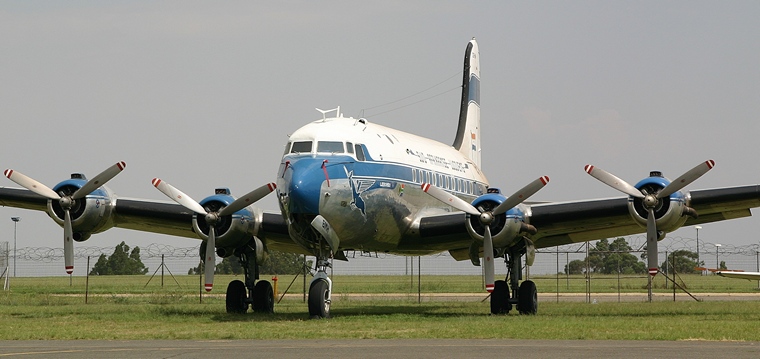 Photos © Willie Bodenstein

The Museum has the following aircraft on its inventory:
On Display:


Lockheed L18-08 Lodestar, de Havilland DH 104 Dove, Boeing 747-244B Lebombo, Douglas C-54D-15-DC, Boeing 747SP-44 Maluti , Boeing 737-219 ADV & Boeing 707-344C section of fuselage and one engine.



Photos © SAA Museum



Under Restoration:


Lockheed L1649A Starliner, Vickers VC1A Viking.

Lockheed L1649A Starliner

Photo © Willie Bodenstein

Airworthy:
CASA 352L (Junkers Ju-52/3m) Serviceable/Awaiting CofA, Douglas DC-3 Dakota, Douglas DC-4 ZS-AUB & ZS-BMH Skymasters.
The members of the SAA Museum Society, all of whom are volunteers, have every reason to be immensely proud of their fine achievements in preserving the colourful history of South African civil aviation.
The Museum is open from Tuesday to Sundays between 09h00 to 15h00. For more information go to www.saamuseum.co.za or E-mail info@saamuseum.co.za . For School Tours, Guided Tours, Functions, Events, Film and Television Shoots please contact the manager on duty on 076 879-5044 or E-mail: info@saamuseum.co.za