THIS WEEK IN MIDWEEK UPDATE




Plan Your Weekend.......... Forthcoming Events.......... This Week's Specials

Notice Board .......... Aviation News.......... Worldwide Incidents and Accidents

This Week in Aviation History.......... Advertising Rate Card





13 January: EAA Chapter 322 monthly meeting, Dickie Fritz Moth Hall Edenvale. Contact editor@afskies.co.za






JANUARY


24-30: Gliding Cape Regionals, Worcester Airfield. Contact Gary Whitecross gary@airplay.co.za
30: SAPFA Rand Airport Challenge fun rally. Contact Frank Eckard Cell: 083 269 1516 e-mail:
frank.eckard@mweb.co.za
FEBRUARY



3: EAA Chapter 322 monthly meeting, Dickie Fritz Moth Hall Edenvale. Contact editor@afskies.co.za
6: SAAF Museum flying training and open days. Contact Capt. Kobus Kapp 012 351 2342 or E-mail: webmaster@saafmuseum.org
6: MISASA Best of the Best Wings Wheels Water showcase. Venue to be advised Contact John Boucher e-mail:
jb.brokers@gmail.com
6-7: SAC NW regionals Klerksdorp. Contact Annie Boon e-mail:
chunge@mweb.co.za
13: Dear fellow RV8tors Pilot's Post would like to invite you to an informal Van's RV Fly-in to Krugersdorp (FAKR) on Saturday 13 February 2016 between 08:00 and 10:00. Breakfast will be served at the club as usual and every RV pilot will receive a free breakfast with compliments of Pilot's Post. Breakfast for passengers and other visitors will also be for sale at R50.
Please assist me by sharing this invitation with all your other RV friends. I would also appreciate it if you would confirm your attendance (and passenger count if applicable) so that we may communicate the catering requirements to the club house operator in advance. Email to info@pilotspost.com
It is important to note that the joining procedure at FAKR require all aircraft to join from the south at 6300ft to remain below the FALA TMA!!! Aircraft inbound from the north should route west around the airfield to join overhead from the south. Unmanned joining procedures on 122.0 apply. Once you have landed, there will be a marshal to indicate your parking space.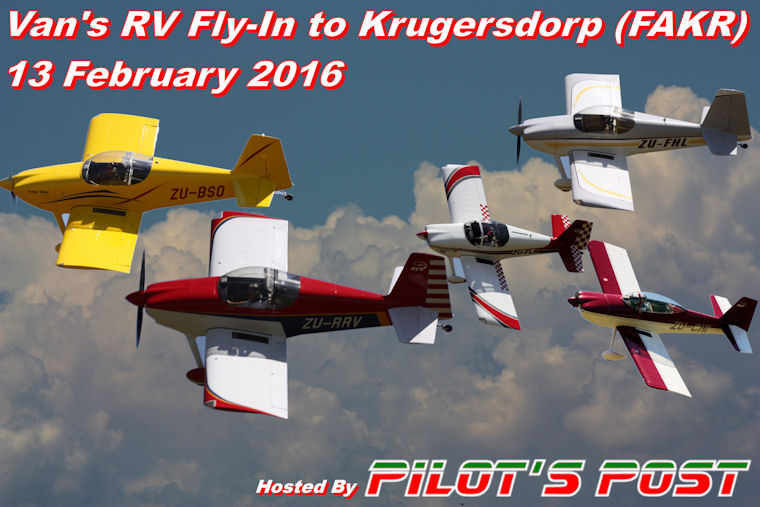 27: SAPFA Stellenbosch fun rally. Contact Alewyn Burger Cell: 082 416 1951 e-mail:
alewyn@burger.org.za






MARCH




2: EAA Chapter 322 monthly meeting, Dickie Fritz Moth Hall Edenvale. Contact editor@afskies.co.za
5: SAAF Museum flying training and open days. Contact Capt. Kobus Kapp 012 351 2342 or E-mail: webmaster@saafmuseum.org
4 - 5: Swellengrebel Fly In - Swellendam. Contact Pieter Venter e-mail: pventer@vgv.co.za Cell: 082 250 9504
5: SAPFA Durban Wings Club fun rally. Contact Mary de Klerk e-mail:
mary@expandingbranding.co.za
or Cate Juselius e-mail: cate@eastcoastsa.net
5: Wings and Wheels festival Uitenhage. Contact Lourens Kruger e-mail:
lmk@telkomsa.net
APRIL




3: SAAF Museum flying training and open days. Contact Capt. Kobus Kapp 012 351 2342 or E-mail: webmaster@saafmuseum.org
2-3: SAC Western Cape regionals Saldanha. Contact Annie Boon e-mail: chunge@mweb.co.za
6: EAA Chapter 322 monthly meeting, Dickie Fritz Moth Hall Edenvale. Contact editor@afskies.co.za
9-11: Airport show in Dubai United Arab Emirates. Contact Reed Exhibitions Middle East e-mail:
ria.andaya@reedexpo.ae

12: Coves Breakfast Fly-in Country Estate Hartbeespoort.
13: Rosslyn Aero Modellers Fly-Inn. Landing fee of a R100.00 will be payable on arrival by the pilots. Hot-dogs and cool drinks will be available. No flying without a valid SAMAA card. Contact Ina Van Der Merwe at fullstop@mweb.co.za for any inquiries.
15: SAPFA National Rally Flying Championships at Brits airfield. Contact e-mail: chairmanatsapfa@gmail.com
20 -23: AERO Friedrichshafen - Germany. Contact website: www.aero-expo.com
29-30: Lowveld airshow - Nelspruit. Contact Willemien Hodgkinson e-mail: willemien.hodgkinson@ffa.co.za
29: EAA National Convention, Mossel Bay.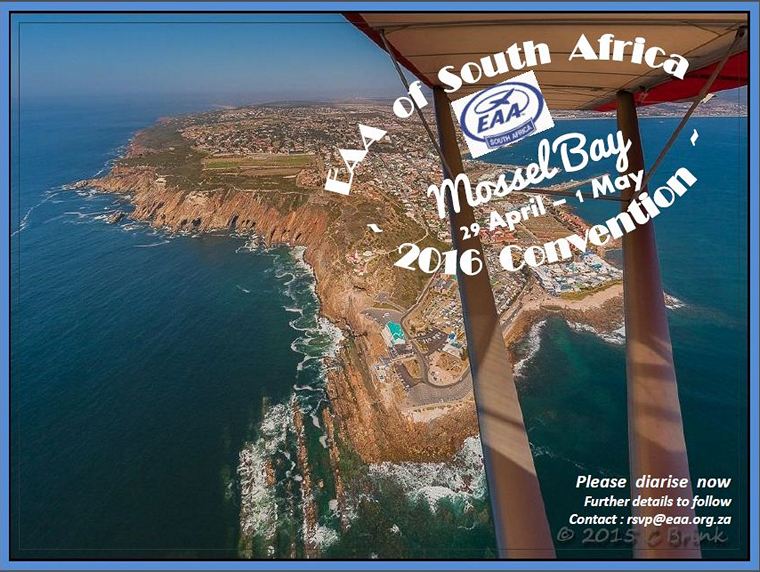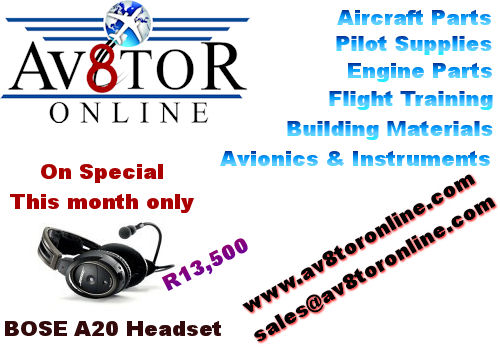 VACANCY



Pilot's Post has a vacancy for a commission based advertising Sales Consultant. The position is ideal for a self-motivated person with a marketing and preferably aviation background. The successful candidate's main responsibilities will be the marketing of advertising space on www.pilotspost.com .

Suitable CV's to be send to willieb@pilotspost.com

Closing date for applications is 29 January 2016

Should you not receive feedback within 14 days of your application please consider your application unsuccessful.









MAHINDRA DISPLAYS FIRST AIRVAN IN CHINA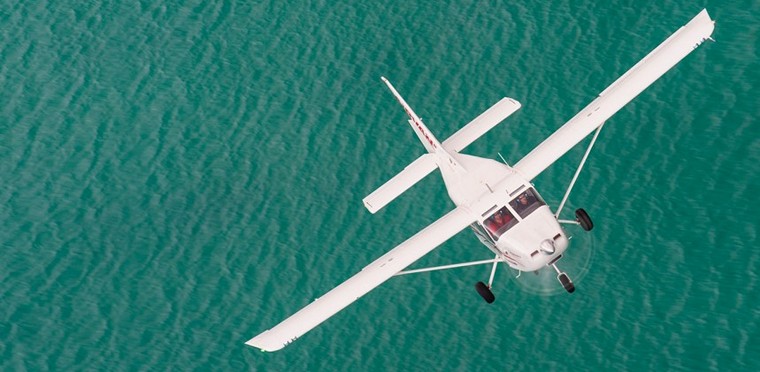 Photos © Mahindra

The first Airvan 8 aircraft to enter China was displayed at the China International General Aviation Convention held in Xi'an China, in October. Mahindra Aerospace together with Shaanxi Jinggong General Aviation Co. showcased this aircraft which arrived at Xi'an Pucheng airport just days prior to the airshow, and was reassembled and placed on static display where it immediately created strong interest.
Still on Australian registration, the aircraft will undergo a First of Type inspection with CAAC ahead of receiving its Chinese registration.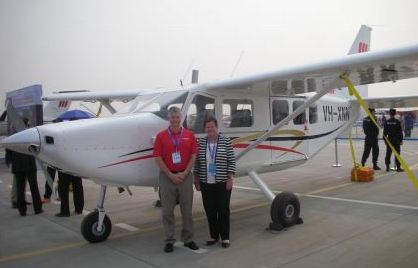 Marguerite Morgan, Business Development Director for China said "We are pleased with the fact that Mahindra is partnering with JingGong. They bring a high level of expertise to the table at an exciting time when our maturing product line meets an increasingly favourable aviation environment in China."
A significant signing ceremony was held on Sunday 18th October at which time Zhang Mingding , General Manager, Shaanxi Jinggong General Aviation Co., signed an order for 5 aircraft to be delivered prior to 30th March 2016, reaffirming the interest and confidence in the market.
JingGong is a General Aviation company headquartered in Keqio, China with multiple offices in China that provide sales, training, maintenance support and operations support within the General Aviation Sector, and are the authorized Mahindra Aerospace dealer for China.
During the airshow, the first launch customer, Inner Mongolia Flying General Aviation Co Ltd, was announced. The company has acquired an operational qualification of Class A by CAAC and is the first general aviation company for short-distance transportation undertaking operations as per CCAR-Part 135 in China. Use of the Airvan 8 will include unscheduled passenger, cargo, and postal service transportation, chartered flights and more.
CHINESE FIRM EHANG REVEALS MEGADRONE AT CES 2016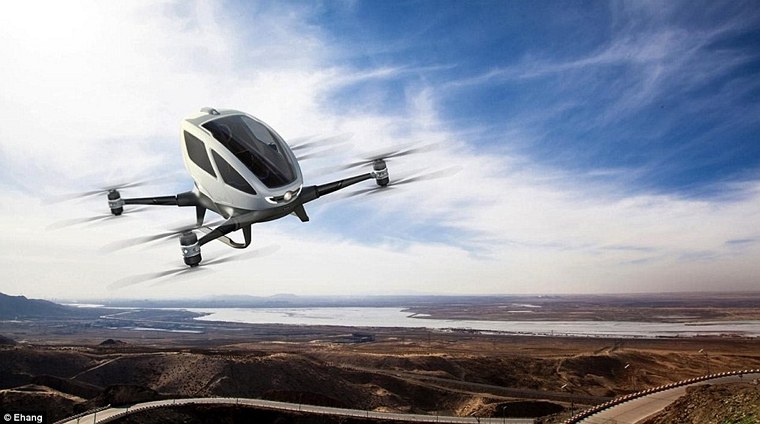 Photos © Ehang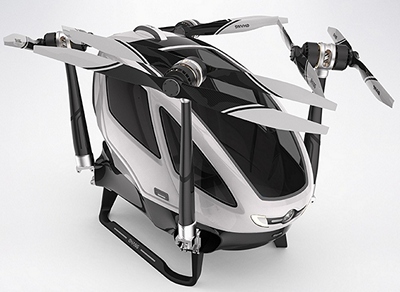 One would not expect to find what looks like a helicopter at a consumer electronics show but Chinese company EHang chose the recently held 2016 Consumer Electronics Show (CES) in Las Vegas as the launch venue for its 184 Megadrone that is big enough to carry a passenger.
The all-electric Megadrone is designed to be a self-flying one person air taxi with a range off about 16 kilometres. All the passenger needs to do is to enter the final destination into an app and the Megadrone will whisk him or her to their destination at approximately 96 km/h.
Taking off and landing vertically the drone will pick the most optimal route to its programmed destination and will be able to recognise and avoid conflicting traffic. A sophisticated back up service will take over in the case the main systems fails. Passengers will in the case of an emergency halt the flight and hover.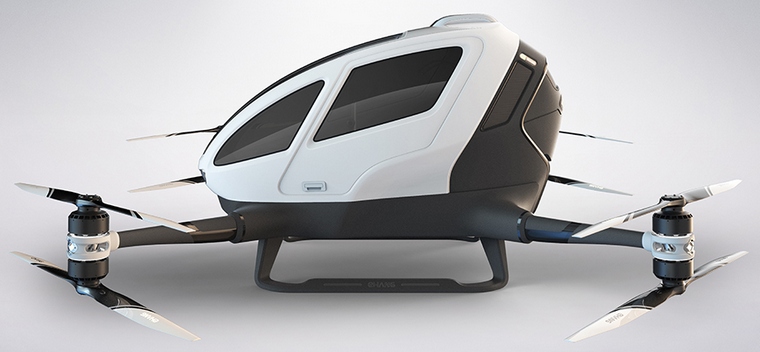 The 184 has been in development for 30 months and the company is aiming to release a commercial version later this year, depending on safety tests and future drone regulations. EHang claims that mass-adoption of the 184 has the potential to streamline congested traffic and dramatically reduce the kinds of accidents associated with any human-operated vehicle.
NASA ASTRONAUTS GET ADVANCE LOOK AT CST-100 STARLINER TRAINERS



Systems will prepare crews for Boeing's first-ever commercial spaceflights to International Space Station.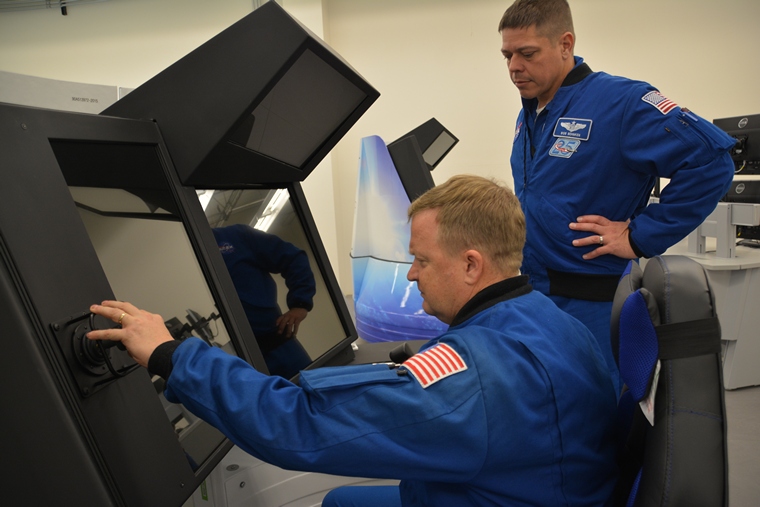 NASA astronauts Eric Boe (left) and Bob Behnken inspect the controls of Boeing's CST-100 Starliner Crew Part Task Trainer as part of an early look at one of the systems that will prepare them for flight tests and missions. Photo © Boeing

Two of the four NASA astronauts training to fly Boeing's [NYSE: BA] CST-100 Starliner spacecraft recently tried some of the systems that will prepare them for flights to the International Space Station.
During a visit to Boeing, astronauts Eric Boe and Bob Behnken focused on systems used for learning to manipulate switches and display panels. Flight controllers were also able to experience devices they will use to train for flight tests and missions.
"We have been learning about the spacecraft displays through slideshows. It's great to finally see what we are actually going to train on," Boe said. "The trainers look great, and this visit gives us an opportunity to meet with the Boeing engineers. We appreciate them allowing us to give input on these trainers so the devices are ready when they arrive at Johnson Space Center."
Behnken added that the training equipment is comprehensive.
"Historically, some trainers were just a simple component that might have a very specific task," he said. "This one has a lot of capability with multiple tasks coming together so it can execute more complicated training scenarios."
Two of the trainers are to be delivered to NASA in the autumn of 2016. Boeing is also building an immersive, high-fidelity training system that's to be delivered in early 2017 to Houston's Johnson Space Center.
The CST-100 Starliner's first crew flight test to the space station is expected in 2017 and will be Boeing's first commercial flight transporting humans to that destination. More information about the CST-100 can be found at www.Boeing.com/cst100.
A unit of The Boeing Company, Defense, Space & Security is one of the world's largest defense, space and security businesses specializing in innovative and capabilities-driven customer solutions, and the world's largest and most versatile manufacturer of military aircraft. Headquartered in St. Louis, Defense, Space & Security is a $31 billion business with about 50,000 employees worldwide.

EMBRAER EXPANDS E-JETS CUSTOMER BASE IN EUROPE WITH AUSTRIAN AIRLINES




Photo © Embraer

Austrian Airlines has become the most recent customer of the Embraer E-Jets. The carrier launched today scheduled flight with the E195 from Vienna to several Central European destinations like Belgrad, Warschau, Hamburg, Thessaloniki and Tirana, among others. The airline started to incorporate 17 used E195s to its fleet last autumn.
"Following the same path that others carriers did in Europe, Austrian is replacing older and less efficient aircraft with the E-Jets, creating value for its owner and partners, and also offering a tremendous product for its passenger in terms of comfort," said Mathieu Duquesnoy, Vice President, Marketing & Sales, Europe & Middle East, Embraer Commercial Aviation. "E-Jets are the most efficient and the lowest operating cost aircraft being delivered in the segment."
"We are very happy to welcome the Embraer Jets to our fleet. These 120-seater aircraft will use 18% less fuel per seat. Therefore in the future, flying with Austrian Airlines, will be even more environmentally friendly", said Robert Heusmann, project leader of the Embraer incorporation at Austrian Airlines.
The airline will use the E195s, which are former Lufthansa CityLine, to replace a fleet of Fokker 70 and Fokker 100 jets. Now, the fleet will have an average age of four years, replacing Fokkers with an average age of about 21 years. The E195 is configured with 120-seats.
Embraer is the only manufacturer to develop a modern family of four airplanes specifically targeted for the 70- to 130-seat segment. Since the formal launch of the program in 1999, Embraer has logged nearly 1,700 orders and over 1,200 deliveries, with the E-Jets redefining the traditional concept of regional aircraft by operating across a range of business applications, with some 70 customers from 50 countries. The first E-Jet entered revenue service in 2004.
CARTER AVIATION ANNOUNCES BUSINESS OPPORTUNITIES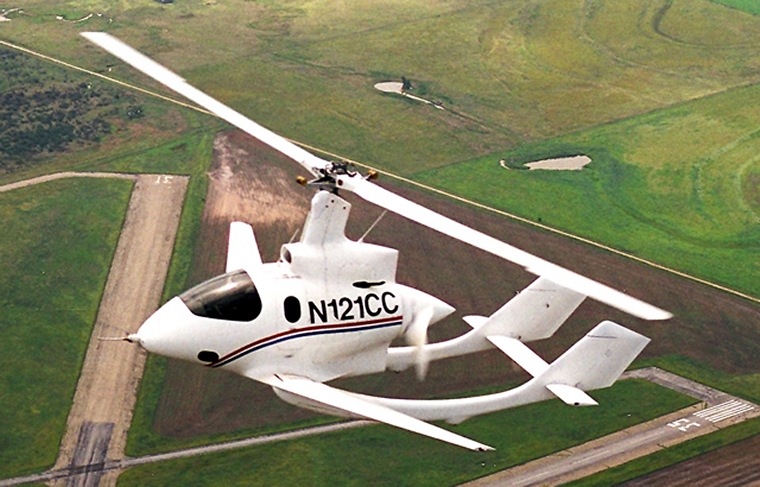 Photos © CarterCopter

Carter Aviation Technologies, LLC (Carter) is pushing ahead with plans to begin production of CarterCopters at 7,000 lbs gross weight and less. Carter is continuing discussions regarding larger classes of aircraft with major aerospace companies, but still desires to get production started as soon as possible for smaller vehicles.
"We have a great deal of interest getting a relationship started with a major aerospace company to produce large-scale CarterCopters, but we cannot ignore the demand at the lower end," explained Jay Carter. "We get frequent inquiries regarding vehicles even as small as single-place so we are going to put some energy into developing business for a smaller set of vehicles, too."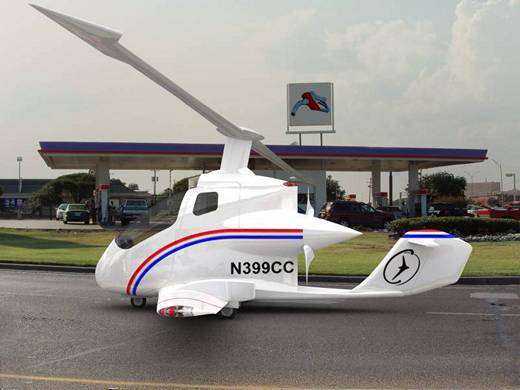 Carter has expanded its fundamental business model to go beyond technology licenses and it now includes proposals for three separate joint ventures (JVs). These joint ventures are for three separate categories of aircraft ranging in gross weight from less than 2,000 lbs to as high as 7,000 lbs. The intent is for Carter to provide a no-cost license and technical know-how to each JV for a percentage ownership. All of the particulars would need to be worked out between Carter and the other JV partner(s).
"We have put together the JV approach as an additional option for potential business partners," describes Jay Carter. "It avoids some of the financial barriers to entry regarding upfront license fees and further incentivizes both the JV partners and Carter itself to ensure success." It is anticipated that the first funding tranche would be used to fund the design, development, and demonstration of a pre-production prototype followed by additional tranches to cover actual production costs for each of these JVs.
To compliment these additional business development activities at Carter, preparations for additional flight demonstrations continue. Pilot training will resume this month preparing to re-host a major aerospace company's test pilot and to provide demonstrations to potential JV partners. This will include round robin trips around the local Texas area and culminate in early 2016 activities with a trip to Sun n' Fun April 5th -10th
About Carter Aviation Technologies, LLC.

Carter Aviation is a Wichita Falls, Texas based aerospace research and development firm that has developed and demonstrated its Slowed-Rotor/Compound (SR/C™) Technology. More information is available at www.CarterCopters.com.
BOMBARDIER DELIVERS ITS FIRST Q400 CARGO-COMBI AIRCRAFT TO RYUKYU AIR COMMUTER



Photo © Bombardier



Bombardier Commercial Aircraft and Ryukyu Air Commuter Co., Ltd (RAC) of Okinawa, Japan announced today the delivery and acceptance of the very first Q400 cargo-combi aircraft. Manufactured at Bombardier's facility in Toronto, Ontario, Canada, the aircraft is one of five ordered by RAC. A member of the Japan Airlines Group, RAC is the launch customer for this new variant of the Q400 aircraft, which features a cargo-passenger combi configuration, and was unveiled at the Farnborough Airshow in July 2014.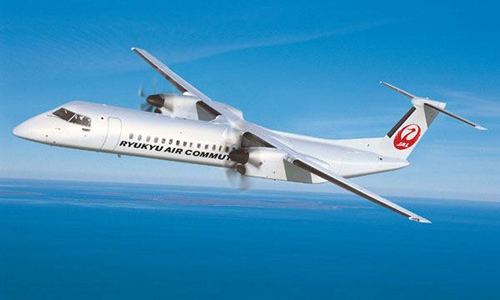 "We are very excited to be the launch operator for the Q400 cargo-combi aircraft," said Takashi Irei, President, Ryukyu Air Commuter. "We always aim to offer the highest level of comfort and convenience for our customers and the Q400 cargo-combi aircraft offers the ideal platform for the evolution of our service. Increasing efficient air travel options around Japan's Okinawa islands will provide strong economic and leisure advantages."
"With the delivery of our first combi aircraft, we are celebrating a standout accomplishment for the Q400 aircraft program," said Fred Cromer, President, Bombardier Commercial Aircraft. "Recognized worldwide for its versatility, proven reliability and superior performance, the Q400 aircraft now offers optimum solutions with its single-class, dual-class, extra capacity and combi configurations, and is once again reinventing the modern turboprop market.
"By operating on routes with high cargo demand and medium to low passenger loads, RAC will benefit from the unique economic potential of the Q400 cargo-combi aircraft," added Mr. Cromer.
"We are delighted by RAC's continued confidence in Bombardier's Q Series aircraft and are thrilled to support the airline's bold and innovative expansion strategy," said Andy Solem, Vice President, Sales, China and North Asia, Bombardier Commercial Aircraft. "Adding the Q400 cargo-combi aircraft to its growing fleet allows the airline to enrich its intra-Japan network and increase the frequency to remote southern islands where increased cargo capacity and payload is a necessity."
The Q400 cargo-combi aircraft offers the greatest payload capability and operational flexibility in its segment, and is the only commercial turboprop available today offering various configurations. In the layout that provides the highest payload capability, the aircraft offers up to 9,000 lb. (4082 Kg) of cargo capacity and up to 1,150 cubic feet (32 cubic metres) of cargo volume. In this high-cargo version, the aircraft can comfortably accommodate 50 passengers at 32-inch seat pitch, and 58 at 29-inch seat pitch.
BOEING, AIR CHINA FINALISE ORDER FOR SIX 777-300ERS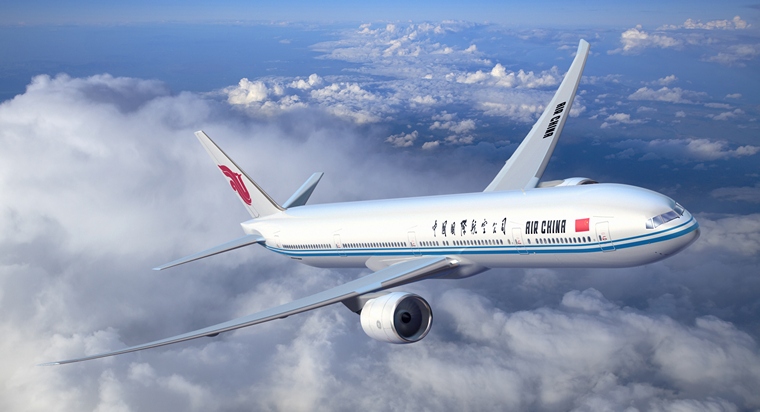 Photo © Boeing

Boeing and Air China today announced an order for six additional 777-300ER (Extended Range) jetliners. The order is valued at more than $2 billion at current list prices and bolsters Air China's long-haul wide body fleet as it looks to expand its international network.
"The 777-300ER has consistently proved its value as a long-haul flagship for our customers around the world, making it the preferred choice for Air China's international expansion," said Ihssane Mounir, senior vice president, Northeast Asia Sales, Boeing Commercial Airplanes. "This order reflects the strength of our decades-long relationship with Air China and we look forward to partnering with Air China on additional opportunities in the future."
China's flag carrier continues to modernize its long-haul fleet to replace aging aircraft and plans to expand its growing network internationally. Air China currently operates a fleet 174 Boeing airplanes, including nearly all current Boeing production models, including the Next-Generation 737, 747-8 Intercontinental as well as 777-300ERs.
With this new order, Air China will increase its unfilled airplane orders with Boeing to 90 units, which include orders for new 787-9 Dreamliners.
The 777-300ER is one of the most fuel and cost-efficient airplanes in its class as well as the most reliable twin-aisle aircraft in the world. It also has the highest cargo capability of any passenger airplane in service. The 777-300ER will receive further improvements in 2016 designed to reduce fuel use by another two percent.

India, Mumbai: A Turkish Airlines flight scheduled to fly to Istanbul was called back from the runway at the Mumbai airport after an unclaimed mobile phone was found under the seat of a passenger before take-off. Around 250 passengers on board the aircraft were evacuated and were frisked after being allowed back into the jet.
USA, Nashville: A Beech 35-C33 Debonair landed in the desert short of the Henderson Executive Airport Monday. The Debonair was headed to Nashville when it was diverted to Henderson Airport due to inclement weather. Two people were on-board but were not injured. It is believe that the aircraft lost power.
USA, Daytona Beach: Twenty three year-old Gerardo Sanchez who claims to be studying to be a pilot is facing felony charges after reportedly shining a laser light into the cockpit of a commercial jet as it approached Daytona Beach airport on Sunday. He's also accused of shining the laser light at the control tower. Air traffic controllers called police around 10 p.m. to report being hit in the eyes with a green laser. The crew of an inbound American Airlines flight made similar complaints. Sanchez who claims that he had been playing with the laser was arrested near the airport and was detained on $1,500 bond in Volusia County.
USA, Alaska: Doug Demarest, the pilot who crashed a small Civil Air Patrol plane into office buildings in downtown Anchorage, Alaska, was using the search-and-rescue aircraft without permission. Demarest was the only person killed on Dec. 29 when the Cessna 172 clipped several buildings, including one housing the law firm where his wife works. A Family spokeswoman has said the death was a suicide.
Netherlands, Amsterdam: A "confused passenger" aboard a KLM Royal Dutch Airlines airliner spiralled out of control during a flight to Beijing. The passenger who was described as confused locked himself in the toilets and inflicted slight wounds on himself before attacking the co-pilot with a sharp object in one of the kitchens wounding him slightly. Other passengers intervened and the man was subdued and was restrained to a seat. The flight continued and landed safely in Beijing.
USA, Jackson: The tail cone of a Mississippi Army National Guard Boeing C-17 Globemaster fell off during a training mission, landing in the yard of a home in Pearl. A witness said that the tail cone first hit a street and bounced into the yard. No one on the ground was injured and the aircraft landed safely.

January 13 1945 - A kamikaze damages the escort carrier USS Salamaua (CVE-96) in the South China Sea off the mouth of Lingayen Gulf. It is the last successful kamikaze attack in the waters of the Philippine Islands.
January 13 1942 - Heinkel test pilot Helmut Schenk becomes the first person to escape from a stricken aircraft with an ejection seat after the control surfaces of the first prototype Heinkel He 280 V1, DL+AS, ice up and become inoperable. The fighter, being used in tests of the Argus As 014 impulse jets for Fieseler Fi 103 missile development, had its regular Heinkel-Hirth HeS 8A turbojets removed, and was towed aloft from Rechlin, Germany by a pair of Bf 110C tugs in a heavy snow-shower. At 7,875 feet (2,400 m), Schenk found he had no control, jettisoned his towline, and ejected.
January 14 1960 - First flight of the Piper PA-28 Cherokee, American four seat sporting/training monoplane.
January 14 1936 - Howard Hughes (Howard Robard Hughes, Jr.) in a Northrop Gamma 2G, NR13761, which he had purchased from Jackie Cochran, sets a transcontinental speed record of 9 hours 27 minutes, averaging 417.0 kilometers per hour (259.1 miles per hour). (FAI Record File Number 13237).
January 15 2009 - US Airways Flight 1549, an Airbus A320-214 (N106US) with 155 people aboard flies into a flock of Canada geese just after takeoff from New York City's LaGuardia Airport and ditches in the Hudson River after both engines are disabled by birdstrikes. All passengers and crew are rescued, and only five people are injured.
January 15 1970 - Death of William Thomas Piper Sr., American airplane manufacturer, and founder, eponym, and first president of Piper Aircraft Corporation. Piper served in the Spanish-American War and WWI.
January 15 1937 - First flight of the Beechcraft Model 18, or "Twin Beech", American 6-11 seat, twin-engine, low-wing, conventional-gear aircraft.
January 16 1975 - USAF sets new climb-time records with a stripped and unpainted McDonnell Douglas F-15 A Streak Eagle aircraft, operating from Grand Forks Air Force Base, North Dakota. The Streak Eagle reaches a height of 3,000 m (9,843 ft.) in 27.57 s., 6,000 m (19,685 ft.) in 39.33 s., 9,000 m (929,528 ft.) in 48.86 s., 12,000 m (39,370 ft.) in 59.38 s. and 15,000 m (42,2132 ft.) in 1 min. 17.02 s
January 16 1963 - Yvonne Pope becomes the first UK woman airline pilot to fly international routes, flying from Gatwick to Düsseldorf for Morton Air Service
January 16 1929 - Lady Mary Bailey complete her return flight from Cape Town to London in her de Havilland DH60 Moth.
January 18 1982 - Thunderbirds Indian Springs Diamond Crash: The worst accident in U.S. Air Force Thunderbirds Demonstration Team history involving show aircraft, when four Northrop T-38A Talons, Numbers 1-4, 68-8156, -8175, -8176 and -8184, crashed during pre-season training on Range 65 at Indian Springs Air Force Auxiliary Field, Nevada (now Creech Air Force Base). While practicing the four-plane line abreast loop, the formation impacted the ground at high speed, instantly killing all four pilots: Major Norm Lowry, leader, Captain Willie Mays, Captain Pete Peterson and Captain Mark Melancon. The cause of the crash was officially listed by the USAF as the result of a mechanical problem with the #1 aircraft's control stick actuator. During formation flight, the wing and slot pilots visually cue off the #1 lead aircraft, completely disregarding their positions in relation to the ground. The crash of a team support Fairchild C-123 Provider on 10 October 1958 killed 19.
January 19 1946 - First Flight of the Bell X-1. Originally designated XS-1, joint NACA-U. S. Army/USAF supersonic research project, first of the so-called X-planes.
January 19 1919 - Jules Védrines claims an FF25,000 prize by landing an aircraft (a Caudron G-3) on the roof of a department store in Paris. Védrines is injured and his aircraft is damaged beyond repair in the hard landing in a space only 28 metres (92 ft) x 12 metres (39 ft).
January 19 1908 - The world's first official aerodrome, Port-Aviation, is opened outside of Paris, France.