THIS WEEK IN MIDWEEK UPDATE


Plan Your Weekend……… Forthcoming Events……….This Week's Specials

Aviation News……….Worldwide Incidents and Accidents..........Notice Board

This Week in Aviation History………Advertising Rate Card




27: SAPFA Stellenbosch fun rally. Contact Alewyn Burger Cell: 082 416 1951 e-mail: alewyn@burger.org.za

MARCH


2: EAA Chapter 322 monthly meeting, Dickie Fritz Moth Hall Edenvale. Contact editor@afskies.co.za
5: SAAF Museum flying training and open days. Contact Capt. Kobus Kapp 012 351 2342 or E-mail: webmaster@saafmuseum.org
5: SAPFA Durban Wings Club fun rally. Contact Mary de Klerk e-mail:
mary@expandingbranding.co.za
or Cate Juselius e-mail: cate@eastcoastsa.net
5: Wings and Wheels festival Uitenhage. Contact Lourens Kruger e-mail:
lmk@telkomsa.net
12: The Coves Fly in. For further information contact admin@the coves.co.za or Rudi Greyling 083 245 9955
12: Witbank fly in breakfast. Any interested parties to Contac Rob Clark @ 082 463 1372.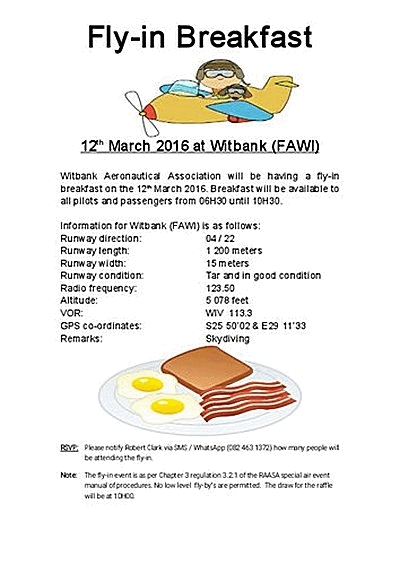 12: High Alt Flight Potchefstroom. RSVP before 4 March. Contact Riaan 061 719 2430
riaan@epic-aviation.co.za
or Andries 076 520 3054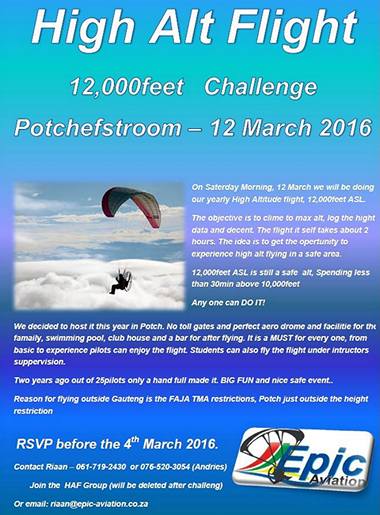 17 - 20: SA Navy Festival Simonstown. Contact Brian Emmenis e-mail: capital@icon.co.za
29 March - 3 April: FIDAE International Air & Space Fair Santiago, Chile. Contact website: www.fidae.cl African Pilot will be attending this exhibition
APRIL

3: SAAF Museum flying training and open days. Contact Capt. Kobus Kapp 012 351 2342 or E-mail:
webmaster@saafmuseum.org

2-3: Swellengrebel Fly in Swellendam. Contact Pieter Venter e-mail: pventer@vgv.co.za Cell: 082 250 9504
2-3: SAC Western Cape regionals Saldanha. Contact Annie Boon e-mail: chunge@mweb.co.za
6: EAA Chapter 322 monthly meeting, Dickie Fritz Moth Hall Edenvale. Contact editor@afskies.co.za
9-11: Airport show in Dubai United Arab Emirates. Contact Reed Exhibitions Middle East e-mail:
ria.andaya@reedexpo.ae
13: Rosslyn Aero Modellers Fly-Inn. Landing fee of R100.00 will be payable on arrival by the pilots. Hot-dogs and cool drinks will be available. No flying without a valid SAMAA card. Contact Ina Van Der Merwe at fullstop@mweb.co.za for any inquiries.
15: SAPFA National Rally Flying Championships at Brits airfield. Contact e-mail:
chairmanatsapfa@gmail.com
20 -23: AERO Friedrichshafen - Germany. Contact website: www.aero-expo.com
21-24; SA Navy Festival, Simonstown. Contact Brian Emmenis capital@icon.co.za
23 April-1 May: Kroon Microlighters South Coast Fying 2016 - Annual Margate trip. Contact Dawie (082 576 2355) or Pierre 078 119 0949) for more info.
29 April-1 May: EAA National Convention, Mossel Bay. Contact Marie Reddy 083 259 7691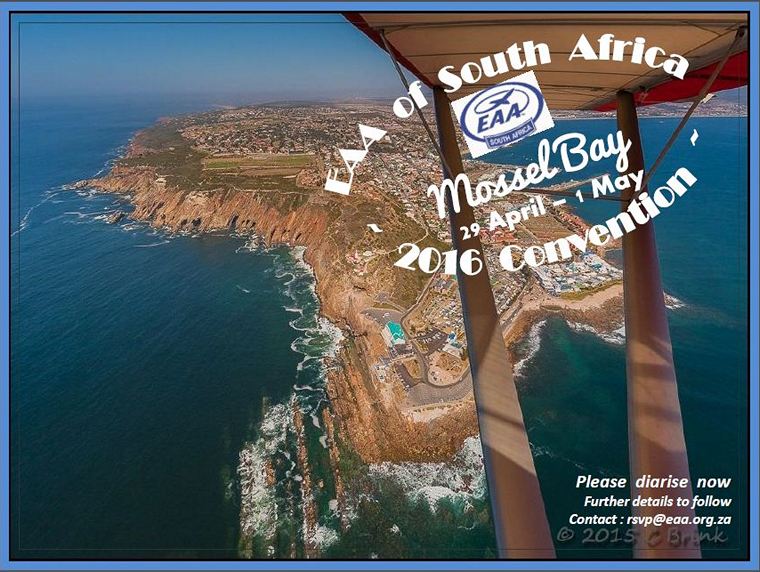 29-2 May: Gyro Africa Fly in. Contact Juanita Kruger 082 040 9798
MAY

1: SAAF Museum flying training and open days. Contact Capt. Kobus Kapp 012 351 2342 or E-mail: webmaster@saafmuseum.org
4: EAA Chapter 322 monthly meeting, Dickie Fritz Moth Hall Edenvale. Contact editor@afskies.co.za
7: SAAF Museum airshow at AFB Zwartkop. Contact Mike 'O Connor e-mail: oc@saafmuseum.org Tel: 012 351 2290
13-15: Battlefields Sports Resorts annual fly in Dundee KZN. Contact Dave O' Halloran e-mail gm@battlefieldslodge.co.za
15: SAPFA Shelia Taylor fun rally - Krugersdorp. Contact Frank Eckard e-mail:
frank.eckard@mweb.co.za


17-28: Sky Grand Prix. Greyville Racecourse, Durban. Details to follow.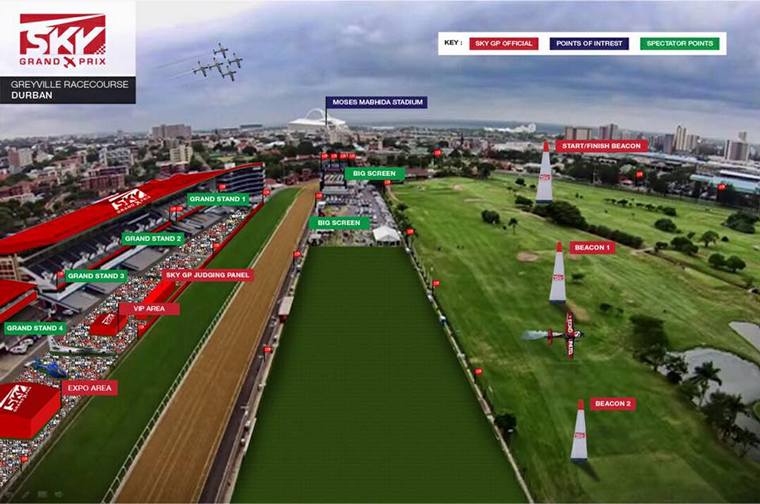 21-21: Lowveld airshow - Nelspruit. Contact Willemien Hodgkinson e-mail: willemien.hodgkinson@ffa.co.za
21-22: SAC Free State regionals, Bloemfontein - New Tempe. Contact Annie Boon e-mail:
chunge@mweb.co.za

25-28: SAPFA President's Trophy Air Race hosted by the Bethlehem Aero Club. Website: www.sapfa.org.za e-mail: Race@sapfa.org.za Contact Robbie Myburgh e-mail: roblena@mweb.co.za Cell: 083 377 0925 Francois Marais e-mail: info@stanfra.co.za Cell: 082 726 8550 Philip Jacobs e-mail: md@lsgroup.co.za Cell: 083 284 6142
28: Botswana airshow at the Matsieng Flying Club. Contact Guillaume Knipe e-mail: gknipe@work.co.bw or Hentie de Wet e-mail:
hentie@dewetdrilling.co.bw

The Annual SAFPA Bosberaad was hosted by Ron Stirk and Hans Schwebel at Paddafontein (Game Farm) just outside Thabazimbi from the 5-7 February 2016.
This Annual gathering of the SAPFA Committee was to discuss the goals of the organisation, elect the new committee and to discuss events for the year ahead.
Although there were some "robust" discussions; sound decisions were made and there was most certainly a positive outcome after the 2 day meeting.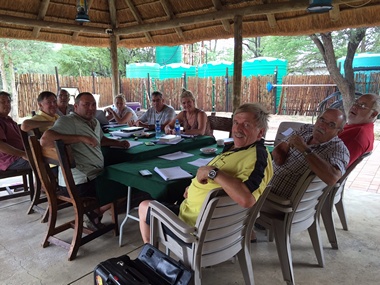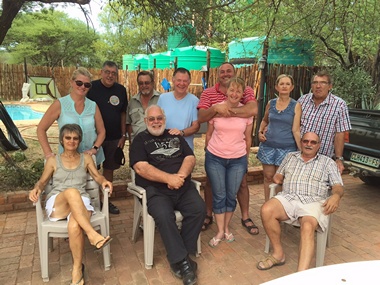 The SAPFA Executive Committee for 2016 remained unchanged:
Chairman - Frank Eckard
Vice Chairman - Jonty Esser
Treasurer - Mauritz du Plessis
Secretary - Sandi Goddard
With Jonty Esser being nominated as the SAPFA representative with the Aeroclub.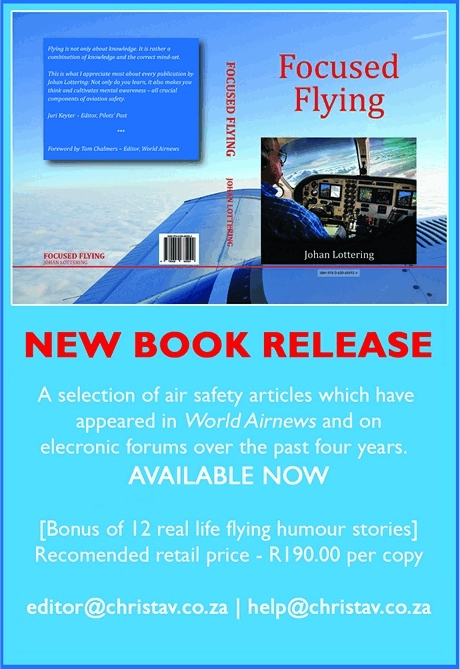 EAA AIRVENTURE OSHKOSH 2016 TO COMMEMORATE 75TH ANNIVERSARY OF PEARL HARBOR



The 75th anniversary of Pearl Harbour's "Day of Infamy" will be commemorated at EAA AirVenture Oshkosh 2016, with flying activities and other highlights recalling the events and heroism of that fateful day, which initiated America's involvement in World War II and changed our nation forever.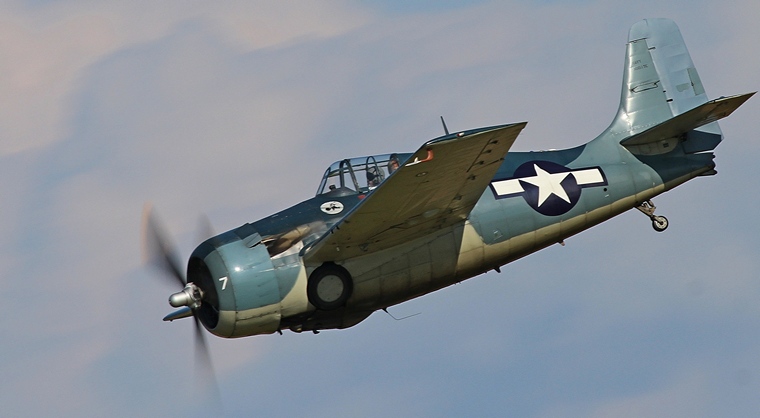 Photo © Willie Bodenstein

EAA AirVenture Oshkosh 2016, the 64th annual Experimental Aircraft Association fly-in convention, will be held July 25-31 at Wittman Regional Airport in Oshkosh.
Flying activities will include historic World War II-era aircraft of both American and Japanese origin, including the popular "Tora! Tora! Tora!" air show performances. An unprecedented part of the commemoration will be the flying appearance of a restored Interstate Cadet aircraft that was in the air for flight training over Oahu when the attack began on December 7, 1941.
Photo © Willie Bodenstein

An evening program on Wednesday, July 27, will highlight the events of December 1941, with participants expected to include Pearl Harbour veterans and historians who have deeply researched the events before, during and after that day.
"Although 75 years have passed since the events at Pearl Harbour changed America forever, it's important to commemorate the heroism shown that day and the aftermath of the attack," said Rick Larsen, EAA's vice president of communities and member programs, who coordinates features and attractions at EAA AirVenture Oshkosh. "Aviation played an extraordinary part on December 7, 1941, so it's natural that it would be a part of the activities at Oshkosh this year. We also want to help our attendees have a better appreciation of what happened before and after that historic day."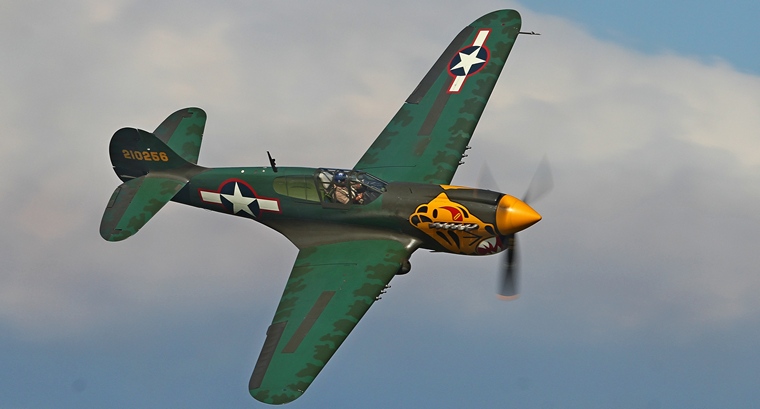 Photo © Willie Bodenstein

EAA AirVenture attendees are invited to participate in re-creating the scene of the days just prior to the attack on Pearl Harbour with activities on Boeing Plaza after the afternoon air show on July 27, up until the start of the night air show that evening. The goal is to re-imagine the atmosphere and mind-set in the then-U.S. territory of Hawaii with food, music and settings that were present in early December 1941, until things abruptly changed just hours later.






BREEZER B600 RECEIVES OUR TYPE CERTIFICATE FROM EASA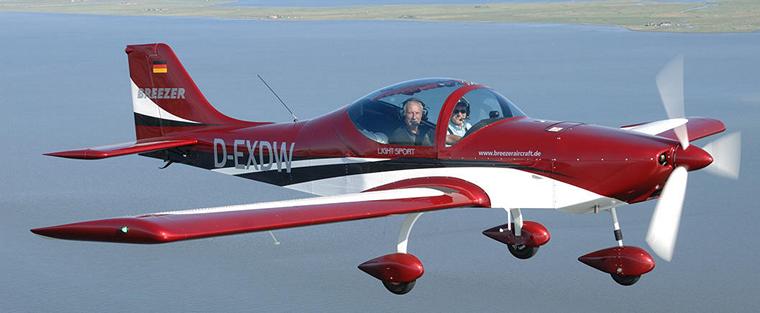 Photos © Breezer Aircraft

The Breezer is an all metal, German built Light Sport Aircraft (LSA). This wonderful aircraft is no "new kid on the block", but a well proven, 10 year old design that has beautiful and docile handling to match its exceptional, German build quality. The LSA aircraft will Max Cruise at 118kts (with a Normal Cruise of 103 kts) fuel burn of between 13-22 litres of MOGAS per hour (average, depending on cruise setting). The Breezer is completely built from scratch, in the factory, using German Materials and its own machinery in its manufacture.
Rate of climb as high as circa 800fpm from the utterly dependable Rotax engine. You can fly it on and off of Grass as happily as Tarmac and it will (depending on ability) fly in and out of 140m (take off in 95m at max gross)!!!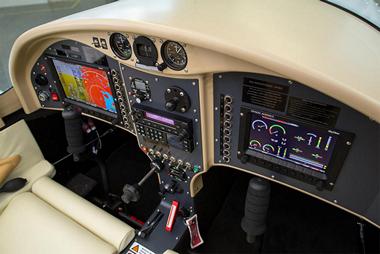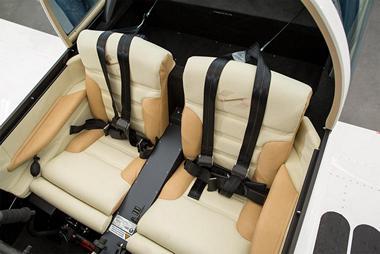 You can have a full glass cockpit, full dials, half and half, it is fully customisable! Full leather interior or fabric and the paint can be any colour you like! It is not often that you can spec an aircraft to be as individual as you are!
The cabin is 46" wide, so there is plenty of space for elbows and shoulders and the view is incredible, with an almost unobstructed 360 degree view through the beautifully sculpted "bubble" canopy.
Looking straight up is akin to doing so in an open cockpit! There is a payload of 260kgs (approx. 572lbs) and so if you fill the 80 litre tank for example, you have genuine load carrying for two 80 kg adults (about 352lbs!!!) and have space on the luggage shelf for an overnight bag or two weighing over 40kgs (92lbs)!!! Not many LSA's can do that with full fuel.
Don't worry about headroom, because even if you're well over 6ft tall, the Breezers designer is too… and he made sure he still has plenty of headroom to spare. The steerable nose wheel makes taxying on windy days easier as well as take off and landing easier to control.
We believe Breezer do things better because after all, if you always do what you have always done, you will always have what you always had… where's the fun or future in that?!
The certification had been an intense verification process of strength assumptions, aerodynamic performance, usability and structured documentation. At the end, the type certificate is compromising 3,000 documents and it took roughly 15,000 sheets of paper to finally achieve the final documentation. 150 flight test hours were performed and it took roughly 1,000 hours to work on the data achieved during flights, incorporating them into strength assumptions and into the pilots operating manual.
For Breezer Aircraft, the process of certification has been a milestone for the future development of the company as a reliable partner for the general aviation community. Especially the EASA rules for quality management lead to an increased level of quality awareness in an already highly reliable manufacturing team.
SONEX AIRCRAFT ANNOUNCES DEVELOPMENT OF SONEX AND WAIEX B-MODELS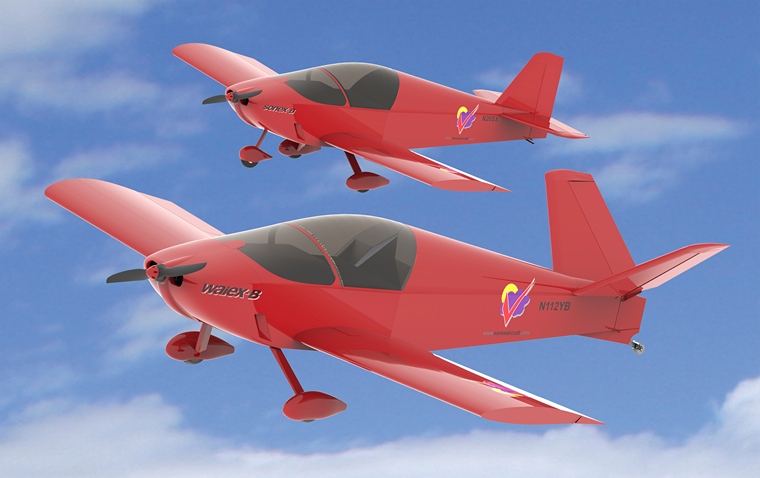 Photos © Sonex


Sonex Aircraft is very excited to announce its latest aircraft development project: Sonex and Waiex B-Models. "What is the B-Model?" asks Sonex designer and founder John Monnett, "It's what you¹ve been asking for! More of everything you want in a sport aircraft: More room and comfort, more panel space, more fuel, more engine choices, and more standard features combined with reduced build time and the same great Sonex and Waiex flight characteristics."
Sonex and Waiex B-Models have been enlarged by straightening of the forward fuselage sides, and feature improved creature comforts:
# More width and comfort at the shoulders, hips, knees and feet.
# Seat back is moved aft, and new seat geometry accommodates taller individuals.
# Staggered seating is available via upholstery seat back cushions.
# Center "Y-Stick" offers dual controls with easier cockpit entry and roomier seating.
#Electric Flaps reduce cockpit clutter and Dual Throttles are standard.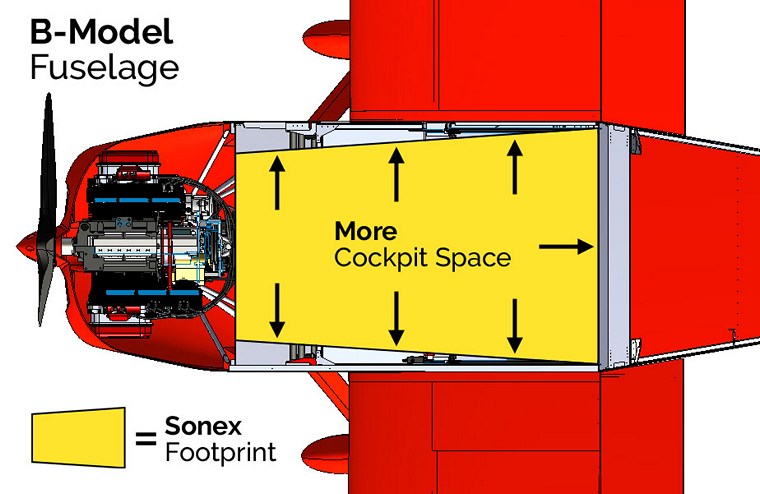 The enlarged B-Model instrument panel offers plenty of space for today¹s popular dual-screen avionics installations (including the MGL iEFIS Explorer 8.5 displays) with room to spare. The new B-Model fuel tank holds 20 US gallons ­ a 4-gallon increase over the original Sonex and Waiex.
Sonex Aircraft is expanding engine options with the Sonex and Waiex B-Models, offering the same great firewall-forward support for AeroVee/AeroVee Turbo and Jabiru/CAMit 3300 engines, while adding engine mount options for UL Power 350i, 350is, and Rotax 912-series engines. A new universal cowl is designed to fit all 4 options.
B-Model kits will ship with more standard features, and will require less build time. Assembled Wing Spars and Machined Angle Components are now standard. Upgrades and accessories such as the AeroBrake Hydraulic Brakes, dual AeroConversions Throttle Quadrants, and AeroConversions Trim System are now included. Build time improvements include more laser-cut, formed and machined parts, machined canopy bows for easier installation with a better fit, an easy-fitting horizontal-split cowl, and engine mounts that bolt quickly and accurately to the airframe.
B-Models will completely replace the original model Sonex and Waiex in the Sonex Aircraft product lineup. New Sonex and Waiex original model kits will only be available for a limited time, however original model sub-kits will still be available to those needing to complete existing projects and legacy service parts will still be produced according to demand. B-Models will only be available in kit form, however, the original model Sonex plans will still be available to scratch builders.
Sonex Aircraft, LLC is a leader in the experimental kit aircraft industry, providing a series of sport aircraft along with the AeroConversions line of products, which include the AeroVee engine, AeroVee Turbo, AeroInjector and ancillary aviation products. Sonex Aircraft¹s Sonex, Waiex, and Onex sport planes, the Xenos sport motorglider, and the SubSonex Personal Jet, offer outstanding performance in an easy to build, easy to fly kit package that can be purchased and completed with full technical support at an unrivaled price. Highly regarded as an engineering company, Sonex has diversified its offerings to include the Teros line of UAV aircraft for civil and defense missions in conjunction with Navmar Applied Sciences Corporation. Sonex and AeroConversions continue to invest heavily in developing new products. Our team is committed to providing simple, elegant and low-cost solutions for sport flying. Simply put, Sonex Aircraft and AeroConversions products provide the Best Performance Per Dollar.
PIPER ANNOUNCES DELIVERY OF ARCHER AND SENECA AIRCRAFT TO INDONESIAN GOVERNMENT FLIGHT PROGRAM

Photo © Piper


Piper Aircraft has recently delivered 12 single-engine and 3 multi-engine training aircraft to Sekolah Tinggi Penerbang Indonesia (STPI), the government flight school at Budiarto Airport in Curug, Indonesia, as the first part of a 20 single-engine Archer and 5 multi-engine Seneca V sale completed in December 2015. The sale and delivery was supported by Piper's regional dealer, Wings over Asia, headquartered in Singapore. STPI provides airline-oriented flight training under the auspices of the Ministry of Transportation for the Republic of Indonesia.
"The addition of these Archer and Seneca aircraft will enable Indonesia to train flight students with the highest level of technology available today and will further support STPI in its mission to train more students to meet the country's growing requirement for airline pilots," said Chuck Glass, Piper's Director of Sales.
Indonesia is the fourth most populated country in the world, with more than 255 million people. There are nearly 700 airports throughout its 17,000 archipelagic islands. The recently purchased Piper aircraft join an existing fleet of 18 Piper Warriors that STPI took delivery of in 2012. STPI will accept eight additional Archers and two more Seneca V's beginning in July 2016. The school offers private pilot, commercial pilot, instrument rating and multi-engine training, as well as degrees in aviation.
CIRRUS AIRCRAFT UNVEILS ENHANCED 2016 SR SERIES



Photo © Cirrus

Cirrus Aircraft announced enhanced connectivity, convenience, design and luxury in the new 2016 SR series aircraft, delivering an experience on par with luxury automobiles to both pilot and passengers. For 2016, all SR models are enhanced to heighten customer engagement, blending lifestyle comforts with wireless connectivity and personalization options while incorporating sophisticated new exterior designs and premium interior materials.
"Cirrus Aircraft is proud to produce the best-selling airplane in its segment for the thirteenth consecutive year, and for 2016 we've raised the bar again," said Todd Simmons, Cirrus Aircraft President of Customer Experience. "The reason for our success is simple: We never stop listening to our owners and operators, we never stop innovating and we never cease to provide the highest quality customer experience - whether on the ground or in flight. In 2016 we continue to refine the aircraft to enhance both pilot and passenger comfort and to leave an unmistakable impression on the tarmac, connecting customers to their aircraft in new and distinctive ways. The 2016 SR series is the most sophisticated aircraft we've ever produced - period."
Every 2016 Cirrus is delivered with a new Bluetooth® audio panel that allows for phone calls and music to be wirelessly connected and directed to any occupant in the cabin. Additionally, Cirrus is the first piston aircraft to incorporate Garmin Flight Stream in the cockpit, enabling wireless connectivity between mobile devices and the Cirrus Perspective® by Garmin® avionics flight deck as part of the new Digital Advantage Package. Pilots can now flight plan at home or at work, transfer flight plans to and from the avionics seamlessly, easily change route mid-flight, display a new and wide array of flight information including pitch, bank and GPS data, plus control the SiriusXM® radio - all via a mobile device.
For 2016, new aesthetics and convenience features amplify dedication to design. New pilot and co-pilot seats come equipped with a stow pocket for mobile devices to enable easy use during flight and new magnetic clasp side straps both secure headsets when not in use and reduce clutter in the cockpit. A thoughtful new overall seat design keeps pilots and passengers more comfortable on longer flights. Premium European leather, on par with the finest luxury automobiles, completes the look and feel of the interior.
New 2016 exteriors incorporate stunning and vibrant colors and designs. Cirrus partnered exclusively with Sherwin-Williams to expand exterior paint options and colors, offering three premium design collections: Carbon, Platinum and the new Rhodium option. Each aesthetic design suite caters to a different style, whether the colors sought by the customer are bright and bold like Solar Yellow or subtle and sophisticated like Sedona Red. The ability to offer a wider selection of rich and striking colors has opened the door for an array of aircraft design options, available for customers to experiment with through Cirrus' newly-added website color configurator. Taken altogether, these new options set the stage for those discerning customers who choose to pursue even more individualization through Cirrus Aircraft's exclusive Xi® personalization program - making their aircraft one of one.
A highlight of the 2016 SR line, a remote keyless entry system allows customers to easily lock and unlock both pilot and passenger doors. To accommodate for low-light situations, exterior convenience lighting illuminating both the steps and cabin were added, making for safer pre-flight and aircraft entry. A baggage compartment light was also added, activated simply by opening the baggage door.
For 2016, Cirrus Aircraft again leads the way in general aviation by bringing even more luxury and convenience features to the world's bestselling high-performance piston aircraft.
VIKING TWIN OTTER 400S SEAPLANE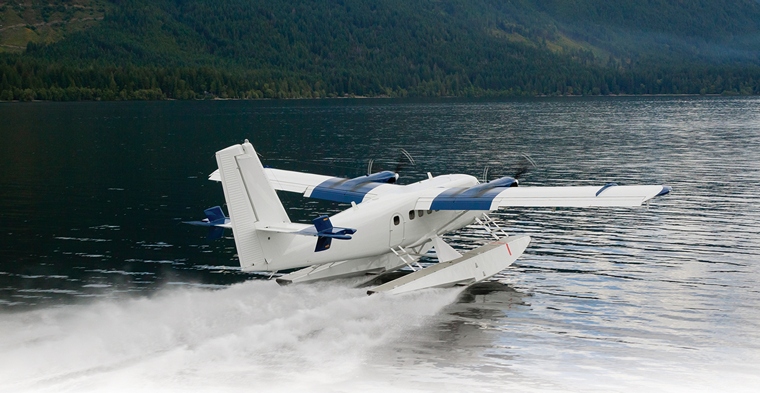 Photo © Viking Aircraft


Increasing sales potential in the relatively untapped seaplane market has led Viking Air Limited of Victoria, British Columbia, to introduce the world's first dedicated seaplane in the 15 to 19-passenger category, the Viking Twin Otter 400S Seaplane. Recognized as the world's leading seaplane manufacturer, Viking has developed the new 400S variant of the Series 400 to optimize the Twin Otter platform for commercial seaplane operations.
The Viking 400S is specifically designed as an economical seaplane for commercial operation on short to medium flight segments, and will be offered at a list price under $6.0 Million (USD). Adapted for quick turn-around between cycles, the 400S can achieve a breakeven load factor of around 8 passengers under typical operating conditions.
To enhance the quick-turn capability of the Viking 400S, an avionics-dedicated battery allows cockpit screens to remain live during short loading intervals while the modified double swing-out aft passenger doors and internal access to the rear baggage compartment further increases loading efficiency.
The Viking 400S Seaplane features the Honeywell "Super-Lite" integrated digital avionics suite adapted for VFR operations, and comes equipped with 17-passenger seating configuration, new generation composite floats, and Pratt & Whitney PT6A-27 engines incorporating platinum coated CT blades. Avionics upgrade for IFR operation, 19-passenger seating, or combination 15-passenger/cargo configuration is all available options for the 400S.
With the Viking 400S, particular attention has been paid to the unique challenge corrosion causes for water-based operations. Corrosion resistant packages for the airframe, power plant, and fuel system have all been incorporated as standard equipment in the 400S, along with additional draining, sealing and prevalent use of corrosion-resistant materials throughout the aircraft. The additional corrosion protection and selected modifications will allow the Viking 400S Seaplane to operate in the harshest marine environments with greatly reduced maintenance costs and down time.
"The Twin Otter is already the world's most successful commercial seaplane, and with the modifications we are making to streamline the flight deck and optimize the aircraft for seaplane operations, we see our market share expanding even further," stated Evan McCorry, Viking's vice-president of International Sales & Marketing. "Quite simply, no other twin turbo prop aircraft can do what the Twin Otter can do, especially on water."
Viking expects customer deliveries for the 400S to commence in first quarter 2017.
AEROLEASE AVIATION SIGNS LOI WITH MITSUBISHI AIRCRAFT FOR PURCHASE OF UP TO 20 MRJ





Photo © Mitsubishi


Mitsubishi Aircraft Corporation and Aerolease Aviation, LLC, an aircraft leasing company based in the United States, announced today that they have signed a Letter of Intent (LOI) for an order of ten firm MRJ90 aircraft with an option to an additional ten MRJ90 aircraft. Based on this LOI, both companies will move forward to conclude a definitive agreement in the near future. The LOI testifies to the high regard in which Aerolease holds the asset value of the Mitsubishi Regional Jet (MRJ), the next-generation regional jet. Aerolease is the launch lessor in MRJ program to select the MRJ. Deliveries to Aerolease are scheduled to commence in 2018.
Aerolease Aviation, LLC is an aircraft leasing company based in Miami, Florida. With the first order of brand new aircraft, the company aims to make a leap forward by exploring a new market of the MRJ as a partner. Jep Thornton, Partner, Aerolease Aviation is an aviation expert, who has been in aircraft leasing and trading business for more than 30 years and is the Immediate Past- President of the International Society of Transport Aircraft Trading (ISTAT), an organization that represents approximately 4,000 members worldwide who are involved in leasing, trading and financing aircraft.
Thornton said, "The accumulated experiences in aircraft manufacturing and strong financial background of the Mitsubishi group are great value to us. Moreover, we are extremely impressed with the MRJ's state-of-the-art aerodynamic design, Pratt & Whitney's game-changing GTF engine and the state of the art avionics suite from Rockwell Collins, which will make the MRJ the superior aircraft to its competitors. These factors encouraged us to move forward to select the MRJ for our portfolio. Aerolease is committed to cooperate with Mitsubishi Aircraft as an MRJ partner to promote MRJ in regional jet market and to expand its global customer base."
"This launch lessor order from Aerolease has a significant importance for the MRJ program," said Hiromichi Morimoto, President, Mitsubishi Aircraft Corporation. "We recognize the significantly important role which aircraft lessors have been playing in the aviation industry. We are proud to add a lessor partner to our order book at this very early stage of the MRJ program. We firmly believe that the asset value of the MRJ has been recognized in the aircraft finance market. This LOI will not only bring a positive impact on the lessor community, but will also contribute to expanding our airline customer base."
Thus far, 407 MRJ aircraft are on order and 20 will be added to its order book when Mitsubishi Aircraft signs a definitive agreement with Aerolease Aviation. The total of 427 MRJ aircraft include 233 firm orders with 170 options and 24 purchase rights.
Mitsubishi Aircraft anticipates demand of about 5,000 aircraft in the regional jet market over the next twenty years. Demand for regional aircraft is expected to increase for both airlines and leasing companies. This LOI with Aerolease enables the company to accelerate sales efforts in the regional jet market. Mitsubishi Aircraft remains firmly committed to the success of the MRJ program as well as the growth of Japan's aviation industry.
BOEING SOUTH CAROLINA'S 100TH 787 DELIVERED TO AMERICAN AIRLINES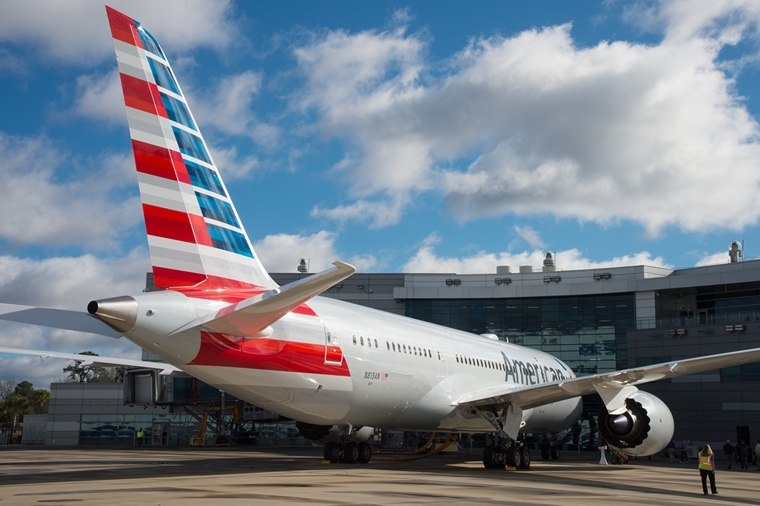 Photos © Boeing


Boeing [NYSE:BA] South Carolina marked a milestone today, with the delivery of the 100th airplane built at the North Charleston site. The airplane, a 787-8, was delivered to American Airlines in front of hundreds of Boeing South Carolina teammates.
"Reaching this milestone is a testament to the hard work and dedication of our entire team," said Beverly Wyse, vice president and general manager of Boeing South Carolina. "As we continue to prepare for the new 787-10 and production rate increases, we're excited about what the future holds here in North Charleston."
Today's delivery marked American's first 787 from Boeing South Carolina and 14th overall. The airline has 28 more Dreamliners on order.
"The 787 has quickly become an important part of our fleet, allowing us to fly profitably to new places like Auckland, New Zealand," said Chuck Schubert, Vice President of Network Planning at American Airlines. "When we're trying to match the right plane to each route, the 787 is a great aircraft to have."
FOURTH GULFSTREAM G500 TEST AIRCRAFT COMPLETES FIRST FLIGHT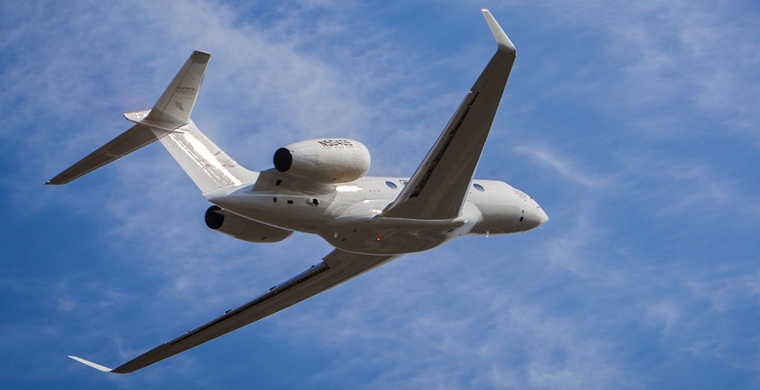 Photo © Gulfstream


Gulfstream Aerospace Corp. announced that the fourth Gulfstream G500 test aircraft, T4, has completed its first flight and officially joined the G500 flight-test program.
The G500 took off from the Savannah-Hilton Head International Airport at 9:47 a.m. on Saturday, Feb. 20, with Flight Test pilots Eric Holmberg and Brian Dickerson at the controls. Flight Test engineers Dominic Pompeo and Mark Mondt provided on-board test and data analysis.
The aircraft climbed to a maximum altitude of 51,000 feet/15,545 meters and reached a maximum airspeed of 340 KCAS/Mach 0.925. During the 3-hour and 17-minute flight, the crew exercised all primary flight control systems, performed functional checks of air data and cabin pressurization systems and completed a series of engine performance measures. The aircraft landed back in Savannah at 1:04 p.m. local time.
"The first flight of T4 speaks to the growing maturity of the G500 flight-test program and the significant development we completed before we even launched flight test in May 2015," said Mark Burns, president, Gulfstream. "To have four first flights and more than 580 flight hours in just nine months is quite an accomplishment."
T4's first flight represents a milestone in the aircraft's development program. For the first time, Gulfstream has integrated a team of Product Support maintenance technicians with the Flight Test team to follow the aircraft through manufacturing and flight testing.
"The collaboration between Product Support and Flight Test throughout the G500 certification process will ultimately enhance the support available to operators when the aircraft enters service," Burns said. "This dedicated service team reflects Gulfstream's commitment to continuous improvement and ensures we deliver on our promises to customers."
The integrated team performed all the modifications and testing required to prepare the aircraft for first flight and will continue to lead it through testing in support of Federal Aviation Administration type certification in 2017.
One of five G500 aircraft involved in the flight-test program, T4 will be used to test avionics, flammable fluid drainage, water ingestion and select systems (water/waste, lighting, fire protection). It will also perform flight standardization and operations evaluations. T1 is focused on envelope expansion; T2, on flight loads validation as well as aircraft performance and systems testing; and T3, on the all-new Symmetry Flight DeckTM.
The fifth aircraft, P1, has been delivered to the Savannah Completions Center, where it will become a fully outfitted production aircraft that will be used to test the interior elements as well as the integration of aircraft systems with the passenger experience.

USA, Dulles: An Alaska Airlines flight bound for Seattle with 161 passengers on-board had to make an emergency landing minutes after taking off from Reagan National Airport after the pilots smelled smoke in the flight deck. The aircraft landed safely but the pilots were taken to a local hospital for observation but were later released.
USA, Orlando: A small fire was detected in the engine of a Saab 340 of Silver Star Airways as it was parked closed to gate 36 was quickly extinguished. The nine passengers and three crew members were evacuated. No injuries were reported.
USA, Detroit: Airport police and the National Transportation Safety Board and are investigating how it happened that the wing of an American Airlines plane clipped the tail of a Southwest Airlines while on the taxiway. According to a passenger on the American Airlines flight they were taxiing to get the wings de-iced when their wing came across the back of that of the parked South West Airlines aircraft and clipped the back. The collision tore a piece off the American Airlines aircraft as well as the tail cone of the South West Airlines parked aircraft. No injuries were reported.
USA, Miami: An Atlas Air cargo flight that departed from Miami International Airport landed safely after one of its tires blew out shortly after take-off. Several Miami-Dade Fire Rescue trucks were waiting close to the runway. Miami-Dade police closed the streets surrounding the airport as a precaution. Six crew members were on board at the time, but nobody was injured.
Mexico, San Antonio: A Southwest Airlines flight never made it from Mexico City to San Antonio after the pilot was taken into custody for carrying a weapon. Passengers were initially told that the flight was cancelled because of an immigration issue. Under the TSA's Federal Flight Deck Officer Program, pilots have been trained and sworn as law officers to carry gun aboard flights. The TSA says the program was designed to protect passengers and deter hijackings.
Malaysia, Kuala Lumpur: An All Nippon Airways Boeing 787-8 Dreamliner with 214 on-board was forced to return to Kuala Lumpur Monday due to the right engine exhaust temperature rising alarmingly. The Dreamliner, built largely with lightweight composite materials that reduce fuel use, has been hit by a series of software, electrical and batteries overheating problems.
UK, Birmingham: An Airbus A320 operated by Small Planet Airlines with 98 passengers on board ended up on a grass verge after it went off the runway whilst taxing to the terminal. All passengers were safely disembarked and transferred to the terminal. It was towed out of the grass about two hours later, and back on to the taxiway.

FEBRUARY 24 1921

FIRST FLIGHT OF THE DOUGLAS-DAVIS CLOUDSTER


The Cloudster is the first aircraft to lift a useful load exceeding its own weight and is also the only product of the Davis-Douglas Company.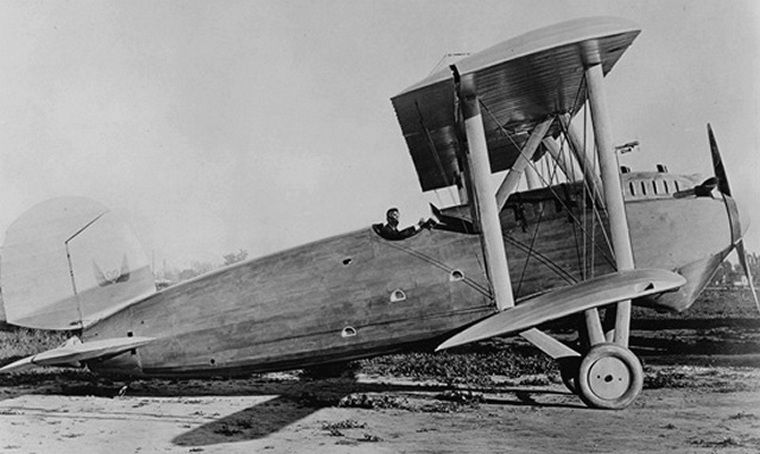 Photo © wikicommons

The Davis-Douglas Company was formed in July 1920 to enable Donald Douglas to design and build an aircraft capable of non-stop flight coast-to-coast across the United States. David R. Davis provided the financing for the company. The resulting aircraft was the Cloudster, a single-bay equal-span biplane of wooden construction. It was fabric-covered except for the forward fuselage, which was covered with sheet metal. The aircraft was powered by a 400 hp (298 kW) Liberty V-12 piston engine.
In 1923, the Cloudster was sold and modified for sightseeing flights with two additional open cockpits and seats for five passengers replacing one of the fuel tanks. In 1925 it was again sold to T. Claude Ryan, who had it modified further by adding an enclosed cabin with ten seats. It was subsequently used by a number of operators before it made a forced landing in shallow water off the coast of Ensenada, Baja California in December 1926. It was damaged beyond repair by the tide before it could be recovered.