THIS WEEK IN MIDWEEK UPDATE


Plan Your Weekend…….. Forthcoming Events………Notice Board


This Week's Specials……….Aviation News……….Worldwide Incidents and Accidents


This Week in Aviation History………Advertising Rate Card




2-3: Swellengrebel Fly in Swellendam. Contact Pieter Venter e-mail:
pventer@vgv.co.za
Cell: 082 250 9504
2-3: SAC Western Cape regionals Saldanha. Contact Annie Boon e-mail:
chunge@mweb.co.za
6: EAA Chapter 322 monthly meeting, Dickie Fritz Moth Hall Edenvale. Contact
editor@afskies.co.za

APRIL

9-11: Airport show in Dubai United Arab Emirates. Contact Reed Exhibitions Middle East e-mail:
ria.andaya@reedexpo.ae
13: Rosslyn Aero Modellers Fly-Inn. Landing fee of R100.00 will be payable on arrival by the pilots. Hot-dogs and cool drinks will be available. No flying without a valid SAMAA card. Contact Ina Van Der Merwe at
fullstop@mweb.co.za
for any inquiries.
14: EAA Aviation Legends Talk Show. Guest, Flt. Lt. James Harris (R.A.F.), who is not yet 50, has had a stellar flying career in the Royal Air Force, where it seems (apart from operational tours) he has spent large amount of time giving training and instruction to top pilots around the world. He is currently on loan from the RAF to the SAAF and is based at 85 Central Flying School (CFS) Makhado (Louis Trichaardt) where he gives instruction and training to the SAAF Pilots on BAE Hawks. James has served in Saudi Arabia, Kuwait, Qatar, Pakistan, Oman, Cyprus, USA and most European Countries. He has flown operational tours on the Panavia Tornado GR1s and Hawks in the aggressor role plus training and instruction also on the Tucano and Mushshak. Time: 18h30 for 19h30 (time to order your drinks & Boerewors/ Steak roll) at the new EAA Auditorium Pub. Venue: EAA Auditorium adjacent to TAC and Holding point of Runway 29, Rand Airport, Hurricane Road. Germiston. Take the entrance at Hurricane Road off Rand Airport Road (NOT thru the main gate). Cost: R50.00 each (R30 for card carrying EAA, members). Booking: Send an e-mail to book to
eaa.talkshow@icon.co.za
15: SAPFA National Rally Flying Championships at Brits airfield. Contact e-mail:
chairmanatsapfa@gmail.com
16: FABB - Brakpan (Benoni) Airfield Fly-In. To celebrate the opening of our new Clubhouse and Bar, the members of B.A.C. are hosting a Fly-In on Saturday 16/04/2016. All aviators are invited to attend. Coffee will be available from 07:30, followed by breakfast, lunch and a variety of beverages. Please note that FABB falls within the ORT ATZ, as such, specific arrival and departure procedures are in place. Please visit our website at http://www.brakpanaeroclub.co.za (Technical Flying Detail LINK) for these procedures. For parking and catering purposes, please RSVP your intentions to our administrator by way of sms on 071 542 2993 (
Antoinette bac@lantic.net
)
20 -23: AERO Friedrichshafen - Germany. Contact website:
www.aero-expo.com
21-24; SA Navy Festival, Simonstown. Contact Brian Emmenis
capital@icon.co.za
23 April-1 May: Kroon Microlighters South Coast Fying 2016 - Annual Margate trip. Contact Dawie (082 576 2355) or Pierre 078 119 0949) for more info.
27 - 1 May South African Skydiving Nationals at the Pretoria Skydiving Club Wonderboom Airport. Contact: Hettie Tel: 012 566 3744 Cell: 083 777 3535 E-mail:
greatfun@mweb.co.za
29 April-1 May: EAA National Convention, Mossel Bay. Contact Marie Reddy 083 259 7691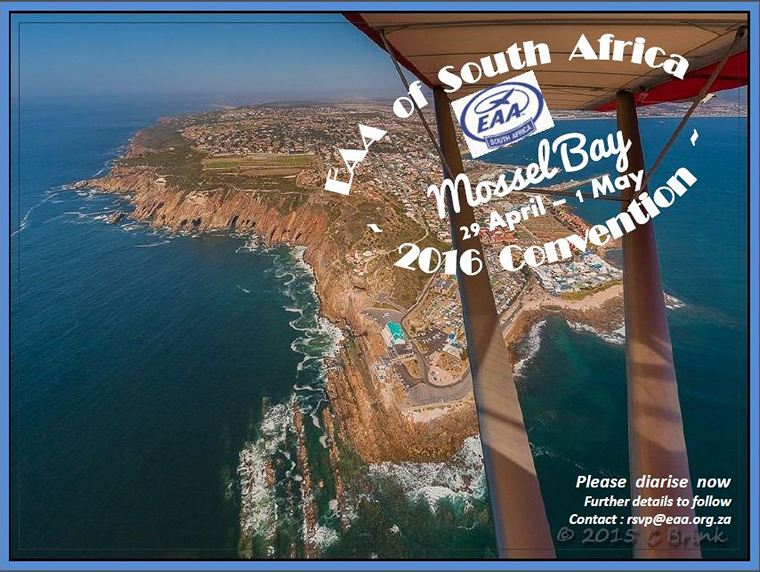 30: The MISASA Western Cape fly-in at Mossel Bay on the 30th April piggybacks on the EAA convention being held over the long weekend.
29 April-2May: Bush Air - Fly-In Barberton Airport, South Africa. No airshow and no public will be allowed in. There will be fun activities and competitions during the day such as spot landing, stol, ribbon cutting etc. The rest of the time it will be a big fat party! Fly-in and camp with your plane. An attendance fee of R2000 per person will include all your food (breakfast, lunch and dinner) as well as all drinks (Alcohol included) for the entire 3 day weekend. Payment info and to download registration and indemnity forms, go to web page:
www.bush-air.com/fly-in
Deadline for all registrations will be Monday 25 April 2016.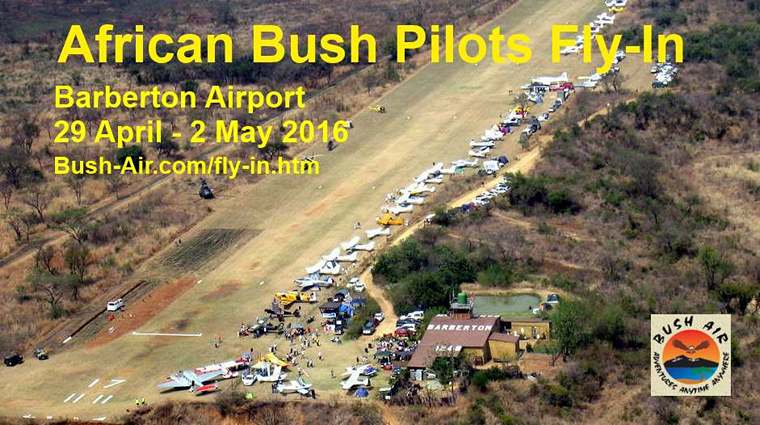 29-2 May: Gyro Africa Fly in. Contact Juanita Kruger 082 040 9798
MAY

1: SAAF Museum flying training and open days. Contact Capt. Kobus Kapp 012 351 2342 or E-mail:
webmaster@saafmuseum.org
4: EAA Chapter 322 monthly meeting, Dickie Fritz Moth Hall Edenvale. Contact
editor@afskies.co.za
7: SAAF Museum airshow at AFB Zwartkop. Contact Mike 'O Connor e-mail:
oc@saafmuseum.org
Tel: 012 351 2290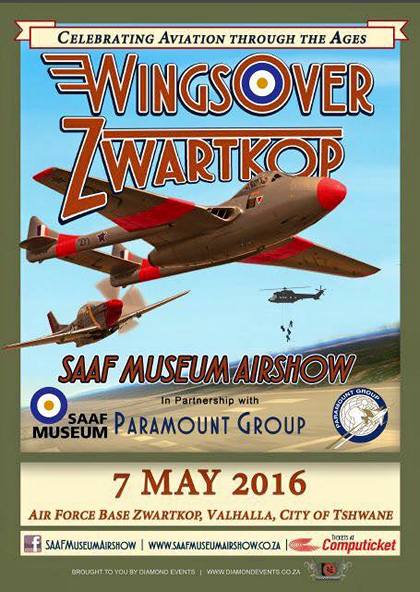 13-15: Battlefields Sports Resorts annual fly in Dundee KZN. Contact Dave O' Halloran e-mail
gm@battlefieldslodge.co.za
15: SAPFA Shelia Taylor fun rally - Krugersdorp. Contact Frank Eckard e-mail:
frank.eckard@mweb.co.za
20-21: SA Flyer mag and Doolie Lindbergh are hosting a very special Fly-in to Lindbergh Lodge, west of Klerksdorp. The fly-in will be partly in memory of Gianfrano who died in his L-39 at the Klerksdorp air show 4 years ago.
The rates for this very lekker luxury lodge are hugely discounted for the weekend - go big or go cheap - but be there! Contact
guy@saflyermag.co.za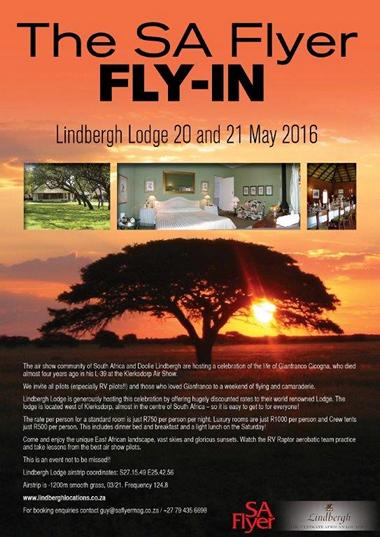 20 - 22: Vryheid wings club fly inn. Following what we believe to be an excellent fly inn last year the Vryheid wings club will be hosting another fly inn this year. FIRST 10 PILOTS who flyinn on Friday and Also on the Saturday will get free food and drinks for the whole weekend (pilots only not entire crew). All other pilots and crew will be charged R 600 for entire weekend and R 450 from the Saturday and Sunday only (fly inn day only R150). Above costs include: Camping on the irfield (ablutions are being built currently on the airfield for all who wish to camp). All food and drinks for the selected time. Shuttles to town as needed. Live entertainment for the Friday and Saturday night. Entertainment on the day ...
21-21: Lowveld airshow - Nelspruit. Contact Willemien Hodgkinson e-mail:
willemien.hodgkinson@ffa.co.za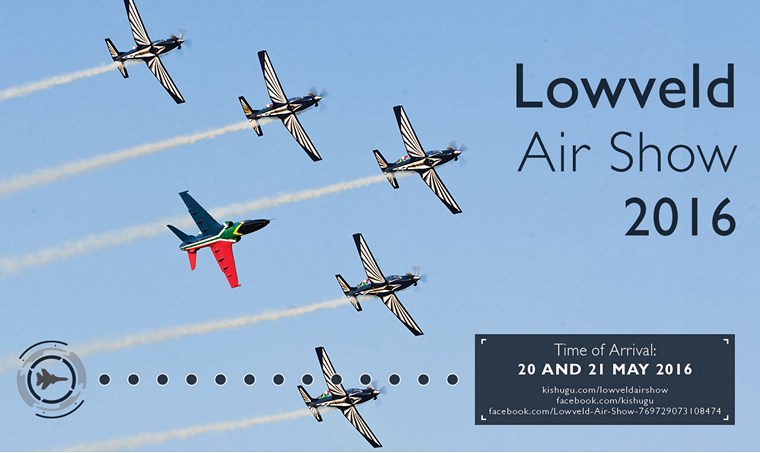 17-28: Sky Grand Prix. Greyville Racecourse, Durban. Details to follow.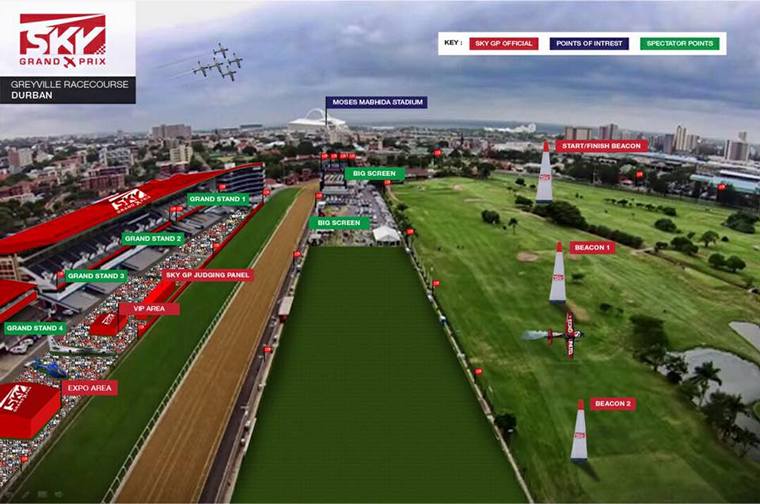 21-22: SAC Free State regionals, Bloemfontein - New Tempe. Contact Annie Boon e-mail:
chunge@mweb.co.za
20 - 22: Vryheid Wings Club Fly Inn. First 10 pilots who fly in on Friday and also on the Saturday will get free food and drinks for the whole weekend (pilots' only not entire crew). All other pilots and crew will be charged R 600 for entire weekend and R 450 from the Saturday and Sunday only (fly inn day only R150).
25-28: SAPFA President's Trophy Air Race hosted by the Bethlehem Aero Club. Website: www.sapfa.org.za e-mail: Race@sapfa.org.za Contact Robbie Myburgh e-mail: roblena@mweb.co.za Cell: 083 377 0925 Francois Marais e-mail: info@stanfra.co.za Cell: 082 726 8550 Philip Jacobs e-mail:
md@lsgroup.co.za
Cell: 083 284 6142
28: Botswana airshow at the Matsieng Flying Club. Contact Guillaume Knipe e-mail: gknipe@work.co.bw or Hentie de Wet e-mail:
hentie@dewetdrilling.co.bw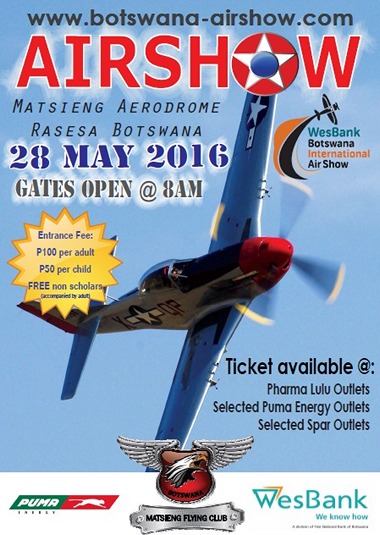 JUNE


2: EAA Chapter 322 monthly meeting, Dickie Fritz Moth Hall Edenvale. Contact
editor@afskies.co.za
4: SAAF Museum flying training and open days. Contact Capt. Kobus Kapp 012 351 2342 or E-mail:
webmaster@saafmuseum.org
4: Vintage Wings and Wheels and Magaliesburg Steam Express meet at FAKR Krugersdorp. Contact
cwatson@stithian.com
4: Newcastle airshow. Contact Johan Pieters e-mail:
info@champ.co.za
8: Aero Club's 75th AGM 14th of April 2016 at 18:30 at the Harvard Conference Centre at Rand Airport,Germiston. RSVP Sandra Strydom on e-mail to
office@aeroclub.org.za
.
9-11: provisional date ZimNavex Zimbabwe . Contact Mel Cooper e-mail:
zmelzim@gmail.com
10: Wonderboom Wings and Wheels airshow. Contact Chris Briers
chris@airteam.co.za
Cell: 082 568 7988

17-19: Memorial fly in and airshow Mafeking. Contact Connie Conradie e-mail:
info@mmafikeng-flyingclub.co.za
30 June-3 July: Race of Champions at Kubu Island Botswana. Contact Chris Briers
chris@airteam.co.za
Cell: 082 568 7988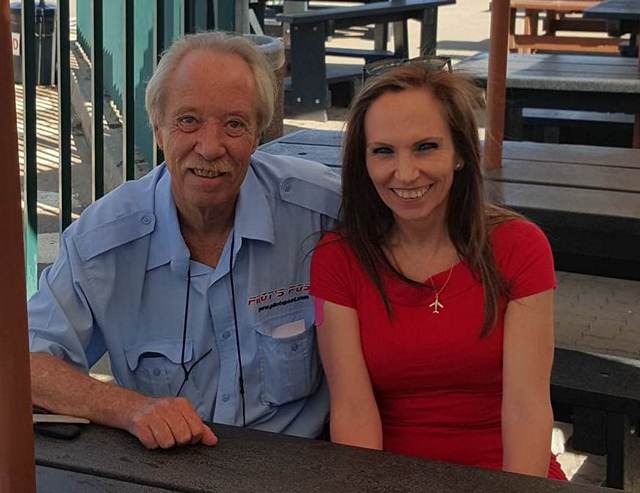 Pilot's Post is proud to announce that Gabriele Simpson has joined our team. Gabriele will be handling our adverting sales. She can be contacted on 084 606 6110 or by email at

sales@pilotspost.com



Pilot's Post has been averaging more than 90,000 hits per month and has now broken the 100,000 mark. Now in its fifth year of publication, www.pilotspost.com is the most cost effective aviation advertising medium available. For more information contact Gabriele Simpson at sales@pilotspost.com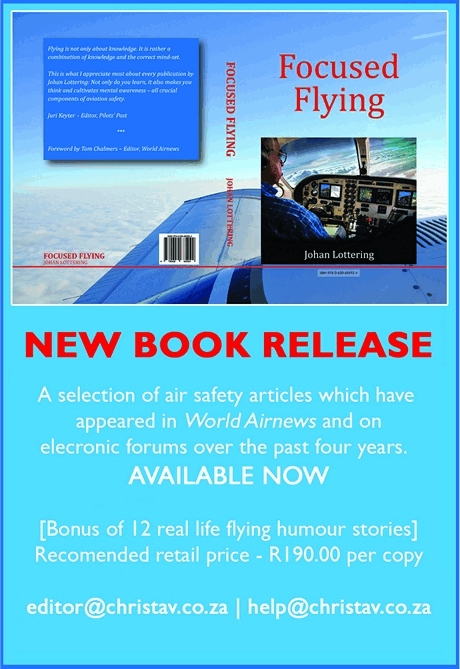 R190.00 per copy. Order direct from the author editor@chrisav.co.za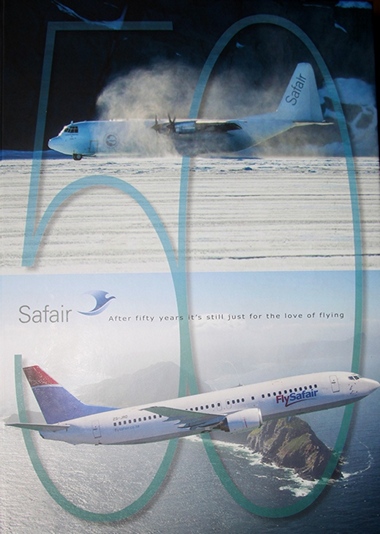 Safair's long awaited coffee table book is now available from the Aviation Shop. At R400.00 the 160 page hardbound full colour history of one of South Africa's most iconic aviation companies is a real bargain





EVERY DAY IS A UNIQUE ONE AT EAA AIRVENTURE OSHKOSH 2016!

Each day's theme focuses on people and aircraft that make Oshkosh unforgettable



EAA AirVenture Oshkosh is already known as the "World's Greatest Aviation Celebration" because of its weeklong gathering of people and airplanes that are unmatched anywhere else in the world, but this year's daily themes offer special highlights and activities within the world of flight.
The 64th annual Experimental Aircraft Association fly-in convention is July 25-31 at Wittman Regional Airport in Oshkosh, Wisconsin.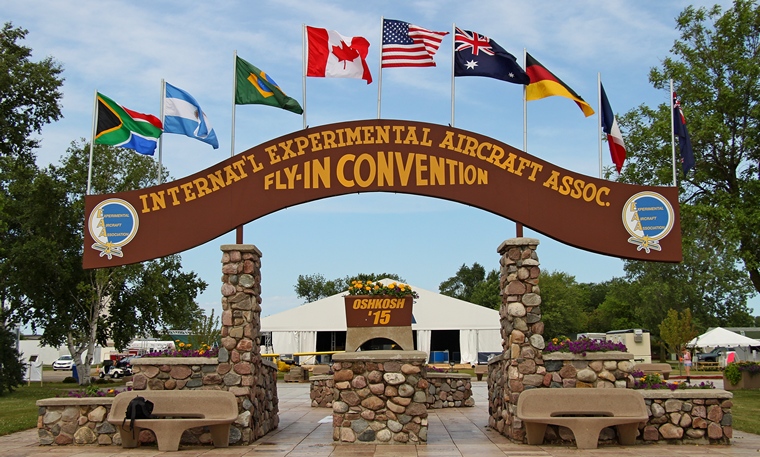 Among the themes for each day at EAA AirVenture 2016 are:
Monday, July 25 - Opening day: Plenty of aviation industry announcements, plus the always anticipated opening-night concert right after the daily air show.
Tuesday, July 26 - Innovations Day: The latest flying technology on display, plus the "Shark Tank"-style finals for the Founders Innovation Prize.
Wednesday, July 27 - Pearl Harbor 75th Commemoration and WomenVenture Day: A salute to the heroism of December 7, 1941. Also the annual gathering of women aviators at Oshkosh, plus the first of the week's two night air shows.
Thursday, July 28 - Young Eagles Day and the Centennial of Coast Guard Aviation: A celebration of the 2 millionth Young Eagle flown, plus a flight line featuring the hard-working aircraft of the U.S. Coast Guard.
Friday, July 29 - Salute to Veterans Day and the 25th anniversary of Desert Storm Aviation: The emotional Yellow Ribbon Honor Flight highlights honors for the vets, while the aircraft made more famous by Operation Desert Storm are on display.
Saturday, July 30 - Salute to World War I aviation and Boeing Aircraft's 100th anniversary: Aircraft from a century ago take to the sky, while a century of progress by one of the world's legendary aircraft makers is recognized. The second of the week's night air show finishes the evening.
Sunday, July 31 - Fox Valley Day/Closing Day: A salute to the Oshkosh area that welcomes the family of flight each year, plus the world's greatest aircraft departure show.
Among other features already announced are the appearance of the Canadian Forces Snowbirds, the 30th anniversary reunion of the RV-6 homebuilt aircraft, and expanded activities including drone flying at Aviation Gateway Park. Additional highlights and activities will be announced as they are finalized, and will be posted at
www.EAA.org/airventure
SUBSONEX PERSONAL JET NOW MORE AFFORDABLE!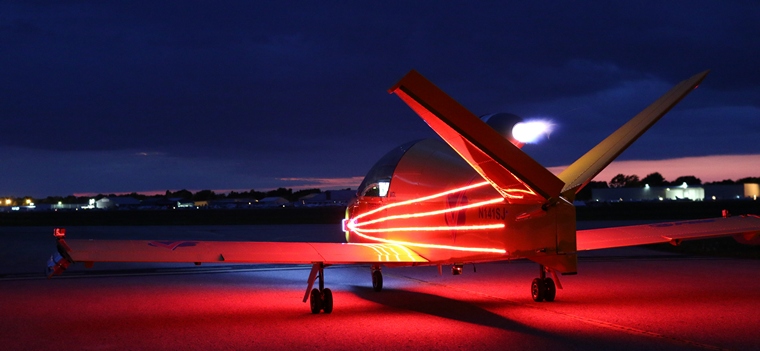 Photo © Sonex


Sonex Aircraft, LLC is excited to announce a new sales strategy for the SubSonex Personal Jet, with a drastically reduced airframe price to put this unparalleled aircraft into the hands of more pilots! The SubSonex package is now available in separate purchases of Airframe, PBS TJ-100 engine, optional BRS package, and other optional accessories. The SubSonex airframe is available as an EAB-compliant Quick Build kit package for the amazing price of $42,000! The very-complete airframe kit only needs engine, avionics, upholstery and finishing materials in-order to fly, offering a Sub-100 SubSonex² kit plus engine package for only $97,000, and allowing customers to split those costs over the span of the aircraft¹s build time.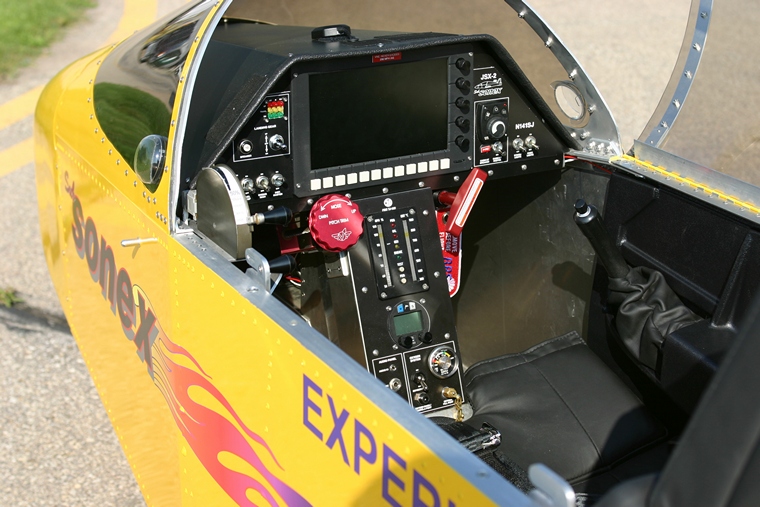 "At this phase of the aircraft¹s development, many previously-unknown cost factors have been defined, and we can apply more-efficient costing and Quick Build construction processes to produce the kit", remarked Sonex GM Mark Schaible. The SubSonex program has reached a tremendous level of maturity in its design and production phases of development. The aircraft has reached a level of maturity when it comes to flight test and fleet hours with reliable service as well, thanks in large part to the efforts of Bob Carlton: flying many test flight hours in JSX-2 N141SJ, plus multiple aerobatic performances (day and night) at 9 airshows during the 2015 show season with many practice and media flights. In addition, Sonex now has its second JSX-2 prototype flying, N241SJ, along with first flights of the first customer-built SubSonex by Redge Greenberg. Milestones in pilot certification have also been passed, with 10 LOA's issued to-date for the SubSonex design, which further cements a place for the SubSonex within FAA policy. "We have a great airplane that has been thoroughly tested, refined and well-proven," continues Schaible, "an airplane that satisfies the wildest flying dreams of most pilots: to own and fly a little aerobatic jet fighter." We need to make the dream a reality for more pilots, and get back to our Reality Check roots by making this fantastic aircraft design attainable to more pilots."
FUSION-EQUIPPED BEECHCRAFT KING AIR 350I/ER AND 250 EARN EASA CERTIFICATION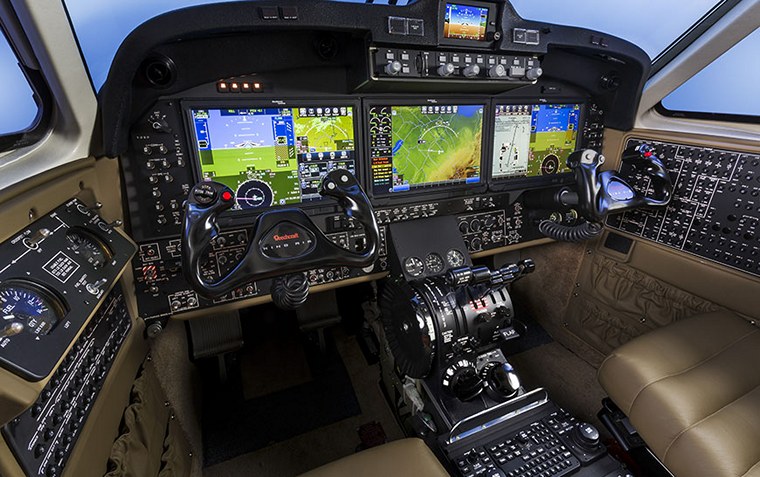 Photo © Beechcraft / Textron



Beechcraft Corporation, a subsidiary of Textron Aviation Inc., a Textron Inc. (NYSE:TXT) company, announced that it has received European Aviation Safety Agency (EASA) certification for its new Pro Line Fusion-equipped Beechcraft King Air 350i/ER and 250 turboprop aircraft with cabin enhancements, paving the way for deliveries throughout Europe.
"The King Air's reliability, versatility and operating efficiencies continue to make the entire family of turboprops a popular choice in the European market," said Kriya Shortt, senior vice president, Sales and Marketing. "We're looking forward to getting the upgraded King Air 350i/ER and 250 into the European marketplace, where owners/operators have responded enthusiastically to the investments we've made in bringing the latest technology, safety and comfort to the cockpit and cabin."
Beechcraft announced the upgrades at the European Business Aviation Convention and Exhibition (EBACE) in May 2015.The Fusion-equipped King Air 250 earned Federal Aviation Administration (FAA) certification in July 2015 and the 350i/ER earned the certification in November 2015.
Avionics

Pro Line Fusion for the King Air brings one of the most trusted avionics architectures to the first full touchscreen flight display system. The new avionics system changes how operators fly through a one-of-a-kind intuitive flight deck interface. Its three 14-inch displays are interchangeable, high-resolution and touch controlled. Other performance-enhancing capabilities include:
Integrated touchscreen checklists


Intuitive graphical touchscreen flight planning
High-resolution Synthetic Vision System (SVS) with patented airport dome graphics
Convenient pre-sets to reconfigure all three displays with a single touch
Full multi-sensor flight management system
Available automatic wireless database and chart uploads
Open and scalable architecture for future upgrades and mandates
Pilot training for the Pro Line Fusion King Airs will be offered at TRU Simulation + Training's new ProFlight training centre near Tampa, Florida. Additionally, TRU will offer aircraft maintenance training for the new models in its newly renovated Wichita, Kansas facility.
ITALIAN AIR FORCE TO DOUBLE M-346 FLEET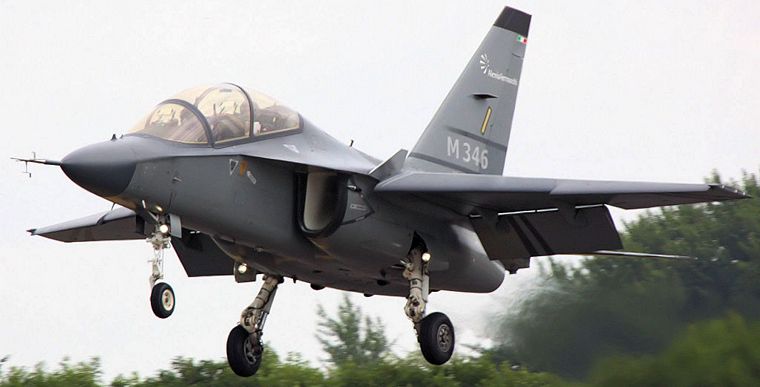 Photo Tim Felce / commons.wikimedia.org


Finmeccanica announced that it is to deliver nine additional Aermacchi M-346 advanced training aircraft to the Italian Ministry of Defence. The nine new -346 aircraft ordered will bring the number of the trainers flown by the Italian Air Force to 18.
The contract valued at more than $337 million, was issued by the Italian National Armaments Directorate and besides the nine M-346's the contract includes logistics support as well as an additional development phase of the plane's integrated training systems.
The Alenia Aermacchi M-346 is the most advanced trainer aircraft available on the market today and the only one specifically designed to prepare pilots for high performance new generation aircraft. The M-346 entered service in 2013 with both the Italian Air Force and Republic of Singapore Air Force. It has been ordered by Israel, which will receive the first M-346 in 2014, and Poland, under a contract signed in February 2014.
Every aspect of the M-346 design is technically innovative. Coupled with the unparalleled Alenia Aermacchi experience in training systems, this translates into a leading edge aircraft with exuberant performance and state-of-the-art equipment. The vast flight envelope, high thrust/weight ratio and extreme manoeuvrability allow the M-346 to offer handling similar to those of next generation combat aircraft, including Eurofighter Typhoon and F-35. This maximizes training effectiveness and reduces the need to fly sorties on the far more expensive two-seat variants of frontline types.
AIRLANDER ASSEMBLY COMPLETE - ON TIME AND ON BUDGET



Multi-use Cabin for trials and demonstrations revealed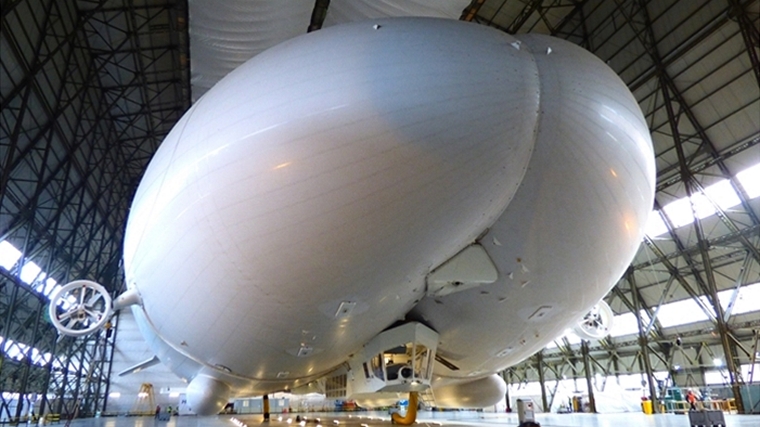 Photos © Airlander


Airlander 10 has ground-breaking use as an ultra-endurance comms and monitoring platform, for cargo without need for airports or other infrastructure and for tourism and leisure passenger flights - this Cabin will permit trials and demonstrations of all these roles.
To satisfy demand for investing in the company announced the launch of a £500,000 equity crowdfunding round on Crowdcube - launched to shareholders today and to other Crowdcube participants on Tuesday 29 March.

Hybrid Air Vehicles announced the completion of final assembly of the Airlander. Having formally kicked off the Return to Flight programme on 5 May 2015 the assembly of the Airlander is now complete, on time and on budget. They also revealed the multi-use Cabin, which will permit demonstrations of the wide range of roles the Airlander can undertake, including surveillance, monitoring, communications, cargo and aid delivery, and passenger roles.
The Airlander now enters into a ground testing phase before roll-out of the Hangar and First Flight. "I'm extremely excited and looking forward to taking Airlander on what I'm sure will be a very successful First Flight," says Chief Test Pilot, David Burns. Hybrid Air Vehicles isn't announcing a date for First Flight at this stage, and we will fly when the all ground testing is complete and Airlander is ready to fly. The First Flight will be from and to Cardington Air Field, near Bedford. The remainder of 2016 will see an extensive Flight Test Programme consisting of 200 hours of test flights over a number of months, then a series of trials and demonstrations with prospective customers.
THE NEW "AIRSPACE BY AIRBUS" CABIN CONCEPT


Committed to passenger experience, delivering airline performance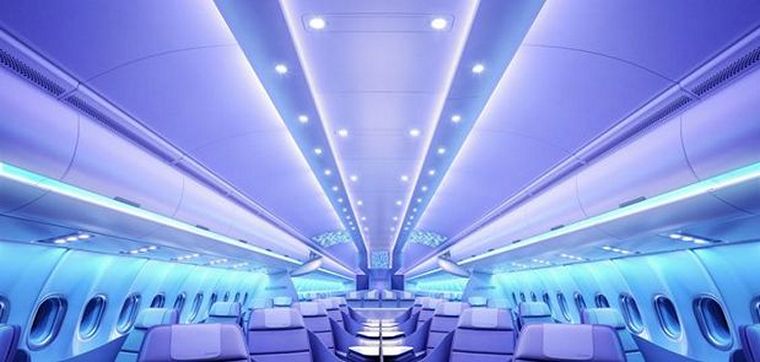 Photos © Airbus


An innovative new concept in jetliner cabins was launched this week with the "Airspace by Airbus" brand, bringing together an enhanced experience for passengers and optimum performance for airlines based on four dimensions: comfort, ambience, service and design.
Introduced with Airbus' widebody A330neo (new engine option) version - and incorporated on the A350 XWB - Airspace cabins offer a more relaxing, inspiring, attractive and functional environment for travellers and optimises the use of cabin space for operators.
Kiran Rao, the Executive Vice President of Marketing & Strategy, said Airspace continues Airbus' non-stop innovation and furthers the company's leadership in providing cabin comfort excellence - applying advanced cabin technologies developed for its recent programmes.
"The A380 already offers the best comfort of any aircraft, and the A320 is the top in its single-aisle category," he explained. "Airspace is another step forward, reflecting our decision to bring consistency on our two best-selling widebody aircraft: the A350 XWB and A330neo."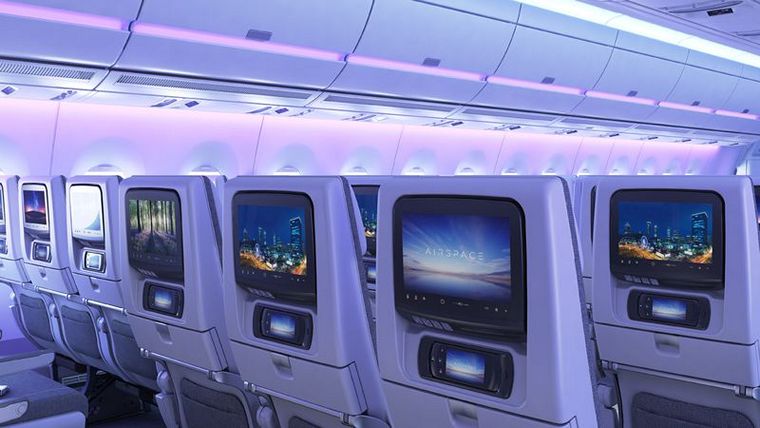 Signature design elements recognisable throughout all Airspace cabins include wider seats; larger overhead storage bins; spacious, contemporary lavatories with antibacterial surfaces; along with unobstructed under-seat foot space. Other features are a unique and customisable welcome area at the main passenger boarding door, the latest in LED technology for ambient lighting, as well as clean shapes and surfaces throughout the interior.
Features for operators include a range of new galley/lavatory options such as modular Space-Flex to maximise trolley capacity, wheelchair-accessible lavatory configurations to suit individual airline requirements, and freeing up of main deck space to allow for additional seating.
"Such signature details and iconic elements will add to passengers' enjoyment of flight, while offering a flexible canvas to which the airlines can project their own brand," Rao concluded.
UPGRADED PUMA FLEET REACHES 10,000 FLIGHT HOURS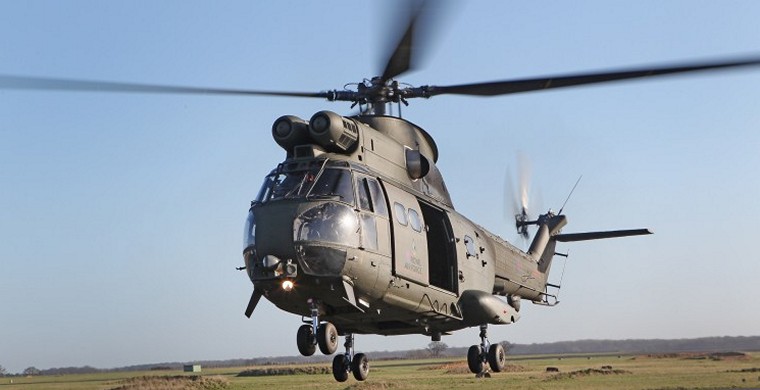 Photo © Airbus

The Royal Air Force's fleet of Pumas reached the 10,000 flight hour mark in February. Under the direction of the Puma Life Extension Programme, a landmark in fleet renewal programs, the helicopters have been upgraded to new-generation standards and are now operating in the U.K. and on overseas deployments.
In 2008, Britain's Ministry of Defence (MoD) was faced with a perfect storm: a financial crisis rocked the world just when budget constraints and the high operational tempo in Iraq and Afghanistan were placing a heavy toll on the U.K.'s military rotary wing fleet. At the same time, the Royal Air Force's (RAF) aging AS330 Puma helicopters were set to go out of service. With few alternatives to replace them, retiring the Puma fleet put the nation's rotary wing capability into a vulnerable position.
Through its offices in the U.K., Airbus Helicopters approached the MoD with a proposal for a Puma upgrade that would cost significantly less than investing in a new fleet and which could be delivered in less time: the Puma Life Extension Programme (LEP). This proposal involved carrying out a major retrofit of the RAF's Puma AS330 BA helicopters that would equip the aircraft with modern 21st Century capabilities. "The British MoD was one of the first defence organisations to consider the significant upgrade of older aircraft rather than buying new," says Ian Morris, Head of Defence for Airbus Helicopters U.K. "In terms of providing a cost effective solution, their decision, which had many detractors, could be described as visionary."
The LEP, initially planned for 28 aircraft, had to be cost-effective to ensure affordability by British taxpayers. As the capability to be delivered was refined, the fleet number dropped to 24, partly because, thanks to the upgrade, the Pumas' life would be extended while greatly improved fuel efficiency, weight and operational capabilities would allow the RAF to use fewer aircraft to perform the same missions.
Four initial helicopters were sent to Airbus Helicopters' headquarters in Marignane, France to aid in the design, early upgrade and flight-testing of a prototype. The remaining 20 Pumas were sent to Airbus Helicopters Romania and upgraded according to the French design specifications. "A crucial aspect of this program was that Romania had both built and maintained more AS330s than anyone else in the world," says Simon Heath, program manager for the Puma LEP. "They were considered to be the centre of excellence for the aircraft type, and the most cost effective solution." The helicopters then returned to Airbus Helicopters U.K. for final completion and installation of U.K. specific avionics. The first deliveries were made to the RAF in 2012; all 24 are now in the Air Force's hands.
It quickly became the backbone of the UK's Afghan operations; to date, shortly after achieving Full Operating Capability in January 2016, the RAF has flown over 10,000 flight hours in the upgraded Pumas. "The abiding comment you get about the Puma 2 from the crews is that it's 'awesome'," says Heath.
ROBINSON'S R44 AND R66 HELICOPTERS RANK NUMBER ONE IN SALES IN 2015

R66 became the world's top-selling civil turbine helicopter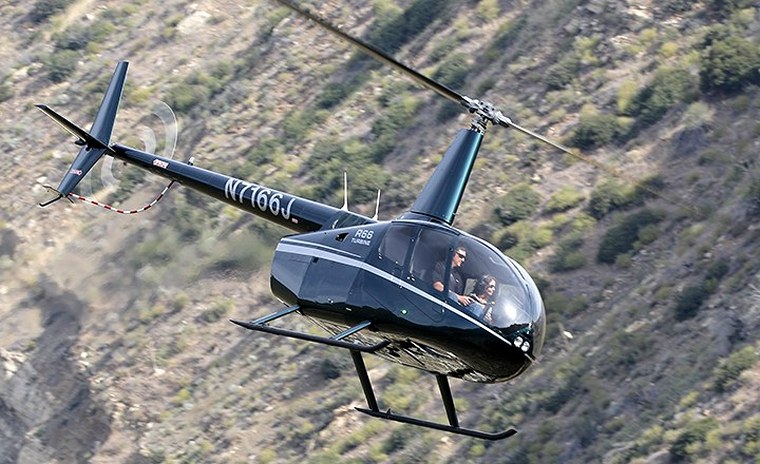 Photos © Robinson Helicopters

Robinson Helicopter Company's R44 Raven II has been ranked as the world's top selling helicopter while its R66 became the world's top-selling civil turbine helicopter. According to the General Aviation Manufacturers Association (GAMA) General Aviation Aircraft Shipment 2015 Year End Report Robinson delivered 347 helicopters (117 R66s, 152 R44 Raven IIs, 44 R44 Raven Is, and 34 R22s) in 2015 marking a slight increase over the 329 produced in 2014.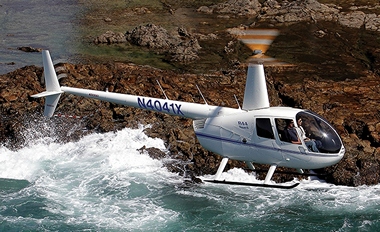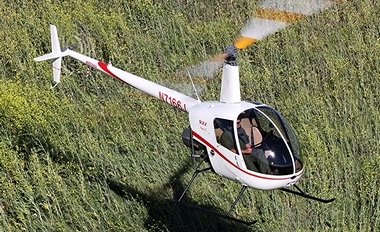 In 2015, in response to customer feedback, Robinson introduced a variety of optional glass avionics along with a stability augmentation system (SAS) and autopilot. The company also announced the development of its latest model the R44 Cadet, a 2-place R44 designed specifically for training and utilitarian applications.

Cyprus, Larnaca: An Egyptian man hijacked an EgyptAir plane Tuesday and forced it to land in Cyprus, where most passengers were eventually allowed to get off, though the crew remained on board. The man's motivation was unclear, but a Cyprus government official, speaking on condition of anonymity said the hijacking was "not something that has to do with terrorism." The incident raises more questions about security at Egyptian airports, five months after a Russian aircraft crashed over Egypt's Sinai Peninsula minutes after it took off from Egypt's Red Sea resort of Sharm el-Sheikh.
USA, Los Angeles: A flight attendant selected for a random screening at Los Angeles International Airport took off from the terminal on Friday -- ditching her shoes as well as 30 kilograms of cocaine, officials and sources said. The woman, who was wearing street clothes, approached the "known crewmember lane" but was moved by TSA to the inspection area after she'd been randomly selected for a screening. She then kicked off her shoes and ran down the up escalator, leaving two carry-on roller bags behind. Airport police officers inspected her luggage and discovered the suspected cocaine, which they turned over to the Drug Enforcement Administration.
Canada, Niagara International: An intoxicated off-duty Buffalo police officer was removed from a Jet Blue flight just prior to take off by transit police. The female officer, who had been drinking alcohol, became combative and was handcuffed before being transported from Buffalo Niagara International Airport to Erie County Medical Center for treatment. Buffalo Police Department internal affairs investigators are reviewing the incident. No criminal charges were placed against her .The officer remains on active duty with the department, pending the outcome of the investigation.
SAN JOSE -- A Piaggio P.180 made an emergency landing at Mineta San Jose International Airport just after noon Thursday after the pilot detected a collapsed landing gear. The nine-seater had just taken off from the airport and was bound for Seattle when the pilot noticed a warning light indicating a landing-gear issue. The pilot notified air-traffic controllers around 11:50 a.m. about a potential emergency. The plane made a successful belly landing.
USA, Orlando: A direct flight from Orlando to Grand Rapids was supposed to take about three hours, but instead it took two days and four different aircraft. However, the Allegiant Air Flight 682 flight that was supposed to depart at 16.20 on the Wednesday had to turn around before take-off due to a mechanical issue. The passengers then boarded another aircraft around 18.00, but were again sent back to the gate a half hour later due to another, unrelated mechanical issue. The third flight was scheduled to depart around 20.45 however, it returned to the gate around 21:30 because there was an issue with the cabin lighting. Passengers were then given hotel rooms for the night. They were also given food and drinks at the gate and $200 off vouchers for future flights. They finally left Orlando 08.30 and landed in Grand Rapids 10:57.
Kazakhstan, Astana International Airport: A Bek Air pilot safely landed a Fokker 100 passenger plane without the use of its front wheels after a malfunction in the aircraft's front landing gear. The incident took place when the aircraft operated by Kazakh airline 'Bek Air', which had departed from Kyzylorda, was landing at on Sunday morning. The pilots realized the front wheels were malfunctioning when the plane was already in descent. After receiving news of the malfunction, the airport crew covered the runway with foam to minimize friction. The plane landed on girt pads and leg doors. The aircraft received minimal damage. There were no injuries to the 116 passengers and five crew members.
USA, Detroit: An American Airlines co-pilot was arrested after he failed a breathalyser test at the Detroit Metropolitan Airport. The co-pilot was suspected of having a blood alcohol content over the legal limit when he arrived for his flight in Detroit. He failed a field breathalyser test and was then arrested and given another test which he also failed.




5 APRIL 1907

The Blériot V, the first monoplane built by French aircraft designer by Louis Blériot, had its first flight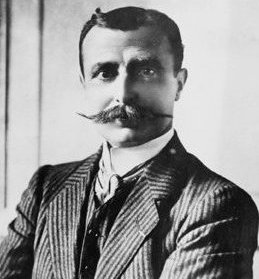 Louis Blériot had previously worked in partnership with Gabriel Voisin. These aircraft were not successful, and after the last of these machines, the Bleriot IV, had been damaged in an attempt to fly it in November 1906 the partnership was dissolved and Blériot set up Recherches Aéronautiques Louis Blériot to carry out his experiments with aircraft.
Although Blériot only achieved a couple of short flights in it, the second resulting in a crash which damaged the aircraft beyond repair, it was the first of his experimental aircraft to achieve any measure of success.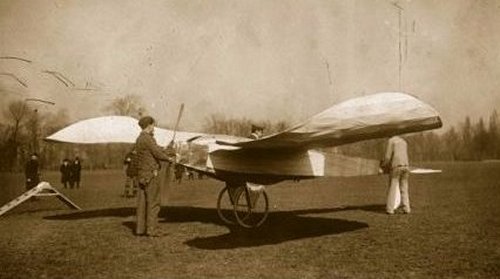 The design of the Blériot V had no resemblance to his earlier aircraft, which had all been biplanes. It was a monoplane with a braced wooden box-girder fuselage covered with varnished silk. The wings, which could be folded upwards for transport and had no wire bracing, were made of wood covered with varnished paper. The main undercarriage consisted of a pair of bicycle wheels set close together under the wing.
A number of taxi runs led to damage to the undercarriage and propeller. On 5 April a further trial was made, and after a 100 m (305 ft) run the machine briefly left the ground. Concerned about his ability to control the aircraft in the stiff breeze that was blowing, Blériot cut the engine and landed, yet again damaging the undercarriage slightly. He had only flown around 6 m (20 ft), but nevertheless this was the first time one of his aircraft had successfully flown. More trials followed, the last on 19 April when, traveling at a speed of around 50 kph (30 mph), the aircraft left the ground, Blériot over-responded when the nose began to rise and the machine hit the ground nose-first and somersaulted. The machine was largely destroyed, but Blériot was by great good fortune unhurt.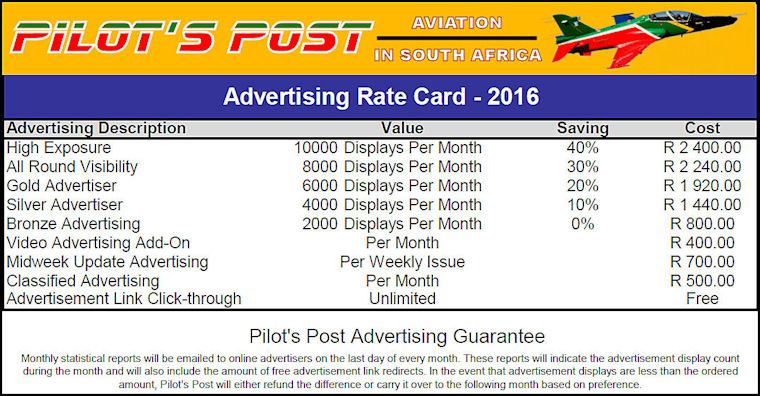 sales@pilotspost.com