THIS WEEK IN MIDWEEK UPDATE


Plan Your Weekend……. Forthcoming Events………Weekly Specials


Aviation News………. Worldwide Incidents and Accidents


This Week in Aviation History………Advertising Rate Card





9-11: Airport show in Dubai United Arab Emirates. Contact Reed Exhibitions Middle East e-mail:
ria.andaya@reedexpo.ae

APRIL


13: Rosslyn Aero Modellers Fly-Inn. Landing fee of R100.00 will be payable on arrival by the pilots. Hot-dogs and cool drinks will be available. No flying without a valid SAMAA card. Contact Ina Van Der Merwe at
fullstop@mweb.co.za
for any inquiries.
14: EAA Aviation Legends Talk Show. Guest, Flt. Lt. James Harris (R.A.F.), who is not yet 50, has had a stellar flying career in the Royal Air Force, where it seems (apart from operational tours) he has spent large amount of time giving training and instruction to top pilots around the world. He is currently on loan from the RAF to the SAAF and is based at 85 Central Flying School (CFS) Makhado (Louis Trichaardt) where he gives instruction and training to the SAAF Pilots on BAE Hawks. James has served in Saudi Arabia, Kuwait, Qatar, Pakistan, Oman, Cyprus, USA and most European Countries. He has flown operational tours on the Panavia Tornado GR1s and Hawks in the aggressor role plus training and instruction also on the Tucano and Mushshak. Time: 18h30 for 19h30 (time to order your drinks & Boerewors/ Steak roll) at the new EAA Auditorium Pub. Venue: EAA Auditorium adjacent to TAC and Holding point of Runway 29, Rand Airport, Hurricane Road. Germiston. Take the entrance at Hurricane Road off Rand Airport Road (NOT thru the main gate). Cost: R50.00 each (R30 for card carrying EAA, members). Booking: Send an e-mail to book to
eaa.talkshow@icon.co.za
15-17: SAPFA National Rally Flying Championships at Brits airfield. Contact e-mail:
frank.eckard@mweb.co.za
Contact Frank cell: 083 269 1516
16: FABB - Brakpan (Benoni) Airfield Fly-In. To celebrate the opening of our new Clubhouse and Bar, the members of B.A.C. are hosting a Fly-In on Saturday 16/04/2016. All aviators are invited to attend. Coffee will be available from 07:30, followed by breakfast, lunch and a variety of beverages. Please note that FABB falls within the ORT ATZ, as such, specific arrival and departure procedures are in place. Please visit our website at
www.brakpanaeroclub.co.za
(Technical Flying Detail LINK) for these procedures. For parking and catering purposes, please RSVP your intentions to our administrator by way of sms on 071 542 2993
Antoinette bac@lantic.net
20 -23: AERO Friedrichshafen - Germany. Contact website:
www.aero-expo.com
21-24; SA Navy Festival, Simonstown. Contact Brian Emmenis
capital@icon.co.za
23 April-1 May: Kroon Microlighters South Coast Fying 2016 - Annual Margate trip. Contact Dawie (082 576 2355) or Pierre 078 119 0949) for more info.
27 - 1 May South African Skydiving Nationals at the Pretoria Skydiving Club Wonderboom Airport. Contact: Hettie Tel: 012 566 3744 Cell: 083 777 3535 E-mail:
greatfun@mweb.co.za
29 April-1 May: EAA National Convention, Mossel Bay. Contact Marie Reddy 083 259 7691
www.eaaa.org.za
www.takingchargeevents.co.za/EAAReg.asp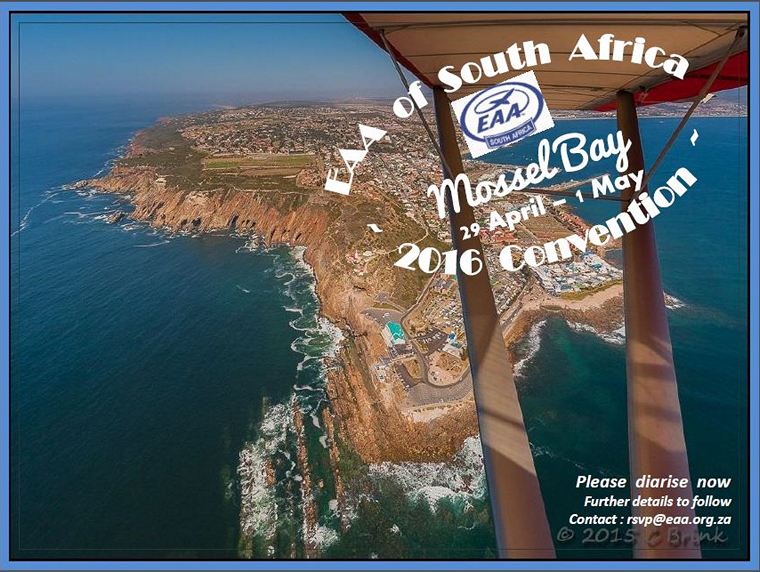 30: The MISASA Western Cape fly-in at Mossel Bay on the 30th April piggybacks on the EAA convention being held over the long weekend.
29 April-2May: Bush Air - Fly-In Barberton Airport, South Africa. No airshow and no public will be allowed in. There will be fun activities and competitions during the day such as spot landing, stol, ribbon cutting etc. The rest of the time it will be a big fat party! Fly-in and camp with your plane. An attendance fee of R2000 per person will include all your food (breakfast, lunch and dinner) as well as all drinks (Alcohol included) for the entire 3 day weekend. Payment info and to download registration and indemnity forms, go to web page:
www.bush-air.com/fly-in.
Deadline for all registrations will be Monday 25 April 2016.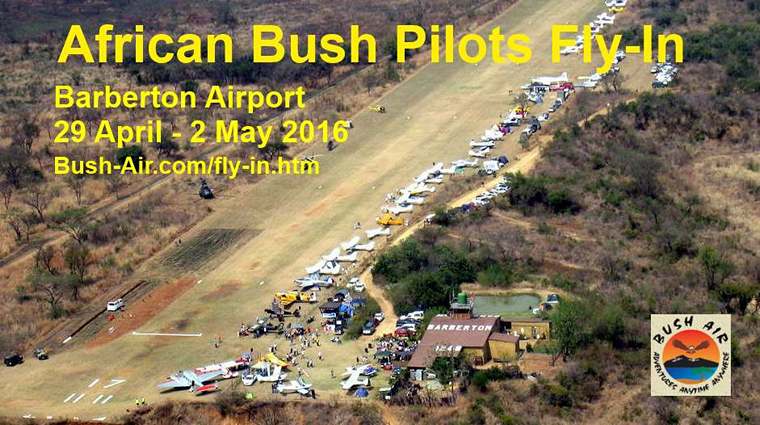 29-2 May: Gyro Africa Fly in. Contact Juanita Kruger 082 040 9798
MAY

1: SAAF Museum flying training and open days. Contact Capt. Kobus Kapp 012 351 2342 or E-mail:
webmaster@saafmuseum.org
4: EAA Chapter 322 monthly meeting, Dickie Fritz Moth Hall Edenvale. Contact
editor@afskies.co.za
7: SAAF Museum airshow at AFB Zwartkop. Contact Mike 'O Connor e-mail:
oc@saafmuseum.org
Tel: 012 351 2290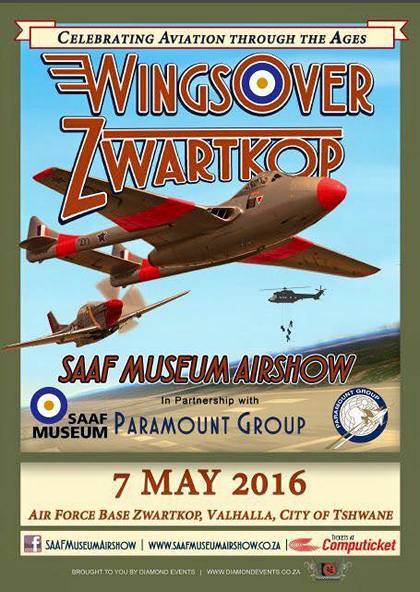 13-15: Battlefields Sports Resorts annual fly in Dundee KZN. Contact Dave O' Halloran e-mail
gm@battlefieldslodge.co.za
14: SAPFA Shelia Taylor fun rally - Krugersdorp. Contact Frank Eckard e-mail:
frank.eckard@mweb.co.za
20-21: SA Flyer mag and Doolie Lindbergh are hosting a very special Fly-in to Lindbergh Lodge, west of Klerksdorp. The fly-in will be partly in memory of Gianfrano who died in his L-39 at the Klerksdorp air show 4 years ago. The rates for this very lekker luxury lodge are hugely discounted for the weekend - go big or go cheap - but be there! Contact
guy@saflyermag.co.za
20 - 22: Vryheid wings club fly inn. Following what we believe to be an excellent fly inn last year the Vryheid wings club will be hosting another fly inn this year. FIRST 10 PILOTS who flyinn on Friday and Also on the Saturday will get free food and drinks for the whole weekend (pilots only not entire crew). All other pilots and crew will be charged R 600 for entire weekend and R 450 from the Saturday and Sunday only (fly inn day only R150). Above costs include: Camping on the irfield (ablutions are being built currently on the airfield for all who wish to camp). All food and drinks for the selected time. Shuttles to town as needed. Live entertainment for the Friday and Saturday night. Entertainment on the day. Contact Morne Strauss
morne@lmsbrokers.co.za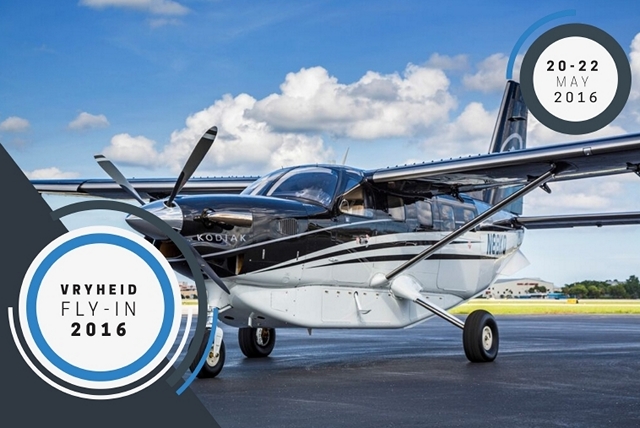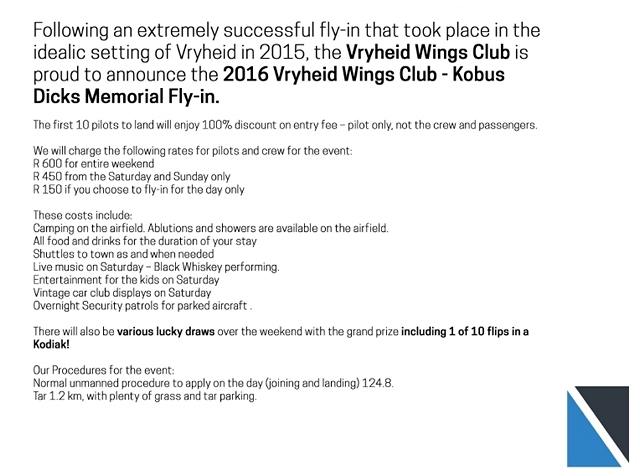 21-21: Lowveld airshow - Nelspruit. Contact Willemien Hodgkinson e-mail:
willemien.hodgkinson@ffa.co.za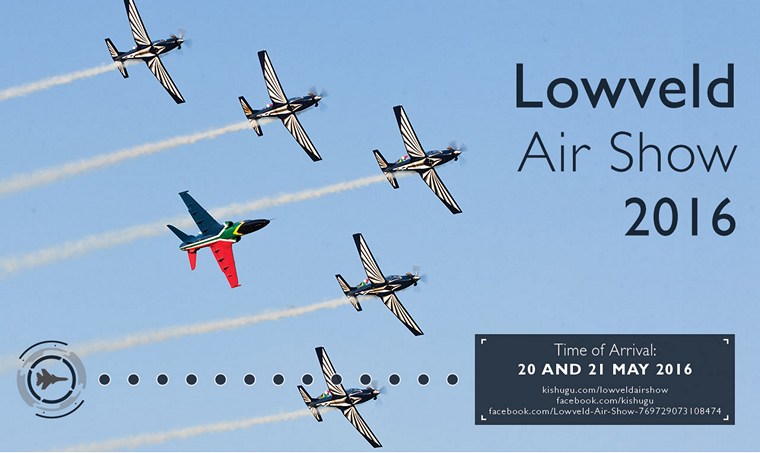 25-29: Namibia-UIS / Brandberg / Save Some Rhino -fly-in, Swakopmund. Phone or mail Johan de Wet for info @ 00264 (0) 81 124 8283 or
jdewet@mweb.com.na
orHeiner Schlushe @ 00264 (0) 81 127 9100
21-22: SAC Free State regionals, Bloemfontein - New Tempe. Contact Annie Boon e-mail:
chunge@mweb.co.za
25-28: SAPFA President's Trophy Air Race hosted by the Bethlehem Aero Club. Website: www.sapfa.org.za e-mail:
Race@sapfa.org.za
. Website:
www.sapfa.co.za
E-mail: Contact Robin Spencer-Scarr 083 310 2850 e-mail:
robin@stylegroup.com.au
Contact Robbie Myburgh 083 377 0925 e-mail:
roblena@mweb.co.za
28: Sky Grand Prix. Greyville Racecourse, Durban. Contact Paul Godwin Tel: 031 201 2169 Cell: 082 499 5222 e-mail:
mw.nerve@mweb.co.za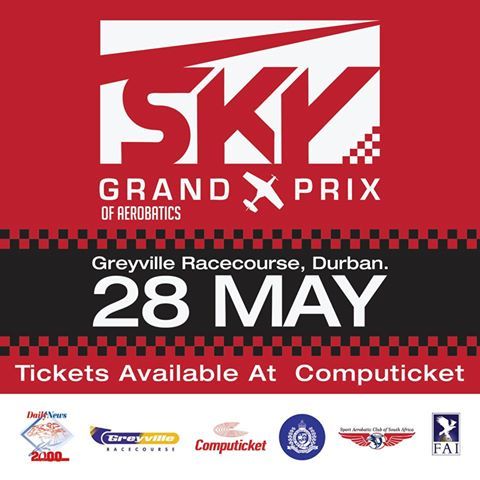 28: Botswana airshow at the Matsieng Flying Club. Contact Guillaume Knipe e-mail: gknipe@work.co.bw or Hentie de Wet e-mail:
hentie@dewetdrilling.co.bw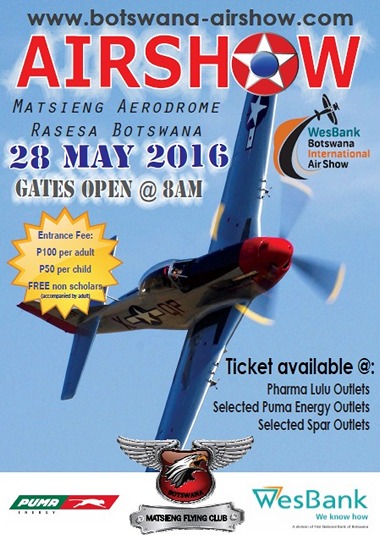 JUNE


2: EAA Chapter 322 monthly meeting, Dickie Fritz Moth Hall Edenvale. Contact
editor@afskies.co.za
4: SAAF Museum flying training and open days. Contact Capt. Kobus Kapp 012 351 2342 or E-mail:
webmaster@saafmuseum.org
4: Vintage Wings and Wheels and Magaliesburg Steam Express meet at FAKR Krugersdorp. Contact
cwatson@stithian.com
4: Newcastle airshow. Contact Johan Pieters e-mail:
info@champ.co.za
8: Aero Club's 75th AGM 14th of April 2016 at 18:30 at the Harvard Conference Centre at Rand Airport,Germiston. RSVP Sandra Strydom on e-mail to
office@aeroclub.org.za
.
9-11: provisional date ZimNavex Zimbabwe . Contact Mel Cooper e-mail:
zmelzim@gmail.com
10: Wonderboom Wings and Wheels airshow. Contact Chris Briers
chris@airteam.co.za
Cell: 082 568 7988

17-19: Memorial fly in and airshow Mafeking. Contact Connie Conradie e-mail:
info@mmafikeng-flyingclub.co.za
28 -29: Aviation Festival Africa Sandton Convention Centre Johannesburg. Contact Bianca Wiener e-mail:
bianca.wiener@terrapinn.com
30 June-3 July: Race of Champions at Kubu Island Botswana. Contact Chris Briers
chris@airteam.co.za
Cell: 082 568 7988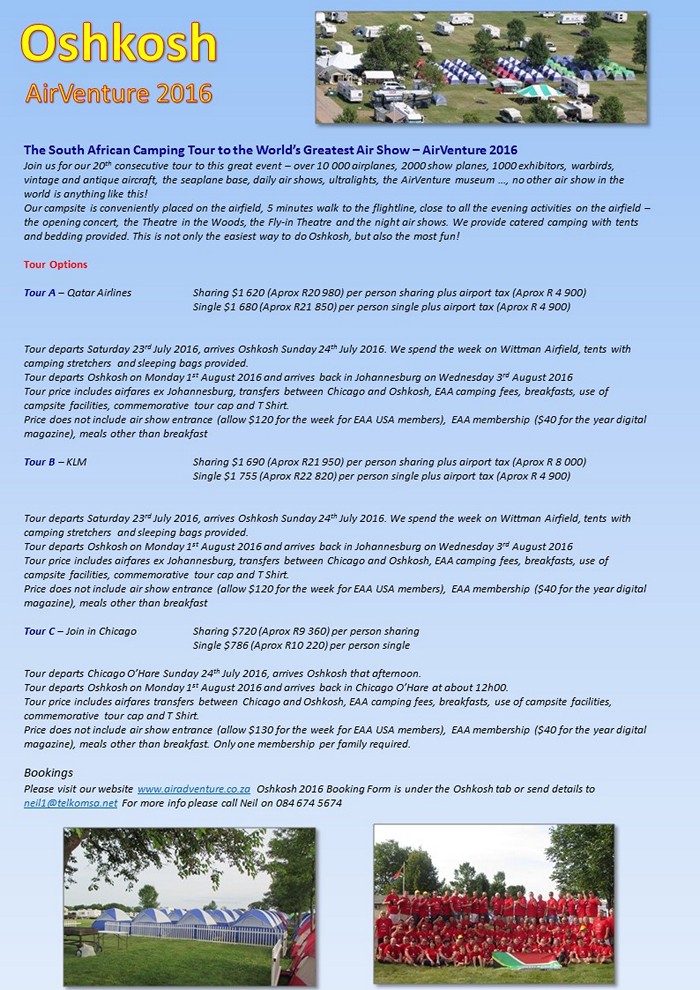 Go to: www.airadventure.co.za Contact: neil1@telkomsa.net





TECNAM CELEBRATES P2012 TRAVELLER PROTOTYPE ROLL-OUT MILESTONE ACHIEVEMENT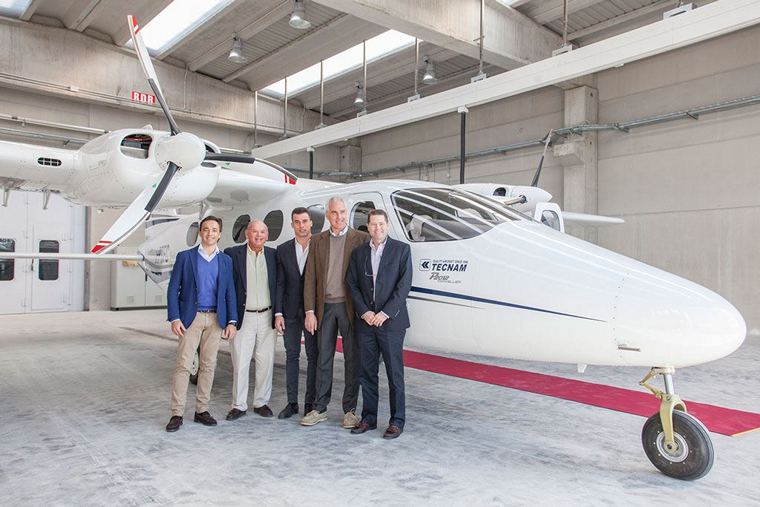 Photo © Tecnam. Left to right: Walter Da Costa, Stan Bernstein, Giovanni Pascale, Paolo Pascale, Jim Goddard


Tecnam announced successful roll-out of the first TECNAM P2012 Traveller from its Experimental Assembly Line (XAL) in Capua (Italy).
In the cockpit of P2012 (serial number 003) were Tecnam Managing Director, Paolo Pascale and Lorenzo De Stefano, Tecnam Experimental Test Pilot ably by key members of launch customer Cape Air's leadership team, Stan Bernstein - Member, Board of Directors and Jim Goddard - Senior Vice President, Fleet Planning.
The Tecnam Flight Crew powered up the P2012's pair of Lycoming TEO-540-C1A engines for a successful and smooth taxi onto the Capua ramp.
The Tecnam P2012 Traveller is an eleven seat next generation piston engine twin, designed to comply with both FAR part 23 and EASA CS-23.
The joint Tecnam and Cape Air P2012 Traveller development team, including Lycoming for the engines and Garmin for the avionic systems, is a significant international cooperation aiming to deliver both innovation and a step change in air transportation.
Paolo Pascale, Tecnam Managing Director said "Another milestone has achieved. The P2012 Traveller is yet another superlative aircraft designed by Professor Luigi Pascale, with the aim of meeting growing demands of regional short-haul transportation operators in particular. It was a tremendous joy for us, both as airmen and manufacturer to be able to share this unique milestone today's with the Cape Air leadership team."
Jim Goddard, Caper Air Senior Vice President, Fleet Planning stated: "Cape Air is committed to working with Tecnam to meet the current development of the P2012 Traveller.
As both a lifelong airplane and aviation enthusiast, taking part in todays P2012 roll out was a special treat that will be remembered for a lifetime. The P2012, with its unique aerodynamic profile and lines, is a flying example when science and art come together so all may enjoy. This aircraft brings the passion and emotion that has existed at Tecnam in 1948 and remains until this day. The P2012 remains on track to meet the future needs of Cape Air and our demanding operating profile. We are excited to continue our work with Tecnam to achieve both of our organizations desired goals."




ICON AIRCRAFT AUCTION BRINGS EVEN MORE EXCITEMENT TO EAA'S 2016 GATHERING OF EAGLES ON JULY 28


Proceeds support EAA's youth aviation education programs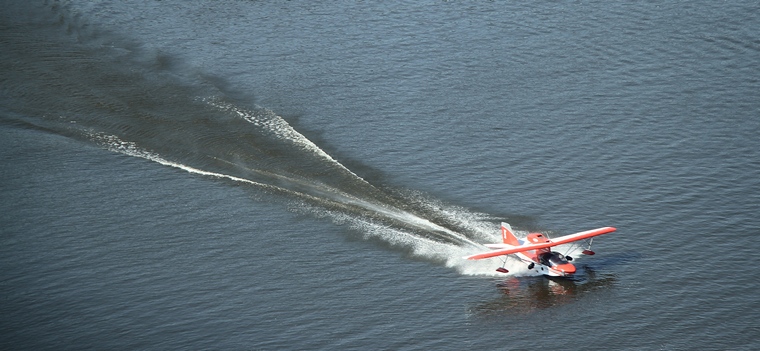 Photo © Willie Bodenstein

ICON Aircraft is adding excitement to the annual EAA Gathering of Eagles and doing its part for the next generation of aviation, as ICON is offering one of its new amphibious light-sport aircraft as an auction highlight on Thursday, July 28.
The July 28 Gathering of Eagles is part of EAA AirVenture Oshkosh, the 64th annual Experimental Aircraft Association fly-in convention, which will be held July 25-31 at Wittman Regional Airport in Oshkosh. The Gathering of Eagles annually unites the aviation community as more than 1,000 people attend to support EAA's youth aviation education programs.
The ICON A5 was first announced as a 2016 auction lot at EAA AirVenture Oshkosh 2015 by ICON officials as well as EAA CEO and Chairman Jack Pelton and Sean D. Tucker, legendary air show pilot and chairman of EAA's Young Eagles program. The airplane to be auctioned has the latest technology and innovations that are part of ICON's regular aircraft production.
"I had the opportunity to fly this airplane last year, and ICON has given us a flying machine that is superb for flying adventure and excitement," Pelton said. "As EAA aims to grow participation in aviation, innovative aircraft such as the ICON A5 will inspire more people to be part of the world of flight. We're very excited to have this airplane as part of the Gathering of Eagles auction on July 28."
Bidding on the airplane will take place live at the auction, as well as through telephone bids. It will be part of an extensive auction lineup that in past years has included one-of-a-kind collector Ford Mustangs specially built by the Ford Motor Company, as well as unforgettable flying experiences with aviation personalities. Additional auction lots are currently being accepted through EAA's donor relations office.
Tickets for this year's Gathering of Eagles, presented by Textron Aviation, are in limited supply. More information regarding the event and additional highlights are available at www.EAA.org/Gathering. The event has also drawn celebrity guests ranging from actors Harrison Ford and Morgan Freeman to golf legend Arnold Palmer, NASCAR team owner Jack Roush, and 2016 Baseball Hall of Fame inductee Ken Griffey Jr.


WELCOME TO FIDAE 2016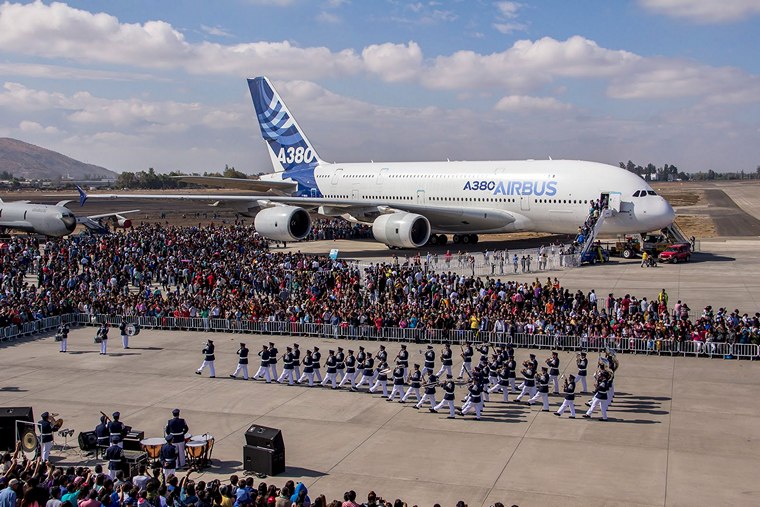 Photos © Fidae


In its more than 35 years of existence, FIDAE has become in the leading and the most complete aerospace, defence and security exhibition of the American continent, by being a real business platform and providing an effective access to the regional market.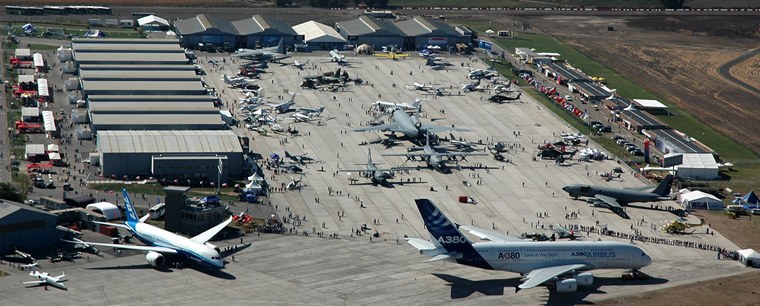 This has been achieved because FIDAE is an all-embracing fair covering fields such as Aircraft Maintenance, Airport Equipment and Services, Civil - Commercial Aviation, Defence, Homeland Security and Space Technology.

For FIDAE 2016, the difference is in the details. For that, we will focus on providing a top-quality service, fulfilling the requirements of each exhibitor and visitor in the best possible way and duly on time.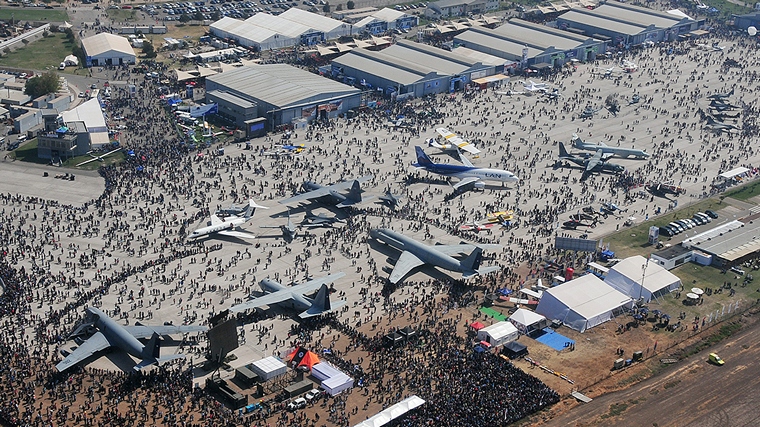 This nineteenth edition will be, once again, the exhibition of what FIDAE represents for Chile and the rest of the world; an innovating, dynamic and efficient fair.

SCORPION JET MAKES FIDAE INTERNATIONAL AIR AND SPACE FAIR DEBUT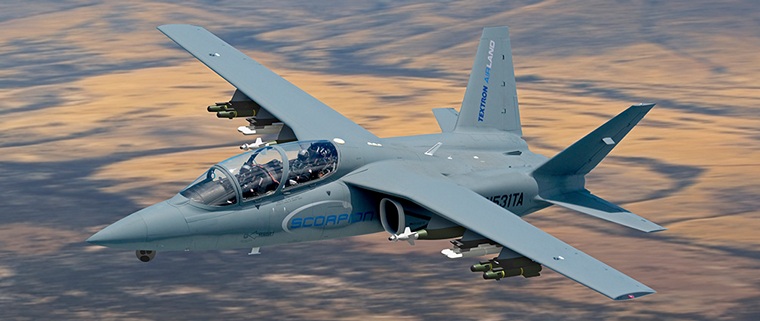 Photo © Textron AirLand

Textron AirLand, LLC, a Textron Inc. (NYSE:TXT) company announced that the Scorpion Jet will be making its show debut this week at the FIDAE International Air and Space Fair.
"Textron AirLand's Scorpion is a bold new direction for tactical aircraft and its debut at FIDAE gives us the opportunity to showcase the Scorpion's flexible multi-mission capabilities to a diverse set of international militaries," said Bill Anderson, president, Textron AirLand. "The Scorpion is a tactical aircraft that delivers high-end capabilities and performance at a price that completely reverses the rising cost curve that challenges even the most affluent nations to build and sustain their air forces."
In two years of flight operations, the Scorpion has self-deployed to ten countries, participated in military training exercises and operations, flown numerous U.S. and international military pilots and amassed nearly 600 flight hours. The Scorpion has accomplished all of this with an exceptional availability rating of over 98 percent and a comprehensive cost per flight hour below $3,000, including consumables, system/engine reserves and labor. Using commercial practices, leading edge design technologies and world-class workforce and facilities of Textron Aviation, the Scorpion progressed from a clean-sheet design to first flight in less than 24 months, making it one of the fastest developments of a U.S.-built tactical jet. The first production aircraft is expected to make its first flight this summer, and will be available for prospective customer flights and evaluations soon after.
The Scorpion's modular architecture provides the capability to rapidly reconfigure mission payloads, including sensors and weapons, enabling one aircraft to master diverse missions yielding significant acquisition cost savings, operation flexibility, reduced logistics footprint and training benefits. The Scorpion excels in many roles including armed reconnaissance, maritime control, close air support, intermediate and advanced jet training, strike, and intelligence, surveillance and reconnaissance for humanitarian assistance and disaster relief.
RUAG'S DORNIER 228 TAKES OFF ON ITS LATIN AMERICA DEMO TOUR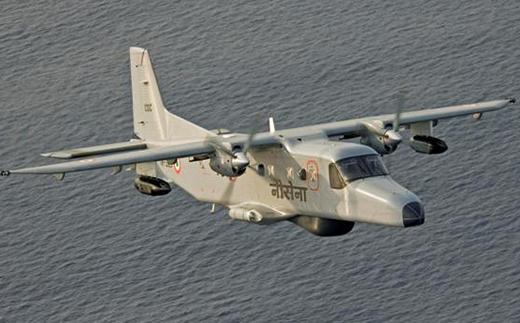 RUAG Aviation is on a demo tour with the Dornier 228 in Latin America. The aircraft will visit ten countries in just 56 days (29 February to 10 April), covering over 40,000 kilometres in the process. During the tour, the Dornier 228 will be presented to interested institutions and potential customers, who will be able to see the aircraft at first hand.
The Dornier 228's product manager, Fabian Kölliker, explains the background: "We will be presenting the Dornier 228 to people and organisations who are interested in it and give them an on-site demonstration of the aircraft's advantages."
"During the tour we're expecting important visits from local airlines, mining companies and representatives from various armed forces and governmental entities," adds Sales Manager Carlos Salamanca. He believes that enabling people to get up close to the Dornier 228 will demonstrate that it can deliver what it promises: reliability, cost efficiency, comfort, speed, pronounced crosswind stability, a contemporary glass cockpit and a well-lit and spacious cabin. The Dornier 228 has been outfitted with a variety of equipment for this tour. This will enable potential customers to get an impression of just how many configurations are possible and to try them out at first hand.
The tour starts in Mexico. From there the aircraft will fly onwards to Brazil, calling at Panama, Ecuador, Colombia, Peru, Chile, Argentina and Paraguay en route. The Dornier 228 will be in Cartagena (Colombia) for the CABSEC (Caribbean Basin Coastal Surveillance and Maritime Security) and SAMSEC (South American Security Summit) security conferences, and in Santiago (Chile) for FIDAE (International Air & Space Fair), the region's most important aviation trade exhibition.
AIRLINE FLEET IN LATIN AMERICA TO MORE THAN DOUBLE BY 2034

Photo © Airbus S.A.S / A Doumenjou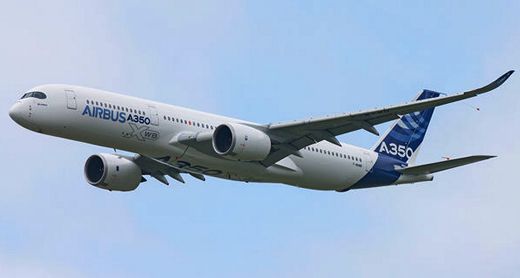 According to the latest Airbus Global Market Forecast (GMF), Latin America will need 2,540 new passenger and freighter aircraft between 2015 and 2034, to meet long term growth in the region. This demand includes 1,990 single-aisles and 550 wide bodies like the A330, A3350 XWB and A380, worth an estimated US$330 billion. This demand will mean that the passenger and freighter fleet operated by the regions airlines will more than double to nearly 3,000 aircraft in the next 20 years. Today, 53 percent of Latin America's in-service fleet are Airbus aircraft operated by the region's leading carriers. This includes the Americas' first A350 XWB, delivered to LATAM Airlines Group in January, operated by TAM.
The region's urbanization is a factor propelling this growth, as Latin America is one of the most urbanized in the world second only to North America, with some 80 percent of its population living in cities. A consistent economic growth will also prompt traffic growth in the region; according to the GMF, in the next 20 years, Latin America's annual GDP is forecast to grow at a rate of 3.6 percent, above the world's 3.2 percent. Furthermore, Latin American passengers will play a part in fuelling traffic growth, taking on average over twice as many flights by 2034 as they do now.
"Latin America's long-haul route expansion is imminent, and we are already seeing airlines respond by opting for larger, longer-range and more efficient aircraft such as the A350 XWB and the A380, which both began operating in the region in 2016," said Rafael Alonso, President of Airbus for Latin American and the Caribbean. "We are also seeing the region's top airlines modernizing their fleets with the A320neo Family, allowing them to achieve efficiency gains even in a less-than-favourable economic environment."
Presently, the long-haul market space presents a solid opportunity for Latin American carriers to claim back market share. Today, the top European and North American airlines carry the majority of long-haul traffic into and out of the region, at 83 percent and 75 percent respectively. In fact, according to the GMF, the traffic flows between South America and Western Europe and between South America and the United States are forecast to be two of the world's largest international traffic flows by 2034.
Similarly, the intra-regional and domestic market within Latin America also holds tremendous growth potential given that traffic is expected to nearly triple in the next 20 years, growing at a favorable rate of 5.3 percent. Passengers in North America and Europe can count on at least one flight per day to connect them to the 20 largest cities in their regions, but in Latin America this figure is smaller. Only 43 percent of the region's top 20 cities are connected by one daily flight, leaving the rest of the region's cities with less-than-weekly connections or none at all.
With nearly 1,000 aircraft sold and a backlog of more than 400, over 600 Airbus aircraft are in operation throughout Latin America and the Caribbean. Since 1990, Airbus has secured 63 percent of net orders in the region and in the past 10 years alone, Airbus has tripled its in-service fleet.
FINMECCANICA ARRIVES IN CHILE

As FIDAE, one of the most important showcases for the Aerospace, Defence and Security sector in South America opens its doors on 29 March in Santiago, Chile; Finmeccanica will take part as one unified company, leader in Aerospace, defence and Security. Finmeccanica arrives in Chile having recently announced that it has chosen "Leonardo" as its new name. Latin America is a key market for Finmeccanica's growth strategy in the short to medium term.
In the aeronautics sector Finmeccanica has an important presence in Latin America thanks to a solid industrial partnership established in the early 70's with Brazil through the AMX programme. In Brazil, the Gripen E, the new generation fighter aircraft ordered by FAB, are equipped with the state-of-the-art Raven ES-05 AESA radar, with an innovative passive IR system, a self-protection devices and a IFF (Identification-Friend-or-Foe) system, all supplied by Finmeccanica.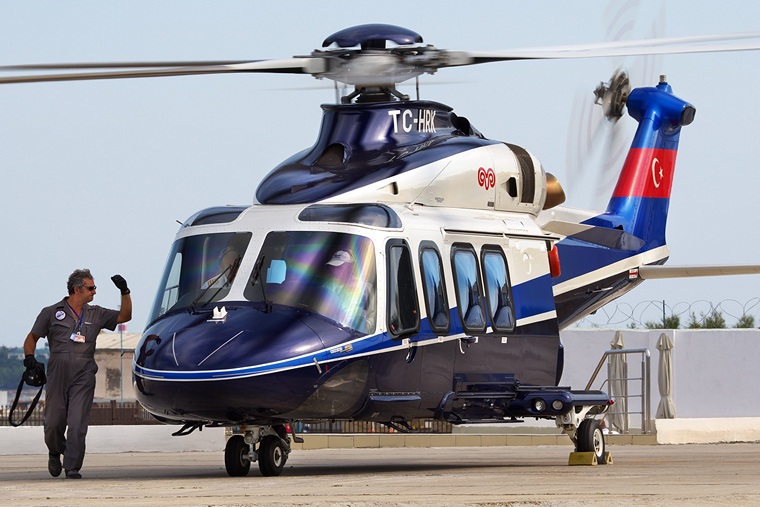 AW 139. Photo Wikipedia.org

The AW139 and the AW189 have recently been acquired in Columbia, in the Oil & Gas field, following past successes in Brazil in the same sector and there is good feedback for the operations of the multirole AW139 in Trinidad and Tobago and of the AW119 Koalas for the Police of the Brazilian States, active today in Brasilia, Santa Catarina, Rio Grande do Sul and Alagoas. For the future there are strong prospects in the area for the multirole AW139 and for fire-fighting capabilities of the AW119.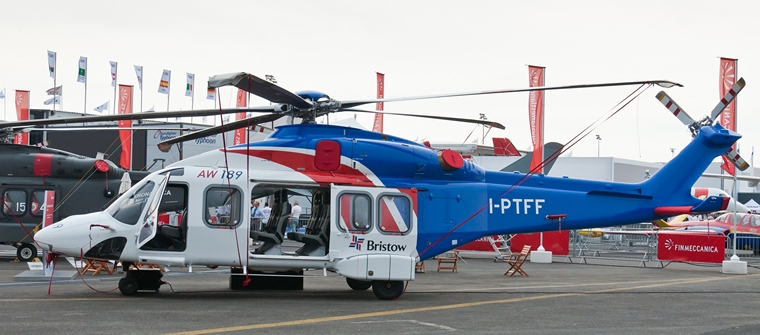 AW 189. Photo Wikipedia.org

The FIDAE Air Show will host the Peruvian Air Force C-27J, one of 14 customers across the world that ordered the Finmeccanica aircraft which is considered world-class in the new-generation medium tactical airlifter category. The C-27J Spartan was chosen by Peru for its ability to operate safely and efficiently and at competitive cost in all operational scenarios of the Latin American country, including take-off/landing on the high altitude unprepared, strips, of the Andes and at the many local airports.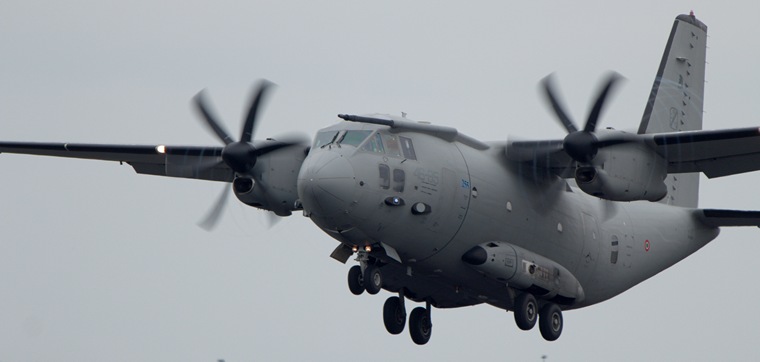 Spartan C-27J. Photo © Finmeccanica

In the area of training, with over 50 years' experience in pilot training, Finmeccanica has developed an integrated training system already selected by several customers, which includes the Aermacchi M-346 twin-engine jet, the mission simulators, the mission support system, instruments for academic training, in addition to those for training management, all fully integrated and capable of interconnecting ground simulators with the flying aircraft during training missions. The new M-345 HET (High Efficiency Trainer) trainer aircraft is the most recent solution offered by Finmeccanica for the basic-advanced phase of pilot training, a leading, cost-effective solution as it has all the advantages of the typical performance of a jet, while its operational costs are comparable to those of a propeller trainer aircraft.
AIR ZERMATT SELECTS THE SKYE SH09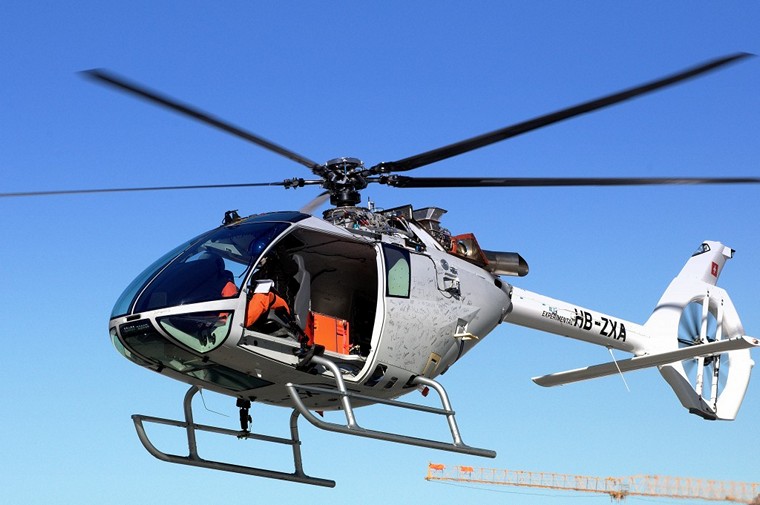 Photo © Marenco SwissHelicopter


Air Zermatt enjoys through its versatile activities in high mountainous regions as well as their constant innovation a worldwide recognition. In order to be prepared for the future, Air Zermatt has selected the SKYe SH09 as its next generation single-engine turbine helicopter.
"The constantly increasing requirements with regards to performance and environment on the one hand and the expectations of operational flexibility on the other hand, require a conceptually new single-engine turbine helicopter. This new helicopter we have found with Marenco SwissHelicopter" says Gerold Biner, CEO of Air Zermatt. "Important for us is the fact that Marenco Swisshelicopter enables us to influence the helicopter's design with our 45 years of experience in areal work and air rescue."
"Winning Air Zermatt as a launch customer for the SKYe SH09 is the confirmation for us that the market is ready for a newly developed helicopter and that our design is right one," says Martin Stucki, CEO of Marenco SwissHelicopter. "Air Zermatt's long-term experience in combination with our know-how is the ideal partnership to bring a new, modern and versatile helicopter to the market."

Afghanistan, Bagram: An F-16 Fighting Falcon fighter jet crashed in Afghanistan shortly after taking off north of Kabul at Bagram Airfield. The pilot ejected and Coalition troops responded and retrieved the pilot and secured the crash site north of the airfield. The cause of the crash is under investigation. It is not believed that the plane was hit with any kind of enemy fire and that there were any casualties on the ground.
USA, Port Columbus: Two pilots reported seeing a remote controlled model airplane flying dangerously close in their flight path at Port Columbus International Airport. One of those pilots described it as a 'near miss,' according to police. Columbus police and Port Columbus police responded to the initial report. Officers interviewed the pilot and took pictures of the model plane. No charges were immediately filed and no arrests have been made.
China: A 50-year-old woman trying to avoid a long line for the bathroom on a plane at the gate waiting to be pulled back opened the emergency exit instead, causing the emergency slide to inflate. All the passengers were taken off the plane for more than two hours while maintenance crews fixed the problem. The woman had her ticket and passport taken away by the crew and, once back inside the terminal, was taken away by police for questioning.
Canada, Quebec: A Mitsubishi MU-2 crashed in in freezing fog and rain just three kilometres from the Magdalen Island airport killing former cabinet minister Jean Lapierre, his wife, three siblings and two crew members. The wind, according to a pilot for a regional airline based at the airport sad that wind was blowing at 45 knots during the day and that the clouds were low and visibility was reduced. Other pilots said they didn't want to risk flying in the bad conditions. The MU-2, according to an air operation consultant at the airport, is not an airplane that is made to fly in our weather conditions. "This is a plane that is made to be fast but they do have small wings and it's a little tougher for them to sustain a small amount of ice." He stated. In a statement, the plane's manufacturer Mitsubishi said, "The aircraft has a best in its class safety record during the last eight years."
USA, Hawaii: A Japan-bound airplane returned to Hawaii because of a violent 72-year-old Korean passenger wanted to do yoga instead of sit in his seat. The pilots turned around after the passenger yelled at crew members and shoved his wife. He also tried to head-butt and bite Marines who were passengers on the flight who tried to force him back to his seat. He also threatened to kill passengers and urinated on himself. He was arrested on landing and released on $25,000 bond, but with certain conditions including not leaving the island of Oahu and undergoing a mental health evaluation.
China, Honkong Chek Lap Kok Airport: 29-year-old Lau Pui-ling, a transport company employee, was killed in a freak accident when an airplane tyre he was unloading blew up and hit him on the head. Lau and his colleague reportedly stacked two tyres on top of each other, when the bottom tyre suddenly swelled and blew up, sending the top tyre flying onto Lau's head, knocking him unconscious. The tyres reportedly measure around 1.3 metres in diameter, and weigh roughly 400 pounds. Lau was hospitalised with heavy injuries to his head, and was certified dead that evening.
UK, London: A passenger on a London-bound British Airways flight from Dubai has been bitten on the arm as he rushed to help flight attendants who were struggling to restrain a "violent passenger". A Metropolitan police spokeswoman said: "Officers attended and found a 21-year-old man who had assaulted a passenger. The man was arrested on suspicion of actual bodily harm and being drunk on board an aircraft. He was taken to a west London police station and has been bailed to a date in late May. The injured passenger received medical assistance for a minor injury at the scene."





10 APRIL 1963

First flight of the EWR VJ 101, the world's first supersonic V/STOL aircraft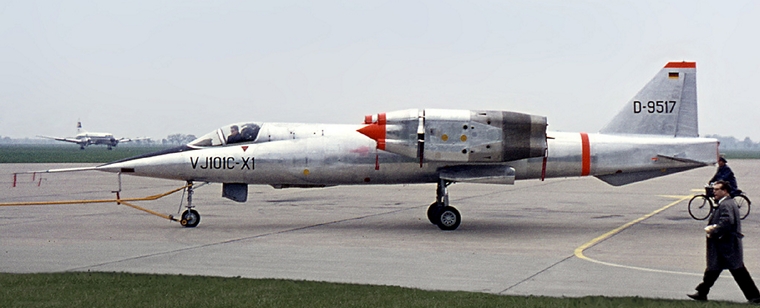 The EWR VJ 101C X-1. Photo Ralf Manteufe commons.wikipedia.org



The EWR VJ 101 was an experimental German jet fighter VTOL tiltjet aircraft. It was to be the basis for a successor to the F-104G Starfighter, but was cancelled in 1968 after a five-year test program, during which two prototype aircraft were built. The VJ 101 was one of the first V/STOL designs to have the potential for eventual Mach 2 flight.
Heinkel and Messerschmitt had developed designs to meet the requirements of VTOL flight and by 1959, the two companies, along with Bölkow, had created a joint venture company called EWR, to build the VJ 101 C. The new proposal merged the characteristics of earlier Bölkow, Heinkel and Messerschmitt designs into a sleek, streamlined platform. The VJ 101 was similar in appearance to the Bell XF-109, both with rotating engines in nacelles at the wingtips. In addition to the wingtip engines, two further lift jets were installed in the fuselage to supplement the main engines in hovering flight.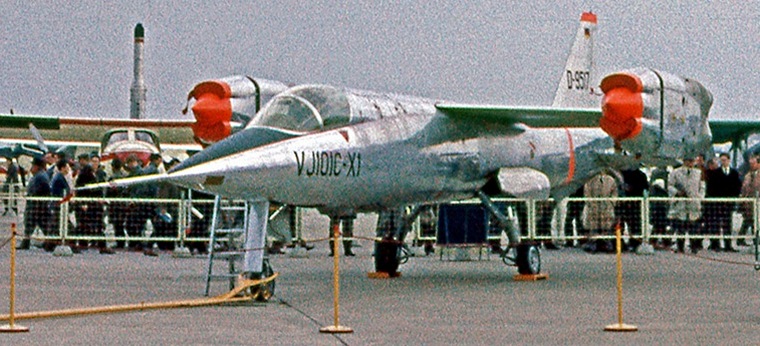 Photo Ruth AS commons.wikipedia.org

Two prototypes were built: X-1 and X-2. On 10 April 1963, the X-1 made its first hovering flight. The first transition from hovering flight to horizontal flight took place on 20 September 1963. The X-1 was first publicly exhibited at the May 1964 Hannover Air Show. The VJ 101C X-1 flew 40 aerodynamic flights, 24 hover flights and 14 full transitions. During these tests the sound barrier was broken, for the first time by a vertical take-off aircraft, but on 14 September 1964 a defect in the autopilot caused a crash. On July 29, 1964 the VJ 101 C flew at Mach 1.04 without use of an afterburner.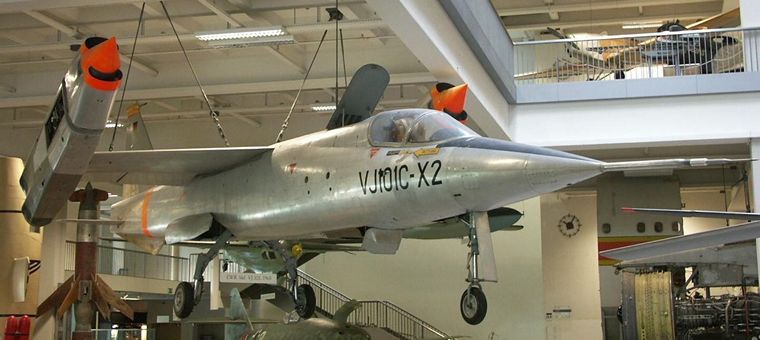 Photo commons.wikipedia.org

The second prototype X-2 with a new autopilot made a successful transition on 22 October 1965. The tests were subsequently continued with X-2, which in contrast to X-1 had afterburners. However the project was cancelled in 1968. The proposed VJ 101 D Mach 2 interceptor was never built. VJ 101 C X-2 hangs today in the Deutsches Museum in Munich.