THIS WEEK IN MIDWEEK UPDATE


Plan Your Weekend……..Forthcoming Events………Weekly Specials


Aviation News………. Worldwide Incidents and Accidents


This Week in Aviation History………Advertising Rate Card





14: EAA Aviation Legends Talk Show. Guest, Flt. Lt. James Harris (R.A.F.), who is not yet 50, has had a stellar flying career in the Royal Air Force, where it seems (apart from operational tours) he has spent large amount of time giving training and instruction to top pilots around the world. He is currently on loan from the RAF to the SAAF and is based at 85 Central Flying School (CFS) Makhado (Louis Trichaardt) where he gives instruction and training to the SAAF Pilots on BAE Hawks. James has served in Saudi Arabia, Kuwait, Qatar, Pakistan, Oman, Cyprus, USA and most European Countries. He has flown operational tours on the Panavia Tornado GR1s and Hawks in the aggressor role plus training and instruction also on the Tucano and Mushshak. Time: 18h30 for 19h30 (time to order your drinks & Boerewors/ Steak roll) at the new EAA Auditorium Pub. Venue: EAA Auditorium adjacent to TAC and Holding point of Runway 29, Rand Airport, Hurricane Road. Germiston. Take the entrance at Hurricane Road off Rand Airport Road (NOT thru the main gate). Cost: R50.00 each (R30 for card carrying EAA, members). Booking: Send an e-mail to book to
eaa.talkshow@icon.co.za
15-17: SAPFA National Rally Flying Championships at Brits airfield. Contact
frank.eckard@mweb.co.za
cell: 083 269 1516
16: Rosslyn Aero Modellers Fly-Inn. Landing fee of R100.00 will be payable on arrival by the pilots. Hot-dogs and cool drinks will be available. No flying without a valid SAMAA card. Contact Ina Van Der Merwe at
fullstop@mweb.co.za
for any inquiries.
16: FABB - Brakpan (Benoni) Airfield Fly-In. To celebrate the opening of our new Clubhouse and Bar, the members of B.A.C. are hosting a Fly-In on Saturday 16/04/2016. All aviators are invited to attend. Coffee will be available from 07:30, followed by breakfast, lunch and a variety of beverages. Please note that FABB falls within the ORT ATZ, as such, specific arrival and departure procedures are in place. Please visit our website at http://www.brakpanaeroclub.co.za (Technical Flying Detail LINK) for these procedures. For parking and catering purposes, please RSVP your intentions to our administrator by way of sms on 071 542 2993 Antoinette
bac@lantic.net
16: Klipriver Airfield Breakfast Fly In. Cost of brekkie TBC but probably around R40. We'll be at the field from Friday afternoon for those who want to fly in early and join us for a bring and braai/camping on Friday evening. Runway details - 02L/20R, 1000m, no immediate obstacles, 07L25R, 500m, power lines on approach 07 (both grass) Frequency - 125.600, Special Rules South, join at 6000ft, circuit height 5500ft. Coordinates: -26.475238, 28.111104. RSVP
microlighters.co.za/viewtopic.php?f=5&t=25472&sid=b2b269bbcb897f5b54e8c3204c9a82f0

APRIL

20 -23: AERO Friedrichshafen - Germany. Contact website:
www.aero-expo.com
21-24; SA Navy Festival, Simonstown. Contact Brian Emmenis
capital@icon.co.za
23 April-1 May: Kroon Microlighters South Coast Fying 2016 - Annual Margate trip. Contact Dawie (082 576 2355) or Pierre 078 119 0949) for more info.
27 - 1 May South African Skydiving Nationals at the Pretoria Skydiving Club Wonderboom Airport. Contact: Hettie Tel: 012 566 3744 Cell: 083 777 3535 E-mail:
greatfun@mweb.co.za
29 April-1 May: EAA National Convention, Mossel Bay. Contact Marie Reddy 083 259 7691 RSVP at
rsvp@eaa.org.za
Go to:
www.takingchargeevents.co.za/EAAReg.asp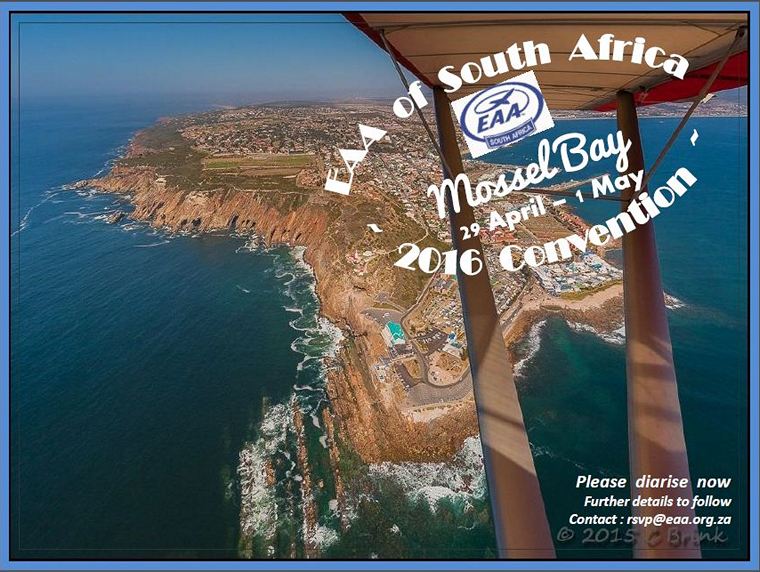 30: The MISASA Western Cape fly-in at Mossel Bay on the 30th April piggybacks on the EAA convention being held over the long weekend.
29 April-2May: Bush Air - Fly-In Barberton Airport.
CANCELLED

29-2 May: Gyro Africa Fly in. Contact Juanita Kruger 082 040 9798
MAY

1: SAAF Museum flying training and open days. Contact Capt. Kobus Kapp 012 351 2342 or E-mail:
webmaster@saafmuseum.org
4: EAA Chapter 322 monthly meeting, Dickie Fritz Moth Hall Edenvale. Contact
editor@afskies.co.za
7: SAAF Museum airshow at AFB Zwartkop. Contact Mike 'O Connor e-mail:
oc@saafmuseum.org
Tel: 012 351 2290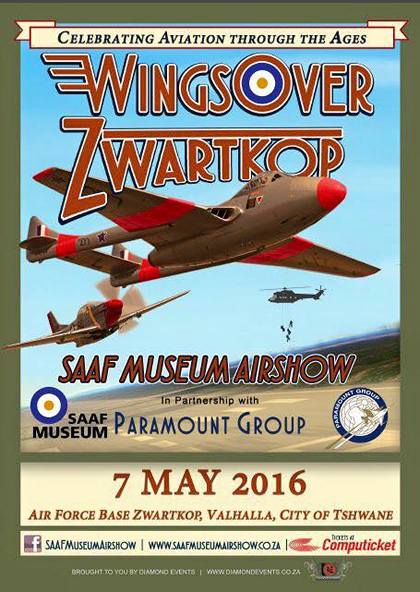 13-15: Battlefields Sports Resorts annual fly in Dundee KZN. Contact Dave O' Halloran e-mail
gm@battlefieldslodge.co.za
14: SAPFA Shelia Taylor fun rally - Krugersdorp. Contact Frank Eckard e-mail:
frank.eckard@mweb.co.za
. There will be an entry fee applicable of R250 which will go towards the purchase of your map and flight logs that requires your calculations to be made during the rally. Please forward your entries to
acr@absamail.co.za
. Entry information needed: Aircraft Type, Aircraft Reg No, Pilot Names, Contact Details and emergency contact no, Navigator Names Contact Details and emergency contact no. You may also enter directly on the SAPFA
website www.sapfa.org.za
20-21: SA Flyer mag and Doolie Lindbergh are hosting a very special Fly-in to Lindbergh Lodge, west of Klerksdorp. The fly-in will be partly in memory of Gianfrano who died in his L-39 at the Klerksdorp air show 4 years ago. The rates for this very lekker luxury lodge are hugely discounted for the weekend - go big or go cheap - but be there! Contact
guy@saflyermag.co.za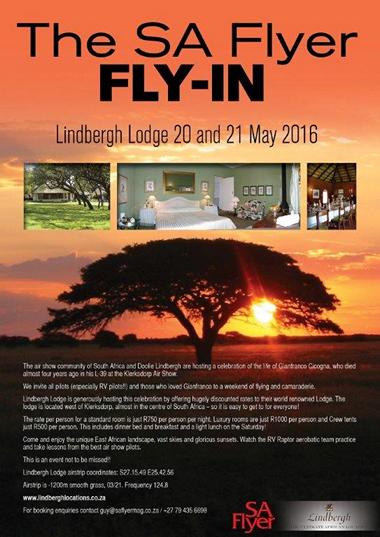 20 - 22: Vryheid wings club fly inn. Following what we believe to be an excellent fly inn last year the Vryheid wings club will be hosting another fly inn this year. FIRST 10 PILOTS who flyinn on Friday and Also on the Saturday will get free food and drinks for the whole weekend (pilots only not entire crew). All other pilots and crew will be charged R 600 for entire weekend and R 450 from the Saturday and Sunday only (fly inn day only R150). Above costs include: Camping on the irfield (ablutions are being built currently on the airfield for all who wish to camp). All food and drinks for the selected time. Shuttles to town as needed. Live entertainment for the Friday and Saturday night. Entertainment on the day. Contact: Morne Strauss
morne@lmsbrokers.co.za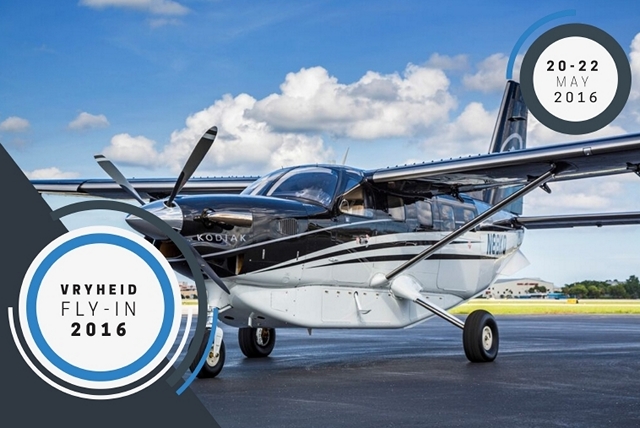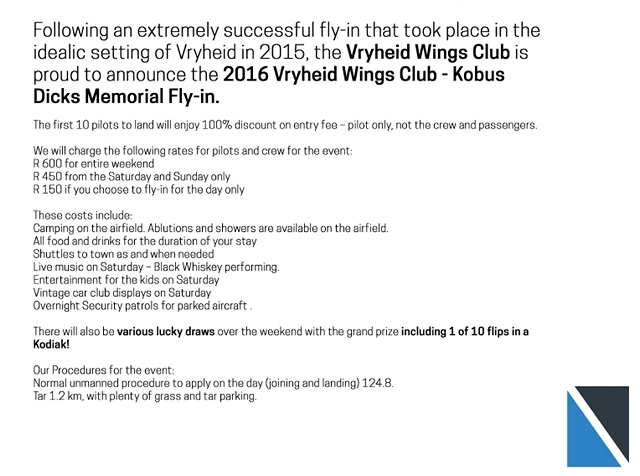 21-21: Lowveld airshow - Nelspruit. Contact Willemien Hodgkinson e-mail:
willemien.hodgkinson@ffa.co.za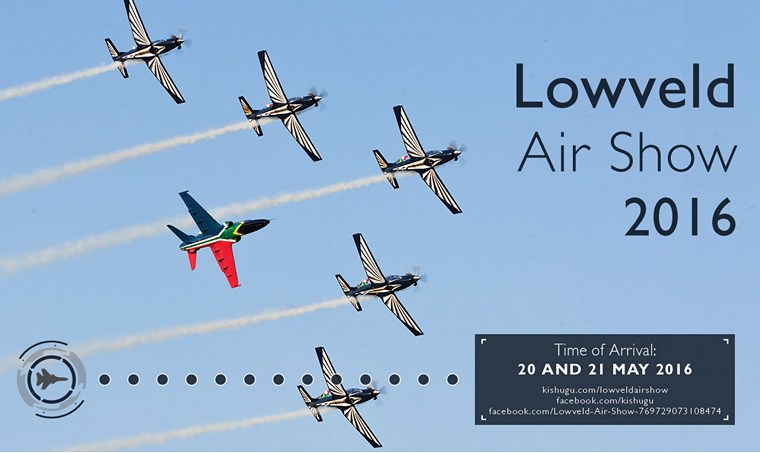 25-29: Namibia-UIS / Brandberg / Save Some Rhino -fly-in, Swakopmund. Phone or mail Johan de Wet for info @ 00264 (0) 81 124 8283 or
jdewet@mweb.com.na
orHeiner Schlushe @ 00264 (0) 81 127 9100
21-22: SAC Free State regionals, Bloemfontein - New Tempe. Contact Annie Boon e-mail:
chunge@mweb.co.za
25-28: SAPFA President's Trophy Air Race hosted by the Bethlehem Aero Club. Website:
www.sapfa.org.za
e-mail:
Race@sapfa.org.za
Contact Robbie Myburgh e-mail:
roblena@mweb.co.za
Cell: 083 377 0925 or Robin Spencer-Scarr 083 310 2850 e-mail:
robin@stylegroup.com.au
.
28: Sky Grand Prix. Greyville Racecourse, Durban. Contact Paul Godwin Tel: 031 201 2169 Cell: 082 499 5222 e-mail:
mw.nerve@mweb.co.za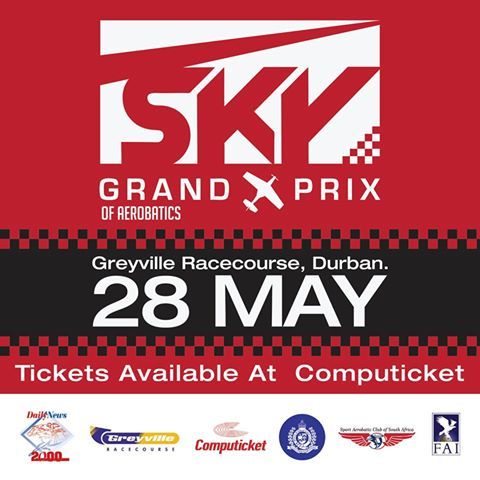 28: Botswana airshow at the Matsieng Flying Club. Contact Guillaume Knipe e-mail: gknipe@work.co.bw or Hentie de Wet e-mail:
hentie@dewetdrilling.co.bw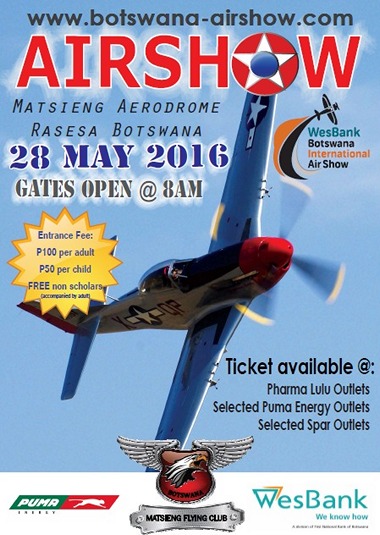 JUNE


2: EAA Chapter 322 monthly meeting, Dickie Fritz Moth Hall Edenvale. Contact
editor@afskies.co.za
4: SAAF Museum flying training and open days. Contact Capt. Kobus Kapp 012 351 2342 or E-mail:
webmaster@saafmuseum.org
4: Vintage Wings and Wheels and Magaliesburg Steam Express meet at FAKR Krugersdorp. Contact
cwatson@stithian.com
4: Newcastle airshow. Contact Johan Pieters e-mail:
info@champ.co.za
4: Kroon Airfield annual Fly-in. Our landing strip is 750m, excellent grass strip. Just to the South of the N4 highway to Rustenburg. RW 11/29 (RW29 now have NO overhead power lines.) The circuit is always to the North of the Runway, Lefthand for 11 and Righthand for 29. Freq: 124.8 (although we are South of the N4 Highway, our Circuit is to the North). Circuit Alt: 4700ft for Trikes and 4900 for fix wings. Airfield Alt: 4330ft. Lats: 25°39'33.90"S. Longs: 27°59'53.37"E
8: Aero Club's 75th AGM 14th of April 2016 at 18:30 at the Harvard Conference Centre at Rand Airport,Germiston. RSVP Sandra Strydom on e-mail to
office@aeroclub.org.za
.
9-11: provisional date ZimNavex Zimbabwe . Contact Mel Cooper e-mail:
zmelzim@gmail.com
10: Wonderboom Wings and Wheels airshow. Contact Chris Briers
chris@airteam.co.za
Cell: 082 568 7988

17-19: Memorial fly in and airshow Mafeking. Contact Connie Conradie e-mail:
info@mmafikeng-flyingclub.co.za
28 -29: Aviation Festival Africa Sandton Convention Centre Johannesburg. Contact Bianca Wiener e-mail:
bianca.wiener@terrapinn.com
30 June-3 July: Race of Champions at Kubu Island Botswana. Contact Chris Briers
chris@airteam.co.za
Cell: 082 568 7988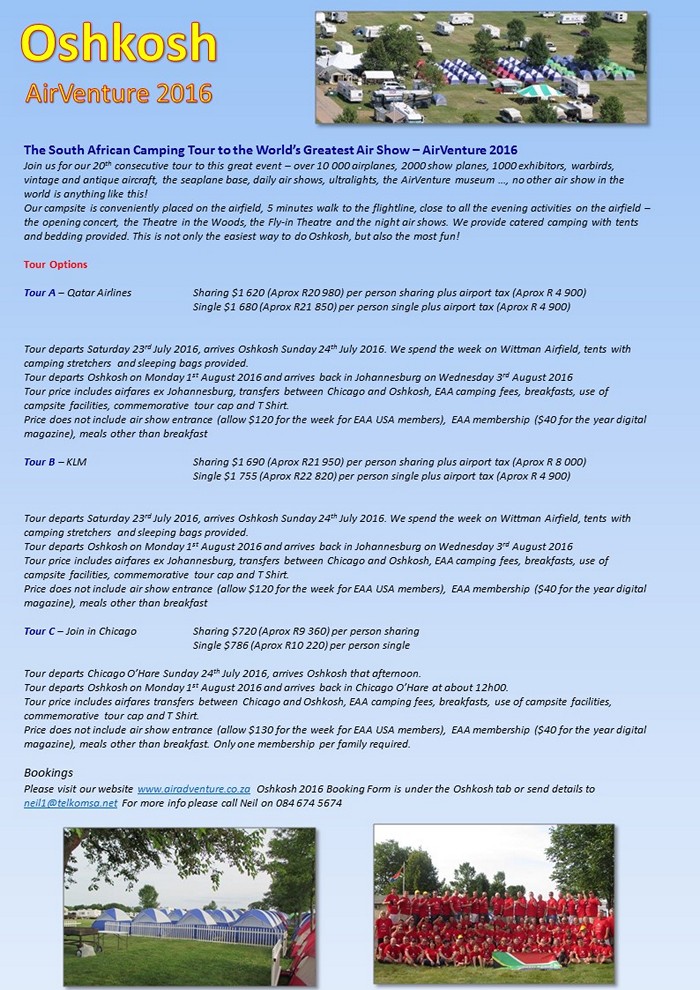 Go to: www.airadventure.co.za Contact: neil1@telkomsa.net






PIPER AIRCRAFT, INC. TAKES 112-AIRCRAFT TRAINER ORDER FROM UND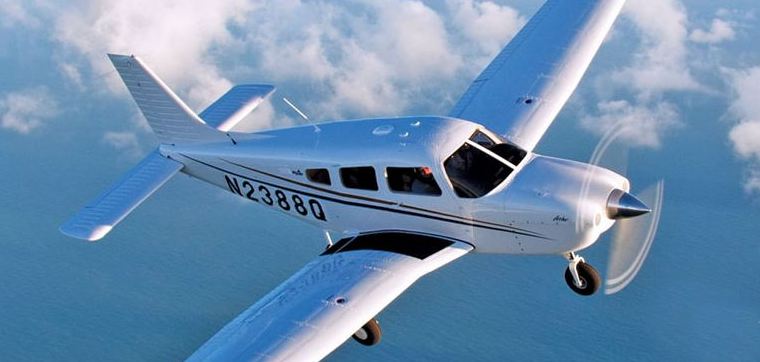 Piper Archer

Photos © Piper Aircraft



Piper Aircraft, Inc. has taken a 112-aircraft order from the UND Aerospace Foundation, which provides training and aircraft to the University of North Dakota John D. Odegard School of Aerospace Sciences. Deliveries begin in the fourth quarter of 2016 and stretch out over eight years.
"This is an important order for the UND," said Bruce Smith, dean of the Odegard School of Aerospace Sciences at the University of North Dakota. "We see Piper as an essential partner in producing the next generation of pilots. Its aircraft enables our students to become familiar with the most advanced systems in aviation trainers which will prepare them well to fill the growing demand for high-quality pilots."
The order is designed to replace the institution's current fleet of existing single-engine aircraft with the Archer TX and its multi-engine Seminole fleet with new Seminoles.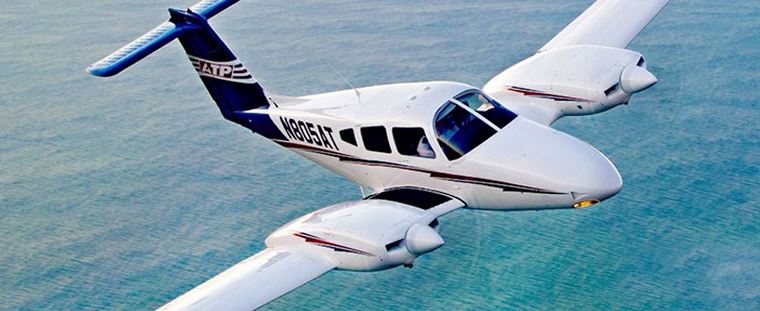 "We have designed the Archer TX and Seminole to give students the technical abilities and modern proficiencies they will need in today's aviation workforce," said Piper President and CEO Simon Caldecott. "For nearly 30 years UND has been ordering Aircraft from Piper. UND's continued commitment to Piper confirms our belief that Piper trainers offer a cost-effective means of both developing and replacing aircraft at training organizations."
As with all Piper Aircraft, both the Archer and Seminoles are equipped with Garmin G1000 avionics, an all-glass cockpit and the perfect mixture of low workload and high technology. Each Piper trainer interior is designed for maximum comfort. Piper's specially created flight school interior, designed to withstand the rigors of flight training, is standard equipment. Ergonomic seating keeps students and instructors relaxed, increasing their ability to focus on flight operations. The seats and sidewalls are hand crafted and fitted with heavy-duty vinyl and wear-resistant leather to maximize durability. They are also equipped with an autopilot.
While neither party is announcing the value of the contract a, standard equipped Piper Seminole starts at $697,000 while the Archer TX starts at $345,000.



CESSNA SKYHAWK AIRCRAFT NOW EQUIPPED WITH ANGLE OF ATTACK SYSTEM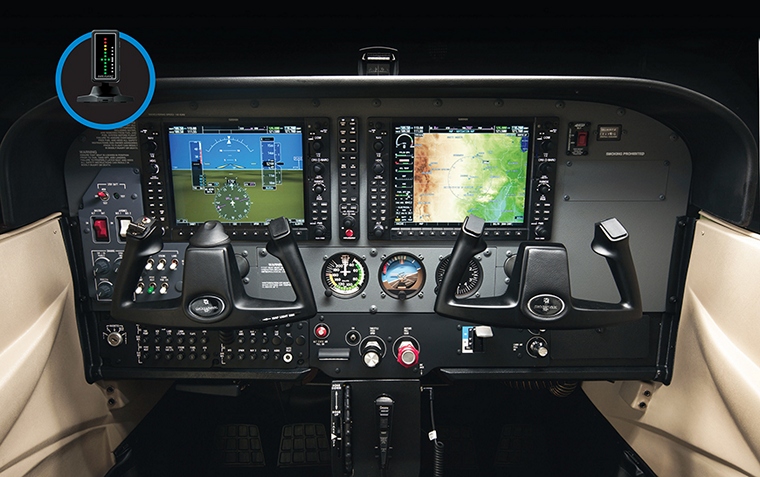 Photo © Cessna

Cessna Aircraft Company, a subsidiary of Textron Aviation Inc., a Textron Inc. (NYSE:TXT) company, today announced during the Sun 'n Fun International Fly-in & Expo, that Safe Flight's SCc Angle of Attack (AoA) system is now standard on all Cessna Skyhawk 172 aircraft and optional on the Cessna Skylane 182 and Cessna Turbo Stationair 206.
"Textron Aviation is constantly looking for innovative solutions for our piston customers and making the SCc Angle of Attack system standard on all Skyhawk aircraft is a great example of bringing the latest technology to our products," said Doug May, vice president, Piston Aircraft. "We are thrilled to work with Safe Flight to bring this latest enhancement to the cockpit, providing an improved flying experience for our customers."
Safe Flight has nearly 70 years of experience in providing primary stall warning and AoA systems. SCc is the only supplemental AoA system to utilize leading edge lift information, the most accurate and dependable measurement of AoA. This dash-mounted system provides trend and AoA information during all phases of flight, allowing for instantaneous visual and audio feedback.
FIRST MANNED FLIGHT OF THE UFO-LIKE VOLOCOPTER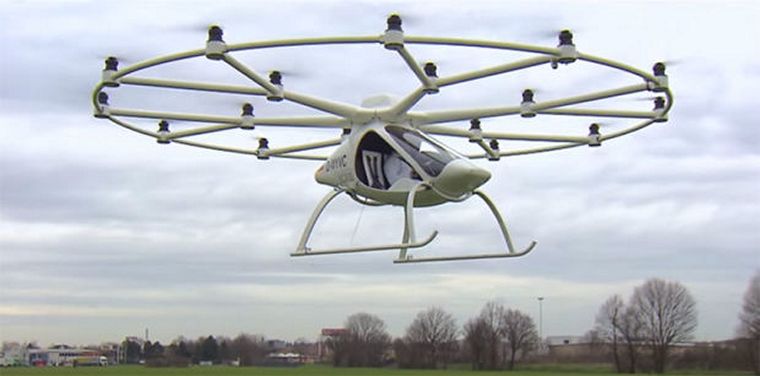 Photo © Volocopter

It's taken six years of planning and development, but the rise of the Volocopter has begun. The mostly computer-guided aircraft is the brainchild of e-volo, a German outfit, and it's akin to a quadcopter-style personal drone - but the Volocopter has proven it can carry one man. e-volo hopes that in the future it will become alternative transportation for a pilot and passengers as well.
Alexander Zosel, the pilot in the video, said this first true test flight of the craft on March 30 was "a sublime feeling." Zosel also said the achievement was "definitely unbelievable."
The Volocopter's fans are run by electric motors powered by nine batteries. It's constructed mostly from carbon fiber and strikingly, weighs less than a thousand pounds.
e-volo's claims that their giant, manned drone marks the beginning of "a revolution" in transportation have yet to be proven. The Segway was supposed to be revolutionary too, after all. However, given the way it looks in distant camera shots, we do suspect further test flights could mark a real uptick in UFO sightings.
SUN 'N FUN 2016

Photos © Sun 'n Fun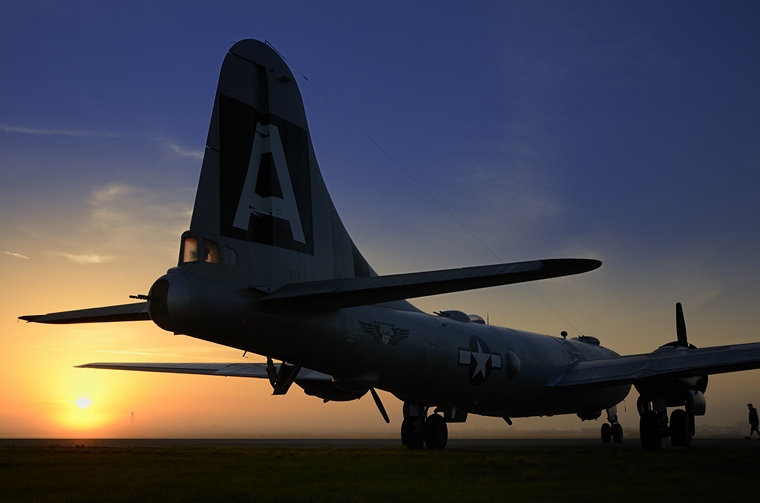 In 1974, SUN 'n FUN was created by a small group of dedicated aviation enthusiasts. The annual event, held in April, has grown into the second largest event of its kind in the world and is Florida's largest annual convention. The six-day event on 2,200 acres has been recorded to have a $64,000,000 direct and indirect economic impact on the I-4 corridor in Central Florida as media from around the world cover the event that offers, jet teams, aerospace related exhibits; educational forums, aircraft static displays, professional gatherings of aviation and economic development groups; daily and evening airshows that include adrenaline pumping aerobatics, a veterans plaza and women in aviation arenas.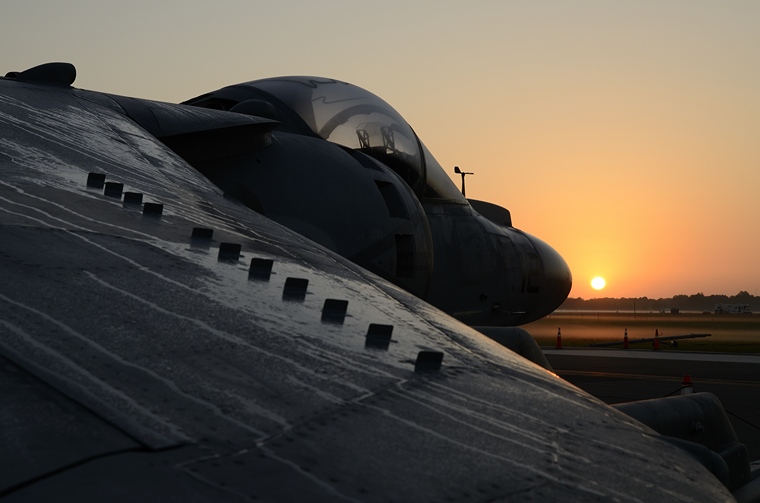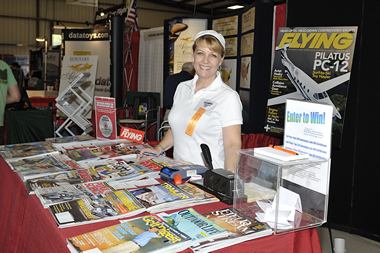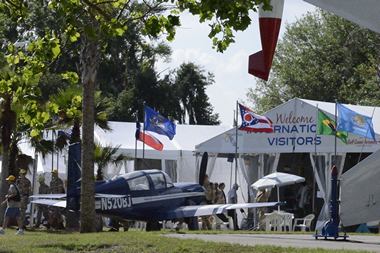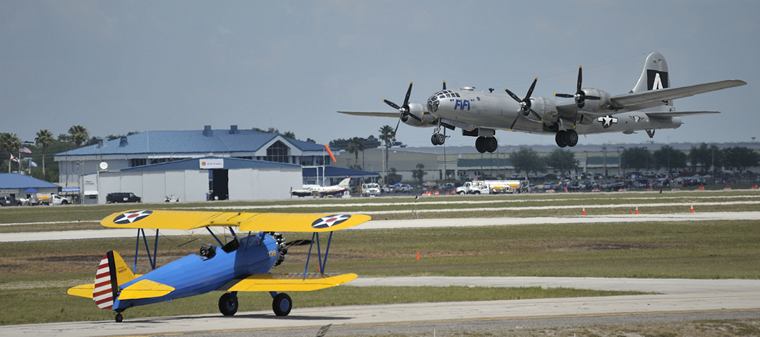 Light Sport aircraft flies above parking areas and many performers are seen on the grounds with vendors and students. Youth activities that include a new young pilot campground; International visitors hospitality; evening entertainment, a womens' pavilion and souvenir shops are highlights for visitors from more than 80 countries. Held at Lakeland Linder Regional Airport in Lakeland, FL, air traffic movements for the event elevates the airport to the 'busiest in the world' for one week.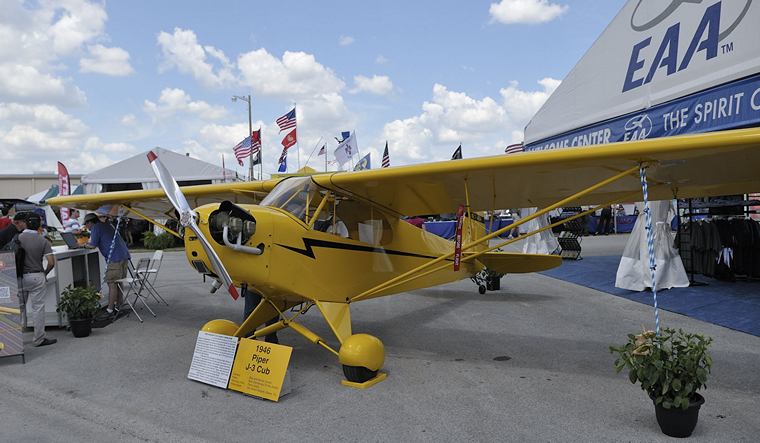 Each year Polk County host the world in a celebration of American military history and a display of 75 years of air power from all five branches of the United States Armed Forces. This year Sun 'n Fun had more than 3,500 visiting aircraft of all types and on the first three days of the show the combined admissions exceed all previous years, in all 42 years history of Sun 'N Fun.
KUWAIT SIGNS CONTRACT FOR THE DELIVERY OF 28 EUROFIGHTER TYPHOONS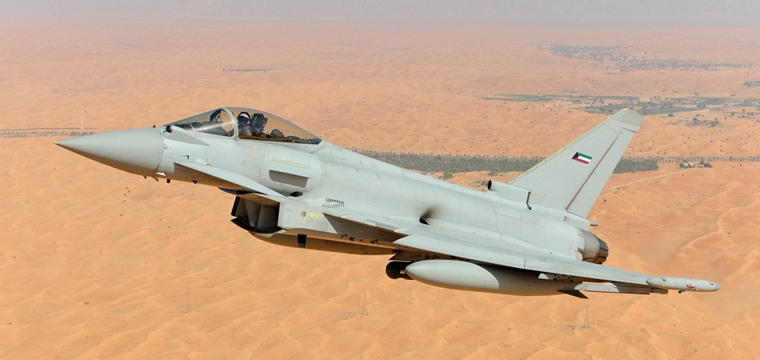 Photo © Eurofighter

The contract signature for 22 single-seat and six twin-seat follows the announcement of an agreement between the State of Kuwait and the Italian Government for the procurement of the aircraft on 11th September 2015. The aircraft will be of Tranche 3 standard and will be equipped with the E-Scan radar.
The contract confirms the State of Kuwait as the eighth customer in the programme and as the third customer in the Gulf Region next to the Kingdom of Saudi Arabia and the Sultanate of Oman.
Speaking on behalf of the consortium and its Eurofighter Partner Companies (EPC) the CEO of Eurofighter, Volker Paltzo, said: "We are delighted to officially welcome the State of Kuwait as a new member of the Eurofighter family.
"The confirmation of this order is further testament of the growing interest in the Eurofighter Typhoon in the Gulf Region. It will enable Kuwait to benefit from the critical mass being developed in the Gulf and the many advantages that it brings to an Air Force in terms of interoperability, training and in-service support."
Since entry into service of the first Eurofighter Typhoon at the end of 2003, more than 470 aircraft have been delivered to six nations: Germany, the United Kingdom, Italy, Spain, Austria and Saudi Arabia. The Kuwait order follows an order by Oman in December 2012 for twelve aircraft. Eurofighter Typhoon is currently in service at 22 operational units and up to now, the whole fleet has completed more than 330,000 flying hours worldwide.


HAL'S TURNOVER SURGES TO ALL TIME HIGH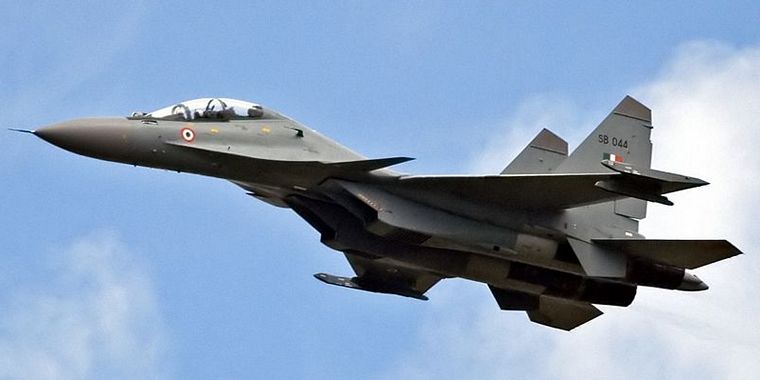 Photo commons.wikimedia.org

HAL's turnover has surged to Rs 16524 crores for the Financial Year 2015-16. "It is all time high with PBT standing at Rs 3210 crores for the year", says Mr. T. Suvarna Raju, CMD, HAL. All 12 Su-30 MKI aircraft produced during the year were from raw material phase while production of 17 Hawk aircraft is the highest ever achieved in a year", he adds.
The production highlights of the year 2015-16 include 60 new aircraft and helicopters, overhauling of 229 aircraft and helicopters, 94 new engines, 446 engines overhauled and supply of 143 aerospace structures. On 'Make in India' front 2021 items were indigenized which will result in FE savings of Rs 126 crores annually. More than 300 imported systems and sub-systems have been hosted on HAL's website (Make in India section) to enable private industries to take up indigenization.

Photo © HAL Aircraft

HAL has made a contribution of Rs 4284 crores to the Government as buyback of 25% of the share capital and free reserves apart from paying a dividend of Rs 510 crores for FY 2015-16. The Company's export stood at Rs 401 crores for the year. The Company had achieved a turnover of Rs 15622 crores for FY 2014-15 and PBT of Rs. 3173 crores.
The past year was extremely good for the Company with several milestones coinciding with the Platinum Jubilee year of the Company. These include starting of core engine run of 25 kN engine, launching of new Design and Development of 1200 kW turboshaft engine, autonomous flight testing and maiden flight of mini UAV and laying of the foundation stone for HAL's new Helicopter manufacturing facility at Tumakuru in Karnataka, said Mr. Raju.




CESSNA DELIVERS CITATION CJ3+ TO FRACTIONAL OPERATOR AIRSPRINT INC. IN CANADA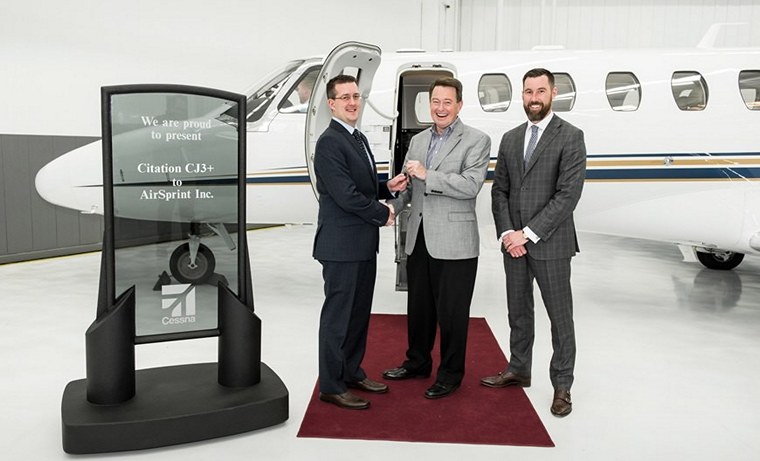 Citation CJ3+ delivery to AirSprint Inc. from left to right: James Elian, President & Chief Operating Officer, AirSprint, Inc., Mark Gardner, Regional Sales Director, Textron Aviation, and Scott Wenz, Vice President, Sales & Marketing, AirSprint Inc. Photo © Cessna


Cessna Aircraft Company, a subsidiary of Textron Aviation Inc., a Textron Inc. (NYSE:TXT) company, this week delivered a Canadian registered Cessna Citation CJ3+ aircraft to fractional operator AirSprint Inc..
"With more than 150 Cessna Citation light jets in the region, the CJ-series has proven to be the light jet of choice for Canadian operators, and we are confident the CJ3+ will be an ideal addition to the AirSprint fleet," said Kriya Shortt, senior vice president, Sales & Marketing. "The combination of short field capability, excellent range, and low operating costs coupled with the next generation Garmin 3000 flight deck, are key features that make the CJ3+ perfectly suited for our customers like AirSprint."
AirSprint operates the largest fractional fleet of private aircraft in Canada, offering the Cessna Citation XL/XLS, Citation CJ2+ and Citation CJ3+. The company serves owners coast-to-coast including in Vancouver, Calgary, Edmonton, Winnipeg, Toronto, Ottawa, Montreal and the Maritimes.
"The Citation CJ3+ is a natural extension for our fleet of Citation CJ2+ aircraft," said James Elian, president and COO of AirSprint. "Our fractional owners enjoy the efficiency and comfort of the CJ2+, and with the extra range of the CJ3+, the new addition will be the ideal aircraft to efficiently experience AirSprint's personalized service while travelling non-stop to more North American destinations. We are really excited to add such a capable aircraft to our fleet."



PILATUS SALES REVENUE SURPASSES THE ONE BILLION SWISS FRANC MARK FOR THE THIRD TIME!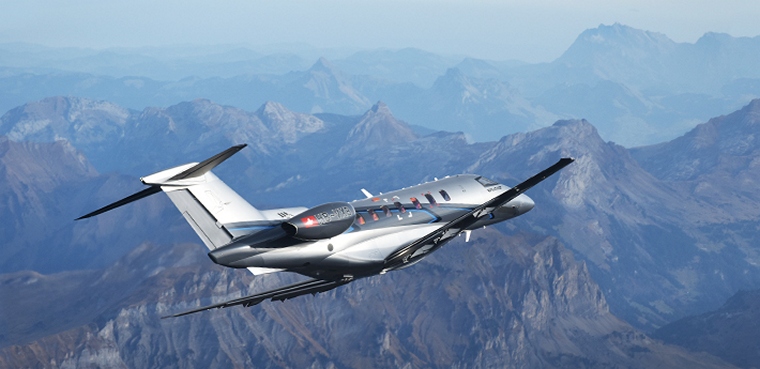 Photo © Pilatus


2015 was another exceptionally successful business year for Pilatus. Sales revenue, at 1.1 billion Swiss francs, was successfully held on a par with the record results of the previous year. At 191 million Swiss francs, operating results were excellent, too, even with high investment - almost 150 million Swiss francs - in infrastructure and research & development.
Pilatus also more than doubled incoming orders compared to the previous year. Orders in hand at the end of 2015 amounted to a handsome 1.4 billion Swiss francs, providing a comfortable base for the future. The largest fleet order was received from the prestigious Royal Australian Air Force (RAAF), which ordered 49 PC-21s in December last year. The PC-21 will be used to train the RAAF's future military pilots.
In 2015, Pilatus built and delivered 121 aircraft to customers all over the world. Around half were civilian models, the remainder were trainer aircraft. The civilian market is showing signs of recovering from the financial and economic crisis of 2008. In 2015 we delivered a total of 70 PC-12 NGs. Once again, North America, to which 49 PC-12 NGs were delivered, was by far our most important market.
Pilatus presented the new 2016 version of its PC-12 NG, boasting a fiveblade composite propeller and various aerodynamic improvements. Occupying an important place in the Pilatus portfolio, the PC-12 NG will remain the object of further development moving forward into the future.
Generating two-thirds of overall sales revenue, our trainer aircraft business again provided a very stable pillar for our company. Pilatus consistently adheres to a two-pronged business strategy as an effective means of compensating for the inevitable fluctuations.
RUSSIAN HELICOPTERS FULFILS FIRST CONTRACT WITH THE MEXICAN SECRETARIAT OF THE NAVY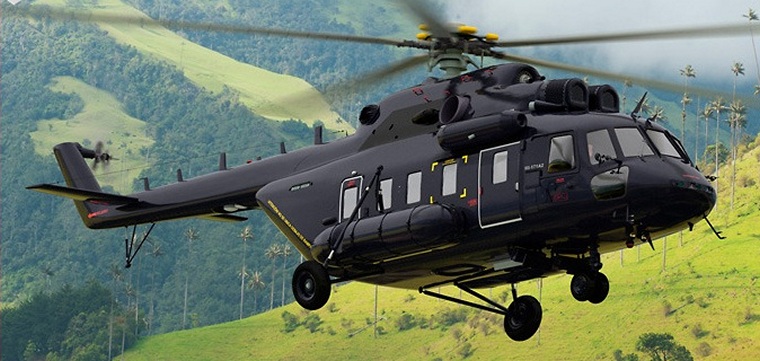 Photo © Russian Helicopters


Russian Helicopters, part of State Corporation Rostec, has fulfilled its first contract for after-sale maintenance of multirole Mi-17-1V helicopters operated by the Mexican Navy.
"This is our first contract with the Naval Secretariat of Mexico. It was fulfilled in full and on time," said Igor Chechikov, Russian Helicopter's deputy CEO. "Mexico is one of our key partners in Latin America; it has quite an extensive fleet of Russian-made helicopters. In 2016, we will expand cooperation with our Mexican partners in terms of after-sale service. The parties are already involved in negotiations on these issues."
One of the main priorities for Russian Helicopters is active development of a comprehensive system of after-sales service for Russian-made helicopters all around the world including a number of Latin American countries.
In 2014-2015, the company successfully collaborated with the Mexican Secretariat of National Defense by performing extensive repairs of 19 Mi-17/Mi-17-1V helicopters. Currently, Russian Helicopters are actively involved in warranty and post-warranty maintenance of helicopters belonging to the Mexican Ministry of Defence.
The multirole Mi-171V helicopter is one of the modifications of the Mi-17 series that were developed by Mil Moscow Helicopter Plant, part of Russian Helicopters. Strong flight performance, simplicity of operation and reliability made these helicopters popular all around the world. The multirole Mi-171V helicopter is capable of moving at a speed of 250 km per hour and its flying range is 610 km. The helicopter is capable of transporting up to 37 troopers.

Indonesia, Jakarta: A Batik Air Boeing 737-800 carrying 49 passengers and seven crew was taking off from Jakarta's Halim Perdanakusuma airport when it clipped the tail of a TransNusa ATR being towed across the runway causing minor damage but no injuries to passengers. The left wing of the Batik flight was damaged in the clash and the tail of the ATR craft operated by TransNusa. The pilot of the Boeing aborted the take-off to ensure the safety of those on board. Indonesia's air travel industry is booming, with the number of domestic passengers growing significantly over the past decade, but it has a dismal air safety record and reputation for chaotic regulation. In 2013 a Lion Air jet with a rookie pilot at the controls undershot the runway and crashed into the sea in Bali, splitting the plane in two. In December the following year an AirAsia plane crash between Indonesia's second-largest city Surabaya and Singapore killed all 162 people on board.
USA, Houston: A United Airlines flight attendant pulled the emergency slide and exited a parked plane at George Bush Intercontinental Airport in Houston on Monday morning. After the Boeing 737 made a complete stop at the gate, the flight attendant opened the plane's front door, deployed the emergency slide, slid out and walked away. While the flight attendant's motive is not immediately clear, United said that they believe the action was done intentionally. The airline removed the flight attendant from her flying duties.
USA, Birmingham: The Transportation Security Administration discovered two loaded firearms in separate incidents at the Birmingham-Shuttlesworth International Airport (BHM) checkpoint Monday morning. That is in addition to two others found Saturday, 2 April. On Monday, a loaded Glock 9mm handgun was discovered in a passenger's carry-on bag and later the same day a loaded Glock 357 handgun was also discovered in a different passenger's carry on. On Saturday, a loaded Ruger .380 calibre handgun was discovered in carry-on bag, and a loaded Glock 23 .40 calibre handgun was discovered in another passenger's bag. In each incident the TSA immediately alerted local law enforcement, who took possession of the firearms and escorted the passengers out of the checkpoint area. TSA officers at BHM have now discovered a total of ten firearms at security checkpoints there so far this year. A total of 25 were found at BHM checkpoints in 2015.
USA, New York: A New York man was sentenced to federal prison for terrorizing the passengers and endangered the safety of everyone on a United Airlines flight. David Patrick Diaz, 36 was sentenced to nine months in prison and three years of supervised release. He was also ordered to pay $22,152 to United in restitution and to complete mental health and substance abuse treatment. Five minutes into the flight Diaz ran to the front of the plane, pulled on the cockpit door handle and shouted that the aircraft was not going fast enough. After three passengers and a flight attendant tackled him, he yelled that there was something in the belly of the plane and the words "jihad" and "bomb." The plane returned to Dulles, and Diaz was arrested. He pleaded guilty in January to a charge of interfering with the flight crew.
Japan, Kanoya: The wreckage of an Air Self-Defence Force British Aerospace U-125 carrying six people that went missing Wednesday was found on a mountain in south-western Japan on Thursday. A earlier announcement stated that all six crew members were found near a mountain peak with no vital signs. The Air Staff Office now says only one was found with no signs of life and that remaining five are still missing. The 15-meter twin-engine jet, used for checking on the condition of air navigation facilities, disappeared from radar around 2:35 p.m. Wednesday after taking off from the Maritime Self-Defence Force's air base in the city of Kanoya, Kagoshima Prefecture.




17 APRIL 1964


Jerrie Mock completes a solo round-the-world flight and becoming the first woman to make such a journey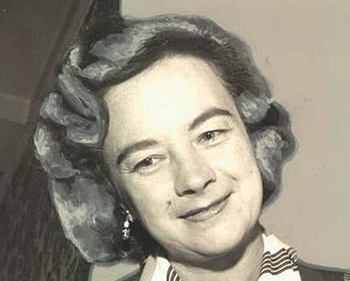 Photo George H. Cook / commons.wikimedia.org
Geraldine "Jerrie" Fredritz Mock(November 22, 1925 - September 30, 2014) was born in Newark, Ohio.
Her interest for flying was sparked when she was 7 years old when she and her father had the opportunity to fly in the cockpit of a Ford Trimotor airplane. In high school, she took an engineering course of which she was the only girl and decided flying was her passion.
She graduated from Newark High School in 1943 and went on to attend Ohio State University.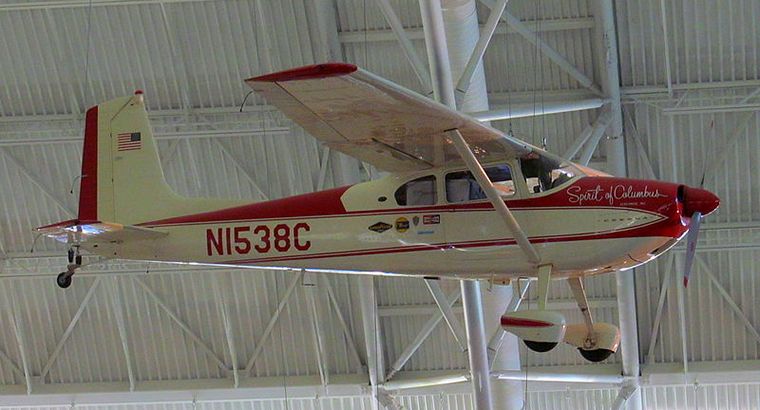 Cessna 180 Skywagon. Photo commons.wikimedia.org

Jerrie was the first woman to fly solo around the world, which she did in 1964. She flew a single engine Cessna 180 (registered N1538C) christened the "Spirit of Columbus" and nicknamed "Charlie." The trip began 19 March 1964, in Columbus, Ohio and ended 17 April 1964 in Columbus, Ohio. The journey and took 29 days, 21 stopovers and almost 22,860 miles (36,790 km) She was subsequently awarded the Louis Blériot medal from the Fédération Aéronautique Internationale in 1965.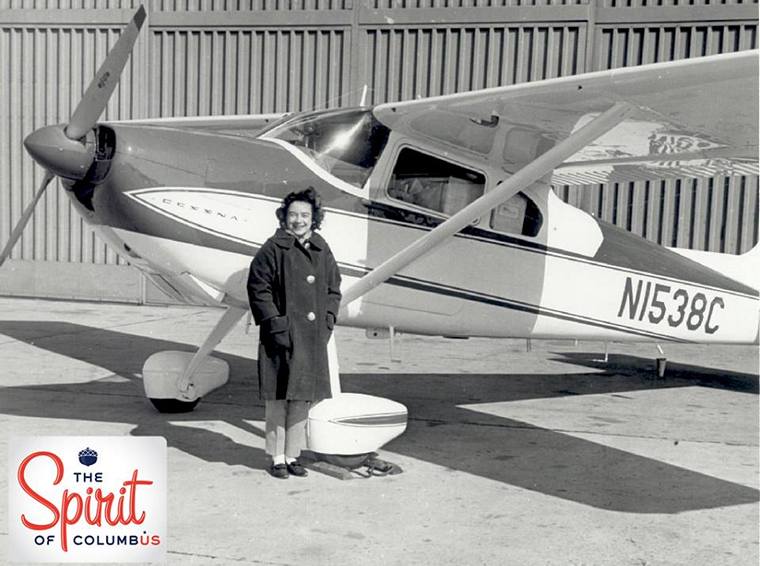 Photo © Columbus Dispatch

In 1970 she published the story of her round-the-world flight in the book Three-Eight Charlie. Three-Eight Charlie is a reference to the call sign, N1538C, of the Cessna 180 Skywagon Mock used to fly around the world.