THIS WEEK IN MIDWEEK UPDATE


Plan Your Weekend……..Forthcoming Events………Weekly Specials


Aviation News………. Worldwide Incidents and Accidents


This Week in Aviation History………Advertising Rate Card





20 -23: AERO Friedrichshafen - Germany. Contact website: www.aero-expo.com
21-24: SA Navy Festival, Simonstown.
23 April-1 May: Kroon Microlighters South Coast Fying 2016 - Annual Margate trip. Contact Dawie (082 576 2355) or Pierre 078 119 0949) for more info.

APRIL


27 - 1 May South African Skydiving Nationals at the Pretoria Skydiving Club Wonderboom Airport. Contact: Hettie Tel: 012 566 3744 Cell: 083 777 3535 E-mail:
greatfun@mweb.co.za
29 April-1 May: EAA National Convention, Mossel Bay. Contact Marie Reddy 083 259 7691 RSVP at
rsvp@eaa.org.za
Go to:
www.takingchargeevents.co.za/EAAReg.asp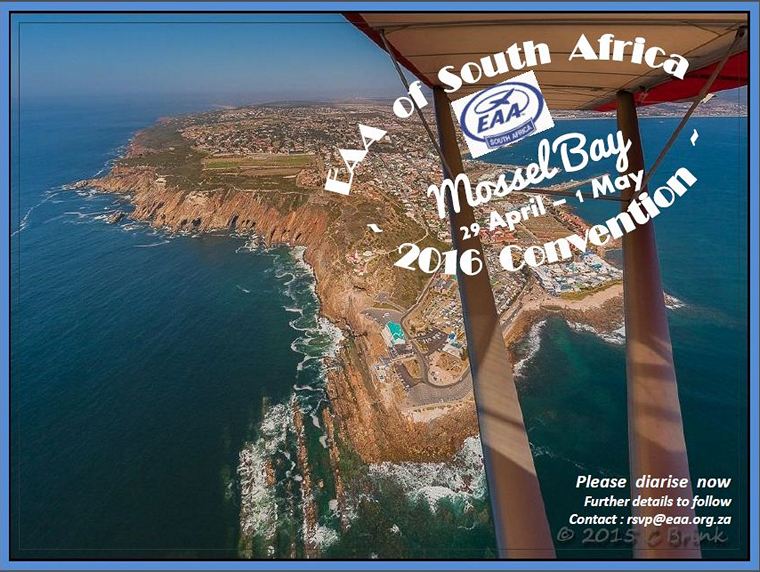 30: The MISASA Western Cape fly-in at Mossel Bay on the 30th April piggybacks on the EAA convention being held over the long weekend.
29 April-2May: Bush Air - Fly-In Barberton Airport.
CANCELLED

29-2 May: Gyro Africa Fly in. Contact Juanita Kruger 082 040 9798
MAY

1: SAAF Museum flying training and open days. Contact Capt. Kobus Kapp 012 351 2342 or E-mail:
webmaster@saafmuseum.org
4: EAA Chapter 322 monthly meeting, Dickie Fritz Moth Hall Edenvale. Contact
editor@afskies.co.za
7: SAAF Museum airshow at AFB Zwartkop. Contact Mike 'O Connor e-mail:
oc@saafmuseum.org
Tel: 012 351 2290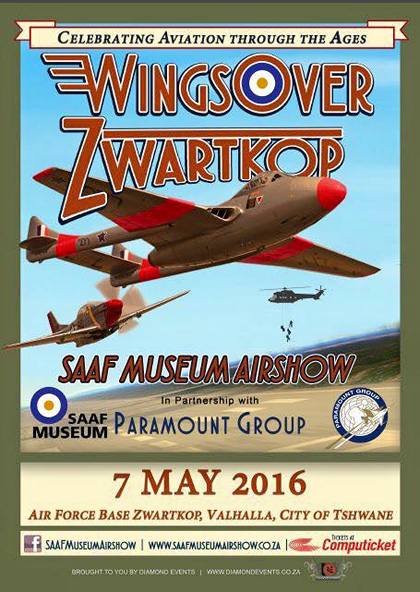 7: The Airplane Factory Breakfast Fly-in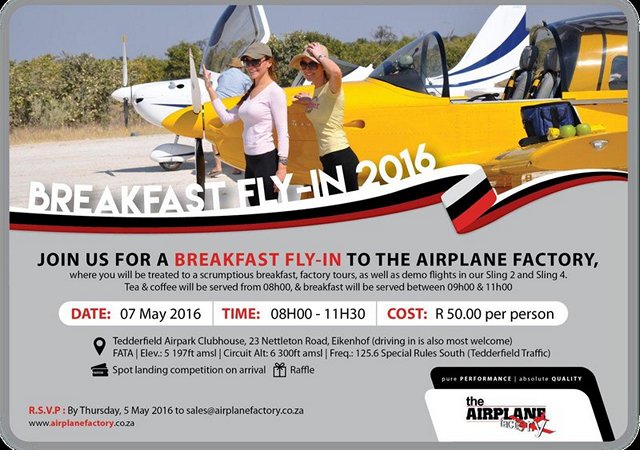 13-15: Battlefields Sports Resorts annual fly in Dundee KZN. Contact Dave O' Halloran e-mail
gm@battlefieldslodge.co.za
14: SAPFA Shelia Taylor fun rally - Krugersdorp. Contact Frank Eckard e-mail:
frank.eckard@mweb.co.za
. There will be an entry fee applicable of R250 which will go towards the purchase of your map and flight logs that requires your calculations to be made during the rally. Please forward your entries to
acr@absamail.co.za
. Entry information needed: Aircraft Type, Aircraft Reg No, Pilot Names, Contact Details and emergency contact no, Navigator Names Contact Details and emergency contact no. You may also enter directly on the SAPFA website
www.sapfa.org.za
20-21: SA Flyer mag and Doolie Lindbergh are hosting a very special Fly-in to Lindbergh Lodge, west of Klerksdorp. The fly-in will be partly in memory of Gianfrano who died in his L-39 at the Klerksdorp air show 4 years ago. The rates for this very lekker luxury lodge are hugely discounted for the weekend - go big or go cheap - but be there! Contact
guy@saflyermag.co.za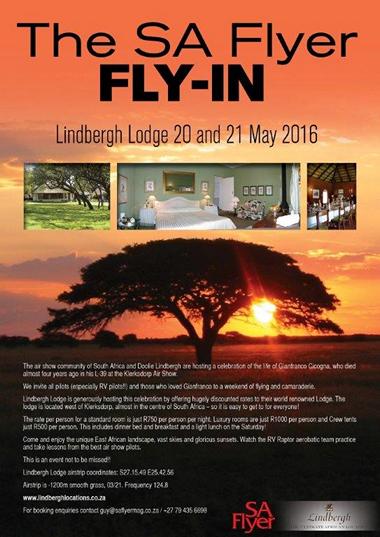 20 - 22: Vryheid wings club fly inn. Following what we believe to be an excellent fly inn last year the Vryheid wings club will be hosting another fly inn this year. FIRST 10 PILOTS who flyinn on Friday and Also on the Saturday will get free food and drinks for the whole weekend (pilots only not entire crew). All other pilots and crew will be charged R 600 for entire weekend and R 450 from the Saturday and Sunday only (fly inn day only R150). Above costs include: Camping on the irfield (ablutions are being built currently on the airfield for all who wish to camp). All food and drinks for the selected time. Shuttles to town as needed. Live entertainment for the Friday and Saturday night. Entertainment on the day. Contact: Morne Strauss
morne@lmsbrokers.co.za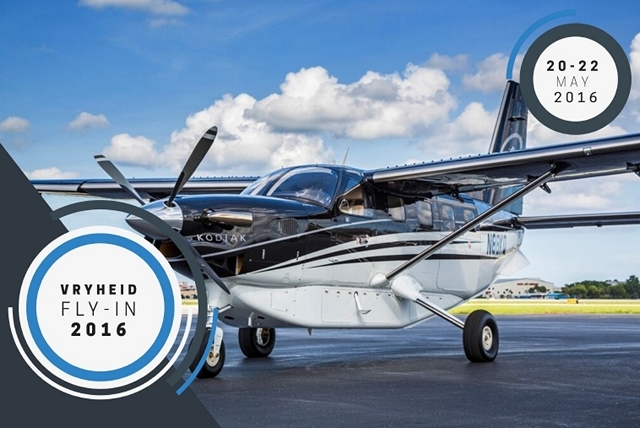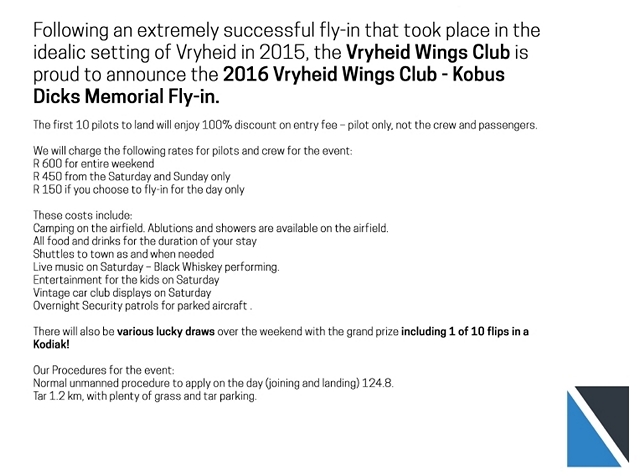 21-21: Lowveld airshow - Nelspruit. Contact Willemien Hodgkinson e-mail:
willemien.hodgkinson@ffa.co.za
25-29: Namibia-UIS / Brandberg / Save Some Rhino -fly-in, Swakopmund. Phone or mail Johan de Wet for info @ 00264 (0) 81 124 8283 or
jdewet@mweb.com.na
orHeiner Schlushe @ 00264 (0) 81 127 9100
21-22: SAC Free State regionals, Bloemfontein - New Tempe. Contact Annie Boon e-mail:
chunge@mweb.co.za
25-28: SAPFA President's Trophy Air Race hosted by the Bethlehem Aero Club. Website:
www.sapfa.org.za
e-mail:
Race@sapfa.org.za
Contact Robbie Myburgh e-mail:
roblena@mweb.co.za
Cell: 083 377 0925 or Robin Spencer-Scarr 083 310 2850 e-mail:
robin@stylegroup.com.au
.
28: Sky Grand Prix. Greyville Racecourse, Durban. Contact Paul Godwin Tel: 031 201 2169 Cell: 082 499 5222 e-mail:
mw.nerve@mweb.co.za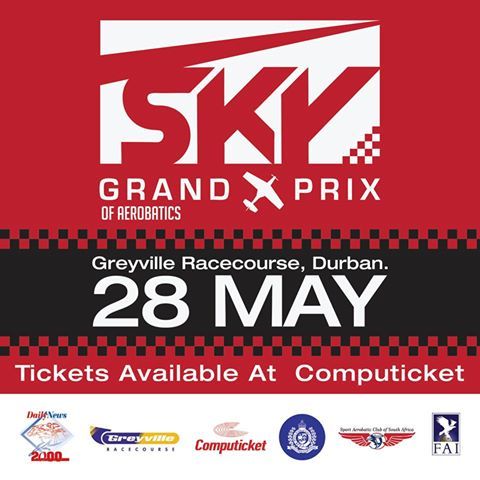 28: Botswana airshow at the Matsieng Flying Club. Contact Guillaume Knipe e-mail: gknipe@work.co.bw or Hentie de Wet e-mail:
hentie@dewetdrilling.co.bw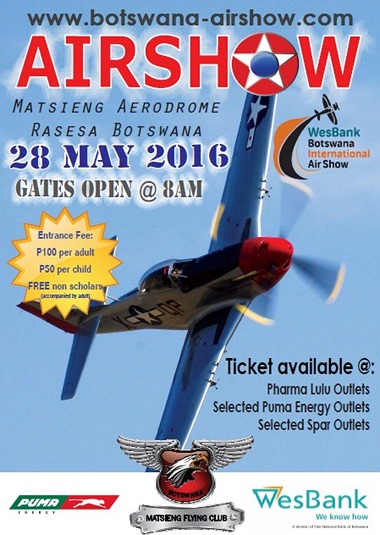 JUNE


2: EAA Chapter 322 monthly meeting, Dickie Fritz Moth Hall Edenvale. Contact
editor@afskies.co.za
4: SAAF Museum flying training and open days. Contact Capt. Kobus Kapp 012 351 2342 or E-mail:
webmaster@saafmuseum.org
4: Vintage Wings and Wheels and Magaliesburg Steam Express meet at FAKR Krugersdorp. Contact
cwatson@stithian.com
4: Newcastle airshow. Contact Johan Pieters e-mail:
info@champ.co.za
4: Kroon Airfield annual Fly-in. Our landing strip is 750m, excellent grass strip. Just to the South of the N4 highway to Rustenburg. RW 11/29 (RW29 now have NO overhead power lines.) The circuit is always to the North of the Runway, Lefthand for 11 and Righthand for 29. Freq: 124.8 (although we are South of the N4 Highway, our Circuit is to the North). Circuit Alt: 4700ft for Trikes and 4900 for fix wings. Airfield Alt: 4330ft. Lats: 25°39'33.90"S. Longs: 27°59'53.37"E
8: Aero Club's 75th AGM 14th of April 2016 at 18:30 at the Harvard Conference Centre at Rand Airport,Germiston. RSVP Sandra Strydom on e-mail to
office@aeroclub.org.za
.
9-11: provisional date ZimNavex Zimbabwe . Contact Mel Cooper e-mail:
zmelzim@gmail.com
10: Wonderboom Wings and Wheels airshow. Contact Chris Briers
chris@airteam.co.za
Cell: 082 568 7988

17-19: Memorial fly in and airshow Mafeking. Contact Connie Conradie e-mail:
info@mmafikeng-flyingclub.co.za
28 -29: Aviation Festival Africa Sandton Convention Centre Johannesburg. Contact Bianca Wiener e-mail:
bianca.wiener@terrapinn.com
30 June-3 July: Race of Champions at Kubu Island Botswana. Contact Chris Briers
chris@airteam.co.za
Cell: 082 568 7988.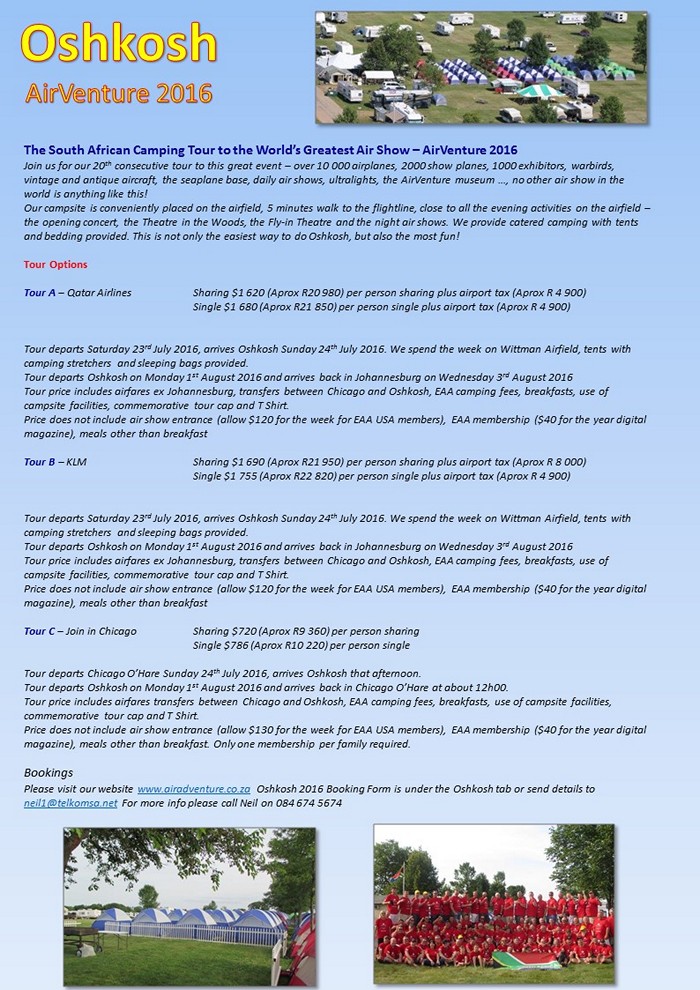 Go to: www.airadventure.co.za Contact: neil1@telkomsa.net






STOL CH 750 OFFERED AS READY-TO-FLY LSA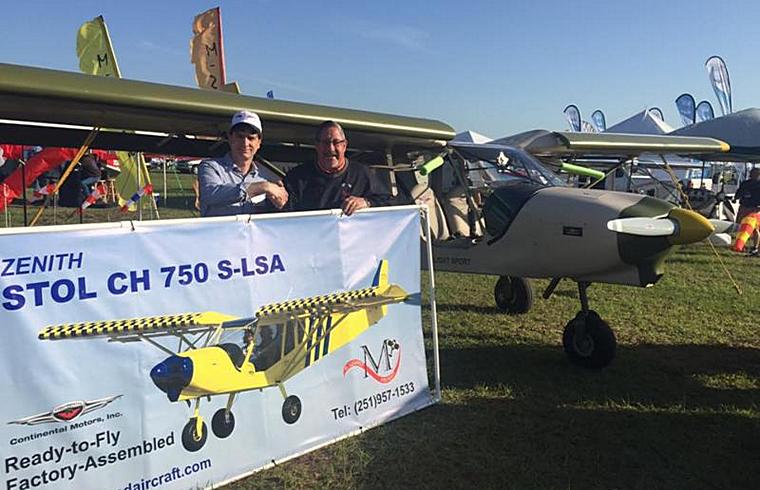 Photo © Zenith

In a joint statement, Zenair Ltd. of Midland, Ontario (Canada) and M-Squared Aircraft of St. Elmo, Alabama, have announced that production of the ready-to-fly Zenith STOL CH 750 Light Sport (LS) aircraft will resume!
This is welcoming news to fans of the popular STOL (short take-off and landing) design that don't have the time or inclination to build their own kit version of the airplane. The Zenith STOL CH 750 was originally offered as a factory-built S-LSA a number of years ago and we are excited to offer it again!
Here's how it will work! Finishing of the STOL airplane will take place at M-Squared facilities in St. Elmo, Alabama (near Mobile Bay and the Gulf of Mexico) from assemblies manufactured by Zenair Ltd.
Paul Mather, founder and CEO of M-Squared, is excited about adding the all-aluminium LSA design to his company's current line of "tube & fabric" light aircraft designs:
"We have always been impressed by this innovative STOL designs. As an established LSA manufacturer, M-Squared is ideally positioned and equipped to produce the popular Light Sport CH 750. We plan to deliver the first new Zenith S-LSA's this spring!"
Designed by Aeronautical Engineer, Chris Heintz, a pioneer in the kit and LSA industries, the Zenith STOL CH 750 is an all-metal; two-seat aircraft optimized for off-airport operations and STOL performances. The Zenith STOL CH 750 is one of the rare Light Sport Aircraft powered by the 100 hp Continental O-200 engine (which is also produced in southern Alabama). Equipped with full-span leading-edge slats, the roomy STOL design boosts take-off distances of just 100 feet.
Zenith Aircraft Company manufactures complete kits for the Heintz designs, including the Zenith STOL CH 750, and will continue to manufacture and market the aircraft in kit form in Mexico, Missouri.
With the experience and resources of both Zenair Ltd. and M-Squared Aircraft, the Zenith STOL CH 750 will be backed by well-developed LSA-compliant design/engineering offices, long-established LSA-compliant manufacturing facilities, excellent quality-control and flight-testing programs, and experienced on-going airworthiness support!



FIRST JET AIRCRAFT TO LAND AT ST HELENA AIRPORT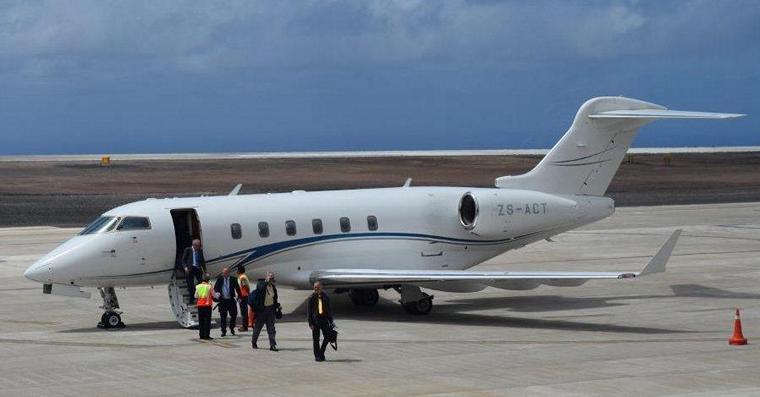 Photo © St Helena

A Bombardier Challenger 300 business jet landed at St Helena Airport, Sunday 10 April 2016, at around 11.20am - the first ever jet aircraft to land at St Helena Airport (HLE).
The business jet was chartered by Air Safety Support International (ASSI) to bring its team of five personnel to St Helena to assess St Helena Airport.
The flight departed from Lanseria Airport in Johannesburg on Sunday morning 10 April, calling at Walvis Bay, Namibia, for refuelling and a weather update
On board the aircraft were three pilots and eight passengers connected to the Airport project - including DFID Airport Project Manager, Nigel Kirby, and Certification Manager, Alan Shaw. The ASSI team will be led by Senior Aerodrome Inspector, Justin Rothwell, who first visited St Helena last year.
From Monday 11 April 2016, the ASSI team will undertake its key on-site audit as part of the certification process. The Bombardier jet will conduct several flights during the visit for Air Traffic Control and other purposes.
It is expected that the aircraft will depart St Helena on Friday 15 April 2016, at around 08.30hrs.
The ASSI team will return to the UK, prior to issuing their formal response regarding certification of St Helena Airport.
RARE MARTIN MARS FLYING BOAT TO PARK ON LAKE WINNEBAGO, FLY AIR SHOW DEMONSTRATIONS DURING OSHKOSH 2016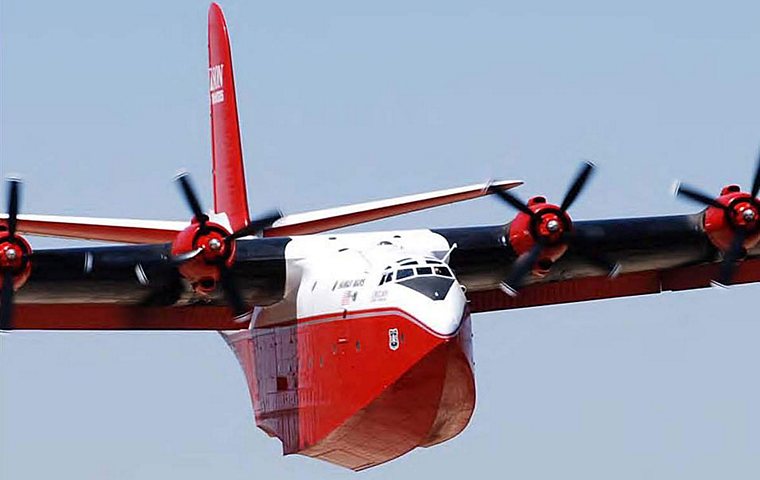 Photos © EAA AirVenture


The gigantic Martin Mars aircraft, the world's largest flying water bomber and the last of its kind, will make its first trip to Wisconsin to participate at EAA AirVenture Oshkosh 2016.
EAA AirVenture Oshkosh 2016, the 64th annual Experimental Aircraft Association fly-in convention, will be July 25-31 at Wittman Regional Airport in Oshkosh, Wisconsin. During the event, the massive airplane will be parked near the EAA Seaplane Base on Lake Winnebago, just a few miles east of the main fly-in grounds. It will also fly several demonstrations throughout the week during the daily afternoon air shows.
The Martin Mars is the largest flying boat ever flown operationally, with a height of 38 feet, a length of 120 feet, and a wingspan of 200 feet (approximately the wingspan of a Boeing 747). Only six of the massive aircraft were built, with Coulson Flying Tankers of Port Alberni, British Columbia, owning the two remaining examples since 2007 and using them as water bombers on forest fires throughout the western United States, Canada, and Mexico.
"There aren't many airplanes that have never been to Oshkosh, but this is one of them, so this is both literally and figuratively a huge addition to this year's line-up," said Rick Larsen, EAA's vice president of communities and member programs who coordinate features and attractions at AirVenture. "Among flying boats, only the legendary Spruce Goose is bigger, but the Martin Mars is the largest ever to be operational on a regular basis."
The Martin Mars was originally built as a long-range U.S. Navy troop and freight transport to fly between the continental U.S. and Hawaii, and first flew in 1942. The conversion to water bombers gave the aircraft the ability to carry as much as 7,200 gallons of water, enough to cover 4 acres of land in a single pass. When picking up water, the Mars can ingest more than a ton of water per second as it skims across a waterway.
"This is the last flying Mars in the world and the largest warbird ever built," said Wayne Coulson, chief executive officer of Coulson Flying Tankers. "There isn't a better aviator's venue than EAA AirVenture, so it's an honour to be part of this world-class event. We're very excited to bring the Hawaii Mars to Oshkosh as we look for new opportunities and host potential clients, as well as showcase this magnificent airplane's capabilities."
As the Martin Mars is a true flying boat, it cannot land at Wittman Regional Airport and will instead land on Lake Winnebago. The exact arrival and air show demonstration dates will be announced as they are finalized.
AIRBUS HELICOPTERS-TEAMING UP IN AFRICA

About 600 Airbus Helicopters rotorcraft are in service throughout Africa. To provide the best support for their customers, the company is partnering local players and offers unique services.

Photos © Airbus


Not everyone is aware of Africa's real dimensions. On a map it appears to be the same size as Greenland, but in reality it is 14 times bigger. Or, to make it even easier to envision: Africa is as big as the USA, China, India, Japan and Europe - combined. The sheer size of the continent is one of the reasons why it requires a clever approach for a company like Airbus Helicopters to provide support and services - such as maintenance or delivery of spare parts - to all of its customers in Africa.
"In order to cope with this challenge, we are entering into partnerships with local players," explains Gerard FRANCHINI, Airbus Helicopters Sales Director for Africa. "They can provide certain services faster than we could from our sites in Europe." The latest partnership: NHV in Ghana received a service centre certificate which enables the company to offer a complete range of technical services and operational support to other Airbus Helicopters operators in the region. The Belgian operator specializes in aviation services and has a branch in Ghana, where it operates AS365 N3 Dauphin helicopters to transport crew and freight to oil platforms. "Due to their knowledge of our helicopters in the oil and gas industry, NHV is the perfect choice to give the best services to other African customers in the region," says Franchini.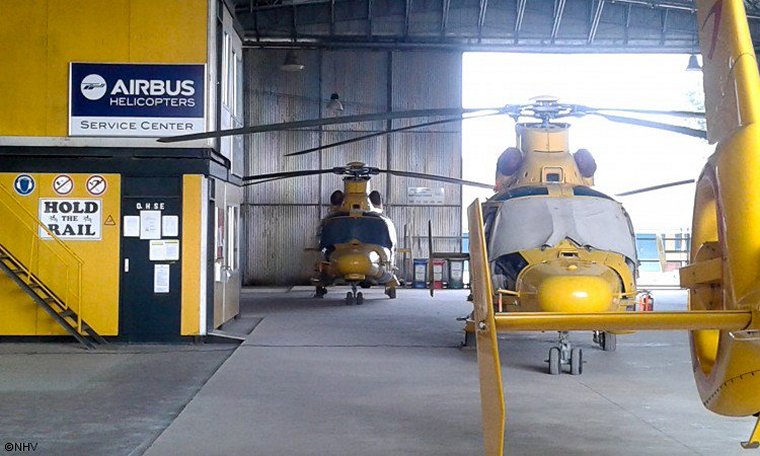 Koen Neven, CEO at NHV Ghana, explains why the certificate has a high value for his company: "It's reassuring for our customers that we can cope with the high standard levels from Airbus Helicopters." In order to make sure that customers get the exact same level of service as they would from Airbus Helicopters, the partner companies have to pass two extensive audits to obtain certification, as well as one every year to retain it. Following the same principle, there are also maintenance centres in the Ivory Coast (IAS) operating Alouettes, AS350 ecureuil, AS365 Dauphin helicopters and Tunisia (Tunisavia) operating AS365 N2 and N3 Dauphin helicopters, which also provide services for Airbus Helicopters customers in neighbouring countries.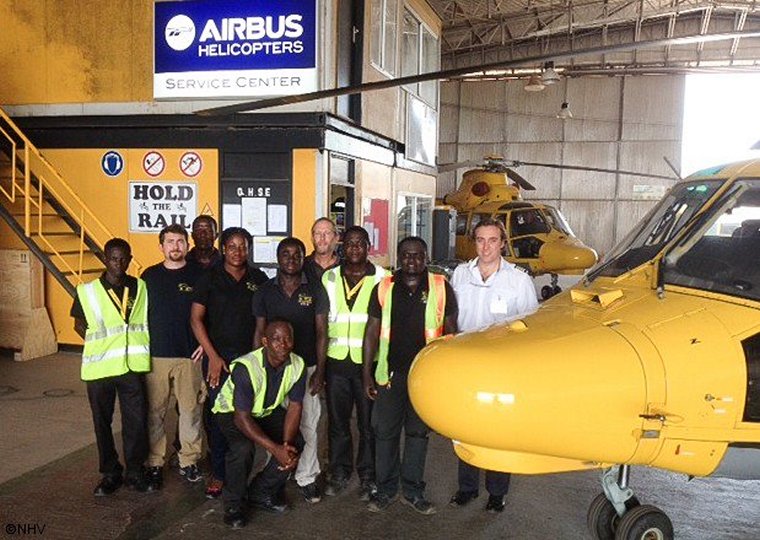 Further south, the vast continent is covered by Airbus Helicopters Southern Africa (AHZA), which supports over 250 helicopters in service with more than 60 operators. "The territory we cover comprises 20 countries," explains AHZA CEO, Arnaud Montalvo. He explains that several measures have been taken in order to improve turnaround time and availability of parts and components in the huge region, in which some customers are located in remote areas. These actions comprise, for example, the implementation of an electronic log book, which makes the exchange of real time fleet status information quicker and more accurate, thereby improving forecasts for spare parts and maintenance. A forecast system has also been implemented, to anticipate the need for parts up to 18 months in advance. In terms of training, AHZA partners with local organizations to train air crew, engineers and technicians. Furthermore, the company also operates Africa's only full-motion Super Puma flight simulator, located near Johannesburg. AHZA is also deploying an H125 FNPTII flight simulator at its Grand Central facility, with a clear objective of enhancing safety and mission training in the region while maintaining affordable training costs.
No matter where its clients are located, Airbus Helicopters offers one service that no other manufacturer in the business offers: "We have a team of technical representatives ready to fly to any customer in Africa in order to bring assistance when a problem requires immediate action," explains Franchini. The only thing the customer has to do is call and the technicians come to the customer's facility. "So, even though Airbus Helicopters can't be present in all 54 African countries, we're covering the continent in the best way possible."


PAPUA NEW GUINEA DEFENCE FORCE SIGNS DEAL FOR SIX NEW PAC AIRCRAFT

Photos © PAC



The Papua New Guinea Defence Force and Central Supply Tenders Board(CSTB) signed an agreement on Monday Feb 23 for the acquisition of a new aircraft that will be purchased and brought over from New Zealand. In total there will be six aircrafts purchased under this contract arrangement over duration of five years. The agreement will also see training facilitated by Pacific Aerospace to also cover training of pilots and ground crew for the new acquired planes.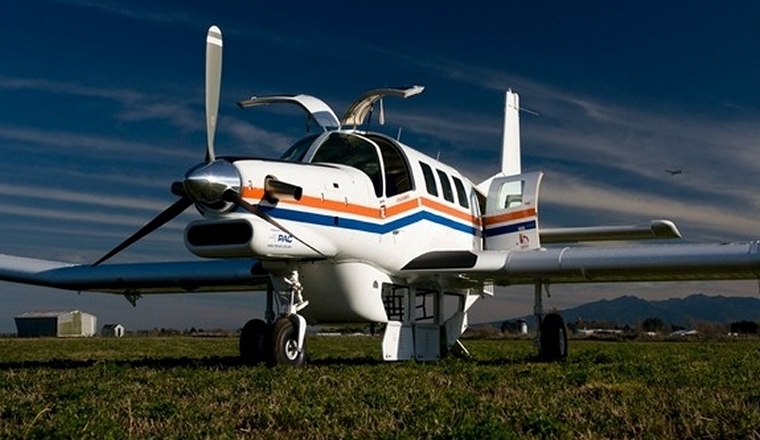 PAC 750

CEO of Pacific Aerospace Damian Camp says the training will take place in Hamilton, New Zealand and will cover basic flight and maintenance requirements of the two types of planes. In total there will be four PAC 750 planes and two CT 4 military trainer planes bought over under the package. The PNGDF Commander Gilbert Toropo, when signing the agreement said that those planes will be very useful for PNGDF to assist with defence call out requirements.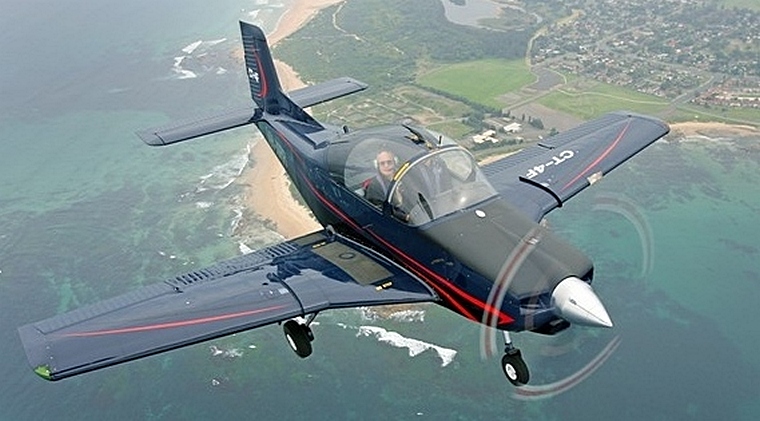 PAC CT4

He says the PAC 750 would be exceptional to land on our rugged short landing strips around the country. Toropo says that this agreement is a real boost to the capability needs of the air element in the PNGDF. Meanwhile, the first three air element officers have already been screened and are set to go down to New Zealand to begin training.
While the initial PAC 750 plane is set to be in the country before the end of the year.

BOEING, ARMY TO REMANUFACTURE 117 HELICOPTERS

Photo © Boeing


The AH-64E Apache continues to provide U.S. Army soldiers and allied defence forces with capabilities to meet combat and peacekeeping requirements with extended range sensors and weapons, off-board sensors and increased aircraft performance. Photo © Boeing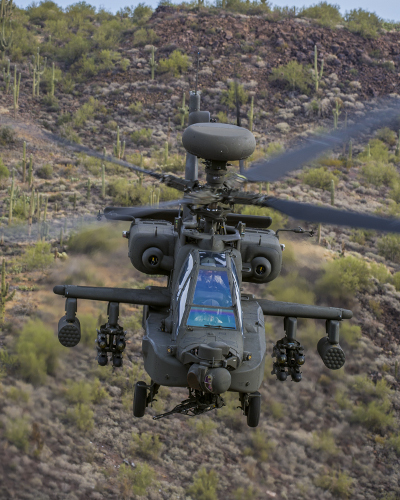 Boeing [NYSE:BA] continues its role as the United States' leading provider of attack helicopters with a contract to remanufacture 117 AH-64D Apaches to the new, more capable AH-64E model. The agreement, which also includes the acquisition of Longbow Crew Trainers, logistical support and spares, carries a total contract value of about $1.5 billion.
The U.S. Army has stated it plans to acquire 690 AH-64E Apaches, 290 of which are now under contract with this latest award.
"The AH-64E Apache continues to meet the requirements of aviators, battlefield commanders and soldiers deployed on missions worldwide," said U.S. Army Apache Project Manager, Col. Jeff Hager. "The Army, Boeing and Team Apache suppliers continue a valuable collaboration that ensures soldiers have the latest technologies to succeed in defending freedom with this outstanding weapons system."
"With our integrated production, services and training teams, Boeing is able to affordably support the Army through each phase of the Apache's lifecycle," said Kim Smith, vice president, Attack Helicopter Programs, Boeing Vertical Lift. "The dedication and commitment to first-time quality by Boeing teammates and suppliers combine to deliver an Apache that is ready to meet the rigorous demands of the men and women who depend on it."
The agreement modifies an existing contact among Boeing and the Army for the full-rate production of lots 5 and 6 Apache helicopters. The Army will return 117 AH-64D Apaches to Boeing's Mesa, Ariz. production centre to be remanufactured into the AH-64E configuration. The Army followed a similar model when the AH-64A Apaches were remanufactured into AH-64Ds.



SOLAR IMPULSE READY TO RESUME FIRST ROUND-THE-WORLD SOLAR FLIGHT FROM HAWAII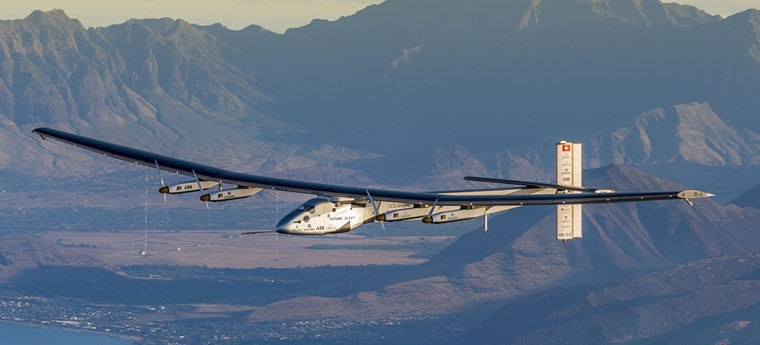 Photo © Solar Impulse

Swiss pioneers Bertrand Piccard and André Borschberg are ready to resume their attempt to achieve the first ever Round-The-World Solar Flight with Solar Impulse 2 (Si2) - the first solar airplane capable of flying day and night without using a drop of fuel. After replacing overheated batteries and running maintenance flights, the team is now re-entering "mission mode", and as of tomorrow, will identify the first favourable window for Bertrand Piccard to fly toward North America, despite the current difficult weather conditions. The goal of this entire endeavour is to demonstrate how modern clean technologies can achieve the impossible.
On 3 July 2015, Si2 landed in Hawaii after a record breaking flight of five days and nights (117 hours and 52 minutes) and around 8'900km from Japan, accomplished by André Borschberg. During this flight, the airplane suffered battery damage due to overheating which led to an unforeseen pause in the adventure - it was going to take the team more time to replace the batteries than the remaining time left before the end of the season with long enough days, and short enough nights, to continue the Round-The-World Flight.
"As we experienced many times with Solar Impulse, obstacles often turn out to be opportunities for improvement," explained André Borschberg, CEO and Co-Founder. "Ultimately, this time was used to recreate the strong mind set within the team to continue our adventure. It takes sometimes more time to build up the right spirit then to develop new technologies."
Solar Impulse was fortunate to find a shelter to protect the airplane during the winter on Kalaeloa airport, thanks to the University of Hawaii, the Honolulu Community College and the Department of Transportation, and received valuable support from many people and institutions, such as the Governor of Hawaii, the authorities of Kalaeloa and Honolulu airports, and the Swiss Consulate.
Between late February and mid-April 2016, Si2 accomplished a total of 13 flights. Maintenance flights, carried out by Solar Impulse's test pilot, confirmed the good performance of the aircraft and proper functioning of the newly integrated cooling system, installed to safeguard the batteries from temperature-related glitches. They were followed by a series of training flights completed by both pilots: André Borschberg and Bertrand Piccard, including a high altitude flight, in order to prepare for the remainder of the Pacific crossing (watch the video here).
"An airplane with perpetual flight endurance, without fuel, like the Solar Impulse is not only a first in the history of aviation, but also in the history of energy," emphasized Bertrand Piccard, Initiator and Chairman of the project. "The primary purpose of this adventure is to demonstrate that modern clean technologies can achieve the impossible and encourage everyone to use these same energy efficient solutions on the ground in their daily lives for mobility, construction, lighting, heating, cooling and more."
When the weather is right, Si2 will resume its Round-The-World Solar Flight and take off for North America with Bertrand Piccard at the controls. The team is examining four potential destinations: Phoenix, the San Francisco area, Los Angeles and Vancouver. Based on the learnings of 2015, the decision was made to expand the range of potential destinations to leave a maximum flexibility for route planning. The final landing place will be chosen a couple of days before departure depending on the weather conditions. The mission will then continue onward to New York, Europe or North Africa and Abu Dhabi where it all started.
CARTER AVIATION ANNOUNCES RECORD BREAKING CARTERCOPTER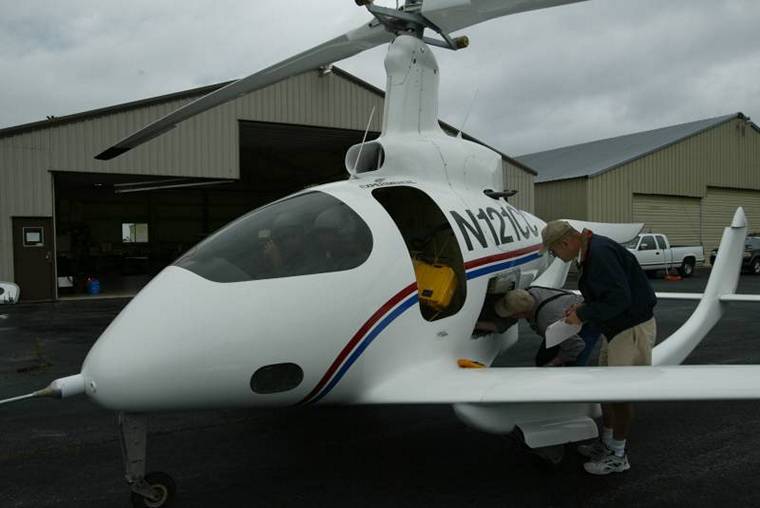 Photo © CarterCopter



Carter Aviation Technologies, LLC (Carter) is moving forward with securing partners to begin production of CarterCopters at a variety of size classes. In the meantime, Carter has developed a configuration that can break the rotorcraft world records for speed, range, and altitude records that have been unbroken for half a century.
"We had this concept on the boards for several years and decided it was time to move forward," explained Jay Carter. "We expect to achieve speeds in excess of 400 kts, distances greater than 2,000 nm, and altitudes of over 50,000 ft." To achieve this performance, Carter will employ two Honeywell TFE731-20 turbofans coupled with its Slowed Rotor / Compound (SR/C™) technologies. The installed power from these turbofans will also give the aircraft the ability to break the time to climb record for rotorcraft.
This configuration will make an ideal VTOL Business Jet that could provide point to point transportation for up to 6 passengers and cruise at 400+ kts for up to 2,000 miles. Carter envisions this aircraft once demonstrated will open up other possibilities for other variants both larger and smaller with different mission profiles - downtown city to city transportation, point to point cargo and humanitarian support for developed as well as undeveloped countries, Medevac, UAVs, diesel powered SR/C aircraft driving Carter scimitar props for extreme efficiencies, etc.
"Our slowed rotor technology allows the aircraft to fly at 525 mph (450 kts) without the rotor advancing tip speed exceeding Mach 0.95," pronounces Jay. "The slowed rotor (no variable speed transmission required) reduces the rotational drag so dramatically that the rotor drag becomes only about 10% of the total aircraft drag - basically a function of the rotor wetted area." This drag reduction is a function of the rpm ratio cubed dropping the rotor rpm from 300 to 100 reduces the rotational drag by a factor of 27.
Carter intends to demonstrate not only record breaking performance, but also continue to demonstrate other critical features such as unparalleled safety with an auto-rotating high inertia rotor that acts as a built in parachute that can operate at any altitude or speed and extremely quiet cruise flight performance, something lacking at various levels in today's conventional rotorcraft fleet.
"Everyone likes the idea of high speed and long range with exceptional cruise efficiencies, but one of the little known features of a CarterCopter is ride quality in cruise flight," described Jay. "With a tall tilting mast supported with flexible supports, the rotor loads are essentially isolated from the fuselage. What this means to the crew and passengers is a jet smooth ride, which is dramatically improved over today's helicopters." Carter is now formulating business plans to secure partners and assemble a team to complete the detailed design, fabrication, and ultimately the record breaking demonstration of this exciting new CarterCopter configuration.

USA, Key West: An American Airlines Embraer 175 jet, carrying 67 crew and passengers was forced to return to Key West International Airport Sunday shortly after take-off because it collided with a bird causing the plane to lose power in an engine.
USA, Denver: Experienced Jetpack pilot with more than 400 flights crashed during a test flight of a unit he had just modified. Macomber, was hovering about 20 feet off the ground when the jet pack malfunctioned. Macomber, who landed on his knees suffered a broken jaw, burns on his arms and legs, an ankle injury, and other injuries requiring 27 stitches. The crash was apparently a control issue problem as the thrust was switched on when he hit the ground.
Poland, Billund: A Turkish Corendon Airlines Boeing 737-800 bound for Antalya, Turkey suffered a tail-strike on departure from Billund. It seems as if the crew was unaware of the strike as they did not return to the airport but proceeded to follow its course to Turkey. Some 1h 20min into the flight, in the vicinity of the Polish-Slovakian border, the crew chose to turn north and divert to Warsaw. Initial inspection of the jet's 11-year old airframe, revealed damage consistent with a tail-strike on departure. HCL has not explained what prompted the diversion to Warsaw. Turkish investigators have started an inquiry supported by the Danish authority.
China, Beijing: An angry Chinese plane passenger who threw water over two flight attendants after one of the attendants' spilt juice on him has been jailed. The attendants, according to reports, were pushing a food trolley down the narrow aisle and serving drinks when one accidentally spilt juice onto Shen. They immediately apologised and offered him serviettes to help dry up. The passenger then demanded a written apology. When he received no apology, he picked up several cups of water and threw the water.
UK, London: An Airbus A320 with 132 passengers and five crew members on board drone apparently hit a drone whilst on approach to London's Heathrow Airport. After the plane landed safely at Heathrow, authorities said they believe a drone struck the front of the aircraft. Drones flying too close to commercial flights pose a serious threat to larger aircraft, and can be sucked into the engine or crash into the cockpit window, injuring or killing a pilot.




26 APRIL 26 1896

Birth of Ernst Udet, WWI pilot, film actor and Luftwaffe officer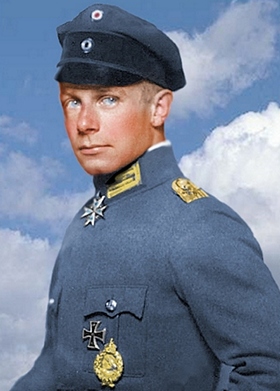 Colonel General Ernst Udet (26 April 1896 - 17 November 1941) was the second-highest scoring German flying ace of World War I. He was one of the youngest aces and was the highest scoring German ace to survive the war (at the age of 22). His 62 victories were second only to Manfred von Richthofen, his commander in the Flying Circus and later under Hermann Göring.
Born in Frankfurt am Main, Udet was known from early childhood for his sunny temperament. He grew up in the Bavarian city of Munich. He was fascinated with aviation from early childhood and hung out at a nearby airplane factory and an army airship detachment. In 1909, he helped found the Munich Aero-Club. After crashing a glider he and a friend constructed, he finally flew in 1913 with a test pilot in the nearby Otto Works, which he often visited.
However, he learned that if he were a trained pilot, he would be immediately accepted into army aviation. Through a family friend, Gustav Otto, owner of the aircraft factory he had haunted in his youth, Udet received private flight training. This cost him 2,000 marks (about $400 in 1915 U.S. dollars) plus some new bathroom equipment from his father's firm. Udet received his civilian pilot's license at the end of April 1915 and immediately was accepted by the German Army Air Service.

Fokker DIII. Photo marinplanes.8m.com commons.wikimedia.org

Udet was assigned a new Fokker to fly to his new fighter unit, FFA 68,at Habsheim. Mechanically defective, the plane crashed into a hangar when he took off. He then was given an older Fokker to fly. His first aerial combat was a near disaster. Lining up on a French Caudron, he found he could not bring himself to fire on another person and was subsequently fired on by the Frenchman. A bullet grazed his cheek and smashed his goggles.[1][2] From then on, Udet learned to attack aggressively and began scoring victories, downing his first French opponent on 18 March 1916
Udet's success attracted attention for his skill, earning him an invitation to join the "Flying Circus", Jagdgeschwader 1 (JG 1), an elite unit of German fighter aces under the command of the famed Red Baron Manfred von Richthofen. Richthofen drove up one day as Udet was trying to pitch a tent in Flanders in the rain. Pointing out that Udet had 20 kills, Richthofen said, "Then you would actually seem ripe for us. Would you like to?" Of course, Udet would.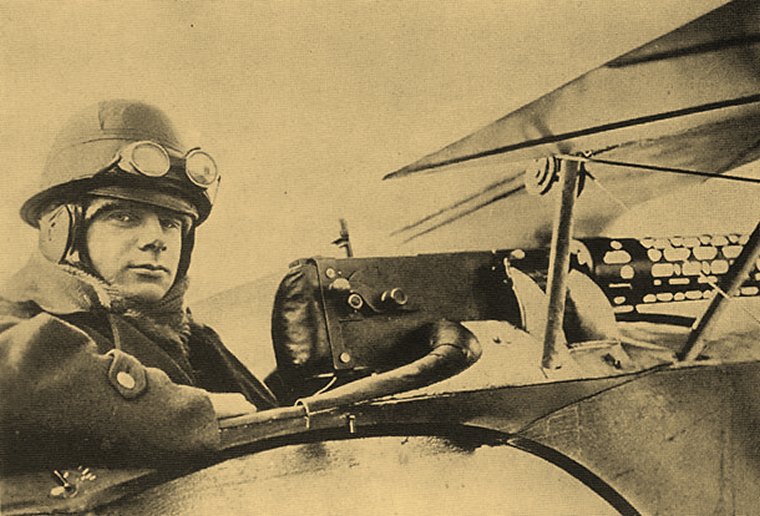 With 62 victories, Ernst Udet was the second-highest-scoring German ace of WW1. Photo commons.wikimedia.org

Following Germany's defeat, Udet spent the 1920s and early 1930s as a stunt pilot, international barnstormer, light aircraft manufacturer, and playboy. In 1933, he joined the now ruling Nazi Party and became involved in the early development of the Luftwaffe. He used his networking skills to become appointed director of research and development for the burgeoning air force.
Though not interested in politics, Udet joined the Nazi party in 1933 when Göring promised to buy him two new U.S.-built Curtiss Hawk II biplanes (export designation of the F11C-2 Goshawk Helldiver). The planes were used for evaluation purposes and thus indirectly influenced the German idea of dive bombing aeroplanes, such as the Junkers Ju 87 (Stuka) dive bombers.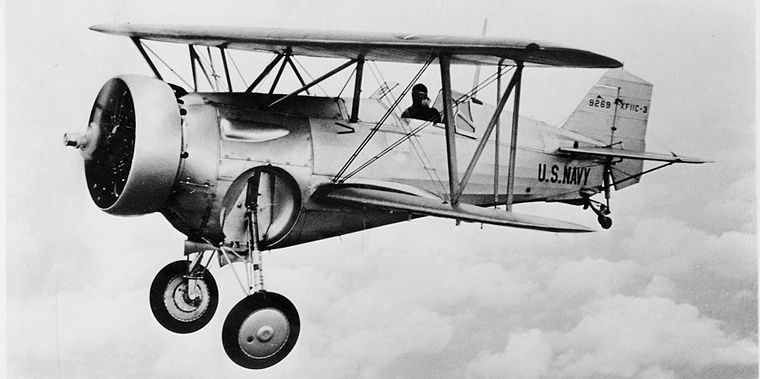 F11C-2 Goshawk. Photo Jinxs commons.wikimedia.org

In April and May 1941 Udet led a German delegation inspecting Soviet aviation industry in accordance with the Molotov-Ribbentrop Pact. Udet informed Göring that the Soviet air force and aviation industry were very strong and technically advanced. Göring decided not to report this to Hitler, hoping that a surprise attack would quickly destroy Russia. Udet realized that the upcoming war on Russia might destroy Germany. He tried to explain this to Hitler but, torn between truth and loyalty, suffered a psychological breakdown. On 17 November 1941 Udet committed suicide, shooting himself in the head while on the phone with his girlfriend.