THIS WEEK IN MIDWEEK UPDATE


Plan Your Weekend……..Forthcoming Events………Weekly Specials


Notice Board……..Aviation News………. Worldwide Incidents and Accidents


This Week in Aviation History………Advertising Rate Card





27 April - 1 May South African Skydiving Nationals at the Pretoria Skydiving Club Wonderboom Airport. Contact: Hettie Tel: 012 566 3744 Cell: 083 777 3535 E-mail:
greatfun@mweb.co.za
29 April-1 May: EAA National Convention, Mossel Bay. Contact Marie Reddy 083 259 7691 RSVP at
rsvp@eaa.org.za
Go to:
www.takingchargeevents.co.za/EAAReg.asp
30: The MISASA Western Cape fly-in at Mossel Bay on the 30th April piggybacks on the EAA convention being held over the long weekend.
29 April-2May: Bush Air - Fly-In Barberton Airport. CANCELLED
29-2 May: Gyro Africa Fly in. Contact Juanita Kruger 082 040 9798

MAY

1: SAAF Museum flying training and open days. Contact Capt. Kobus Kapp 012 351 2342 or E-mail:
webmaster@saafmuseum.org
4: EAA Chapter 322 monthly meeting, Dickie Fritz Moth Hall Edenvale. Contact
editor@afskies.co.za
7: SAAF Museum airshow at AFB Zwartkop. Contact Mike 'O Connor e-mail:
oc@saafmuseum.org
Tel: 012 351 2290
7: The Airplane Factory Breakfast Fly-in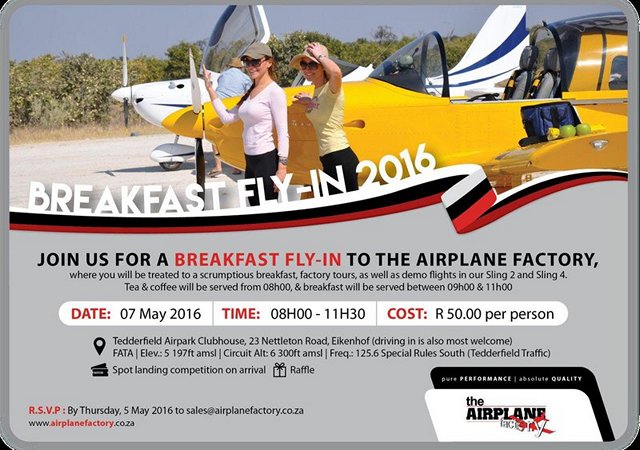 13-15: Battlefields Sports Resorts annual fly in Dundee KZN. Contact Dave O' Halloran e-mail
gm@battlefieldslodge.co.za
14: SAPFA Shelia Taylor fun rally - Krugersdorp. Contact Frank Eckard e-mail:
frank.eckard@mweb.co.za
. There will be an entry fee applicable of R250 which will go towards the purchase of your map and flight logs that requires your calculations to be made during the rally. Please forward your entries to
acr@absamail.co.za
. Entry information needed: Aircraft Type, Aircraft Reg No, Pilot Names, Contact Details and emergency contact no, Navigator Names Contact Details and emergency contact no. You may also enter directly on the SAPFA website
www.sapfa.org.za
16 - 20: Aero Club Safety Campaign: Tuesday 17 May Stellenbosch Flying Club evening, Wednesday 18 May Morning Star Flying Club evening, Thursday 19 May One of the Flight Schools in George daytime, Thursday 19 May AIFA Oudtshoorn evening.
20-21: SA Flyer mag and Doolie Lindbergh are hosting a very special Fly-in to Lindbergh Lodge, west of Klerksdorp. The fly-in will be partly in memory of Gianfrano who died in his L-39 at the Klerksdorp air show 4 years ago. The rates for this very lekker luxury lodge are hugely discounted for the weekend - go big or go cheap - but be there! Contact
guy@saflyermag.co.za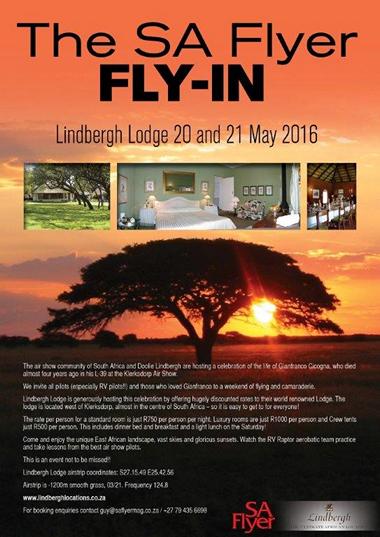 20 - 22: Vryheid wings club fly inn. Following what we believe to be an excellent fly inn last year the Vryheid wings club will be hosting another fly inn this year. FIRST 10 PILOTS who flyinn on Friday and Also on the Saturday will get free food and drinks for the whole weekend (pilots only not entire crew). All other pilots and crew will be charged R 600 for entire weekend and R 450 from the Saturday and Sunday only (fly inn day only R150). Above costs include: Camping on the irfield (ablutions are being built currently on the airfield for all who wish to camp). All food and drinks for the selected time. Shuttles to town as needed. Live entertainment for the Friday and Saturday night. Entertainment on the day. Contact: Morne Strauss
morne@lmsbrokers.co.za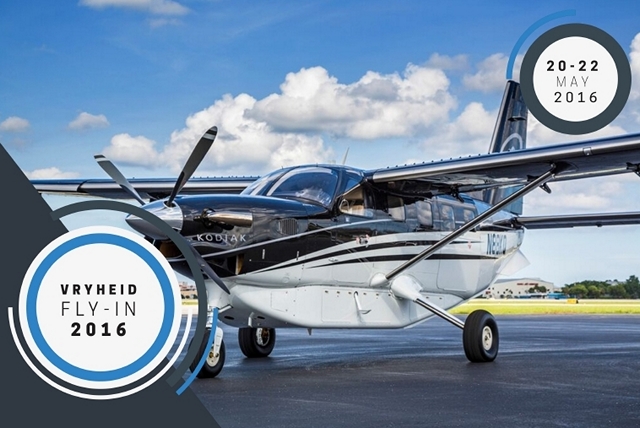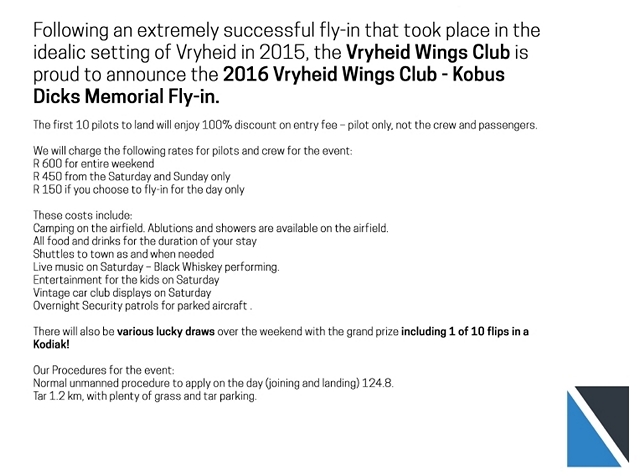 21-21: Lowveld airshow - Nelspruit. Contact Willemien Hodgkinson e-mail:
willemien.hodgkinson@ffa.co.za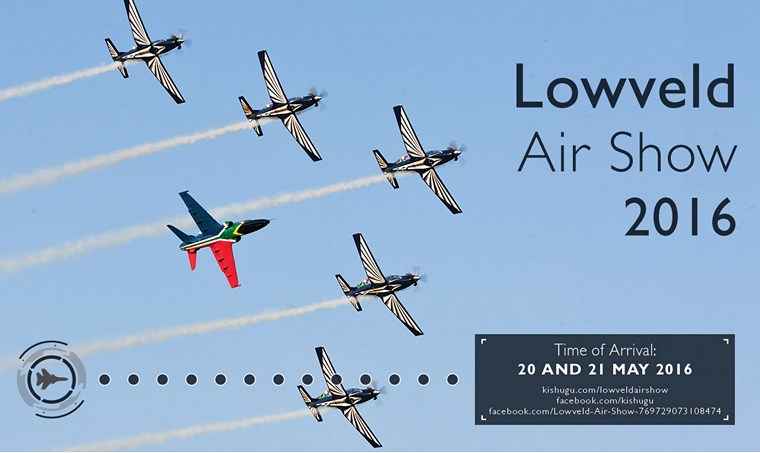 25-29: Namibia-UIS / Brandberg / Save Some Rhino -fly-in, Swakopmund. Phone or mail Johan de Wet for info @ 00264 (0) 81 124 8283 or
jdewet@mweb.com.na
orHeiner Schlushe @ 00264 (0) 81 127 9100
21-22: SAC Free State regionals, Bloemfontein - New Tempe. Contact Annie Boon e-mail:
chunge@mweb.co.za
25-28: SAPFA President's Trophy Air Race hosted by the Bethlehem Aero Club. Website:
www.sapfa.org.za
or contact Robbie Myburgh e-mail:
roblena@mweb.co.za
Cell: 083 377 0925 or Robin Spencer-Scarr 083 310 2850 e-mail:
robin@stylegroup.com.au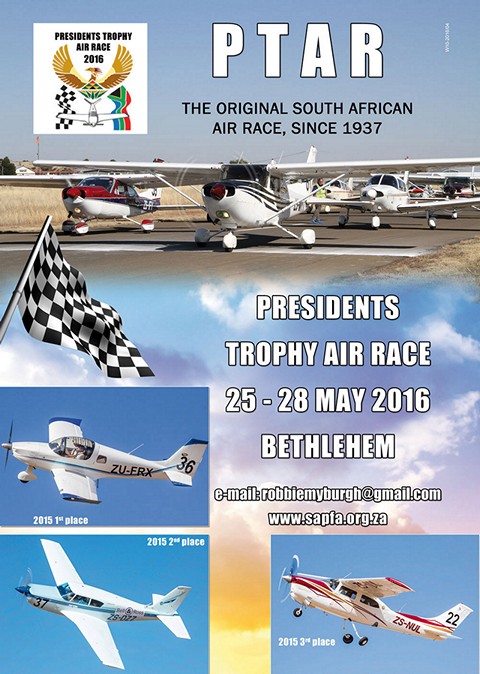 28: Sky Grand Prix. Greyville Racecourse, Durban. Contact Paul Godwin Tel: 031 201 2169 Cell: 082 499 5222 e-mail:
mw.nerve@mweb.co.za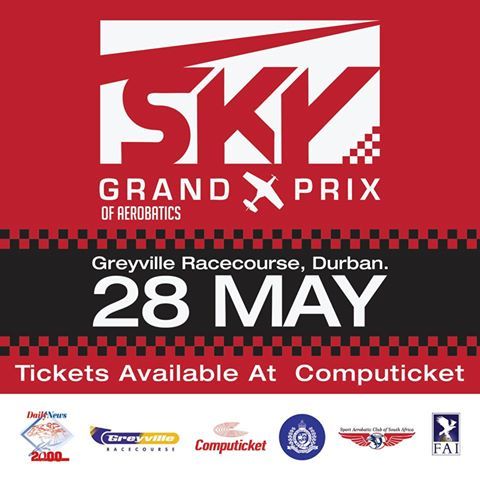 28: Botswana airshow at the Matsieng Flying Club. Contact Guillaume Knipe e-mail: gknipe@work.co.bw or Hentie de Wet e-mail:
hentie@dewetdrilling.co.bw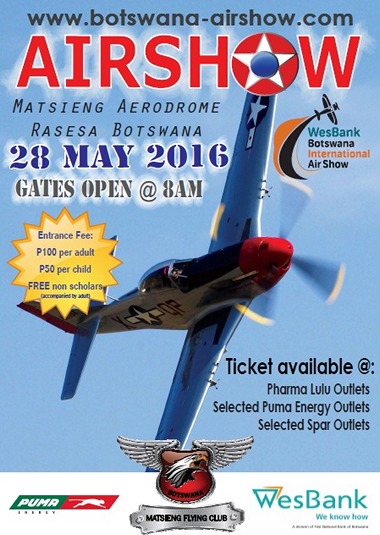 JUNE


2: EAA Chapter 322 monthly meeting, Dickie Fritz Moth Hall Edenvale. Contact
editor@afskies.co.za
4: SAAF Museum flying training and open days. Contact Capt. Kobus Kapp 012 351 2342 or E-mail:
webmaster@saafmuseum.org
4: Vintage Wings and Wheels and Magaliesburg Steam Express meet at FAKR Krugersdorp. Contact
cwatson@stithian.com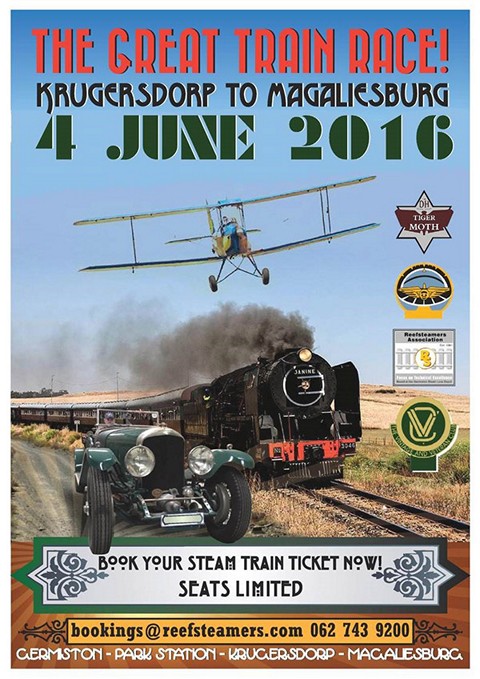 4: Newcastle airshow. Contact Johan Pieters e-mail:
info@champ.co.za
4: Kroon Airfield annual Fly-in. Our landing strip is 750m, excellent grass strip. Just to the South of the N4 highway to Rustenburg. RW 11/29 (RW29 now have NO overhead power lines.) The circuit is always to the North of the Runway, Lefthand for 11 and Righthand for 29. Freq: 124.8 (although we are South of the N4 Highway, our Circuit is to the North). Circuit Alt: 4700ft for Trikes and 4900 for fix wings. Airfield Alt: 4330ft. Lats: 25°39'33.90"S. Longs: 27°59'53.37"E
7- 9 June: Aero Club Safety Campaign, Kwa Zulu Natal: Tuesday 7 June Margate Flying Club evening, Wednesday 8 June Pietermaritzburg Aero Club evening, Thursday 9 June Virginia Airport Durban evening.
8: Aero Club's 75th AGM 14th of April 2016 at 18:30 at the Harvard Conference Centre at Rand Airport,Germiston. RSVP Sandra Strydom on e-mail to
office@aeroclub.org.za
.
9-11: Provisional date ZimNavex Zimbabwe . Contact Mel Cooper e-mail:
zmelzim@gmail.com
10: Wonderboom Wings and Wheels airshow. Contact Chris Briers
chris@airteam.co.za
Cell: 082 568 7988

17-19: Memorial fly in and airshow Mafeking. Contact Connie Conradie e-mail:
info@mmafikeng-flyingclub.co.za
28 -29: Aviation Festival Africa Sandton Convention Centre Johannesburg. Contact Bianca Wiener e-mail:
bianca.wiener@terrapinn.com
30 June-3 July: Race of Champions at Kubu Island Botswana. Contact Chris Briers
chris@airteam.co.za
Cell: 082 568 7988






Pilot's Post is proud to launch its "AVclick 2016" aviation related photo competition. By entering your favourite photos, you will not only share your aviation photography passion with thousands of others, you will also stand a chance to win exciting prizes this year. Our prizes for this competition were carefully chosen to suit everyone's aviation interest and that is why we are offering the winner a choice between three different options.

For more information go to: www.pilotspost.com/arn0000956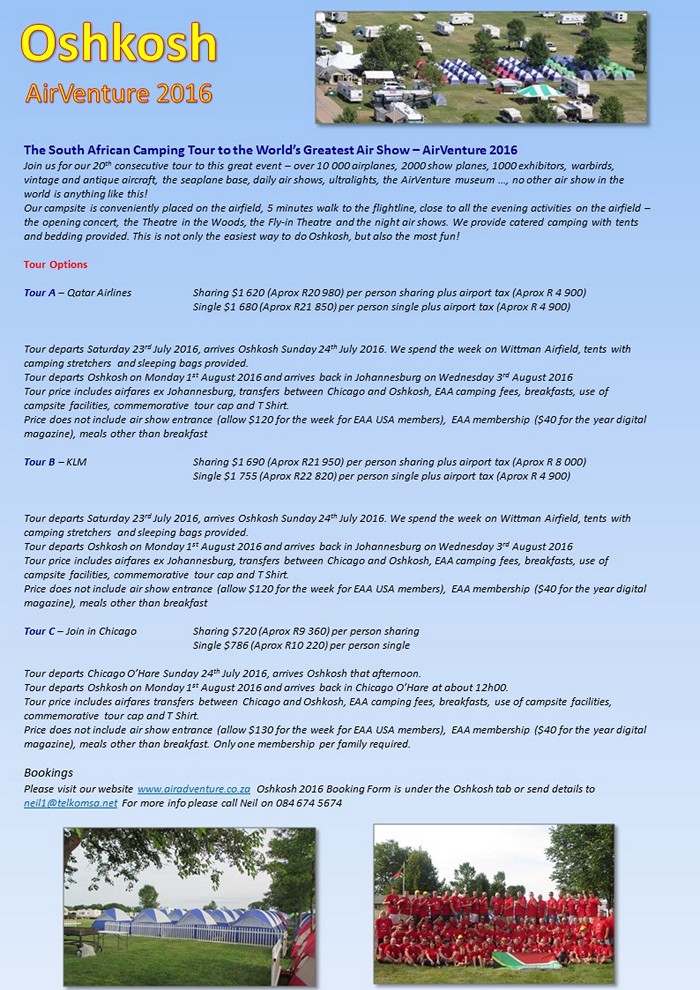 Go to: www.airadventure.co.za Contact: neil1@telkomsa.net


Contact Calvin 021 788 8440 or calvin@designer.co.za





AERO FRIEDRICHSHAFEN 2016

Photos © Aero Friedrichshafen


Aero Friedrichshafen that ran from 20 to 23 April is without doubt the premier general aircraft exhibition on the calendar. A total of 606 exhibitors were represented at this year's exhibition. General aviation aircraft are the subject of the exhibition, a category that includes all civilian aircraft, helicopters, gliders and ultralight aircraft that are not involved in commercial passenger or charter operations.
At AERO, ultralights represent one focus area within general aviation. These are single and two-seat propeller aircraft that may not exceed a weight of 472 kilograms and that are quiet as well as fuel efficient.
Ultralights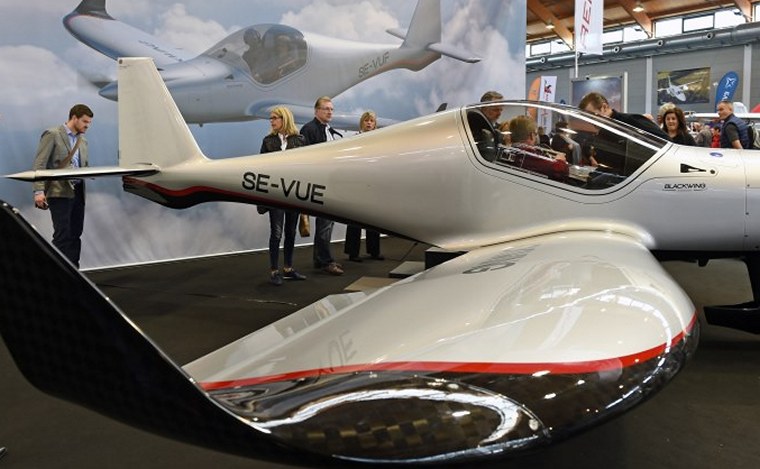 Blackwing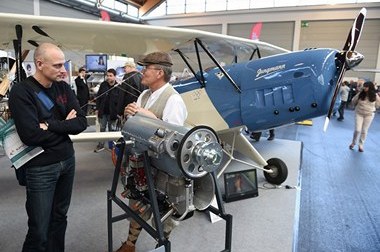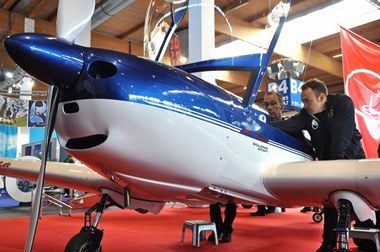 Clubman………………….Ronald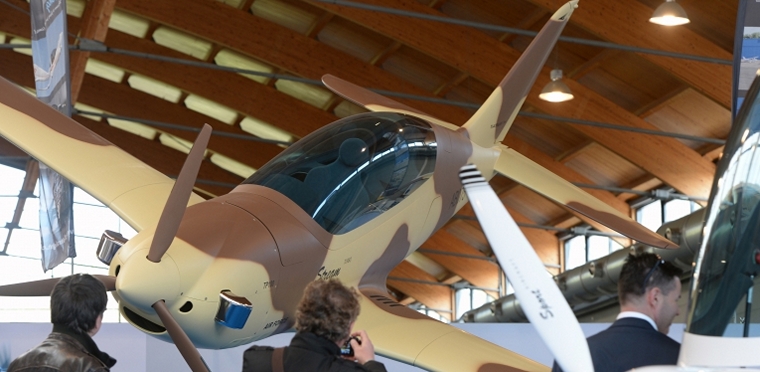 Stream Turbo

General aviation is also represented by single- and multi-engine piston-driven airplanes, helicopters, gyrocopters, turboprops and multi-engine jets along with historic gliders. Drones, new aircraft engines and on board electronics, aviation accessories and services, as well as flight school offerings round out the program. At the same time, special areas focusing on the themes of electric aircraft, on board electronics and AERODrones will feature new content.
Powerplants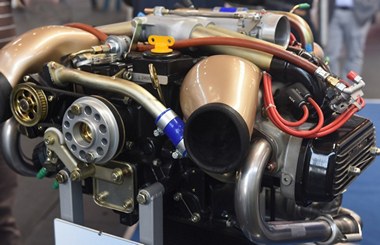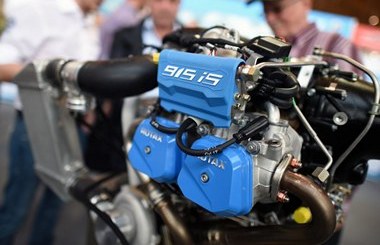 Limbach……………….Rotax 915 IS

The development of electric aircraft also continues to pick up speed, something that is clearly visible at the AERO 2016. In Friedrichshafen, Siemens AG, in cooperation with the Slovenian manufacturer Pipistrel and two universities, will present the Hypstair, a hybrid propulsion system for smaller propeller-driven aircraft. At its core is a new kind of Siemens electric motor.
Electrics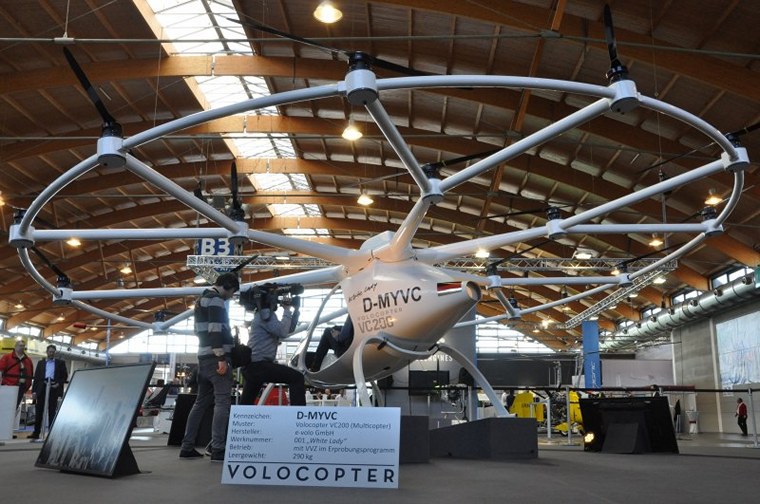 Volocopter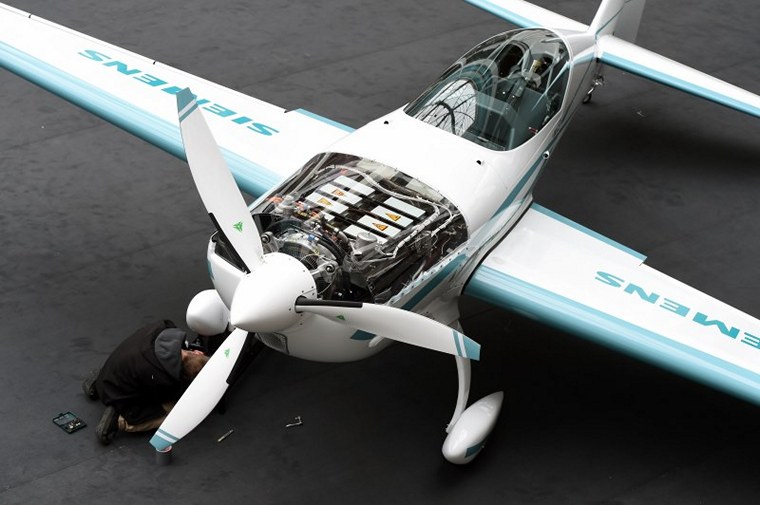 Electric Extra Aerobatic Trainer

Another unusual project is a cooperative effort between Siemens AG and Extra Flugzeugproduktions GmbH, a company based in North-Rhine Westphalia, to test an electrically powered Extra 330 aerobatics airplane. For the first time, a Siemens electric engine is being installed in this two-seat high performance aircraft.
Gyrocopters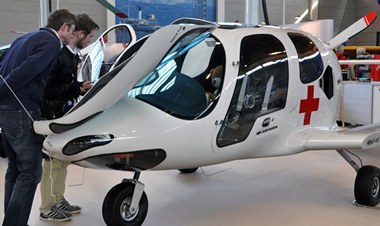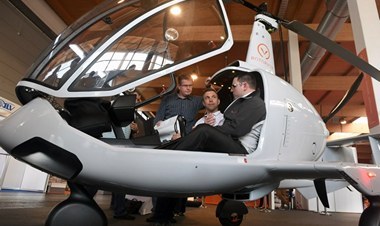 Cellier Medevac…………….Rotorvox

Aero Friedrichshafen purposely focuses on new innovations. Roland Bosch, project manager at Aero Friedrichshafen said: "A technically-oriented trade show like the AERO must also show how fascinating the subject of flight is, that is why encouraging the next generation of pilots is also a major goal of the Friedrichshafen team. For this reason, entrance to the show was be free of charge for all visitors under 16 years old for the first time, something that previously only applied to young people under 14.

MATTHIAS DOLDERER TOOK A STUNNING VICTORY AT THE RED BULL RING

Photos © Red Bull

It was celebrations for Germany as Matthias Dolderer took a stunning victory at the Red Bull Ring, taking a home race win out of the hands of Hannes Arch.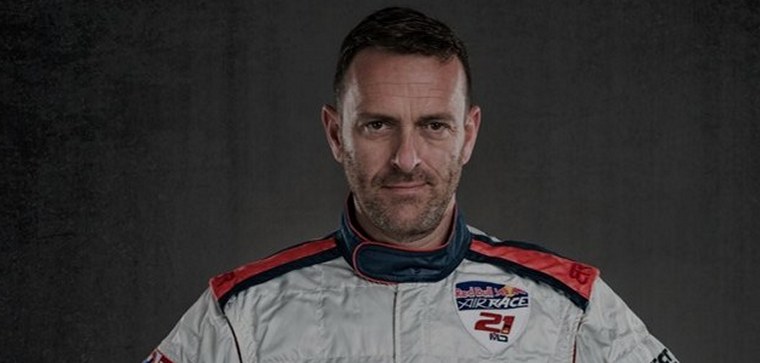 Matthias Dolderer

With Qualifying winner Velarde out of the running in the Round of 14, and a shock exit in the Round of 8 from Matt Hall, it was up to McLeod, Arch, Dolderer and Lamb to decide the Spielberg podium. The times were fast, and four error-free flights from the pilots made for a nail-biting final in the second round of the Red Bull Air Race World Championship.

Le Vot collected a three second penalty when he clipped a pylon in qualifying

McLeod was first out on the track in the Final 4, setting the bar high with one of his fastest performances of the day with 57.598. Hannes Arch had put the memory of a disastrous 2015 home race appearance behind him, as he stalked his way into the track on the hunt for a home win.

Nigel Lamb was glad to get his season back with a third place finish

Arch put in a super-fast and precise performance, surpassing McLeod in the splits and showing no signs of carrying the weight of expectation from local fans as he blazed a decisive trail through the racetrack, finishing with 57.336 on the clock and taking the top spot on the timesheets.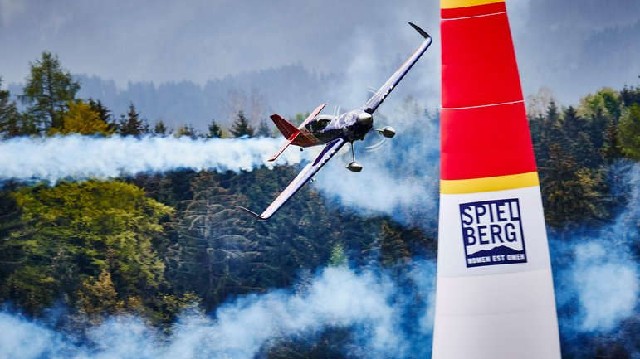 A back injury hindered Matt Hall, but he still finished in third in qualifying

Matthias Dolderer was next to fly, and had shown great confidence all week on the Styrian racetrack. The German pilot appeared cool, calm and collected as he blasted through the Start Gate, clearly on a mission to take the race win and showing no mercy to the local fans backing Arch. Dolderer maintained full-throttle speed and an error-free, almost faultless performance together with some beautiful lines in his vertical turns which saw him nudge Arch off the number one spot. With a 0.340s advantage, Dolderer clocked in at 56.996, with only Nigel Lamb left to take a race victory from the German.

Melanie Astles was unlucky to clip a pylon in her first race

The British pilot, who was crowned World Champion in Spielberg in 2014, had shown steady improvement throughout the day. With a faster first split Lamb was really challenging Dolderer's blistering time, and despite some fast turns and Lamb really putting his MXS-R through its paces, he couldn't quite match the pace of Dolderer's Edge. Lamb finished 0.353s behind Dolderer, placing him in third overall and handing Dolderer a decisive and well-deserved first ever race victory.
"Absolutely fantastic, a dream came true finally! Thanks to the team, finally it worked out... I'm just speechless," said Dolderer after the race.

HISTORY MADE AS LARGE PASSENGER JET AIRCRAFT LANDS AT ST HELENA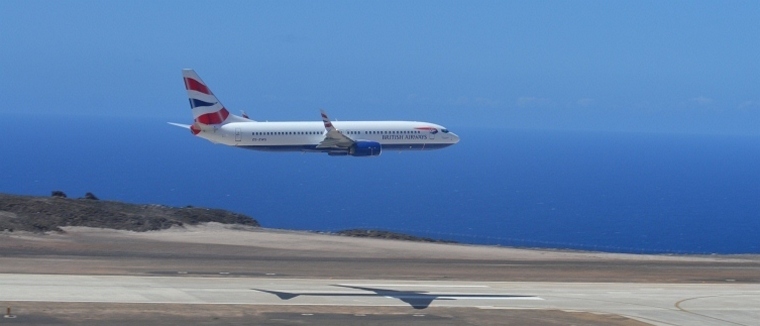 Photos © St Helena Airport

History was once again made on St Helena today as the first large passenger jet aircraft, a Boeing 737-800 (ZS-ZWG), touched down at St Helena's new Airport. This is the actual Boeing aircraft which will serve the St Helena/Johannesburg route.
As planned, British Airways (operated by Comair) brought in this 'Implementation Flight' from OR Tambo International Airport in Johannesburg, complete with various Comair, Basil Read and other passengers - plus a consignment of aircraft spare parts which will remain on the Island.
In preparation for the commencement of scheduled air services, the objectives of the Implementation Flight include route assessment, airside operations, passenger and cargo handling, training and various aspects of safety at St Helena Airport. It is planned that the aircraft will make a few flights over the next two days, before the Implementation Flight departs St Helena.
Martin Louw, Operations Director for Comair, said on arrival: "The flight itself was a 'non-event' - beautiful over the sea with a fantastic view of the Island coming into land. As you will have seen we did a few practice approaches just to make sure we understood the approach - safety is always paramount."
SOLAR IMPULSE LANDS IN THE SILICON VALLEY COMPLETING THE CROSSING OF THE PACIFIC OCEAN WITH SEVERAL WORLD RECORDS

Photo © Solar Impulse

Solar Impulse 2 (Si2) - the first solar airplane capable of flying day and night without using a drop of fuel - left Hawaii on 21 April at 6:15 am local time (UTC-10) and landed at the Moffett Airfield on 23 April at 11:44 pm local time (UTC-7), completing the crossing of the Pacific Ocean with several world records. By attempting the first solar flight around the world, pushing back the boundaries of the possible, and taking on a project deemed impossible by industry experts, Bertrand Piccard and André Borschberg want to support concrete actions for sustainability and show that the world can be run on clean technologies.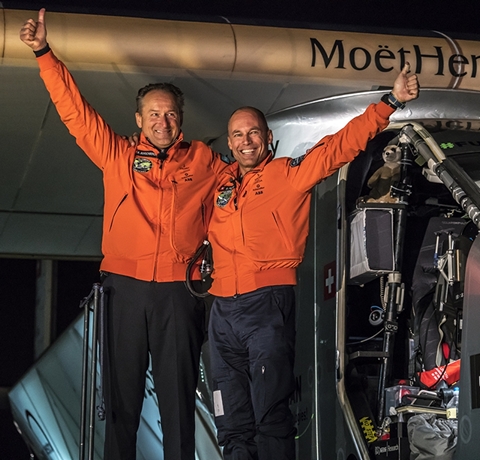 At the controls of Si2, Bertrand Piccard touched down at the Moffett Airfield, home to NASA's Ames Research Centre and to Google's Planetary Ventures, after a flight of three days and two nights and 2'810 miles (4'523 km) arriving from Hawaii and completing the crossing of the Pacific Ocean, while breaking several world records (pending FAI approval). Those include distance, speed, duration and altitude in the electric airplane category and altitude (gain of height) in the solar airplane category. The first part of the Pacific was accomplished by André Borschberg in a world record flight of five days and five nights from Japan to Hawaii last July. A tandem achievement without a single drop of fuel.
Bertrand Piccard initiated Solar Impulse to attractively promote a pioneering and innovative spirit, particularly in the fields of renewable energy and clean technologies. On 22 April, on the occasion of Earth Day and the second consecutive day flying over the Pacific Ocean, Piccard spoke with UN Secretary-General Ban Ki-moon and 175 heads of states, directly from the cockpit of Si2, during a video conference with the United Nations in New York for the signature of the Paris Agreement on Climate Change: a symbolic milestone for the solar airplane in the air, the launch of a clean revolution on the ground, and a strong message sent to the world.
"Solar Impulse showcases that today exploration is no longer about conquering new territories, because even the moon has already been conquered, but about exploring new ways to have a better quality of life on earth," said Piccard, Initiator and Chairman of the project. "It is more than an airplane: it is a concentration of clean technologies, a genuine flying laboratory, and illustrates that solutions exist today to meet the major challenges facing our society."
"Solar Impulse is a demonstration of energy efficiency and smart energy management, similar to a flying grid. Just imagine your energy reserves increasing during flight and available day after day! This is what we may be doing in our communities, our cities and our countries. To have a decentralized renewable energy production, using solar, thermal, wind. To use efficient ways to store and manage energy, because the times at which we need it is not necessarily the times at which we produce it," added André Borschberg, CEO and Co-founder.
The flight from Hawaii to California was the ninth leg of the Round-The-World Solar Flight that will continue onward to New York, Europe or North Africa and Abu Dhabi in the United Arab Emirates where the adventure started in March 2015. By flying around the world with Si2, propelled solely by the energy of the sun, Bertrand Piccard and André Borschberg are making history with clean technologies. Their adventure proves that change is possible and that there is reason to hope for a sustainable world. Solar Impulse's energy efficient solutions can already be used, not only in the air, but also on the ground, and have the potential to change lives, societies and future markets in an unprecedented way.
FINMECCANICA DEMONSTRATES AIR-TO-GROUND MODE 5 REVERSE-IFF CAPABILITY WITH ITALIAN TYPHOONS

Photo © Finmeccanica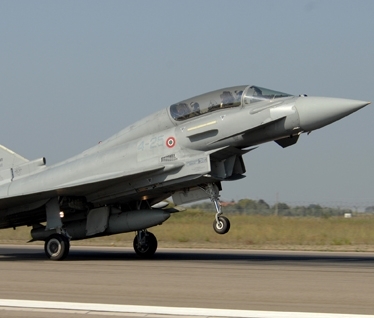 Finmeccanica, with the Italian Defense General Staff, has demonstrated the successful integration of a Mode 5 Reverse-IFF (Identification Friend-Foe) system, providing air-to-ground IFF capabilities for a Tranche 1 Eurofighter Typhoon. The demonstration was witnessed by representatives from the NATO Battlefield Combat Identification Capability Team.
An IFF system provides pilots with the ability to distinguish between 'friendly' vehicles and potential threats by sending out an interrogation signal and verifying the responses from other aircraft. A reverse-IFF system uses the same concept to interrogate ground forces, allowing a pilot to understand where surface-level friendly forces are located before deciding whether to use weaponry. The system is called 'reverse' IFF because the aircraft uses its transponder, usually used to reply to interrogations from other aircraft or from the ground, to scan the ground vehicles.
To demonstrate the solution, an Italian Air Force Typhoon simulated a Close Air Support mission over Pratica di Mare (Rome) air base in Italy, flying toward and interrogating a number of Italian Army Lince armoured vehicles with its reverse-IFF system. As the Lince vehicles returned 'friendly' signals, the Typhoon held off from providing air to ground support that might otherwise have caused collateral damage to the friendly forces.
NATO is considering the Mode 5 Reverse-IFF system as one of the possible short-to-mid-term solutions for air-to-surface identification, to avoid friendly fire when cooperating with coalition forces. The integration solution developed by Finmeccanica has shown that it is possible to introduce such a significant capability in a simple, low-impact fashion using the aircraft's existing transponder.
BOEING KC-46 PROGRAM'S SECOND 767-2C AIRCRAFT COMPLETES FIRST FLIGHT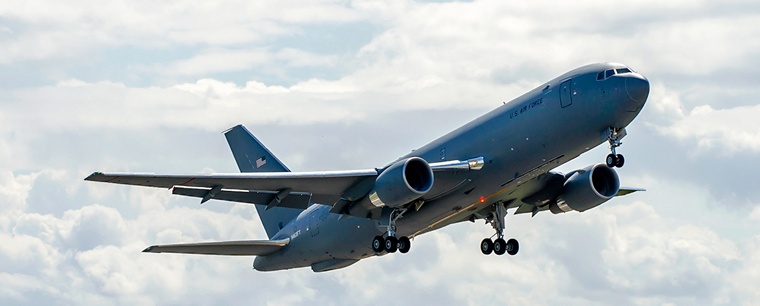 Photo ©Tim Stake/Boeing

With a successful first flight on April 25th, Boeing [NYSE: BA] has added the fourth and final flight test aircraft to the KC-46 Pegasus fleet, a 767-2C.

During the 1 hour, 40 minute flight, test pilots performed operational engine checks, flight controls and environmental systems checks and took the 767-2C to a maximum altitude of 39,000 feet prior to landing at Boeing Field, south of Seattle.
The 767-2C is a KC-46 without the aerial refuelling system installed. This aircraft, known as EMD-3, will be used to conduct environmental control system testing, including hot day/cold day testing and smoke penetration testing.
As part of the contract awarded in 2011 to design and develop the U.S. Air Force's next-generation tanker, Boeing has built four test aircraft - two are configured as 767-2Cs and two as KC-46 tankers. Eventually, both 767-2Cs will become KC-46 tankers.
EMD-1, the first 767-2C test aircraft, has completed more than 315 flight test hours since its first flight in December 2014. EMD-2, the program's first KC-46 tanker, made its maiden flight in September 2015 and has completed more than 240 flight test hours, including refuelling F-16, F/A-18 and AV-8B aircraft. It also has been refuelled by a KC-10 tanker. EMD-4, the second tanker, first flew on March 2, 2016 and has completed 25 flight hours.
Boeing plans to build 179 KC-46 aircraft for the U.S. Air Force.

Afghanistan Jalalabad: According to the Air Force Air Mobility Command accident report the pilot of a USAAF C-130J that crashed in Afghanistan jammed a control yoke in place by propping it up with a night-vision goggle case. The investigation found that when the crew landed at Jalalabad Airfield and began offloading cargo, the pilot raised the elevators to provide additional clearance to assist with offloading tall cargo. After holding the yoke by hand for a while, the pilot decided to keep it in place with the night vision goggle case and forgot to remove the case. The pilots were operating in night-time flying conditions and wearing Night Vision Goggles (NVG) and neither pilot recognized and removed the NVG case after loading operations were complete or during take-off. Once airborne, the aircraft started to pitch upward. The co-pilot thought the problem was a trim malfunction resulting in improper recovery techniques. The rapid increase in pitch angle resulted in a stall from which the pilots were unable to recover and the aircraft impacted approximately 28 seconds after lift-off within the confines of the airfield killing 11 on board and 3 on the ground.
USA, New York: The 1997 Cessna 750 Citation X which has been used to shuttle US Presidential candidate Donald Trump to dozens of campaign events in recent months has been grounded by the Federal Aviation Administration for flying with an expired registration certificate. FAA records show that it has been flying with an expired registration since February. Flying with no registration could result in a civil penalty of up to $27,500, a criminal fine of up to $250,000 and imprisonment for up to three years.
USA, Akron: Renato Marchese the first officer in control of the plane that crashed into an Akron apartment building on 10 Nov 2015 killing all nine people on board was terminated from his previous employer because of subpar piloting skills, according to investigatory records. Marchesa who was attempting to land the plane, had missed training sessions with his last employer. Marchese also failed to have aspects of flight committed to memory, requiring aircraft manuals to aid him.
Norway, Tarva: Two Norwegian Air Force F-16s were performing a mock attack on an enemy station on the uninhabited island, when one of them mistakenly opened fire on the control tower with its M61 Vulcan cannon. The control tower was manned by three officers none of which were apparently injured. Remarkably, the very same control tower on Tarva was shot up in 2009, also by mistake. Back then at least one round penetrated the building.
USA, Anchorage: A Nippon Cargo Airlines on approach to Anchorage International Airport was damaged in a bird strike. The Boeing 747-8 freighter was about 3,000 feet above Point MacKenzie when according to initial reports three quails and two other birds had struck its wing. A biologist said the incident is a teaching moment for South Central Alaska pilots as migration season begins. The aircraft didn't display any flight problems and landed safely at the airport. No injuries were reported. The aircraft suffered a small crack to its wing and was grounded for repairs.
USA, Seattle: The first officer on a Polar Air Cargo Boeing 747-800 freighter on a flight from Japan declared an emergency over the Pacific Ocean about 400nm west of Seattle when the captain became incapacitated. The flight diverted to Seattle for a safe landing. The captain was taken to a hospital.
USA, Raleigh: An American Airlines Boeing 757 on a flight from Miami to John F. Kennedy International Airport diverted to Raleigh because of a broken cockpit windshield. The pilot radioed that the windshield was cracked and to be safe, he said, the plane should land as soon as possible. There were 166 passengers and six crew members on board. No injuries were reported.





28 APRIL 1937

The first commercial flight across the Pacific is made as a Pan-American Boeing 314 Clipper seaplane arrives in Hong Kong



Boeing 314 Clipper. Photo Boeing Aircraft United / States Library of Congress

The Boeing 314 Clipper was a long-range flying boat produced by the Boeing Airplane Company between 1938 and 1941. One of the largest aircraft of the time, it used the massive wing of Boeing's earlier XB-15 bomber prototype to achieve the range necessary for flights across the Atlantic and Pacific Oceans. Twelve Clippers were built; nine were brought into service for Pan Am and later transferred to the U.S. military. The remaining three were sold to British Overseas Airways Corporation (BOAC) by Pan Am and delivered in early 1941. (BOAC's 3 Short S.26 transoceanic flying-boats had been requisitioned by the RAF).

Photo Flt.Lt. N.S. Clark Imperial War Museums / commons.wikimedia.org

Pan Am's "Clippers" were built for "one-class" luxury air travel, a necessity given the long duration of transoceanic flights. The seats could be converted into 36 bunks for overnight accommodation; with a cruising speed of 188 miles per hour (303 km/h) (typically flights at maximum gross weight were flown at 155 miles per hour (249 km/h)) in 1940 Pan Am's schedule San Francisco to Honolulu was 19 hours. The 314s had a lounge and dining area, and the galleys were crewed by chefs from four-star hotels. Men and women were provided with separate dressing rooms, and white-coated stewards served five and six-course meals with gleaming silver service. The standard of luxury on Pan American's Boeing 314s has rarely been matched on heavier-than-air transport since then; they were a form of travel for the super-rich, priced at $675 return from New York to Southampton (comparable to a round trip aboard Concorde in 2006).

Photo Harris & Ewing / United States Library of Congress

The last Pan Am 314 to be retired, the California Clipper NC18602, in 1946, had accumulated more than a million flight miles.[17] Of the 12 Boeing 314 Clippers built three were lost to accidents, although only one of those resulted in fatalities: 24 passengers and crew aboard the Yankee Clipper NC18603 lost their lives in a landing accident at Cabo Ruivo Seaplane Base, in Lisbon, Portugal on February 22, 1943.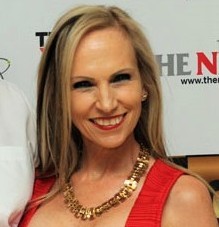 For advertising in Pilot's Post please contact Gabriele Simpson at sales@pilotspost.com or on 084 606 6110