Held in conjunction with the Annual Daily News 2000 horse race the extremely popular Sky Grand Prix of Aerobatics will return to the skies of Durban on the 28 May at Greyville Race Course.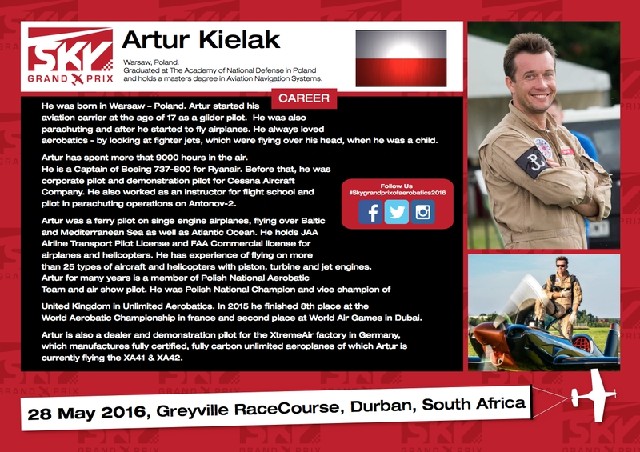 The Sky Grand Prix will see over 10 thousand people descending on Greyville Race Course to enjoy top class aerobatic racing, fly pasts and other festivities that the organizers are planning for the day.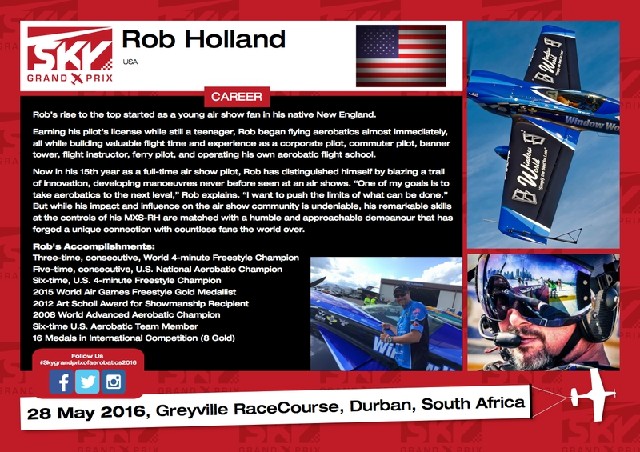 Organizers of the event Roger Deare and Nigel Hopkins will be pulling out all the stops to guarantee a top rate event for Durban of which it is envisaged will be an annual spectacular.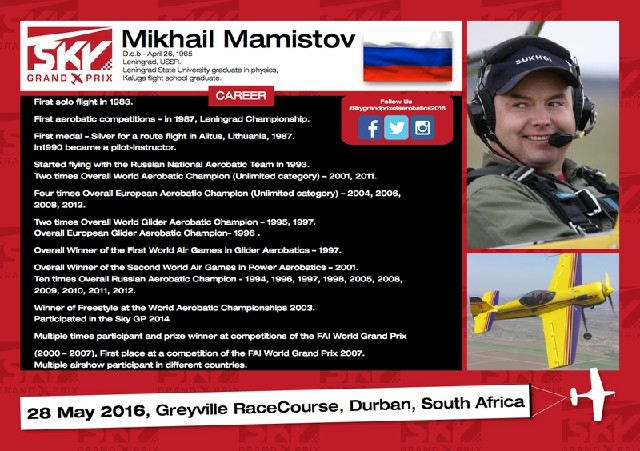 The Sky Grand Prix of Aerobatics is a competition, which will see 10 Experienced Aerobatic pilots competing against each other over the skies of Royal Durban Golf Course.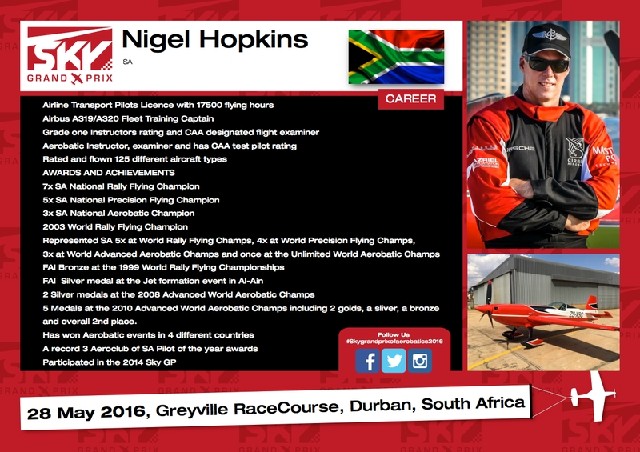 This event is unique - and unlike other aviation events, it's not happening at an airport but in the skies above Greyville Race Course and the Royal Durban Golf Course.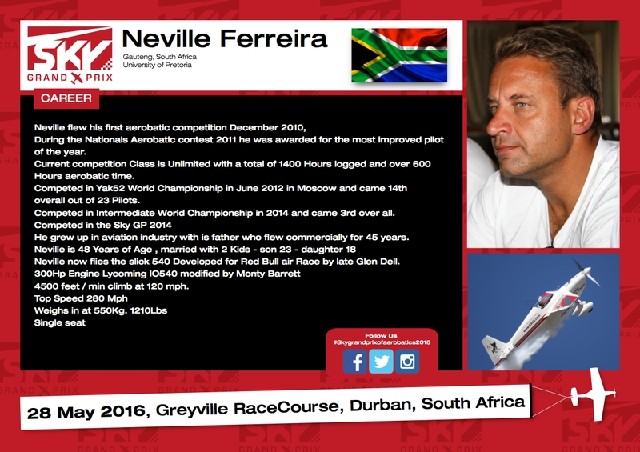 This event goes beyond any other aviation event that has been staged in Durban or South Africa. Spectators can look forward to the thrilling sounds and aerobatics of these flying machines as they execute their manoeuvres with speed and fine precision.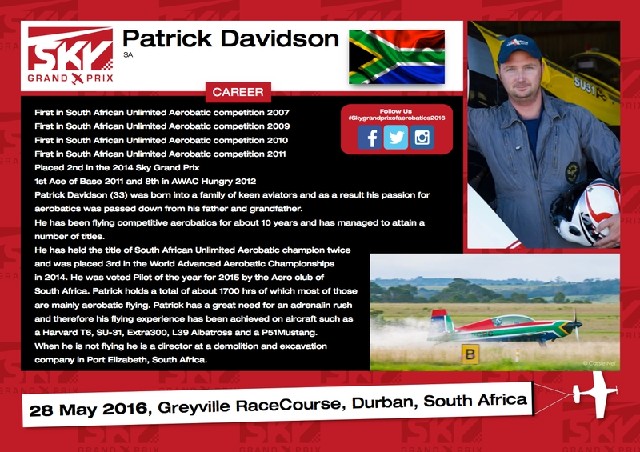 The event is a Federation Aeronautique Internationale (FAI), FAI Aerobatics Commission (CIVA) internationally sanctioned event and is sanctioned locally by the Sport Acrobatic Club (SAC) and the Recreational Aviation Administration of South Africa. (RAASA).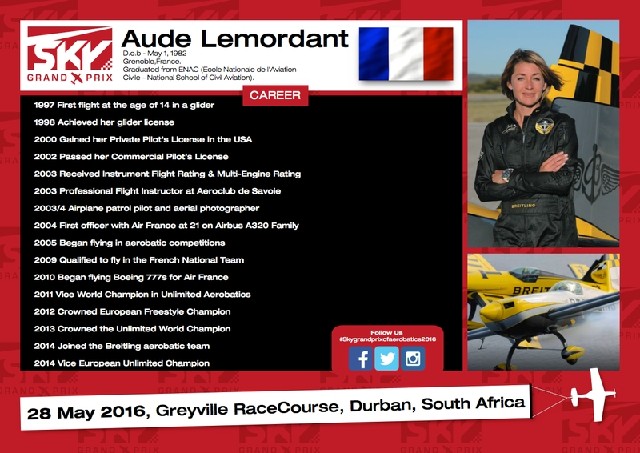 The competition requires these "Gladiators of the Sky" to perform breath-taking maneuvers using 25 meter pylons as markers. These pylons will be placed strategically on the Royal Durban Golf Course, and the pilot's technical maneuvers will be analyzed by a panel of SAC judges and will ultimately result in a Champion being crowned.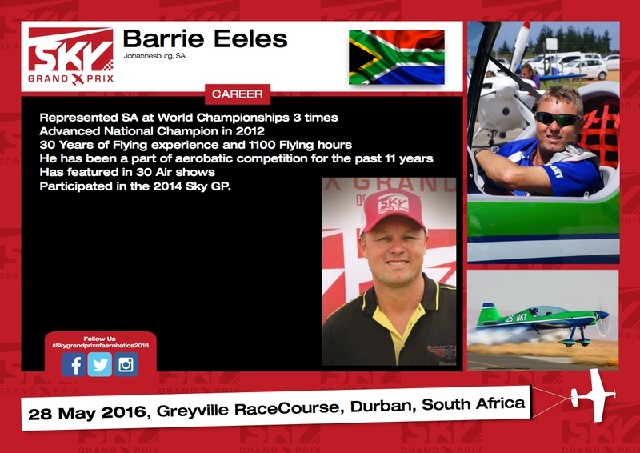 The Greyville Race Course will be the central arena from which the spectators will have a prime view of the competition akin to watching the "Gladiators at the Colosseum".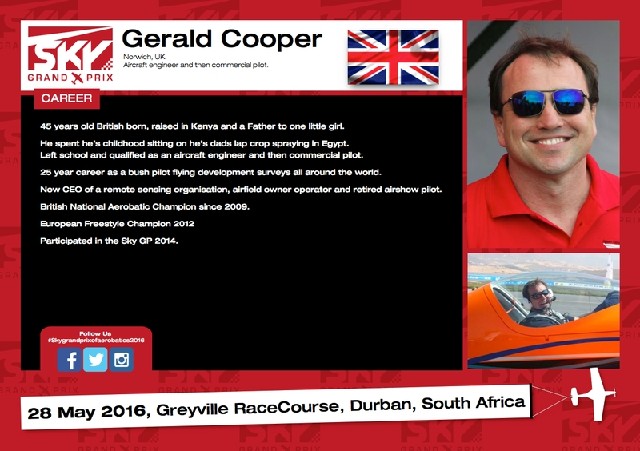 Event organizers are hoping that over and above staging a spectacular show on the day, the event will also add to the overall Durban event calendar, which will in turn see economic benefits to local businesses and job creation and growth in the tourism sector. This unique one of a kind event concept has the potential to be a major jewel in the crown for Durban.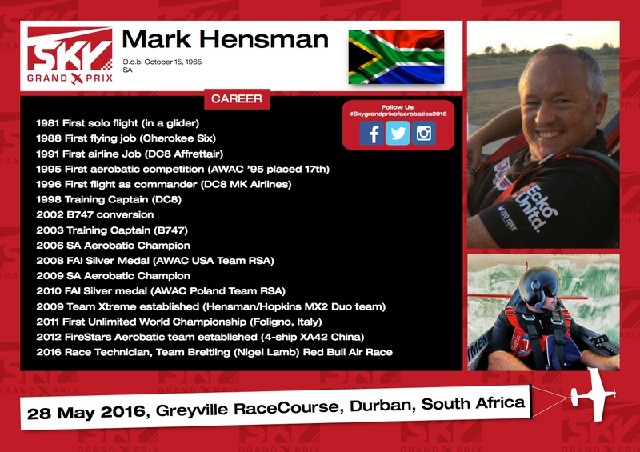 Tickets available via Computicket from the 4 April 2016 and will also be available at Greyville on the day. Ticket price: R220 for adults and R50 for children under 12.
The event is supported by - Gold Circle, Royal Durban Golf Club and the Daily News
For further event enquiries contact Vivienne Holden Event Management & Stakeholder Liaison SGP, email topnotch079@gmail.com

For media enquiries contact Paul Godwin on 0835601185 or email mw.nerve@mweb.co.za


We are also on Face book: www.facebook.com/skygrandprixofaerobatics2016