THIS WEEK IN MIDWEEK UPDATE


Plan Your Weekend……..Forthcoming Events…….AvClicks Photo Comp


Notice Board……..Aviation News………. Worldwide Incidents and Accidents


This Week in Aviation History………Advertising Rate Card




7: SAAF Museum airshow at AFB Zwartkop. Contact Mike 'O Connor e-mail:
oc@saafmuseum.org
Tel: 012 351 2290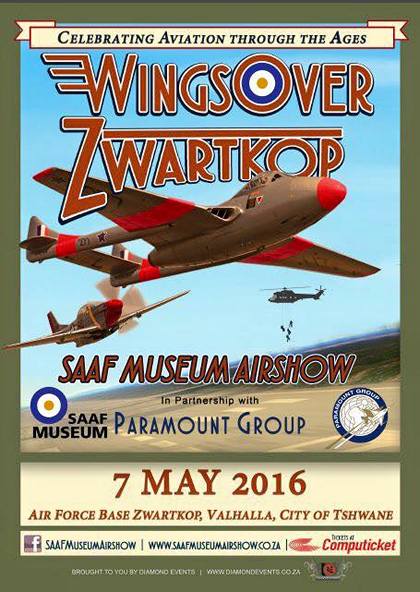 7: The Airplane Factory Breakfast Fly-in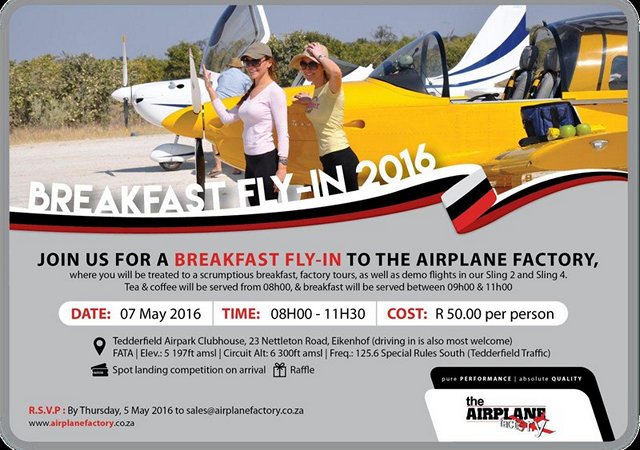 MAY

11: EAA Chapter 322 monthly meeting, Dickie Fritz Moth Hall Edenvale. Contact
editor@afskies.co.za
13-15: Battlefields Sports Resorts annual fly in Dundee KZN. Contact Dave O' Halloran e-mail
gm@battlefieldslodge.co.za
14: SAPFA Shelia Taylor fun rally - Krugersdorp. Contact Frank Eckard e-mail:
frank.eckard@mweb.co.za
. There will be an entry fee applicable of R250 which will go towards the purchase of your map and flight logs that requires your calculations to be made during the rally. Please forward your entries to
acr@absamail.co.za
. Entry information needed: Aircraft Type, Aircraft Reg No, Pilot Names, Contact Details and emergency contact no, Navigator Names Contact Details and emergency contact no. You may also enter directly on the SAPFA website
www.sapfa.org.za
16 - 20: Aero Club Safety Campaign: Tuesday 17 May Stellenbosch Flying Club evening, Wednesday 18 May Morning Star Flying Club evening, Thursday 19 May One of the Flight Schools in George daytime, Thursday 19 May AIFA Oudtshoorn evening.
20-21: SA Flyer mag and Doolie Lindbergh are hosting a very special Fly-in to Lindbergh Lodge, west of Klerksdorp. The fly-in will be partly in memory of Gianfrano who died in his L-39 at the Klerksdorp air show 4 years ago. The rates for this very lekker luxury lodge are hugely discounted for the weekend - go big or go cheap - but be there! Contact
guy@saflyermag.co.za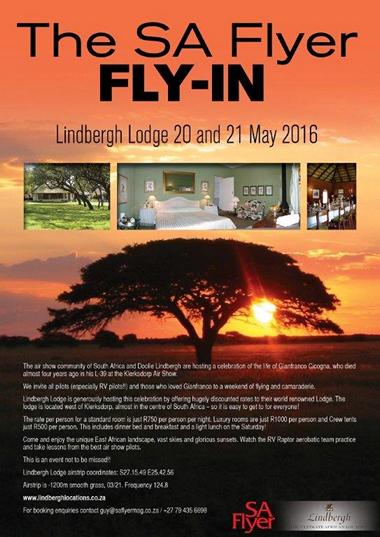 20 - 22: Vryheid wings club fly inn. Following what we believe to be an excellent fly inn last year the Vryheid wings club will be hosting another fly inn this year. FIRST 10 PILOTS who flyinn on Friday and Also on the Saturday will get free food and drinks for the whole weekend (pilots only not entire crew). All other pilots and crew will be charged R 600 for entire weekend and R 450 from the Saturday and Sunday only (fly inn day only R150). Above costs include: Camping on the irfield (ablutions are being built currently on the airfield for all who wish to camp). All food and drinks for the selected time. Shuttles to town as needed. Live entertainment for the Friday and Saturday night. Entertainment on the day. Contact: Morne Strauss
morne@lmsbrokers.co.za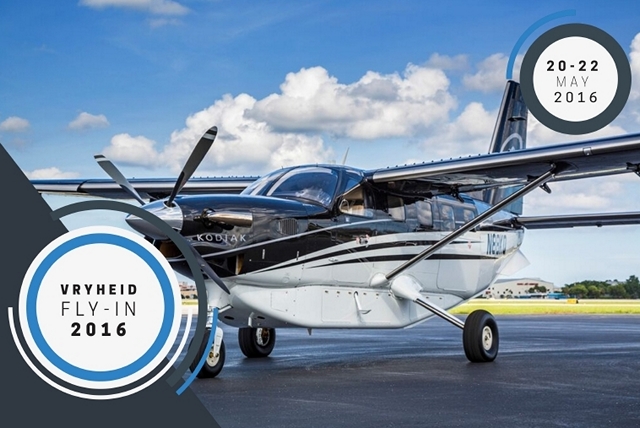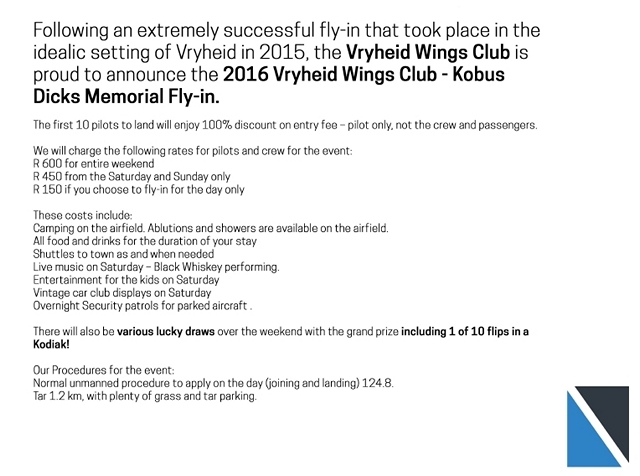 21-21: Lowveld airshow - Nelspruit. Contact Willemien Hodgkinson e-mail:
willemien.hodgkinson@ffa.co.za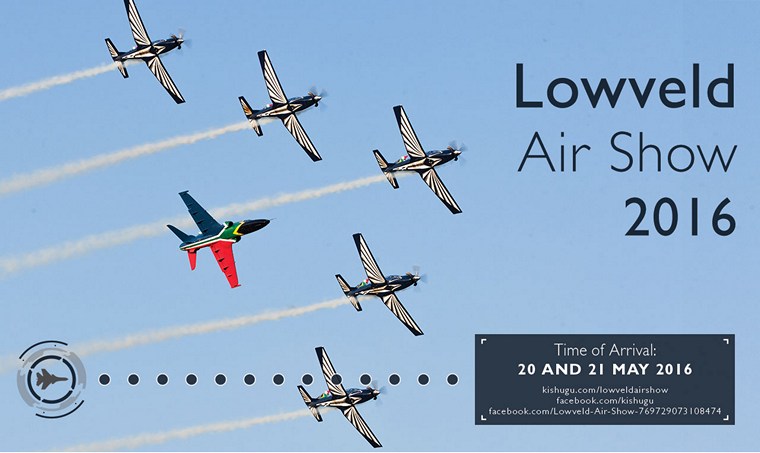 25-29: Namibia-UIS / Brandberg / Save Some Rhino -fly-in, Swakopmund. Phone or mail Johan de Wet for info @ 00264 (0) 81 124 8283 or
jdewet@mweb.com.na
orHeiner Schlushe @ 00264 (0) 81 127 9100
21-22: SAC Free State regionals, Bloemfontein - New Tempe. Contact Annie Boon e-mail:
chunge@mweb.co.za
25-28: SAPFA President's Trophy Air Race hosted by the Bethlehem Aero Club. Website:
www.sapfa.org.za
e-mail:
Race@sapfa.org.za
Contact Robbie Myburgh e-mail:
roblena@mweb.co.za
Cell: 083 377 0925 or Robin Spencer-Scarr 083 310 2850 e-mail:
robin@stylegroup.com.au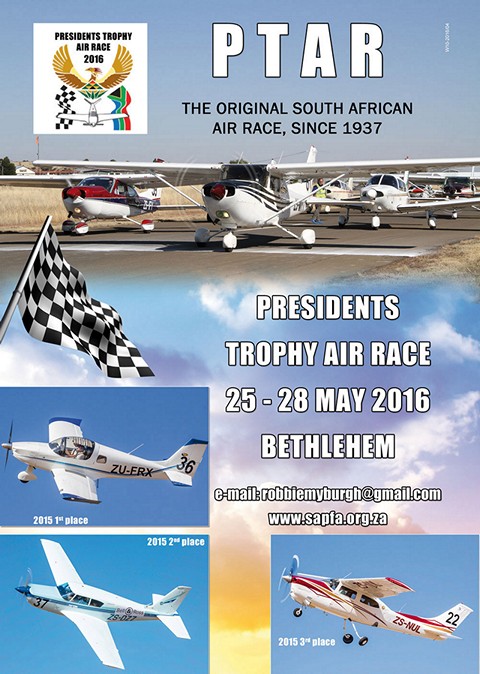 28: Sky Grand Prix. Greyville Racecourse, Durban. Contact Paul Godwin Tel: 031 201 2169 Cell: 082 499 5222 e-mail:
mw.nerve@mweb.co.za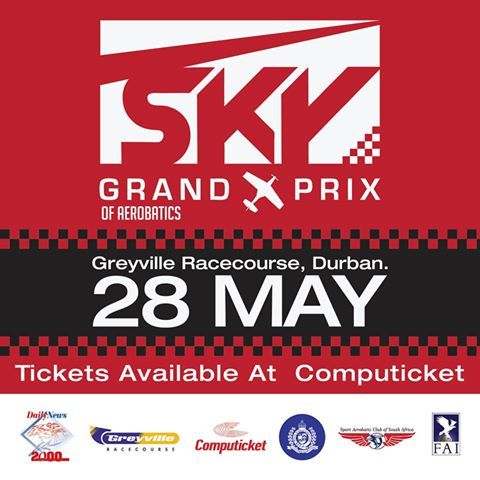 28: Botswana airshow at the Matsieng Flying Club. Contact Guillaume Knipe e-mail: gknipe@work.co.bw or Hentie de Wet e-mail:
hentie@dewetdrilling.co.bw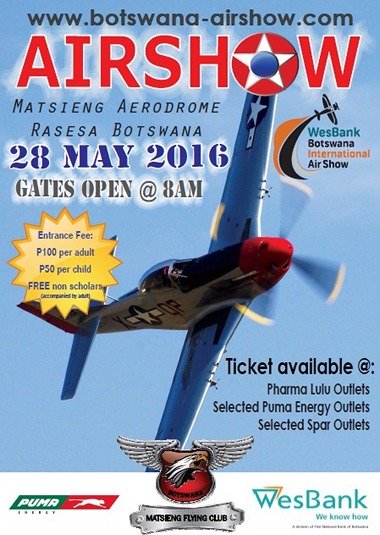 JUNE


2: EAA Chapter 322 monthly meeting, Dickie Fritz Moth Hall Edenvale. Contact
editor@afskies.co.za
4: SAAF Museum flying training and open days. Contact E-mail:
webmaster@saafmuseum.org
4: Vintage Wings and Wheels and Magaliesburg Steam Express meet at FAKR Krugersdorp. Contact
cwatson@stithian.com
or
photo@reefsteamers.com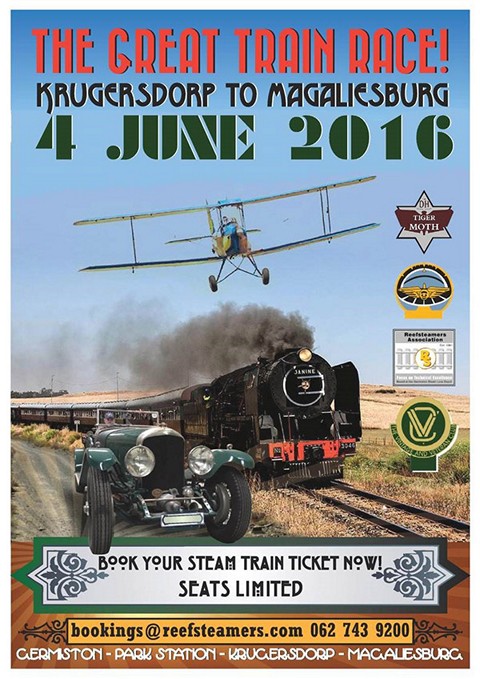 4: Newcastle airshow. Contact Johan Pieters e-mail:
info@champ.co.za
4: Kroon Airfield annual Fly-in. Our landing strip is 750m, excellent grass strip. Just to the South of the N4 highway to Rustenburg. RW 11/29 (RW29 now have NO overhead power lines.) The circuit is always to the North of the Runway, Lefthand for 11 and Righthand for 29. Freq: 124.8 (although we are South of the N4 Highway, our Circuit is to the North). Circuit Alt: 4700ft for Trikes and 4900 for fix wings. Airfield Alt: 4330ft. Lats: 25°39'33.90"S. Longs: 27°59'53.37"E
7- 9 June: Aero Club Safety Campaign, Kwa Zulu Natal: Tuesday 7 June Margate Flying Club evening, Wednesday 8 June Pietermaritzburg Aero Club evening, Thursday 9 June Virginia Airport Durban evening.
8: Aero Club's 75th AGM 14th of April 2016 at 18:30 at the Harvard Conference Centre at Rand Airport,Germiston. RSVP Sandra Strydom on e-mail to
office@aeroclub.org.za
.
9-11: Provisional date ZimNavex Zimbabwe . Contact Mel Cooper e-mail:
zmelzim@gmail.com
10: Wonderboom Wings and Wheels airshow. Contact Chris Briers
chris@airteam.co.za
Cell: 082 568 7988

17-19: Memorial fly in and airshow Mafeking. Contact Connie Conradie e-mail:
info@mmafikeng-flyingclub.co.za
28 -29: Aviation Festival Africa Sandton Convention Centre Johannesburg. Contact Bianca Wiener e-mail:
bianca.wiener@terrapinn.com
30 June-3 July: Race of Champions at Kubu Island Botswana. Contact Chris Briers
chris@airteam.co.za
Cell: 082 568 7988






Pilot's Post is proud to launch its "AVclick 2016" aviation related photo competition. By entering your favourite photos, you will not only share your aviation photography passion with thousands of others, you will also stand a chance to win exciting prizes this year. Our prizes for this competition were carefully chosen to suit everyone's aviation interest and that is why we are offering the winner a choice between three different options.

For more information go to: www.pilotspost.com/arn0000956

Click "Vote for" below your favourite photo.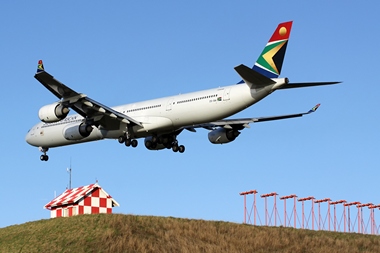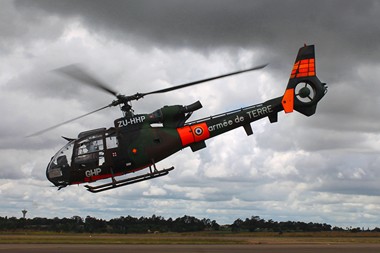 Vote for 1-1 ........................................Vote for 2-1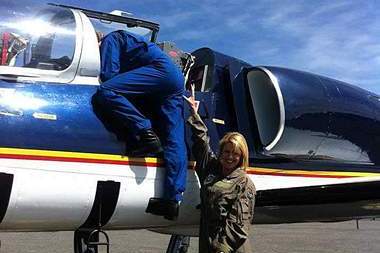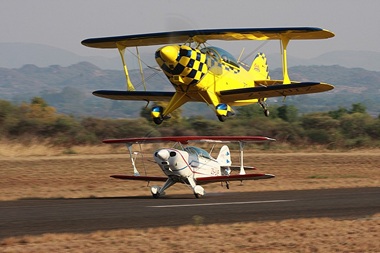 Vote for 3-1.......................................Vote for 4--1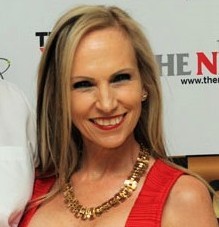 For advertising in Pilot's Post please contact Gabriele Simpson at sales@pilotspost.com or on 084 606 6110










TECNAM P2010 ENHANCEMENTS ACHIEVE FAA APPROVAL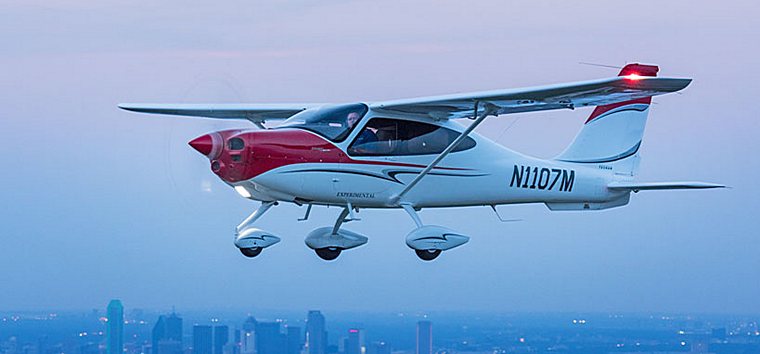 Photo © Tecnam

Tecnam announced today that the US Federal Aviation Administration (FAA) had validated three major enhancements to the Tecnam P2010 4-seater general aviation aircraft; GFC700 autopilot integration to the G1000 flight deck, a Garmin G500 avionics option, and certification to use MoGas
The FAA completed its review of the subject level 1 major change(s) in close cooperation with both EASA and the Tecnam Design Office on April 18th, resulting in the issuance of FAA approval Type Certificate No. A00066CE.
The revision validates the use of the GFC 700 autopilot, fully integrated with the G1000® glass flight deck. The GFC 700 is an AHRS-based automatic flight control system that provides flight director, autopilot, automatic and manual electric trim capabilities which brings a high level of digital sophistication to general aviation flight controls.
The validation of the Garmin G500 Suite, as an alternative to Garmin G1000, affords customers even more choices and options. This new G500 configuration also includes an EIS System based on the EDM930. Primary COM/NAV/GPS is the GTN 650 touchscreen navigator while the secondary COM/NAV source is provided by Garmin GNC 255. A GTX 33 remote mode-S transponder is controlled via GTN 650 touchscreen display with ADF and DME available as optional NAV aids.
From the initial design concepts for the P2010 Tecnam sought to offer its customers a non-100LL fuel alternative. The selection of Lycoming IO-360M1A to power this next generation four-seater was mainly a result of its capability to burn alternative fuels other than 100LL. The approval of this major design change by FAA sets an important milestone on Tecnam's "green transition" as the first worldwide aircraft manufacturer able to obtain such a wide, flexible and non-single-brand related choice, as well as the first GA manufacturer capable of obtaining approval for use of automotive fuel on IO-360 Lycoming engine.
All Tecnam General Aviation, 2 and 4 seats, single and twin engines aircraft are ready for a lead free future now.
Shannon Yeager, Tecnam USA Inc. Sales Director said: "We are excited to offer our potential US based customers a beautiful and stylish aircraft with its state-of-the-art avionics and alternative fuel that will satisfy the most demanding of private owners and the budget conscious Flight Schools.


PAUL G. ALLEN'S STRATOLAUNCH AIR-LAUNCH PLATFORM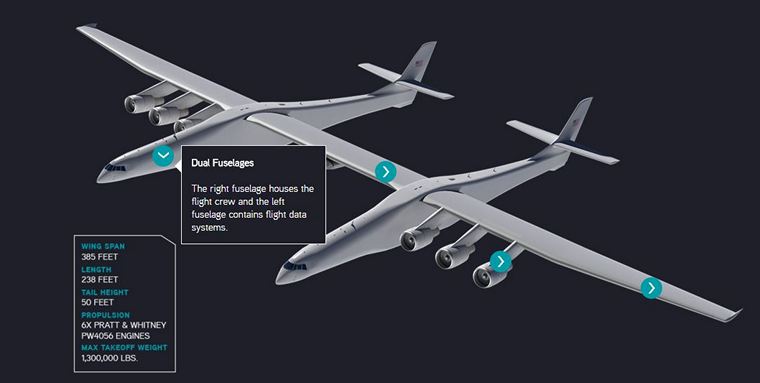 Photo © Stratolaunch

The Stratolaunch air-launch platform is designed to transport satellite payloads to orbit. In 2011, Paul G. Allen initiated the development of this new system to challenge the current model of orbital launch and to offer more flexible and cost effective access to space. Stratolaunch is an innovative approach to providing convenient and affordable space access for a wide range of missions and payloads.
The Stratolaunch Carrier Aircraft is constructed using state-of-the-art composite materials in order to be light, strong, and fuel efficient. Once complete, Stratolaunch will have the largest wing span of any airplane ever built and will be the world's largest composite aircraft.
Stratolaunch's mobile launch range offers many potential benefits over fixed ground launch, including: improved responsiveness, flexibility to avoid inclement weather, enhanced ability to avoid overflight of populated areas, and streamlined infrastructure to support efficient launch operations.
Scaled Composites is leading the construction of Stratolaunch at Mojave Air & Space Port.
BEECHCRAFT T-6C MILITARY TRAINER FINDS SUCCESS IN NEW ZEALAND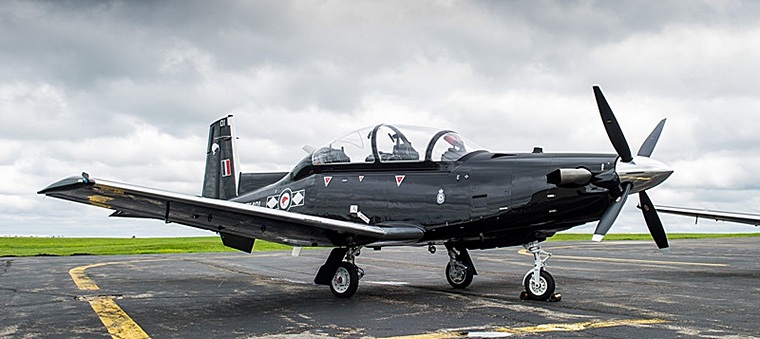 Photo © Beechcraft/Textron

Beechcraft Defence Company, LLC, a subsidiary of Textron Aviation Inc., a Textron Inc. (NYSE:TXT) company announced in coordination with CAE and Safe Air Ltd that the New Zealand Defence Force (NZDF) and Royal New Zealand Air Force (RNZAF) have completed the introduction of New Zealand's new military pilot training capability only two years after signing the initial contract between Beechcraft Defence Company and the NZDF. New Zealand's next generation of military pilots will be training in 11 Beechcraft T-6C Texan II aircraft delivered to the NZDF only 16 months after program initiation.
"We applaud the New Zealand Defence Force and Royal New Zealand Air Force for standing up this impressive program with the support of industry-leading partners," said Tom Hammoor, president, Beechcraft Defence Company. "New Zealand joins a family of the world's finest air forces training in the T-6C platform, which combines intuitive handling characteristics and superior engine systems to provide critical training capability for student pilots."
The value of every hour spent flying is increased by preparation and instruction received from CAE's T-6C Ground-Based Training System (GBTS). The T-6C GBTS includes classroom training using newly developed courseware and curriculum, as well as simulator training using two high-fidelity T-6C operational flight trainers.
In addition to the training devices, onsite contractor maintenance and logistics support for the fleet of T-6C aircraft is provided by a team comprised of Beechcraft and Safe Air experienced personnel. This team has been providing support at the RNZAF Base Ohakea since the first aircraft were delivered in 2014. CAE is also providing maintenance and support services for the flight simulators.
"The expertise and commitment of the maintenance team on the ground in New Zealand ensures the RNZAF T-6 fleet will continue to deliver the operational rates required to fulfill the training demands for decades to come," said Hammoor.
To date, Beechcraft has delivered more than 900 T-6 trainers, which have amassed more than 2.6 million flight hours. The Beechcraft T-6 delivers world-class training capability and is ideally suited for teaching the most basic introductory flight training tasks through the more challenging and complex advanced training missions that could previously only be accomplished in far more expensive jet aircraft. The T-6 is being used to train the pilots, navigators, and weapons systems operators of more than 20 countries around the world.
BELL HELICOPTER AND PT WHITESKY AVIATION SIGN LETTER OF INTENT FOR 30 BELL 505 JET RANGER X HELICOPTERS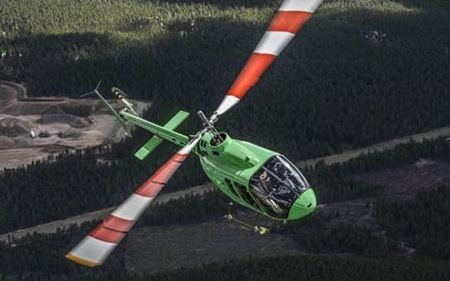 Bell Helicopter, a Textron Inc. (NYSE: TXT) company, announced it has signed a letter of intent (LOI) with PT Whitesky Aviation for 30 Bell 505 Jet Ranger X helicopters. The aircraft will be used for air taxi operations throughout Indonesia and its more than 14,000 islands.
"Our vision is to provide air transportation services that offer our customers the flexibility they need at unsurpassed levels of safety and customer satisfaction," said Denon Prawiraatmadja, CEO, PT Whitesky Aviation. "The Bell 505 allows us to safely, reliably and comfortably transport our customers at a very competitive cost throughout Indonesia, the fastest growing economy in Southeast Asia."
PT Whitesky Aviation, located in Jakarta, Indonesia, is an emerging aviation company, specializing in non-scheduled (charter) flight. The company currently operates a fleet of six Bell Helicopter aircraft, including three Bell 429s and three Bell 407s.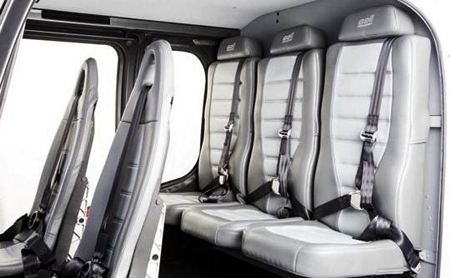 "We are delighted PT Whitesky Aviation has chosen the Bell 505 to support their air taxi operations as they bring added capability to the region," said Matt Hasik, executive vice president, Commercial Business. "Designed with safety, efficiency and reliability in mind, the Bell 505 offers customers an unmatched combination of value, performance, and features and is uniquely suited to support this emerging market."
With a cruise speed of 125 knots (232 km/h), range of 360 nautical miles (667 km) and useful load of 1,500 pounds (608 kg), the Bell 505 is designed to be safe and easy to fly while remaining affordably priced. The customer-driven design of the aircraft places safety, performance and affordability at the forefront, blending proven systems with advanced technology and a sleek, modern design. The Garmin G1000H Integrated Avionics Suite provides pilots critical flight information at a glance to maximize situational awareness. Pilot workload is further reduced by the Turbomeca Arrius 2R engine with dual channel Full Authority Digital Engine Control (FADEC).
"This signing is testament to the growing demand for the Bell 505, especially in the corporate and VIP sectors. There are now more than 380 letters of intent around the globe, and more than 130 Bell 505 LOIs in the Asia Pacific Region alone," added Hasik.
Every Bell Helicopter is backed by the largest support network in the industry with over one hundred Authorized Customer Service Facilities located around the world. Ranked number one by customers for 22 consecutive years in the Helicopter Product Support Survey from Professional Pilot Magazine, Bell Helicopter has also earned top honors in Vertical Magazine's first-ever comprehensive helicopter manufacturer's survey. Bell Helicopter is committed to having resources where customers operate to speed up delivery of service and support, and give customers access to service professionals that are easy to reach, know the operating environment and understand their needs.
Earlier this year, PT Whitesky Aviation enrolled their fleet in Bell Helicopter's Customer Advantage Plan - a new aftermarket parts service plan that provides a predictable monthly cost, reduces inventory costs and maximizes aircraft availability.
UAG DORNIER 228 DEMONSTRATOR PERFORMS EMERGENCY SAR OPERATION AT CAPE VERDE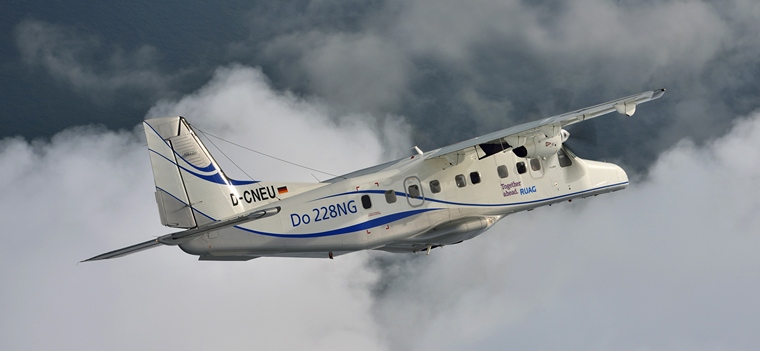 Photo © Ruag

The RUAG Aviation Dornier 228 demonstrator performed an emergency search and rescue operation off the coast of Praia, Cape Verde, on 11 April 2016. The aircraft was contacted for assistance due to its renowned capabilities for low altitude flight and real-time situational awareness. The kayaker was rescued successfully, despite prevailing visibility issues. The SAR mission was initiated 7 hours into the aircraft's non-stop return flight to Europe, from Natal, Brazil; this following the completion of the Dornier 228's premier Latin America Demo Tour. The RUAG Aviation aircraft returned to its home base at Oberpfaffenhofen, Germany, on 12 April 2016.
The RUAG owned Dornier 228 was beginning its approach to the Praia, Cape Verde, airport when the air traffic control tower identified it as the sole aircraft in the vicinity capable of providing SAR assistance under the prevailing conditions. Low-lying cloud cover, darkening skies, plus the small size of the watercraft posed significant challenges. Once engaged, the aircraft continued its descent from its approach altitude of 10'000 ft. to 1'000 ft. to perform the Expanding Square search pattern.
The emergency SAR operation took place off the southern coast of Cape Verde at 19:30 UTC, a full 7 hours after the aircraft had departed Natal, Brazil. In total, the aircraft and its crew accrued 40 additional flight minutes over and above the non-stop transatlantic crossing and without a refueling opportunity. The aircraft, equipped according to its Multirole (MR) configuration, actually completed the SAR pattern at two locations. The crew finally identified the exact rescue location after their instrumentation recorded a short distress signal and one crew member sighted a flare fired by the lone kayaker.
Commander Franz Huber, Factory Test Pilot, RUAG Aviation, explains, "Once the tower relayed the coordinates, we programmed our Flight Management System (FMS) and began the programmed search pattern. When the location failed to reveal a SAR subject, the tower relayed an adjusted set of coordinates and we repeated the procedure there. Our sensors received a 20-second acoustic burst providing our instrumentation with the necessary, final course adjustment. Thanks to the Dornier 228's high maneuverability we were able to react immediately and position the aircraft directly above the location which had emitted the distress signal. The bubble windows and the unobstructed down view allow excellent situational awareness and enabled us to see the kayaker's flare as it was deployed."
The Dornier 228 is recognised for its exceptional capabilities, especially at low altitudes. "Fortunately, ours is one of the most suitable aircraft for this type of mission and it happened to be in the right place, at the right time, and in the right configuration to provide the necessary support," states Fabian Kölliker, Product Manager Dornier 228, RUAG Aviation. "We focused on the Multirole (MR) configuration for our Latin America Demo Tour so we were able to fulfil this SAR mission both successfully and efficiently. Our crew was happy to contribute, and waited eagerly until the Guarda Costeira confirmed the kayaker had been rescued."

USA, Washington: A man is facing weapons charges after a gun was found in his luggage at Richmond International Airport. The man was stopped by Transportation Security Administration officers after they detected a small unloaded .22-caliber handgun in his carry-on bag. Richmond International Airport Police confiscated the gun and ammunition. Passengers who bring firearms to the checkpoint are subject to possible criminal charges from law enforcement and civil penalties from TSA up to $11,000.
Qatar, Goa: Over seven kilograms of gold was found during a search by Air Intelligence in a toilet on a Qatar Airways plane after the flight had landed at Goa. The gold was found in a duty-free plastic bag in the dustbin of the rear left toilet of the aircraft. This is the second seizure of gold by Goa Customs in a week. Another seizure of two kilograms of unclaimed gold bars was made by officers in the same flight on April 24. The bars were hidden inside the pouch in the life jacket which was attached below a passenger's seat.
USA, JFK International: Dennis Murphy, a JetBlue pilot was arrested after allegedly flying while under the influence of alcohol. Murphy had already piloted two flights between Orlando and JFK International Airport in New York when he was selected for random alcohol testing on April 21, 2015. His co-pilot later told agents he'd observed Murphy "drinking an unknown beverage from a cup before and during" both flights. The maximum penalty, if convicted, is 15 years.
Denmark, Copenhagen: -- A Eurocopter EC225 Super Puma operated by CHC Helicopter Service with 14 on board on a flight from Gullfaks B Oilrigg to Bergen crashed near the western Norwegian city of Bergen. There were no survivors. It seems that the main rotor detached in midair and helicopter fell immediately to the ground and hit a rock on the shore.
USA, Bradley: Three people including two passengers were injured on an American Airways flight out of Bradley when an unsecured beverage cart struck them during take-off. A beverage cart, loaded with coffee, water and cans of soda, can weigh more than 200 pounds. The cart was secured and the flight continued, landing without incident at CLT. The two passengers and one flight attendant who requested medical evaluation were treated during the flight.
Sudan, El Obeid Airport: A Antonov 26 of the Sudanese Air Force with 5 on board crashed close to El Obeid Airport. All on board were killed.
Italy, Catania-Fontanarossa Airport: An Air Vallée Fokker 50 made a nose gear-up landing at Catania-Fontanarossa Airport (CTA), Italy. The aircraft was approaching runway 08 at Catania Airport when the nose landing gear failed to deploy. The approach was abandoned and the airplane climbed to 2900 feet and entered a holding pattern to the east of the airport while the crew tried to troubleshoot the problem. A forced landing was carried out on runway 08 at 11:34 with the nose gear doors open but the nose gear retracted.




5 AUGUST 1935

Wiley Post, the first pilot to fly solo around the world, and his passenger Will Rogers are killed in a crash in Alaska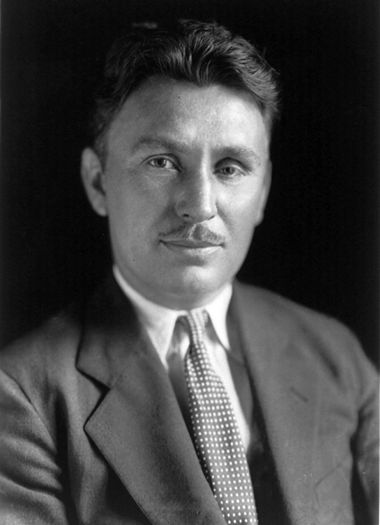 Wiley Hardeman. Photo Underwood & Underwood

Wiley Hardeman Post (22 November 1898 - 15 August 1935) was a famed American aviator during the period known as the Golden Age of Aviation and the first pilot to fly solo around the world. Also known for his work in high-altitude flying, Post helped develop one of the first pressure suits and discovered the jet stream.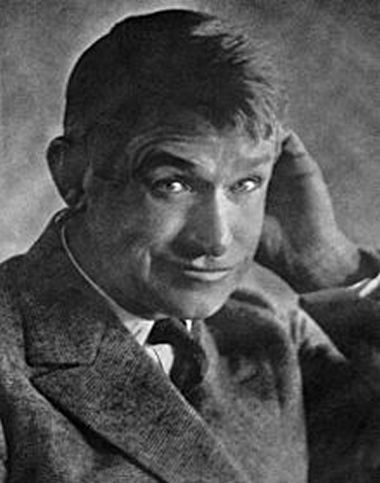 William Penn Adair "Will" Rogers

William Penn Adair "Will" Rogers (November 4, 1879 - August 15, 1935) was an American cowboy, vaudeville performer, humorist, newspaper columnist, social commentator, and stage and motion picture actor. Rogers became an advocate for the aviation industry after noticing advancements in Europe. During his 1926 European trip, he witnessed the European advances in commercial air service and compared them to the almost non-existent facilities in the United States. Rogers's newspaper columns frequently emphasized the safety record, speed, and convenience of this means of transportation, and he helped shape public opinion on the subject.
Young Wiley's first view of an aircraft in flight came in 1913 at the county fair in Lawton, Oklahoma. The plane was a Curtiss-Wright "Pusher type". The event so inspired him that he immediately enrolled in the Sweeney Automobile and Aviation School in Kansas City. Seven months later, he returned to Oklahoma and went to work at the Chickasaw and Lawton Construction Company.
During World War I, Post wanted to become a pilot in the U.S. Army Air Service (USAS). Joining the training camp at the University of Oklahoma, he learned radio technology. Germany surrendered before he completed his training, the war ended, and he went to work as a "roughneck" in the Oklahoma oilfields
Post's aviation career began at age 26 as a parachutist for a flying circus, Burrell Tibbs and His Texas Topnotch Fliers, and he became well known on the barnstorming circuit. On October 1, 1926, an oil field accident cost him his left eye, but he used the settlement money to buy his first aircraft.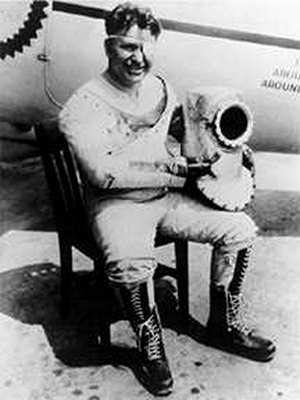 Photo commons.wikimedia.org
.In 1934, with financial support from Frank Phillips of the Phillips Petroleum Company, Post began exploring the limits of high-altitude long-distance flight. The Winnie Mae's cabin could not be pressurized, so he worked with Russell S. Colley of the B.F. Goodrich Company to develop what became the world's first practical pressure suit. Three pressure suits were fabricated for Wiley Post; only the final version proved successful. The first suit ruptured during a pressure test. The redesigned second suit used the same helmet as the first but when tested was too tight and they were unable to remove it from Post, so they had to cut him out thus destroying the suit. The third suit was redesigned from the previous two.
The body of the suit had three layers: long underwear, an inner black rubber air pressure bladder, and an outer layer made of rubberized parachute fabric. The outer layer was glued to a frame with arm and leg joints that allowed him to operate the flight controls and to walk to and from the aircraft. Attached to the frame were pigskin gloves, rubber boots, and an aluminum-and-plastic diver's helmet. The helmet had a removable faceplate that could be sealed at a height of 17,000 ft, and could accommodate earphones and a throat microphone. The helmet was cylinder-shaped with a circular window. In the first flight using the suit on September 5, 1934, Post reached an altitude of 40,000 ft above Chicago. Eventually flying as high as 50,000 ft, Post discovered the jet stream and made the first major practical advances in pressurized flight.
Post was the personal pilot of wealthy Oklahoma oilmen Powell Briscoe and F.C. Hall in 1930 when Hall bought a high-wing, single-engine Lockheed Vega, one of the most famous record-breaking aircraft of the early 1930s. The oilman nicknamed it the Winnie Mae after his daughter, and Post achieved his first national prominence in it by winning the National Air Race Derby, from Los Angeles to Chicago. The fuselage was inscribed, "Los Angeles to Chicago 9 hrs. 8 min. 2 sec. August 27, 1930." Adam Charles Williams finished second with a time of 9 hrs. 9 min. 4 sec.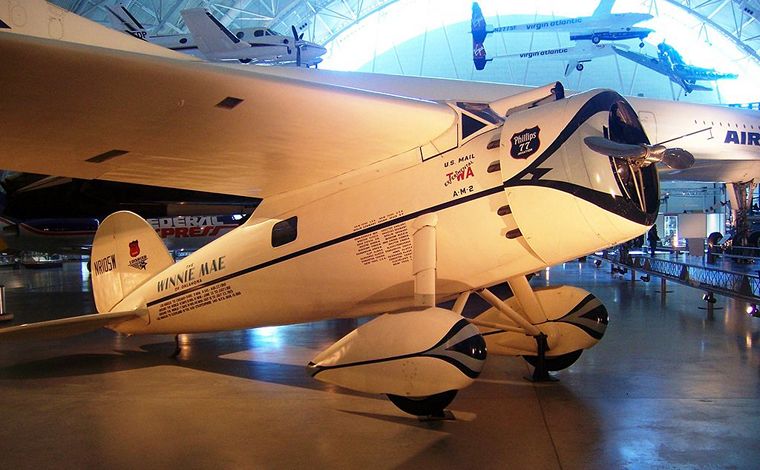 Winnie Mae a Lockheed Vega aircraft of Wiley Post. Photo Jarek Tuszynski / commons.wikimedia.org

In 1930 the record for flying around the world was not held by a fixed-wing aircraft, but by the Graf Zeppelin, piloted by Hugo Eckener in 1929 with a time of 21 days. On June 23, 1931, Post and his navigator, Harold Gatty, left Roosevelt Field on Long Island, New York in the Winnie Mae with a flight plan that would take them around the world, stopping at Harbour Grace, Flintshire, Hanover twice, Berlin, Moscow, Novosibirsk, Irkutsk, Blagoveshchensk, Khabarovsk, Nome where his propeller had to be repaired, Fairbanks where the propeller was replaced, Edmonton, and Cleveland before returning to Roosevelt Field. They arrived back on July 1, after traveling 15,474 miles (24,903 km) in the record time of 8 days and 15 hours and 51 minutes. After the flight, Post acquired the Winnie Mae from F.C. Hall, and he and Gatty published an account of their journey titled, Around the World in Eight Days, with an introduction by Will Rogers.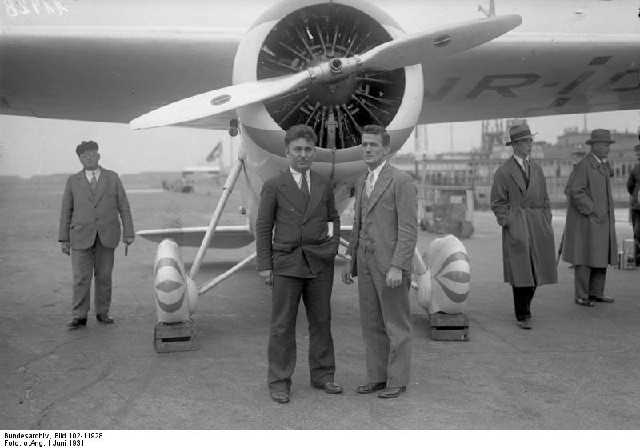 Wiley Post with Gatty in Berlin. Photo Bundesarchiv / commons.wikimedia.org

Post's friend Will Rogers visited him often at the airport in Burbank, California, while Pacific Airmotive Ltd. was modifying the aircraft, and asked Post to fly him through Alaska in search of new material for his newspaper column. When the floats Post had ordered did not arrive at Seattle in time, he used a set that was designed for a larger type, making the already nose-heavy hybrid aircraft still more nose-heavy. However, according to the research of Bryan Sterling, the floats were the correct type for the aircraft.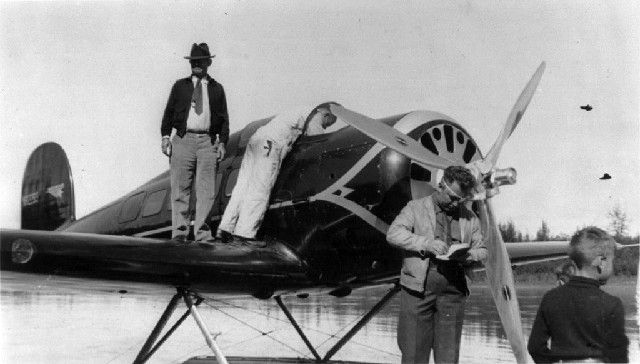 Post and Gatty shortly before the crash. Photo Leonhard Seppala

After making a test flight in July, Post and Rogers left Lake Washington, near Seattle, in early August and made several stops in Alaska. On August 15, they left Fairbanks, Alaska, for Point Barrow. They were a few miles from Point Barrow when they became uncertain of their position in bad weather and landed in a lagoon to ask directions. On take-off, the engine failed at low altitude, and the aircraft, uncontrollably nose-heavy at low speed, plunged into the lagoon, shearing off the right wing, and ended up inverted in the shallow water of the lagoon. Both men died instantly.