Photos © Willie Bodenstein unless otherwise credited


The Boeing B-29 Superfortress four-engine propeller-driven heavy bomber will forever be remembered as the first and still only aircraft from which an atomic bomb has been dropped in anger when during WWII it bombed the Japanese cities of Hiroshima and Nagasaki effectively ending the war.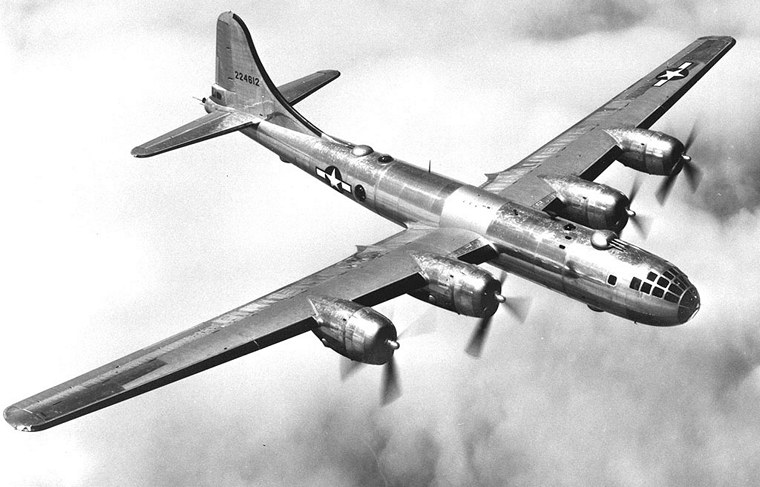 Photo © Wikipedia

In December 1939 the US Air Corps issued a specification for a bomber able to carry 20,000 lb (9,100 kg) of bombs to a target 2,667 mi (4,290 km) away and capable of flying at a speed of 400 mph (640 km/h). The Boeing Company was in an ideal position to compete. The Company had been working since 1938 on its Model 334, a pressurized derivative with nose wheel undercarriage of its successful B-17 Flying Fortress.

Also competing were Consolidated Aircraft their Model 33, later to become the B-32 Lockheed with the XB-30 and Douglas with their XB-31. Boeing received an order for two flying prototypes whilst Douglas and Lockheed withdrew.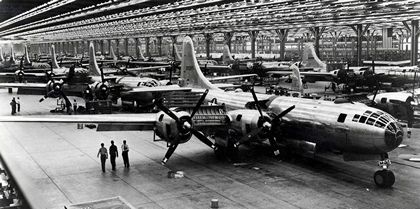 Photo © Wikipedia
Boeing's Superfortress high-altitude strategic bomber, the largest aircraft used during WWII, was a complex aircraft. She was equipped with retractable dual wheeled tricycle landing gears and a revolutionary General Electric Central Fire Control system on her four remotely controlled turrets each armed with two .50 Browning M2 machine guns. She was also the first military aircraft that featured a fully pressurized cabin. Only the bomb bay was not pressurized, a long tunnel linked the cabin to the turrets. The combined effects of the aircraft's highly advanced design, challenging requirements, and immense pressure for production, hurried development and caused setbacks.

An initial production order for 14 service test aircraft and 250 production bombers were placed by the USAAF in May 1941. This was increased to 500 aircraft in January 1942. The first prototype first flew on 30 December 1942. However the flight was terminated because of an engine fire. The second prototype crashed during February 1943 again as a result of an engine fire.

Deliveries started in May 1944. Only 15 of the first 100 to be delivered were found to be completely airworthy. The majority of deliveries had to undergo extensive rebuilds to incorporate modifications. Initial catastrophic failures of the complex Wright R-3350 Duplex-Cyclone radial engines were the cause of most the problems. The Superfortress was to suffer engine reliability problems throughout the war. The problem was only solved afterwards with the installation of the more powerful Pratt & Whitney R-4360 Wasp Major engines.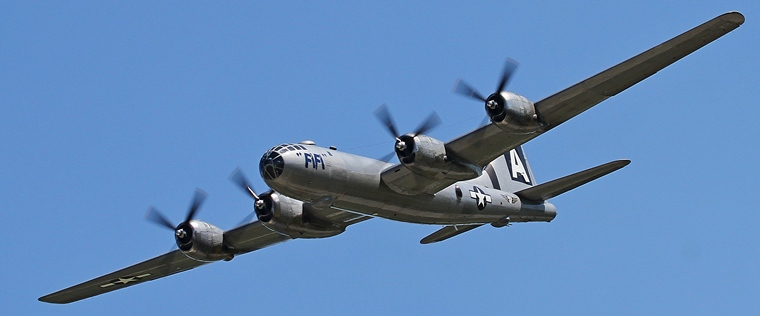 More heavily armed than any other bomber then in use the Superfortress's best defence was its ability to fly at altitudes up to 31,850 feet (9,710 m) at speeds of up to 350 mph (560 km/h). Few Japanese fighters could catch her at that altitude.
The B-29 served exclusively in the Pacific Theatre in the war against Japan. Initially units operated from four forward bases in southern China and five main bases in India. The first aircraft arrived on 24 April 1944 and the first combat mission was flown on 5 June when 77 aircraft flew from basis in India to bomb railroad infrastructure in Thailand. Five B-29s were lost during the operation, none to hostile fire.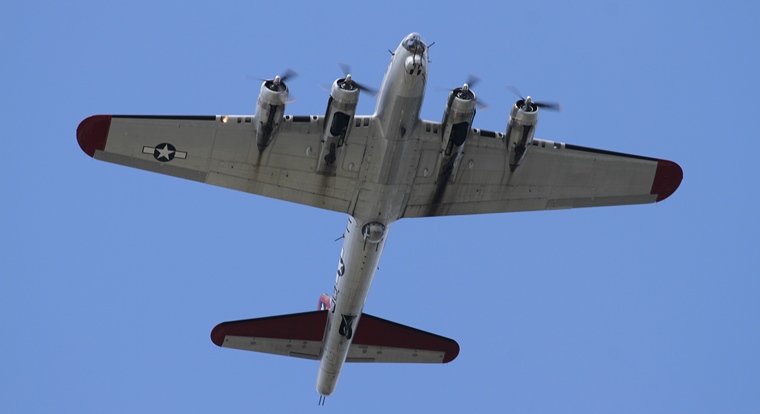 The Boeing B-17, predecessor to the B-29

On 15 June 1944, B-29s suffered their first losses to enemy action when 68 took off from bases in China, in the first attack on Japanese islands since the Doolittle raid in April 1942, to bomb Japanese industrial sites. One B-29 was destroyed on the ground by Japanese fighters after an emergency landing in China, one was lost to anti-aircraft fire over Yawata and another disappeared over the Himalayas after take-off from in India. On 20 August 1944 during another attack on Yawata a Sergeant Shigeo Nobe intentionally flew his Kawasaki Ki-45 into a B-29; destroying her. Several more B-29s were destroyed in this way over the ensuing months.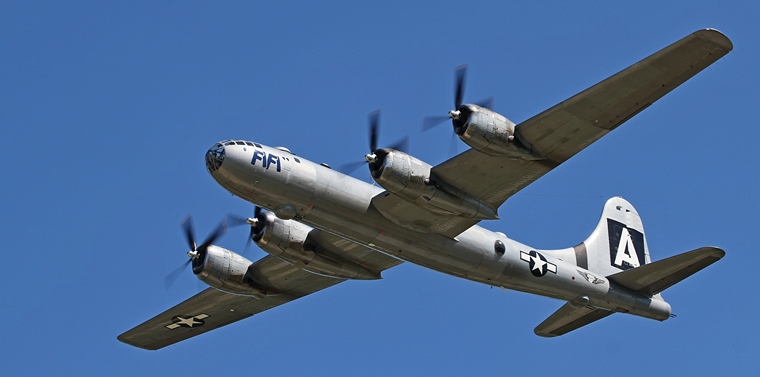 The capture of the Mariana Islands brought targets such as Tokyo, about 1,500 mi (2,400 km) north of the Marianas, within range of B-29 attacks. Five major air fields were built; two on the flat island of Tinian, one on Saipan, and two on Guam. The first B-29 arrived on Saipan on 12 October 1944. The first combat mission with 14 aircraft was launched from there two weeks later. The first attacks against Tokyo took place on 24 November 1944 and in subsequent weeks the raids intensified. These attacks not only devastated most of the large Japanese cities but also decimated Japan's war industries.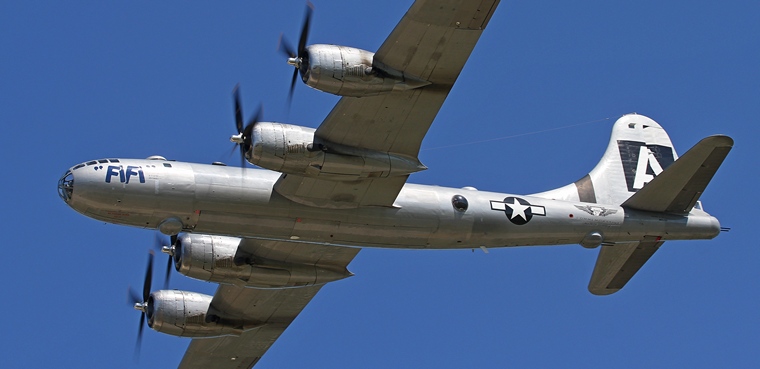 On 6 August 1945 a Superfortress called the Enola Gay dropped the first atom bomb, called Little Boy, on Hiroshima and three days later Bockscar dropped the second called Fat Man on Nagasaki.
The B-29 had a relatively short production run of only three years, the last aircraft having left the factory floor in 1946 however almost 4,000 were built. Many aircraft went into storage, most were being declared excess inventory and were ultimately scrapped. Others remained in the active inventory and equipped the Strategic Air Command. Some, not many, however survived and found a new lease in life. A number were send to the UK in 1950 where they equipped several squadrons and served until 1954. Another role was as a mother ship. This included being rigged for to air-launch the famous Bell X-1 supersonic research rocket aircraft as well as the McDonnell XF-85 Goblin and Republic F-84 Thunderjet.
Photo © Wikipedia

Good designs seldom just disappear, they inspire other and so did the B-29. The Boeing C-97 Stratofreighter and Boeing Model 377 Stratocruiser were all based on the B-29 airframe. The Russians Tupolev Tu-4 was a reversed engineered a B-29 that had made an emergency landing in its territory after one of the raids into Japan.
Of the almost 4,000 built only twenty-eight B-29s are preserved. Only one 'Fifi' of the Commemorative Air Force is airworthy and a regular at airshows in the US. Twenty two are on display in various museums, four complete airframes are in storage and one is currently being restored to flying condition.
Specifications (B-29)
General characteristics


Crew: 11 (Pilot, Co-pilot, Bombardier, Flight Engineer, Navigator, Radio Operator, Radar Observer, Right Gunner, Left Gunner, Central Fire Control, Tail Gunner)
Length: 99 ft 0 in (30.18 m)
Wingspan: 141 ft 3 in (43.06 m)
Height: 27 ft 9 in (8.45 m)
Wing area: 1,736 sq ft (161.3 m≤)
Empty weight: 74,500 lb (33,800 kg)
Loaded weight: 120,000 lb (54,000 kg)
Max. takeoff weight: 133,500 lb (60,560 kg) ; 135,000 lb plus combat load
Powerplant: 4 ◊ Wright R-3350 -23 and 23A Duplex-Cyclone turbo supercharged radial engines, 2,200 hp (1,640 kW) each
Performance

Maximum speed: 357 mph (310 knots, 574 km/h)
Cruise speed: 220 mph (190 knots, 350 km/h)
Stall speed: 105 mph (91 knots, 170 km/h)
Range: 3,250 mi (2,820 nmi, 5,230 km)
Service ceiling: 31850 ft [23] (9,710 m)
Rate of climb: 900 ft/min (4.6 m/s)
Armament

Guns: 10◊ .50 in (12.7 mm) Browning M2/ANs in remote-controlled turrets.2◊ .50 BMG and 1◊ 20 mm M2 cannon in tail position (the cannon was later removed)
Bombs: 20,000 lb (9,000 kg) standard loadout.