THIS WEEK IN MIDWEEK UPDATE


AvClicks Photo Competition……Plan Your Weekend……..Forthcoming Events


Notice Board……..Aviation News………. Worldwide Incidents and Accidents


This Week in Aviation History………Advertising Rate Card






Pilot's Post is proud to launch its "AVclick 2016" aviation related photo competition. By entering your favourite photos, you will not only share your aviation photography passion with thousands of others, you will also stand a chance to win exciting prizes this year. Our prizes for this competition were carefully chosen to suit everyone's aviation interest and that is why we are offering the winner a choice between three different options.

For more information go to: www.pilotspost.com/arn0000956




This Week's Four Finalist
To vote for your favourite photo click on "Vote for"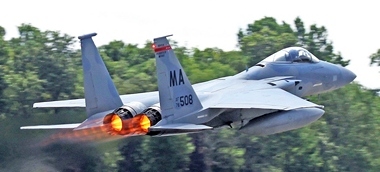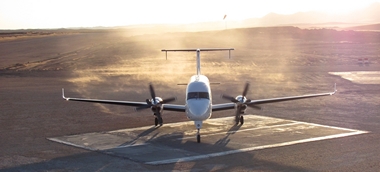 Vote for 3.1.....................Vote for 3.2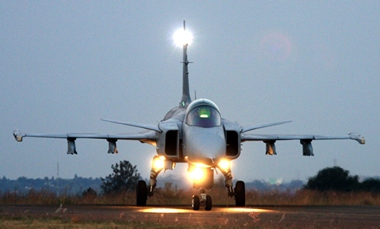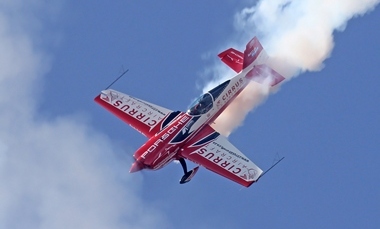 Vote for 3.3.....................Vote for 3.4





21-21: Lowveld airshow - Nelspruit. Contact Willemien Hodgkinson e-mail:
willemien.hodgkinson@ffa.co.za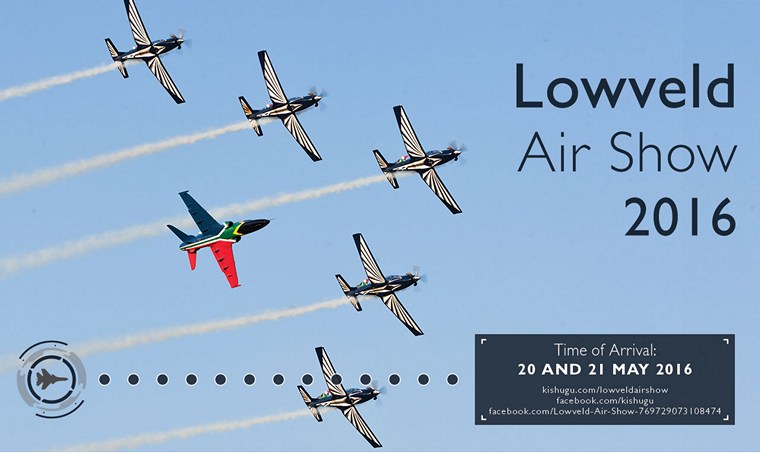 20 - 22: Vryheid wings club fly inn. Following what we believe to be an excellent fly inn last year the Vryheid wings club will be hosting another fly inn this year. FIRST 10 PILOTS who flyinn on Friday and Also on the Saturday will get free food and drinks for the whole weekend (pilots only not entire crew). All other pilots and crew will be charged R 600 for entire weekend and R 450 from the Saturday and Sunday only (fly inn day only R150). Above costs include: Camping on the irfield (ablutions are being built currently on the airfield for all who wish to camp). All food and drinks for the selected time. Shuttles to town as needed. Live entertainment for the Friday and Saturday night. Entertainment on the day. Contact: Morne Strauss
morne@lmsbrokers.co.za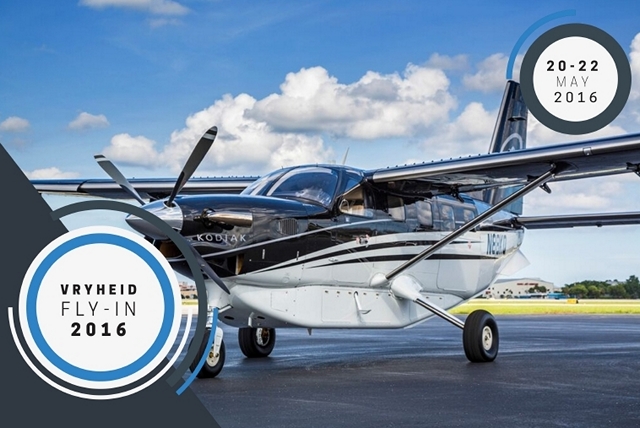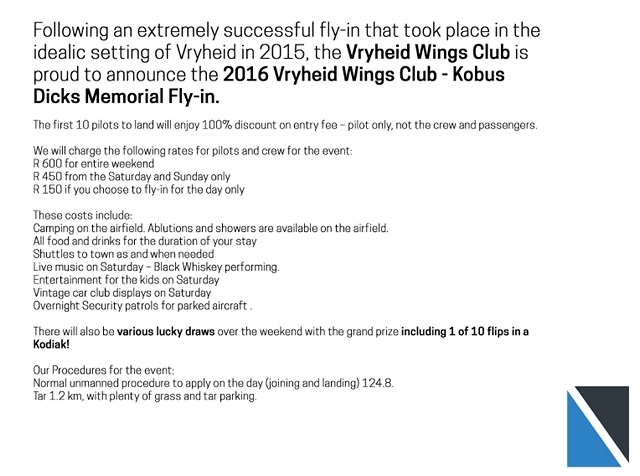 16 - 20: Aero Club Safety Campaign: Tuesday 17 May Stellenbosch Flying Club evening, Wednesday 18 May Morning Star Flying Club evening, Thursday 19 May One of the Flight Schools in George daytime, Thursday 19 May AIFA Oudtshoorn evening.

MAY

25-29: Namibia-UIS / Brandberg / Save Some Rhino -fly-in, Swakopmund. Phone or mail Johan de Wet for info @ 00264 (0) 81 124 8283 or
jdewet@mweb.com.na
orHeiner Schlushe @ 00264 (0) 81 127 9100
21-22: SAC Free State regionals, Bloemfontein - New Tempe. Contact Annie Boon e-mail:
chunge@mweb.co.za
25-28: SAPFA President's Trophy Air Race hosted by the Bethlehem Aero Club. Website:
www.sapfa.org.za
e-mail:
Race@sapfa.org.za
Contact Robbie Myburgh e-mail:
roblena@mweb.co.za
Cell: 083 377 0925 or Robin Spencer-Scarr 083 310 2850 e-mail:
robin@stylegroup.com.au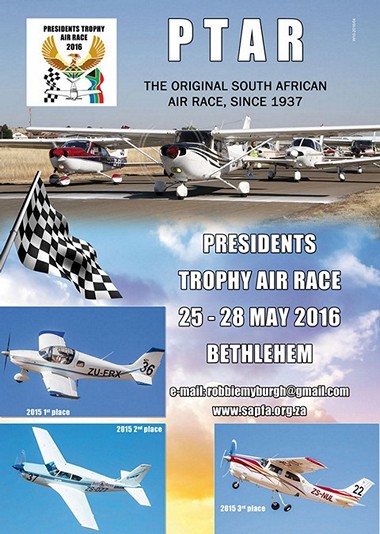 28: Sky Grand Prix. Greyville Racecourse, Durban. Contact Paul Godwin Tel: 031 201 2169 Cell: 082 499 5222 e-mail:
mw.nerve@mweb.co.za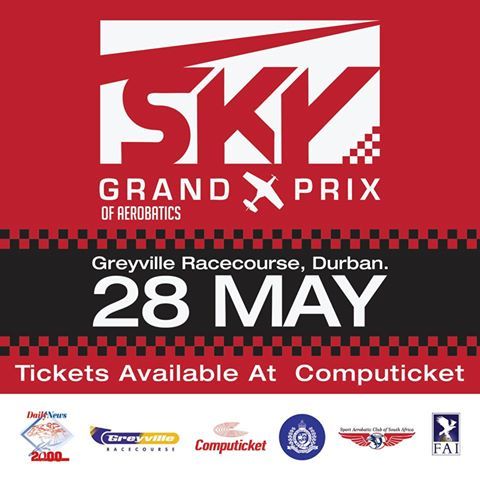 28: Botswana airshow at the Matsieng Flying Club. Contact Guillaume Knipe e-mail:
gknipe@work.co.bw
or Hentie de Wet e-mail:
hentie@dewetdrilling.co.bw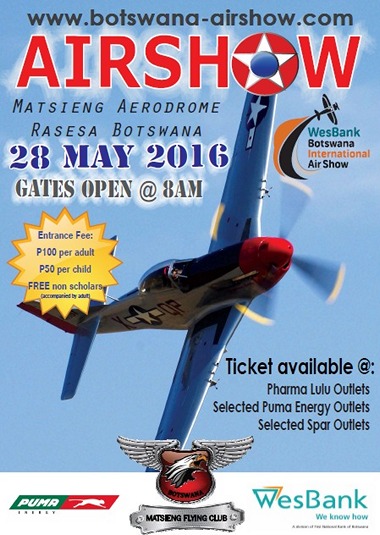 JUNE


2: EAA Chapter 322 monthly meeting, Dickie Fritz Moth Hall Edenvale. Contact
editor@afskies.co.za
4: SAAF Museum flying training and open days. Contact Capt. Kobus Kapp 012 351 2342 or E-mail:
webmaster@saafmuseum.org
4: Vintage Wings and Wheels and Magaliesburg Steam Express meet at FAKR Krugersdorp. Contact
cwatson@stithian.com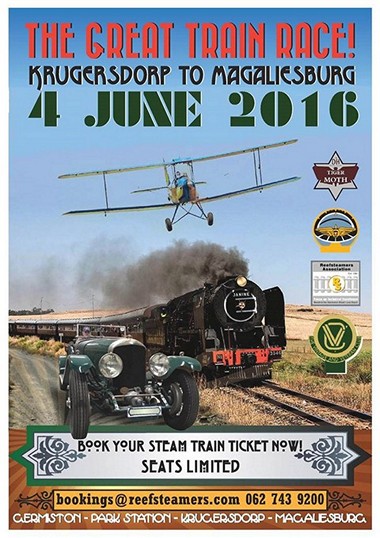 4: Newcastle airshow. Contact Johan Pieters e-mail:
info@champ.co.za
4: Kroon Airfield annual Fly-in. Our landing strip is 750m, excellent grass strip. Just to the South of the N4 highway to Rustenburg. RW 11/29 (RW29 now have NO overhead power lines.) The circuit is always to the North of the Runway, Lefthand for 11 and Righthand for 29. Freq: 124.8 (although we are South of the N4 Highway, our Circuit is to the North). Circuit Alt: 4700ft for Trikes and 4900 for fix wings. Airfield Alt: 4330ft. Lats: 25°39'33.90"S. Longs: 27°59'53.37"E
7- 9 June: Aero Club Safety Campaign, Kwa Zulu Natal: Tuesday 7 June Margate Flying Club evening, Wednesday 8 June Pietermaritzburg Aero Club evening, Thursday 9 June Virginia Airport Durban evening.
8: Aero Club's 75th AGM 14th of April 2016 at 18:30 at the Harvard Conference Centre at Rand Airport,Germiston. RSVP Sandra Strydom on e-mail to
office@aeroclub.org.za.
9-11: Provisional date ZimNavex Zimbabwe . Contact Mel Cooper e-mail:
zmelzim@gmail.com
10-12: Wonderboom Wings and Wheels airshow. Contact Chris Briers
chris@airteam.co.za
Cell: 082 568 7988. Wonderboom Airport and is gearing up to be one of the biggest civilian airshows of 2016. The event is to be part of Wonderboom Airport's 80th birthday celebrations and in partnership with the City of Tshwane, Airlink and the tenants of Wonderboom airport, some of whom have been operating at the since its early days, the organisers would like to see the airport flourish again. They have decided to take it upon themselves to put on the 'Adrenaline Show', which will be a combination of Hot Rod cars, Muscle cars, Superbikes and an air show featuring the best of the South African displays. Considered to be a first for South African air shows, will be the 4,1Km race track and a 950 metre drag race strip, which will give attendees a unique mix of aviation and motorsport over the two days, with the 10 June marked as the career day. Another first for an air show will be the hosting of the Street Rod and Muscle Car Nationals.

17-19: Memorial fly in and airshow Mafeking. Contact Connie Conradie e-mail:
info@mmafikeng-flyingclub.co.za
18: Whisper Carnarvon fly in. For information go to
www.facebook/whisperaircraft
28 -29: Aviation Festival Africa Sandton Convention Centre Johannesburg. Contact Bianca Wiener e-mail:
bianca.wiener@terrapinn.com
30 June-3 July: Race of Champions at Kubu Island Botswana. Contact Chris Briers
chris@airteam.co.za
Cell: 082 568 7988


OSHKOSH AIRVENTURE 2016 TOUR RAFFLE



The South African Power Flying Association (SAPFA) and Neil Bowden's AirAdventure tour group (
www.airadventure.co.za
) have put up an opportunity of a lifetime to attend Oshkosh AirVenture 2016 to be held from the 23rd of July to 1st of August 2016 by offering a raffle ticket of R1000 for a trip for two to this event which includes air fares and camping in the unique South African campsite. Attached also find more information of the tour details (tour A & B are applicable) and what is included.
To buy a ticket, payment can be done either by EFT (details below) or cash, and is limited to 300 tickets sold, so buy soon to avoid disappointment.
Bank Details: Name: S.A.P.F.A. Bank: Nedbank Limited. Branch Code: 19876500. Account Number 1876019840. Payment Reference : Oshkosh Raffle

Email proof of payment to
rob@aerosud.co.za
with your name, email address and cell number (important to provide as winning ticket could be a cell phone number away) You will receive an email /sms with your ticket number once payment confirmation is received. The winner will be announced at the prize Giving ceremony of the President's Air race on Saturday the 28th May 2016 by means of a lucky draw.




GREG KOONTZ LANDS SUPER LEGEND ON PICKUP TRUCK

Photo © Legend Cubs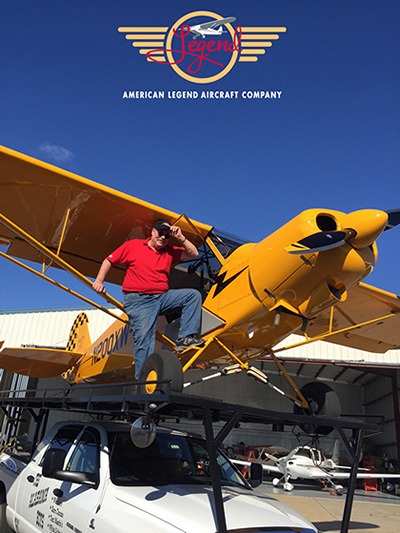 American Legend Aircraft Company announced the successful completion and testing of a new Super Legend aircraft to be used in Greg Koontz Airshows' World's Smallest Airport flying routine. Pilot and performer Greg Koontz concluded the tests of the Super Legend by successfully landing the aircraft on top of a moving pickup truck.
Announced in January, the newly manufactured Super Legend will be the featured aircraft in Greg Koontz' "Alabama Boys / World's Smallest Airport" airshow act. Fabrication assistance was provided by Don Wade of C&D Aviation. Essentially a stock aircraft, the Super Legend does incorporate modifications specific to the airshow. These include a Smoking Airplanes 3.5 gallon smoke system. The landing gear has been narrowed four inches. The Super Legend features a 180 HP Titan engine.
When Koontz' team first saw the new Super Legend they were eager to demonstrate that the aircraft met their requirements for performance. Don Wade summarized Koontz initial reactions, "Greg is extremely pleased with how easy it was to transition to the Super Legend. The airplane flies so similar to the original [J-3], which has made it possible. Greg is one the most precise airshow pilots in world. You have no idea how difficult landing on the truck is. You have just six inches either side and that's after the modified landing gear." Wade concurs with Koontz on the new aircraft's capabilities, "I love the Super Legend. It performs great, and this really shows when Greg flies it."
American Legend Aircraft Company continues to be one of the most successful manufacturers in the sport pilot category and is noted for its exceptional product support. American Legend is also renowned for building a true Cub, one that is sensibly modern, competitively priced, and built to last
SUN FLYER PROTOTYPE UNVEILED

Photo © Aero Electric Aircraft Corp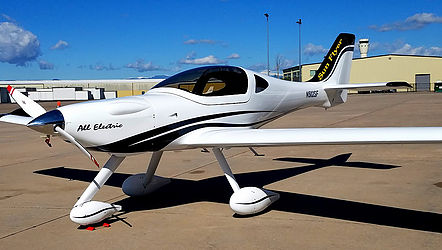 Aero Electric Aircraft Corp. (AEAC), which is developing the high-tech, solar-electric "Sun Flyer" general aviation flight trainer, hosted a rollout event of its proof of concept (POC) Sun Flyer this morning at Centennial Airport..
The airplane unveiled publicly for the first time is a 2-seat POC prototype version of Sun Flyer. Performance data from the POC prototype airplane will be used to help finalize the design for the FAA-certified production version. The rollout featured a static display of the aircraft.
George Bye, CEO and Founder of AEAC, said the rollout of the aircraft is the first of many complex steps to finalize the design and ultimately achieve FAA certification for the production Sun Flyer. "It is an honour to have such notable individuals from the State of Colorado, surrounding communities, general aviation and aerospace industry with us today," he said. "I would like to extend a special thanks to Peter Harris and his outstanding team at Spartan. Their ongoing support continues to help the Sun Flyer program gain additional momentum."
During the event, Peter Harris, CEO of Spartan College of Aeronautics and Technology, announced Spartan is reserving five additional Sun Flyer airplanes. Spartan, a key development partner, reserved the first 20 Sun Flyer delivery positions and signed a Training Program Development Agreement to help develop a complete training system for Sun Flyer. "This is a great day," Harris said. "We are thrilled to have Spartan College of Aeronautics and Technology involved as part of the Sun Flyer in an industry that needs pioneers. This is changing the nature of aviation training that will have an impact for generations to come."
Charlie Johnson, President of AEAC, said the event was a significant moment in the evolution of general aviation. "Sun Flyer is going to be environmentally friendly, but there will be a lot of significant cost reductions as well," he said.
Jay Lindell, Aerospace and Defense Industry Champion for the State of Colorado Office of Economic Development and International Trade, said many in the general public want to be pilots but are not able to achieve certification due to the high cost. "Today we cannot meet the demand for commercial pilots but with the Sun Flyer, general aviation will again be affordable, not a luxury."
Jerry Gregoire of Redbird Flight said the cost of learning to fly and the costs associated with flying have had significant impact on aviation. "In looking for solutions to lower the cost of training, this is a very important piece of learning how to bring the costs of flying down." AEAC and Redbird are jointly creating a next-generation comprehensive pilot training system for Sun Flyer.
AN A-20 IS COMING TO AIRVENTURE OSHKOSH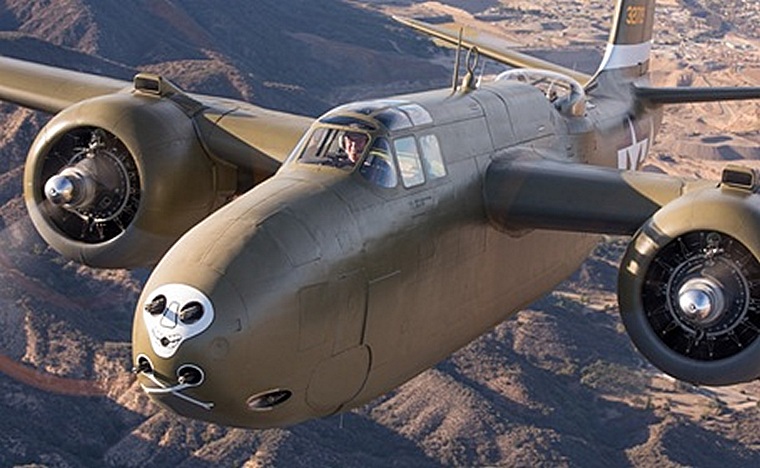 Photo © Scott Slocum

Of the more than 7,000 Douglas A-20 Havocs built for U.S. and Allied forces during World War II, just a handful survive, and, as far as we know, only one flies-and it's coming to Oshkosh. The twin-engine light bomber and attack aircraft is part of Rod Lewis' Lewis Air Legends collection based in San Antonio, Texas. Lewis's Air Legends is also the owner of the beloved P-38F Glacier Girl, as well as the well-known Reno racer Rare Bear, a highly modified F8F-2 Bearcat.
Lewis' Havoc was built in 1943 as an A-20G, is powered by two 1,700-hp Wright R-2600s, armed with seven 7.7mm (.303 caliber) machine guns (six Brownings, one Vickers) and could carry a bomb load of 4,000 pounds. The airplane was previously owned by the Lone Star Flight Museum, but has since been fully restored to its original, stock military configuration. AirVenture Oshkosh 2016 is expected to be the A-20's first official public display since the restoration.
"We're really excited to see this beautiful airplane this summer," said Rick Larsen, EAA's vice president of communities and member programs who coordinates features and attractions at AirVenture. "As the only known flying example, the A-20 is truly unique and will be a great addition to the warbird lineup at Oshkosh 2016."
The exact arrival and air show demonstration dates will be announced as they are finalized.

ZLIN AIRCRAFT SHOCK CUB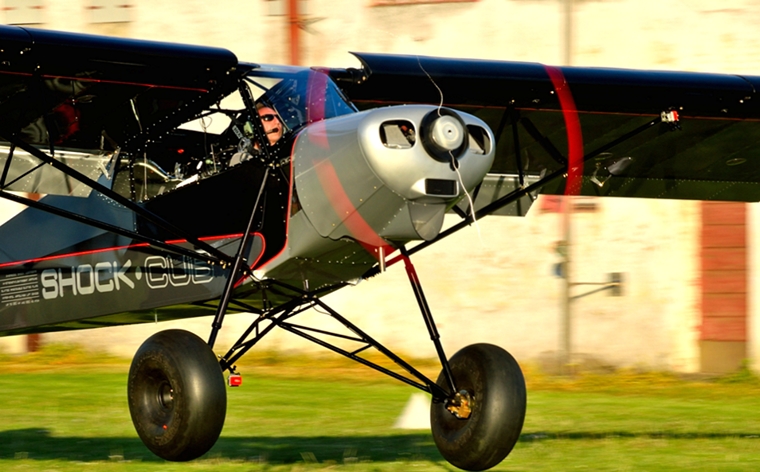 Photos © Zlin


In Alaska in you will never find pilots of the Piper Super Cub (the aircraft that alone represents at least 90% of the two-seater planes in use in bushflying) who are interested in the maximum velocity, but you will always find pilots interested in the minimum velocity and in the take-off and landing distances. And it is from those magic numbers and from these technical necessities, that actual competitions in short take-off and landing have emerged.
Zlin Aviation believes they belong to this category of pilots and airplanes, for which and for whom the maximum velocity figure is simply a number, whereas the minimum and approach velocities become a true "added value". Bushflying is a serious thing, very technical and if you've ever talked to someone who does it for a living, you will have realized what's truly necessary and what isn't, in order to have and to give the utmost, in absolute safety.
Zlin's long experience in this sector and the continuous evolution in materials, in aerodynamics and in the formulas and techniques of super slow approach flying, have enabled them to construct that which represents the maximum expression of the concepts of bushflying, applied to the LSA and ultra-light market.
The Savage Cub-S formed the basis of the Shock Cub. The fuselage framework has been reinforced and refined and increased by several centimetres. The cockpit height has been increased and accessibility and ergonomics improved. Increased surfaces to the already generous Cub-S elevator and rudder and increased stabilizer vertical travel, due to the new Jack Screw Trim System, has been increased to balance the new Hyper STOL wing angle of incidence.
The Engine Cowling can accommodate up to 180 hp engines such as Lycoming / Titan or other makes. The Landing Gear is totally new, equipped with ultra-performing Shock Absorbers in three points. The front and rear suspensions innovative design and drop tests have shown that with a weight of 1000 kg and a height of 120 centimetres the structure keeps its full integrity.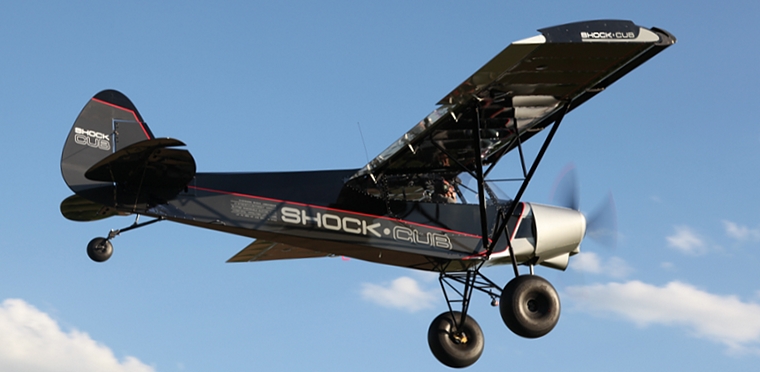 The Wing is totally new with new customized Hyper STOL profile and has been tested to above 700 Kg MTOW x 6g (Ultimate Load) with no residual permanent deformations. Its contour allows the Ailerons to keep their efficiency to extremely low speed. Equipped with the innovative double slotted flaps, has made possible to increase tremendously the Lift Coefficient providing excellent performance in landing.
The new slats make spin, in practice, almost impossible, while make easy to control and less dangerous stall. In fact the Shock Cub stall is so unnatural and its stall angle of attack is so high that would never be reached by chance or by error at the approach. The fuselage structure is more robust and the landing gear and bush wheels give the pilot the benefit of a favourable situation in all the most critical phases of flight, namely approach and landing.
The Shock Cub introduces a new way in the world of the "Ultra Slow" without completely relinquishing respectable cruise speed.


ARION LIGHTNING LS-1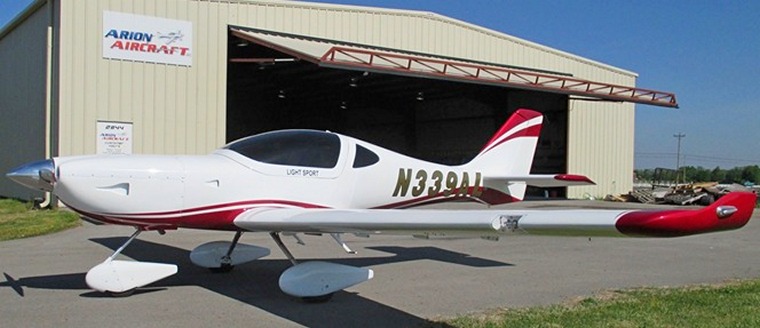 Photos © Arion


The Lightning LS-1 is designed and built around Jabiru's powerful 3300 aircraft engine. With a displacement of over 200 cubic inches and a direct drive crank, this little beauty has over 120 hp on tap for performance rarely matched in a light sport aircraft. Arion Aircraft spent over 3 years making the kit Lightning as efficient and fast as possible.
The Lightning LS-1 is constructed entirely of aircraft grade components. Composite components are produced using aviation epoxies through internationally accepted quality control programs. All welded and machined components are built by aircraft welders with over 30 years' experience in the industry. There is AN hardware throughout, Matco wheels and brakes, and components from companies like Mcfarlane . Aviation, and Aircraft Windshields round out the top quality materials.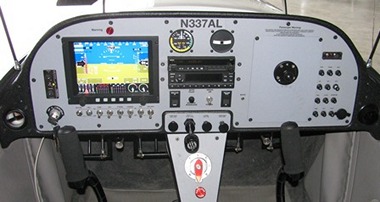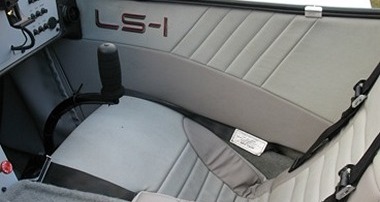 By changing the airfoil slightly and adding 3 feet of wing span, the LS-1 stalls below 44 kts clean; giving this aircraft an impressive 52 kts approach speed for its class. Solo climb is in excess of 1200 fpm, while you can expect 1000 fpm at 1320 lbs. Cruise speeds and fuel burns fall in the 120 kts range at 5.5 gph. These are real performance numbers a pilot can rely on; not on a perfect day at sea level or flying around solo, but all loaded up!
A payload of up to 470 lbs is available, and now standard equipped with 40 gallons, you can go over 800 nm with VFR reserves! The Lightning LS-1 is available as a factory built S-LSA or E-LSA.



INDIA RETIRE SEA HARRIERS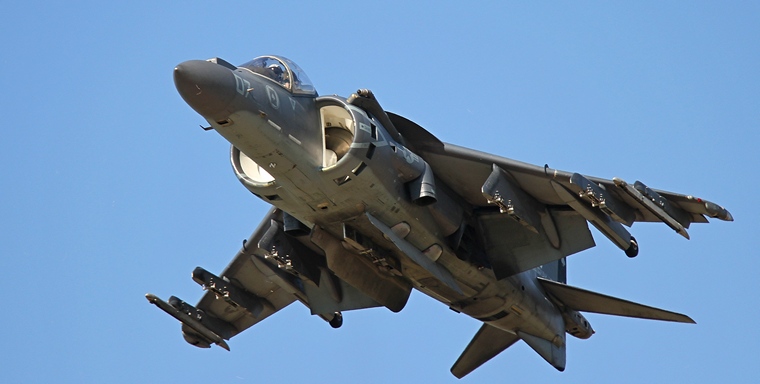 Photo © Willie Bodenstein

On May 11, the Sea Harrier flew its last sortie for the Indian Navy. The iconic VSTOL aircraft has served with the Indian Navy for 30 years. Sea Harriers were inducted into the Indian Navy in 1983. The Harriers were based on the Indian Aircraft Carriers the INS Viraat and INS Vikrant.
The Indian Navy purchased 30 Sea Harriers that were introduced into service in 1983. Although only the best pilots were task with flying the VSTOL aircraft 15 were lost in crashes during its service life.
The Harrier that served in the Royal Navy for 26 years gained legendary status during the Falkland War. Royal Navy aircraft were withdrawn from service in 2006.
The Harrier production line was closed in 1998. India's Sea Harriers will be replaced by Russian MiG 29K jets.
E190 MAKES JAPAN DEBUT WITH JAPAN AIRLINES SUBSIDIARY J-AIR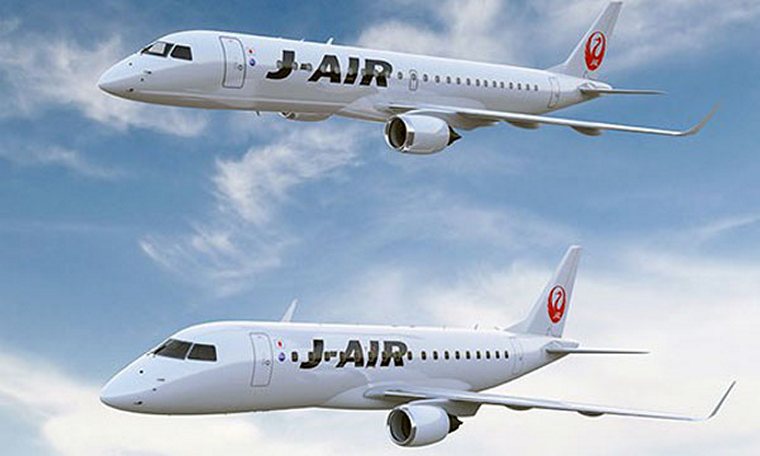 Photo © Embraer

Embraer announced the debut of the E190 jet in Japan with J-AIR, subsidiary of leading carrier Japan Airlines. The inaugural revenue flight took place between Osaka (Itami Airport) and Kagoshima. The entry of the first E190 in J-AIR's fleet brings the current number of E-Jets operating across Japan to 28.
"The E-Jets have proven their ability to help airlines maximize yield, and sustainably enter new markets, as in the case of Japan Airlines," said Paulo Cesar Silva, President and CEO, Embraer Commercial Aviation. "The E190 configured with 95 seats complements J-AIR's E170 operations. The extra capacity offered also reflects the steady growth of the domestic market. We are confident that our E-Jets will continue to add strong value to J-AIR's operations, and we are grateful to Japan Airlines for their trust and for the partnership we continue to enjoy."
"We are honoured to receive the first E190 in Japan," said Tetsuya Onuki, President of J-AIR Corporation. "The combination of the existing E170s and new E190s in our fleet will give us greater flexibility to match our products and services to customer needs. We are confident that the E190, with our new cabin interior and the addition of Class J service, will deliver a refreshing and comfortable in-flight experience to customers."
The E190, configured by JAL in dual class with genuine leather seat offering, is the third Embraer E-Jet aircraft type that is operating in Japan, in addition to the E170 and E175 that already operate in the country. J-AIR currently operates a total of 17 E170s and Fuji Dream Airlines operates three E170s and seven E175s. The E190 is operated by 50 customers around the world.
Embraer is the only manufacturer to develop a modern family of four airplanes specifically targeted for the 70- to 130-seat segment. Since the launch of the program, Embraer has logged nearly 1,700 orders and over 1,200 deliveries, with the E-Jets redefining the traditional concept of regional aircraft by operating across a range of business applications, with some 70 customers from 50 countries. The first E-Jet entered revenue service in 2004. Collectively, the E-Jets have accumulated more than 15 million flight hours.

USA, Atlanta: A Delta Boeing 717 on a flight from Atlanta to Chicago had to make an emergency landing in Nashville on Sunday after hitting turbulence that caused an engine's outermost covering of the right engine or cowling covering to come off. The crew declared an emergency for priority air traffic control handling to Nashville. The aircraft landed safely.
USA, Fresno: A Cessna 208 carrying 17 skydiver's experienced trouble shortly after taking off from the Parachute Centre skydiving school. The pilot tried returning to the airport but crashed less than a mile from the airport on the opposite side of Highway 99, a major route in California. It clipped a pickup and then landed upside-down in a vineyard. The worst injuries suffered were minor cuts and scrapes.
USA: According to US court papers a former McDonald's employee from South London was personally schooled by a senior Al-Qaeda boss on how to carry out a deadly suicide attack at Heathrow Airport, targeting passengers arriving from the US and Israel. Minh Quang Pham, a 33-year-old Muslim convert is facing a possible 50-year sentence after pleading guilty to joining Al-Qaeda. Anwar al-Awlaki, an Al-Qaeda boss, who was later killed by a US drone strike, reportedly credited with radicalizing a generation of terrorists through his internet sermons, gave almost £5,000 and a "clean" laptop to Pham to plan the alleged attack. Pham approached Awlaki and offered to conduct a suicide attack and 'sacrifice himself' on behalf of Al-Qaeda upon his return to the United Kingdom. He was instructed by Awlaki to target the arrivals section of Heathrow international airport. Pham intended to conduct the attack by concealing the explosive device in a backpack.



18 MAY 1966

British pilot Sheila Scott takes off from London Heathrow for the first round-the-world solo flight. She will fly 29,000 miles (46,670 km) in stages in her Piper Comanche 'Myth Too'.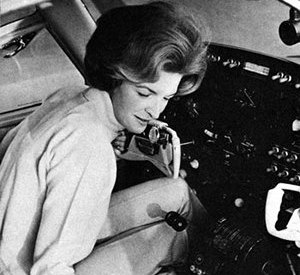 Sheila Christine Scott OBE (27 April 1922 - 20 October 1988), was an English aviator born in Worcester, Worcestershire, England and educated at the Alice Ottley School. She broke over 100 aviation records through her long distance flight endeavours, which included a 34,000-mile (55,000 km) "world and a half" flight in 1971. On this flight, she became the first person to fly over the North Pole in a small aircraft.
One day in 1958 Sheila threw herself into aviation as if nothing else mattered. She learned on a De Havilland Tiger Moth, a biplane, and was soon to buy one of her own, a Thruxton Jackaroo. The Jackroo is a modified Tiger Moth with an enclosed cabin and a widened fuselage.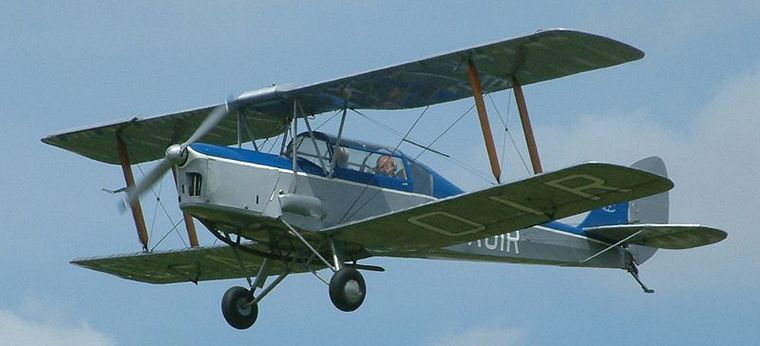 Thruxton Jackaroo. Photo Milborne One/commons.wikimedia.org


After selling her first aeroplane, Sheila learned to fly helicopters and hot air balloons. However, this was not enough for her, her dream being to 'break' or 'set' records. Hiring a Comanche 400 that she Sheila set 15 records between London and five European capitals: Brussels, Paris, La Hague, Dublin, Madrid and Malta, all in less than 36 hours. Thirteen of these records are still standing today.
Her next goal was to beat Geraldine Mock's record around the world, set in 1964, and also to beat Amy Johnson's record between London and Australia set in her Gipsy Moth Jason. Finally, on May 18, 1966, Sheila was ready. Before she left London airport, she touched the statue of Alcock and Brown, in the hope that the two pioneers would bring her luck. It didn't, she had radio problems at the start of the flight, delaying her by 6 hours. She made a night landing in Rome, resting a day while her radios were repaired. She then proceeded to Athens, and arrived in Damascus on Friday May 20, and Bahrain and Karachi on May 22. Pakistan International Airlines repaired her HF radio.
03On her way to Dehli, Sheila had to detour to Jaipur to avoid heavy thunderstorms, arriving in Delhi on May 24, and continuing to Bangkok after a stop in Calcutta. The next morning it was discovered that someone had left the master switch "on", and the battery was flat. Later that day, she lost all her radio navigation instruments. She crossed huge thunderstorms, typical of the Intertropical Zone of Convergence. She finally reached Rangoon in Burma with great difficulties. Technicians of Burma Airways repaired her radio while she rested.
Leaving Rangoon, all her radios were working, but awhile later, she lost all her gyroscopic instruments, and could no longer fly IFR, which meant she had to return to Rangoon for repairs. Finally, departing on May 28 in heavy rain with extreme turbulence and a strong head wind she diverted to the Royal Australian Air Force base of Butterworth on the west coast of Malaysia, arriving in Singapore on May 29 and Bali on the 30th.
On May 31, Sheila left Bali for Darwin, where she was very well received. Unfortunately, on departing Darwin the next day she discovered that her HF antenna had been cut. Flying on to Mount Isa, then Brisbane and finally Sydney, Sheila is welcomed by personalities, among them Nancy Bird Walton.
She had a rest day while engineers at Bankston Airport worked on Myth Too. The weather was thundery when she left for New Zealand. In Auckland she had the pleasure of meeting Jean Batten's brother. After a short refuelling stop on Norfolk Island, she arrived in Nadi, Fiji, and landed in American Samoa on 8 June after crossing the date line.
The next day, also the 8th, she landed on the small atoll of Canton Island, a very small dot in the vastness of the Pacific Ocean. Leaving Canton, She again had problems with a dragging HF antenna, which failed to deploy. The antenna was required for long distance communications, but with her aircraft heavily laden with fuel to make it to Hawaii, she could not turn back and continued on without HF. After 12 hours, a Hercules of the American Coast Guard, called her on the emergency frequency, and kept her company all the way to Hawaii. Very much overloaded, she departed Hawaii on June 11th. Soon after take-off, the very strong smell of gas invading the cabin, caused her considerable concern, and she worried that she might have a fuel leak. The smell persisted for 2 hours, and was probably caused by the over flow of one of the cabin tanks.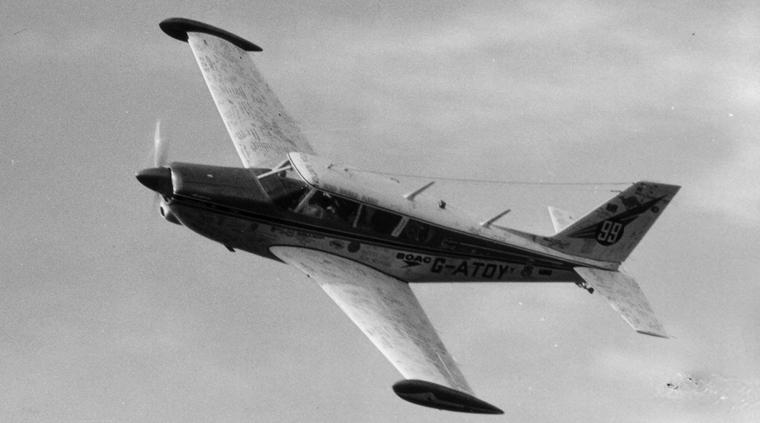 Owned and piloted by aviatrix extraordinaire Sheila Scott, Piper Commanche G-ATOY named 'Myth Too' is a very unique aircraft indeed, holding more than ninety world class light aviation records.
In San Francisco Sheila received a huge welcome, and the next day she landed in El Paso. It was then on to Oklahoma City and New York. She left the American continent from the Gander Airport in Newfoundland, for the Azores, where she planned to land in Santa Maria, but was diverted to Lagans. After a last stop in Lisbon, Sheila arrived triumphantly in London on June 20, 1966.
Sheila had flown around the World solo, and although feeling tired, she was both very happy and proud of her achievement, especially when she heard someone say: "How good it is to see a British pilot here again making record attempts". She was impressed that it had been said 'a British pilot' and not a 'woman pilot'.
Sir Allan Cobham, who had helped Sheila to get Myth Too, was one of the first to congratulate her. She had flown 31000 Miles, or nearly 50 000 km., in 189 flying hours, at an average speed of 166 mph, or 265 km/h. The speed for her around the world record, calculated along the great circle route, was 29 055 miles at 36.68 mph or 59.01 km/h.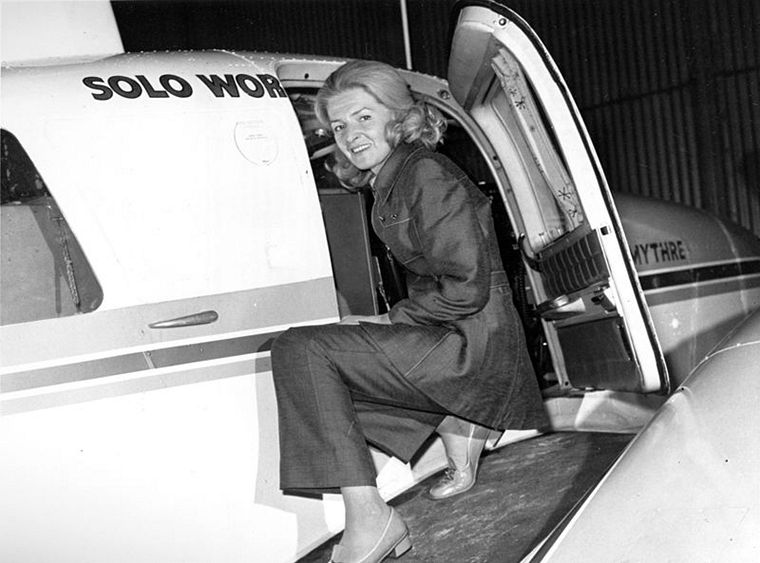 Photo NASA / commons.wikimedia.org


Sheila felt honoured to receive a congratulatory telegram from Prince Phillip, and the famous Guild of Pilots gave her their Silver Medal. She received an invitation to meet the Queen at Buckingham Palace, and also met King Hussein, an avid pilot. Italy bestowed upon her the "Isabella d'Este" title. Sheila had succeeded, and was very happy. She received the Britannia Trophy of the Royal Aero Club of Britain in 1968 and the Royal Aero Club's Gold Medal in 1972.
Sheila was diagnosed with cancer and died at age 66 at the Royal Marsden Hospital, London, in 1988.



For a no obligation quote go to: info@pilotspost.com