THIS WEEK IN MIDWEEK UPDATE


AvClicks Photo Competition……Plan Your Weekend……..Forthcoming Events


Aviation News………. Worldwide Incidents and Accidents


This Week in Aviation History………Advertising Rate Card








Pilot's Post is proud to launch its "AVclick 2016" aviation related photo competition. By entering your favourite photos, you will not only share your aviation photography passion with thousands of others, you will also stand a chance to win exciting prizes this year. Our prizes for this competition were carefully chosen to suit everyone's aviation interest and that is why we are offering the winner a choice between three different options.

For more information go to: www.pilotspost.com/arn0000956


This Week's Four Finalist
To vote for your favourite photo click on "Vote for"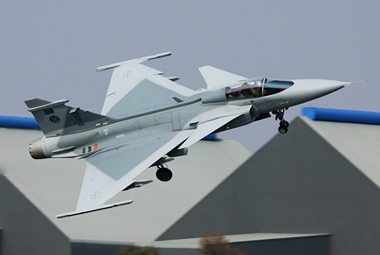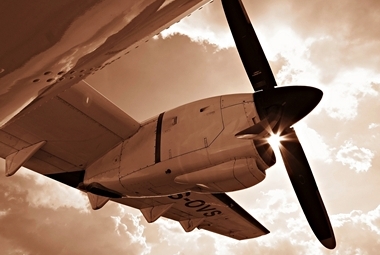 Vote for 6-1…………………………Vote for 6-2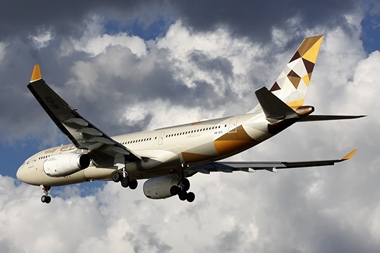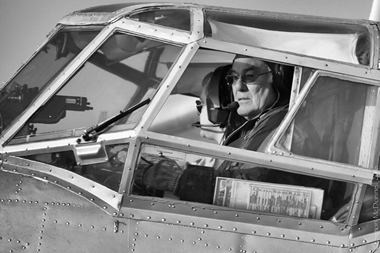 Vote for 6-4………………………….Vote for 6-5


Go to www.pilotspost.com/arn0000985 to vote for the May finalist






7- 9 June: Aero Club Safety Campaign, Kwa Zulu Natal: Tuesday 7 June Margate Flying Club evening, Wednesday 8 June Pietermaritzburg Aero Club evening, Thursday 9 June Virginia Airport Durban evening.
8: Aero Club's 75th AGM 14th of April 2016 at 18:30at the EAA Auditorium at Rand Airport adjacent to the Aero Club offices. RSVP Sandra Strydom on e-mail to
office@aeroclub.org.za
.
9-11: Provisional date ZimNavex Zimbabwe . Contact Mel Cooper e-mail:
zmelzim@gmail.com

10-12: Wonderboom Wings and Wheels airshow. Contact Chris Briers
chris@airteam.co.za
Cell: 082 568 7988. Wonderboom Airport and is gearing up to be one of the biggest civilian airshows of 2016. The event is to be part of Wonderboom Airport's 80th birthday celebrations and in partnership with the City of Tshwane, Airlink and the tenants of Wonderboom airport, some of whom have been operating at the since its early days, the organisers would like to see the airport flourish again. They have decided to take it upon themselves to put on the 'Adrenaline Show', which will be a combination of Hot Rod cars, Muscle cars, Superbikes and an air show featuring the best of the South African displays. Considered to be a first for South African air shows, will be the 4,1Km race track and a 950 metre drag race strip, which will give attendees a unique mix of aviation and motorsport over the two days, with the 10 June marked as the career day. Another first for an air show will be the hosting of the Street Rod and Muscle Car Nationals.

JUNE

17-19: Memorial fly in and airshow Mafeking.
Cancelled

18: Whisper Carnarvon fly in. For information go to
www.facebook/whisperaircraft
28 -29: Aviation Festival Africa Sandton Convention Centre Johannesburg. Contact Bianca Wiener e-mail:
bianca.wiener@terrapinn.com

30 June-3 July: Race of Champions at Kubu Island Botswana. Contact Chris Briers
chris@airteam.co.za
Cell: 082 568 7988. Don't miss this! Save the date! Go to
www.pilotspost.com/arn0000842
for a report on last year's Race.
JULY



2: SAAF Museum flying training and open days. E-mail:
webmaster@saafmuseum.org
1-2: SAPFA SA Landing Championship training day. SAPFA SA Landing Championship. Contact Mauritz du Plessis e-mail:
whitehouse@worldonline.co.za
Cell 083 601 1042 Wynand Uys e-mail:
wynand@ottersden.co.za
or Frank Eckard e-mail:
frank.eckard@mweb.co.za
Cell: 083 269 1516
6: EAA Chapter 322 monthly meeting, Dickie Fritz Moth Hall Edenvale. Contact
editor@afskies.co.za
6-7: Aero Club safety campaign, Free State. Wednesday 6 July Bloemfontein Tempe Airport evening. Thursday 7 July Bethlehem Flying Club evening.
8 to 10: Absolute Aviation Beechcraft and Cessna fly away to St Lucia KwaZulu Natal. Contact Lizere Malan Tel: 011 548 3000 E-mail:
lizere@absoluteaviation.co.za
13: Aero Club safety campaign, Northern Cape. Wednesday 13 July Upington Flying Club evening.
14-15: SAC Nationals New Tempe Airfield, Bloemfontein. Contact Annie Boon e-mail:
chunge@mweb.co.za
or
pro@westline.co.za
16: New Tempe airshow. Contact Andre Steyn e-mail:
pro@westline.co.za
Cell: 093 441 3903
15-17: Taildraggers fly in Nylstroom. Contact Richard Nicholson e-mail:
rgn@pcwireless.co.za
16: SAPFA Hoedspruit fun rally. Contact Wynand Uys e-mail:
wynand@ottersden.co.za
22-23: Middleburg airshow. Contact Richard Lovett e-mail:
mail@pegasusi.co.za
Cell: 082 771 8775
25-31: EAA AirVenture Oshkosh, Wisconsin, USA. Camping on the airfield contact Neil Bowden e-mail:
neil1@telkomsa.net
. Hotels in Appleton contact Calvin Fabig e-mail:
calvin@designer.co.za
27-28: Aero Club safety campaign, Mpumalanga. Wednesday 27 July Nelspruit Flying Club evening. Thursday 28 Middelburg Flying Club evening.




RED BULL AIR RACE-MUROYA CELEBRATES STUNNING HOME VICTORY

The Japanese pilot realises a dream with a first-ever career win in front of a home crowd

Photos © Red Bull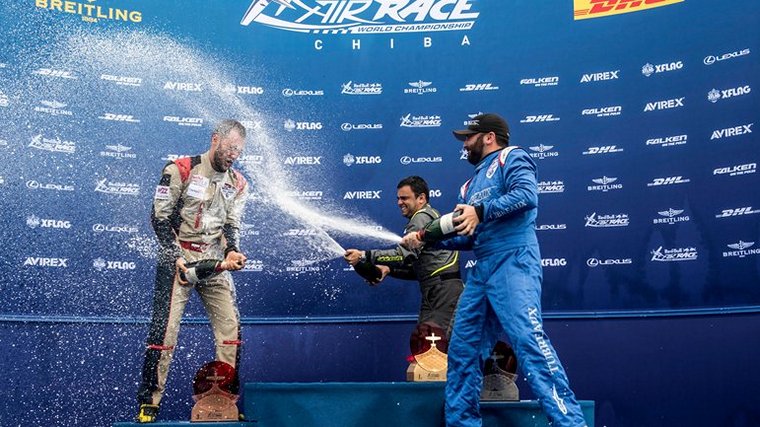 Kirby Chambliss, Yoshi Muroya and Martin Sonka celebrate in the podium© Joerg Mitter/RBAR


It was an emotional career-defining moment for Japan's Yoshihide Muroya as the local hero took a stunning and decisive victory in front of 50,000 fans at his home race in Chiba. Muroya's time of 1:04.992 was a display of precision and perfection even when flying under pressure, and claimed that his fans' support gave him an extra half a second of time in the racetrack.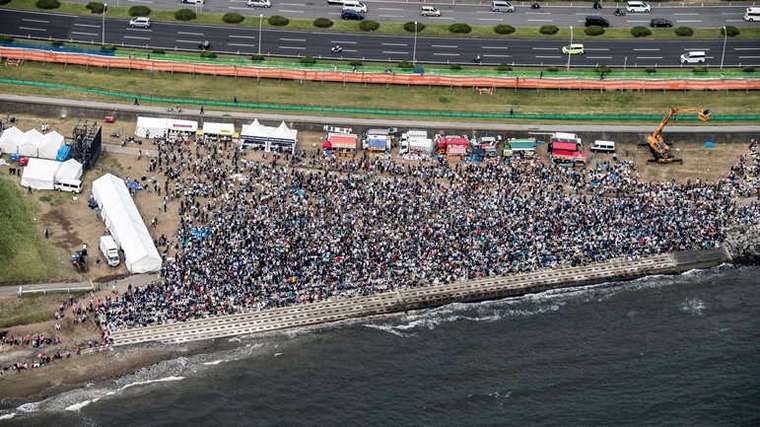 First out of the Start Gate in the Final 4 was Nigel Lamb, who was looking for a 1:04 time in the track. Lamb ultimately couldn't live up to his own expectations and posted a nevertheless clean and quick 1:05.734.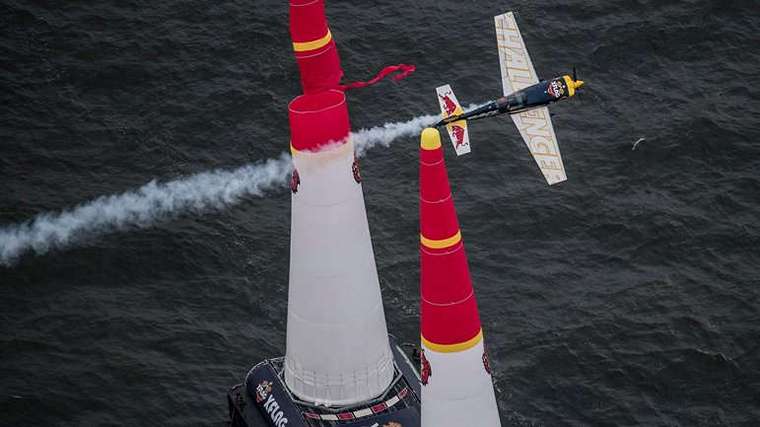 Muroya was second to fly in the track, and his blistering pace, focus and resolve offered up a fantastic time and error-free performance that placed him a first place, with two pilots still to fly. For the home fans, it was a nervous wait as Chambliss took to the racetrack.
The US pilot was looking aggressive and on edge as he flew for a podium finish, finding some time in the vertical turns and starting his run with split times in the green. Chambliss' grit and determination earned him a 1:05.618, pushing Lamb out of contention for a race podium finish, but it was not enough to take the top spot from the local hero.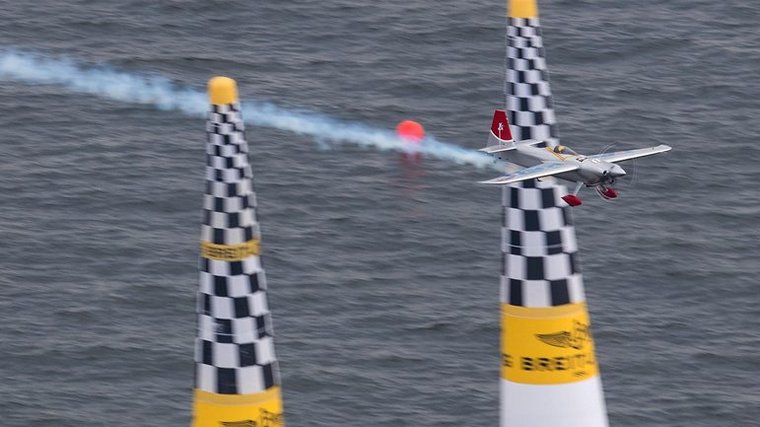 Only Martin Sonka could make or break the dreams of the Japanese fans and Muroya's Team Falken. Fans watched as Sonka posted two initial split times in the green, but after the second vertical turn he couldn't match Muroya's pace and the Czech pilot had to settle for a second place finish.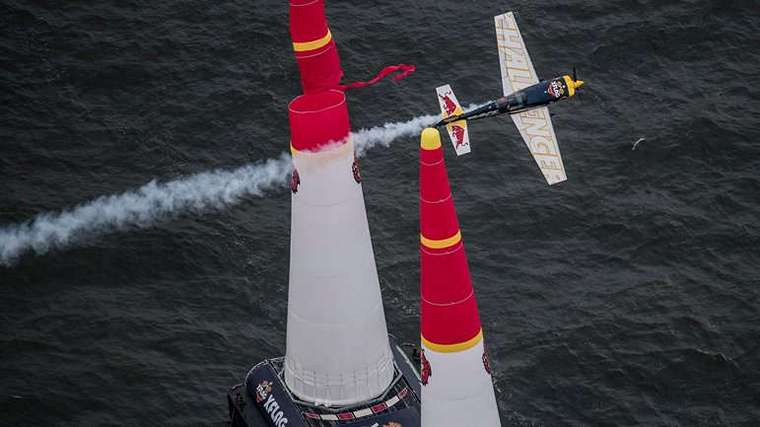 An emotional Muroya celebrated his first ever race win, bringing victory home under the shadow of Mt. Fuji. With tears in his eyes, the Japanese pilot thanked his team and fans, bringing the third race of the World Championship to a close in spectacular style.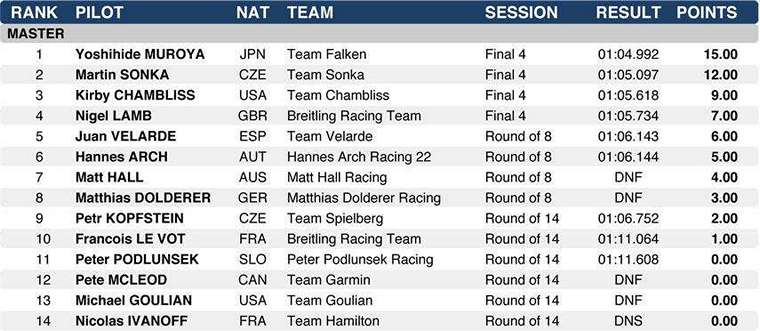 DIAMOND AIRCRAFT ANNOUNCES MID-ATLANTIC & NORTHEAST DEMONSTRATION TOUR




Photo © Diamond Aircraft


Diamond Aircraft is continuing with the 2016 US aircraft demonstration tours after successful tours of the Southwest and Southeast over the past several months. This next phase of the tour will be visiting the states of North Carolina, Virginia, Pennsylvania, New York, Connecticut and Massachusetts beginning May 20th at the AOPA Fly-In in Beaufort, North Carolina.
"Diamond is excited to launch the next tour of 2016 in the Mid-Atlantic and Northeast regions." said Peter Maurer, President and CEO of Diamond Aircraft Industries Inc. (Canada). "This is a great opportunity for many US based pilots to not only fly the stunning new 7 seat DA62, but to experience firsthand the ease of operation, sophistication, performance and efficiency of our jet fuel burning Austro piston engines."
Diamond's all new DA62 offers twin engines safety with operating simplicity comparable to high performance singles, due to FADEC controlled single lever powerplants. With flight into known ice certification, it is a superb choice for reliable and capable four season transportation along the coast and over open water.
AIRCRAFT ANNOUNCED TO CELEBRATE USCG AVIATION CENTENNIAL AT OSHKOSH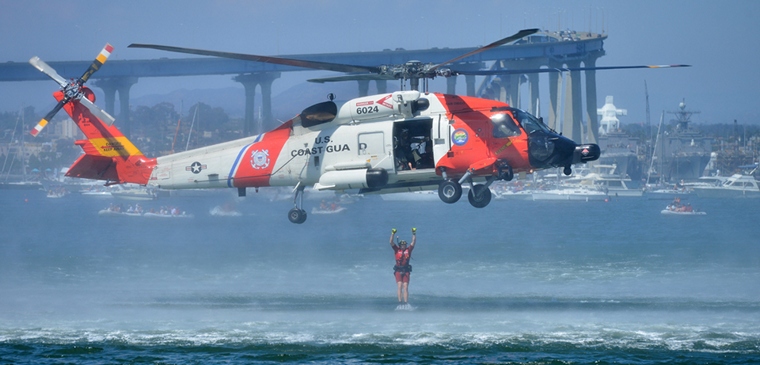 Photos © EEA AirVenture



The United States Coast Guard has been flying for 100 years, and they're celebrating the anniversary of their aviation roots at EAA AirVenture Oshkosh 2016.
Several aircraft have been confirmed to attend the 2016 convention to help commemorate this important milestone in the U.S. Coast Guard's history.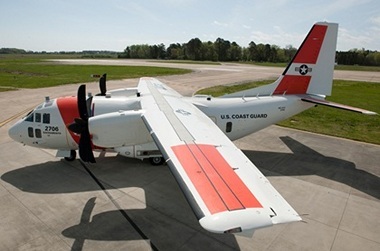 Planned aircraft include:
Eurocopter MH-65 Dolphin short-range recovery helicopter
Sikorsky MH-60 Jayhawk medium-range helicopter
Lockheed HC-130 Hercules long-range surveillance aircraft
EADS HC-144 Ocean Sentry, medium-range surveillance aircraft
Alenia C-27 Spartan, medium-range surveillance aircraft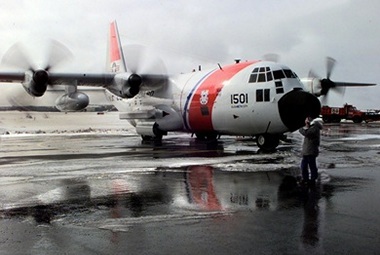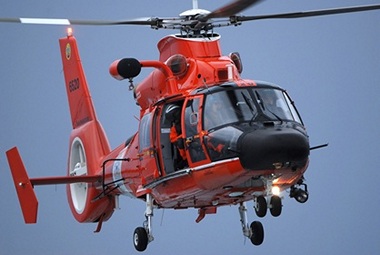 While the aircraft and events honouring the Coast Guard aviation centennial will take place throughout AirVenture week, many of the activities will be focused on Thursday, July 28. That day's events will include a large contingent of Coast Guard aircraft, both fixed-wing and rotorcraft, with plane-side interviews throughout the day from Coast Guard pilots and aircrews. Some of those aircraft will fly in that day's afternoon air show and a special evening program at Theatre in the Woods will highlight the Coast Guard's illustrious aviation history. Some of the Coast Guard's top officers are also expected to participate in the activities at Oshkosh.
AIRBUS HELICOPTERS ADVANCES CLEAN SKY 2 HIGH-SPEED EFFICIENT ROTORCRAFT DEMONSTRATOR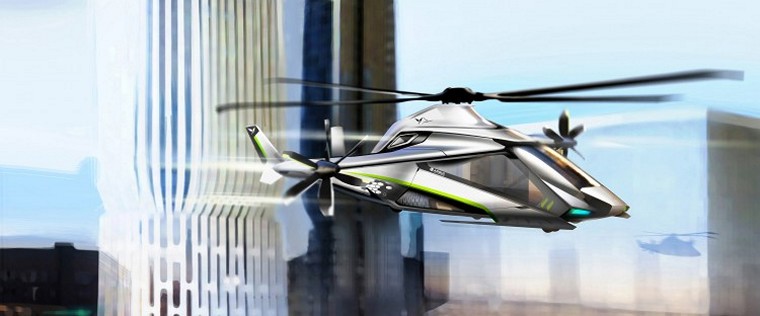 Photo © Airbus Helicopters Design Studio


Airbus Helicopters earlier this year passed an important milestone in the development of the high-speed, compound helicopter demonstrator currently being built as part of the Clean Sky 2 European research programme. A mock-up of the breakthrough airframe design has just undergone windtunnel testing in an Airbus facility. The tests proved the viability of the chosen design in terms of efficiency, sustainability and performance, paving the way for a preliminary design review expected end of 2016. Meanwhile, the overall project has passed its first official milestone involving all core partners by reaching the end of its pre-design phase.
Building upon the achievements of the company-funded and record-breaking X3 technology demonstrator, the Airbus Helicopters Clean Sky-demonstrator will help refine the "compound" aerodynamic configuration and bring it closer to an operational design, with the end objective of meeting future requirements for increased speed, better cost-efficiency, as well dramatic reductions of emission and acoustic footprints. Flight-testing of the prototype is expected to start in 2019.
"We are honoured to be carrying out this project on behalf of the Clean Sky Joint Undertaking and the large number of European companies who are taking part in the development. Our ambition is to become the benchmark of the rotorcraft industry, and as such we are willing to drive a bold vision for the future of helicopter transportation", said Jean-Brice Dumont, Airbus Helicopters Chief Technical Officer. "Our Clean Sky 2-demonstrator will not only be about going faster; it will help make speed smarter by seeking the best trade-off between cost-efficiency, sustainability and mission performance. We want to break the cost barrier usually associated with increased speed and range and pave the way for new mission's sets for 2030 and beyond, by providing crucial emergency or door-to-door transportation services to European citizens where they need it most."
Development of the Clean Sky 2-demonstrator relies on a wide European network of industrial partners who are bringing their technical skills and know-how to the project. While Airbus Helicopters facilities in France, Germany, Spain and Poland are involved in areas such as structural and mechanical design, other countries like Romania, Italy and the United Kingdom also highly contribute their expertise through a large number of design and manufacturing work packages.
Ron Van Manen, Clean Sky 2 Programme Manager, highlighted that "The LifeRCraft Demonstrator project in Clean Sky 2 will pull together capabilities from across the European Research Area, addressing technology gaps in systems, structures and overall design and demonstrating the viability of a compound rotorcraft design that can bring a fundamentally new combination of payload / range / speed to the aviation market. In particular where a rapid response or a key range requirement exists (such as in disaster relief, medical evacuation or search & rescue) this aircraft concept can bring important benefits to the public and open new market opportunities that will strengthen Europe's already formidable competitive position in the vertical lift aviation sector".


MRJ'S FTA-2 COMPLETES FIRST FLIGHT

Photo © Mitshubishi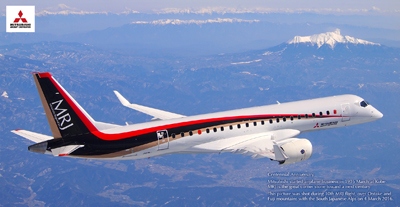 Mitsubishi Aircraft Corporation and Mitsubishi Heavy Industries, Ltd. (MHI) conducted the first flight of the second flight test aircraft (FTA-2) of the MRJ (Mitsubishi Regional Jet), their next-generation regional jet.
FTA-2 took off from Nagoya Airport and confirmed its basic characteristics and functionality in airspace off the Pacific coast. FTA-2 will carry out flight tests primarily to confirm MRJ's performances in the future.
"As with the first flight conducted with MRJ's FTA-1 in November of last year, we had a quiet, smooth first flight with FTA-2," said Hiromichi Morimoto, President, Mitsubishi Aircraft Corporation. "After this, we will move ahead smoothly with development of the subsequent flight test aircraft, and make our utmost efforts towards type certificate acquisition and the first delivery."
Mitsubishi Aircraft and MHI are scheduled to establish their main base for flight testing this summer at Grant County International Airport at Moses Lake in Washington State. They are committed to accelerating the development of the MRJ toward the first delivery in mid-2018.
RUSSIAN HELICOPTERS CONSIDERS KAZAKHSTAN A PROSPECTIVE CUSTOMER OF NEW ROTORCRAFT

Photos © Russian Helicopters


The Kazakhstan Defence Expo (KADEX) is a 4 day event being held from 2nd June to the 5th June 2016 at the International Airport Astana in Astana, Kazakhstan. This event showcases products like Aircraft, UAV and space technology, Armament and technical equipment of the land forces and naval forces, Logistical and technical support of the troops etc. in the Air, Aviation & Airports, Security & Defence industries.
Russian Helicopters, part of State Corporation Rostec, signed memorandums of understanding with the Committee for Emergency Situations of the Ministry of Internal Affairs and with other government structures of the Republic of Kazakhstan during KADEX-2016 defence expo. Kazakhstan' authorities are interested in Russian-made helicopters while Russian Helicopters are ready to supply rotorcraft to Kazakhstan between 2016 and 2020. Currently, the parties are adjusting details of the delivery schedule, and types and quantity of helicopters to be supplied.
Russian Helicopters showed their commercial helicopters at KADEX-2016 - a full-scale model of the Ansat helicopter, as well as the Mi-171A2 and the Mi-38.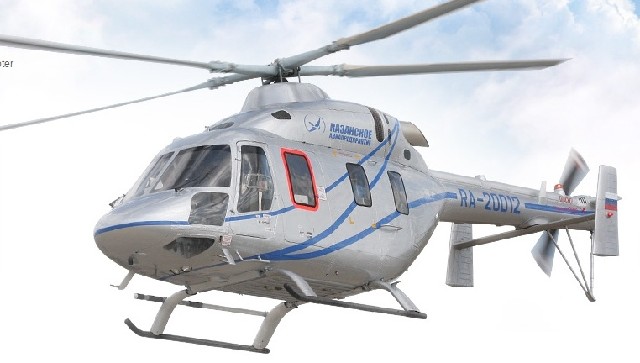 Ansat

The multi-purpose light helicopter Ansat has 275 km/h max speed and its range exceeds 500 km. Thanks to its easily reconfigurable equipment, the multirole Ansat can be rapidly adapted to fly a wide range of missions. The Ansat got its type certificate in 2014, and its batch manufacturing started in 2015.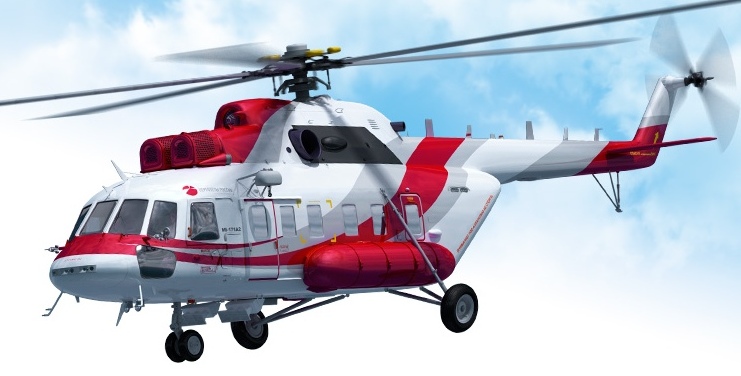 Mi-171A2

The Mi-171A2 is featured in its VIP version at KADEX. The helicopter combines Mi-8/17 operator experience from around the globe and modern engineering including upgraded fuselage, integrated flying systems and transmission, glass cockpit and advanced avionics. The improvement program will continue in 2016, in particular in instrument flying and flying in icy conditions. Certification of this helicopter is planned for the first quarter of 2017.
Mi-38

The Mi-38, which premiers in Kazakhstan in its medevac version, can operate in a wide range of climates, including maritime, tropical and cold environments. The multirole Mi-38 can carry cargo and passengers, including VIPs, and can also be used as a search-and-rescue helicopter and as a flying hospital, as well as for offshore missions.

USA, Tennessee: A Boeing F/A-18 Hornet operated by the USN Blue Angels as an afternoon manoeuvrings sessions flight impacted power lines and open field terrain off the departure end of Runway 14 at Smyrna/Rutherford County Airport (KMQY), Smyrna, Tennessee. The airplane was destroyed by the impact and post-impact fire. The sole pilot on board the aircraft received fatal injuries.
USA, Colorado: A General Dynamics F-16 Fighting Falcon #6 operated by the United States Air Force Thunderbirds force landed to high desert terrain south of City of Colorado Springs Municipal Airport/Peterson Air Force Base (KCOS), Colorado Springs, Colorado during a flyover in celebration of Air Force Academy graduation. The pilot ejected prior to ground contact. The airplane sustained substantial damage.
UK, Manchester: An Airbus 320 bound for Barcelona had to be evacuated when it crashed into a tow truck that was guiding it away from the terminal. It is suspected that a pin connecting the tow truck to the plane snapped while the aircraft was still on the apron. The accident did not cause a delay in the airport's operations. A full investigation is expected to be launched but no injuries were reported.
Canada, Vancouver: The world's two largest helicopter operators suspended all flights using an Airbus Group SE-made model. Data from the black box of the Airbus EC225 helicopter that crashed off the west coast of Norway showed that a catastrophic failure caused the rotor to detach as the helicopter was flying. Bristow Group Inc. of Houston grounded most of its 20-strong EC225 fleet after the crash but kept flying those involved in search-and-rescue operations and training flights. CHC Group Ltd, the Vancouver operator of the flight that crashed, also said it had stopped all flying with the model. Metallurgical assessment of some recovered wreckage from the CHC helicopter's critical main gearbox suggested a component failed because of fatigue.
USA, New York: On the Fourth of July last year, pilot David Quinones flew a camera drone in Coney Island, Brooklyn while the famous Nathan's Hot Dog Eating contest was going on. His drone caught the attention of the New York Police Department, which tossed him in jail for five hours. Three months later, he became the first and so far only person to have his manned aircraft license suspended by the Federal Aviation Administration for flying a drone. Quinones got a letter from the FAA informing him that the agency was suspending his license to fly manned aircraft commercially for three months. Quinones was also warned that if he
failed to surrender his pilot's certificate to FAA he will also be subject to further legal enforcement action, including a civil penalty of up to $1,100 a day for each day that he fails to surrender his certificate.
India, Mumbai: A month after Vistara Airline offloaded a flyer after he was found to have smoked in the aircraft washroom aboard a Mumbai-Delhi-Varanasi flight, a 26-year-old man from Ahmedabad was arrested at the Mumbai airport on Wednesday for allegedly lighting a cigarette below the wings of an Indigo flight that was about to take off. Hardik Patel, got off the airport coach and instead of boarding the flight to Ahmedabad, lit a cigarette while standing under the aircraft wing, which houses the vent, apart from outer and inner fuel tanks. Patel was detained and handed over to the domestic airport police. He later appeared in court and released on bail.




14 JUNE 1916

First flight of the Boeing Model 1, William Boeing's first aircraft


The Boeing Model 1, also known as the B & W Seaplane, was a United States single-engine biplane seaplane aircraft. It was the first Boeing product and carried the initials of its designers, William Boeing and Lt. George Conrad Westervelt USN.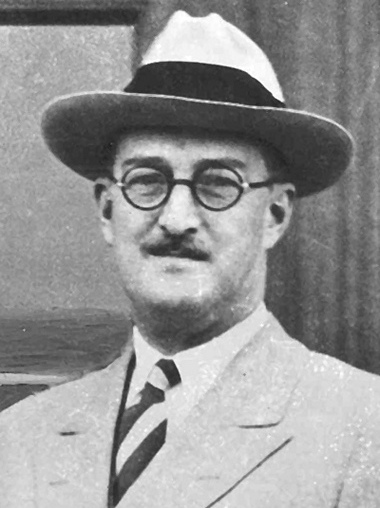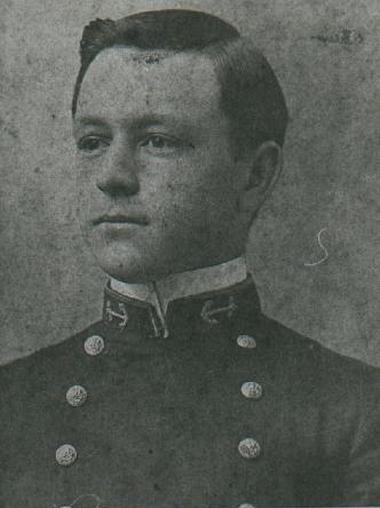 William Edward Boeing……………. George Conrad Westervelt

William Edward Boeing (1 October 1881-28 September 1956) was born in Detroit, Michigan, to a wealthy German mining engineer named Wilhelm Böing from Hagen-Hohenlimburg who had anglicized his name to "William Boeing." William joined his father's firm on the lumber side in 1903 after having been to Yale University. While president of Greenwood Timber Company, Boeing, who had experimented with boat design, travelled to Seattle, where, at the Alaska-Yukon-Pacific Exposition in 1909, he saw a manned flying machine for the first time and became fascinated with aircraft. He soon purchased an airplane from the Glenn L. Martin Company, and received flying lessons from Martin himself. Boeing, unfortunately crashed, damaging the aircraft. When he was told by Martin that replacement parts would not become available for months, Boeing told his friend Cdr. George Conrad Westervelt (USN), "We could build a better plane ourselves and build it faster". Westervelt agreed.
George Conrad Westervelt (30 December 1879 - 15 March 1956) was a U.S. Navy engineer who created the company "Pacific Aero Products Co." together with William Boeing. Westervelt was a graduate of the United States Naval Academy and Massachusetts Institute of Technology in naval engineering. Until 1916 Westervelt was stationed on the west coast of the United States. In 1916 he was transferred to the east coast and headed the Naval Aircraft Factory in Philadelphia from 1921 to 1927. Westervelt retired from the USN with the rank of Captain.Westervelt. He left Pacific Aero Products Co when Boeing changed the name of the company to the Boeing Airplane Company.
They built and flew the B & W Seaplane, an amphibian biplane that had outstanding performance. The first B & W was completed in June 1916 at Boeing's boathouse hangar on Lake Union in Seattle, Washington. It was made of wood, with wire bracing, and was linen-covered. It was similar to the Martin trainer aircraft that Boeing owned, but the B & W had better pontoons and a more powerful engine. The first B & W was named Bluebill, and the second was named Mallard. They first flew on 14 June 1916, and in November.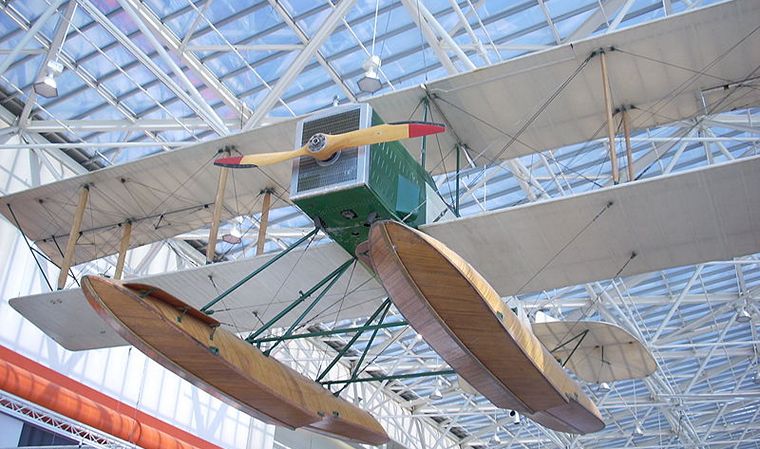 Replica of Boeing B&W Seaplane at the Museum of Flight. Photo Kudzu Vine / commons.wikimedia.org

The two B & W's were offered to the United States Navy. When the Navy did not buy them, they were sold to the New Zealand Flying School and became the company's first international sale. On June 25, 1919 the B&W set a New Zealand altitude record of 6,500 feet. The B & W's were later used for express and airmail deliveries, making New Zealand's first official airmail flight on December 16, 1919.


For a free no obligations quote email info@pilotspost.com