THIS WEEK IN MIDWEEK UPDATE


AvClicks Photo Competition……Plan Your Weekend……..Forthcoming Events


Aviation News………. Worldwide Incidents and Accidents


This Week in Aviation History………Advertising Rate Card







Pilot's Post is proud to launch its "AVclick 2016" aviation related photo competition. By entering your favourite photos, you will not only share your aviation photography passion with thousands of others, you will also stand a chance to win exciting prizes this year. Our prizes for this competition were carefully chosen to suit everyone's aviation interest and that is why we are offering the winner a choice between three different options.

For more information go to: www.pilotspost.com/arn0000956


This Week's Four Finalist
To vote for your favourite photo click on "Vote for"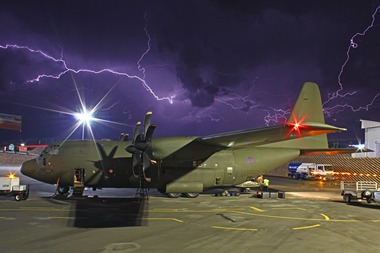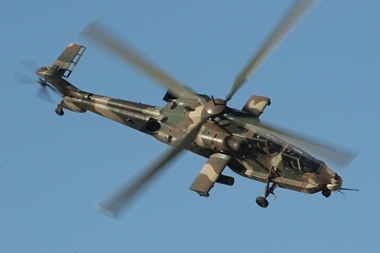 Vote for 7-1…………………………Vote for 7-2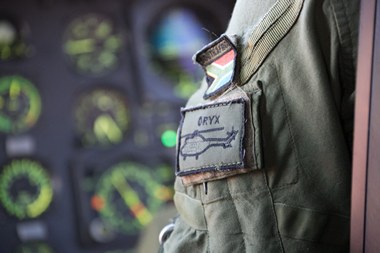 Vote for 7-4………………………….Vote for 7-5


Go to www.pilotspost.com/arn0000985 to vote for the May finalist





17-19: Memorial fly in and airshow Mafeking.
Cancelled

18: Whisper Carnarvon fly in. For information go to
www.facebook/whisperaircraft

JUNE

25: Rustenburg (FARG) Breakfast Fly-In 25 June 2016. Rustenburg Airfield info: Elevation: 3700 feet Runway: 16 and 34, 1200 meters long, asphalt Frequency: 122.4 Coordinates 25°38'39?S 027°16'16?E
28 -29: Aviation Festival Africa Sandton Convention Centre Johannesburg. Contact Bianca Wiener e-mail:
bianca.wiener@terrapinn.com

30 June-3 July: Race of Champions at Kubu Island Botswana. Contact Chris Briers
chris@airteam.co.za
Cell: 082 568 7988. Don't miss this! Save the date! Go to
www.pilotspost.com/arn0000842
for a report on last year's Race.
JULY


2: SAAF Museum flying training and open days. Email
webmaster@saafmuseum.org
1-2: SAPFA SA Landing Championship training day. SAPFA SA Landing Championship. Contact Mauritz du Plessis e-mail:
whitehouse@worldonline.co.za
Cell 083 601 1042 Wynand Uys e-mail:
wynand@ottersden.co.za
or Frank Eckard e-mail:
frank.eckard@mweb.co.za
Cell: 083 269 1516
6: EAA Chapter 322 monthly meeting, Dickie Fritz Moth Hall Edenvale. Contact
editor@afskies.co.za
6-7: Aero Club safety campaign, Free State. Wednesday 6 July Bloemfontein Tempe Airport evening. Thursday 7 July Bethlehem Flying Club evening.
8 to 10: Absolute Aviation Beechcraft and Cessna fly away to St Lucia KwaZulu Natal. Contact Lizere Malan Tel: 011 548 3000 E-mail:
lizere@absoluteaviation.co.za
13: Aero Club safety campaign, Northern Cape. Wednesday 13 July Upington Flying Club evening.
14-15: SAC Nationals New Tempe Airfield, Bloemfontein. Contact Annie Boon e-mail:
chunge@mweb.co.za
or
pro@westline.co.za
16: New Tempe airshow. Contact Andre Steyn e-mail:
pro@westline.co.za
Cell: 093 441 3903
15-17: Taildraggers fly in Nylstroom. Contact Richard Nicholson e-mail:
rgn@pcwireless.co.za
16: SAPFA Hoedspruit fun rally. Contact Wynand Uys e-mail:
wynand@ottersden.co.za

22-23: Middleburg airshow. Contact Richard Lovett e-mail:
mail@pegasusi.co.za
Cell: 082 771 8775
25-31: EAA AirVenture Oshkosh, Wisconsin, USA. Camping on the airfield contact Neil Bowden e-mail:
neil1@telkomsa.net
. Hotels in Appleton contact Calvin Fabig e-mail:
calvin@designer.co.za
27-28: Aero Club safety campaign, Mpumalanga. Wednesday 27 July Nelspruit Flying Club evening. Thursday 28 Middelburg Flying Club evening.





PIPER AIRCRAFT'S ARCHER DX DIESEL ENGINE TBR INCREASED




Photo © Piper



Piper Aircraft, Inc. announced that the Archer DX TBR (Time Before Replacement) for its Continental Diesel, CD-155 engine has increased to 2,100 hours. This significant TBR increase affects CD-155 engines manufactured since December 1, 2015 and all Archer DX models beginning in 2016. This represents the accomplishment of a huge milestone as both Continental Motors and Piper Aircraft continue to focus on delivering superior products to their customers with the lowest possible operating costs. "Continuous investment in research, development and production quality enhancements has resulted in improved engine design; lower costs of ownership and operation" said Jürgen Schwarz, EVP Engineering of Continental Motor Group.
The lifetime extension was possible due to several design improvements engineered in the last two years. Through key improvements, continuous testing and field experience, the CD-155 is now rated to a TBR of 2,100 hours. The TBR of the CD-155 increases from 1,200 hours to 2,100 hours. In addition, the gearbox and timing chain will be rated for 1,200 hours. "This is a major step forward and advancement for the Archer DX and Piper Customers. This improvement helps further strengthen the value proposition of this innovative aircraft. Considering that many of our customers our flight training operators who need to control costs, the Archer DX is quickly becoming the value leader in the single engine trainer market", remarked Simon Caldecott, President and CEO of Piper Aircraft, Inc.
Powered by the Continental CD-155 diesel engine, the Archer DX cruises at a speed of 114 KTAS / 211 km/h (at 70% power) on only 5.8 gph / 22 kph of jet fuel. The G1000 avionics come standard and provide a great mix of low workload and high technology. The special flight school interior, and the aircraft overall, -are designed to stand up to the rigors of flight training. The Archer DX offers competitive operating economics with a proven airframe perfect for flight training organizations worldwide.
U.S. AIR FORCE DEPLOYS APKWS LASER-GUIDED ROCKETS ON F-16S




Photo© BAE Systems



The U.S. Air Force has acquired BAE Systems' Advanced Precision Kill Weapon System (APKWSTM) laser-guided rockets for use in ongoing operations in Iraq and Afghanistan. The Air Force fielded the initial units to fulfill an urgent operational need for F-16 and A-10 aircraft, and it has already successfully used the weapon in combat operations.
The deployment marks the first time these systems have been used in combat operations from an Air Force fixed-wing platform and comes on the heels of the U.S. Marine Corps fielding the rockets on AV-8B fixed-wing aircraft. The APKWS rocket, a mid-body guidance kit that transforms a standard unguided munition into a precision laser-guided rocket, has proven highly successful for the U.S. Navy and Marine Corps since 2012 and has also been used by U.S. Army Apache helicopters in combat.
"The APKWS rocket's innovative 'plug and play' design makes it possible to deploy these systems on a variety of platforms," said David Harrold, director of precision guidance solutions at BAE Systems. "The Navy and Air Force deserve immense credit for streamlining the acquisition process by leveraging an existing Navy program of record to meet the needs of all our military services. We are confident that the addition of this highly accurate, low-collateral-damage weapon system will be a game-changer for F-16 and A-10 users in the U.S. Air Force and around the world."
"The APKWS fixed-wing fielding has been a true display of joint service and contractor teamwork to quickly deliver a capability to meet Air Combat Command fielding requirements while also exceeding Air Force should schedule timelines," said Brigadier General Shaun Morris, Program Executive Officer for Weapons, Eglin Air Force Base, Florida.
Similar to the Army's acquisition of APKWS last year, the Air Force is acquiring its initial supply of rockets out of the current Navy inventory and is working with BAE Systems and the Navy to secure additional units to meet ongoing demands. Currently in its fourth year of full-rate production and qualified or demonstrated on more than a dozen rotary and fixed-wing platforms, the APKWS rocket is the only U.S. Department of Defense fully qualified, guided 2.75-inch rocket that uses semi-active laser guidance technology.
SOLAR IMPULSE LANDS IN NEW YORK COMPLETING THE CROSSING OF THE UNITED STATES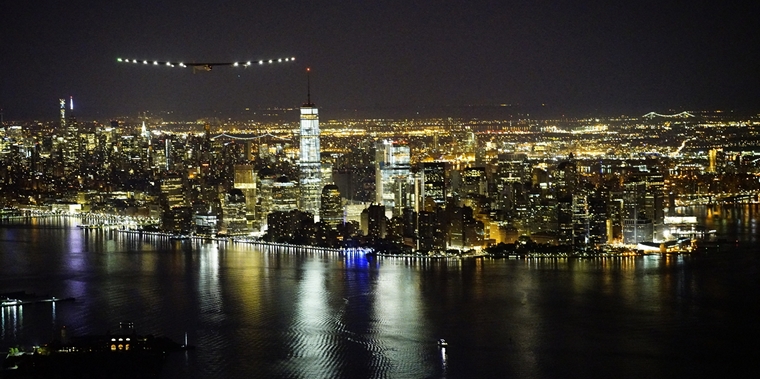 Photo © Solar Image



Solar Impulse 2 (Si2) - the first solar airplane capable of flying day and night without using a drop of fuel - left Lehigh Valley International Airport, Pennsylvania, late yesterday evening and landed at John F. Kennedy (JFK) International Airport, New York, early this morning, after circling the Statue of Liberty. By attempting the first solar flight around the world, pushing back the boundaries of the possible and taking on a project deemed impossible by industry experts, Bertrand Piccard and André Borschberg want to show that the world can be run on clean technologies.
André Borschberg touched down at JFK International Airport on 11 June at 3:59am local time (UTC-4) after departing from Lehigh Valley International Airport the previous day at 11:18pm local time (UTC-4). A flight of 4 hours and 41 minutes, conceived to fly around the Statue of Liberty and become a symbol that our world has the potential to thrive free of pollution. The arrival in New York City also marks the completion of the crossing of the United States Mainland - a journey that took both pilots, taking turns at the controls of Si2, through San Francisco, in the Silicon Valley; Phoenix, in the Sonora desert; Tulsa, the city of oil at the very heart of the tornado alley; Dayton, the birthplace of the Wright Brothers; and the industrial hills of Lehigh Valley, before reaching New York City, home to the United Nations Headquarters - a tandem achievement without a single drop of fuel.
Bertrand Piccard arrived on the West Coast of the United States on 23 April at 11:44pm (UTC-7), after having completed the Pacific crossing with a three day and two night flight arriving from Hawaii. Since then, in each of the five stop-overs of this pioneering adventure through the continent, the project and its Co-Founders, Bertrand Piccard and André Borschberg, captured the hearts and minds of supporters. With more than 20'000 people visiting the airplane over a six-week period, four million live views on solarimpulse.com and 18 million people reached on Facebook, the Solar Impulse team is well positioned, both physically and mentally, to attempt the crossing of the Atlantic Ocean when the weather is right.
"We received very positive and heartwarming responses during our journey through the United States, because it's a country of pioneers and explorers," said Bertrand Piccard, Initiator and Chairman. "It's amazing to see to what extent people understand not only what we do, but also why we do it: to show that if we all used the same clean technologies as Solar Impulse on the ground we could create jobs, enhance profits and boost economic growth, while also protecting the environment."
"There is such a strong culture of innovation and entrepreneurship in the United States, and we have felt this spirit every step of the way, be it technological innovation in the Silicon Valley, or aviation pioneering in Dayton, the home of the Wright brothers where they invented the airplane," commented André Borschberg, CEO and Co-Founder. "Among other things, arriving in New York by flying around the Statue of Liberty represents the entrepreneurial freedom that is so specific to this country."
The flight from Pennsylvania to New York was the 14th leg of the Round-The-World Solar Flight. The mission will soon continue onward across the Atlantic Ocean to Europe or North Africa and Abu Dhabi in the United Arab Emirates where the adventure started in March 2015. By flying around the world with Si2, propelled solely by the energy of the sun, Bertrand Piccard and André Borschberg are making history with clean technologies. Solar Impulse's energy efficient solutions can already be used, not only in the air, but also on the ground, and have the potential to change lives, societies and future markets in an unprecedented way.
FIRST SUKHOI SUPERJET 100 DELIVERED TO CITYJET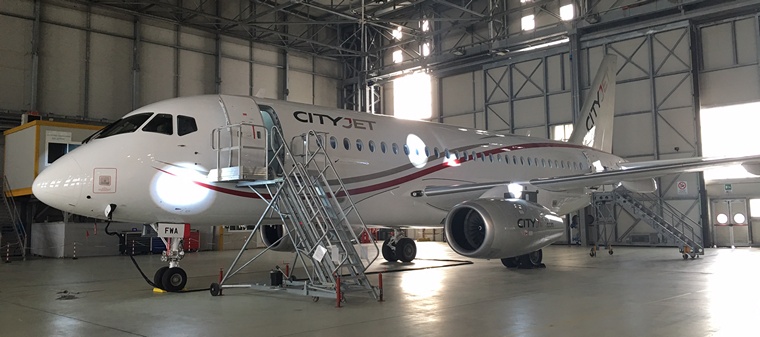 Photo © Sukhoi/CityJet


Sukhoi Civil Aircraft Company and SuperJet International (a joint venture between Leonardo-Finmeccanica Company and Sukhoi Holding) celebrated the delivery of the first Sukhoi Superjet 100 (SSJ100) to CityJet, which becomes the first European SSJ100 customer. The Irish airline will lease 15 SSJ100 aircraft with an option for additional 16. The deal is worth over 1 Billion USD, including option and after-sales services.
The ceremony was held in Venice (Italy) at the SuperJet International's premises where the first SSJ100 in the CityJet livery was unveiled.
Dublin-based CityJet operates from key airports in Europe, including London City Airport. The airline will receive three 3 aircraft in 2016, with the remainder from 2017 onwards. The SSJ 100 achieved European Aviation Safety Agency (EASA) certification in 2012.
The CityJet aircraft is in the 98-seat configuration with an exclusive interior designed by Pininfarina, five abreast seating in a generous 32" seat pitch combining with a wider seat and cabin height of over 2m.
SuperJet International will also provide CityJet with the technical support through a SuperCare agreement for 12 years. CityJet crews are being trained at the Training Center in Venice.
CITATION SOVEREIGN TO SOON JOIN HAHN AIR'S ALL-CITATION FLEET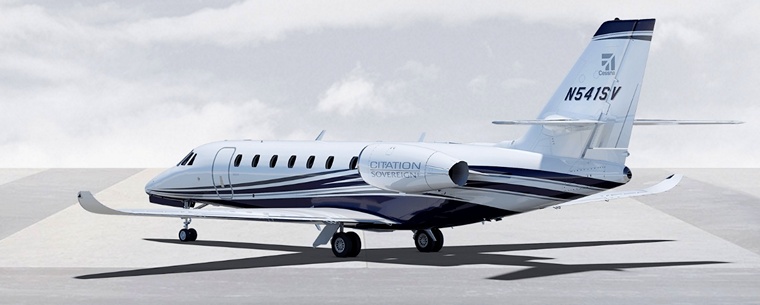 Photo © Cessna


Cessna Aircraft Company, a subsidiary of Textron Aviation Inc., a Textron Inc. (NYSE:TXT) company, today celebrates Hahn Air's addition of a Citation Sovereign at the European Business Aviation Convention and Exhibition (EBACE) in Geneva. Through an exclusively Citation operated fleet, Hahn Air provides domestic and international scheduled and charter flights from Germany.
"We have enjoyed a long and successful relationship with Hahn Air and are thrilled to continue it as they expand their fleet with a second Citation Sovereign," said Kriya Shortt, senior vice president, Sales and Marketing, Textron Aviation. "Hahn Air's success exclusively operating Citations underscores the platform's versatility and that it is ideally suited to the European region."
Hahn Air will take delivery of the Sovereign in June after the completion of select upgrades at Textron Aviation's Wichita Service Center. The aircraft received avionics upgrades, an interior refurbishment and customized paint scheme to match Hahn Air's existing fleet of two Citation CJ4s and a Citation Sovereign.
"We are pleased to extend our relationship with Textron Aviation," Daniel Rudas, general manager and COO of Hahn Air Lines. "The order for yet another Cessna Citation Sovereign is a strategic move that will enable us to produce strong returns with the aircraft's outstanding medium to long range performance, fuel efficiency and passenger comfort. With this new addition to our thriving fleet, we will reinforce our commitment to delivering exceptional convenience, performance and reliability to all our passengers."
HAINAN AIRLINES CELEBRATE DELIVERY OF AIRLINES' FIRST 787-9 DREAMLINER

Photo © Hainan Airlines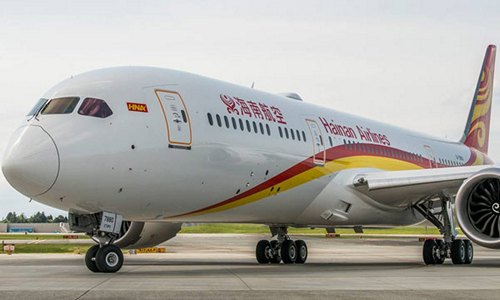 Boeing and Hainan Airlines today celebrated the delivery of the carrier's first 787-9 Dreamliner. Hainan becomes China's first operator of both the 787-8 and 787-9 variants of the Dreamliner family.
Hainan Airlines, the largest privately owned airline in China, leased the airplane through an agreement with Air Lease Corporation (ALC). The delivery is also the first 787-9 Dreamliner to ALC, which has 15 additional 787-9s on order.
"The 787-9 Dreamliner will be a great addition to our long-haul fleet," said Mou Weigang, Vice Chairman, Hainan Airlines. "The 787-9's super efficiency, capability and in-flight experience will accelerate our market position internationally." eing and Hainan Airlines today celebrated the delivery of the carrier's first 787-9 Dreamliner. Hainan becomes China's first operator of both the 787-8 and 787-9 variants of the Dreamliner family.
As the largest 787 operator in China, Hainan Airlines already has 10 787-8s in service and plans to deploy its first 787-9 Dreamliner on a new route from Beijing to Las Vegas beginning in September.
"We are honored to celebrate this milestone delivery with both ALC and Hainan Airlines," said Ihssane Mounir, Boeing Commercial Airplanes senior vice president of Northeast Asia Sales. "The 787-9 will complement Hainan Airlines' existing 787-8 fleet, enabling the airline to open up new nonstop services for continuous global expansion."
The 787-9 complements and extends the 787 family. With the fuselage stretched by 20 feet (6 meters) over the 787-8, the 787-9 will fly over 40 more passengers an additional 280 nautical miles (520 kilometers) with the same exceptional environmental performance - 20 percent less fuel use and 20 percent fewer emissions than the airplanes it replaces.
The 787-9 leverages the visionary design of the 787-8, offering passenger-pleasing features such as large windows, large stow bins, modern LED lighting, higher humidity, a lower cabin altitude, cleaner air and a smoother ride.
Hainan Airlines, headquartered in Haikou, is one of only seven airlines, and the first in China, to be rated as a five-star airline by Skytrax, which surveys international travelers to rate and review airlines and airports. Boeing airplanes make up more than 85 percent of Hainan's current fleet, which serves 500 domestic and international routes.

USA, Louisville: Two F-16 fighter jets collided during routine night-flying operations over Jefferson County, Georgia, officials with the South Carolina National Guard said. Both pilots of the single-seat aircrafts ejected safely. One pilot was found immediately. The second pilot was found after a two-hour search.
USA, Gainesville: The main runway at Gainesville Regional Airport was temporarily closed after a corporate Cessna Citation slid off the runway. The jet was flying in from Boston during heavy rains when it went slightly off-track, skidding over 1000 feet before stopping in a ditch on the side of the runway. The two pilots and one passenger suffered no injuries.
Netherlands, Leeuwarden: Two Swiss F-5 fighter jets from the Patrouille Suisse aerobatic display team collided on Thursday near a northern Dutch air base, with one crashing in a pond and the other landing safely with a damaged tail. The pilot of the plane that crashed ejected before impact and landed in a greenhouse. It is the first serious incident in Patrouille Suisse's 52-year history and that an inquiry had been launched by the Swiss military.
Russia, Kubinka AB: A Sukhoi Su-27 plane of the Russian Air Force's Russian Knights aerobatic squadron returning from a group demonstration flight marking the opening of a monument to airmen near Moscow crashed under unknown circumstances. The pilot died in the crash. The Russian air force has grounded its fleet of Sukhoi Su-27 fighter jets until determining what caused the crash.
USA, Maryland: An NTSB report found pilot error to be at fault in a 2014 crash of a Phenom 100 near an airport in Gaithersburg,
Maryland. The pilot of an Embraer Phenom 100 failed to turn on either the jet's engine anti-ice or structural de-ice system during the last 15 minutes of a December 8, 2014, instrument approach despite flying in known icing conditions. The pilot also selected an approach airspeed that was too slow for flight in ice. The Board was unable to determine exactly why the pilot failed to turn on the icing systems during the final moments of the flight. The NTSB said a contributing factor to the accident was the pilot's apparent rush to reach GAI. The Phenom stalled at 300 feet AGL, then crashed less than a mile short of Runway 14 at Montgomery County Airpark in Gaithersburg, Maryland (GAI), killing the pilot and two passengers. Three people on the ground also died when the aircraft struck three homes.




21 JUNE 1913

Eighteen year-old Gergia "Tiny" Broadwick is first woman to parachute from an airplane jumping from 1,000' over Los Angeles CA.




Georgia Ann Thompson Broadwick



Georgia Ann Thompson Broadwick (18 April 1893-1978 was an American pioneering parachutist. She was nicknamed 'Tiny', as she weighed only 85 pounds (39 kg) and was 5 feet (1.5 m) tall.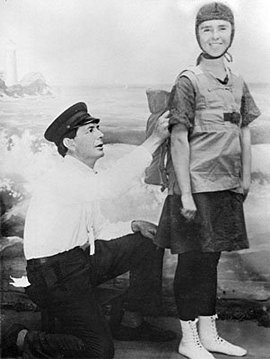 At the age of 15 she saw Charles Broadwick's World Famous Aeronauts parachute from a hot air balloon and decided to join the travelling troupe. She later became Broadwick's adopted daughter. Although she would eventually make her jumps from an airplane, in her earlier career she was jumping from balloons. Billed as "the doll girl," Tiny began performing aerial skydives and stunts while wearing a "life preserver" designed by her adopted father. On December 28, 1908, Tiny made her very first jump out of a hot air balloon. The skydiving family travelled around and performed at fairs, carnivals, and parks. The appeal of the Broadwick Flying troupe, according to Tiny, was that "it was a very neat and fast act."
Among her many other achievements, she was the first woman to parachute from an airplane, which she accomplished on June 21, 1913, over Los Angeles, with aviator Glenn L. Martin as the pilot. These early jumps included a well-publicized jump on January 9, 1914, from a plane built and piloted by Martin, 1,000 feet over Griffith Park in Los Angeles, California. She was also the first woman to parachute into water.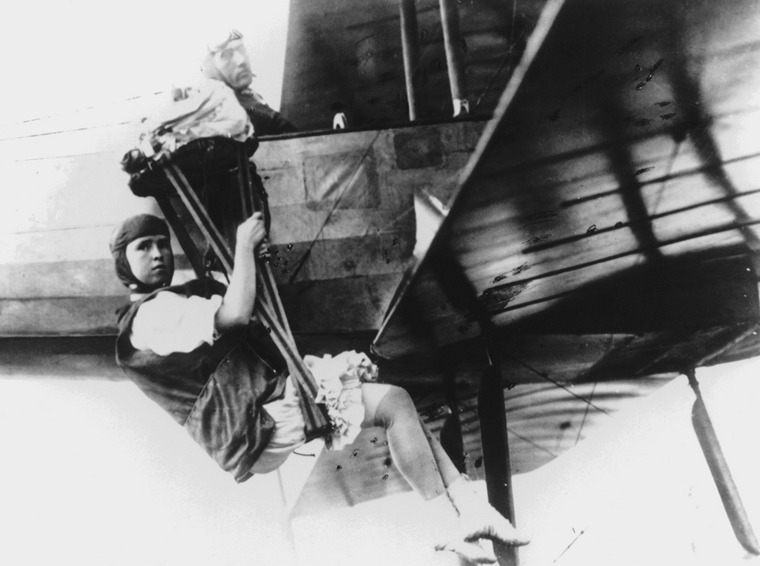 In 1914, she demonstrated parachutes to the U.S. Army, which at the time had a small, hazard-prone fleet of aircraft. The Army, reluctant at first to adopt the parachute, watched as Tiny dropped from the sky. On one of her demonstration jumps, the static line became entangled in the tail assembly of the aircraft, so for her next jump she cut off the static line and deployed her chute manually, thus becoming the first person to jump free-fall.
By the time of her retirement from jumping in 1922, she was said to have made over 1,100 jumps. Although she was not a pilot, she was one of the few female members of the Early Birds of Aviation.




For a free no obligations quote email info@pilotspost.com