THIS WEEK IN MIDWEEK UPDATE


AvClicks Photo Competition……Plan Your Weekend……..Forthcoming Events


Aviation News………. Worldwide Incidents and Accidents


This Week in Aviation History………Advertising Rate Card






Pilot's Post is proud to launch its "AVclick 2016" aviation related photo competition. By entering your favourite photos, you will not only share your aviation photography passion with thousands of others, you will also stand a chance to win exciting prizes this year. Our prizes for this competition were carefully chosen to suit everyone's aviation interest and that is why we are offering the winner a choice between three different options.

For more information go to: www.pilotspost.com/arn0000956



This Week's Four Finalist
To vote for your favourite photo click on "Vote for"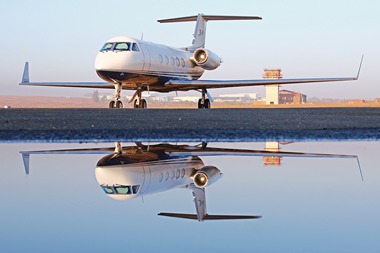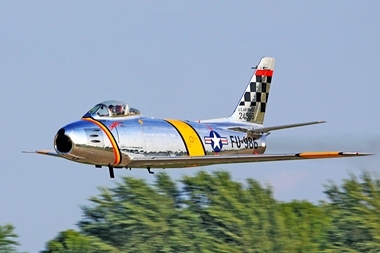 Vote for 8-1…………………………Vote for 8-2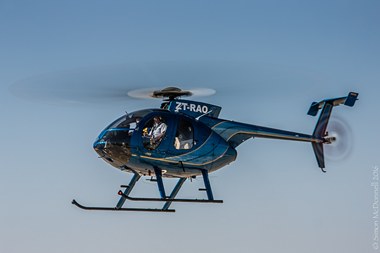 Vote for 8-3………………………….Vote for 8-4

Go to www.pilotspost.com/arn0000985 to vote for the May finalist






25: Rustenburg (FARG) Breakfast Fly-In 25 June 2016. Rustenburg Airfield INFO
Elevation: 3700 feet Runway: 16 and 34, 1200 meters long, asphalt Frequency: 122.4 Coordinates 25°38'39?S 027°16'16?E
28 -29: Aviation Festival Africa Sandton Convention Centre Johannesburg. Contact Bianca Wiener e-mail:
bianca.wiener@terrapinn.com

JUNE


30 June-3 July: Race of Champions at Kubu Island Botswana. Contact Chris Briers
chris@airteam.co.za
Cell: 082 568 7988. Don't miss this! Save the date! Go to
www.pilotspost.com/arn0000842
for a report on last year's Race.
JULY


2: SAAF Museum flying training and open days. E-mail:
webmaster@saafmuseum.org
1-2: SAPFA SA Landing Championship training day. SAPFA SA Landing Championship. Contact Mauritz du Plessis e-mail:
whitehouse@worldonline.co.za
Cell 083 601 1042 Wynand Uys e-mail:
wynand@ottersden.co.za
or Frank Eckard e-mail:
frank.eckard@mweb.co.za
Cell: 083 269 1516
6: EAA Chapter 322 monthly meeting, Dickie Fritz Moth Hall Edenvale. Contact
editor@afskies.co.za
6-7: Aero Club safety campaign, Free State. Wednesday 6 July Bloemfontein Tempe Airport evening. Thursday 7 July Bethlehem Flying Club evening.
8 to 10: Absolute Aviation Beechcraft and Cessna fly away to St Lucia KwaZulu Natal. Contact Lizere Malan Tel: 011 548 3000 E-mail:
lizere@absoluteaviation.co.za
13: Aero Club safety campaign, Northern Cape. Wednesday 13 July Upington Flying Club evening.
14-15: SAC Nationals New Tempe Airfield, Bloemfontein. Contact Annie Boon e-mail:
chunge@mweb.co.za
or
pro@westline.co.za
16: New Tempe airshow. Contact Andre Steyn e-mail:
pro@westline.co.za
Cell: 093 441 3903
15-17: Taildraggers fly in Nylstroom. Contact Richard Nicholson e-mail:
rgn@pcwireless.co.za
16: SAPFA Hoedspruit fun rally. Contact Wynand Uys e-mail:
wynand@ottersden.co.za

22-23: Middleburg airshow. Contact Richard Lovett e-mail:
mail@pegasusi.co.za
Cell: 082 771 8775
25-31: EAA AirVenture Oshkosh, Wisconsin, USA. Camping on the airfield contact Neil Bowden e-mail:
neil1@telkomsa.net
. Hotels in Appleton contact Calvin Fabig e-mail:
calvin@designer.co.za
27-28: Aero Club safety campaign, Mpumalanga. Wednesday 27 July Nelspruit Flying Club evening. Thursday 28 Middelburg Flying Club evening.




SEVEN DAY SLING BUILD IN UK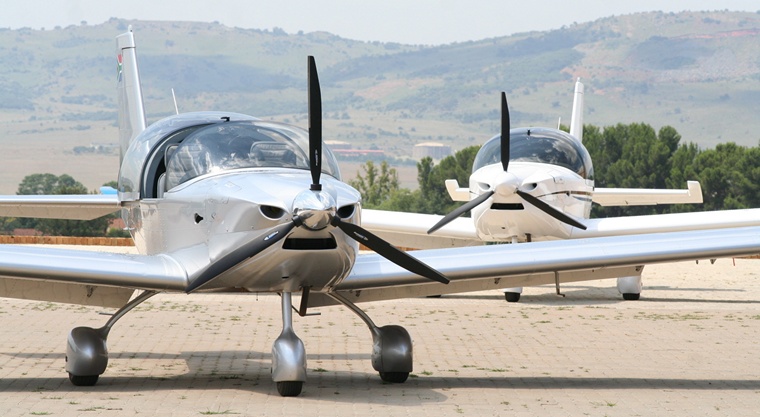 Photo © The Airplane Factory


A team made up of volunteers from the Light Aircraft Association and representatives of the Airplane Factory are set to build a Sling from a kit in seven days, before and during the LAA Rally at Sywell in Northamptonshire September 2-4.
The challenge, never set before in the U.K., will see around a dozen volunteers embark on the build in the week before the event, with the aircraft being constructed in one of the marquees forming part of the Rally, which also marks the 70th Anniversary of Britain's leading sport aviation association. It is hoped that the aircraft, which will be the first Sling to fly in the U.K., will make its maiden flight on the final day of the show. "We wanted to set a challenge that would help us mark the 70th anniversary of the organization in style" said LAA Chief Executive Steve Slater. "We were delighted to discover that Mike Dawson and the Sling team were likeminded, and the project grew from there. "The Sling 4 aircraft is produced as a kit by the Airplane Factory at Eikenhof, near Johannesburg, South Africa, and features riveted aluminium construction, with the kit's pre-drilled panels aiding simple and rapid completion.
The four-seat aircraft is powered by a turbocharged Rotax 914 engine and has a cruise speed of 138mph (221 kph).Visitors to the Rally will be invited to drop in to view the build and also to try their hand at riveting some panels and helping with the final assembly. "It adds a new dimension to a 'hands-on' visitor experience" jokes Steve, "but it really proves a key LAA tenet, that anyone can build and fly their own personal aircraft."

SECOND FAI EUROPEAN PARAMOTOR SLALOM CHAMPIONSHIPS ANDALUSIA, SPAIN

Photos © Wolfgang Lintl/FAI


The second FAI European Paramotor Slalom Championships opened with a short ceremony on 11 June in Bornos, Andalusia, Spain where the competition was held from 9-19 June 2016.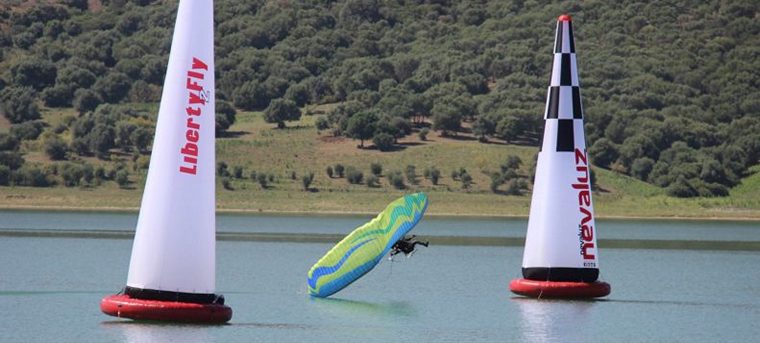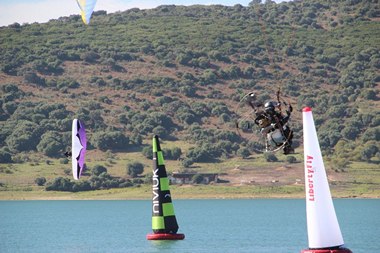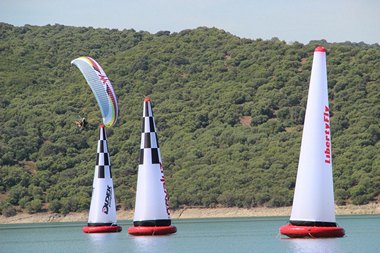 Event Director José Ortega and FAI Microlight and Paramotor Commission (CIMA) President Wolfgang Lintl welcomed 37 competitors from eight countries who are competing in order to find the champions in two classes.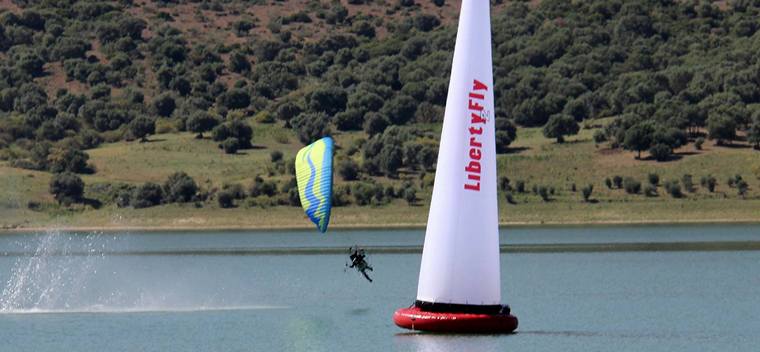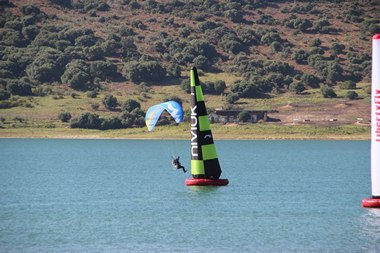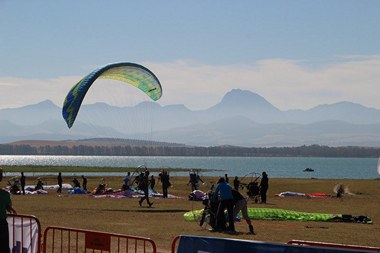 The qualifying rounds were held from 12-17 June and the finals on 18 June. This is the first European Slalom Championships to be held over water, a change prompted by concerns over safety. Pilots must fly a pre-determined course around several inflatable pylons - the quickest pilot wins.
The first five fastest pilots were: 1st Alexandre Mateos FRA , 2nd Wojciech Bogdal POL , 3rd Bartosz Nowicki POL , 4th Nicolas Aubert FRA and 5th Vicente Palmero SPA.



THE BELL 412EPI CLIMBS TO NEW HEIGHTS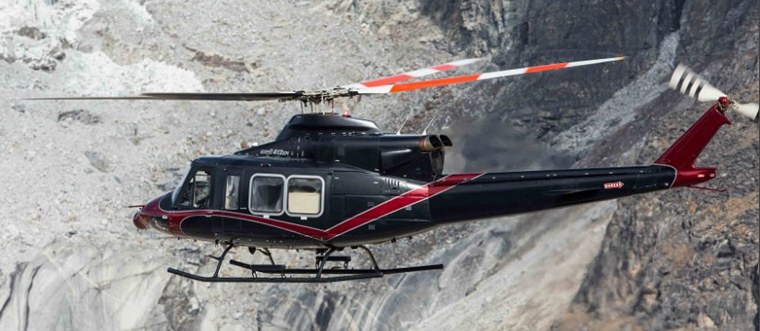 Photo © Bell

Aircraft tours Nepal while demonstrating superior performance around Mount Everest


Bell Helicopter, a Textron Inc. (NYSE: TXT) company, announced the successful demonstration tour of the Bell 412EPI throughout Nepal.
The Bell 412EPI demonstrated landing and take offs from 15,200 ft., ground effect hover at nearly 18,000 ft. density altitude and then flew up to 20,000 ft. pressure altitude near Mount Everest. Bell Helicopter pilots also demonstrated the performance of Bell 412EPI in the Annapurna Ranges around Jomsom Airfield in Western Nepal. Last year, the Bell 407GXP embarked on a similar demo tour in the area.
"I'm proud to say another Bell Helicopter product has demonstrated its heightened capability and customer-driven enhancements during a demo tour throughout Nepal," said Sameer A. Rehman, managing director, Asia Pacific. "The Bell 412EPI received praise for its smooth ride, maneuverability and increased performance in high altitudes proving that our products are built to perform in the highest terrain on the planet."
Introduced in March 2013, the Bell 412EPI improves the Bell 412EP platform with the Bell BasiX Pro™ fully integrated glass flight deck, providing critical flight information at a glance for greater situational awareness and safety. The Bell BasiX Pro™ system is specifically designed to meet the requirements of twin-engine helicopters and is optimized for IFR, Category A and JAR OPS3 compliant operations. The avionics suite also includes high resolution digital maps, electronic charts and approach plates, ADS-B transponder and optional HTAWS and XM satellite links. The new Bell 412EPI also incorporates the power of Pratt & Whitney's PT6T-9 Twin Pac® engines, providing 15 percent more horsepower than the standard Bell 412. The Bell 412EPI features the BLR Strake and FastFin® system, which modifies the tail boom to optimize airflow and improve handling, safety and lift.
PIPER M600 RECEIVES TYPE CERTIFICATION




Photo © Piper


Piper Aircraft announced today that the company's newest flagship, the Piper M600, has now received type certification from the Federal Aviation Administration (FAA). Piper Aircraft, Inc. and the FAA made the announcement today at the company's headquarters in Vero Beach, Florida.
"We are delighted to announce the certification of the M600 by the FAA", said Simon Caldecott, Piper Aircraft President and CEO. "With unique and innovative safety features for the single engine turbo prop segment, the competitiveness of the M600 is further enhanced by the aircraft's performance and industry leading operating and acquisition costs."
Piper Aircraft validated the M600's performance, safety, function and reliability through extensive ground and flight tests with the FAA. The total flight hours accumulated during development and certification were in excess of 1850 hours using three flight test aircraft.
"This achievement of type certification for the M600 was the result of the collaborative effort between the FAA and the team at Piper Aircraft," said James Funk, Piper Aircraft's Chief Operating Officer. "Both teams worked together to develop and test this exceptional product, which we can now bring to market."
The M600 maximum range, originally expected to be 1,200 nautical miles (2,222 kilometers) with NBAA IFR reserves has been increased to a maximum range of 1,484 nm (2,748 kilometers) at intermediate cruise settings with NBAA IFR reserves. Additionally, the planned maximum cruise speed objective of 260 ktas (481 km/h) has been extended to 274 ktas (507 km/h). The M600 also boasts a Vmo speed of 250 kcas (463 km/h) and a max payload of 1,120 lbs. (508 kg).
"We continue to be impressed with the exceptional performance of the M600 and expect that the benefits will expand the capabilities and market reach of the aircraft. The overall superior value proposition within the single engine turbo prop market segment sets the M600 apart from the competition", said Drew McEwen, Piper Aircraft Vice President of Sales and Marketing.


KUWAIT SIGNS CONTRACT FOR THE DELIVERY OF 28 EUROFIGHTER TYPHOONS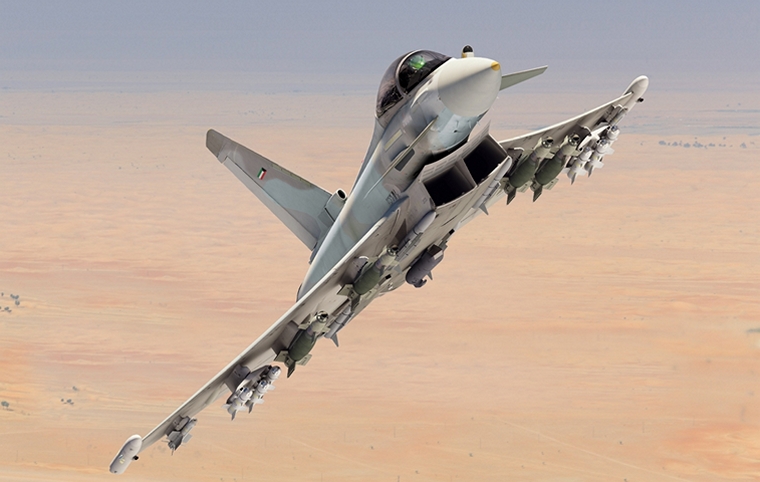 Photo© Eurofighter

The Eurofighter consortium confirmed that a contract has now been signed between the State of Kuwait and the partner company Finmeccanica for the procurement of 28 Eurofighter Typhoons.
The contract signature for 22 single-seat and six twin-seat follows the announcement of an agreement between the State of Kuwait and the Italian Government for the procurement of the aircraft on 11th September 2015. The aircraft will be of Tranche 3 standard and will be equipped with the E-Scan radar.
The contract confirms the State of Kuwait as the eighth customer in the programme and as the third customer in the Gulf Region next to the Kingdom of Saudi Arabia and the Sultanate of Oman.
Speaking on behalf of the consortium and its Eurofighter Partner Companies (EPC) the CEO of Eurofighter, Volker Paltzo, said: "We are delighted to officially welcome the State of Kuwait as a new member of the Eurofighter family.
"The confirmation of this order is further testament of the growing interest in the Eurofighter Typhoon in the Gulf Region. It will enable Kuwait to benefit from the critical mass being developed in the Gulf and the many advantages that it brings to an Air Force in terms of interoperability, training and in-service support."
Since entry into service of the first Eurofighter Typhoon at the end of 2003, more than 470 aircraft have been delivered to six nations: Germany, the United Kingdom, Italy, Spain, Austria and Saudi Arabia. The Kuwait order follows an order by Oman in December 2012 for twelve aircraft. Eurofighter Typhoon is currently in service at 22 operational units and up to now, the whole fleet has completed more than 330,000 flying hours worldwide.
INDIAN AIR FORCE COMMISSION FIRST THREE FEMALE FIGHTER PILOTS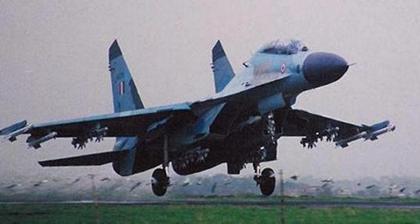 The Indian Air Force inducted its first female fighter pilots during a parade held in Hyderabad. Mohana Singh, Bhawana Kanth and Avani Chaturvedi , all in their early 20s who currently have approximately 150 hours each, are the Indian Air Forces's first fighter pilots. The three will be send to the air force's Bidar or Kalaikunda airbases for advanced training on BAE Hawks before switching to more advanced jets that may include the Mirage 2000S and Sukhoi-30MKI's.
The Indian Air Force has approximately 1,500 pilots of which about 100 are woman. In the past woman had only served in the transport and helicopter sections.
Manmohan Bahadur, a former air vice marshal said that although it is on an experimental basis It has happened now. "It is a progressive step in keeping with the aspirations of Indian women and in line with contemporary trends in armed forces of developed nations. In other countries it has happened earlier. Putting women in combat in harm's way that has to be accepted by society."

Canada, Calgary: Two propeller-driven Twin Otter aircraft, operated by Kenn Borek Air, Ltd., a Canadian firm that provides contractual logistical support to the Antarctic Program, left Calgary on the first leg of an intercontinental flight to the Pole. The mission, to return a member of the station's winter crew to a hospital that can provide a level of medical care that is unavailable at the station will be highly weather-dependent. The Twin Otter aircraft that Kenn Borek flies are able to operate in extremely low temperatures and are able to land on skis. As there is no tarmac runway at the South Pole, the aircraft must land in total darkness on compacted snow.
New Zeeland, Auckland: A Fiji Airways Boeing 737-800 was in the initial climb out of Auckland's runway 23L when the crew stopped the climb at 5000 feet reporting they could not fully retract the landing gear. The aircraft burned off fuel and returned to Auckland for a safe landing on runway 23L about 90 minutes after departure. The airline reported that a tyre had been changed prior to departure, the gear pin had not been removed prior to departure however. The gear pin was removed, and the aircraft departed again.
LONDON-The Royal Air Force's (RAF) Red Arrows aerobatic team will not, due to heightened concerns about urban areas around the air show, fly a full routine at this year's Farnborough International Airshow. Following the crash of a Hawker Hunter at the August 2015 Shoreham Airshow-the nine-ship Red Arrows team will be limited to flypasts only, RAF and Farnborough show organizers confirmed June 15. Air Vice-Marshal Andy Turner, commanding officer of the RAF's No. 22 (Training) Group and in charge of the aerobatic team, said the accident at Shoreham and urbanization around the Farnborough venue led the Red Arrows to "recalculate what is safe, sensible or appropriate. The changes end more than 60 years of displays by RAF aerobatic teams at the U.K.'s foremost aerospace trade show. Instead, the Red Arrows will perform flypasts with other aircraft, including the RAF's AirbusA400M and Voyager transports. Plans also have been set in motion for a joint flypast with Airbus' A350.
Egypt, Cairo: Egyptian aircraft accident investigation committee sources said on Sunday that the memory units of both flight recorders from crashed EgyptAir flight MS804 are severely damaged and will require "lots of time and effort" to fix. The committee is analysing the memory units from the Cockpit Voice Recorder (CVR) and the Flight Data Recorder (FDR), that were retrieved earlier, before determining if they can be repaired in Egypt or will need to be sent abroad. The CVR was damaged but the memory unit was intact. The two black box recorders are crucial to explaining what went wrong on the Airbus A320, which crashed early on May 19 on its way from Paris to Cairo killing all 66 people on board.




28 JUNE 1908


Jacob Ellehammer makes the first piloted, powered aeroplane flight in Germany.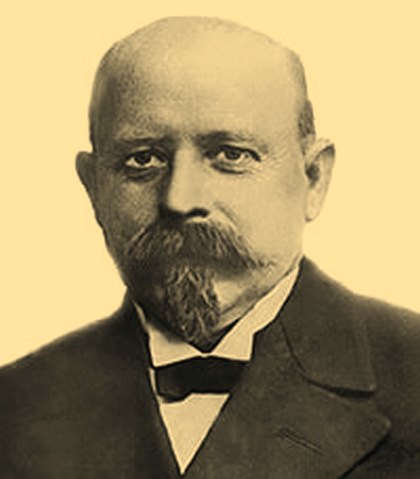 Jacob Christian Hansen Ellehammer


Jacob Christian Hansen Ellehammer (14 June 1871 - 20 May 1946) was a Danish watchmaker and inventor born in Bakkebolle, Denmark. He is remembered chiefly for his contributions to powered flight.
Following the end of his apprenticeship as a watchmaker he moved to Copenhagen where he worked as an electronics mechanic before establishing his own company in 1898. In the beginning he produced cigarette machines, beverage machines and other electronic machinery. In 1904 he produced his first motorcycle, the Elleham motorcycle.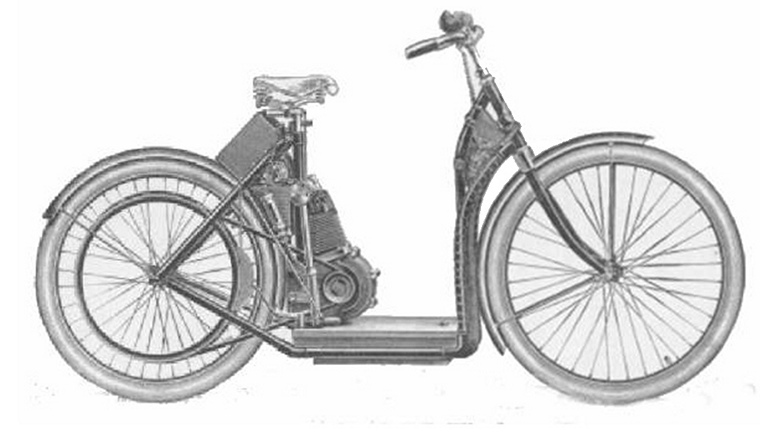 Elleham motorcycle 1904


In 1903-1904 Jacob Ellehammer used his experience constructing motorcycles to build the world's first air-cooled radial engine, a three-cylinder engine which he used as the basis for a more powerful five-cylinder model in 1907. This was installed in his triplane that made a number of short free-flight hops.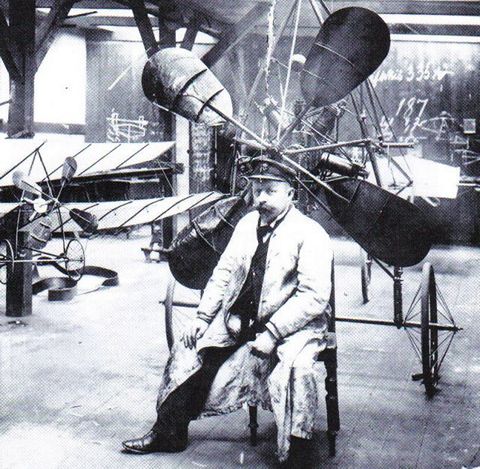 In 1905, he constructed a monoplane and in the following year a "semi-biplane". In this latter machine, he made a tethered flight on 12 September 1906.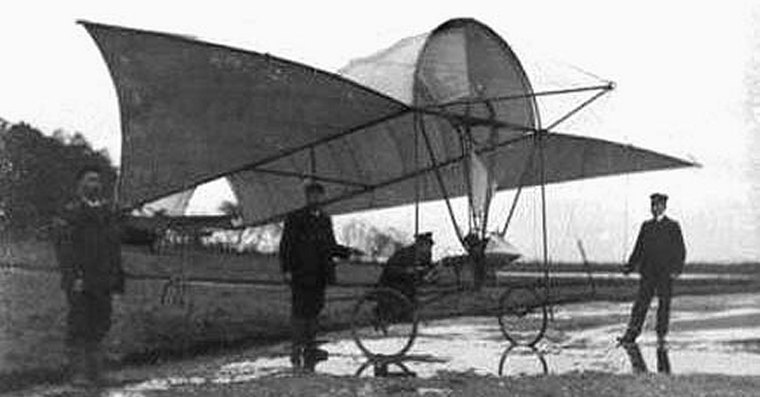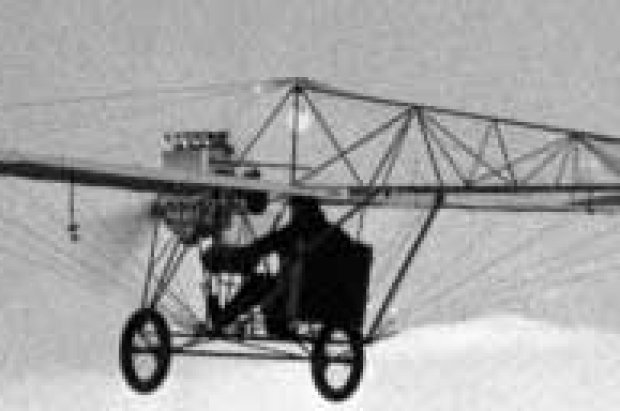 Ellehammer's later inventions included a successful triplane and helicopter. His helicopter was a coaxial machine. A famous photo shows it hovering in 1914, though there is no evidence that it was successful in achieving translational flight. Ellehammer later studied a disc-rotor configuration, a compound helicopter with coaxial blades that extended from the hub for hover, and retracted for high speed vertical flight.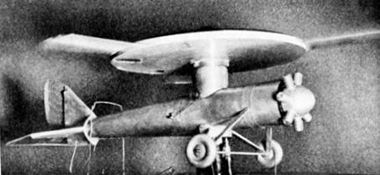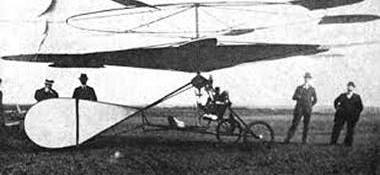 For a free no obligations quote email info@pilotspost.com