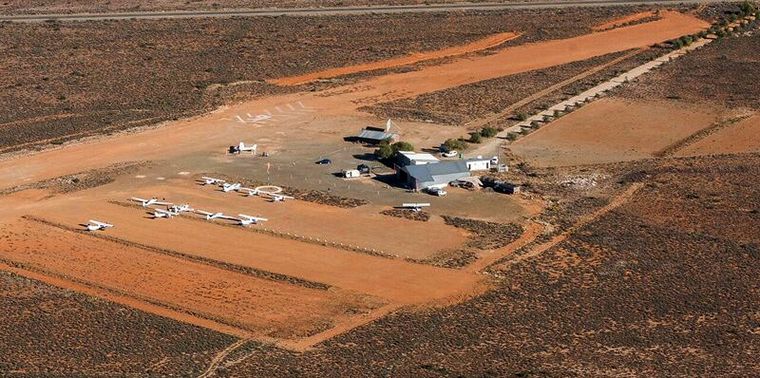 Carnarvon airfield early Saturday morning. Trike flying when the surface temperature is 4 į C is not for the faint hearted

The yearly Carnarvon fly-in was always a great event to visit. But the amount of red tape clubs has to deal with lately to host a flying event open to the public makes it impossible for a small club to even briefly entertain the idea.
This fate has now befallen the Carnarvon Flying Club too. With only a small number of active members and very little chance of making money in such a small community, the traditional Carnarvon fly-in have faded into oblivion as instead of making money for the club, the losses will be high.
But Carnarvon is still a very popular destination for many aviation folks. Last year the Jabiru guys organised a very successful fly-in to Carnarvon. This year a number of people enquired whether the Carnarvon guys could not host a small fly-in again. It is thus with pleasure that we can report on a great weekend in Carnarvon with our aviation friends.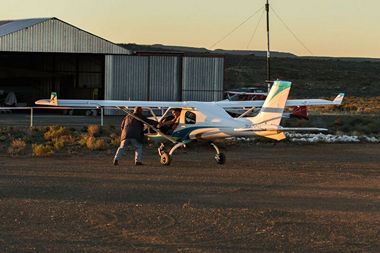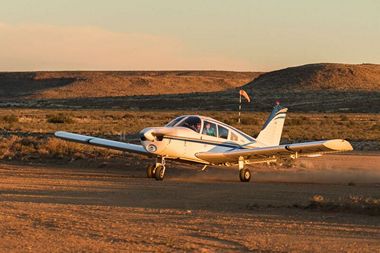 Rob Anderson's customary welcome to Carnarvon Airfield and a Arriving Piper Cherokee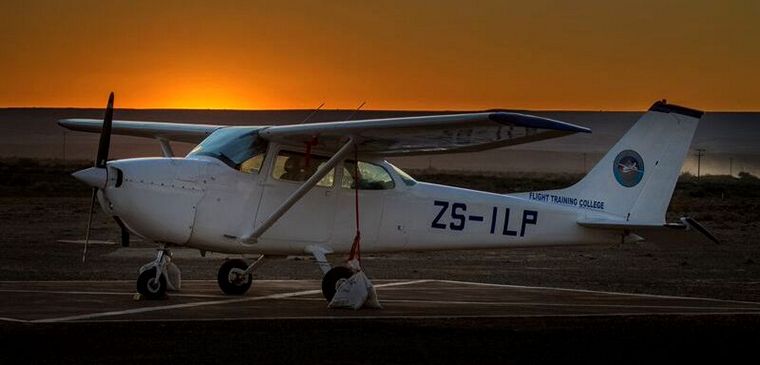 Cessna 172 from Flight Training College, George. They took early leave due to weather pressure.

Despite the weather not playing ball, just over 20 different aircraft kicked up dust on runway 34 over the weekend of 18/19 June.
Rob Anderson and his small team made sure that the visitors were well fed and transport to the various accommodations were available. Safe parking for visiting aircraft was provided and the customary sand bags for tying down were filled to the brim.
Bierman's Pan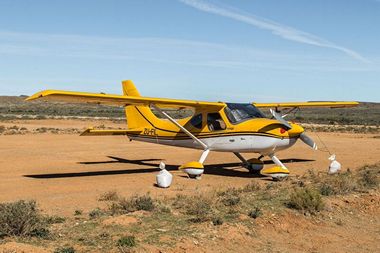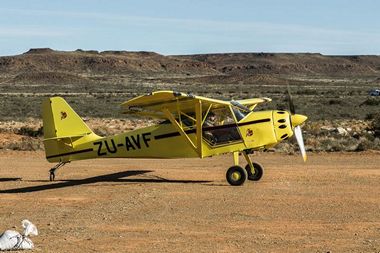 Glasair Sportsman and Kitfox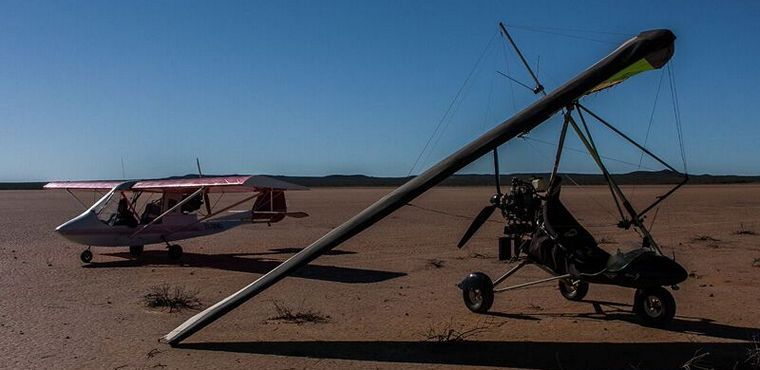 Chalenger and trike on Bierman's Pan

The guests were even entertained at a disco/dance on the Saturday evening. For those who arrived on Friday and early Saturday a trip to Bierman's Pan (Neighbour 's pan in English) was arranged where Jasper Grobbelaar and Nicky van der Merwe had a fire going to provide visitors with a cup of hot coffee and a boerewors roll.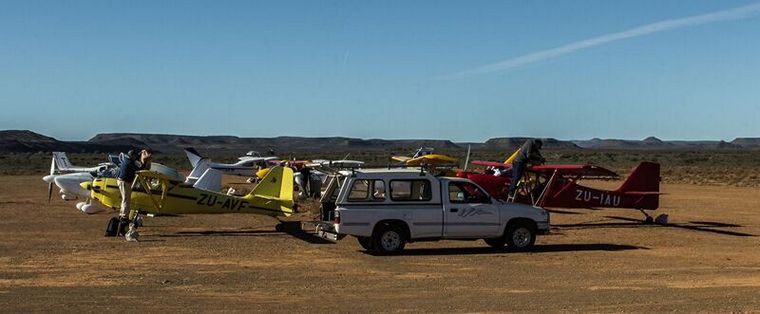 Refuelling time Saturday for an early start on Sunday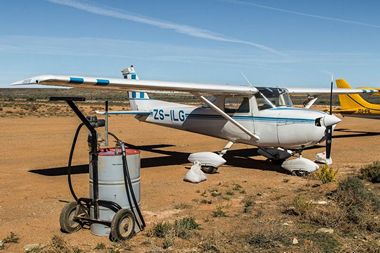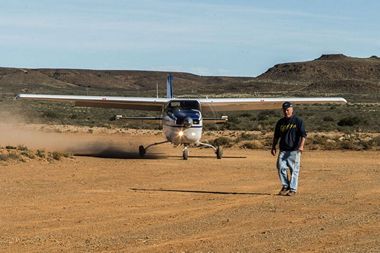 Cessna 150 Aerobat and Ramp Master Rob Anderson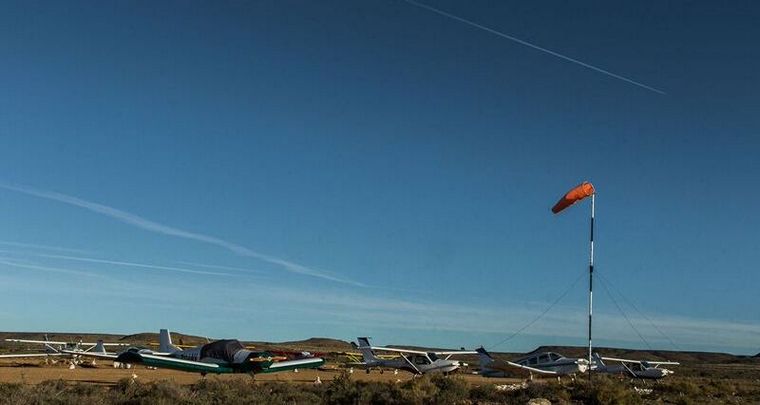 Some passersby did not stop for a chat


Bierman s Pan, a few kilometres north-west of Vanwyksvlei right next to the R357 is the birthplace of the Carnarvon fly-in. Many years ago when most of the Karoo guys were still flying trikes they started a meet of likeminded aviators there. They however quickly found that a runway under water can be a serious put off as most guys do not fly float planes.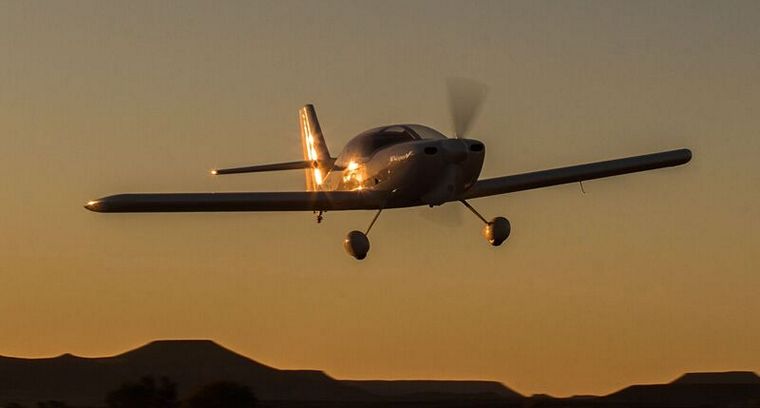 Whisper X flown by Russell Phillips

As the weather can be very unpredictable and thus a dry pan is not a given, the fly-in was moved early on to the Carnarvon airfield. A varied selection of aircraft made the trip to Carnarvon this year.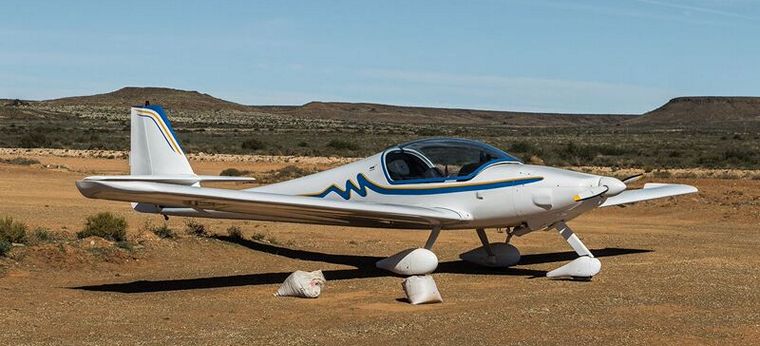 Whisper Motor Glider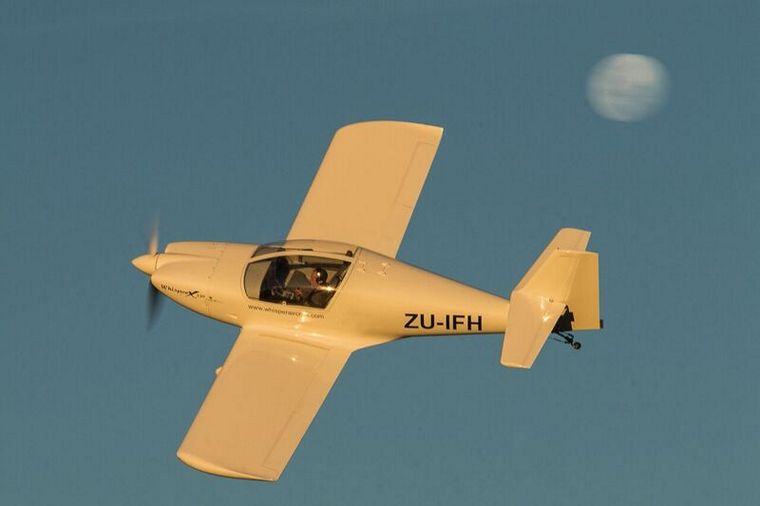 Russell Phillips with the Whisper X. Without commentary we could not play the Frank Sinatra song Fly me to the moon

A special mention must be made of Russell Philips from Whisper Aircraft who tried to get as many Whisper owners to bring their aircraft so that he can give them a first-hand introduction of the Whisper X. He did not succeed in getting the whole Whisper family to come but there were three Whisper Motor gliders and what an introduction to the X it was.