Manufactured by the Aviation Industry Corp of China's (AVIC) the Y-20, with a crew of three, made its maiden flight in January 2013, making China the third nation after the US and Russia capable of developing strategic transport aircraft.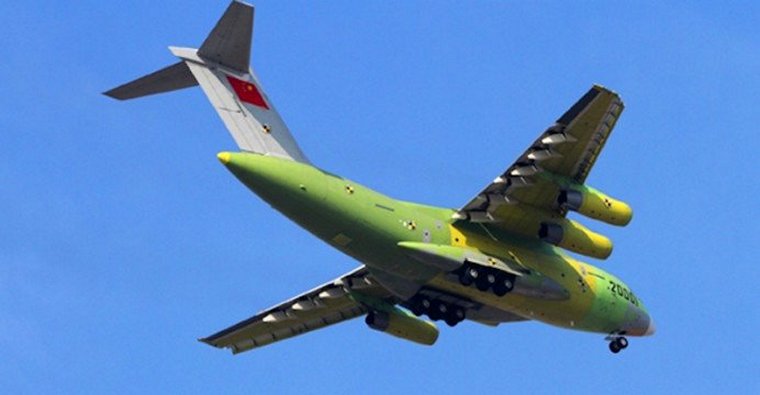 Y20 prototype. Photo China Ministry of Defence

The Y-20 is the first cargo aircraft to use 3-D printing technology to speed up its development and to lower its manufacturing cost. Model-based definition (MBD) is also used, and it's the 3rd aircraft to utilize MBD technology in the world, after Boeing 787 (2005) and Airbus A380. Like most modern aircraft the Y-20 makes extensive use of composite materials. The composites are produced in China. The Y-20's cabin incorporates flame-retardant composites developed by China's Aerospace Science and Technology Corporation.
China will need at least 400 of the huge aircraft to enable the Air Force to move closer to its goal of building a strategic air power. The military and civilian sectors will benefit greatly from delivery of the Y-20 and will also enable China to develop transport jets that are even larger than the Y-20 and comparable to the Lockheed C-5 Galaxy and the Antonov An-225 Mriya.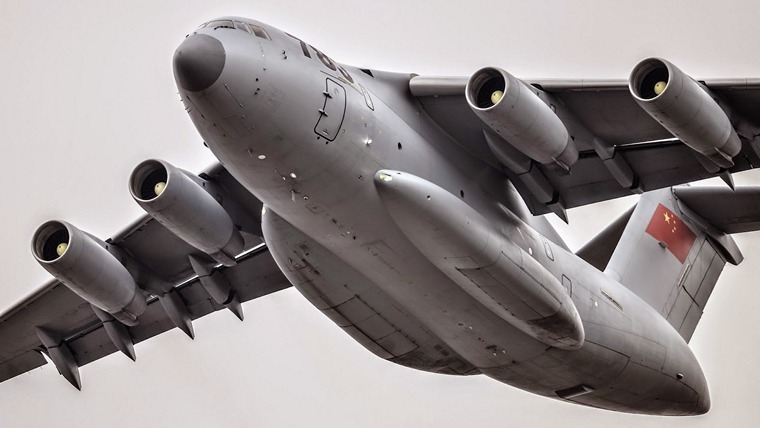 Photo AVIC

Powered by four 12-ton thrust Soloviev D-30KP-2 engines the Y-20, when fully fuelled, and carrying a payload of 40 tons can fly for 10,000 kilometres reaching everywhere in Europe and Asia, the US state of Alaska, Australia and North Africa. With its maximum payload, it has a range of 4,500 km, enabling it to fly nonstop from Harbin in Heilongjiang province to Lhasa in the Tibet autonomous region.
Cargo is loaded through a large aft ramp that accommodates rolling stock including China's largest tank the 58-ton Type-99A2. The Y-20 incorporates a shoulder wing, T-tail, rear cargo-loading assembly and heavy-duty retractable landing gear, consisting of three rows, with a pair of wheels for each row, totalling six wheels for each side. The Y-20 incorporates a total of four LCD EFIS via helmet mounted display.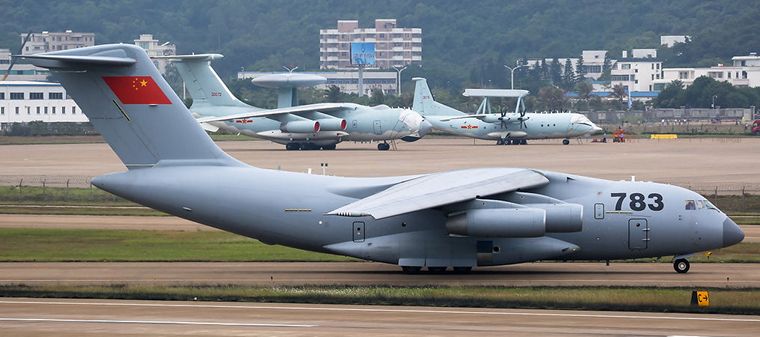 Photo AVIC

Ground testing including runway taxi tests started in December 2012 and the Y-20 made its maiden flight lasting one hour on 26 January 2013. In December 2013, another prototype took to the sky. The Y-20' first public appearance took place on 6 February 2016. First deliveries to the People's Liberation Army Air Force (PLAAF) were expected in 2016.