Photos and video © CubCrafters

Most discussions about Light Sport Aircraft (LSA) seem to focus on the restrictions, like a maximum takeoff weight of 1,320 pounds, daytime flight only, a speed limit and just two seats. But talk to pilots who have flown a Carbon Cub SS and you won't hear about restrictions - you'll hear about freedom, and the sheer fun a high-performance LSA can be.
The Carbon Cub SS is certified in the Light Sport category. This high-performance machine thrills the most experienced flyers. No other aircraft explores the limits of the Light Sport category more than the Carbon Cub SS.
While the Carbon Cub was inspired by the classic Super Cub, the structural design is entirely original. CubCrafters saw the Light Sport Aircraft category as an opportunity to build significantly lighter Cub, one that every pilot would appreciate. Using contemporary computer design tools and 21st century materials, they built the next generation of Cubs with 50 percent fewer parts and 250 pounds lighter than a similarly equipped Super Cub.
The Carbon Cub has redefined expectations for backcountry aircraft. It has taken the fundamentally superior design of the Piper Super Cub and reinvented it using 21st Century materials and computer-aided design. It can take off and land in patches that you thought were accessible only to helicopters and hikers, all while being able to take the abuse of backcountry exploration.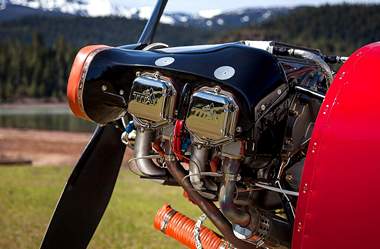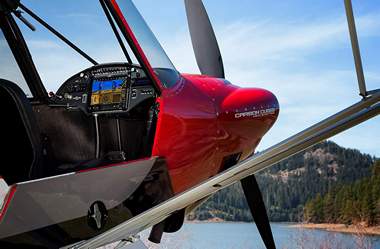 CubCrafters is the only aircraft manufacturer in America that produces LSA, Experimental and Part 23 Certified models in the same facility. By maintaining the highest standards applied to Part 23 aircraft to all their models, they are able assure the FAA and customers, that all CubCrafters aircraft fulfil rigorous requirements for airworthiness and safety.
Utility aircraft typically look… well, utilitarian. The Carbon Cub's refined appearance conceals the brute within. From the carbon composite spinner and cowl to the beautiful urethane coatings, the fit and finish of each Carbon Cub draws admiration. Instrument panels are modern and functional. Gel-coated interior surfaces exude a tasteful, yet durable character. Jewel-like machined aluminium parts inspire confidence. Owners are proud of their Carbon Cubs.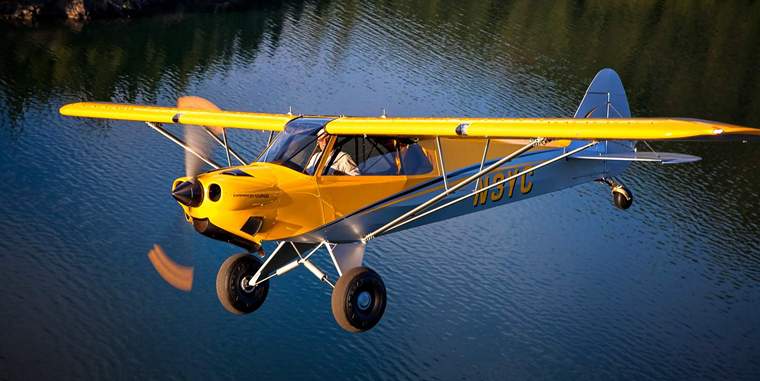 The Carbon Cub has an unmatched power to weight ratio giving it no equal in take-off and landing performance. On an average day Carbon Cub will climb out at 2,100 feet per minute and pass through 10,000 climbing at 1,100 feet per minute. This power is ideally paired with the airplane's nimble handling and slow speed manners. Whether flying around the patch, camping or remote wilderness excursions, the Carbon Cub always delivers.
A strong chromoly steel fuselage surrounds occupants in a protective cage. It has been designed to generously exceed required loads. Real-world static tests using lead weights and hydraulic pressure assure the strongest structure in this class of aircraft. The Carbon Cub is inherently safer due to its extraordinarily slow stall speed. The fundamentally sound wing and vortex generators (standard) increase low-speed stability.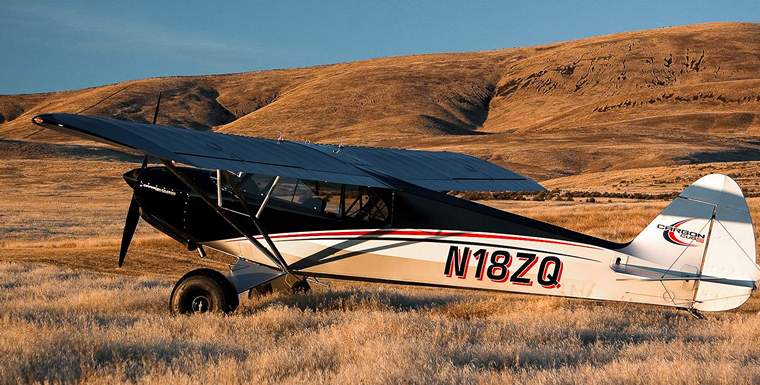 A lightweight and powerful Titan CC340 gives the Carbon Cub a power-to-weight ratio of 7.33 lbs/hp! For comparison a Cessna 172Rs has a power to weight ratio of 15.33 lbs/hp. Carbon Cub pilots experience a sea level climb rate of 2,100 feet per minute (compared to 650 fpm for a 172) and a deck angle that inspires involuntary expletives from first-timers. No other LSA takes off or lands in a shorter distance, with better low speed manners.
The bestselling LSA in America is also the highest performance adventure aircraft in the world. Lightweight and powerful, the Carbon Cub SS has made the most challenging mountain clearings accessible. It takes off in just a few plane lengths and lands just as short. No other aircraft explores the limits of the Light Sport category more than the Carbon Cub SS.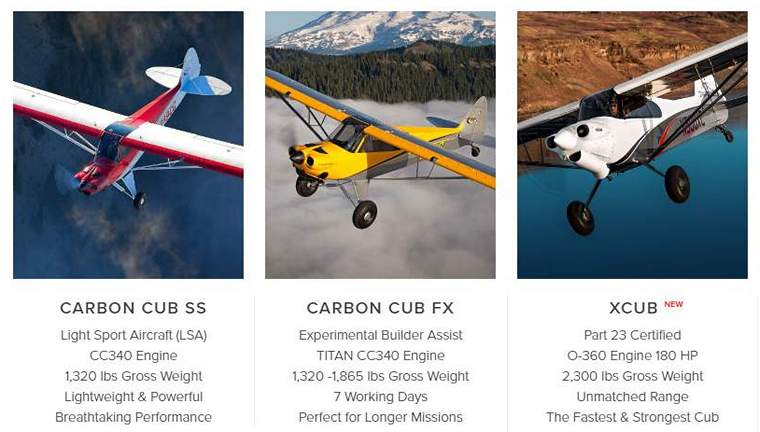 The Carbon Cub is available in three variants: Carbon Cub SS (production Light Sport Aircraft), Carbon Cub FX (an innovative Builder Assist E-AB aircraft), and Carbon Cub EX-2 (aircraft kit). Carbon Cub has been designed for off airport operation with a powerful engine, strong lightweight frame and nimble low-speed manners.