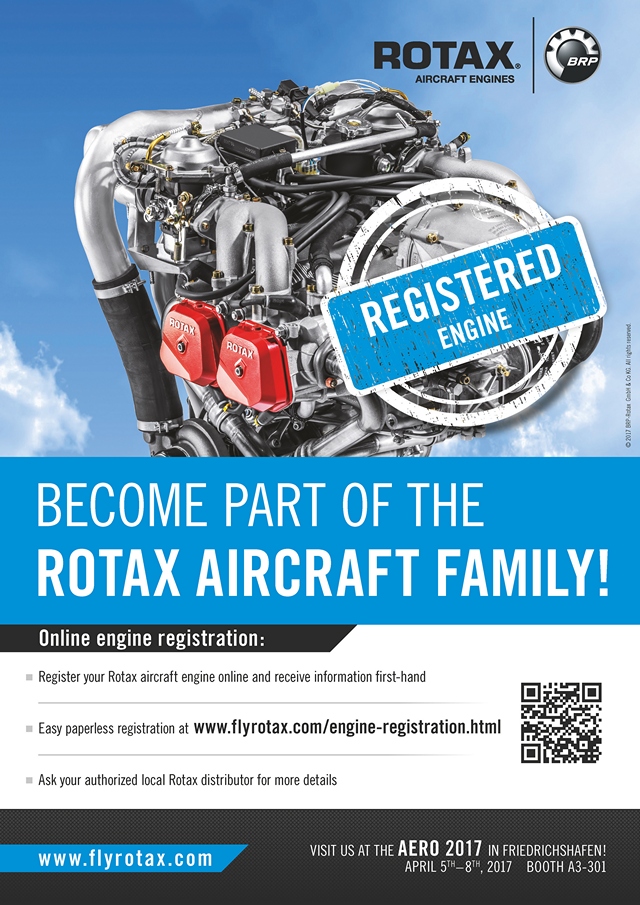 # Easy paperless engine registration process
# Increase of service quality
# Security feature: no way of re-registration of stolen engines
BRP-Rotax constantly aims for improvement in order to provide our end customers not only with high quality products but also with the best quality of service. Therefore, the new easy-to-use engine registration system is an essential step on this journey.
Now, a new registration can be done by following a three-step process. As a first step, the customer enters all required registration data using the online registration form on
www.flyrotax.com
.In the second step; the end customer receives a confirmation link via email after submitting the registration. By following this link, the data entered must be validated and needs to be confirmed by the customer. The confirmation link expires after 48 hours. After this time frame the customer has to redo the registration.
As third and finals step of the engine registration process the submitted registration is validated by BRP-Rotax.
This new paperless engine registration process offers various advantages for Rotax aircraft engine owners. First of all, it is very important for BRP-Rotax to get to know their customers and their engines in operation. This allows to optimize the distribution and service network according to customer's needs.
Customers who agree on getting contacted by BRP-Rotax directly enjoy the advantage of receiving newsletters. Moreover, in future also relevant notifications on engines, like new technical documentation, registered by the customer will be available.
Another advantage is that in case of a reported engine theft a re-registration of this engine is impossible.
Since the launch of the new engine registration in December 2016, 320 customers have already registered their engines via the new online system; becoming part of the ROTAX family.
Visit us at the AERO in Friedrichshafen, Germany from April 5-8, 2017 at booth A3-301 and register your engine directly. You just have to bring the relevant data like engine serial number, aircraft and propeller information.
With more than 175,000 engines sold in 40 years, Rotax aircraft engines lead the light sport and ultra-light aircraft market. With 19 authorized distributors and a network of more than 220 points of sale and repair centres supporting customers worldwide, Rotax aircraft engines are supplied to more than 80% of all aircraft manufacturers in its segment.
About BRP-Rotax

BRP-Rotax GmbH & Co KG, a subsidiary of BRP Inc. in Gunskirchen, Austria is a leader in the development and production of innovative 4- and 2-stroke high performance Rotax engines for BRP products such as Ski-Doo and Lynx snowmobiles, Sea-Doo watercraft, Can-Am all-terrain, side-byside vehicles and Can-Am Spyder lineup as well for motorcycles, karts, ultra-light and light aircraft. In the last 50 years, the company has developed more than 350 engine models for recreational vehicles and produced over 7 million engines.
www.rotax.com
About BRP

BRP (TSX:DOO) is a global leader in the design, development, manufacturing, distribution and marketing of powersports vehicles and propulsion systems. Its portfolio includes Ski-Doo and Lynx snowmobiles, Sea-Doo watercraft, Can-Am all-terrain and side-by-side vehicles, Can-Am Spyder roadsters, Evinrude and Rotax marine propulsion systems as well as Rotax engines for karts, motorcycles and recreational aircraft. BRP supports its line of products with a dedicated parts, accessories and clothing business. With annual sales of over CA$3.8 billion from over 100 countries, the Company employs approximately 7,900 people worldwide.
www.brp.com
For information: Alexandra Reisinger, Marketing & Communications Rotax alexandra.reisinger@brp.com



www.cometaviationsupplies.co.za