Business is all about flexibility and speed. With the Bell 525, executives get the best of all worlds - business travel that is efficient, tranquil and now faster than ever before. By incorporating the latest in technology and design, the Bell 525 keeps travellers comfortable and connected throughout their journey.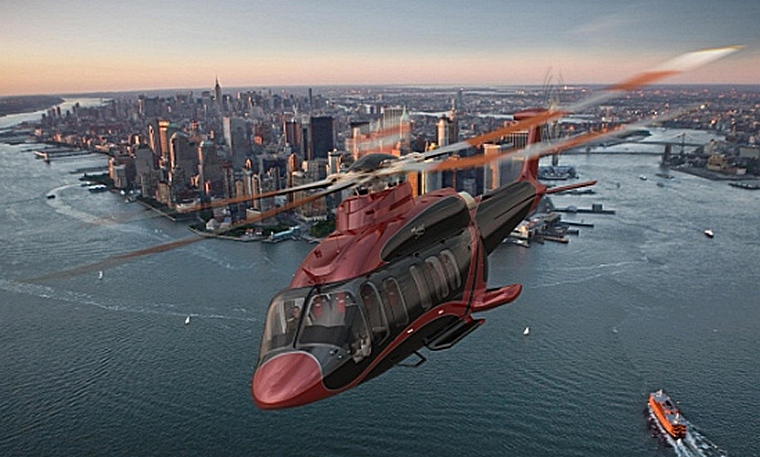 Whether travelling intra-city or on a multi-city engagement, the long range and speed of the Bell 525 make getting to important engagements seamless. Setting new standards in helicopter performance with distances up to 500 miles and speeds pushing 185 knots, passengers arrive at their destination refreshed and ahead of the competition. Based on a clean sheet design incorporating advancements in engine and airframe design, operators benefit from increased fuel efficiency and lower direct operating costs.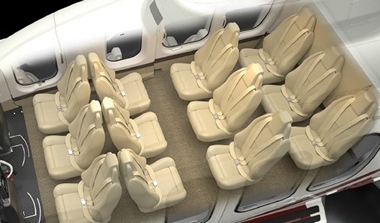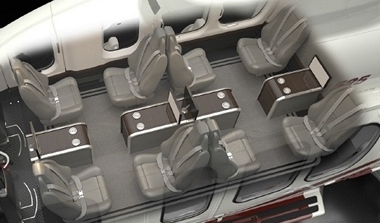 Arrive refreshed and focused with the Bell 525. When crafting the Bell 525 interior, designers focused on creating a comfortable cabin optimized for working, relaxing, and everything in between. The modular layout and optional accessories allow for full connectivity ensuring travellers stay linked while business unfolds. With space to hold important meetings and room to fully unwind, the Bell 525 becomes your board room in the sky.
An in-flight experience that is second to none, with the smoothest ride quality among its peers, the interior environment of the Bell 525 is easily comparable to an ultra-business jet in luxury appointments. Large panoramic windows that flood the cabin with natural light, handcrafted leather seats and a sizeable cabin quiet enough to relinquish headsets, personal space is afforded to each passenger.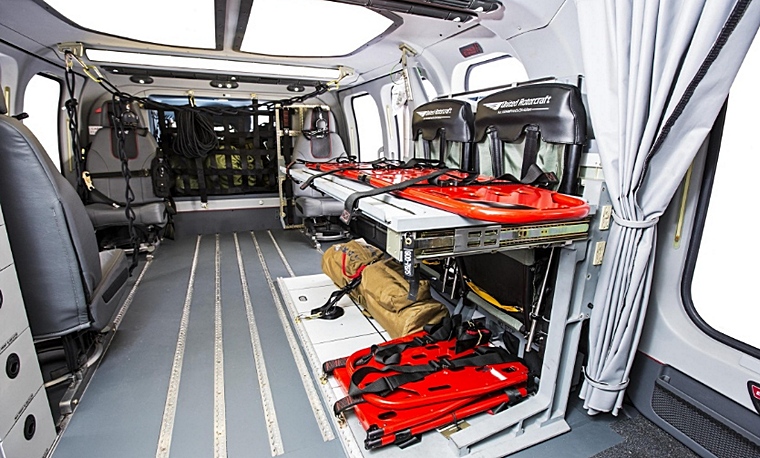 Easily reconfigurable, the Bell 525 accommodates each passenger's individual needs enabling them to quickly mobilize whenever opportunities present themselves. Three baseline interiors configurable in 8, 10 or 12 person arrangements provide the user versatile configurations to remain productive while en-route. Adaptable configurations add usefulness including table space, beverage holders, and general storage. Optional electrical outlets, stowable flat screen monitors or coolers, colour matched carpet, fresh air vents and window tint choices offer customizable touches to match the user's unique style.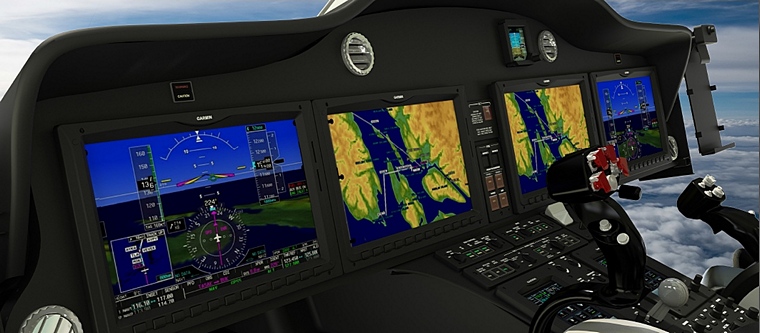 Garmin's G5000HTM top of the line, integrated avionics suite incorporates revolutionary touch screen controllers and synthetic vision technology to provide pilots easy aircraft interfaces and heightened awareness - assuring maximum safety in flight. Large displays and visual representation of obstacles, other aircraft and terrain below keep pilots mindful of their surroundings at all times. A custom designed flight deck layout gives crew superior over the nose visibility and fully digital side stick controllers further enhance situational awareness.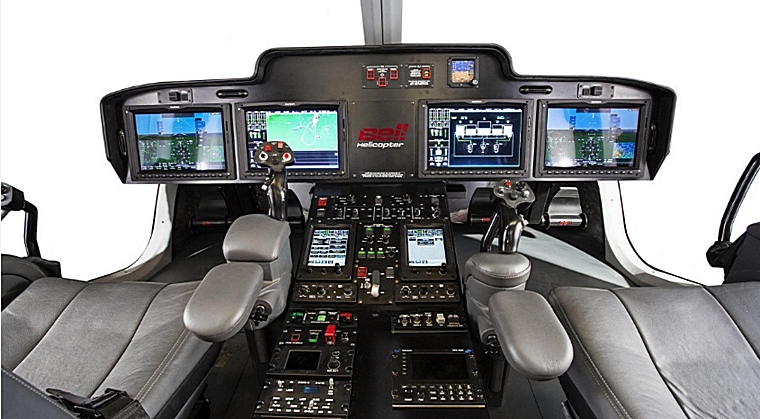 As the world's first and only fly-by wire helicopter, the Bell 525 brings commercial airline levels of safety to the helicopter industry. Used for years by commercial airlines and large business jets, fly-by-wire technology makes flying safer, more efficient and more consistent.
Side Stick Controls - One of a kind side stick controllers convert pilot movements into digital signals which are sent to the aircraft's flight control computers. Through digital design, the Bell 525 controls allow for a more comfortable and usable flight deck, giving crews more time to monitor the overall status of the helicopter and its systems.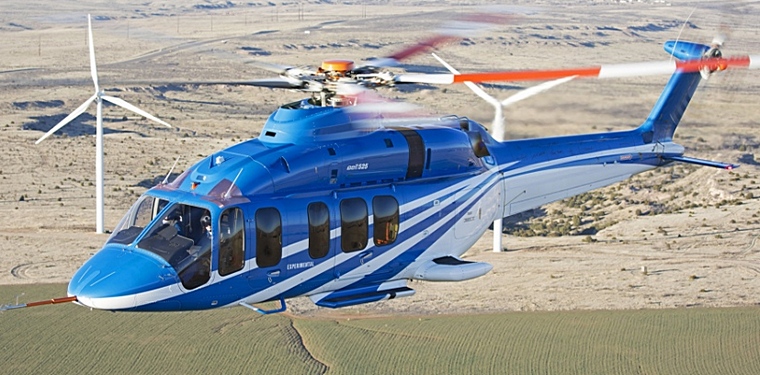 Flight Control Technology - At the heart of the fly-by-wire system are three separate and independent flight control computers. Upon receiving digital commands from the pilots, the system evaluates and calculates the optimal method to achieve the order; assuring the aircraft is not compromised and is supported by extra system redundancy.
Control Surface - Three separate and independent actuators in the main and tail rotor are responsible for the movement of the control surfaces as directed by the flight control computers. As the final step in the fly-by-wire system flow, these control surfaces enable optimal execution and safety of aircraft actions.
Only Bell Helicopter offers operators the top-rated support and service organization. As the most comprehensive service network in the helicopter industry, Bell Helicopter's support options include more than 100 global service centres, world-class and expanded training facilities, by the hour service plans, aircraft customization, repair and overhaul services and more.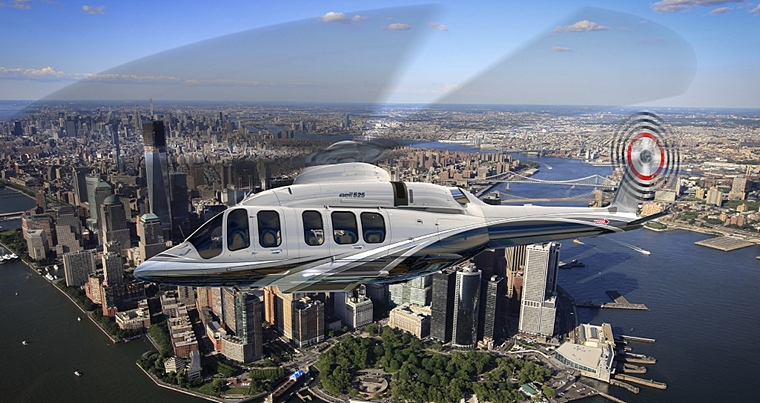 The Bell 525 Relentless, featuring the ARC Horizon flight deck system, provides unparalleled crew situational awareness through the use of a fully integrated avionics flight deck coupled with an advanced fly-by-wire flight control system, resulting in enhanced safety levels and mission capabilities.