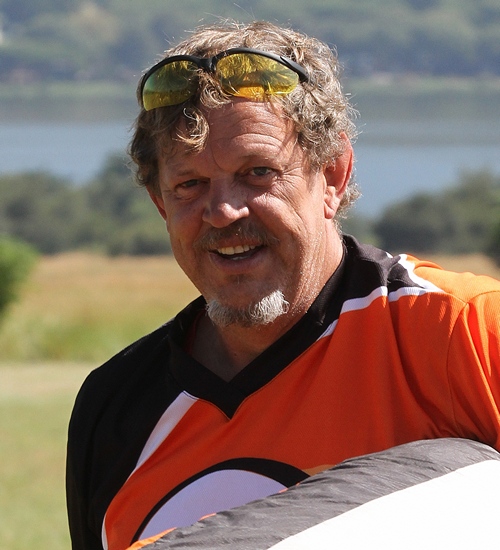 The first time I was introduced to this sport was when we moved from Kwa-Zulu Natal to North West Province in 1997. During an afternoon visit to Hartbeespoort cableway, I saw these crazy men launching from the mountain with Paragliders on the Northern ridge. It looked absolutely fantastic to imagine the freedom of flight, sharing the sky with our winged friends.
I then considered taking up the sport, but it was short lived, as the cable way was closed down and I had no contact with any other person involved in the sport.
Many years later, to be exact, 12 years later, a business associate of my wife, told her that he was doing paragliding and that I will most probably like to do it too. She immediately told him that I would not be that crazy, but she still told me about their conversation that afternoon. I was so excited to hear that someone else that I know is doing the sport, and started to get contact details and phoned around for instructors.
I then signed up with a paragliding school at Dunnottar, the old Army air force base outside Springs.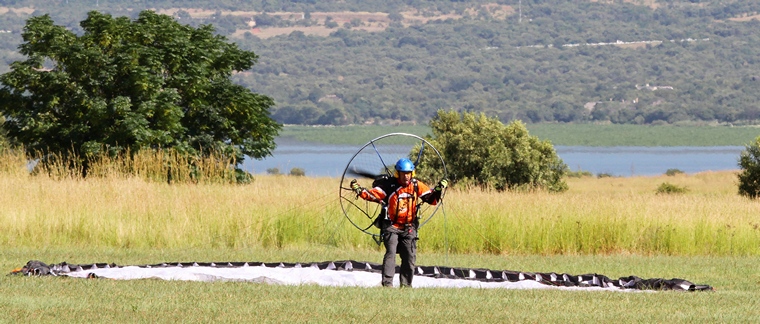 The initiation is to run around the field with an old skydivers parachute in the blazing heat to show that you can control a wing properly on the ground. This is called ground handling. For me, maybe nearly in par with "Kamp Staaldraad!". You pay for the course but the weight loss is for free. Stubborn as can be, I bit the bullet and finished the ground handling in two days.
Then you have to face the unknown and actually fly. Different story, the nerves, sweaty hands, elevated heartbeat, then off you go attached to a pay-out winch rope on an old Nissan bakkie. After a short 5 minute flight and successful landing, I was hooked for life. My first 16 flights were on a winch and then for my first mountain flight the school took me to Bambi close to Waterfall Boven. I never thought that flying can get better, but it did. To hang in the sky and fly the ridge for hours is an unbelievable experience.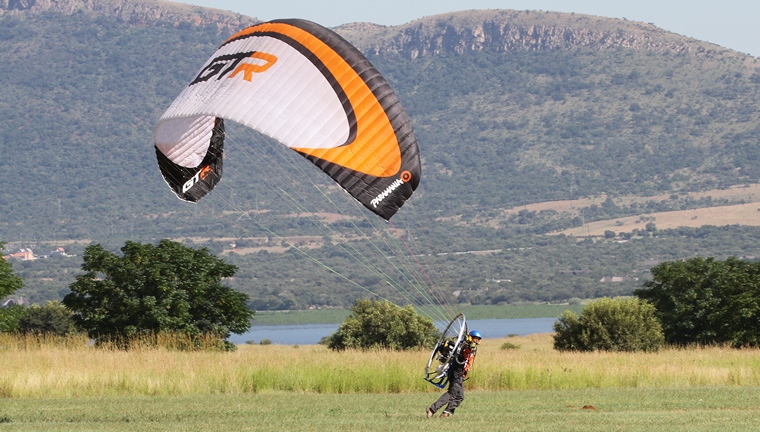 You then get to experience the different classes of wings as you progress with the sport, from a beginner pilot to a more advanced pilot. Each baby step you take in improving your flying skills is like reading a new chapter in a book, but a book with no ending.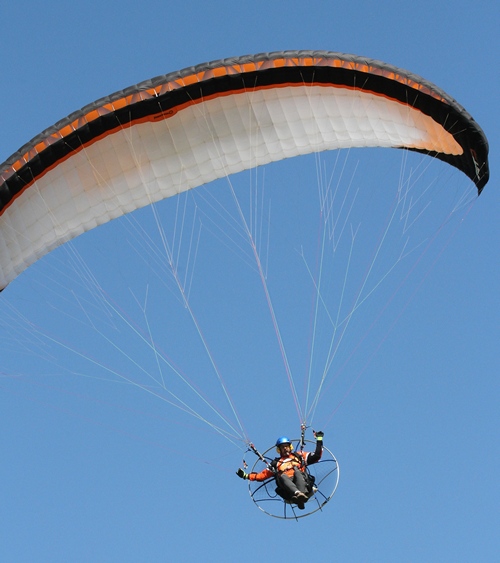 In 2010, I went with Skywings Paragliding School to Koppies Dam in the Free State to do a SIV course. This is most probably the most advanced paragliding course you can do. Performing unimaginable maneuvers with your wing, like stalls and collapses and learning to recover from these abnormal situations in the air. Very scary but so satisfying to know how safe your wing really is.
In 2012, I went to Henneman (near Welkom); in the Free State to enroll in their Soaring Flying School to fly sail planes. This is one hell of an aircraft, the unbelievable ability to soar for long distances without losing a lot of altitude. However, I never felt comfortable inside this aircraft due to my body size. Shoulders pressed against the side of the capsule and your head against the roof, not even an inch of space available to move my body, it just wasn't comfortable enough for me to fly for extended periods of time. I then, sadly, gave this discipline of flying a miss and concentrated on my paragliding career again.
A couple of years later, I got lucky. I became the proud owner of a brand new Parajet Zenith Thor 190 Clutch (27HP) paramotor. I don't know if its fate, or if sometimes things happens in your life for a reason. I have always wanted to fly a paramotor, the ability to take off anywhere and to fly in any direction you wish, and land next to your vehicle. Just the idea that you do not have to wait for the ideal conditions and travel extensive miles to get to your destination, to wait, and hopefully fly with a paraglider. A parmotor just opens these doors.
Parajet Africa, a Southern Africa based distributer of Parajet paramotors, had a raffle on Saturday 3 October 2015 (Same day South Africa played Scotland in the group knockout match during the World Cup in England). Apparently the raffle was postponed on two previous occasions until this day. Again the fate scenario pops up in my mind.
Here is a short summary of what happened on that beautiful day that changed my flying career forever:
On my way to go and watch the rugby match at a friend's house in Pretoria (already late at that time), I told my wife that Parajet Africa is going to have a raffle for a Paramotor at "The Bay", Hartbeespoort Dam. She insisted that I go and buy a ticket, 20 minutes before the raffle took place. (The raffle would have taken place at 16h00).
At first I was reluctant to go to the Bay to buy a ticket, as we were already late for the rugby match. But as you would have guessed, the wife always wins the battle. I did go to the Bay and bought the last ticket of the raffle booklet.
Nic Petropoulos, the owner of Parajet Africa, also forget to put the carbon copy paper in the raffle book and had to write my ticket out twice by hand. I still made a joke and said that, that was a good omen and that he must not take too long to phone me if I had won the prize, as I am on my way to Pretoria.
Nic then phone me, and I was so excited wanting to know if I had won the prize.
He laughed and said that I must come back to the bay because I had left my wallet behind when bought the ticket. As I wanted to turn around my daughter said that my wallet was in the console of the car.
I immediately phoned Nic back and said that the wallet was not mine and that he must look for the rightful owner. He laughed again and said "You stupid fool, come back, you won!"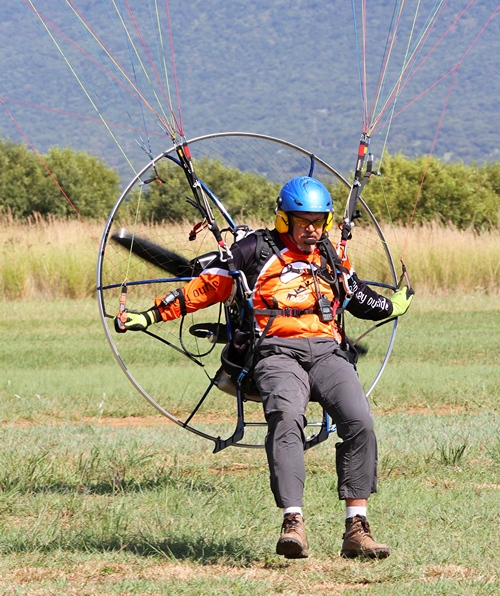 I was totally bowled over, and could not even remember the trip back to the bay to collect my motor. That was the end of trying to be on time for the rugby match. Nothing mattered after that!
Since this unbelievably lucky day, I got actively involved with paramotoring at the bay. I am now a proud member of the Paramaniac's Club, a newly formed club at Hartbeespoort dam. Together with Skywalk PG and PPG school they offer courses in paragliding, paramotoring, airband radio courses and entertain the families of all pilots of both disciplines. Our club is expanding into one of the biggest clubs in the country at an enormous rate. Family orientated with no politics, a fantastic location and fun driven environment. I can see this club going from strength to strength. Last but not least, there is an enormous amount of experienced pilots, both PG and PPG that are always there to assist newbie's to improve their flying skills.
Our official club opening was held on Saturday 11 March 2017 with great success. We also had the privilege to celebrate Nic Petropoulos 40th birthday on the same day.
My message to the potential new pilots of our fantastic sport is to follow your dream. Flying is the most satisfying experience. It is the best escape from our hectic work environment and stressful lifestyles. Just take it one baby step at a time. Never push your limits and you will remain a happy pilot for the rest of your life.