THIS WEEK IN MIDWEEK UPDATE

Notice Board……..Plan Your Weekend……..Forthcoming Events

Aviation News………. Worldwide Incidents and Accidents

This Week in Aviation History………Advertising Rate Card





OSHKOSH AIRVENTURE 2017 TOUR RAFFLE





The South African Power Flying Association (SAPFA) and Neil Bowden's Air Adventure Tours group (www.airadventure.co.za) have put up an opportunity of a lifetime to attend Oshkosh AirVenture 2017 to be held from 24 to 30 July 2017 by offering a raffle ticket of R1000 for a trip for two to this event which includes air fares and camping in the unique South African campsite. Attached also find more information of the tour details (tour A & B are applicable) and what is included.

To purchase a ticket, payment can be done either by EFT (details below) or cash and is limited to 200 tickets sold, so get your soon to avoid disappointment.

Bank details: S.A.P.F.A.
Bank: Nedbank Limited
Branch Code: 19876500
Account Number 1876019840
Payment reference: Oshkosh Raffle - Your Name

E-mail proof of payment to esthertorlage@icloud.com with your name, email address and cell number (important to provide as winning ticket could be a cell phone number away). You will receive an e-mail / SMS with your ticket number once payment confirmation is received. The winner will be announced at the prize giving ceremony of the President's Trophy Air race on Saturday 27 May 2017 by means of a lucky draw.






Des interviews Captain Tom Van Rooyen, Boeing 777 training captain on long-haul fatigue management.
To listen to a recording of the live broadcast click on the link:
www.debela.co.za/aviation-radio-show


15: Magaliesburg Sailplane Grand Prix 2017. Hosted by Magalies Gliding Club and FAI Sailplane Grand Prix South Africa 2017.
15: Rand Airport Easter Fly In and Adventure Rally. Contact Rob Jonkers
rob@aerosud.co.za
for rally details.


APRIL

20 -23: AERO Friedrichshafen - Germany Website:
www.aero-expo.com
22: 22 April Breakfast @ Robertson. Contact Alwyn du Plessis 083 270 5888 e-mail:
boeredata@breede.co.za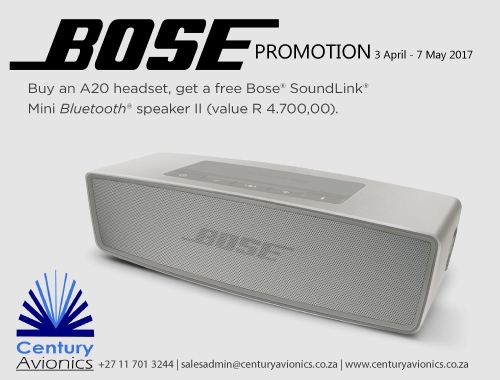 3rd Saturday of every month. Microland. Bring and braai. Fires and bykos provided. Fires start from 09h30. Contact person: Nick Swardt 082 441 8011 or Alan Hussey 072 82 2341
28- 30: Thaba Nchu Airshow. Christiaan Moriaana. 012 543 1736
26 - May 1: SA National Sky Diving Championships. Rustenburg Skydiving Club
29 -1 May: EAA National Convention - Bethlehem Airport EAA Chapter 1500 Contact Francois Marais E-mail:
info@stanfra.co.za
Cell 082 726 8550
MAY


1: Military History Festival Voortrekker Monument Pretoria.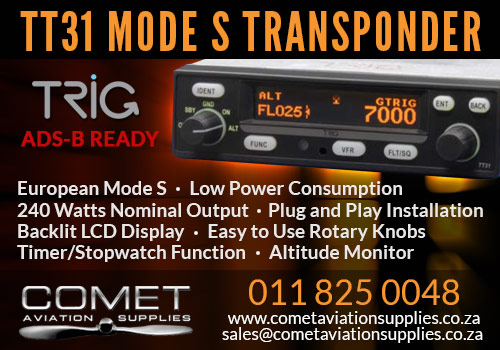 3: EAA Chapter 322 meeting. Dicky Fritz Moth Hall Edenvale. Contact:
editor@afskies.co.za
4: SAAF Museum AFB Zwartkop open practise day
5-6: Battlefields' Sports Resorts' annual fly in. Dundee KZN. Contact Dave O' Halloran e-mail
gm@battlefieldslodge.co.za
6: SAAF Museum Airshow AFB Zwartkop. Contact Tel: 012 351 2290
10: Aero Club of South Africa Annual General meeting. EAA Auditorium Rand Airport. Contact
office@aeroclub.org.za
12-14: Carnarvon Vliegklub will be holding a Fly-in on the weekend of 12-14 May this year. The event will co-incide with the local Agri Show. Contact: Rob Anderson (0832618337)
andersonr@mweb.co.za
13: SAPFA Sheila Taylor Fun Rally, Krugersdorp, Jack Taylor Airfield. Frank Eckard E-mail:
frank.eckard@mweb.co.za
12 - 13: Lowveld airshow. Nelspruit Airfield. Tel: 013 741 6412 Contact Willemien Hodgkinson e-mail:
willemien.hodgkinson@kishugu.com
20-21: SAC KZN regionals. Ladysmith. Contact Annie Boon e-mail:
chunge@mweb.co.za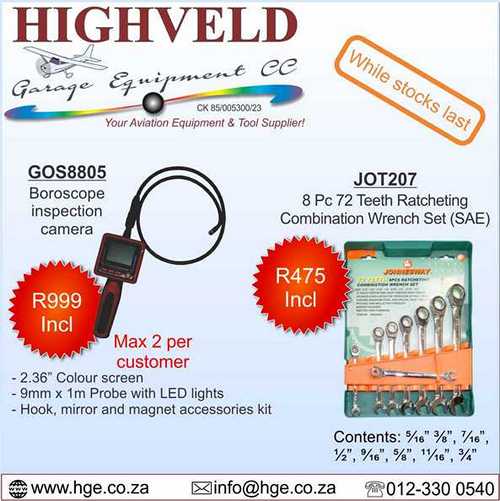 3rd Saturday of every month. Microland. Bring and braai. Fires and bykos provided. Fires start from 09h30. Contact person: Nick Swardt 082 441 8011 or Alan Hussey 072 82 2341
26-28: SAPFA President's Trophy Air Race. Springs Aero Club. Website:
www.sapfa.org.za
E-mail:
Race@sapfa.org.za
. Race director Robin Spencer-Scarr:
robin@stylegroup.com.au
or Contact Robbie Myburgh e-mail:
roblena@mweb.co.za
Cell: 083 377 0925
27: We are organizing a small breakfast fly-in at the Jack Taylor Airfield (FAKR) Krugersdorp. Breakfast will start from 08h00 and be served all morning. Everyone is welcome so please come join us and let's get a good thing going! We plan on growing this into an annual fly-in so please come support.
27-28: Wings Park Annual Airfest Fly in. All aircraft welcome. Great fun filled weekend with some of the coolest planes and pilots around. Avgas and Mogas available. Jet A1 on request. Safe parking with kilometer long grass runway. Contact Rob Williamson Cell: 082 574 9034 E-mail:
rwhw@iafrica.com
27: Botswana International airshow. Matsieng Airfield (FBMA). Contact Guillaume Knipe E-mail:
Gknipe@work.co.bw
Cell +267 71300646
JUNE

2-3: Newcastle Airshow. Newcastle. Contact Johan Pieters 082 923 0078 e-mail:
johan@champ.co.za
or Christo van der Vyver 083 375 5883
4: SAAF Museum AFB Zwartkop open practise day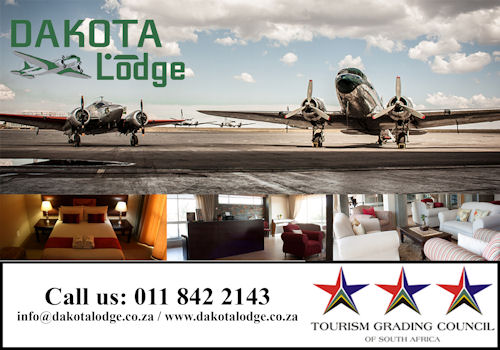 7: EAA Chapter 322 meeting. Dicky Fritz Moth Hall Edenvale. Contact
editor@afskies.co.za
10-11: Wonderboom Adrenaline Show. Wonderboom.Contact Chris Briers E-mail:
chris@briersgroup.com
Cell: 082 568 7988
15-18: NAC fly-away. Contact Deneys Potgieter Cell: 082 891 4354 e-mail:
deneys.potgieter@nac.co.za
17: Queenstown Flying Club Centennial Celebrations. Contact Alasdair 0825518375
mac@mactax.co.za
24: Middelburg Aero Club Airshow. Richardt Lovett.
mail@pegasusi.co.za
082 771 8775
3rd Saturday of every month. Microland. Bring and braai. Fires and bykos provided. Fires start from 09h30. Contact person: Nick Swardt 082 441 8011 or Alan Hussey 072 82 2341
30-3 Jul: Race for Rhinos. Kubu Island Botswana.Contact Chris Briers E-mail:
chris@briersgroup.com
Cell: 082 568 7988
30- 1 July: SA Landing Championship Training Day - Brits Airfield. Contact Mauritz du Plessis email:
whitehouse@worldonline.co.za
, Cell: 083 601 1042



EAA NATIONAL CONVENTION: 29 APRIL - 1 MAY 2017 : BETHLEHEM



Hi to all EAA members, family and friends and fellow aviators at the end of the month we will be hosting our Annual Convention and AGM in Bethlehem. As we need to arrange the required infrastructure to host this event, we would really appreciate you indicating your intentions in order that we can plan accordingly and make this the best possible event we can.
ATTENDANCE

Please indicate your intentions by completing the online Form HERE:
https://docs.google.com/forms/d/e/1FAIpQLSfOFDo19Ooif6r3Po3gIrYTghCc2CDXFK7uADwoG2lo_UvUug/viewform?c=0&w=1

PROVISIONAL PROGRAMME
Saturday 29th April 2017

from 07h30 Saturday Arrivals
08h00-12h00 Casual breakfast available at the airfield
12h00-15h00 Casual lunch available at the airfield
12h00-16h00 Fun Rally
16h00-21h00 Braai dinner at the Airfield
Sunday 30th April 2017

08h00-11h00 Casual breakfast available at the airfield
09h00 Official Opening by President
09h00-15h00 Forums with guest speakers
09h00-15h00 Aircraft Judging
12h00-15h00 Casual lunch available at the airfield
15h00 -16h30 AGM for EAA Members
18h30-19h00 Meet for dinner at Lavender Hill Function Hall
19h00-23h00 Awards Dinner including EAA National Awards, Fun Rally Awards & Aircraft Judging Awards
Sunday 1st May 2017
Depart
AGM

All EAA members are encouraged to join us for the AGM at the Airfield on 30th April at 15h00. Formal notice will be issued on this event.
AWARDS DINNER

The Awards Dinner will be hosted at Lavender Hill Estate venue and we trust that you will ALL make an effort to be there. We will be required to confirm attendance 10 days before and would therefor really appreciate you signing up for this in the Form asap. Seating will be limited.
FUN RALLY & AIRCRAFT JUDGING

Please sign up for these events which we have specifically scheduled on different days in order to allow everyone the opportunity to participate in both.
VOLUNTEERS

We are always looking for voluntees to assist. Please sign up to assist with Marshalling & Judging.
SPONSORS

All sponsorship is welcome in the form of prizes, donations, etc. Please contact rsvp@eaa.org.za in this regard.
We look forward to seeing your signup and gathering in Bethlehem at the end of the month.

THE A32 VIXEN, THE LATEST ADDITION TO THE AEROPRAKT RANGE OF AIRCRAFT




Before release, the A32 was in development and testing for over 3 years. Much of this development has centred on 'state-of-the-art' aerodynamics. The A32 has undergone an extensive flight-test programme to ensure that theoretical improvements actually work in practice. The results speak for themselves:
The aircraft is aerodynamically 'clean.' At a quick glance it's easy to see the finishing's; faired landing gear legs and wheels and the fairings at the top and bottom of the wing lift-struts. The fuselage is smooth with aerodynamic fairings fitted to the wing roots at the leading and trailing edges. What's not so easy to see at a glance is the work inside the engine bay to reduce significant areas of drag. All these changes have resulted in an aircraft that flies fast, glides well, stalls slowly and uses less fuel than many other LSAs.
The cabin is very light and airy. The windscreen curves up level with the top of wing, resulting in excellent headroom and refined aerodynamics. The fuselage 'monocoque' design needs no diagonal struts inside the windshield, so there is an unimpeded panoramic view forward. Additionally, there is no horizontal cross-member behind the seats, resulting in easy seat positioning and a low CofG for the luggage compartment on the floor behind the seats.
The doors are fully sealed. The door design incorporates composite frames with convex polycarbonate transparencies, which seal against the airframe to keep noise and aerodynamic drag to a minimum. There is also a special design of door handle mechanism which requires no spring-loading, increasing service life and giving easy access and secure closing.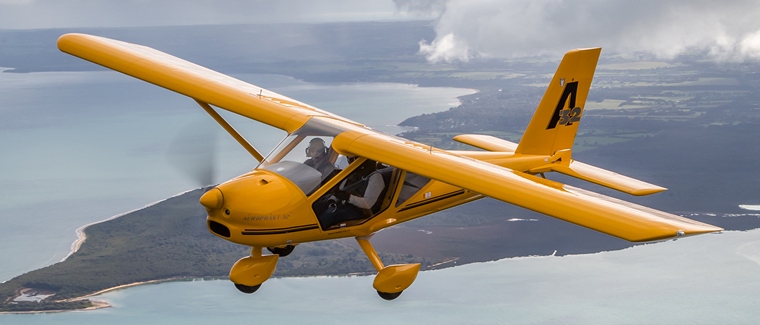 The seats are set high. The high-set seats have two significant benefits for pilots and co-pilots alike - a great view over the nose and excellent knee room. These benefits have been achieved without compromising any of Aeroprakt's great signature benefits - there's no need to duck your head to see under the wing when you're flying the aircraft and want to look downward. The seats, which tilt forward for luggage access have storage pockets behind the back-rests and are adjustable fore and aft using a spring locator at the front of the seat.
There is an all-flying tailplane ('stabilator') with an anti-servo tab.
There are three main reasons for introducing an all-flying tail plane on the A32 - the first on an Aeroprakt aircraft. First, control forces and trim drag are reduced. Second, an all-flying tail is simpler to produce; fewer moving parts means greater reliability. Finally, it has some aerodynamic advantages over a fixed stabiliser/elevator combination enabling more precise control of the aircraft - particularly when taking off and landing.

DAHER UPGRADES ITS VERY FAST TURBOPROP AIRCRAFT FAMILY WITH THE TBM 910




Daher today announced the TBM 910 as the newest member of its TBM business turboprop aircraft family, succeeding the TBM 900 version with the incorporation of a next-generation integrated flight deck, along cabin interior and safety enhancements. Unveiled at the U.S. Sun 'n Fun International Fly-in and Expo at Lakeland, Florida, Daher's TBM 910 benefits from the same range, performance and technical features that have contributed to the TBM 900's success in Daher's six-passenger pressurized single-engine turboprop aircraft product line.
Among the key changes is the TBM 910's Garmin G1000 NXi flight deck, which succeeds the G1000 version on TBM 900s - bringing a modernized high-resolution flight display design with significant performance enhancements.
The G1000Nxi's state-of-the art processors provide a faster system boot-up and software loading, while also enabling the system to manage more aviation data and maps (including visual approach plates), and offering additional capabilities such as enhanced situational awareness. Another feature is the improved cockpit connectivity, allowing wireless transfer of aviation databases from the Garmin Pilot app on a mobile device to the G1000 NXi system.
An enriched "feel" with the flight deck's new keyboard joystick gives more accurate panning and fluid navigation on the multi-function display pages.
The TBM 910's cabin interior features new seat shapes and additional fittings that are identical to the TBM 930.
Deliveries of the TBM 910 will begin after the aircraft's certification, which is expected this spring.

UPDATE ON THE ROTAX 915 IS AIRCRAFT ENGINE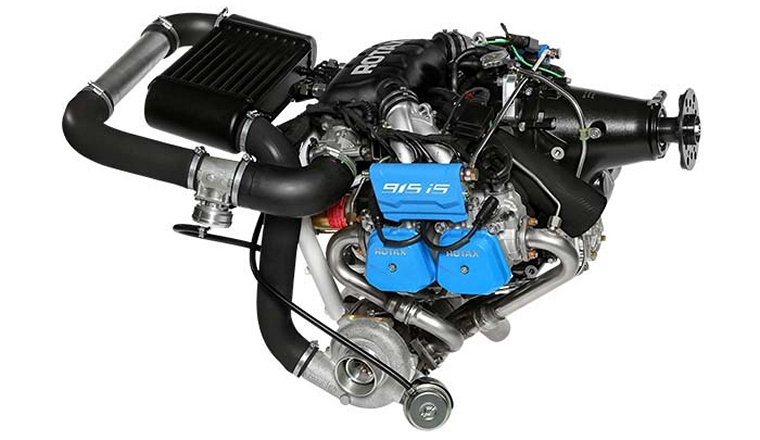 Photo 2017 @ BRP-Rotax


BRP-Rotax informed about the latest development steps on the Rotax 915 iS, a 4-stroke, 4-cylinder turbocharged aircraft engine with intercooler and redundant fuel injection system during the press conference at the AERO Friedrichshafen, the largest trade show for general aviation in Europe.
Actually the engine is undergoing a final calibration in real flight mode. Since the maiden flight - performed March 12, 2016 - the Rotax 915 iS aircraft engine has already been flown 250 hours in real mode and further 10,000 hours on test benches.
In August 2016 selected Original Equipment Manufacturers (OEM) received the first Rotax 915 iS prototype engines to be installed into their airplanes. Currently more than 40 Design-Ins are in progress, hence some of the OEMs displayed their airplanes, equipped with the newest Rotax development, at the AERO Friedrichshafen already.
The certification process will be started second quarter of 2017. Serial production of the Rotax 915 iS aircraft engine is still on schedule and is planned second half of 2017.
The Rotax 915 iS engine will provide the best power-to-weight ratio in its class and a full take off power up to at least 15,000 feet (4,750 m) as well as a service ceiling of 23,000 feet and a better fuel efficiency due to the electronic fuel injection system.
The target market for the Rotax 915 iS aircraft engine are high performance 2-seater, gyrocopter and amphibious plane market as well as the 4-seater and twin aircraft market.
AIRBUS H125 HELICOPTERS OPERATING ON THE ROOF OF THE WORLD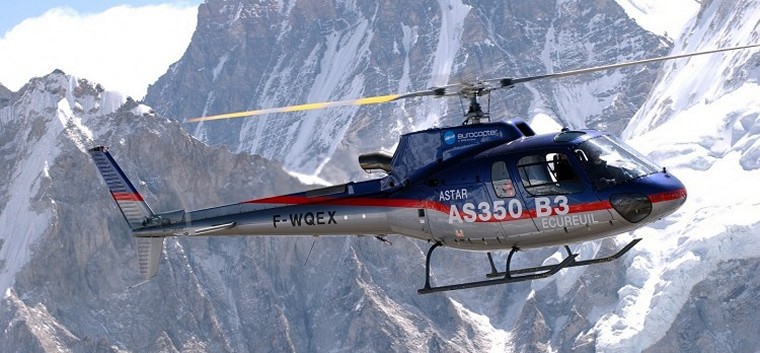 Photo © Airbus/p. Penna


Ruo'er General Aviation Development Group (Ruo'er Group), one of the biggest general aviation companies operating flight support base and airport with comprehensive services in China, signed an letter of intent with Airbus Helicopters, for a total of 12 H125s with first confirmed order of four aircraft today at Heli-Expo.
These H125s will be operated by Lhasa Snow Eagle General Aviation Corporation (Snow Eagle GAC), which is a joint venture of Ruo'er Group based in Lhasa. Snow Eagle GAC will provide these helicopters for emergency medical services, humanitarian relief, aero-sightseeing, and pilot license training in Tibet.
"Ruo'er Group is aiming to become a full industrial chain service provider in China's general aviation industry. I'm confident that Airbus H125 can assist us to achieve our business goal with its outstanding performance, especially in high and extreme environments", said Mr. Yong LYU, Chairman of Ruo'er Group. "I trust that Airbus Helicopters can enable us in making our ambition to operate the only helicopters fleet on the roof of the world with average altitude of 4000 metres with its proven product and services."
In 2005, the AS350 B3 (H125 previous version) broke the world record for the highest-altitude landing and take-off, performed on Mount Everest at 8,850 meters (29,035 feet) - a title still held today.
"The H125's operating in the highest place in the world marks a breakthrough for this light single-engine aircraft, which is recognised worldwide for its performance, versatility, safety, low maintenance, and multi-mission capability", said Marie-Agnes Veve, General Manager of Airbus Helicopters China. "This agreement further expands Airbus Helicopters' Ecureuil fleet in China, which's reached 100 last year, and further strengthen our leading position in China's civil and parapublic market", she added.
The H125 is a member of Airbus Helicopters' rugged and proven Ecureuil family. Some 6,000 Ecureuils have been delivered in nearly 120 countries for some 1,800 operators. Together, these aircraft have accumulated more than 29 million flight hours.
Around 550 H125 (AS350 B3e) series are currently in-service worldwide, and are mainly used for high performance missions in high & hot conditions.
CH-53K KING STALLION PROGRAM ACHIEVES MILESTONE

Lockheed Martin (NYSE: LMT) today announced the CH-53K King Stallion program successfully passed its Defense Acquisition Board (DAB) review and achieved a Milestone C decision that enables low rate initial production funding.
Numerous, successfully completed pre-requisites preceded the Milestone C decision. Supplier as well as prime contractor Production Readiness Reviews took place throughout 2016 to establish the program's readiness to move into low rate initial production. Aircraft maturity was established well in advance with over 400 flight hours achieved, and the October 2016 initial Operational Assessment by the USMC fully established the ability of the King Stallion to achieve critical mission flight and ground scenarios in the hands of active duty Marines. Overall, post evaluation interviews of aircrew, ground crew and flight surgeons revealed a high regard for the operational capability demonstrated by the King Stallion.
The CH-53K King Stallion provides unmatched heavy lift capability with three times the lift of the CH-53E that it replaces. With more than triple the payload capability and a 12-inch wider internal cabin compared to the predecessor, the King Stallion's increased payloads can range from multiple US Air Force standard 463L pallets to an internally loaded High Mobility Multipurpose Wheeled Vehicle (HMMWV) or a European Fennek armored personnel carrier, to up to three independent external loads at once. This provides extraordinary mission flexibility and system efficiency.
The King Stallion also offers enhanced safety features for the warfighter, including full authority fly-by-wire flight controls and mission management that reduce pilot workload and enable the crew to focus on mission execution as the King Stallion all but "flies itself." Other features include advanced stability augmentation, flight control modes that include attitude command-velocity hold, automated approach to a stabilized hover, position hold and precision tasks in degraded visual environments, and tactile cueing that all permit the pilot to focus confidently on the mission at hand.
Further, the CH-53K King Stallion has improved reliability and maintainability that exceeds 89% mission reliability with a smaller shipboard logistics footprint than the legacy CH-53E.

USA, Washington: A student and instructor flying a Cirrus SR-22 aircraft crashed after departing from Everett's Paine Field on the side of a snowy mountain in Olympic National Park, in Washington. The aircraft suffered substantial damage in the incident. Both people on board survived. The parachute on board the Cirrus SR-22 aircraft was not deployed during the crash.
USA, Prince George's County: A General Dynamics F-16C Fighting Falcon of the U.S. Air National Guard crashed in Prince George's County 6 miles southwest of Joint Base Andrews in a wooded area after a reported technical malfunction. The pilot ejected, receiving minor injuries. The aircraft was damaged beyond repair.
USA: The US Navy has grounded all its T-45 training jets for two days in the wake of a report that instructor pilots in the Navy's training squadrons are refusing to fly the jet because of a dangerous rise in problems with the cockpit oxygen system. Dozens of instructor pilots have refused to fly the T-45 in recent days because of a spike in dangerous physical symptoms suffered by pilots flying the aircraft triggered by a lack of oxygen or contaminants in the oxygen system. A spokesperson for Naval Air Forces confirmed the grounding and that about 40 percent of the T-45 training flights were cancelled due to pilot concerns.
New Zeeland, Waikato: An Autogyro impacted the terrain near the Piopio Golf Course in Te Mapara, Waikato District, North Island. The gyrocopter sustained unreported but apparent substantial damage and the sole pilot on-board received fatal injuries.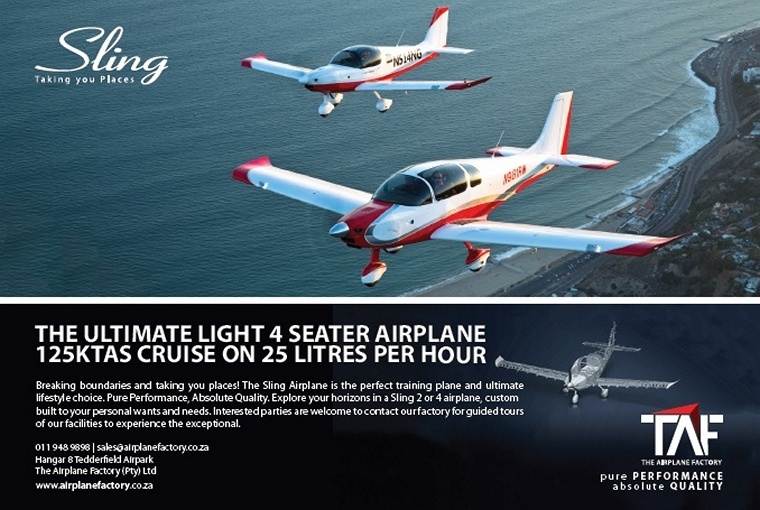 12 APRIL 1996

Seven year old 'pilot' Jessica Dubroff dies during an attempt to set record as the youngest person to fly across the United States.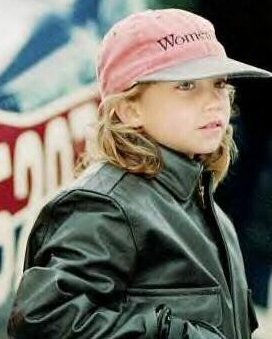 Jessica Dubroff. Photo en.wikipedia.org On day-two of her quest, the Cessna 177B Cardinal single engine propeller aircraft, flown by her flight instructor, crashed during a rainstorm immediately after take-off from Cheyenne Regional Airport in Cheyenne, Wyoming, killing Dubroff, her 57-year-old father, and her flight instructor.
Although billed by the media as a "pilot," Dubroff did not possess a medical certificate or a student pilot certificate, since they require a minimum age of 16, or a pilot certificate that requires a minimum age of 17. There was also no record-keeping body at the time of her trip recognizing any feats by underage pilots. Nevertheless, local, national, and international news media picked up and publicized her story, and closely followed her "record attempt" until its abrupt ending.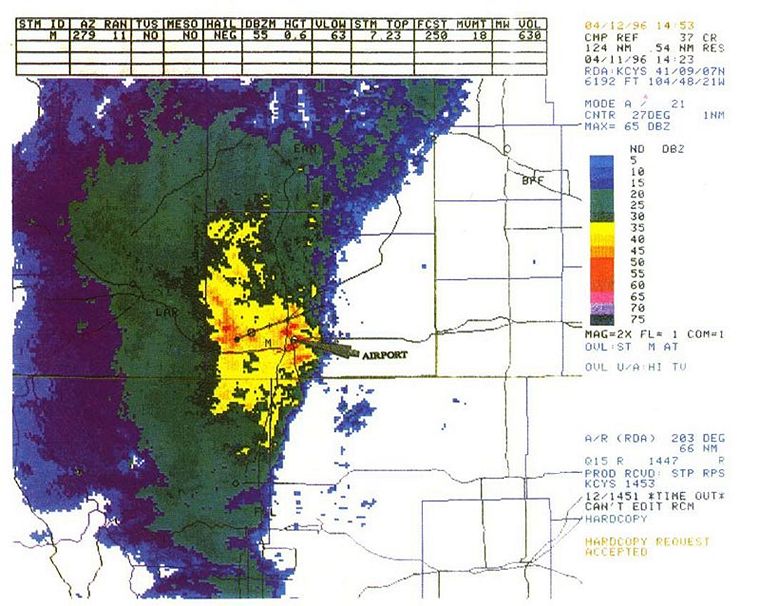 Composite radar image showing precipitation intensity around Cheyenne airport at time of accident. Image www.ntsb.gov / commons.wikimedia.org


The U.S. National Transportation Safety Board (NTSB) investigated the crash and concluded it was caused by the flight instructor's improper decision to take off in poor weather conditions, his overloading the aircraft, and his failure to maintain airspeed, which resulted in a stall. The NTSB also determined that "contributing to the instructor's decision to take off was a desire to adhere to an overly ambitious itinerary, in part, because of media commitments.


For a free no obligations quote email sales@pilotspost.com