THIS WEEK IN MIDWEEK UPDATE

Plan Your Weekend……..Forthcoming Events

Aviation News………. Worldwide Incidents and Accidents

This Week in Aviation History………Advertising Rate Card





Get all your questions answered in one place. To listen to a recording of the live broadcast click on the link:
www.debela.co.za/aviation-radio-show




10: Aero Club of South Africa Annual General meeting. EAA Auditorium Rand Airport. Contact
office@aeroclub.org.za
12-14: Carnarvon Vliegklub will be holding a Fly-in on the weekend of 12-14 May this year. The event will co-incide with the local Agri Show. Contact: Rob Anderson (0832618337)
andersonr@mweb.co.za
13: Rustenburg (FARG) Breakfast Fly-In. Rustenburg will be hosting a breakfast fly-in on the above mentioned date. Come and enjoy the fun and Rustenburg hospitality.
13: SAPFA Sheila Taylor Fun Rally, Krugersdorp, Jack Taylor Airfield. Frank Eckard E-mail:
frank.eckard@mweb.co.za
12 - 13: Lowveld airshow. Nelspruit Airfield. Tel: 013 741 6412 Contact Willemien Hodgkinson e-mail:
willemien.hodgkinson@kishugu.com

MAY

20-21: SAC KZN regionals. Ladysmith. Contact Annie Boon e-mail:
chunge@mweb.co.za
20: Turn your rotors in Kitty Hawk's direction, show off your spinning blades, and make an impression with your disc! Fly in to Kitty Hawk. Any aircraft welcome!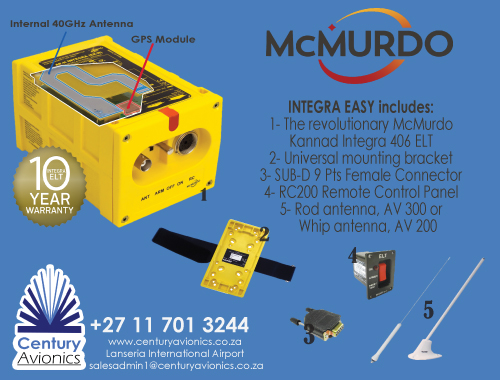 3rd Saturday of every month. Microland. Bring and braai. Fires and bykos provided. Fires start from 09h30. Contact person: Nick Swardt 082 441 8011 or Alan Hussey 072 82 2341
26-28: SAPFA President's Trophy Air Race. Springs Aero Club. Website:
www.sapfa.org.za
E-mail:
Race@sapfa.org.za. Race
director Robin Spencer-Scarr:
robin@stylegroup.com.au
ot Contact Robbie Myburgh e-mail: r
oblena@mweb.co.za
Cell: 083 377 0925
27: We are organizing a small breakfast fly-in at the Jack Taylor Airfield (FAKR) Krugersdorp. Breakfast will start from 08h00 and be served all morning. Everyone is welcome so please come join us and let's get a good thing going! We plan on growing this into an annual fly-in so please come and support.
27-28: Wings Park Annual Airfest Fly in. All aircraft welcome. Great fun filled weekend with some of the coolest planes and pilots around. Avgas and Mogas available. Jet A1 on request. Safe parking with kilometre long grass runway. Contact Rob Williamson Cell: 082 574 9034 E-mail:
rwhw@iafrica.com
27: Botswana International airshow. Matsieng Airfield (FBMA). Contact Guillaume Knipe E-mail:
Gknipe@work.co.bw
Cell +267 71300646
JUNE




2-3: Newcastle Airshow. Newcastle. Contact Johan Pieters 082 923 0078 e-mail:
johan@champ.co.za
or Christo van der Vyver 083 375 5883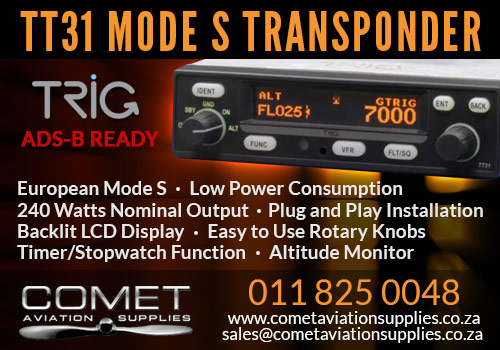 3-4: Keep the weekend of June 3 and 4 open for a Radio Control fly-in and sleep over at Henley. Susan Vosloo, wife of the owner of Henley Airfield, will have her mobile restaurant in attendance and the food which she and her daughters prepare is 5 star.
3: TETE Free State Aviation Exhibition 2017 at Parys Airfield. Contact Ishmael Mokoena, Coordinator Cell 073 598 0220
4: SAAF Museum AFB Zwartkop open practise day
7: EAA Chapter 322 meeting. Dicky Fritz Moth Hall Edenvale. Contact
editor@afskies.co.za
10-11: Wonderboom Adrenaline Show. Wonderboom. Contact Chris Briers E-mail:
chris@briersgroup.com
Cell: 082 568 7988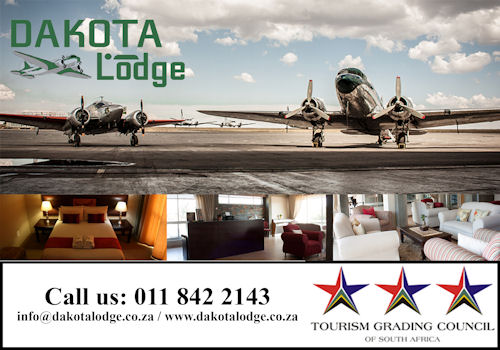 15-18: NAC fly-away. Contact Deneys Potgieter Cell: 082 891 4354 e-mail:
deneys.potgieter@nac.co.za
16-18: MISASA Microlight Championships. And kroon Fly in. Contact Mervyn on 073 763 7510 for competition details.
17: Queenstown Flying Club Centennial Celebrations. Contact Alasdair 0825518375
mac@mactax.co.za
24: Middelburg Aero Club Airshow. Richardt Lovett.
mail@pegasusi.co.za
082 771 8775
3rd Saturday of every month. Microland. Bring and braai. Fires and bykos provided. Fires start from 09h30. Contact person: Nick Swardt 082 441 8011 or Alan Hussey 072 82 2341
30-3 Jul: Race for Rhinos. Kubu Island Botswana.Contact Chris Briers E-mail:
chris@briersgroup.com
Cell: 082 568 7988
30- 1 July: SA Landing Championship Training Day - Brits Airfield. Contact Mauritz du Plessis email:
whitehouse@worldonline.co.za
, Cell: 083 601 1042
JULY

1: SAAF Museum AFB Zwartkop open practise day
5: EAA Chapter 322 meeting. Dicky Fritz Moth Hall Edenvale. Contact Contact
editor@afskies.co.za
5-8: SAC Nationals. Malelane, Mpumalanga. Contact Annie Boon e-mail:
chunge@mweb.co.za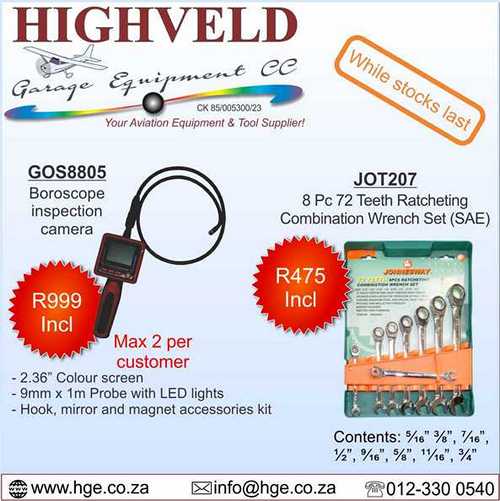 8: EAA Chapter 973 - Krugersdorp. Breakfast Fly-in to Crosswinds Airfield. All EAA members, Microlighters, friends and aviation enthusiasts - You are all invited to fly in or drive in to Crosswinds Airfield and enjoy the day with us. A full breakfast at R80 per head will be available, which includes coffee and tea. Map available here:
hulettcharcoal@gmail.com
Tel: +268 760 31002
14-16: Nylstroom Flying Club and EAA Taildragger Fly-in. Contact Richard Nicholson Cell: 092 490 6227
E-mail: rgn@pcwireless.co.za
15: Hoedspruit Fun Rally. Contact Wynand Uys email:
wynand@ottersden.co.za
or Frank Eckard e-mail: frank.eckard@mweb.co.za cell: 083 269 1516
3rd Saturday of every month. Microland. Bring and braai. Fires and bykos provided. Fires start from 09h30. Contact person: Nick Swardt 082 441 8011 or Alan Hussey 072 82 2341
24-30: EAA AirVenture Oshkosh. Wisconsin, USA. Camping on the airfield contact Neil Bowden e-mail: neil1@telkomsa.net or Hotels in Appleton contact Calvin Fabig e-mail:
calvin@designer.co.za
28: World Precision Flying Championships - Austria.



HISTORIC ARRIVAL OF CHARTER FLIGHT

Photo © St Helena Government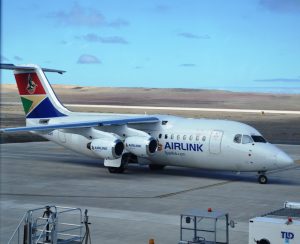 History was made on St Helena today, Wednesday 3 May 2017, when a charter plane carrying 60 passengers landed at St Helena Airport at 1.55pm.
Air Partner, a commercial organisation that sources charter flights around the world, had been contracted to source an aircraft to transport from Cape Town to St Helena passengers affected by the cancellation of RMS voyages 255 and 256. Air Partner then entered into an agreement with SA Airlink to carry out the charter flight.
SA Airlink successfully carried out the flight operation today using a British Aerospace 146 Avro RJ85 aircraft. Among the 60 passengers onboard today's incoming flight were HE Governor Lisa Phillips and a young St Helenian baby born in Cape Town.
Crowds of family members, friends and Island residents gathered at the Airport to witness the arrival. Emotions were high and many people expressed that they were excited but emotional about today's flight.
The aircraft approached St Helena Airport from the north before smoothly touching down on Runway 20. Passengers disembarking the aircraft were met by a packed Arrivals Hall, all eager to welcome everyone to St Helena.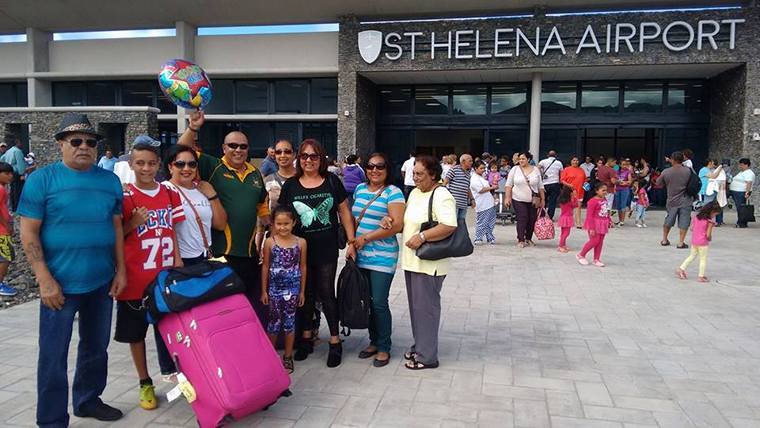 Following a quick turnaround, the aircraft departed at 3.20pm with 48 passengers onboard.

AEROMOBIL ANNOUNCED ITS NEXT GENERATION FLYING CAR AT TOP MARQUES MONACO 2017




AeroMobil, an advanced engineering company that is commercialising a sophisticated flying car launched its new model of AeroMobil Flying Car at Top Marques Monaco, the world's most exclusive supercar show, on April 20, 2017.
The new model of AeroMobil will be the company's first commercially available vehicle featuring hundreds of improvements, both in design and in engineering, compared to the prototype unveiled two and half years ago in Vienna, Austria. The team behind the newest AeroMobil, led by Juraj Vaculik, CEO and Douglas MacAndrew, CTO, built the vehicle in compliance with the existing regulatory frameworks for both cars and airplanes, and is looking forward demonstrating it to the first potential customers and future investors in Monaco.?
AeroMobil is completely integrated aircraft as well as a fully functioning four-wheeled car, powered by hybrid propulsion. By combining aero and car functionality in perfect harmony it heralds a new era in efficient and exciting travel, offering users an unparalleled choice of transport on the road or in the air. AeroMobil aims to make personal transportation vastly more efficient and environmentally friendly by allowing significantly faster door-to-door travel for medium distance trips and in areas with limited or missing road infrastructure.?
The future is here. Next generation of AeroMobil will be available for pre-orders during this year.?
STEMME AG AND REMOS AG ANNOUNCE MERGER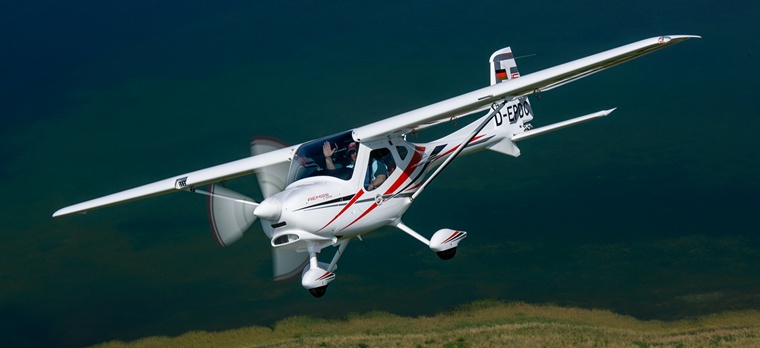 Photo Remos AG

The Aircraft manufacturer Stemme AG and the Light Sport Aircraft manufacturer Remos AG announced today that both companies will be merged. This transaction is a logical continuation of the successful cooperation that started in 2014 whereby Remos AG has been producing structural composite parts for Stemme and ECARYS aircraft. The agreement has been unanimously approved by both companies' supervisory boards. Both brands will continue to market their existing products under the existing brand names. The new organization will operate under the name Stemme AG.
RUGGED AND RELIABLE- THE HUSKY 180 HP A-1C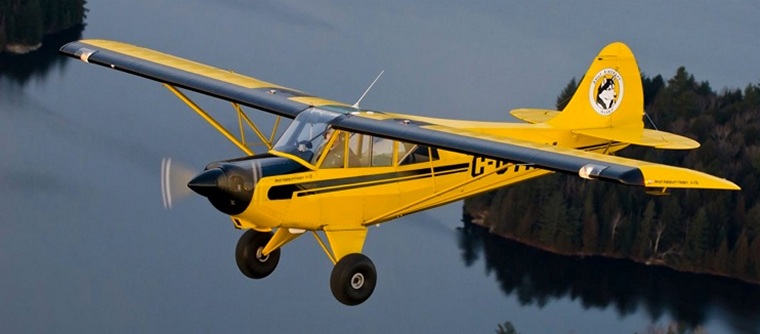 Photo © Aviat


The rugged, reliable Husky 180 hp A-1C was designed for people who'd rather fly a real airplane. It's ideal for landings on grass, glaciers, river beds, rivers, meadows, roads, frozen lakes, unfrozen lakes, sand beaches, sand bars, aircraft carriers and pick-up trucks. It's the perfect solution for serious fly fishing, for hauling medical supplies, pipeline patrol, cattle counting, fish spotting, gendarme work, backpacking, mountain leaping, safaris, photography and exciting weekend adventures of all types.
You can't beat it for STOL performance, for fun flying, ease of handling, speed, comfort and range. The Husky is best in its class. Think of it as a passport to the backcountry. The Husky A-1C-180 meets rigid FAR Part 23 government specs. It is certified to fly with a gross weight in excess of a REAL ton (2200 pounds on floats, 2250 on wheels). Nothing can touch it for getting into and out of remote areas.
Taildragger pilots can transition in an hour or two and if you've never flown a REAL airplane, you'll find it docile, forgiving and about as easy as taildragger flying can get.
The Husky A-1C-180 has an incredible speed range of 50 to 140 mph, a range of 800 miles and a rate of climb of 1500 fpm (at 2000 pounds). It makes an excellent IFR platform, is designed for comfort on long cross-country flights and it will hold its value with a minimum of maintenance. Husky's are also known for holding their value when it's time to upgrade. You can't make a better investment in recreational and utility flying.
Your Husky A-1C-180 Aircraft is delivered with the following standard equipment: Lycoming 180 HP engine, Hartzell 76" constant speed propeller, mass and aerodynamically balanced ailerons (without spades), extended flaps and new flap control system. Complete 14 volt electrical system, full night lighting system including dual taxi and landing lights, dual wing tip anti-collision strobe lights, instrument and interior lights, VFR instruments including altimeter, airspeed indicator, manifold pressure and magnetic compass. Electronic gauges: digital tachometer, oil temperature, oil pressure, digital CHT/EGT, 8.50×6 tires, polished hub caps, Alaskan Bushwheel tail wheel, float fittings, lift rings, front seat inertia reel with 5 point harness, push to talk switches on throttles, ELT, water traps for pitot and static systems, Shock Dawg dampened landing gear, sliding window, Oregon Aero special seat cushions and 3 colour choice standard paint scheme.
AIRBUS HELICOPTERS CELEBRATES THE 50TH ANNIVERSARY OF THE GAZELLE'S MAIDEN FLIGHT




Marignane, France, Airbus Helicopters celebrated the 50th anniversary of the Gazelle's maiden flight today during a conference at the museum of aviation in St Victoret, near the company headquarters.
Fifty years after its maiden flight on 7 April 1967, the Gazelle is still being operated by nearly 100 customers in 34 countries and it is appreciated for its ease of maintenance and high reliability.
Developed and manufactured in cooperation with the United Kingdom at the end of the 1960s, more than 1,250 Gazelles have been delivered. Today 470 rotorcraft - more than a third of all Gazelles manufactured - are still in service, a hundred of which are operated by the French army.
A helicopter of many "firsts", the Gazelle was the first Airbus helicopter to be equipped with the Fenestron which is still present on Airbus' light and medium rotorcraft, including the first of the H generation, the H160. This major innovation improves safety around the tail rotor on the ground and reduces the sound level of the rotorcraft. It was also the first Airbus helicopter to be equipped with glass-resin blades developed in cooperation with the German company Bölkow. Lastly, it was the first helicopter in the world to be awarded the IFR qualification, category I, by the FAA (Federal Aviation Authority), allowing operators to fly to instrument flight rules with a single pilot on board.
On 15 May 1971, the Gazelle broke three speed records in its category:
- Over 3 km: 310 km/h
- 15/25 km: 312 km/h
- Over 100 km in a closed circuit: 296 km/h
The Gazelle was a major success in the military sector and nearly 80% of the rotorcraft in service are used by armies around the world. By the end of December 2016, the Gazelle fleet had accumulated more than 7 million flight hours. The Gazelles (SA341 and SA342) that have accumulated the most flight hours (14,200 and 13,100 respectively) are currently operating in the United States.
BOEING KC-46A TANKER JOINS FLIGHT TEST PROGRAM

Boeing [NYSE: BA] now has six aircraft in its KC-46 tanker test program, expanding its ability to complete ground and flight-test activities as it progresses toward first deliveries to the U.S. Air Force.
The newest KC-46 aerial refuelling aircraft, the second low-rate initial production plane, completed its first flight April 29. Its test activities will help ensure the KC-46 can safely operate through electromagnetic fields produced by radars, radio towers and other systems.
To date, the program's test aircraft have completed 1,600 flight hours and more than 1,200 "contacts" during refueling flights with F-16, F/A-18, AV-8B, C-17, A-10 and KC-10 aircraft.
The KC-46 is derived from Boeing's commercial 767 airframe. The company expects to build 179 tankers in its Everett factory.
The KC-46A is a multirole tanker that can refuel all allied and coalition military aircraft compatible with international aerial refuelling procedures and can carry passengers, cargo and patients.

Colombia, Facatativá: A Colombian Military Cessna 208B Grand Caravan with three crew and five passengers on board impacted a hillside between Zipacón and Facatativá, Colombia. The aircraft was destroyed. None of the occupants survived.
New Zealand, Pauatahanui Inlet: A MBB BK 117-A3 helicopter operated by Heliforce carrying under slung telegraph poles was forced to ditch after the cable holding the poles had broken and contacted the tail rotor. The pilot survived after having escaped from the sinking helicopter.
Pakistan, Jhang: A Pakistan Air Force (PAF) Mirage III on routine training mission crashed near Jhang. The pilot safely ejected the aircraft.
USA, Alaska: Type: A Cessna 208B Grand Caravan operated by Grant Aviation on a flight from Port Heiden Airport, Alaska to Perryville Airport, Alaska crashed near Chignik. The pilot, the only occupant, did not survive and the aircraft was damaged beyond repair.
USA, St Lawrence County: A Piper PA-31-310 Navajo C operated by Strait Air (2000) Ltd impacted terrain east of Colton, New York. The airplane sustained substantial damage and the sole pilot on-board was fatally injured.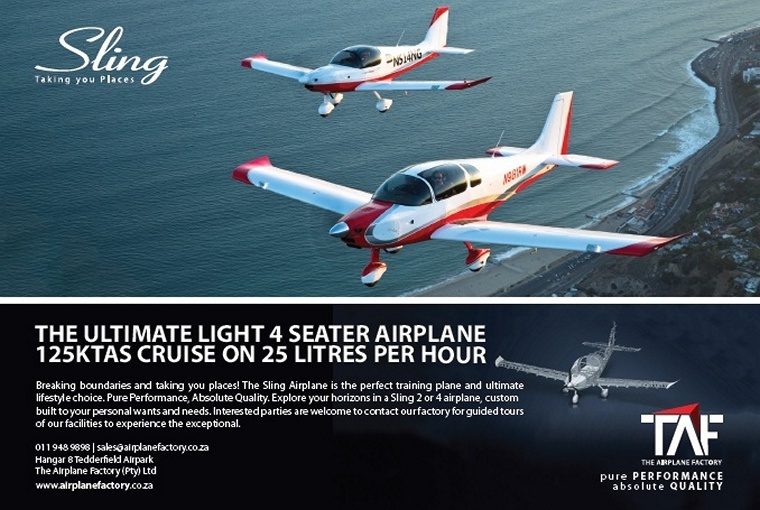 17 May 1981

Death of Jeannette Ridlon Piccard, American high-altitude balloonist, and first woman to fly to the stratosphere.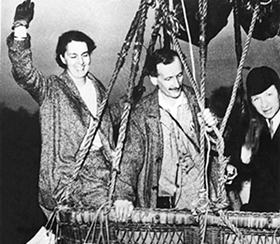 Jeannette left Husband Jean right. Jeannette Ridlon Piccard (5 January 1895 - 17 May 1981) was the first licensed female balloon pilot in the U.S., and the first woman to fly to the stratosphere.
Accompanied by her husband, Jean, a member of the Piccard family of balloonists and the twin brother of Auguste Piccard, she reached a height of 10.9 miles (17.5 km) during a record-breaking flight over Lake Erie on 23 October 1934, retaining control of the balloon for the entire flight.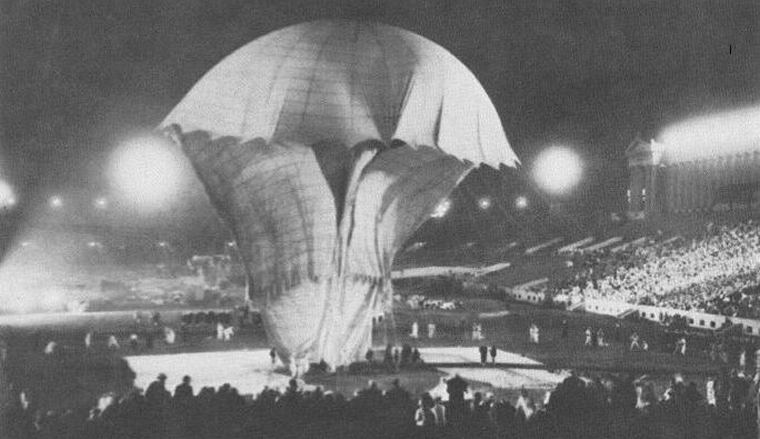 Century of Progress balloon Chicago 1933. Photo commons.wikimedia.org.

The Century of Progress hydrogen gas balloon at 105 feet (32 m) wide and 600,000 cubic feet (17,000 m3), the balloon's envelope took 700 hydrogen cylinders to fill was the largest in the world. Conceived for the 1933 Century of Progress International Exposition the fair's organizers planned a balloon flight to the stratosphere and hoped to lure Auguste as pilot.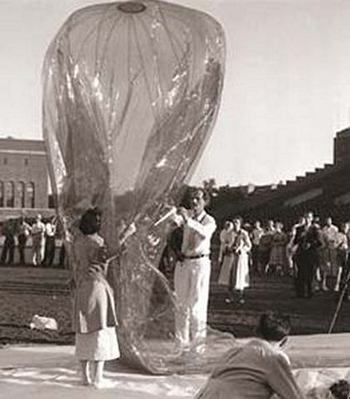 The Piccard's balloon in 1933. Photo en.wikipedia.org.During the negotiations, the organizers agreed to give Jean and Jeannette the balloon and gondola after its initial flight, in exchange for Jean remaining on the ground. On 16 June 16, 1934, Jeannette flew her first solo flight. Later that year, the National Aeronautic Association made her the first woman licensed balloon pilot in the U.S.
The Troposphere extends from 0 to 12 km, the Stratosphere extends from 12 to 50 km, and the Mesosphere from 50 to 80 km, and the Thermosphere from 80 km and higher.
On 23 October 1934 forty-five thousand spectators came to see the Piccard's off at their record attempt. Jeannette piloted the reconditioned Century of Progress, and the couple took along their pet turtle, Fleur de Lys. Jean changed the flight path and shortened the flight time because of cloudy skies, which reduced the amount of scientific work they were able to do whilst Jeannette made unplanned and impulsive manoeuvres.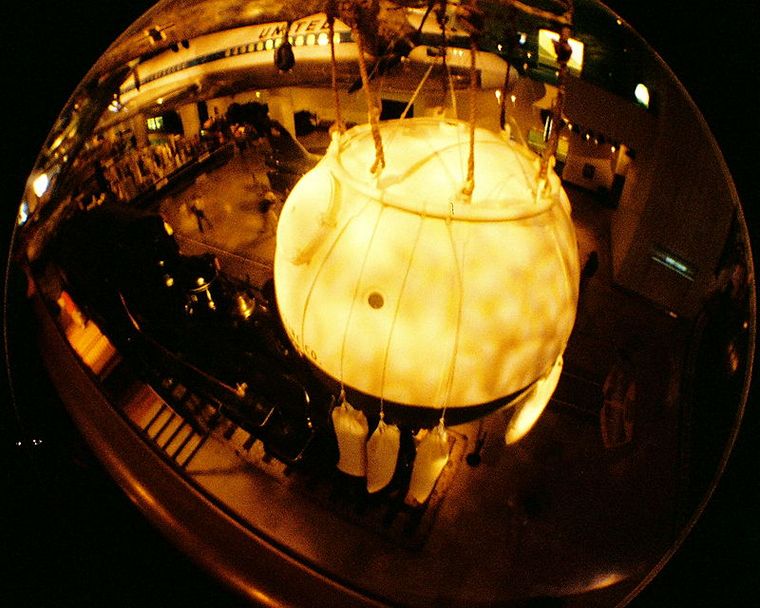 Piccard gondola. Photo Museum of Science and Industry

The newspaper alliance had offered to pay them US$1,000 if they broke the altitude record, so they jettisoned all of their sandbags, attempting to go higher. They reached 57,579 feet (17,550 m) or about 10.9 miles (17.5 km) up, travelled for eight hours on a journey over Lake Erie, and landed about 300 miles (480 km) away from Dearborn, near Cadiz, Ohio.
After her husband's death in 1963, she worked as a consultant to the director of NASA's Johnson Space Centre for several years. Jeannette held the women's altitude record for nearly three decades and according to several contemporaneous accounts was regarded as the first woman in space. She was posthumously inducted into the International Space Hall of Fame in 1998.



For a free no obligations quote email sales@pilotspost.com