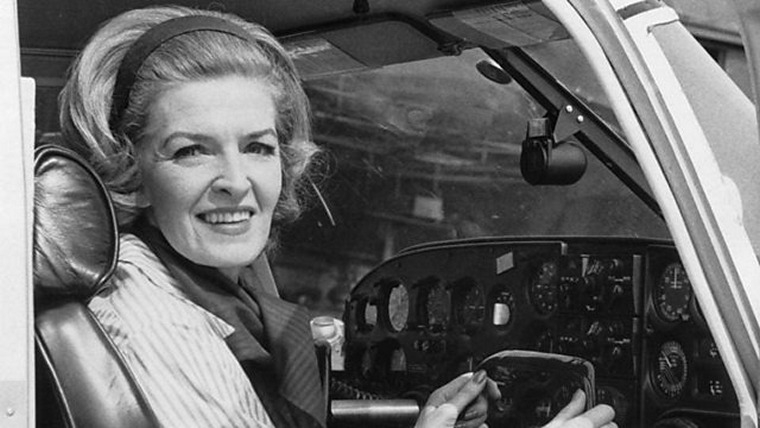 Sheila Christine Scott OBE (27 April 1922 - 20 October 1988), was an English aviator who broke over 100 aviation records through her long distance flight endeavours, which included a 34,000-mile (55,000 km) "world and a half" flight in 1971. On this flight, she became the first person to fly over the North Pole in a small aircraft.
She learned to fly in a De Havilland Tiger Moth soon became the owner of a Thruxton Jackaroo, a modified Tiger Moth with an enclosed cabin and a widened fuselage.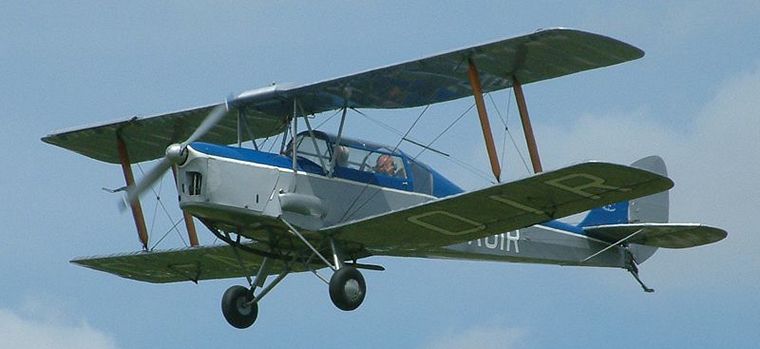 Thruxton Jackaroo. Photo Milborne One/commons.wikimedia.org

After selling the Jackaroo, Sheila qualified to helicopters and hot air balloons. However, her dream has always been to 'break' or 'set' records. Hiring a Comanche 400 she set 15 records between London and five European capitals: Brussels, Paris, La Hague, Dublin, Madrid and Malta, all in less than 36 hours. Thirteen of these records are still standing today.
Her next goal was to beat Geraldine Mock's record around the world record , set in 1964, and also to beat Amy Johnson's record between London and Australia set in her Gipsy Moth. Finally, on May 18, 1966, Sheila was ready. Before she left London airport, she touched the statue of Alcock and Brown, in the hope that the two pioneers would bring her luck. It didn't, she had radio problems at the start of the flight, delaying her by 6 hours. She made a night landing in Rome, resting a day while her radios were repaired. She then proceeded to Athens, and arrived in Damascus on Friday May 20, and Bahrain and Karachi on May 22 where technicians of Pakistan International Airlines repaired her HF radio.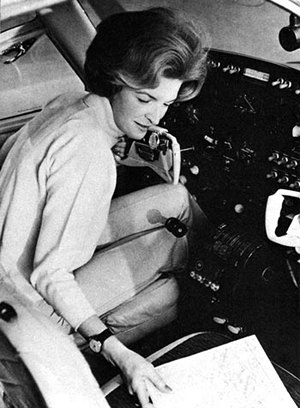 On her way to Dehli, Sheila had to detour to Jaipur to avoid heavy thunderstorms, arriving in Delhi on May 24, and continuing to Bangkok after a stop in Calcutta. The next morning it was discovered that someone had left the master switch "on", and the battery was flat. Later that day, she lost all her radio navigation instruments. She crossed huge thunderstorms, typical of the Intertropical Zone of Convergence finally reaching Rangoon in Burma with great difficulties. Technicians of Burma Airways repaired her radio while she rested.
Leaving Rangoon, all her radios were working, but awhile later, she lost all her gyroscopic instruments, and could no longer fly IFR, which meant she had to return to Rangoon for repairs. Finally, departing on May 28 in heavy rain with extreme turbulence and a strong head wind she diverted to the Royal Australian Air Force base of Butterworth on the west coast of Malaysia, arriving in Singapore on May 29 and Bali on the 30th.
On May 31, Sheila left Bali for Darwin, where she was very well received. Unfortunately, on departing Darwin the next day she discovered that her HF antenna had been cut. Flying on to Mount Isa, then Brisbane and finally Sydney, Sheila is welcomed by personalities, among them Nancy Bird Walton.
She had a rest day while engineers at Bankston Airport worked on the Comanche. The weather was thundery when she left for New Zealand. After a short refuelling stop on Norfolk Island, she arrived in Nadi, Fiji, and landed in American Samoa on 8 June after crossing the date line.
The next day, also the 8th, she landed on the small atoll of Canton Island, a very small dot in the vastness of the Pacific Ocean. Leaving Canton, She again had problems with a dragging HF antenna, which failed to deploy. The antenna was required for long distance communications, but with her aircraft heavily laden with fuel to make it to Hawaii, she could not turn back and continued on without HF. After 12 hours, a Hercules of the American Coast Guard, called her on the emergency frequency, and kept her company all the way to Hawaii.
Very much overloaded, she departed Hawaii on June 11th. Soon after take-off, the very strong smell of gas invading the cabin, caused her considerable concern, and she worried that she might have a fuel leak. The smell persisted for 2 hours, and was probably caused by the over flow of one of the cabin tanks.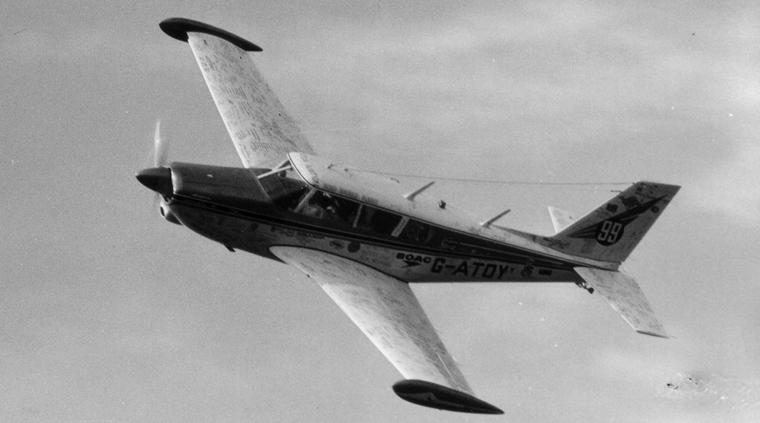 Owned and piloted by aviatrix extraordinaire Sheila Scott, Piper Commanche G-ATOY named 'Myth Too' is a very unique aircraft indeed, holding more than ninety world class light aviation records.

In San Francisco Sheila received a huge welcome, and the next day she landed in El Paso. It was then on to Oklahoma City and New York. She left the American continent from the Gander Airport in Newfoundland, for the Azores, where she planned to land in Santa Maria, but was diverted to Lagans. After a last stop in Lisbon, Sheila arrived triumphantly in London on 20 June 1966.
Sheila had flown around the World solo, and although feeling tired, she was both very happy and proud of her achievement, especially when she heard someone say: "How good it is to see a British pilot here again making record attempts". She was impressed that it had been said 'a British pilot' and not a 'woman pilot'.
Sir Allan Cobham, who had helped Sheila to get Myth Too, was one of the first to congratulate her. She had flown 31,000 Miles, or nearly 50, 000 km., in 189 flying hours, at an average speed of 166 mph, or 265 km/h. The speed for her around the world record, calculated along the great circle route, was 29, 055 miles at 36.68 mph or 59.01 km/h.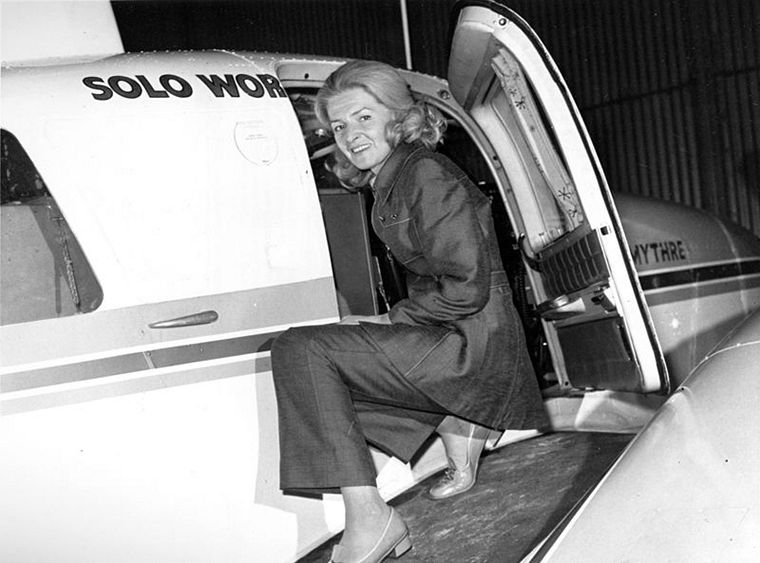 Photo © NASA / commons.wikimedia.org

Sheila received a congratulatory telegram from Prince Phillip and an invitation to meet the Queen at Buckingham Palace. She was later also met King Hussein, an avid pilot. The famous Guild of Pilots gave her their Silver Medal whilst Italy bestowed upon her the "Isabella d'Este" title. In 1968 she received the Britannia Trophy of the Royal Aero Club of Britain and the Royal Aero Club's Gold Medal in 1972.
Sheila was diagnosed with cancer and died at age 66 at the Royal Marsden Hospital, London, in 1988.