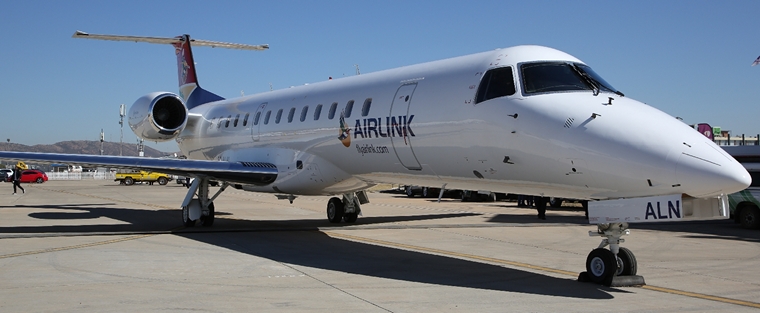 SA Airlink (Pty) Ltd together with the Tshwane municipality were proud to invite two groups of learners from Linton Village College and Rephafogile Secondary School Schools to attend and participate in the 2nd Airlink Adrenaline Aviation Career Day at Wonderboom Airport on Friday, 9thJune 2017.

Career options on display included
1. AVIATION INDUSTRY: Aeronautical Engineering, Aircraft Instrument Mechanics, Aircraft Maintenance Engineers, Fixed Wing Pilots, Helicopter Pilots, Air Traffic Control, Meteorology, Flight Dispatching, Cabin Crew, Cargo, Aviation Safety.
2. AUTOMOTIVE INDUSTRY: Diesel and Petrol Mechanics, Auto Body Paint Technicians, Air Brushing, Automotive Upholstery, Welding, Fabrication and much more.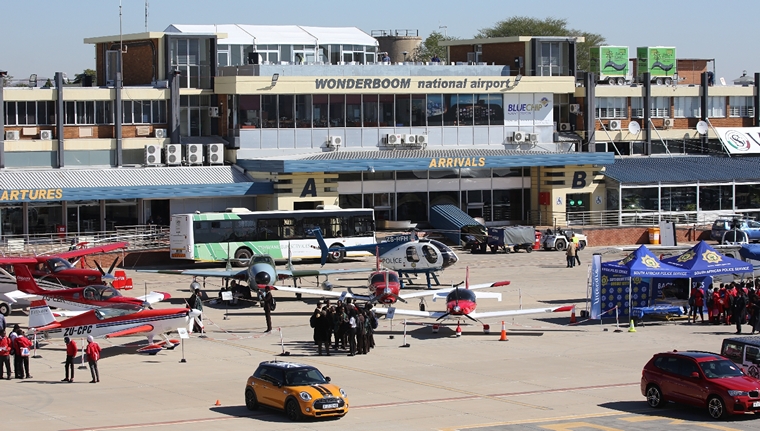 Many learners are not aware of the world of aviation and the motor industries and the career possibilities that are available within these industries. The aim with the career day is to create a platform to assist the learners in discovering the magic of aviation and the automotive industry.
The first group was to support the promotion of learners of mathematics and physical science up to grade 12 and welcomed learners from grade 7 and grade 11 to attend the Career Day.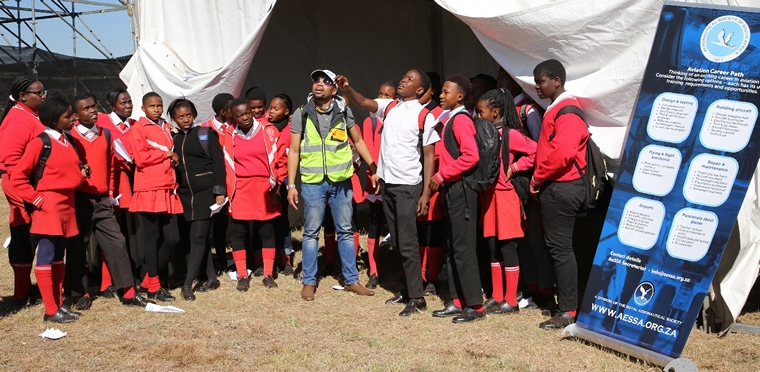 The learners had the opportunity to interact with industry leaders about:
∑ First-hand information on what different career options entail.
∑ Skills needed in the mentioned professions?
∑ How to get into these professions?
∑ Bursary opportunities in both sectors;
∑ Study loans;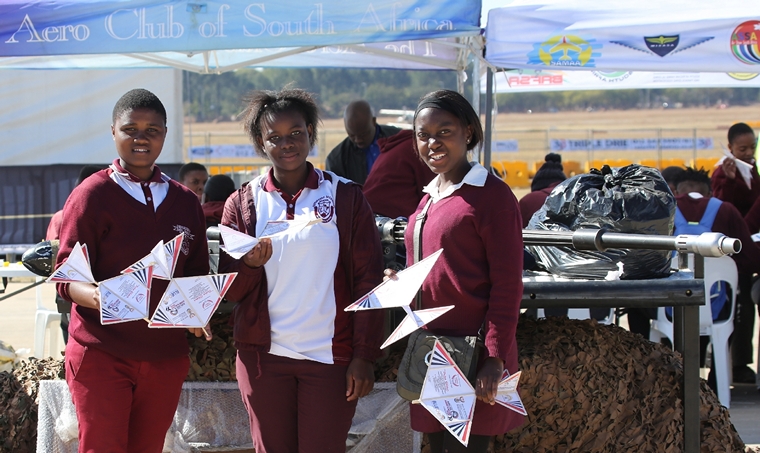 The second group Airlink added an additional fragment to the career day for STEM (Science Technology Engineering and Math) high flyers in Grade 7 to 10. From this group, two learners stood a chance of being part of
'The Link'.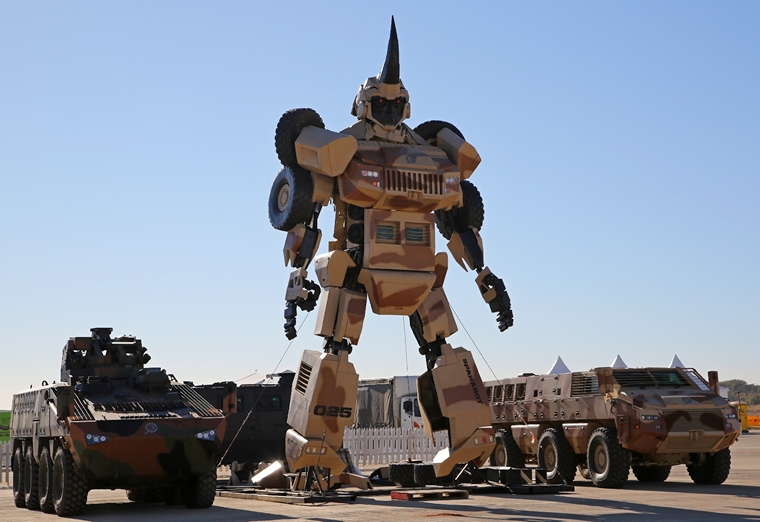 Parabot was standing at the entrance to welcome the learners as they arrived, they were then led to the grandstand for a briefing before being allowed to visit the various exhibits.

The pupils were divided into manageable groups of 25 and taken on a guided tour to all the various exhibits and learning centres set up on the apron of the Wonderboom Airport where they had the opportunity to interact with leaders in the industry to turn their passion for aviation or motorsport into a rewarding education and a fulfilling career.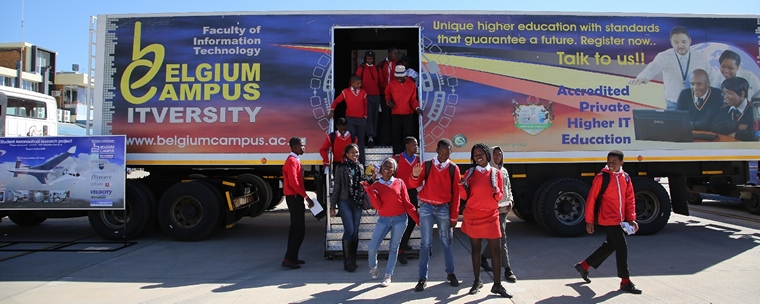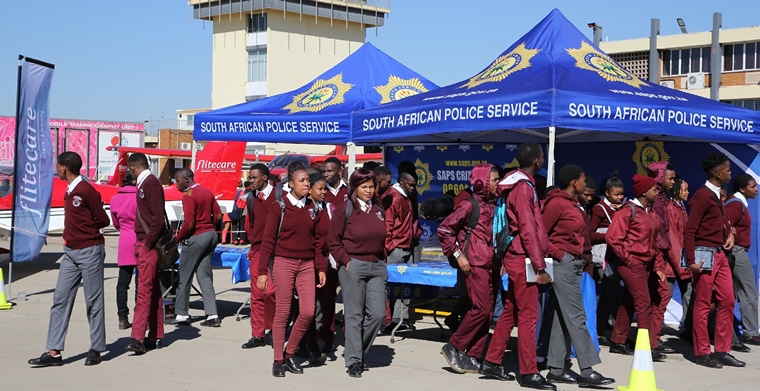 Exhibits on show were as follows:
∑ Belgium Campus
∑ Mango
∑ The Aeroclub of South Africa
∑ 43 Airschool
∑ South African Police Services
∑ Bluechip Flight School
∑ Loutzavia
∑ South African Air Force
∑ Sasol Solar Challenge
∑ The Aeronautical Society of South Africa
∑ RDG and various other Motor Vehicles
∑ Pilatus
∑ Flightcare
∑ Airlinks Static Display.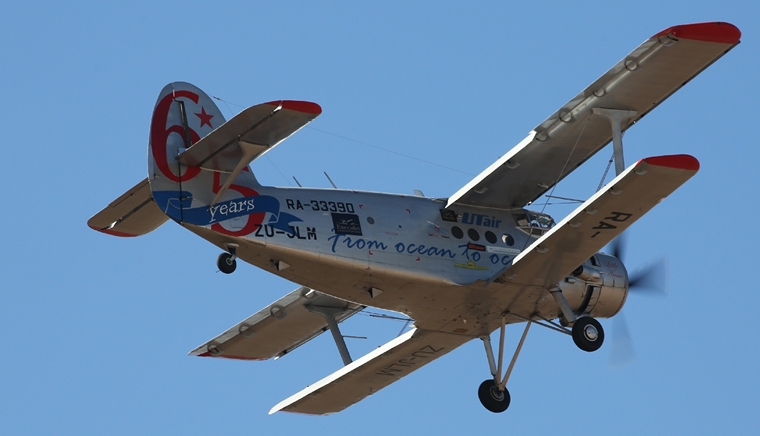 As it was also validation day for the participating aircraft, the learners were entertained by a number of air displays, 'Little Annie' The Antonov received the most attention from the learners with her validation display