THIS WEEK IN MIDWEEK UPDATE

Advertising Rate Card……..Plan Your Weekend……..Forthcoming Events

Aviation News……Worldwide Incidents and Accidents……This Week in Aviation History



For a free no obligations quote email sales@pilotspost.com



30-3 July: Race for Rhinos. Kubu Island Botswana.Contact Chris Briers E-mail:
chris@briersgroup.com
Cell: 082 568 7988
30- 1 July: SA Landing Championship Training Day - Brits Airfield. Contact Mauritz du Plessis email:
whitehouse@worldonline.co.za
, Cell: 083 601 1042


1: SAAF Museum AFB Zwartkop open practise day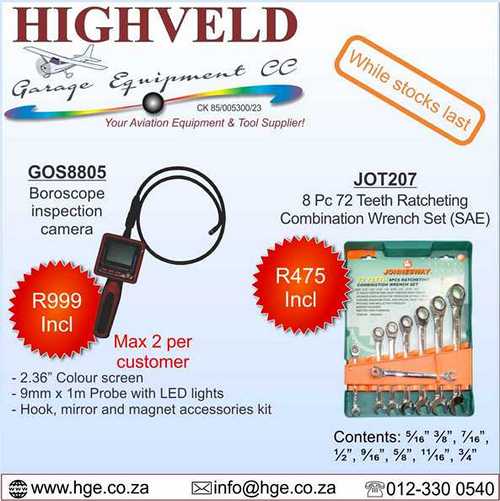 5: EAA Chapter 322 meeting. Dicky Fritz Moth Hall Edenvale. Contact:
editor@afskies.co.za
5-8: SAC Nationals. Malelane, Mpumalanga. Contact Annie Boon e-mail:
chunge@mweb.co.za
8: EAA Chapter 973 - Krugersdorp. Breakfast Fly-in to Crosswinds Airfield. All EAA members, Microlighters, friends and aviation enthusiasts - You are all invited to fly in or drive in to Crosswinds Airfield and enjoy the day with us. A full breakfast at R80 per head will be available, which includes coffee and tea.
8: Swaziland International airshow. Swaziland Flying Club. Contact Yorick Hulett e-mail:
hulettcharcoal@gmail.com
Tel: +268 760 31002
14-16: Nylstroom Flying Club and EAA Taildragger Fly-in. Contact Richard Nicholson Cell: 092 490 6227 E-mail:
rgn@pcwireless.co.za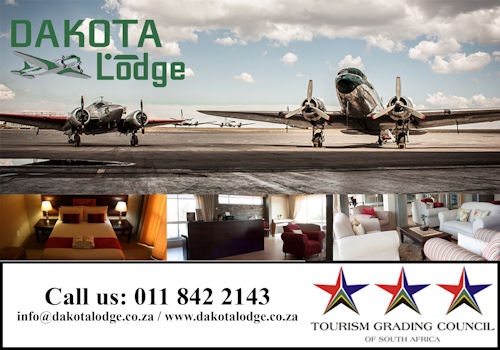 15: Hoedspruit Fun Rally. Contact Wynand Uys email:
wynand@ottersden.co.za
or Frank Eckard e-mail:
frank.eckard@mweb.co.za
cell: 083 269 1516
3rd Saturday of every month. Microland. Bring and braai. Fires and bykos provided. Fires start from 09h30. Contact person: Nick Swardt 082 441 8011 or Alan Hussey 072 82 2341
24-30: EAA AirVenture Oshkosh. Wisconsin, USA. Camping on the airfield contact Neil Bowden e-mail:
neil1@telkomsa.net
or Hotels in Appleton contact Calvin Fabig e-mail:
calvin@designer.co.za
28: World Precision Flying Championships - Austria.

2: EAA Chapter 322 meeting. Dicky Fritz Moth Hall Edenvale. Contact:
editor@afskies.co.za
4: SAAF Museum AFB Zwartkop open practise day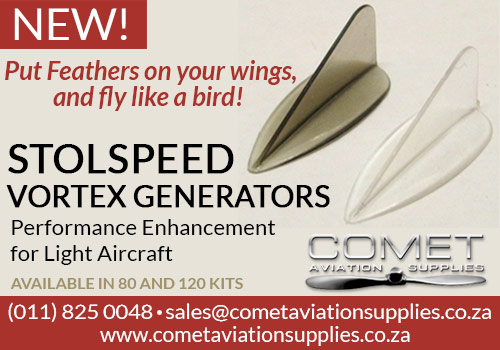 5-6: SAC Judges Trophy. Tzaneen. Contact Annie Boon e-mail:
chunge@mweb.co.za
5: Apiesdoring Karnaval Fly-inn Thabazimbi, Limpopo Contact: Chris Ehlers: 0823714492 Gert Ehlers: 0836526208
8: East Rand Flying Club will be hosting the annual free fly in breakfast at Springs Airfield from 8:00 am. Free breakfast! Contact: Paul oh ate two 413 4614
11- 13: Pyramid Aviators Weekend. Contact Peter Lea: Cell No. 082 553 4908 or e-mail:
peter@irricon.co.za
16-18: SAC Unlimited World Championships. Malelane. Contact Annie Boon e-mail:
chunge@mweb.co.za
20: Grand Rand Airshow. Stuart Coetzee.
manager@randairport.co.za
. 011 827 8884
25-26: Bethlehem Airshow. Stephan Fourie.
fouriesj1491@gmail.com
. 072 344 9678
3rd Saturday of every month. Microland. Bring and braai. Fires and bykos provided. Fires start from 09h30. Contact person: Nick Swardt 082 441 8011 or Alan Hussey 072 82 2341

6: EAA Chapter 322 meeting. Dicky Fritz Moth Hall Edenvale. Contact:
editor@afskies.co.za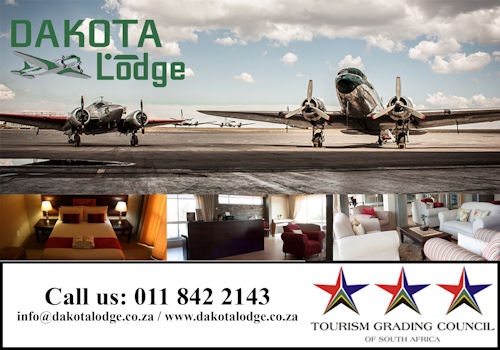 2: RV fly-in at Kitty Hawk. Kitty Hawk. E-mail: Frank
frankvh@sandown.co.za
or
office@kitty-hawk.co.za
Tel: 012 802 0942 Contact Irmarie Jooste Airport Manager Cell: 082 804 6979
4: SAAF Museum AFB Zwartkop open practise day
9-17: Sep World Aerobatic Champs in Malelane, Mpumalanga. Contact Annie Boon e-mail:
chunge@mweb.co.za
3rd Saturday of every month. Microland. Bring and braai. Fires and bykos provided. Fires start from 09h30. Contact person: Nick Swardt 082 441 8011 or Alan Hussey 072 82 2341
30: Namibia Airshow, Windhoek. Reinhard Gaertner.
reinhard@fivestar.co.za
. 264 81 210 6020
30: Secunda Flying Club Rally. Contact Jonty Esser e-mail:
jonty@promptroofing.co.za
Cell: 076 302 0451

The Aviation Radio Show; get all your questions answered in one place. To listen to a recording of the live broadcast click on the link:
www.debela.co.za/aviation-radio-show




PIPER LAUNCHES M600 DEMO TOUR OF AFRICA WITH PIPER DEALER, NAC




Piper Aircraft Inc. and National Airways Corporation, NAC, Piper's sales representative in Africa, are collaborating to exhibit the M600, the company's flagship product, throughout the continent of Africa during the month of July. The aircraft will make stops in several key countries as it makes its way to South Africa. Following an aggressive demo schedule commencing down the West Coast the M600 will also stop in Nigeria, Angola, and Namibia, following which it will stay in South Africa for a couple of days performing demonstrations, and then travel north along the East coast of Africa, making stops in Malawi, Kenya, Ethiopia, and Egypt. This will be the first time that an M600 aircraft is on display in Africa.
"Africa is a key region for Piper Aircraft. The arrival of the M600 shows Piper and NAC's commitment to providing modern turbo prop, cabin class aircraft with industry leading safety features to this region. The aircraft's performance and market leading value proposition is perfectly suited to the Sub Saharan market," said Drew McEwen, Vice President of International and Direct Sales. "We are delighted to have our M600 aircraft on display for the first time in Africa and look forward to providing a cost effective business tool to the region."
"NAC has been successfully representing Piper in our territory for the past seven years and we are thrilled to be able to bring the latest Piper model to our customers in Africa. This aircraft is perfectly suited for the conditions in our region." said JP Fourie, Executive Director Aircraft for NAC.

FLIGHT DESIGN'S NEW KLA-100 LOW-WING, LIGHT AIRCRAFT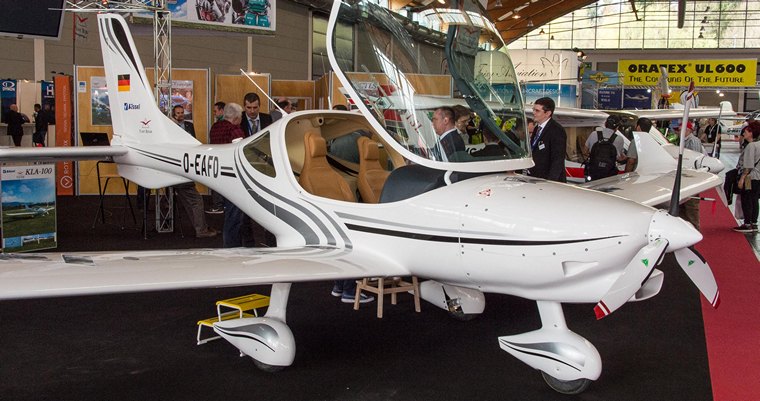 Photo © Flight Design

In a joint announcement between Vessel Co., Ltd., and Flight Design, the companies revealed their new KLA-100 low-wing, light aircraft. The KLA-100 development program has been going quietly for two years.
The KLA-100 is a brand new design destined to be certified as a Light Sport Aircraft for sale in countries that accept ASTM Compliant aircraft, as a CS-LSA certified aircraft. This will allow access to virtually every major aviation market in the world.
The KLA-100 wing is a tour-de-force of modern aeronautical design. A high aspect ratio wing planform is used to reduce drag and increase climb, a new proprietary aerofoil has an improved coefficient of lift and reduced drag through a greater percentage of laminar flow. The Stall-Safe drooped leading edge is designed to keep the airflow attached at the tips, promote post-stall aileron control and resist spins. The long-span slotted flaps feature another proprietary aerofoil developed in South Korea to slow the KLA-100 for low landing speeds and gentle stalls. The wide chord ailerons allow precise control and minimal adverse yaw.
The blended winglets round out the wing tips and reduce drag, increase climb and give the KLA-100 a distinctive ramp presence. The powerplant is the 74 KW (100 HP) fuel injected Rotax 912iS, a Garmin G3X avionics suite is built around dual Garmin G3X EFIS and EMS screens combined with a Garmin GTN-650 MFD, Garmin GTX-335 Mode ES ADS-B out transponder and optional Garmin 2 axis autopilot. A Stratos Magnum 601 advanced AEPS rescue system is integrated into the airframe. Flight Design and the Vessel Co., Ltd., engineering staff created the KLA-100 with safety, performance and comfort in mind.
A new aircraft should employ modern construction techniques for many reasons. The cockpit's carbon-aramid composite safety cell helps to protect you and your passenger. The engine mount and carbon fuselage attach points reduce the possibility of engine intrusion into the occupant's safety cell
AMERICAN LEGEND ADDS PERFORMANCE OPTIONS TO LEGEND CUB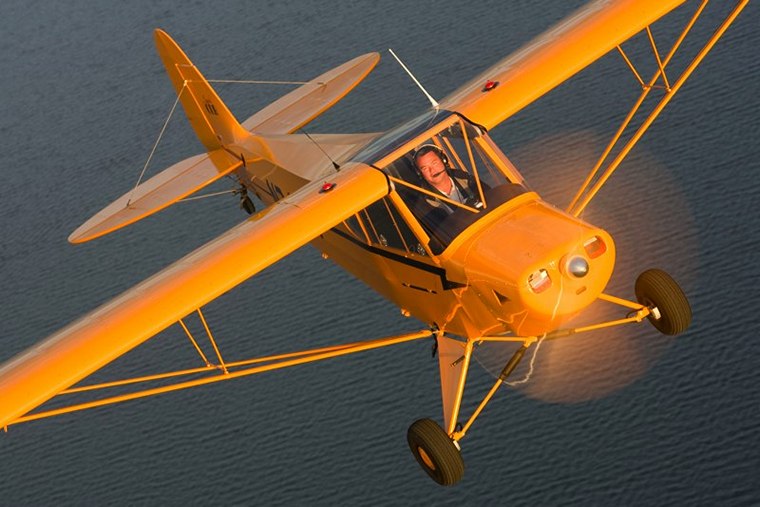 Photo © American Legend Aircraft Company

American Legend Aircraft Company announced today a cache of new options to enhance the performance of its Legend Cub. Since inception in 2005, enhancements to the Cub design have differentiated and made the Legend Cub more enjoyable to fly while adding comfort, convenience and safety.
Optional equipment is what lures buyers to new aircraft. Bigger engines and better avionics essentially transformed the Legend Cub into models such as the Super Legend and Legend SmartCub. Carbon fiber floats led to the launch of the Legend AmphibCub. Today the enhancements go even deeper.
A better (landing gear) bungee has long been on the list of desires for vintage taildragger pilots. Acme Aero Shocks and American Legend Aircraft Company are filling that want with modern cutting edge shock absorber technology. Acme Aero's new damped shock units take the place of spring shocks on the Legend Cub and give pilots more precise landing control than ever.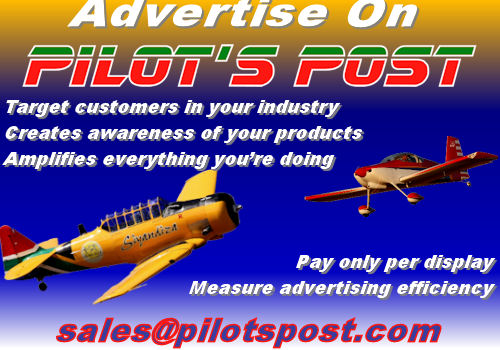 Lightweight paint affords an opportunity to save weight on aircraft. The Legend Cub's new lightweight paint option sheds seven pounds. The process uses Poly-Tone as a top coat over a Nevada Silver/Grey base coat. A color stripe is added for effect. The system offers thermo-expansion and elasticity, is non-shrinking, fire-retardant and chemical-resistant, and can be polished to a high lustre. Custom paint schemes will continue to be offered as well as the standard Legend Cub yellow with ubiquitous lightning bolt.
An XP Kit, for extra performance, is now available on Legend Cub E-LSA models. Mods include square wing tips, extended flaps and ailerons, plus 40-gallons-usable fuel tanks. Stunning slow speed characteristics, higher top speed and greater control authority are the result. Extra fuel capacity allows for longer roundtrip flights without a fuel stop.
New Legend Cub fuselage options include L-21 style extended rear windows and skylight. These changes allow for nearly 360-degree viewing when flying low-and- slow and liaison operations such as surveillance, reconnaissance and pleasurable sightseeing. A second fuselage option now offered on the Legend Cub makes use of space in the rear of the aircraft. Extended baggage areas, both upper and lower, allow transport of lengthy and lightweight gear. Utility is further enhanced with a side access door to the compartments.
The Legend Cub now offers more in the undercarriage. An extended landing gear option puts the wheels three inches forward and adds three inches in height. A custom made cabane vee is the perfect match for bigger engines and tundra tires. Standard 1-1/4" axles ensure compatibility with modern brakes and wheels.
To fully enhance the landing experience, the Legend Cub accommodates a range of tundra tires, sized from 8.50 to 31 inches for standard 6-inch rims. Plus, buyers can upgrade even further with new 8 or 10-inch Grove wheel/brakes match fitted to larger Desser Aero Classic smooth tundra tires.
Better brakes that assist in taxi turns and hold firm on short take-offs have always been standard on the Legend Cub. Now toe brakes are available for those who are more comfortable with this pedal arrangement.
For today's tablet, phone and other device equipped co-pilots and passengers, a rear seat power port option is now available. An often requested option, it is located in upper wing root.
Not since 2006 has the Legend Cub added so many options. There are enough new niceties now to make current owners current customers again. The company is also seeing holdouts finally buying-in and rusty pilots getting back to flying. The experience of flying a Legend Cub keeps improving.



WARBIRDS IN REVIEW SCHEDULE ANNOUNCED FOR AIRVENTURE 2017

Photo © Brady Lane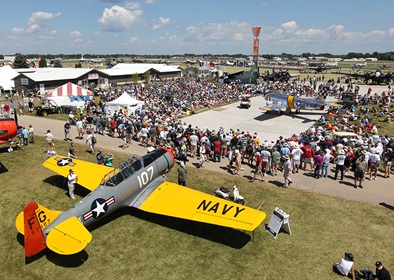 History comes to life through legendary wartime aircraft during Warbirds in Review sessions, which delve into aircraft restoration and operation and spotlight veterans sharing stories about what it was like to fly in combat or provide ground support.
Presentations take place at 10 a.m. and 1 p.m. daily, July 24-29 on the Warbirds in Review ramp in Warbird Alley. This year's Warbirds in Review schedule features the following:
Monday, July 24 at 10 a.m. Supermarine Spitfire Mk IX owned by the Collings Foundation.
Monday, July 24 at 1 p.m. Douglas A-20 Havoc owned by Lewis Air Legends.
Tuesday, July 25 at 10 a.m. Vultee BT-13 owned by the Women Air Force Service Pilots (WASP) Museum.
Tuesday, July 25 at 1 p.m. Two Old Crow P-51 Mustangs owned by Jack Roush and Jim Hagedorn, with special presenter World War II triple ace Col. Bud Anderson.
Wednesday, July 26 at 10 a.m. North American B-25 Mitchell, 75th Anniversary Doolittle Raid presented by Dick Cole, the last remaining Doolittle pilot and Jimmy Doolittle's copilot, Jonna Doolittle, and Jimmy Doolittle III.
Wednesday, July 26 at 1 p.m. Vietnam Tribute with Cessna L-19 Bird Dog and Grumman OV-1 Mohawk presented by Vietnam POW Bill Reader.
Thursday, July 27 at 10 a.m. presentation on the 8th Air Force with B-17 Madras Maiden from the Erickson Aircraft Collection.
Thursday, July 27 at 1 p.m. Grumman F8F Bearcat owned by John O' Connor.
Friday, July 28 at 10 a.m. Republic P-47 Thunderbolt featuring D-Day pilot Deke Holman.
Friday, July 28 at 1 p.m. Northrop F-89 Scorpion presented by Dick Rutan.
Saturday, July 29 at 10 a.m. Beechcraft T-34 Mentor presented by its owner Apollo astronaut Frank Borman along with astronaut Jim Lovell; North American SNJ-4 (a T-6 variant) owned by Fagen Fighters World War II Museum.
Saturday, July 29 at 1 p.m. Bell P-63 Kingcobra owned by CAF Dixie Wing.
The schedule also includes daily demonstrations at 9:30 a.m. and 12:30 p.m. from the Warbirds Living History Group on flight gear associated with the upcoming aircraft. Next, vocalist Theresa Eaman will entertain the crowd with tunes from the 1940s through 1960s. Several Warbirds in Review presentations will be followed by book signing opportunities in the Warbirds Merchandise Building.

AUSTRO ENGINE AE300: 1 MILLION FLIGHT HOURS


Photo © Diamond Aircraft


Austro Engine, a company of the Diamond Aircraft Group, is celebrating 1 million flight hours of the AE300 jet-fuel aviation engine. Since the start of serial production in 2008, more than 1,500 engines have been delivered into operation.
Jürgen Heinrich, CEO Austro Engine and Managing Director Diamond Aircraft Austria: "Reaching the 1 Million flight hours mark provides factual evidence to countless success stories of our partners, when the AE300 series has proven its outstanding capabilities in versatile operation profiles all over the globe. On a retrospective view, we are certainly proud of having set entirely new standards in engine reliability, quality and operational efficiency for our customers, whose appreciated involvement in continuous product and service improvement has been key to success. Being additionally energized by achieving this milestone, we are striving to further enhance operator's experience."
With the 170 hp AE300, Austro Engine has launched the leading Jet A1 piston engine in General Aviation. The power plant stands out in reliability, endurance, the highest performance and efficiency compared to other products in this field. At equal power the engine has a 45 % lower fuel burn than conventional piston aircraft engines running on Avgas.
It produces significantly less exhaust emissions and is exceptionally silent. Especially flight schools, whose aircraft are operated on an above average level and are often located near resident areas, benefit from these qualities.
Very popular with pilots is the easy engine management by an electronic controlled system (ECU) with integrated single power lever design, as this allows them to focus on the actual flying. Given that the AE300 is multi-fuel certified, easy worldwide operability is not a problem unlike Avgas engines, because in certain regions of the world Avgas is hard to get and often at multiple the price of jet fuel.
BELL HELICOPTER ANNOUNCES THE DELIVERY OF THREE BELL 505 JET RANGER XS TO CANADIAN CUSTOMERS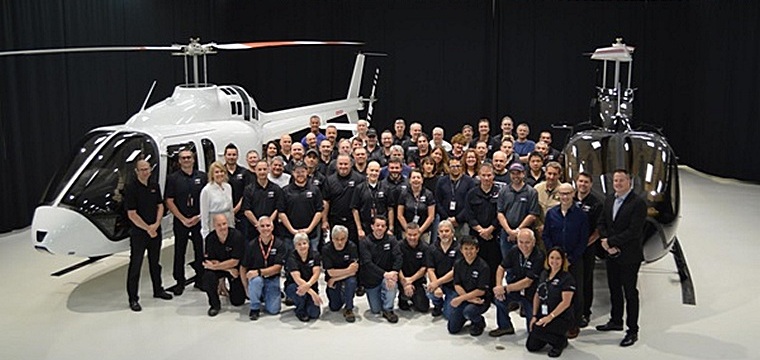 Bell 505 Jet Ranger X program team members gathered to proudly celebrate the deliveries. Photo © Bell Helicopters


Bell Helicopter, a Textron Inc. (NYSE: TXT) company, announced the delivery of three Bell 505 Jet Ranger X in Canada.
The three Canadian customers accepted delivery of their aircraft last week at Bell Helicopter's facility in Mirabel. The aircraft are configured for corporate and utility missions to support the business operations of the customers.
The successful deliveries follow type certification from Transport Canada Civil Aviation (TCCA) in December and Federal Aviation Administration (FAA) certification in June.
"The Bell 505 Jet Ranger X is a very economical and highly versatile machine," said Jason Moir, regional sales manager, Bell Helicopter Textron Canada Ltd. "It has found a niche among a large base of customers who want an aircraft capable of meeting their various lifestyle needs. Its adaptability makes it the ideal aircraft for private owners looking at it as a multi-purpose tool and is the perfect mix of luxury, utility and recreation."
With a speed of 125 knots (232 km/h) and useful load of 1,500 pounds (680 kg), the Bell 505 is designed to be safe and easy to fly while providing significant value to the operator. The customer-driven design of the aircraft places safety, performance and affordability at the forefront, blending proven systems with advanced technology and a sleek, modern design.
AIRBUS HELICOPTERS DELIVERS FINAL H145M TO THE GERMAN AIR FORCE

Photo © Airbus Helicopters

Donauwörth, Airbus Helicopters has delivered the 15th and final H145M multi-role helicopter to the German Armed Forces (Bundeswehr). The helicopters, stationed in Laupheim, are operated by the Bundeswehr Special Forces. As the launch customer, the Bundeswehr ordered 15 of these high-performance helicopters in 2013 as part of the Light Utility Helicopter (LUH) Special Operations Forces (SOF) project and received the first aircraft at the end of 2015. With this final delivery, Airbus Helicopters has completed the entire programme within the specified time schedule and budget.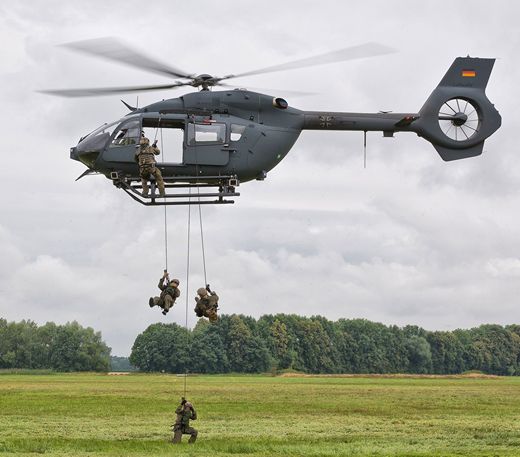 The H145M is the military version of the tried-and-tested, light twin-engine H145 civil helicopter that was first delivered in 2014. The entire H145 fleet has now clocked up more than 50,000 flight hours. With a maximum take-off weight of 3.7 tonnes, the agile H145M can be used for a wide range of tasks, including transport, supply, surveillance, air rescue, armed reconnaissance and medical evacuation. The Bundeswehr's H145M LUH SOF helicopters are equipped with a fast roping system to transport special forces, a high-performance camera system for reconnaissance, as well as equipment for fire support during deployment, enabling special forces to use the helicopters in a wide variety of new fields. Furthermore, the helicopter's ballistic protection and electronic countermeasures system offers a high level of security during deployment.
The helicopters were developed for day and night use and capable of operating in adverse conditions. Powered by two Turbomeca Arriel 2E engines, the H145M is equipped with full authority digital engine control (FADEC). In addition, the helicopter is equipped with the Helionix digital avionics suite which, alongside innovative flight data management, includes a high-performance 4-axis autopilot, which considerably reduces pilot workload during missions. Its particularly low acoustic footprint makes the H145M the quietest helicopter in its class.
In 2015, Airbus Helicopters also concluded a comprehensive cooperative service contract with the Bundeswehr, providing support to the customer until at least 2021. Airbus Helicopters' responsibilities include managing and implementing maintenance and repair work, supplying spare parts and ensuring airworthiness. The fact that more than 3,900 flight hours have already been logged speaks for the choice of support concept, the good working relationship and the reliability of the helicopters.
Other countries having ordered the H145M are the Republic of Serbia with nine units and Thailand with five.

USA, Texas: Nine passengers and one member of the crew were injured by turbulence on board a United Airlines flight en-route from Panama City, Panama to Houston, Texas. The Boeing 737-800 experienced severe turbulence 80 miles east of Cancun, Mexico. Nine passengers and one crew member were transported to hospital for evaluation.
Poland, Gdansk: A SAS Scandinavian Airlines Airbus A319-100 with 88 passengers and 5 crew on-board was in the initial climb out of Gdansk's runway when the crew donned their oxygen masks, stopped the climb at about 4000 feet declaring Mayday, Mayday, Mayday and reporting smoke in the cabin. They landed safely back about 9 minutes after departure. The aircraft was evacuated via slides. Emergency services found no trace of fire or heat.
USA, Houston: A USAF F-16 fighter jet under direction of NORAD caught fire while attempting to take off at Ellington Airport in Houston. The jet was about halfway through its take-off run when the pilot cut the engine and coasted whilst the aircraft erupted into a fireball. The aircraft was armed and the base was evacuated as a precaution. The pilot ejected and suffered only minor injuries.
Australia, Perth: An AirAsia X Airbus A330-300 en-route from Perth to Kuala Lumpur (Malaysia) with 359 people on board, was flying at FL380 about 200nm of Learmonth, (Australia) when the left hand engine suffered a blade fracture, ingested the blade resulting in severe damage in engine core and severe vibrations. The crew shut the engine down, drifted the aircraft down to FL200 and returned to Perth for a safe landing about 2 hours after the engine failure.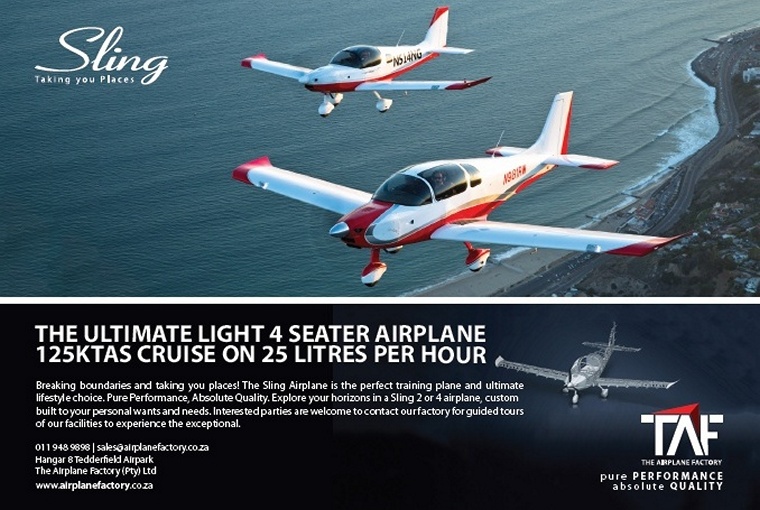 18 June 1922

June 23 1943 - The RAF uses chaff, codenamed "Window", for the first time to foil German radar during the Operation Gomorrah raids on Hamburg.


Chaff, originally called Window by the British and Düppel by the Second World War era German Luftwaffe is a radar countermeasure in which aircraft or other targets spread a cloud of small, thin pieces of aluminium, metallized glass fibre or plastic, which either appears as a cluster of primary targets on radar screens or swamps the screen with multiple returns.
Modern armed forces use chaff (in naval applications, for instance, using short-range SRBOC rockets) to distract radar-guided missiles from their targets. Most military aircraft and warships have chaff dispensing systems for self-defence. An intercontinental ballistic missile may release in its midcourse phase several independent warheads as well as penetration aids such as decoy balloons and chaff.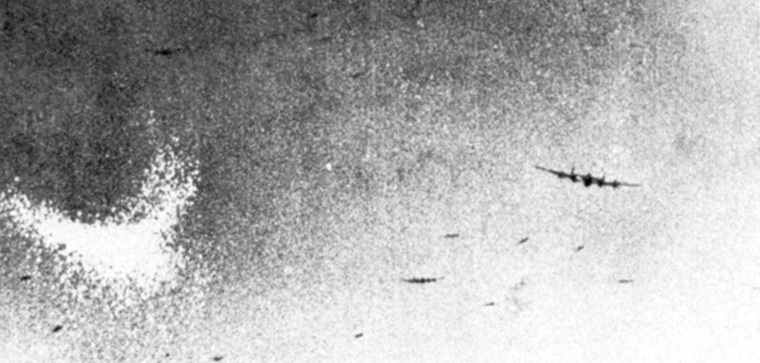 A Lancaster dropping Chaff. Photo RAF


In 1937, British researcher Gerald Touch (who was working with Robert Watson-Watt on radar) suggested that lengths of wire suspended from balloons or parachutes might overwhelm a radar system with false echoes and R. V. Jones had suggested that pieces of metal foil falling through the air might do the same.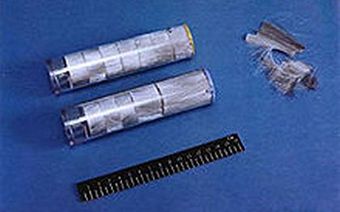 Chaff containers.In early 1942, a Telecommunications Research Establishment (TRE) researcher named Joan Curran investigated the idea and came up with a scheme for dumping packets of aluminium strips from aircraft to generate a cloud of false echoes.
An early idea was to use sheets the size of a notebook page; these would be printed so they would also serve as propaganda leaflets. However, it was found the most effective version used strips of black paper backed with aluminium foil, exactly 27 by 2 centimetres (10.63 in × 0.79 in) and packed into bundles each weighing 1 pound (0.45 kg). The Head of the TRE, A. P. Rowe, code-named the device "Window".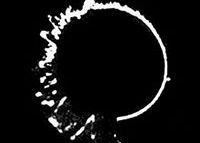 The effect of chaff on the display of a Giant Würzburg radar.
The effect of jamming appears in the left "jagged" half of the circular ring, contrasting with the normal "smooth" (unjammed) display on the right half of the circle, with a real target at the 3 o'clock position - on the jammed left side the real target "blip" would have been indistinguishable from the jamming.