THIS WEEK IN MIDWEEK UPDATE

Plan Your Weekend……..Forthcoming Events…….Aviation News

Worldwide Incidents and Accidents……This Week in Aviation History



1: SAAF Museum AFB Zwartkop open practise day
5: EAA Chapter 322 meeting. Dicky Fritz Moth Hall Edenvale. Contact:
editor@afskies.co.za
5-8: SAC Nationals. Malelane, Mpumalanga. Contact Annie Boon e-mail:
chunge@mweb.co.za
8: EAA Chapter 973 - Krugersdorp. Breakfast Fly-in to Crosswinds Airfield. All EAA members, Microlighters, friends and aviation enthusiasts - You are all invited to fly in or drive in to Crosswinds Airfield and enjoy the day with us. A full breakfast at R80 per head will be available, which includes coffee and tea.


14-16: Nylstroom Flying Club and EAA Taildragger Fly-in. Contact Richard Nicholson Cell: 092 490 6227 E-mail:
rgn@pcwireless.co.za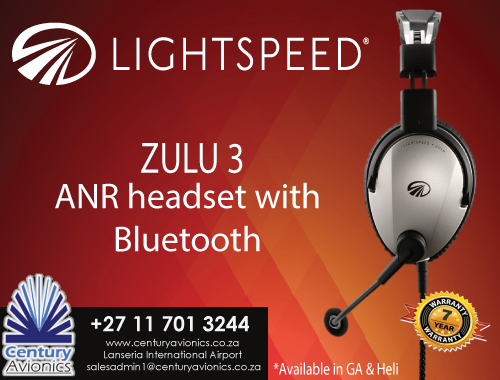 15: Hoedspruit Fun Rally. Contact Wynand Uys email:
wynand@ottersden.co.za
or Frank Eckard e-mail:
frank.eckard@mweb.co.za
cell: 083 269 1516
3rd Saturday of every month. Microland. Bring and braai. Fires and bykos provided. Fires start from 09h30. Contact person: Nick Swardt 082 441 8011 or Alan Hussey 072 82 2341
24-30: EAA AirVenture Oshkosh. Wisconsin, USA. Camping on the airfield contact Neil Bowden e-mail:
neil1@telkomsa.net
or Hotels in Appleton contact Calvin Fabig e-mail:
calvin@designer.co.za
28: World Precision Flying Championships - Austria.

1: EAA Chapter 322 meeting. Dicky Fritz Moth Hall Edenvale. Contact:
editor@afskies.co.za
4: SAAF Museum AFB Zwartkop open practise day
5-6: SAC Judges Trophy. Tzaneen. Contact Annie Boon e-mail:
chunge@mweb.co.za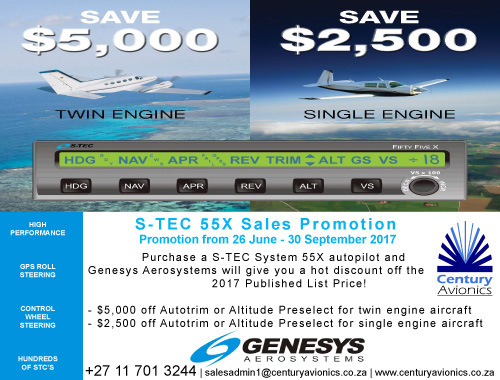 5: Apiesdoring Karnaval Fly-inn Thabazimbi, Limpopo Contact:
Chris Ehlers: 0823714492 Gert Ehlers: 0836526208
8: East Rand Flying Club will be hosting the annual free fly in breakfast on at Springs Airfield from 8:00 am. Free breakfast! Contact: Paul oh ate two 413 4614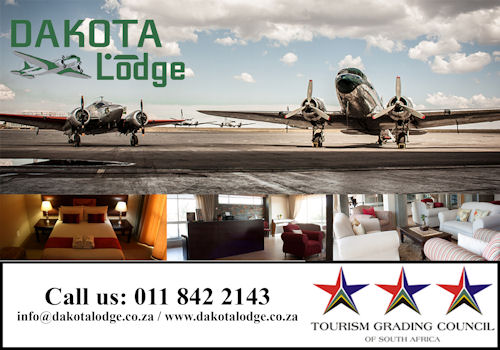 11- 13: Pyramid Aviators Weekend. Contact Peter Lea: Cell No. 082 553 4908 or e-mail:
peter@irricon.co.za
16-18: SAC Unlimited World Championships. Malelane. Contact Annie Boon e-mail:
chunge@mweb.co.za
20: Grand Rand Airshow. Stuart Coetzee. manager@randairport.co.za. 011 827 8884
25-26: Bethlehem Airshow. Stephan Fourie.
fouriesj1491@gmail.com
. 072 344 9678
3rd Saturday of every month. Microland. Bring and braai. Fires and bykos provided. Fires start from 09h30. Contact person: Nick Swardt 082 441 8011 or Alan Hussey 072 82 2341

6: EAA Chapter 322 meeting. Dicky Fritz Moth Hall Edenvale. Contact: editor@afskies.co.za
2: RV fly-in at Kitty Hawk. Kitty Hawk. E-mail: Frank
frankvh@sandown.co.za
office@kitty-hawk.co.za
Tel: 012 802 0942 Contact Irmarie Jooste Airport Manager Cell: 082 804 6979
4: SAAF Museum AFB Zwartkop open practise day
9-17: Sep World Aerobatic Champs in Malelane, Mpumalanga. Contact Annie Boon e-mail:
chunge@mweb.co.za
3rd Saturday of every month. Microland. Bring and braai. Fires and bykos provided. Fires start from 09h30. Contact person: Nick Swardt 082 441 8011 or Alan Hussey 072 82 2341
30: Namibia Airshow, Windhoek. Reinhard Gaertner.
reinhard@fivestar.co.za
. 264 81 210 6020
30: Secunda Flying Club Rally. Contact Jonty Esser e-mail:
jonty@promptroofing.co.za
Cell: 076 302 0451

The Aviation Radio Show; get all your questions answered in one place. To listen to a recording of the live broadcast click on the link:
www.debela.co.za/aviation-radio-show




AVIATION INNOVATION WILL AMAZE AT AIRVENTURE OSHKOSH 2017



It's natural to think of EAA AirVenture Oshkosh as persevering aviation's heritage - with its annual salutes to war heroes and their aircraft, commemorative remembrances, and anniversary celebrations - but EAA also unequivocally stands for a commitment to ensuring aviation's future.
That's why, every year, aviation innovation is encouraged and showcased and 2017 will be no exception.
In addition to the new airframes, engines, and avionics unveiled at the World's Greatest Aviation Celebration, aerospace innovation will also be on display at Aviation Gateway Park, home of the Innovation Centre at AirVenture Oshkosh.
Be sure to see the first truly new helicopter design in 78 years, the Workhorse SureFly personal helicopter/VTOL aircraft designed for safe and easy flight. This will be the first public viewing of the SureFly in the U.S. (having just been revealed to the world at the Paris Air Show). With eight independent motors each driving a single carbon fibre propeller, a backup battery power system, and a ballistic parachute to safely land in the event of emergency, the SureFly provides unparalleled safety for a personal aircraft. And with a price point projected under $200,000, it's a sure bet the SureFly will be disrupting the helicopter industry.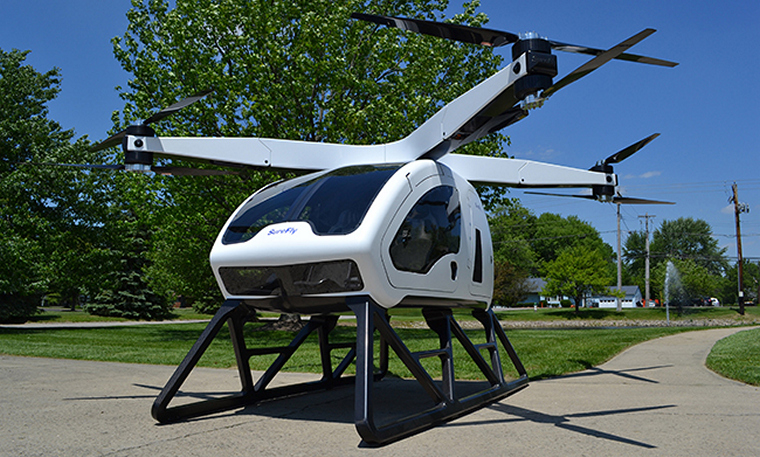 SureFly

Workhorse will also display their HorseFly UAV Delivery system, a custom built, high efficiency octocopter-based delivery UAV that is fully integrated with their line of electric/hybrid delivery trucks. The HorseFly system is designed to conform to the FAA guidelines for UAV operation in the U.S.
The Kitty Hawk Flyer is an all-new, all-electric aircraft and the first version is specifically designed to fly over water. Classified as an ultralight, the working prototype was recently revealed publicly, and now you can see it in person. "Kitty Hawk is excited to participate in EAA AirVenture 2017," said Ellen Cohn, Horsefly communications manager, "and we welcome attendees to stop by our booth in the Innovation Center to learn more about the Flyer prototype and Kitty Hawk's mission to make the dream of personal flight a reality.
Kept tightly under wraps and awaiting an appreciative AirVenture audience, Detroit Flying Car looks to introduce the aviation world to its latest creation. You're sure to be amazed at what the future holds.
And be sure to check out the drones and other UAVs displayed at the EAA Innovation Center, plus see them in action in the drone cage. You can even participate in a Drone School, a one-day FAR Part 107 Preparation Course.
From aviation industry heavyweights to exciting new start-ups that highlight breakthrough concepts in aviation, space, and virtual reality, AirVenture Oshkosh IS innovation. Be sure to visit Aviation Gateway Park, presented by Piper Aircraft, and the Innovation Center, presented by National Air Traffic Controllers Association (NATCA) and challenge your imagination.

FIRST TYPHOON DELIVERY FOR OMAN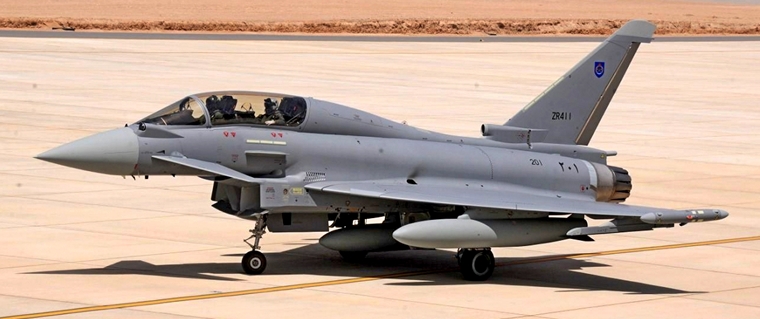 Photo © Eurofighter

Eurofighter GmbH welcomes the news that the Royal Air Force of Oman (RAFO) has taken delivery of its first Eurofighter Typhoon aircraft.
The arrival of the first aircraft, one of a batch of 12 of the combat jets scheduled to be delivered to the Sultanate of Oman, was marked with a ceremony, held on June 21 2017 in the presence of the Commander of the Royal Air Force of Oman, Air Vice-Marshal Mattar bin Ali bin Mattar Al Obaidani, at Adam Air Base, Oman.
The Sultanate of Oman announced its decision to purchase 12 Eurofighter Typhoon and eight Hawk aircraft in December 2012.
The delivery follows an official roll-out event held on 15 May 2017 at BAE Systems' site at Warton, UK, during which the first Typhoon aircraft was formally presented to the customer in front of an invited audience including His Excellency Sayyid Badr bin Saud al Busaidi, the Sultanate of Oman's Minister Responsible For Defence Affairs (MRDA), and the Commander of the Royal Air Force of Oman.
Eurofighter Typhoon is the most advanced multi-role combat aircraft currently available on the world market and can be deployed in the full spectrum of air operations including air policing, peace support and high intensity conflict.
EMBRAER KC-390 TO VISIT NEW ZEALAND NEXT MONTH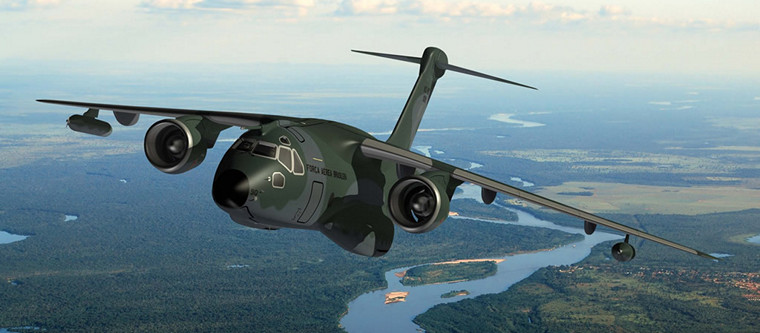 Photo © Embraer


Embraer will demonstrate its KC-390 airlifter in New Zealand next month in support of its bids for the Royal New Zealand Air Force's future air mobility and future air surveillance capability requirements.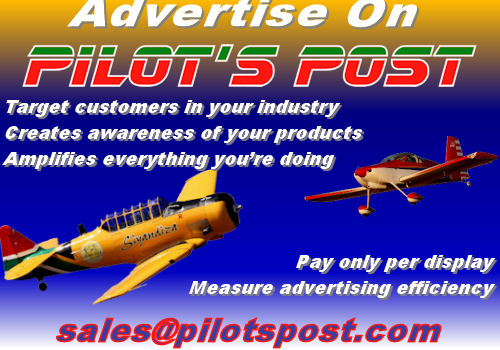 The aircraft is due in New Zealand in mid-July as part of a 10-country demonstration tour following this week's Paris Airshow. It will be shown to the RNZAF in support of the Brazilian manufacturer's bids to meet New Zealand's airlift and maritime surveillance requirements to replace the C-130H and 757 transports and the P-3K2 Orion maritime surveillance aircraft.
"We have solutions for both … and we decided to bid for both," Embraer Defence & Security chief executive officer Jackson Schneider told Australian Aviation at the Paris Airshow on Wednesday.
Embraer is offering the KC-390 for the RNZAF's airlift requirement but won't confirm if it is offering the KC-390 or a variant of the E195 airliner for the maritime surveillance role.
Meanwhile the Brazilian air force is due to receive the first of 28 KC-390s it has on order in early 2018, while Portugal has announced plans to order five.
To date the two KC-390 development aircraft have flown over 1,000 flight hours.
Prior to the airshow the KC-390 was demonstrated in Sweden, while following the show it is due to be demonstrated in Europe, the Middle East and South East Asia. The aircraft won't be demonstrated in Australia as part of the current tour.
AIRBUS HELICOPTERS' H215 KICKS OFF ITS DEBUT DEMO TOUR IN CHINA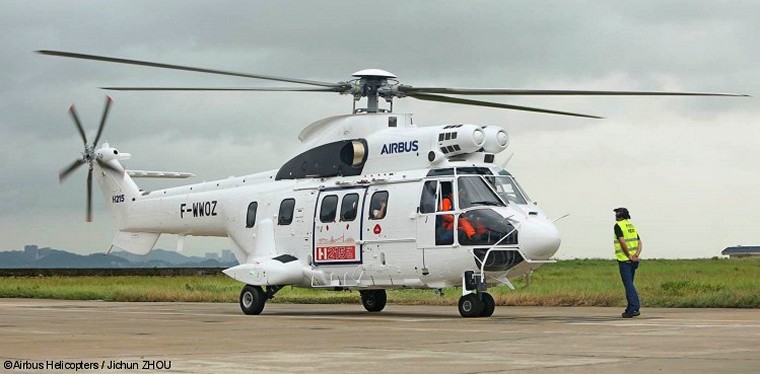 Photo © Jichon Zou/Airbus


Zhuhai, China, The heavy twin H215 helicopter, a member of the world-renowned Super Puma family, is demonstrating its multi-mission capabilities for firefighting, power line missions, law enforcement, and passenger transportation as well as its excellent performance in high and hot conditions during its debut demo tour in China.
Kicking off the two-week long tour with demo flights today in Zhuhai, the H215 will then ferry flight to both Shenzhen and Lijiang. The H215 will cover more than 2,000 km across China, attesting in real time to its excellent long range capabilities, power, speed, and large useful payload.
The H215 is a proven multipurpose helicopter, combining advanced avionics and a reliable platform for rugged multi-mission capabilities. Its baseline configuration has been optimized to offer extremely competitive direct operating and maintenance costs. Standard features include proven Makila 1A1 engines, the latest generation flight management system, and the most modern technologies, which include a glass cockpit avionics system and the renowned 4-axis autopilot from Airbus Helicopters' advanced H225 - providing flight envelope protection, unrivalled precision and automatic hover stability in even the harshest operating conditions.
Airbus Helicopters is the leader in the civil turbine market in China with a market share of about 40%. For the first time in 2016, China became Airbus Helicopters' largest civil market in terms of annual bookings. The company has seen steady growth in the region and is poised for the trend to continue - Airbus Helicopters broke ground last month on its H135 Final Assembly Line (FAL) in Qingdao, becoming the first Western helicopter manufacturer to establish a FAL in the country.
BEECHCRAFT T-6C MILITARY TRAINER BOOSTS INTERNATIONAL AVAILABILITY WITH EASA CERTIFICATION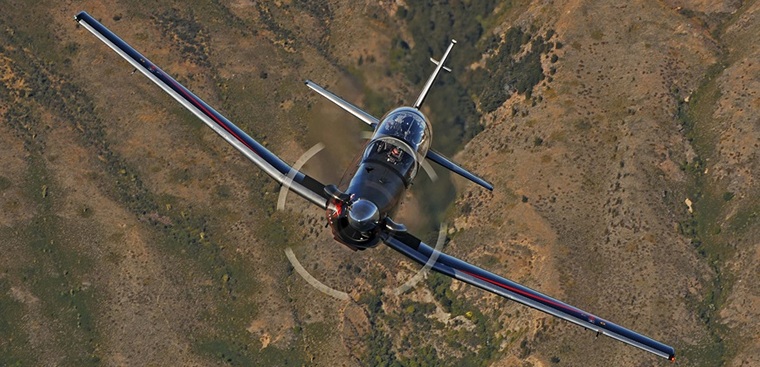 Photo © Textron


Textron Aviation Defence LLC., a subsidiary of Textron Aviation Inc., a Textron Inc. (NYSE: TXT) company, today announced that the Beechcraft T-6C military trainer has achieved basic certification from the European Aviation Safety Agency (EASA), supporting future configuration certification and delivery of 10 previously ordered T-6C aircraft for the U.K. Ministry of Defence's Military Flying Training System (UKMFTS) program.
The T-6C aircraft, on schedule to begin deliveries next year, will support team Affinity of Affinity Flying Training Services, a joint venture between Elbit Systems and KBR (Kellogg, Brown and Root) selected to provide aircraft and maintenance services to the UKMFTS program.
"Achieving EASA certification for the T-6C supports the progression of our contract with UKMFTS, and additionally opens up opportunities to provide a proven military training platform to the European market," said Tom Hammoor, president of Textron Aviation Defence. "This highly capable training platform, further enhanced with exceptional product support, equips our customers with a superior solution for a wide range of mission needs."
Textron Aviation Defence provides the UKMFTS program with a multitude of support services including engineering services, parts support and maintenance training. In addition, on-site Field Service Representatives will deliver ongoing technical expertise to maintenance personnel.
SIKORSKY SIGNS FIVE-YEAR PRODUCTION CONTRACT TO BUILD BLACK HAWK HELICOPTERS FOR U.S. ARMY

Lockheed
Photo © Lockheed


The U.S. government and Sikorsky, a Lockheed Martin (NYSE: LMT) company, today signed a five-year contract for 257 H-60 Black Hawk helicopters to be delivered to the U.S. Army and Foreign Military Sales (FMS) customers. The multi-year contract will yield significant savings for the U.S. government compared with purchasing the same quantity across five separate annual agreements.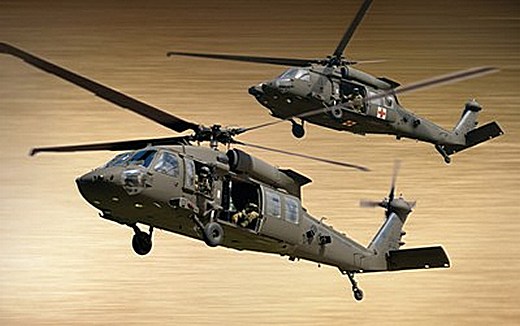 The "Multi-Year IX" contract for UH-60M Black Hawk and HH-60M MEDEVAC aircraft marks the ninth multiple-year contract for Sikorsky and the U.S. government for H-60 helicopters. The contract value for expected deliveries is approximately $3.8 billion and includes options for an additional 103 aircraft, with the total contract value potentially reaching $5.2 billion. Actual production quantities will be determined year-by-year over the life of the program based on funding allocations set by Congress and Pentagon acquisition priorities. The deliveries are scheduled to begin in October of this year and continue through 2022.
The UH-60M/HH-60M helicopters are the latest and most modern in a series of Black Hawk variants that Sikorsky has been delivering to the Army since 1978. They provide additional payload and range, advanced digital avionics, better handling qualities and situational awareness, active vibration control, improved survivability, and improved producibility.

Egypt: Cairo: An Egypt Air Boeing 737-800 with 95 on-board was accelerating for take-off from Cairo when the right hand nose tyre blew causing damage to the nose gear doors and nose wheel well. The aircraft climbed to FL240 and entered a hold and then the crew decided to return to Cairo. The aircraft entered another hold at 5000 feet to burn off fuel. The aircraft landed safely on runway 05R about 70 minutes after departure.
Indonesia, Karta: A Dauphin AS365 helicopter rescue helicopter crashed while heading to help evacuate residents near an active volcano on Indonesia's main island, killing all eight people on board. The helicopter was on a mission to oversee the situation in Central Java, where a volcanic crater erupted at the Dieng Plateau that afternoon and crashed about three minutes before arriving at Dieng Plateau.
USA, California: An Aero L-29 Delfin 1960s era training jet was forced to make an emergency landing at the Plainview Hale County Airport. Before making the landing the pilot called in saying there was mechanical issues with the landing gear. The jet was able to land safely but skidded along the runway and the pilot was not injured. The Airplane suffered minor damage.
USA, Texas: A Cessna 208B Cargomaster while attempting to return to the airport, due to mechanical problems, following take-off clipped power lines and crashed. The aircraft was damaged beyond repair whilst the pilot was able to walk away.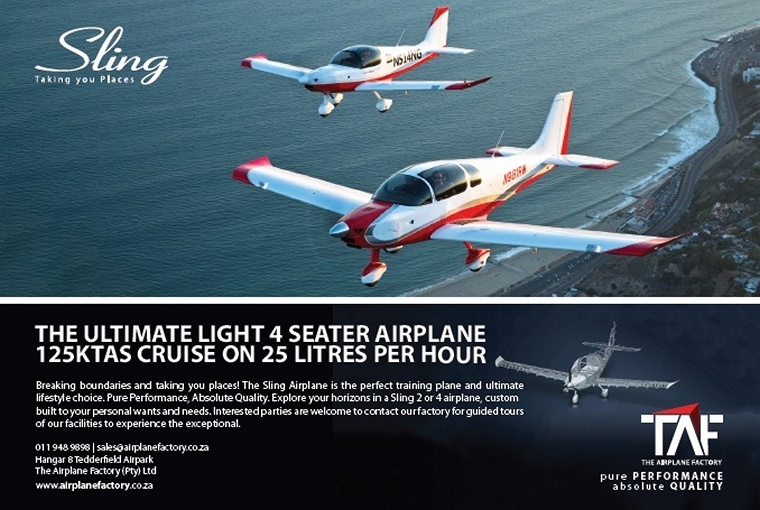 This Week In History

1 July 1960

British United Airways is formed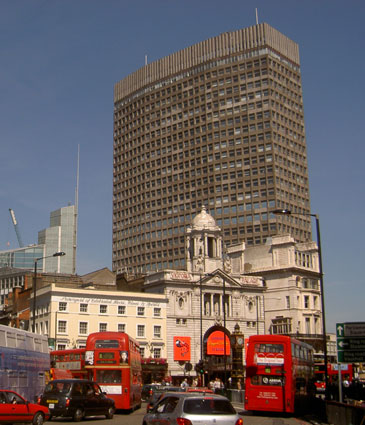 Portland House Company Headquarters 1960. Photo Alexd / en.wikipedia.org. British United Airways (BUA) was a private, independent British airline formed as a result of the merger of Airwork Services and Hunting-Clan Air Transport in July 1960.
At its inception, BUA assumed the aircraft and operations of its predecessors. These included a fleet of 90 assorted fixed-wing aircraft and helicopters that continued to operate mainly non-scheduled services. Gatwick became BUA's main operating base while Stansted was the main base for trooping flights until 1964. An order for ten BAC One-Eleven jet aircraft in May 1961 launched BUA's fleet re-equipment programme in support of its long-term policy to develop primarily as a scheduled airline.
This was also the first time a private British airline had placed a launch order for a new jet. In January 1962, BUA merged with British Aviation Services, the holding company of rival British independent airlines Britavia and Silver City Airways. This made BUA the largest unsubsidised airline outside the United States. Silver City's pre-merger status as the main independent provider of air ferry services in the UK also gave BUA a monopoly among UK-based air ferry operators. The subsequent takeover of Jersey Airlines in May 1962 resulted in further growth, giving BUA a fleet of more than 100 aircraft and 6,000 staff.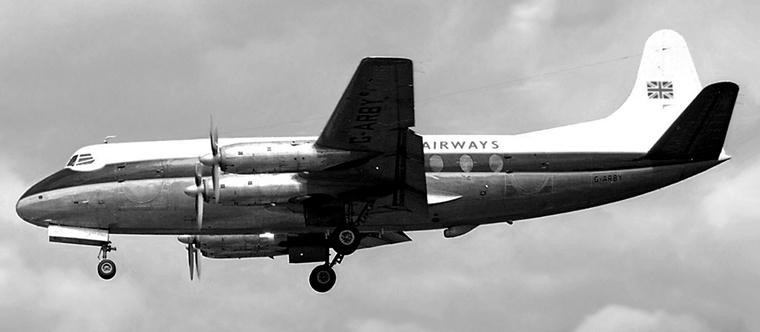 A01 British United Vickers 708 Viscount. Photo Ralf Manteufe / commons.wikimedia.org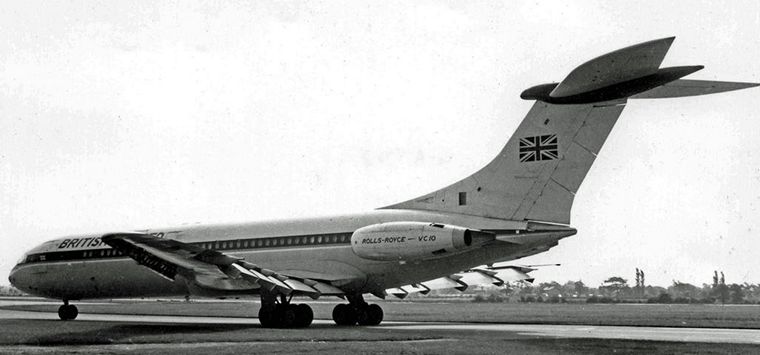 03 Vickers VC-10. Photo By RuthAS / commons.wikimedia.org


The introduction into service of the Vickers VC10 on 1 October 1964 made BUA the first private UK carrier to begin sustained jet operations. BUA's takeover of the South American services of British Overseas Airways Corporation (BOAC) to Argentina, Brazil, Chile and Uruguay on 5 November 1964 marked a major expansion of its long-haul scheduled network.