THIS WEEK IN MIDWEEK UPDATE

Plan Your Weekend……..Forthcoming Events…….Aviation News

Worldwide Incidents and Accidents……This Week in Aviation History



14-16: Nylstroom Flying Club and EAA Taildragger Fly-in. Contact Richard Nicholson Cell: 092 490 6227 E-mail:
rgn@pcwireless.co.za
15: Hoedspruit Fun Rally. Contact Wynand Uys email:
wynand@ottersden.co.za
or Frank Eckard e-mail:
frank.eckard@mweb.co.za
cell: 083 269 1516


3rd Saturday of every month. Microland. Bring and braai. Fires and bykos provided. Fires start from 09h30. Contact person: Nick Swardt 082 441 8011 or Alan Hussey 072 82 2341
24-30: EAA AirVenture Oshkosh. Wisconsin, USA. Camping on the airfield contact Neil Bowden e-mail:
neil1@telkomsa.net
or Hotels in Appleton contact Calvin Fabig e-mail:
calvin@designer.co.za
28: World Precision Flying Championships - Austria.

1: EAA Chapter 322 meeting. Dicky Fritz Moth Hall Edenvale. Contact:
editor@afskies.co.za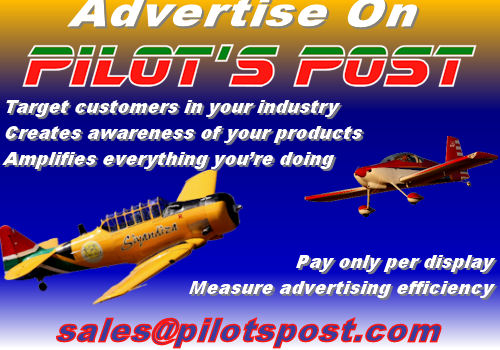 4: SAAF Museum AFB Zwartkop open practise day
6: Gaborone International Airshow. Contact Mark Mansfield at
mcubedmedia@outlook.com
5-6: SAC Judges Trophy. Tzaneen. Contact Annie Boon e-mail:
chunge@mweb.co.za
5: Apiesdoring Karnaval Fly-inn Thabazimbi, Limpopo Contact:
Chris Ehlers: 0823714492 Gert Ehlers: 0836526208
8: East Rand Flying Club will be hosting the annual free fly in breakfast on at Springs Airfield from 8:00 am. Free breakfast! Contact: Paul oh ate two 413 4614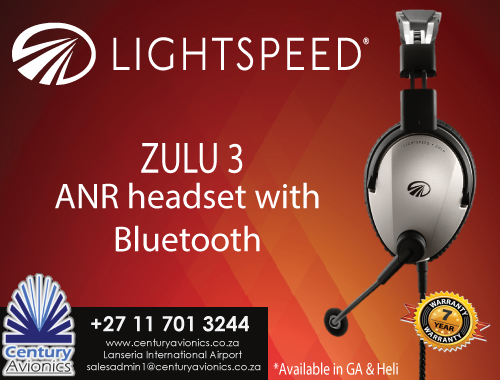 11- 13: Pyramid Aviators Weekend. Contact Peter Lea: Cell No. 082 553 4908 or e-mail:
peter@irricon.co.za
16-18: SAC Unlimited World Championships. Malelane. Contact Annie Boon e-mail:
chunge@mweb.co.za
19: FAKR annual SA Flyer/Shell Aviation Spot landing Competition and Airfield Festival. Please take note of the following: Participants for 19 August are requested to re-lodge their entries with Grant Rousseau at
gr@kama.co.za
. Should the event not be held, and not be completed on 19 August due to weather conditions, it will automatically default to start afresh on Sunday 20 August.
20: Grand Rand Airshow. Stuart Coetzee.
manager@randairport.co.za
. 011 827 8884
25-26: Bethlehem Airshow. Stephan Fourie.
fouriesj1491@gmail.com
. 072 344 9678
3rd Saturday of every month. Microland. Bring and braai. Fires and bykos provided. Fires start from 09h30. Contact person: Nick Swardt 082 441 8011 or Alan Hussey 072 82 2341
26: Zandspruit airshow. Zandspruit. Website: www.zandspruit.co.za. Contact Martin den Dunnen E-mail:
martin@zandspruit.co.za
Cell: 082 449 8895

6: EAA Chapter 322 meeting. Dicky Fritz Moth Hall Edenvale. Contact:
editor@afskies.co.za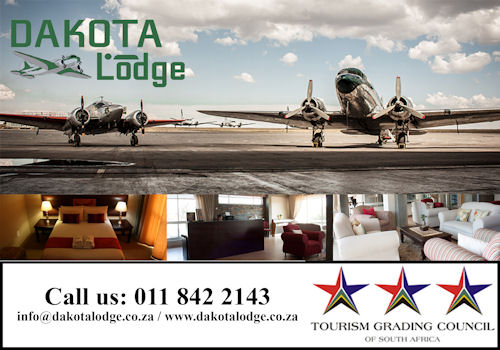 2: RV fly-in at Kitty Hawk. Kitty Hawk. E-mail: Frank
frankvh@sandown.co.za
office@kitty-hawk.co.za
Tel: 012 802 0942 Contact Irmarie Jooste Airport Manager Cell: 082 804 6979
4: SAAF Museum AFB Zwartkop open practise day
9-17: Sep World Aerobatic Champs in Malelane, Mpumalanga. Contact Annie Boon e-mail:
chunge@mweb.co.za
3rd Saturday of every month. Microland. Bring and braai. Fires and bykos provided. Fires start from 09h30. Contact person: Nick Swardt 082 441 8011 or Alan Hussey 072 82 2341
30: Namibia Airshow, Windhoek. Reinhard Gaertner.
reinhard@fivestar.co.za
. 264 81 210 6020
30: Secunda Flying Club Rally. Contact Jonty Esser e-mail:
jonty@promptroofing.co.za
Cell: 076 302 0451

The Aviation Radio Show; get all your questions answered in one place. To listen to a recording of the live broadcast click on the link:
www.debela.co.za/aviation-radio-show




ELIXIR AIRCRAFT DEBUTS AT PARIS AIRSHOW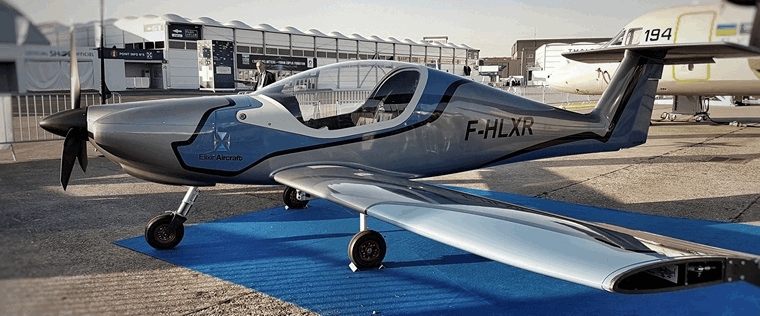 Photo © Elixer


The adventure of Elixir Aircraft began in 2015 with three friends: a high-level skipper and passionate pilot, a specialist of light aircrafts and a former engineer from Dassault. In an office borrowed from an engineering school in La Rochelle, they had one idea in mind: create a new aircraft matching with technologies available in 2017.
Actually, it must be said that the market analysis is rough. The current fleet of light aircrafts is almost 50 years old and the brand-new machines available on the market have been designed in the 50s. Compare to automotive, it is like if the VW Beetle was still offered for sale today!
Safety and lightness thanks to "One Shot" carbon fibre structures (No longeron, no ribs, no gluing and no riveting…).an improved environmental impact using an injection engine 50% more fuel-efficient. Design & Comfort like a premium car. Everything was made to supply a safe, pleasant and efficient machine to the private pilots and flight schools.
Two and a half years later, five co-workers joined the team. Most of them are less than 30 years old and are completely involved in their project. Thousands of hours were necessary to end the first big step of the company's development: the first flight of the prototype which should take place this summer.
In the middle of the orders war between Boeing and Airbus, Elixir Aircraft was able to show proudly its first 6 sales, waiting for many more to come.

VIKING AT THE 2017 PARIS AIR SHOW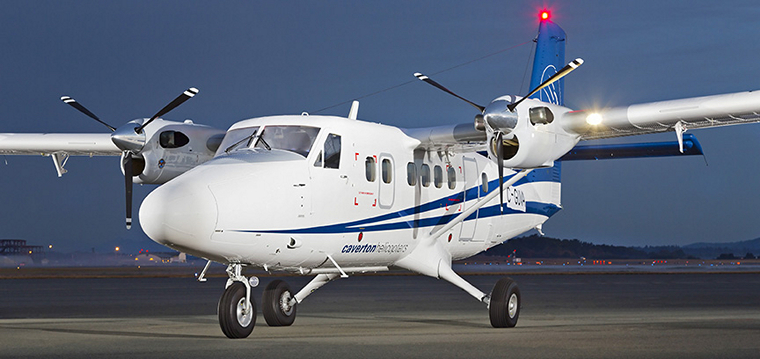 Photo © Viking AIrcraft

Viking Air Ltd. showcased the Series 400 Twin Otter at the 2017 International Paris Air Show from June 19th to the 22nd at Le Bourget Airport.
The Series 400 Twin Otter is the best-selling next generation turbo-prop aircraft in its class, with Viking aircraft sold and delivered to 29 countries worldwide. Viking provides OEM support for the global fleet of de Havilland legacy aircraft (DHC-1 through DHC-7) and forms part of Westerkirk Capital Inc., a Canadian private investment firm with substantial holdings in the hospitality, aviation, and real estate sectors.
STRATOS 714 JET PERFORMS AS EXPECTED IN TESTS




The Stratos 714, a single-engine personal jet that launched on a brief first test flight in November 2016, now has logged 33 flights totalling 52 hours and has "performed as expected," according to Redmond, Oregon-based Stratos Aircraft.
Stratos Aircraft said the very light jet has been flown at weights to 8,300 pounds, across a range of center-of-gravity positions, at true airspeeds to 320 knots, and as high as 17,000 feet msl.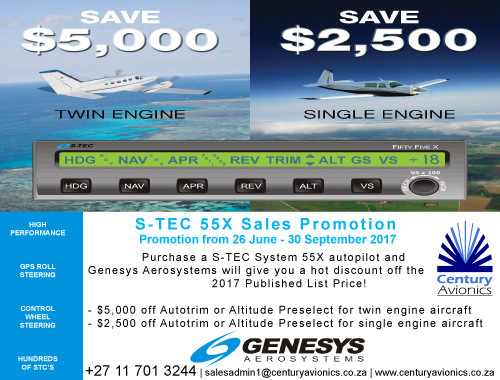 "The company test pilot reported good handling with the side-stick controls and was impressed with takeoff and climb performance," the company said in a news release.
After the first phase of testing, the FAA removed initial flight limitations, allowing Stratos Aircraft to pursue more advanced research and development, "along with marketing survey activity."
"We are extremely pleased with the progress we've made up to this point," said Stratos Aircraft CEO Michael Lemaire. "We haven't encountered anything that would require a major change in the design."
Stratos Aircraft plans to display the four-to-six-seat, 400-knot, 1,500-mile-range airplane in July at EAA AirVenture in Oshkosh, Wisconsin. Flight testing will continue before the aircraft is displayed again in October at the National Business Aviation Association's Convention and Exhibition in Las Vegas.
The company will not take deposits on the jet until the aircraft is closer to being certified. Meanwhile, Stratos Aircraft said it is noting "expressions of interest."
KLA-100 DEBUTS AT AERO FRIEDRICHSHAFEN 2017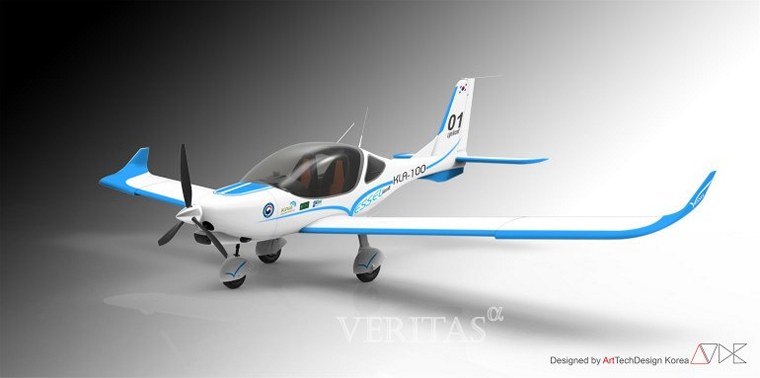 Photo © Flight Design

In a joint announcement between Vessel Co., Ltd., and Flight Design, the companies debuted their new KLA-100 low-wing, light aircraft. The introduction occurred at Aero Friedrichshafen 2017. First flights of the new model happened only days earlier.
The KLA-100 development program has been going quietly for two years and the debut was one of the surprises of Aero 2017.
The KLA-100 is a brand new design destined to be certified as a Light Sport Aircraft for sale in countries that accept ASTM Compliant aircraft, as a CS-LSA certified aircraft. This will allow access to virtually every major aviation market in the world.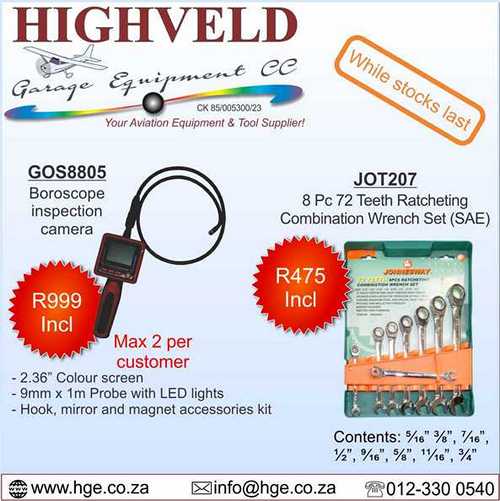 The KLA-100 wing is a tour-de-force of modern aeronautical design. A high aspect ratio wing planform is used to reduce drag and increase climb, a new proprietary aerofoil has an improved coefficient of lift and reduced drag through a greater percentage of laminar flow. The Stall-Safe drooped leading edge is designed to keep the airflow attached at the tips, promote post-stall aileron control and resist spins. The long-span slotted flaps feature another proprietary aerofoil developed in South Korea to slow the KLA-100 for low landing speeds and gentle stalls. The wide chord ailerons allow precise control and minimal adverse yaw. The blended winglets round out the wing tips and reduce drag, increase climb and give the KLA-100 a distinctive ramp presence. The powerplant is the 74 KW (100 HP) fuel injected Rotax 912iS, a Garmin G3X avionics suite is built around dual Garmin G3X EFIS and EMS screens combined with a Garmin GTN-650 MFD, Garmin GTX-335 Mode ES ADS-B out transponder and optional Garmin 2 axis autopilot.
A Stratos Magnum 601 advanced AEPS rescue system is integrated into the airframe. Flight Design and the Vessel Co., Ltd., engineering staff created the KLA-100 with safety, performance and comfort in mind. A new aircraft should employ modern construction techniques for many reasons. The cockpit's carbon-aramid composite safety cell helps to protect you and your passenger. The engine mount and carbon fuselage attach points reduce the possibility of engine intrusion into the occupant's safety cell.
PRELIMINARY BOMBER SCHEDULE ANNOUNCED FOR AIRVENTURE 2017




The year of the bomber at EAA AirVenture Oshkosh 2017 keeps getting better as a B-2 Spirit, a B-1 Lancer, and a B-52 Stratofortress will come together in a composite flyover. This unique formation flyby at EAA AirVenture 2017 will be the first of its kind at a civilian air show.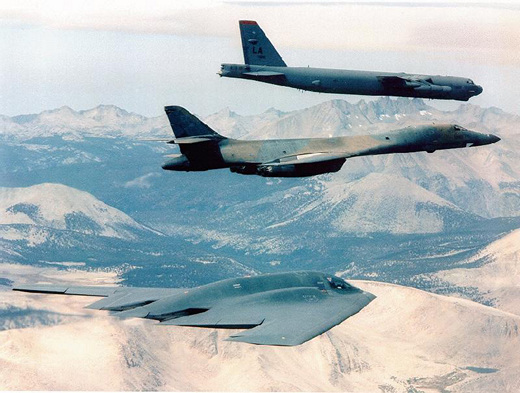 Photo USAAF
The B-1, B-2, and B-52 will all fly as part of the celebration of the 75th anniversary of the 8th Air Force on Saturday, July 29. The modern bombers will be followed by two B-29s, two B-17s, several B-25s, and an A-20, plus more yet to be announced, in a parade of bombers. If 2017 is the year of the bomber, then Saturday is bomber day.
The B-2 Spirit, also known as the Stealth Bomber, is unique due to its stealth configuration that makes it essentially undetectable by anti-aircraft defences - no B-2 has ever been brought down by enemy fire since the bomber entered service in the 1990s. It will not be on static display, so be sure to be on the AirVenture grounds on Saturday to watch it pass overhead. The B-1 and B-52, however, will be on display throughout the week.
The B-1 will fly overhead to start the air show on Monday, July 24, to kick off bomber week, as well as on Wednesday, July 26, to honour the Doolittle Raiders after the Doolittle Raid re-enactment.
The Doolittle Raid re-enactment will take place on Wednesday, and feature more than a dozen B-25s to honour the Doolittle Raiders who flew the type 75 years earlier as part of an important aerial raid in World War II. Before the dramatic re-enactment, the B-25s will be arranged in the Warbirds area as though they were on the deck of an aircraft carrier like the real Doolittle Raiders were on the USS Hornet.
The two B-29s will also fly on Friday, to celebrate the airplane's 75th anniversary and its storied history. Doc and FIFI flying together will be the first time two B-29s have flown together in decades.
Fans of American bombers will certainly be thrilled about EAA AirVenture Oshkosh 2017, as dozens of the hulking warbirds will be on hand throughout the week.



THE P.1HH HAMMERHEAD UAS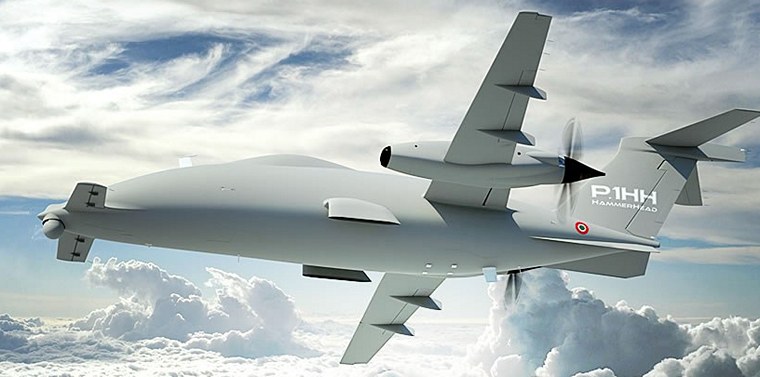 Photo © Piaggio


The Piaggio Aerospace P.1HH HammerHead is a new, state-of-the-art Unmanned Aerial System (UAS) designed for Intelligence, Surveillance and Reconnaissance (ISR) missions whose combination of performance and operational characteristics is at the very top end of the UAS MALE category.
An unmatched combination of range, wide operative speeds, fast climb gradient, high operative ceiling and variety of payloads, provides end-users with a powerful yet flexible Defense System that outperforms other MALE Systems, identifying the P.1HH HammerHead as a Super MALE UAS.
P.1HH HammerHead, is suited for a wide range of ISR, Defense and Security missions, and defines an unsurpassed mission role flexibility and sets a new frontier of CONcept of OPerationS (CONOPS) for Defense. The P.1HH HammerHead Unmanned Aerial Vehicle (UAV) is derived from the successful Piaggio Aerospace P.180 Avanti II business aviation aircraft, the fastest twin turboprop aircraft in the world with a proven, uneventful, service record of more than 20 years and 800.000 flight hours.
The design of the P.1HH HammerHead aims at being a unique ISR platform, able to climb up to 45.000 feet, loitering quietly at low speed (135 KTAS) for an endurance of up to 16 flight hours and dashing at very high speed (up to 395 KTAS) to target. Its capabilities include being able to host several payload combinations and to perform multiple missions: aerial, land, coastal, maritime and offshore security, COMINT/ELINT, electronic warfare as well as other roles.
Based on the P.180 Avanti II proven architecture and technologies (tested and certified for passenger transportation) and, on the outstanding experience and capability of Selex ES in the mission management systems for manned/ unmanned ISR, P.1HH HammerHead is designed to be an all weather aircraft with twin turboprop propulsion providing maximum safety, operational reliability and the lowest incident rate in its category.
The P.1HH HammerHead design is fully compliant with STANAG USAR 4671 standards to fly in both restricted and unrestricted flight areas, according to the relevant authorities permission
CHINA AVIATION SUPPLIES HOLDING COMPANY SIGNS GTA FOR 140 AIRBUS AIRCRAFT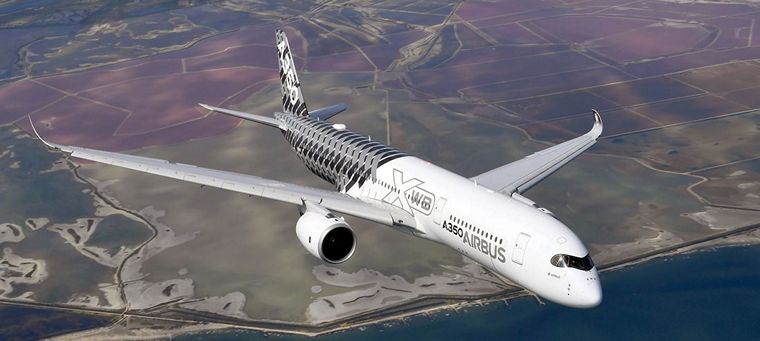 Photo © Airbus/Anthony Pecchi

China Aviation Supplies Holding Company (CAS) has signed with Airbus a General Terms Agreement (GTA) for the purchase of a total of 140 aircraft. The agreement comprises of 100 A320 Family aircraft and 40 A350 XWB Family aircraft, reflecting the strong demand of Chinese airlines in all market segments including domestic, low cost, regional and international long haul.
The world's passenger aircraft fleet above 100 seats is set to more than double in the next 20 years to over 40,000 planes as traffic is forecast to grow at 4.4 percent per year. Emerging markets such as China continue to be an engine for growth, with domestic traffic to become the world's largest market, according to Airbus' latest Global Market Forecast 2017-2036.
By the end of May 2017, the in-service Airbus fleet with Chinese operators totaled some 1,440 aircraft, of which nearly 1,230 are A320 Family planes. The A350 XWB has received valuable endorsements from several Chinese customers. The unrivalled operational performance and cabin comfort of the A350 XWB will give Chinese airlines a competitive edge to attract more passengers on international routes.
The A320 Family is the world's best-selling single aisle product line. To date, the Family has won over 13,000 orders and more than 7,600 aircraft have been delivered to some 400 customers and operators worldwide. With one aircraft in four sizes (A318, A319, A320 and A321), the A320 Family seats from 100 to 240 passengers. The Family features the widest cabin in the single aisle market with 18" wide seats in Economy as standard.
The A350 features the latest aerodynamic design and materials, including its carbon-fibre fuselage and wings. It is powered by new fuel-efficient Rolls-Royce Trent XWB engines. Together, these advanced technological features translate into unrivalled levels of operational efficiency, with a 25 per cent reduction in fuel burn and emissions in addition to significantly lower maintenance costs.

Venezuela, Macanao: A Gulfstream Aerospace G-1159A Gulfstream III with nine on-board on a flight from Caracas-Simón Bolívar International Airport to Porlamar-del Caribe Santiago Mariño International Airport flight reported a hydraulic failure and control difficulties while 40 Nautical Miles from the Porlamar Airport. In less than three minutes the crew reported being at 3000 feet, preparing to ditch. There were no survivors.
USA, Florida: A 23-year-old man from Florida was arrested by Port of Seattle Police and transferred to a federal detention centre after a passenger allegedly assaulted a flight attendant in the Boeing 767's first class cabin. Several passengers tried to subdue the individual, and two people, a passenger and a flight attendant, were hospitalized with non-life-threatening injuries in connection with the incident.
Iran, Tehran-Imam Khomeini International Airport: The crew of an Iranian Air Airbus A300B4-605R during the climb out received a fire warning for the aircraft's no.2 engine. The crew decided to turn back immediately and proceeded for an overweight landing. The aircraft suffered minor damage including five burst tyres. No passengers were injured.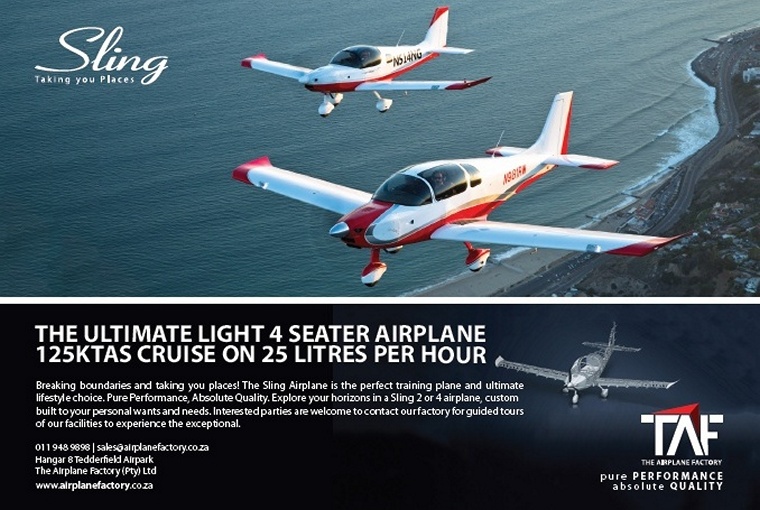 6 July 1819

First woman to be killed in an aviation accident: Sophie Blanchard, when her hydrogen-filled balloon caught fire and crashed to the ground.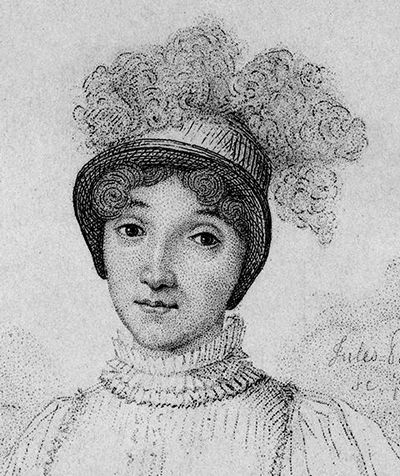 Image Jules Porreau / commons.wikimedia.org. Sophie Blanchard (25 March 1778 - 6 July 1819) was a French aeronaut and the wife of ballooning pioneer Jean-Pierre Blanchard. Blanchard was the first woman to work as a professional balloonist, and after her husband's death she continued ballooning, making more than 60 ascents.
Sophie made her first ascent in a balloon with Blanchard in Marseilles on 27 December 1804. The couple faced bankruptcy as a result of Blanchard's poor business sense, and they believed a female balloonist was a novelty that might attract enough attention to solve their financial problems.
Known throughout Europe for her ballooning exploits, Blanchard entertained Napoleon Bonaparte, who promoted her to the role of "Aeronaut of the Official Festivals", replacing André-Jacques Garnerin. On the restoration of the monarchy in 1814 she performed for Louis XVIII, who named her "Official Aeronaut of the Restoration."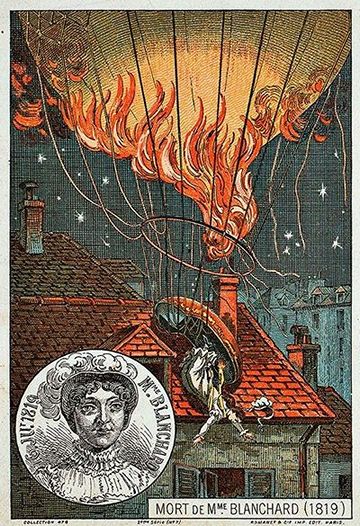 Sophie was more at home in the sky than on the ground however; ballooning was a risky business for the pioneers.
She was terrified of loud noises and of riding in carriages, but was fearless in the air. She gave many displays in Italy. In 1811 she travelled from Rome to Naples, splitting the journey in half with a stop after 60 miles (97 km), and later ascended again from Rome to a height of 12,000 feet (3,660 m) where she claimed that she fell into a profound sleep for a while before landing at Tagliacozzo.
Sophie crossed the Alps by balloon and on a trip to Turin on 26 April 1812 the temperature dropped so low that she suffered a nose bleed and icicles formed on her hands and face.
On 6 July 1819, the Tivoli Gardens in Paris, her hydrogen-filled balloon caught fire when she launched fireworks that ignited the gas in her balloon. Her craft crashed on the roof of a house and Blanchard, entangled in the surrounding net, fell to her death.