THIS WEEK IN MIDWEEK UPDATE

Plan Your Weekend……..Forthcoming Events…….Aviation News

Worldwide Incidents and Accidents……This Week in Aviation History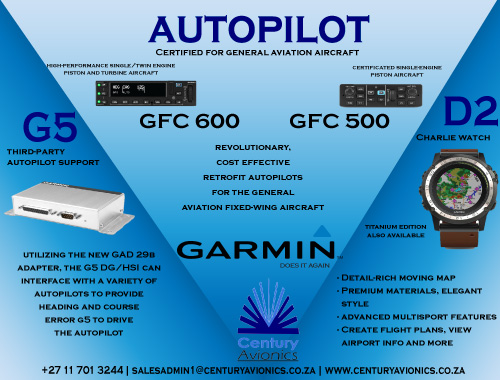 2: RV fly-in at Kitty Hawk. Kitty Hawk. E-mail: Frank
frankvh@sandown.co.za
office@kitty-hawk.co.za
Tel: 012 802 0942 Contact Irmarie Jooste Airport Manager Cell: 082 804 6979
2: Klipriver airfield will be hosting their Spring breakfast fly in. All are welcome. Contact Freddie van Rooyen
feddievanrooyen@yahoo.com
2-3: Grassland Spring Festival. Contact
chairperson@grasslandsportclub.co.za
0716044648.
2: Air Navigation Race and SA Landing Champs, Brits. For more information on ANR please visit this site:
http://www.fai.org/gac-our-sport/air-navigation-race
or contact Mary de Klerk E-mail:
maryd@expandingbranding.co.za
or Jonty at Cell: 082 855 9435
jonty@promptroofing.co.za
4: SAAF Museum AFB Zwartkop open practise day
6: EAA Chapter 322 meeting. Dicky Fritz Moth Hall Edenvale. Contact:
editor@afskies.co.za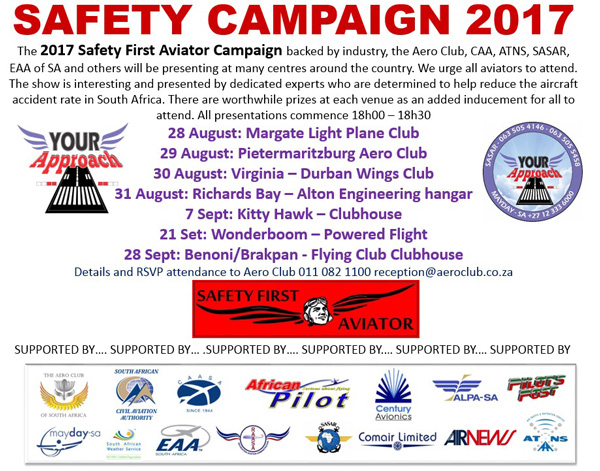 9: Grand Central Fun Rally. Contact Rob Jonkers e-mail:
rob@aerosud.co.za
Cell: 082 804 7032
9 -10 September SAC Gauteng Regionals Vereeniging. Contact Annie Boon E-mail:
chunge@mweb.co.za
9-17: Sep World Aerobatic Champs in Malelane, Mpumalanga. Contact Annie Boon e-mail:
chunge@mweb.co.za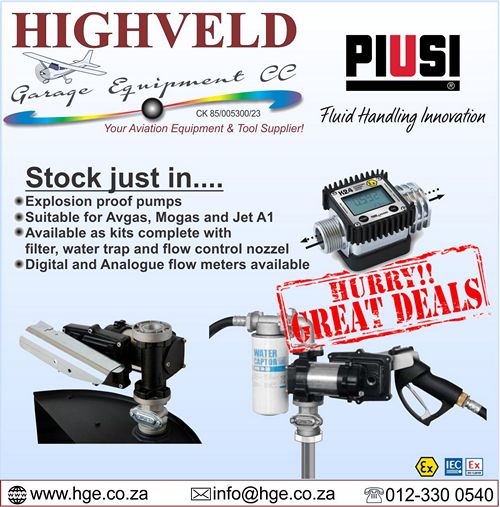 10: Himeville Fly-in. Contact
grant@plane-tech.co.za
3rd Saturday of every month. Microland. Bring and braai. Fires and bykos provided. Fires start from 09h30. Contact person: Nick Swardt 082 441 8011 or Alan Hussey 072 82 2341
23: Witbank Aero Club: Please notify Robert Clark via SMS / WhatsApp (082 463 1372) or email
(Comms@flywaa.co.za
) how many people will be attending the fly-in.
23-24: Bara Bounce, Baragwanath Airfield. For more info go to
www.jlpc.co.za
23-24: Magaliesburg Gliding Club free complimentary breakfast fly in. Overnight facilities available. Contact
jcadriaan@gmail.com
for more info.
30: Namibia Airshow, Windhoek. Reinhard Gaertner.
reinhard@fivestar.co.za
. 264 81 210 6020
30: Secunda Flying Club Rally. Contact Jonty Esser e-mail:
jonty@promptroofing.co.za
Cell: 076 302 0451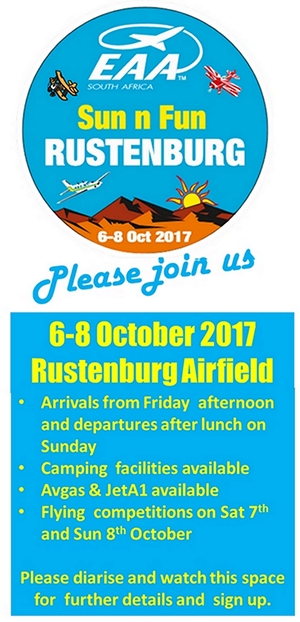 4: EAA Chapter 322 meeting. Dicky Fritz Moth Hall Edenvale. Contact:
editor@afskies.co.za
6-8: EAA Sun 'n Fun, Rustenburg. Contact Marie ReddyE-mail:
marie.reddyy@gmail.com
Cell: 083 259 7691
7: SAAF Museum AFB Zwartkop open practise day
7: Polokwane Airshow. Tel: 015 288 0122 Contact Oupa Mamabolo. Cell 082 605 3261. E-mail:
oupa.mamabolo@gaal.co.za
21-22: SAC Free State Regionals. Tempe airfield. Contact Annie Boon e-mail:
chunge@mweb.co.za
3rd Saturday of every month. Microland. Bring and braai. Fires and bykos provided. Fires start from 09h30. Contact person: Nick Swardt 082 441 8011 or Alan Hussey 072 82 2341
24-26: African Airshow. Kotoka International Airport Ghana. Contact Jade Myburgh at +971 2 4192714 Website:
www.africanairshow.com

1: EAA Chapter 322 meeting. Dicky Fritz Moth Hall Edenvale. Contact:
editor@afskies.co.za
4: SAAF Museum AFB Zwartkop open practise day
4: Aero Club of South Africa annual awards evening. Contact: Sandra Strydom Tel: 011 082 1100 E-mail:
office@aeroclub.org.za
11: Peter Hengst Memorial Adventure Rally Brits EAA Adventure Rally-Brits. Contact Rob Jonkers 082 804 7032
rob@aerosud.co.za
for Rally information and entries and Trixiie Heron
editor@afskies.co.za
for EAA
18: Baragwanath Fun Rally. Contact Frank Eckard 083 269 1516
frank.eckard@mweb.co.za
3rd Saturday of every month. Microland. Bring and braai. Fires and bykos provided. Fires start from 09h30. Contact person: Nick Swardt 082 441 8011 or Alan Hussey 072 82 2341
The Aviation Radio Show; get all your questions answered in one place. To listen to a recording of the live broadcast click on the link:
www.debela.co.za/aviation-radio-show




THE JUST AIRCRAFT SUPER STOLL




DIAMOND AIRCRAFT INTRODUCES NEW GARMIN G1000 NXI FLIGHT DECK




Photo © Diamond Aircraft


Diamond Aircraft Industries introduces the next generation Garmin G1000 NXi integrated flight deck to its piston product line, including the twin-engine DA62 and DA42-VI/DA42 NG and the single-engine DA40 NG.
"We are excited to present the all-new Garmin G1000 NXi to our state-of-the art piston aircraft. In 2001, we were the first OEM to commit to Garmin's then top-secret fully integrated G1000, selected as an integral key part of the DA42 TWINSTAR and we are happy to offer our customers the latest in avionics yet again," says Christian Dries, CEO and Owner Diamond Aircraft Austria.
Garmin NXi uses the same basic user interface of the G1000 boasting a number of big improvements further reducing pilot workload and enhancing the flight experience. Features include, amongst others: • Modernized graphics. • More powerful processors for faster and smoother map rendering .• New LED back-lighting. • New digital moving maps for both IFR and VFR flying.
Retrofits for DA62, DA42 NG/DA42-VI and DA40 NG will be available.
BLACKSHAPE LAUNCHES THE BK160 - GABRIÉL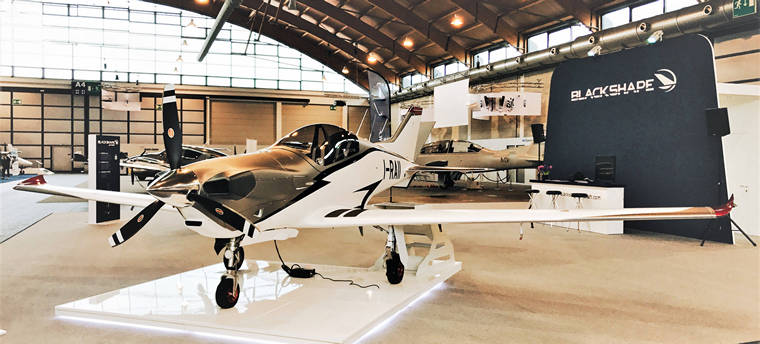 Photo © Blackshape

Blackshape recently launched the Bk160 - Gabriél, a disruptive two-seat tandem aircraft with outstanding performance and EASA CS-VLA certification.
Born with a passion to innovate, Blackshape successfully developed and sold its first light aircraft, the Bk100 - Prime. Now with 58 units in 18 countries and counting and with special configurations successfully in operation also among military operators, the Bk100 - Prime confirms its place as the bestselling aircraft in the tandem-seat light aircraft category.
Following the same cutting-edge path, the Bk160 - Gabriél represents a major milestone in the small aircraft panorama with its unparalleled human-machine interface, completely relying on a full glass-cockpit resembling modern military trainers, its aggressive attitude with sporty finishing inspired by the hand-made tailor style and a glyph of Italianness in its design.
Its performance exceeding by far those of the category, with a top speed of 164kts and a generous flight envelope of +5 -2,5g to manoeuvre the aircraft while enjoying its crisp flying qualities.
The manufacturing of the Bk160 - Gabriél relies on modern and robust technologies, already a legacy in Blackshape's experience, such as its full pre-impregnated carbon fibre airframe as well as robotized assembly and a lean smart factory approach.
Upon the unveiling of the aircraft, Blackshape already obtained its Design Organization Approval together with its first Type Certificate in the EASA CS-VLA category, with the aircraft now available to the market and the objective either to deliver fast traveller aircraft and unparalleled flying emotion to even the most experienced pilot or to offer unexpected ease-of-maintenance and direct operating costs to flight organizations wishing to train their students to the most advanced level.
LILIUM CELEBRATES SUCCESSFUL FLIGHT TESTS OF WORLD'S FIRST ELECTRIC VTOL JET




Lilium Jet, the first zero-emission electric plane capable of Vertical Take-Off and Landing (VTOL), has completed a series of rigorous flight tests in the skies above Germany. The two-seater prototype executed a range of complex maneuvers, including its signature mid-air transition from hover mode to wing-borne forward flight.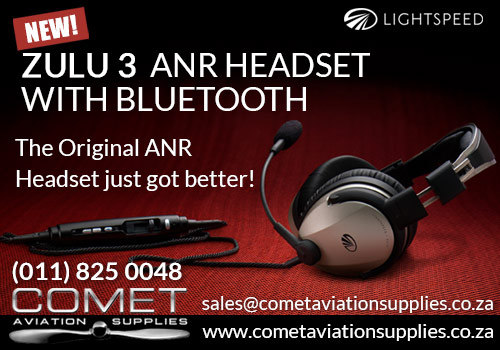 Lilium is now developing a larger, five-seater version of the Jet, designed for on-demand air taxi and ridesharing services.
Celebrating the landmark moment, Lilium co-founder and CEO Daniel Wiegand said: "Seeing the Lilium Jet take to the sky and performing sophisticated maneuvers with apparent ease is testament to the skill and perseverance of our amazing team. We have solved some of the toughest engineering challenges in aviation to get to this point.
"The successful test flight programme shows that our ground-breaking technical design works exactly as we envisioned. We can now turn our focus to designing the five seater production aircraft."
The Lilium Jet is 100% electrically powered, so creates no harmful emissions, making it a potential solution to deteriorating air quality in towns and cities, caused by road traffic. It is also the only electric aircraft capable of both VTOL and jet-powered flight, using its wings for lift, similar to a conventional airplane.
This advanced capability consumes around 90% less energy than drone-style aircraft, enabling the Lilium Jet to achieve a range of more than 300 km with a maximum cruising speed of 300 km/h. In flight, the Jet's power consumption per km will be comparable to an electric car.
Take-off and landing for a Lilium Jet only requires a small open space or landing pad on a building - alleviating pressure on congested roads.

AUSTRALIA'S CHIEF OF AIR FORCE COMPLETES FIRST FLIGHT IN THE AIR 5428 PC-21




In a recent ceremony that marked a significant milestone for the AIR 5428 Pilot Training System, Lockheed Martin (NYSE: LMT) celebrated the Chief of Air Force first flight of the in-service PC-21 aircraft.
The occasion was celebrated at a media event hosted by Australian Minister for Defence Senator the Hon Marise Payne, in East Sale, Australia. Also in attendance was the Hon Darren Chester MP, Minister for Infrastructure and Transport, highlighting the significance of the program to the Australian Government.
The AIR 5428 Pilot Training System is an integrated solution tailored for all future pilots of the Royal Australian Air Force, Royal Australian Navy and the Australian Army.
"Lockheed Martin Australia leads the delivery of integrated solutions for all future pilots of the Australian Defence Force," said Amy Gowder, vice president of Training and Logistics Solutions for Lockheed Martin's Rotary and Mission Systems business. "This milestone is an important achievement, and confirms the Lockheed Martin-led team is on track to deliver a world-class pilot training solution to the Australian Defence Force."
Under the AIR 5428 contract, Lockheed Martin is providing overall project management for the pilot training system and delivering a family of integrated ground-based training technologies. Pilatus Aircraft is providing 49 PC-21 turboprop training aircraft and through-life engineering and airworthiness support, while Hawker Pacific is providing maintenance services and fleet support, and leveraging its established supply chain in Australia.
Signed in December 2015, the initial seven-year AIR 5428 Pilot Training System is valued at AU$1.2 billion, with performance-based options to extend the value and length of the contract for up to 25 years.
VH-92A PRESIDENTIAL HELICOPTER ACHIEVES FIRST FLIGHT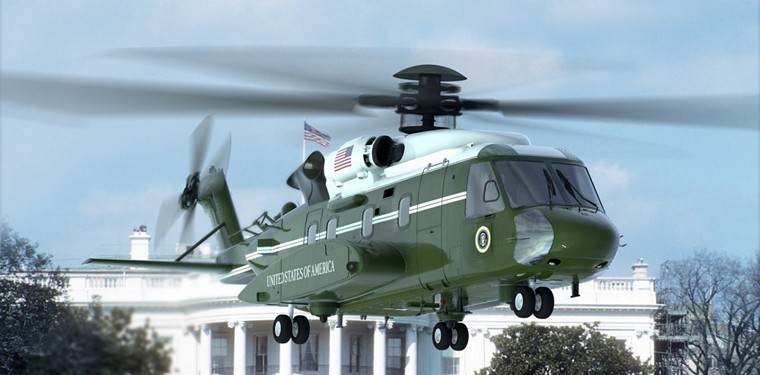 Image © Lockheed

Lockheed Martin (NYSE: LMT) announced the first flight of a VH-92A configured test aircraft in support of the U.S. Marine Corps' VH-92A Presidential Helicopter Replacement Program. The July 28 flight signals the start of the 250 hour flight test program, which will take place at Lockheed Martin facilities in Owego, New York.
The aircraft achieved its first flight, and later that same day completed a second flight at Sikorsky Aircraft in Stratford, Connecticut. Total flight time for the two sorties was one hour and included hover control checks, low speed flight, and a pass of the airfield.
"This first flight of the VH-92A configured test aircraft is an important milestone for the program," said Spencer Elani, director VH-92A program at Sikorsky. "Having independently tested the aircraft's components and subsystems, we are now moving forward to begin full aircraft system qualification via the flight test program."
As the flight test program proceeds, this test aircraft (Engineering Development Model 1, or EDM-1) will be joined by an additional test aircraft (EDM-2) over the course of the 12-month flight test program. EDM-2 is on track for its first flight later this year.
The VH-92A aircraft is based on Sikorsky's successful and FAA-certified S-92A commercial aircraft, which recently surpassed one million flight hours. The S-92A aircraft, assembled in Coatesville, Pennsylvania, is being modified to include
The U.S. Navy awarded a $1.24 billion fixed-price incentive Engineering and Manufacturing Development (EMD) contract with production options to Sikorsky on May 7, 2014. The EMD contract will produce a total of six aircraft: two test aircraft and four production aircraft. The production options for the remaining 17 aircraft will be finalized in FY19.
The VH-92A will enter into service in 2020. The VH-92A will transport the president and vice president of the United States and other officials. Sikorsky brings unmatched experience and a proven track record to this mission having flown every U.S. commander-in-chief since President Dwight D. Eisenhower. The VH-92A will continue this legacy for decades to come.
SHELL AVIATION LAUNCHES AEROSHELL OIL SPORT PLUS 4 IN SOUTH AFRICA


Shell Aviation today announced the launch of its second-generation piston engine oil in South Africa - AeroShell Oil Sport Plus 4. The oil is specifically designed for light sport aircraft and very light/ultra-light aircraft four-stroke engines, offering numerous benefits such as enhanced protection and lubricity.
Shell Aviation partnered with major engine manufacturer BRP-Rotax® on the research and development of AeroShell Oil Sport Plus 4. BRP-Rotax specialises in the development and manufacturing of innovative powertrains for power-sports products. The partnership saw the product undergo a three-year development and testing period before its introduction.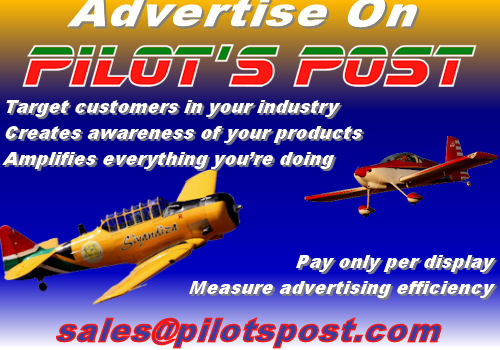 Vanessa Boag, General Manager, Shell Aviation Lubricants said: "Shell has been operating in South Africa for over 110 years and we are excited to be introducing another innovative product in this country. Our collaboration with BRP-Rotax has allowed us to leverage both companies' expertise in creating a robust and customised product for a very specific group of aircraft engines and we are now offering the benefits of this co-operation to the South African market."
Compared to the previous generation of AeroShell Oil Sport, AeroShell Oil Sport Plus 4 offers the following core benefits:
• It is the first aviation oil in the market that is BRP-Rotax tested, released and recommended for use with Rotax engine types 912i, 912 and 914 Series and is Rotax Norm RON 424 approved.
• It provides enhanced anti-wear protection, helping to ensure engines reach time between overhaul (TBO).
• It provides enhanced protection and lubricity for the smooth movement of clutch and gearbox components.
The product will be marketed by Atlas Aviation Lubricants, the official distributor of Shell Aviation and Shell Lubricants in South Africa, with its launch to market announced at Kitty Hawk Aerodrome, Johannesburg. Launch activities will continue at Morningstar Airfield, Cape Town on 2nd September.

Norway, Oslo: Two people were killed when a Pitts Special crashed into a corn field in southern Norway. Eyewitnesses saw the plane do acrobatic exercises in the air before it suddenly stopped and crashed in the corn field.
UK, Dorset: Two men have been killed the vintage de Havilland Tiger Moth they were flying crashed near Shaftesbury in Dorset. The wreckage was spotted near Compton Abbas airfield shortly when police were alerted to smoke coming from the site of the crash.
Canada, Calgary: Two people are dead after the American Aviation AA-5 single engine light plane they were flying crashed shortly after take-off from the Swift Current. The plane crashed about half a mile out from the airport in the eastbound direction.
Yemen: A U.S. Black Hawk helicopter crashed about 20 (32 km) off the coast of Yemen on Friday during a training mission and a search was under way for one U.S. service member, the U.S. military said. The United States has been carrying out air strikes against al Qaeda in Yemen, with at least 80 launched since the end of February.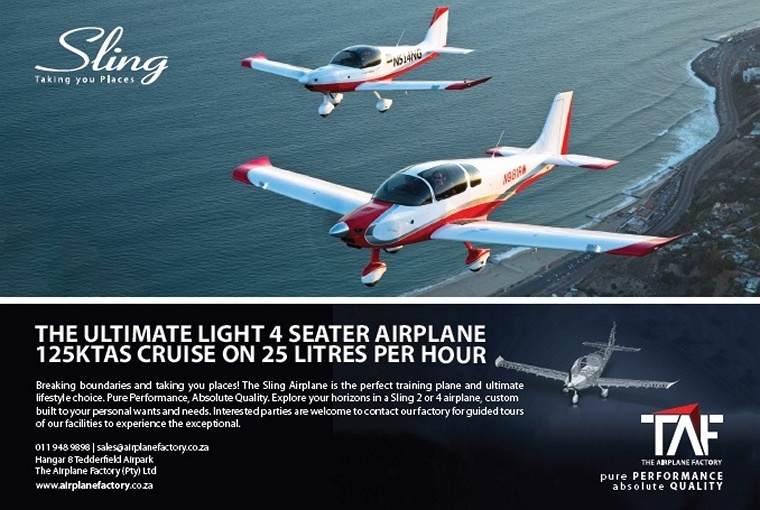 4 SEPTEMBER 1950

Captain Robert Wayne becomes the first pilot to be rescued from behind enemy lines by a helicopter.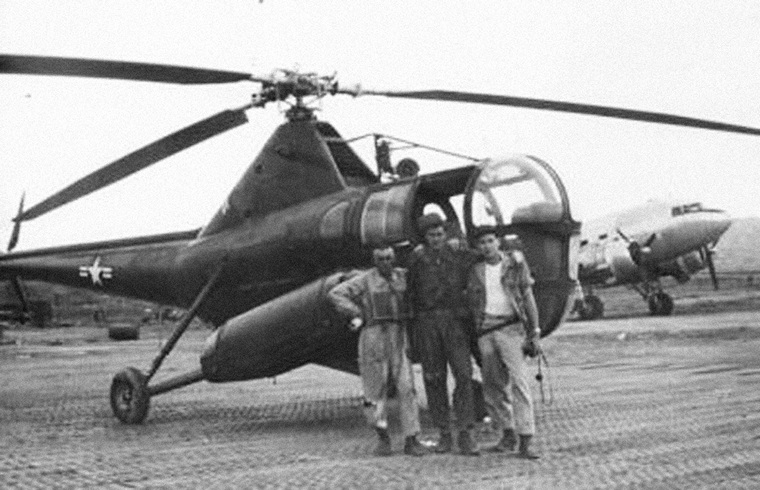 The team that performed the rescue standing in front of the H-5 helicopter used in the rescue - from left, Captain Ray S. White (Capt. Wayne's wing man), 1LT Paul van Boven, Cpl. John Fuentez. Photo Credit: Truman Library


By the time the Korean War broke out in June 1950 Captain Robert E. Wayne was already a highly experienced combat pilot. On the conflict's first day, he downed two enemy aircraft in a single mission while flying a F-80 Shooting Star.
In the late afternoon of September 4, 1950 while flying a strafing mission, Capt. Wayne was hit by ground fire. Badly injured with burns on his leg and both arms, he bailed out and landed in a rice paddy five miles behind enemy lines, just north of Pohang. The other 13 aircraft of his attack mission were orbiting overhead.
It wasn't long before an H-5 helicopter was airborne out of Pusan, piloted by 1LT Paul W. van Boven. In the back, the assigned paramedic was Corporal John Fuentez. Clearly, the situation was desperate and everyone knew with certainty that the North Koreans had no intention of taking the downed airman alive
.

Yet the H-5 was ill-suited for combat rescue - it was unarmored and unarmed. Between the two men, they had a pistol and a carbine. The brief was that the downed pilot's squadron was still orbiting overhead, strafing any enemy ground forces if they attempted to close in.
To avoid enemy ground fire, 1LT van Boven flew east and went offshore before turning north to fly beyond the Pusan Perimeter. Meanwhile, over the radio, he could hear that one by one, the F-51s were leaving, forced to return to base with low fuel. By the time he arrived, just four were left on station - it had been two hours since Capt. Wayne had been shot down. Nightfall was approaching and, if the mission wasn't accomplished now, there was no way to save the wounded piloted.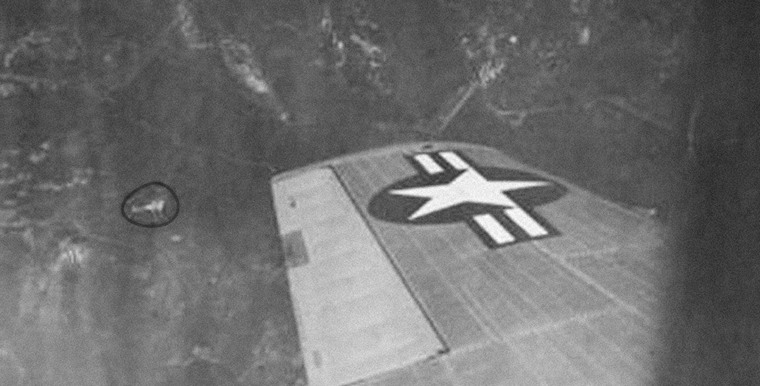 The famous photograph by Capt. Edwards from his plane overhead. A circle has been added to highlight the location of the helicopter as 1LT van Boven hovers over the pilot below. Photo Credit: Truman Library


He searched but did not see the pilot, but then recognized that the other four F-51s were making strafing passes against enemy forces alongside an adjacent rice paddy. The wounded pilot was hiding in a rice paddy, hoping to avoid enemy fire, only barely kept safe by the continuous harassment of his squadron mates. 1LT van Boven flew around the paddy and then approached from the north, hoping to surprise the enemy by arriving from an unexpected direction.
Seconds later, Capt. Wayne heard the rotors of the H-5 helicopter nearby - he looked south but saw nothing, then realized the sound was coming from behind him, from the north. He stood and turned and saw the helicopter hovering a distance away. It was now or never. He ripped open his flight suit and peeled off his white undershirt. Waving the shirt frantically, he ran toward the helicopter, in excruciating pain from his burns. From all around, the enemy troops opened fire. They too realized that it was now or never - they opened fire with everything they had. Bullets were soon striking the helicopter, which flew closer and set down on the edge of the rice paddy, ignoring the incoming small arms fire.
Cpl. Fuentez, reached out and grabbed Capt. Wayne as he staggered up to the helicopter. As he pulled the pilot into the H-5, 1LT van Boven pushed the stick forward and headed back toward the coastline as Cpl. Fuentez quickly reported on the damage to the helicopter - there were a lot of holes, but nothing critical had been hit. The flight out was covered by the remaining F-51s which made final strafing passes. They followed the helicopter until it made the safety of the Pusan Perimeter.