THIS WEEK IN MIDWEEK UPDATE

Plan Your Weekend……..Forthcoming Events…….Aviation News

Worldwide Incidents and Accidents……This Week in Aviation History




9-17: Sep World Aerobatic Champs in Malelane, Mpumalanga. Contact Annie Boon e-mail:
chunge@mweb.co.za
16: Brakpan Aero Club monthly event great prizes to be won. Contact Cell: 071 5422 993 E-mail:
bac@lantic.net
15-17: SA National Hot Air Balloon Championships Bothaville. Contact David at
Mopani.balloon@gmail.com
or
chairman@bafsa.co.za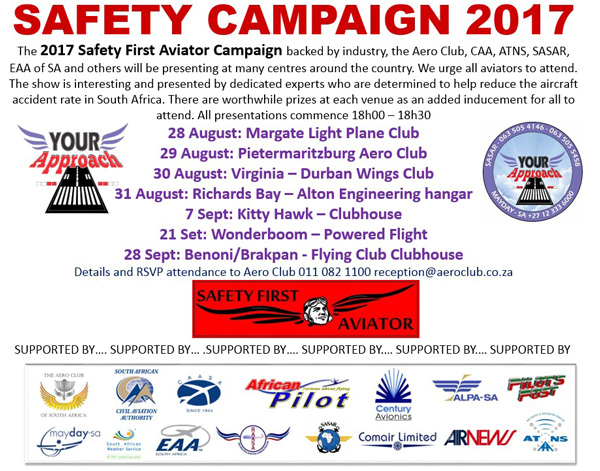 3rd Saturday of every month. Microland. Bring and braai. Fires and bykos provided. Fires start from 09h30. Contact person: Nick Swardt 082 441 8011 or Alan Hussey 072 82 2341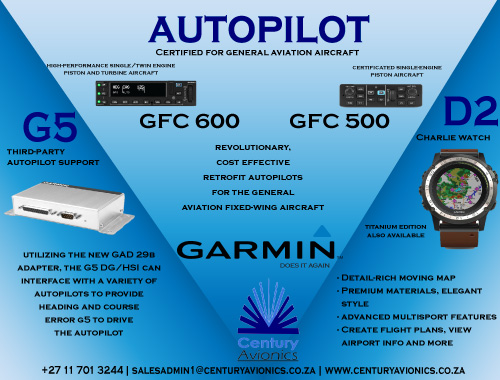 22-25: MISASA will be holding the annual Africa Cup at Numbi Hotel in Hazyview. Contact Brett Hickman
brett.hickman@adviceworx.co.za
23: Witbank Aero Club: Please notify Robert Clark via SMS / WhatsApp (082 463 1372) or email
Comms@flywaa.co.za
how many people will be attending the fly-in.
23-24: Bara Bounce, Baragwanath Airfield. For more info go to
www.jlpc.co.za
24: Durban Wings Club Fun Rally. Virginia Airport. Frank Eckard 083 269 1516
frank.eckard@mweb.co.za
23-24: Magaliesburg Gliding Club free complimentary breakfast fly in. Overnight facilities available. Contact
jcadriaan@gmail.com
for more info.

4: EAA Chapter 322 meeting. Dicky Fritz Moth Hall Edenvale. Contact:
editor@afskies.co.za
6-8: EAA Sun 'n Fun, Rustenburg. Contact Marie ReddyE-mail:
marie.reddyy@gmail.com
Cell: 083 259 7691. To register:
https://docs.google.com/forms/d/e/1FAIpQLScfICuVG5JBmzfcIP_LUbA46OL3O2FJ-r5qY7bWTLfjNMi26w/viewform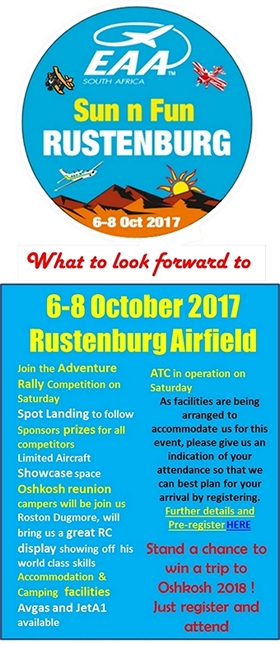 06: Secunda Club Rally Challenge. Secunda Airfield. Frank Eckard 083 269 1516
frank.eckard@mweb.co.za
7: SAAF Museum AFB Zwartkop open practise day
7: Polokwane Airshow. Tel: 015 288 0122 Contact Oupa Mamabolo. Cell 082 605 3261. E-mail:
oupa.mamabolo@gaal.co.za
21-22: SAC Free State Regionals. Tempe airfield. Contact Annie Boon e-mail:
chunge@mweb.co.za
3rd Saturday of every month. Microland. Bring and braai. Fires and bykos provided. Fires start from 09h30. Contact person: Nick Swardt 082 441 8011 or Alan Hussey 072 82 2341
24-26: African Airshow. Kotoka International Airport Ghana. Contact Jade Myburgh at +971 2 4192714 Website:
www.africanairshow.com
27,28 & 29: Oudshoorn Aeroclub Fly in. Braais, Fly-outs, live music, free shuttle service no landing fees and discount on Avgas. Contact Morne Jonker 062 429 5614
mornejonker @rocketmail.com


1: EAA Chapter 322 meeting. Dicky Fritz Moth Hall Edenvale. Contact:
editor@afskies.co.za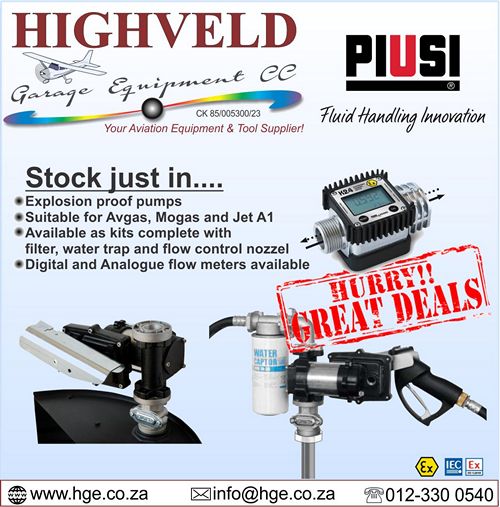 4: SAAF Museum AFB Zwartkop open practise day
4: Aero Club of South Africa annual awards evening. Contact: Sandra Strydom Tel: 011 082 1100 E-mail:
office@aeroclub.org.za
11: Peter Hengst Memorial Adventure Rally Brits EAA Adventure Rally-Brits. Contact Rob Jonkers 082 804 7032
rob@aerosud.co.za
for Rally information and entries and Trixiie Heron
editor@afskies.co.za
for EAA
18: Baragwanath Fun Rally. Contact Frank Eckard 083 269 1516
frank.eckard@mweb.co.za
3rd Saturday of every month. Microland. Bring and braai. Fires and bykos provided. Fires start from 09h30. Contact person: Nick Swardt 082 441 8011 or Alan Hussey 072 82 2341

The Aviation Radio Show; get all your questions answered in one place. To listen to a recording of the live broadcast click on the link:
www.debela.co.za/aviation-radio-show




THE AIRPLANE FACTORY USA IS PLEASED TO WELCOME BARRY JAY TO THE TEAM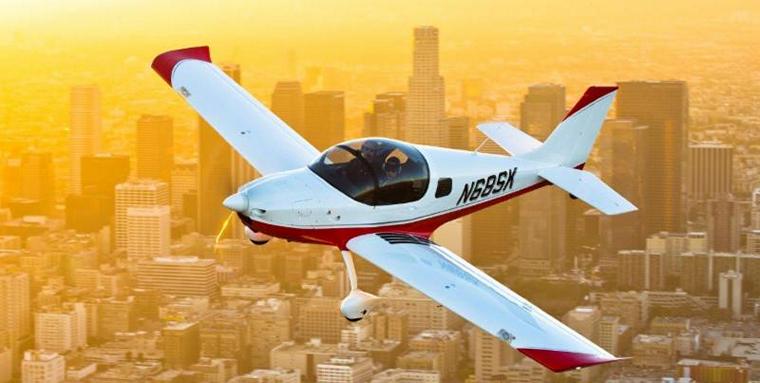 Photo © The Aircraft Factory

Barry Jay has joined the team here in Torrance California! As North American Sales and Marketing Manager, Barry will be responsible for all marketing communications and sales of the Sling LSA, Sling 2 and Sling 4 kit aircraft and working closely with Matt Liknaitzky and Jean D'Assonville, he will support our dealers in their sales and marketing efforts.
Barry comes to us with decades of experience in the general aviation and automotive industries. He brings expertise that ranges from sales of new Piper and Mooney aircraft to managing Lexus national advertising, Toyota experiential marketing and Toyota's aviation business development department. In addition, Barry's understanding of how to grow markets and exceed customer expectations comes from stints in Lexus customer service & dealer education as well as Toyota dealer planning.
A private pilot with over 900 hours, Barry has been a member of the Sling Flying Club for over four years and has been a strong promoter of The Airplane Factory brand. As an FAA Safety Team Representative, Barry has been conducting aviation safety seminars for over 20 years and was recently re-elected to the post of President of the Torrance Airport Association for a twelfth term.

ZENITH STOL CH 750 "SUPER DUTY




Since its introduction this summer at Oshkosh, Zenith has been flying the new Zenith STOL CH 750 Super Duty extensively and preparing it for "Super Duty" missions and readying the kit for deliveries this fall.
The Super Duty model is a non-Light Sport (LSA) version of the popular STOL CH 750. With its significantly higher gross weight (of 1,900 lbs.) and 800 lbs. of useful load this new design boasts the addition of a rear jump seat and huge cargo area behind the front two seats.
Sharing essentially the same fuselage as the standard STOL CH 750, and expanding on the proven high-lift design features of the earlier Chris Heintz STOL designs, the STOL CH 750 Super Duty model offers the features and capabilities that both pilots and builders have been asking for. More power (with new engine choices) and more payload, while maintaining excellent STOL capabilities, all in an airplane that is fun and easy to fly.
Zenith Aircraft demo pilot Roger Dubbert will be flying the CH 750 SD cross-country from the Zenith Aircraft kit factory to Norman, Oklahoma, to attend the AOPA regional fly-in with the new STOL sport utility kit airplane.
Back at the Zenith Aircraft kit factory in Mexico, Missouri, work continues to prepare the "Super Duty" kit for fall deliveries. The latest kit from Zenith, the "Super Duty" model is manufactured with extensive use of final hole size match-drilled parts and assemblies, and promises to be the easiest Zenith kit to build ever! It's estimated that the kit will require just a few hundred hours of basic assembly to put together, using pulled blind rivets as the primary fasteners.

STEMME TWIN VOYAGER S12 POWERED GLIDER APPROVED BY THE US FEDERAL AVIATION ADMINISTRATION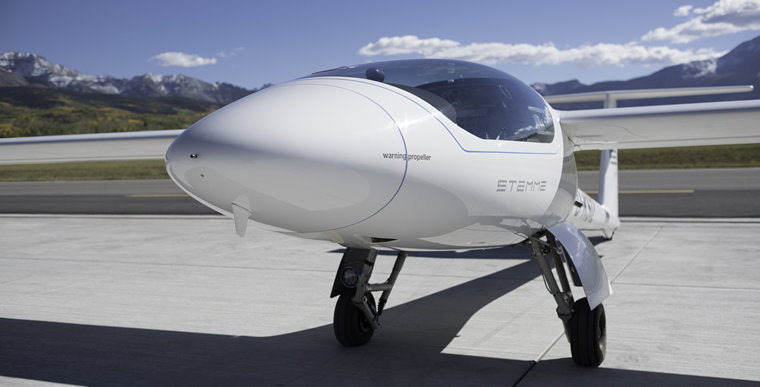 Photo © Stemme

The US Federal Aviation Administration has approved the Stemme Twin Voyager S12 powered glider. The official type certificate was made out on 16 August 2017.
The Stemme S12 had already been certified the previous summer to the requirements of the European Aviation Safety Agency EASA. Now it has successfully passed the FAA validation process of the EASA type approval, and received the official type certificate G06CE. This FAA certification opens up the American market for Stemme. Glider pilots with an FAA licence can fly their Stemme S12 worldwide with American certification.
Paul Masschelein, Stemme AG board member, expressed satisfaction, saying, "The US has always been the market with the greatest sales potential for us. Our subsidiary Stemme USA Inc. will now be able to further expand its sales efforts."
AIRVENTURE 2017 - AMERICA DISCOVERS SLING AIRCRAFT
by Jean d'Assonville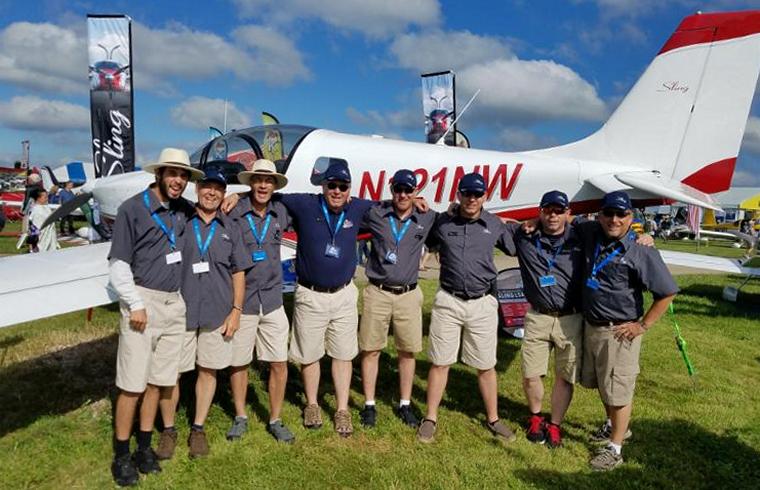 Photo © The Airplane Factory


Oshkosh is all about airplanes, right? Well this is my third Oshkosh and what rang true for me is that Air Venture is actually all about people who love airplanes! It is the people who dream them, build them, fly them, polish them, and sleep in or under them and really just simply love them. Yes, it's the people!
This year our stand was filled with people. We our team of ten to man the stand, (next year we need some ladies too), was kept very busy sharing Sling facts with the continuous flow of airplane lovers. It's always enjoyable sharing the Sling story because it is a pilot's airplane that has been refined by pilots for pilots. This year we also offered demo flights to seriously interested people, which is really nice to do, because the Sling's best quality is how amazingly she flies.
The master craftsmen from Midwest SkySports' build centre had two of their beautiful Sling 2s on display as well as their professionally-finished panels and a Sling 2 Quick build. There was the legendary Sling 4-4-40 that was built from a kit in 4 days by 40 people plus another three Sling LSAs. Down at the ultralight arena, AeroSport had their immaculate orange and white Sling LSA and received an offer to buy it then-and-there by a husband and wife team!
With all these beauties to show off, a lot of interested people spent a good amount of time acquainting themselves with the Slings and the Team. So we made a lot of new friends.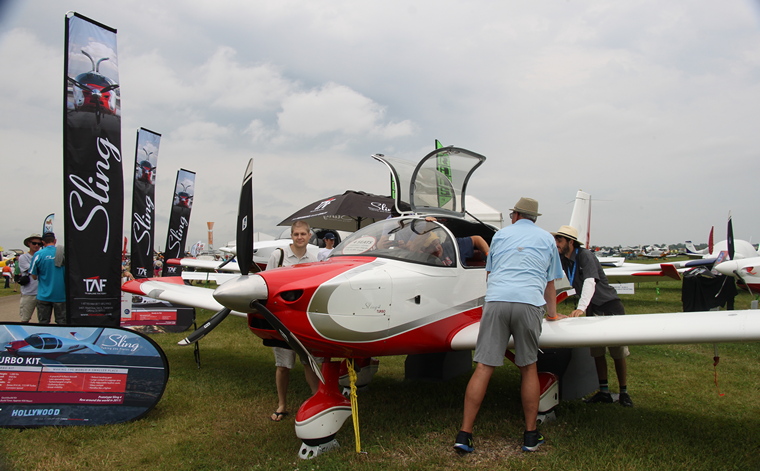 Photo © Willie Bodenstein

As a demo pilot during the Air Venture, it's really exciting (but quite stressful) flying in the extreme traffic with only 500 ft. vertical separation while only listening on the radio. It was worth it though. Almost everyone that went for a demo flight has purchased or is in the process of purchasing a Sling aircraft or a kit.
So after a long and exciting week eventually the last demo is flown and it is time to pack up and say good bye to everyone: all those people, planes and new friends - all going their separate ways with new dreams.
And so what is in store for the TAF stand next year? Well, there are a lot of possible surprises coming off the drawing board in Africa. So come join all the people at the Greatest Aviation Celebration July 23 - 29, 2018 and see!
H145M COMPLETES FIRST FLIGHT WITH HFORCE WEAPON SYSTEM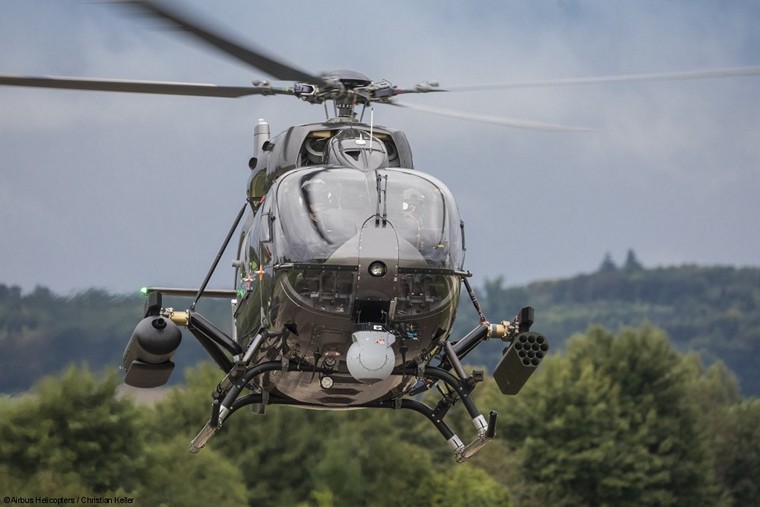 Photo © Christian Keller/Airbus

Donauwörth, At the end of August, the H145M performed its first flight with a complete HForce weapon system in Donauwörth. Thanks to this modular weapon system designed by Airbus, the H145M can be equipped with all kind of guided and ballistic armaments such as missiles and laser guided rockets, guns, machine guns and rockets. The qualification of HForce for use on the H145M is planned for 2018.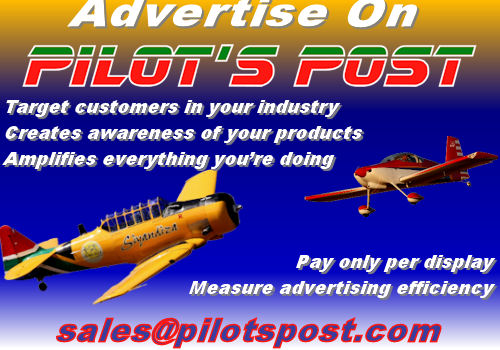 "The next steps prior to qualification include a firing campaign, testing the whole fire mission spectrum through guns, cannons and rockets in Hungary as well as tests on the laser-guided rockets in Sweden before the end of the year," said Jean-Luc André, HForce Program Manager at Airbus Helicopters. "As the launch customer for the H145M with the HForce weapon system, the Republic of Serbia has ordered nine H145M aircraft, including four attack helicopters equipped with HForce", he added.
HForce is a comprehensive, modular and cost-efficient weapon system that can be used on any military version of Airbus' civil helicopter range (H125M, H145M and H225M). The flexible weapon management system enables armies around the world to complement their fleets with specialised versions of light attack helicopters.
The H145M is the military version of the tried-and-tested, twin-engine H145 civil helicopter that was first delivered in 2014. The entire H145 fleet has now clocked up more than 60,000 flight hours. With a maximum take-off weight of 3.7 tonnes, the agile light attack H145M, which perfectly matches the needs of Special Forces, can be used for a wide range of tasks, including armed reconnaissance, ground fire support, escort, tactical transport, MEDEVAC and CASEVAC. Customers for the H145M include the German Armed Forces - which in June received their 15th H145M LUH SOF helicopter on time and on budget - as well as the Republic of Serbia and the Kingdom of Thailand.
BELL V-280 VALOR ACHIEVES 100% COMPLETION




Image © Bell Helicopters


The Bell V-280 Valor has achieved 100% build completion and moved one step closer to its first flight this fall. The V-280 is the newest revolutionary aircraft in the tilt rotor family. The V-280 Valor was selected in August 2014 to advance, build and fly an aircraft within the JMR-TD program.
The V-280 has been designed to provide our military with the speed, range and operational productivity needed to complete any mission successfully and outmatch every opponent. New innovations incorporated in the V-280 include stationary nacelles, which increases the ease of aircraft maintenance and safety of the ingress and egress. The newest tilt rotor offers fixed-wing high speed performance and low speed agility, giving soldiers and operators the option to select the best pace and manoeuvrability for their mission.

BURNET, Texas (KXAN) - A private helicopter crashed south of Burnet. The FAA said the aircraft - a Hughes 369 A - lost power near Burnet Municipal Airport and crashed on US 281 while attempting to make an emergency landing. There were four people on board. Two of them were taken to the hospital with injuries that were not life-threatening. The other two people were uninjured.
Costa Rica, Pavas: A Costa Rican woman and a U.S. man have died from the injuries they sustained when the Cesna 206 they were flying in crashed in San José. The pilot and three surviving passengers have all been hospitalized. The light aircraft was heading from the capital to the north-western coastal town of Tamarindo when it apparently lost control for reasons that have not yet become clear and came down in a river ravine near Tobías Bolaños Airport in Pavas, the flight's point of origin, minutes after take-off.
USA, Whitehorse: A 31-year-old Whitehorse pilot Justin Kolla died after his single-engine Champion 7GCB aircraft went down in a remote area north of Faro. Kolla and another pilot also flying a Champion 7GCB were flying VFR (Visual Flight Rules), and weather forced them to take a route over lower terrain. The two aircraft reportedly lost contact and when Kolla didn't arrive at Russell Creek, the other pilot backtracked and found the crash site.
USA, Arizona: Al-Khazali, an Iraqi student jet fighter pilot was killed when an F-16 Fighting Falcon jet crashed about 80 miles (129 kilometres) northwest of Tucson during a training routine mission in southeaster Arizona. The plane belonged to the Iraqi air force and that the training mission was being conducted in conjunction with the 162nd Wing, which is based at Tucson International Airport. Al-Khazali's death was the second involving an Iraqi pilot flying an F-16 in Arizona in recent years.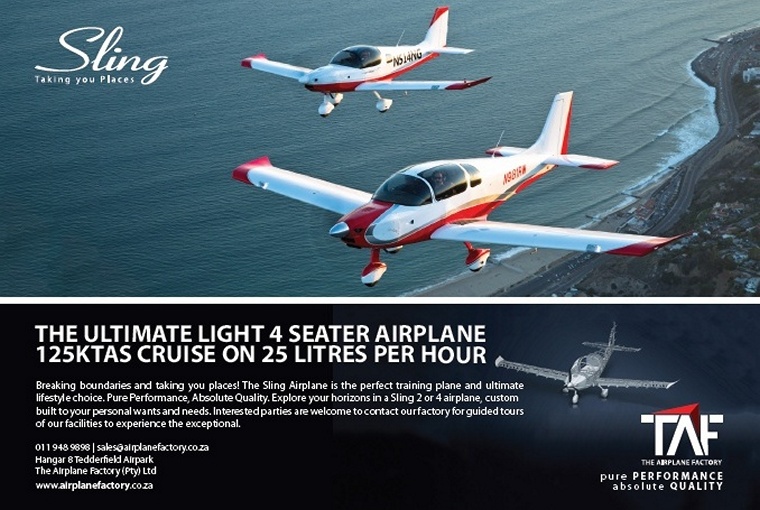 17 SEPTEMBER 1935

First flight of the Junkers Ju 87


The Junkers Ju 87 or Stuka (from Sturzkampfflugzeug, "dive bomber") made its combat debut in 1937 with the Luftwaffe's Condor Legion during the Spanish Civil War and served the Axis forces in World War II.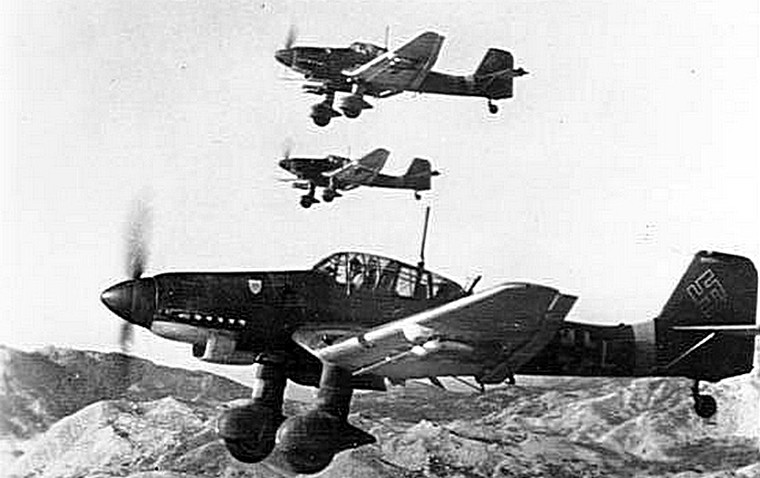 Photo Bundesarchiv/commons.wikimedia.org

The Stuka operated with considerable success in close air support and anti-shipping at the outbreak of World War II. It spearheaded the air assaults in the invasion of Poland in September 1939. Stukas were crucial in the rapid conquest of Norway, the Netherlands, Belgium and France in 1940.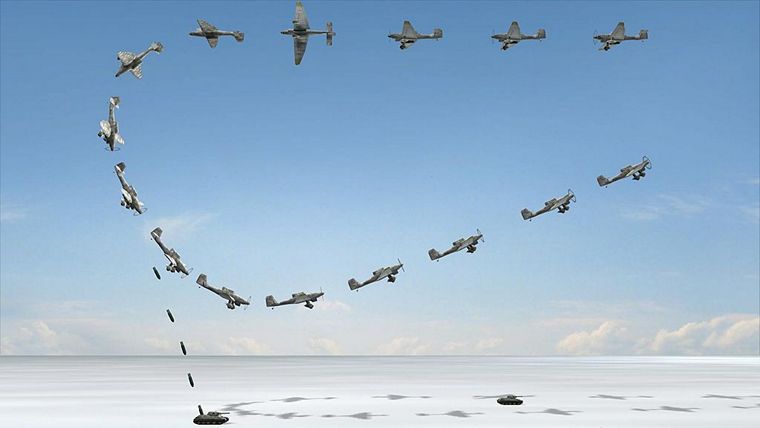 Image Aleksej fon Grozni /commons.wikimedia.org

Although sturdy, accurate, and very effective against ground targets, the Stuka was vulnerable to contemporary fighter aircraft, like many other dive bombers of the war. During the Battle of Britain its lack of manoeuvrability, speed and defensive armament meant that it required a heavy fighter escort to operate effectively. After the Battle of Britain the Stuka operated with further success in the Balkans Campaign, the African and Mediterranean theatres and the early stages of the Eastern Front where it was used for general ground support, as an effective specialized anti-tank aircraft and in an anti-shipping role. Once the Luftwaffe lost air superiority, the Stuka became an easy target for enemy fighter aircraft on all fronts.
It was produced until 1944 for lack of a better replacement. By the end of the war ground-attack versions of the Focke-Wulf Fw 190 had largely replaced the Stuka but it was used until the end.
An estimated 6,500 Ju 87s of all versions were built between 1936 and August 1944.