THIS WEEK IN MIDWEEK UPDATE

Plan Your Weekend……..Forthcoming Events…….Aviation News

Worldwide Incidents and Accidents……This Week in Aviation History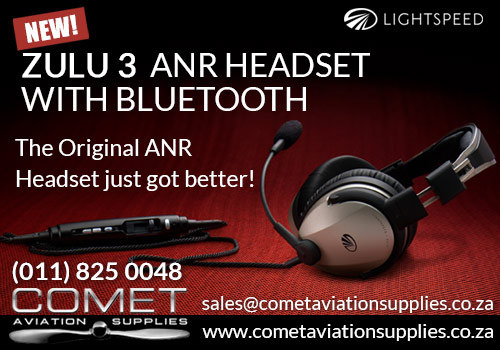 1: Chapter 322 meeting. Dicky Fritz Moth Hall Edenvale. Contact:
editor@afskies.co.za
4: SAAF Museum AFB Zwartkop open practise day
4: Aero Club of South Africa annual awards evening. Contact: Sandra Strydom Tel: 011 082 1100 E-mail:
office@aeroclub.org.za
4: Volksrust Breakfast Run. Braai and Hangar dance. Overnight at one of the guests houses. A shuttle service will be available. Please RSVP Robert Jacobs at Whatsup 082 907 4917 and indicate whether you will need Mogas and how much.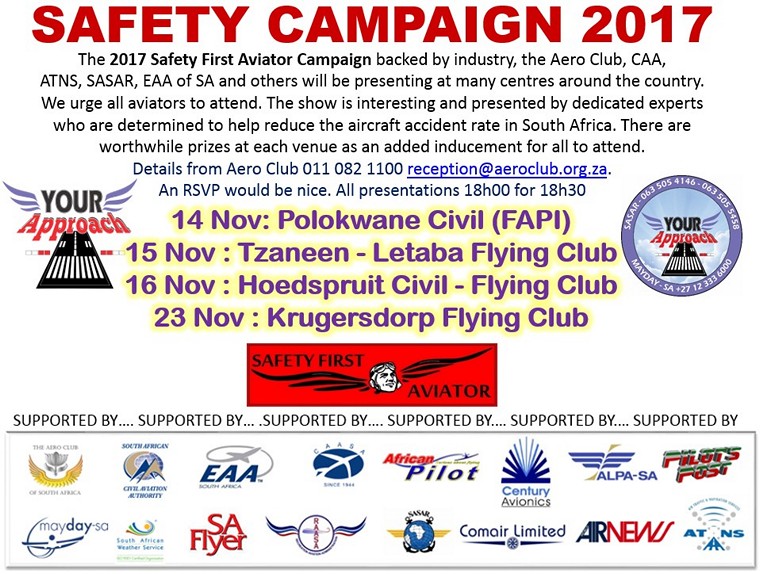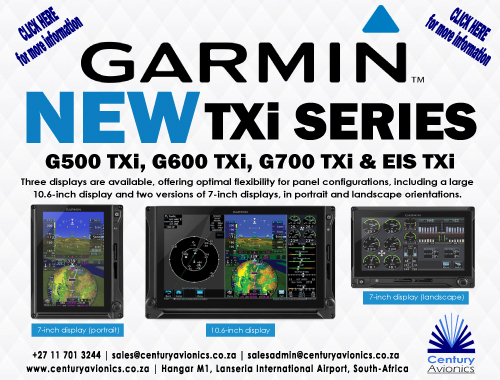 10-11: EAA Peter Hengst Memorial Fly in Brits. Contact Trixiie Heron
editor@afskies.co.za
for EAA
10-12: Gold Field Flying Club's Ancient Flying Relics Fly in, Welkom Airfield. Rag and Tube competition and more.
17: Potties Fly in Weekend. Potgietersrus. Limpopo. Contact Nico Willemse
vliegskool@hotmail.com
18: Baragwanath Fun Rally. Contact Frank Eckard 083 269 1516
frank.eckard@mweb.co.za
3rd Saturday of every month. Microland. Bring and braai. Fires and bykos provided. Fires start from 09h30. Contact person: Nick Swardt 082 441 8011 or Alan Hussey 072 82 2341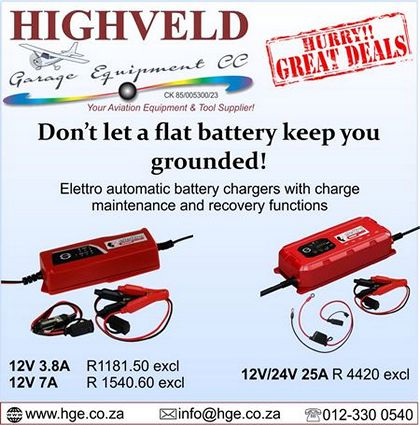 2: SAAF Museum AFB Zwartkop open practise day
2: Peter Hengst Memorial Adventure Rally Brits. Contact Rob Jonkers 082 804 7032
rob@aerosud.co.za
.
2-3: SAC Ace of Base Vereeniging. Contact Annie Boon E-mail:
chunge@mweb.co.za
4 to 24: Adamsfontein Badge Fly in. Low cost tugging available for any glider pilot who wants to pop in on their way to the Cape. For more go to
www.pjaviation.co.za
or phone 083 265 0581
6: EAA Chapter 322 meeting. Dicky Fritz Moth Hall Edenvale. Contact:
editor@afskies.co.za
9: AFB Langebaan Weg and SAAF Silver Falcons 50th anniversary airshow. AFB Langebaanweg, Western Cape. Go to:
www.langebaanwegairshow.co.za
3rd Saturday of every month. Microland. Bring and braai. Fires and bykos provided. Fires start from 09h30. Contact person: Nick Swardt 082 441 8011 or Alan Hussey 072 82 2341
28: FACF Fly in. ST Francis Airpark. Reserve date of 29 December in case of bad weather. All welcome, food and beverages will be available. Contact Barry Culligan mailto:
barry@otto.co.za

The Aviation Radio Show; get all your questions answered in one place. To listen to a recording of the live broadcast click on the link:
www.debela.co.za/aviation-radio-show




ZENITH AIRCARFT-TWENTY FIVE YEARS IN THE MAKING

Photo © Zenith Aircraft


The November 2017 issue of both Kitplanes and EAA Sport Aviation magazines feature the 25 year anniversary of Zenith Aircraft Company.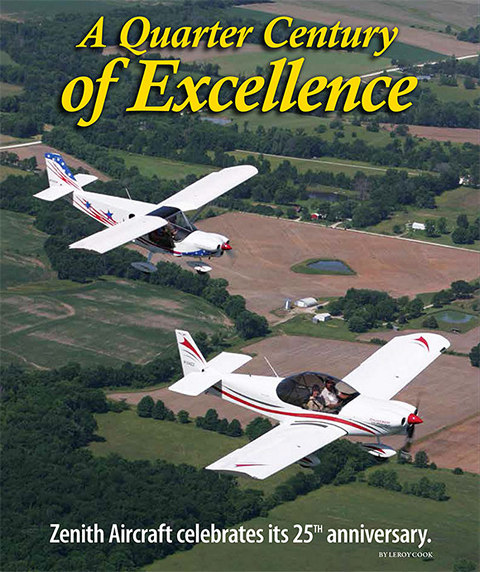 Quoted in the EAA Sport Aviation magazine cover story, Zenith Aircraft's Sebastien Heintz states: "While our basic designs and methods haven't changed significantly, how we produce our kits and how they come together has changed dramatically, to the benefit of kit builders. Twenty-five years ago we were already using blind rivets and 6061-T6 aluminium alloys. Chris Heintz was a true pioneer in making kits easier to build. He was focused on creating easy-to-build designs with the new lightweight engines available then, including the Rotax 912 when it came to market. Now, we also offer mounts for UL Power, Jabiru, and other engines. Chris' goal was to design lightweight aircraft that were well-suited for beginner and low-time pilots, which was why he used the tricycle gear configuration. Low stall speeds and excellent slow flight handling characteristics were also important. Zenith continues with that same philosophy."
Reporting on Zenith Aircraft's 25 years in the industry, Kitplanes magazine writes: "With CNC manufacturing and final-hole-size pre-drilled riveting holes, the parts fit together perfectly. More quick build options are now available, resulting in the ability to get into the air faster by using factory-built assemblies. What this has meant, over the 25-year history of Zenith Aircraft, is that more and more builders are coming to kit construction with no prior experience in fabricating parts and using tools. By offering building workshops at the factory, Zenith Aircraft has introduced its easy-to-assemble concept to novices, showing them that they can indeed build their own airplane, and thereby attracting newcomers to homebuilding. The kits being supplied today have exactly matching skins and parts, with the holes for riveting already provided. All the builder has to do is set the part in place, Cleco it together, and fill the holes with rivets to finish each assembly. No prior experience is necessary and the instructions actually easy to follow."
Writing about flying the popular all-metal Zenith high-wing light-sport utility aircraft, Kitplanes reports: "The STOL CH 750 combines amazing short-field capabilities and plenty of load carrying capability." About the CH 750 Cruzer model: "It's not a STOL CH 750, but it does fly in and out with minimal runway required, and it makes fewer demands of the pilot. For the great majority of pleasure-flying pilots, it's what they will want. The Cruzer is even simpler to build; it flies nicely, and accommodates a generous useful load. I came away convinced after our short sampling, ready for more."


XTI AIRCRAFT COMPANY ACCEPTS MORE ORDERS FOR TRIFAN 600 VERTICAL TAKEOFF AIRPLANE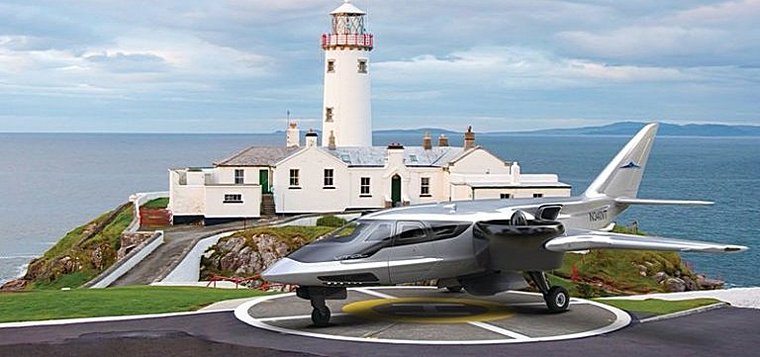 Photo © Trifan

XTI Aircraft Company (XTI) announced that it received several additional orders and deposits from customers under its pre-sales program.
The TriFan 600 will travel at 345 miles an hour, with a range of up to 1,200 miles, and it will reach 30,000 feet in just ten minutes and cruise to the destination as a highly efficient business aircraft. XTI Aircraft Company Photo
XTI officially launched its prototype program at this year's NBAA trade show in Las Vegas, Nevada. The company stated that the response at the show was very positive and generated additional financial and strategic relationships for the company. "Hundreds of people visited our booth over the course of the three-day show," LaBelle added.
The TriFan 600 is a major breakthrough in aviation and air travel. The six-seat TriFan 600 will have the speed, range and comfort of a luxury business aircraft and the ability to take off and land vertically, like a helicopter. It will travel at 345 miles per hour, with a range of up to 1,200 miles.
Using three ducted fans, the TriFan lifts off vertically. Its two wing fans then rotate forward for a seamless transition to cruise speed and its initial climb. It will reach 30,000 feet in just ten minutes and cruise to the destination as a highly efficient business aircraft.
On June 19, at this year's Paris Air Show, XTI announced its first orders for the TriFan 600 under the company's pre-sales program.
XTI launched a formal stock offering in 2016 under SEC Regulation A+, which is open to all unaccredited and accredited investors around the globe - providing a unique opportunity for the general public to invest in an aerospace company with a game-changing product, a world-class leadership team, and significant growth potential.
NAVIGATING THROUGH HIGH WINDS AND ICY MOUNTAINS, AIR ZERMATT PUTS ITS BELL 429 TO THE TEST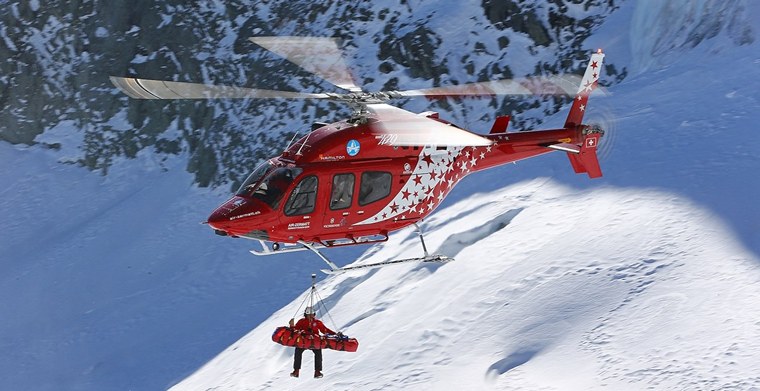 Photo © Bell Helicopters
.

The aircraft is configured for day and night operations and equipped with EMS tools, NVG, hoist and a HEC dual cargo hook. This customer will be on the Customer Advantage Plan Premier contract where they will receive a fixed cost per flight hour service option that protects customers' budgets and their aircraft, and increases aircraft availability at rates competitive to published direct maintenance costs. Bell will also train Air Zermatt pilots to operate the Bell Valencia 429 Full Flight Simulator Level D.
The Bell 429 has more cabin space than any other light twin helicopter on the market, with flat flooring and seating for seven passengers and one flight crew. The space enables passenger mobility and room for healthcare emergency services. When time is of the essence in the series, the Bell 429's 60-inch wide side doors and optional rear clam-shell doors provide quick and easy access. The state-of-the-art technology in the Bell 429 includes a fully integrated glass cockpit, advanced drive system, best-in-class WAAS/ SBAS navigation and IFR capability.
Due to our iconic and bold customer, the Bell 429 solidifies its position as the premier helicopter for mountain rescue.
MD HELICOPTERS DELIVERS NEW MD 600N WITH ADVANCED, FAA-CERTIFIED ALL-GLASS COCKPIT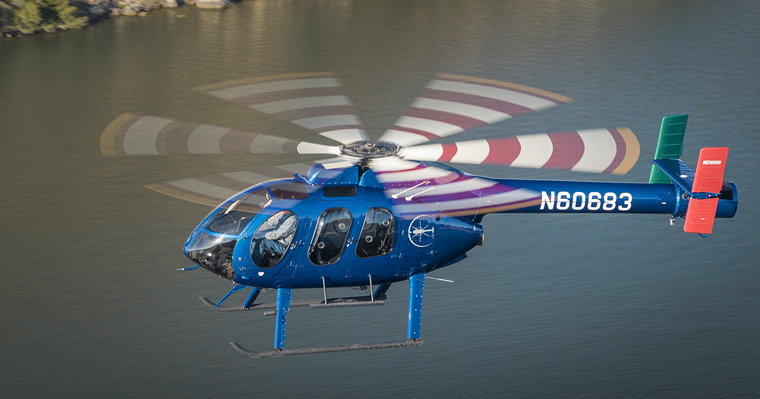 Photo © MD Helicopters

MD Helicopters, Inc. (MDHI) announces the delivery of a new MD 600N to its Subang, Malaysia-based sales agent, Sapura Aero. Configured with the company's upgraded FAA type-certified all-glass cockpit, this MD 600N also features single-patient EMS interior from Air Ambulance Technology (AAT).
At the 2017 HAI Heli-Expo in Dallas, Texas, MD Helicopters announced their commitment to deliver FAA-certified all-glass cockpits to the company's full range of single- and twin-engine aircraft.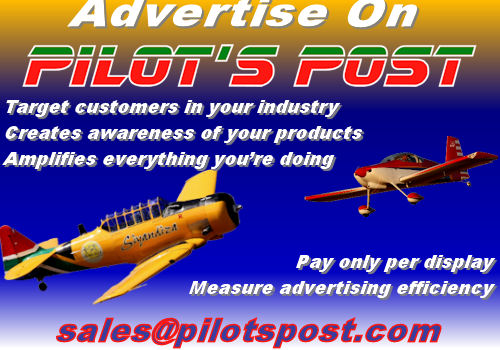 In June of this year the company announced it had completed all FAA certification requirements for the MD 600N cockpit upgrade. On July 26, 2017, the type certification was granted. MDHI's single-engine all-glass cockpit features:
Howell Instruments Electronic Flight Instrument System
Garmin G500 (GDU620) PFD/MFD
Garmin GTN 650 Touchscreen NAV/COM/GPS
L-3 ESI 500 Electronic Standby Instrument
Flexible, Multi-Function Cabin Design
Renowned for its ergonomic, modular interior design, the MD 600N has the flexibility to support up to six (6) different cabin configurations. This aircraft was delivered with the ability to effortlessly transition between three (3) of these options in order to meet its anticipated mission requirements for utility/personnel transport and Emergency Medical/Air Ambulance Services.
Utility/Transport
In its utility/personnel transport configuration, the MD 600N cabin features seating for up to five (5) via a 3-passenger front bench and two (2) aft-mounted club seats. The front bench can be installed either forward or aft-facing to ensure optimal passenger comfort.
EMS/Air Ambulance
When configured for EMS/air ambulance operation, the MD 600N features a single-patient transport Air Ambulance Technologies interior equipped with a state-of-the-art monitor/defibrillator, ventilator, suction unit, and 2x 5L 200 bar Oxygen cylinder, to treat and monitor the patient.
Sapura Aero has been an authorized MDHI sales & service representative since 2015. As an authorized sales representative serving the South East Asian countries (ASEAN) of Malaysia, Brunei, Cambodia, East Timor, Indonesia, Laos, Myanmar, Singapore, Thailand, and Vietnam, Sapura Aero offers the full range of MDHI's commercial helicopter products as well as the optional equipment and accessories to support them.
VSR700 ROTARY-WING UAV BRINGS EYES BEYOND THE HORIZON




Photo © Airbus Helicopters.


What is going on beyond the horizon? It's a crucial question for any ship captain. In the past, sailors would climb to the crow's nest for a better view. Modern technology means today's captains can send unmanned aerial vehicles (UAVs) into the air to transmit images and data back to the bridge.
It is a rapidly growing field and Airbus aims to enter with the 700 kg Vertivision Surveillance Rotorcraft - VSR700 - which is being developed by Airbus' helicopter division in Marignane, France in cooperation with Helicoptères Guimbal, a specialist in aerospace and aeronautics.
The VSR700 is based on the civil Cabri G2 developed by Guimbal, a light, single-engine, diesel-powered helicopter. With a fuel consumption of 15 kg per hour, the UAV is expected to stay airborne for up to 10 hours. The payload of around 250 kg is intended for optical reconnaissance instruments and radar. In cooperation with French shipbuilder Naval Group, Airbus is also offering a solution for the new medium-sized frigates tailored specifically to the requirements of the French Navy.
"We are moving quickly to stay ahead in the marketplace," says Antomarchi. Hence a pilot-operated flight control system was added to the VSR700 equipment for its first test flights as an optionally piloted vehicle (OPV). "The initial tests are taking place with the safety pilot on board before unmanned flights begin next year," he says.
BOEING, ETHIOPIAN AIRLINES CELEBRATE DELIVERY OF FIRST 787-9 DREAMLINER

Photo © Boeing.

Boeing [NYSE: BA] and Ethiopian Airlines celebrated the delivery of the carrier's first Boeing 787-9. Ethiopian is leasing the Dreamliner through an agreement with AerCap.
Ethiopian's newest 787 touched down in Addis Ababa following a non-stop 8,354 mile (13,444 km) delivery flight from Boeing's Everett, Wash., facility. Ethiopian becomes the first carrier in Africa to operate the 787-9 and extends a tradition of setting aviation milestones. Ethiopian became Africa's first carrier to fly the 787-8 in 2012, and similarly introduced the 777-200LR (Longer Range), 777-300ER (Extended Range) and 777 Freighter.
The 787 Dreamliner is the most innovative and efficient airplane family flying today. Since 2011, more than 600 Dreamliners have entered commercial services, flying almost 200 million people on more than 560 unique routes around the world, saving an estimated 19 billion pounds of fuel.
"AerCap is very proud to deliver to Ethiopian Airlines their first 787-9 aircraft, as the airline continues to lead the way in African aviation," said AerCap President and Chief Commercial Officer Philip Scruggs. "The 787-9 will complement Ethiopian's existing fleet of 787-8 aircraft, bringing further operational efficiencies and scope to enhance their existing network. We thank our friends and partners at Ethiopian Airlines for their continued confidence in AerCap and wish them every success as they continue to optimize their fleet."
Ethiopian Airlines conducted its 32nd Humanitarian Delivery Flight as part of the 787-9 delivery. In conjunction with the non-profit Seattle Alliance Outreach, Ethiopian transported goods donated by medical organizations in the U.S. to Black Lion Hospital and St. Paul Hospital in Ethiopia.
Ethiopian Airlines operates a Boeing fleet of 737, 767, 777, and 787 airplanes in passenger service and six 777 and two 757-200 airplanes in cargo operations.

China, Shenzhen: A China Eastern Boeing 737-800, registration B-1703 was preparing for departure from the gate when a flight attendant who was attempting to close the left aft cabin door alone fell out of the aircraft and landed on concrete almost 3 meters below the door. The flight attendant received serious injuries (fractures) and was taken to a hospital.
Stephenville, Canada: An American Airlines Boeing 777-200, on a flight from performing flight AA-207 from Milan, Italy to Miami, USA with 307 people on board, was en-route at FL370 over the Atlantic Ocean about 250nm east of Gander, Canada when the crew reported a cracked windshield and descended to FL200. The aircraft diverted to Stephenville, Canada for a safe landing.
Boston, USA: A United Boeing 777-200 on a flight from Munich, Germany to Washington ,USA was at FL380 about 230nm eastnortheast of Halifax, Canada when the crew reported smoke on board, descended the aircraft to FL280 and decided to divert to Boston, USA. The aircraft landed safely in Boston about 100 minutes later.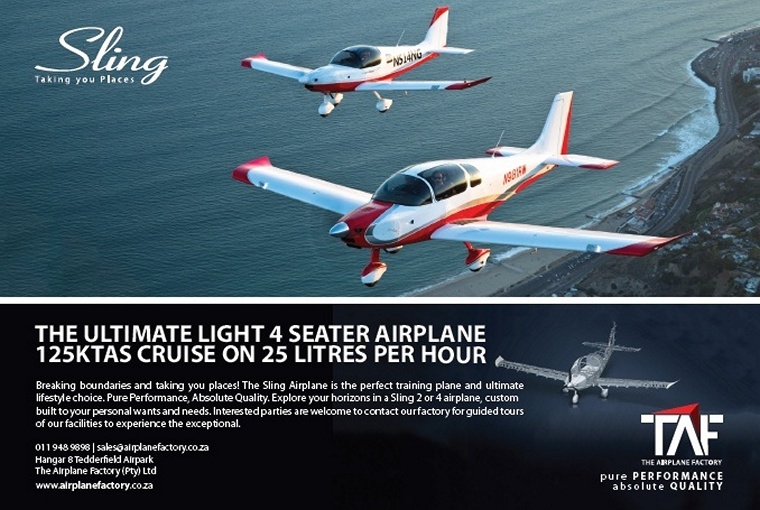 29 OCTOBER 1901

The Royal Aero Club of Great Britain is established.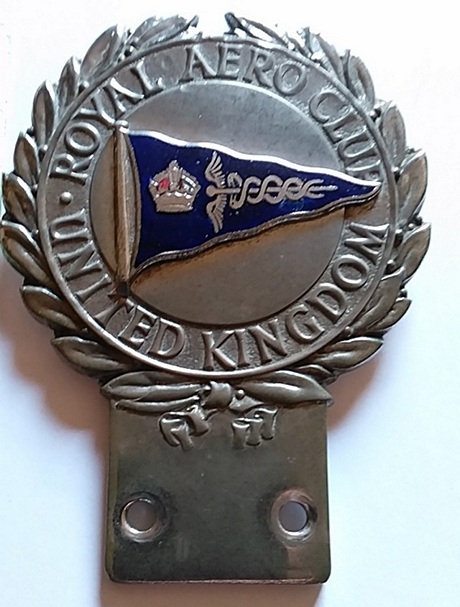 commons.wikimedia.org. The Aero Club was founded in 1901 by Frank Hedges Butler, his daughter Vera and the Hon Charles Rolls (one of the founders of Rolls-Royce), partly inspired by the Aero Club of France. It was initially concerned more with ballooning but after the demonstrations of heavier-than air flight made by the Wright Brothers in France in 1908, it embraced the aeroplane.
The original club constitution declared that it was dedicated to 'the encouragement of aero auto-mobilism and ballooning as a sport. As founded, it was primarily a London gentlemen's club, but gradually moved on to a more regulatory role. It had a clubhouse at 119 Piccadilly, which it retained until 1961.
In 1909 the club was granted the Royal prefix. From 1910 the club issued Aviators Certificates, which were internationally recognised under the Fédération Aéronautique Internationale (the FAI) to which the club was the UK representative. The club is responsible for control in the UK of all private and sporting flying, as well as for records and competitions.
The club established its first flying ground on a stretch of marshland at Shellbeach near Leysdown on the Isle of Sheppey in early 1909. A nearby farmhouse, Mussell Manor (now called Muswell Manor) became the flying ground clubhouse, and club members could construct their own sheds to accommodate their aircraft. Among the first occupants of the ground were Short Brothers. Two of the brothers, Eustace and Oswald had previously made balloons for Aero Club members, and been appointed the official engineers of the Aero Club: they had enlisted their eldest brother, Horace, when they decided to begin constructing heavier-than-air aircraft. They acquired a licence to build copies of the Wright aircraft, and set up the first aircraft production line in the world at Leysdown.