THIS WEEK IN MIDWEEK UPDATE

Plan Your Weekend……..Forthcoming Events…….Aviation News

Worldwide Incidents and Accidents……This Week in Aviation History



8: EAA Chapter 322 AGM at Dicky Fritz Moth Hall Edenvale. Contact e
ditor@afskies.co.za
for EAA
10-11: EAA Peter Hengst Memorial Fly in Brits. Contact Trixiie Heron
editor@afskies.co.za
for EAA
10-12: Gold Field Flying Club's Ancient Flying Relics Fly in, Welkom Airfield. Rag and Tube competition and more.
11: Radial and Biplane fly-in to Brakpan airfield. Contact Sonica 082 682 2825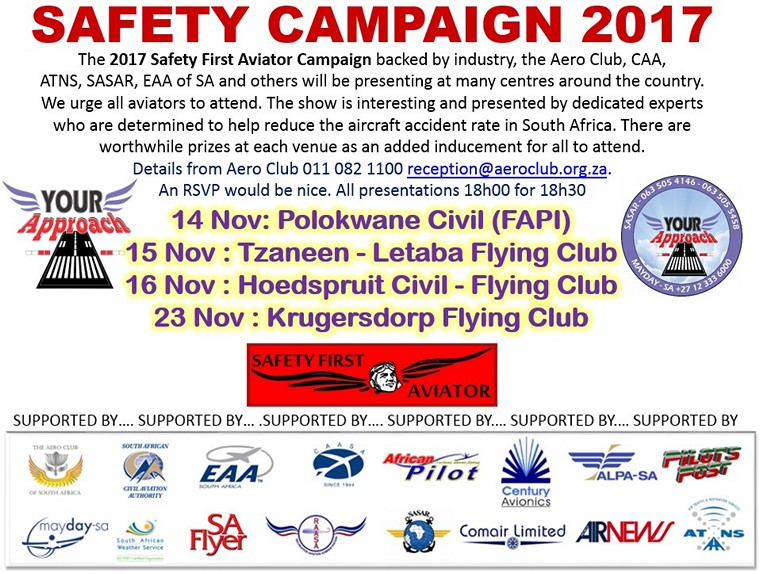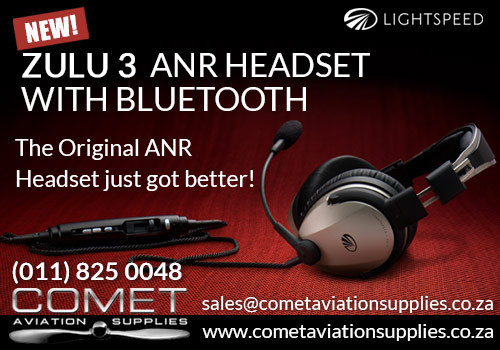 17: Potties Fly in Weekend. Potgietersrus. Limpopo. Contact Nico Willemse
vliegskool@hotmail.com
18: Baragwanath Fun Rally. Contact Frank Eckard 083 269 1516
frank.eckard@mweb.co.za
3rd Saturday of every month. Microland. Bring and braai. Fires and bykos provided. Fires start from 09h30. Contact person: Nick Swardt 082 441 8011 or Alan Hussey 072 82 2341
24-25: Nov-25 Springs Club Call OUT Rally Championships. Email
jonty@promptroofing.co.za

2: SAAF Museum AFB Zwartkop open practise day
2: Peter Hengst Memorial Adventure Rally Brits. Contact Rob Jonkers 082 804 7032
rob@aerosud.co.za
.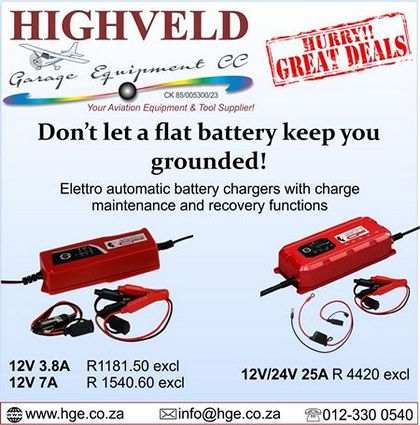 2-3: SAC Ace of Base Vereeniging. Contact Annie Boon E-mail:
chunge@mweb.co.za
4 to 24: Adamsfontein Badge Fly in. Low cost tugging available for any glider pilot who wants to pop in on their way to the Cape. For more info go to
www.pjaviation.co.za
or phone 083 265 0581
6: EAA Chapter 322 meeting. Dicky Fritz Moth Hall Edenvale. Contact:
editor@afskies.co.za
9: AFB Langebaan Weg and SAAF Silver Falcons 50th anniversary airshow. AFB Langebaanweg, Western Cape. Go to:
www.langebaanwegairshow.co.za
3rd Saturday of every month. Microland. Bring and braai. Fires and bykos provided. Fires start from 09h30. Contact person: Nick Swardt 082 441 8011 or Alan Hussey 072 82 2341
28: FACF Fly in. ST Francis Airpark. Reserve date of 29 December in case of bad weather. All welcome, food and beverages will be available. Contact Barry Culligan mailto:
barry@otto.co.za
The Aviation Radio Show; get all your questions answered in one place. To listen to a recording of the live broadcast click on the link:
www.debela.co.za/aviation-radio-show




DIAMOND AIRCRAFT WEST AFRICA DEMONSTRATION
TOUR DA62 MPP AND DA42 MPP




Photo © Diamond Aircraft

Diamond Aircraft's special mission aircraft, DA62 MPP and DA42 MPP, are touring West Africa in October 2017. The airplanes and a compact version of Diamond's ground station solutions were on static display at the African Airshow in Accra, Ghana from 24 - 26 October.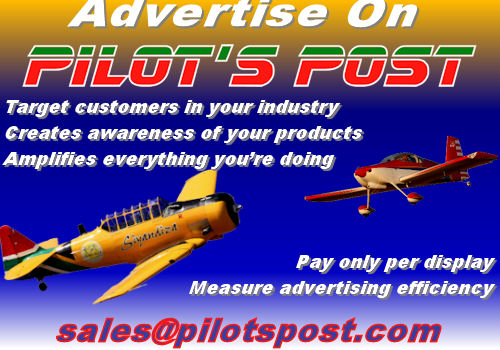 "After months of intensive efforts and in close cooperation with local partners, Diamond succeeded in scheduling highest level meetings with Air Forces, MoD as well as with large private service providers protecting their countries against drug smuggling, piracy, border crossing and illegal fishery activities," says Markus Fischer, Sales Director Special Mission Aircraft, Diamond Aircraft Industries GmbH.
"We had the unique opportunity to demonstrate the performance and capabilities of Diamond's airborne solution in real scenarios. We flew about 30 hours of missions, providing data from the airplane to the ground without any technical incident on the aircraft or mission equipment. The full composite structure, no risk of corrosion, as well as the turbocharged heavy fuel engines very strongly supported Diamond's sales arguments in using latest technology and state-of-the art aircraft.
The usage of Jet-A1 made the flight planning simple and allowed the most efficient and straight-lined leg planning. The average turn-around time on ground was only one hour due to the availability of Jet-A1 on the apron. No scheduled maintenance stop had to be coordinated due to the 100-hour maintenance intervals of the AE300/AE330 engines, which made the spare parts handling straight forward and simple - an absolute key element when operating complex aircraft in Africa.
The circumstance that both aircraft will burn less than 1,400 USGAL or 5,320 litre in 120 hours over a distance of 8,260 NM is a statement of efficiency which cannot be ignored by any conscientious operating organization. Diamond has and will again demonstrate the outstanding sufficiency of the aircraft with regards to direct operating cost and maintenance.
Diamond Aircraft Special Mission Turnkey Solution Concept Like no other special mission aircraft supplier, Diamond Aircraft has taken its MPP concept to a high level 360° turnkey solution, offering a single point of contact, from supply of an aircraft to a full certified integration including sensors, data-links, ground stations, global support, spare parts, tooling, delivery and all corresponding pilot, operator and maintenance training.

ICON AIRCRAFT DELIVERS LATEST VERSION OF THE ICON A5 TO FORMER MAJOR LEAGUE BASEBALL PLAYER ROY HALLADAY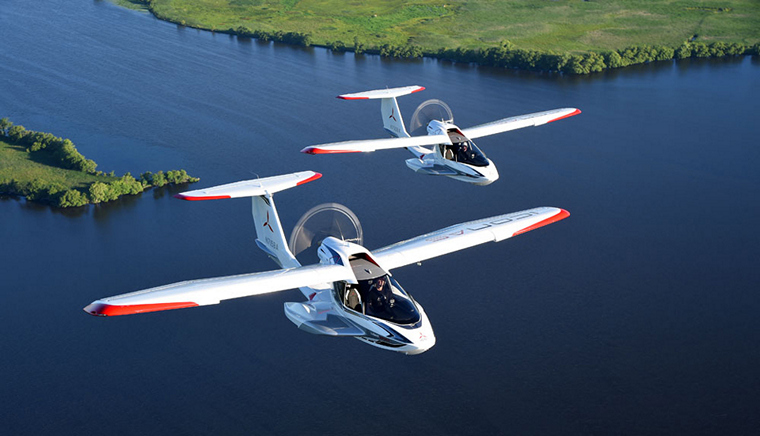 ICON Aircraft delivered the first Model Year 2018 (MY18) A5 to former Major League Baseball pitcher, Roy Halladay. Halladay, who pitched for the Toronto Blue Jays and Philadelphia Phillies, has been a regular ICON A5 renter and long-time deposit holder. In addition to having all MY18 upgrades, Halladay's A5 is the first of 100 specially equipped Founders Edition (A5 FE) aircraft to be built. It is also the first A5 with airframe structures manufactured entirely at ICON's new in-house composites manufacturing facility.
"I've been dreaming about flying since I was a boy but was only able to become a pilot once I retired from baseball," said Halladay. "I've owned other aircraft, but no aircraft embodies the adventure or captured the dream of flying like the A5. Not only is it the safest and easiest aircraft I've ever flown, it is hands-down the most fun. The beaches, lakes, and waterways my family and I get to explore around Florida are mind-blowing. Words don't do justice to what the A5 allows us to experience. Even my wife, who used to be uncomfortable in small planes, now asks where we should take the A5 for the weekend. I'm honoured to own the first A5 Founders Edition."
The MY18 A5 incorporates numerous functional and manufacturability improvements, which were developed using the lessons learned from building 21 production aircraft and accumulating 6000+ hours on the fleet through flight training, rentals, demonstration flights, and test flights in a wide range of environments.
Included among the changes are: Improved nose gear which makes it easier to taxi and steer the aircraft, instruments with better legibility, illumination, and reliability, reduced complexity and weight of oil cooler while also improving airflow, stiffer rudder pedals with better grip and improved adjustment and locking mechanism, landing gear actuators with better performance at low temperatures, improved canopy design with no airspeed limit for windows-out operation and improved access panels in wings and fuselage for easier serviceability.
The first 100 MY18 aircraft are further distinguished by a Founders Edition livery, which includes a unique paint scheme, numbered badging and graphics, and a personalized plaque. The Founders Edition aircraft was created specifically for owners whose passion and advocacy for the ICON mission helps lead the way in bringing aviation to many more people.
"It's great to add Roy to the team and present him with the first A5 Founders Edition aircraft," said ICON CEO and Founder Kirk Hawkins. "Roy gets it; he epitomizes the spirit of ICON. While he's an experienced pilot and flies his own turbine aircraft for A-to-B transportation, his true passion is for the adventure of sport flying, which is why he fell in love with the A5. I was even more excited to see his wife Brandy's excitement for the A5. The pure joy on her and Roy's faces talking about flying the A5 together is exactly why we started ICON."
Hawkins added, "This aircraft marks the start of a new production phase of the A5 as we resume volume production and ramp up rates to deliver customer aircraft on a larger scale."

ARGENTINA AIR FESTIVAL 'MENDOZA VUELA' 2017 SEES LARGEST GATHERING ON TECNAM AIRCRAFT IN THE AMERICAS



Photo © Tecnam

A record 43 Argentine based Tecnam aeroplanes participated in this year's Mendoza Vuela.
Held at the "Mario Cardama Aerodrome" in Medoza, Tecnam's Argentina based commercial representative Aerotec Argentina SA played host to the First Annual Convention of Argentina Tecnam Owners.
The festival welcomed over 100,000 guests and Tecnam was especially proud to be able to facilitate over 100 children taking to the air for the first time.
Show highlights included the handing over of three Tecnam aircraft. A P2008, P2006T Twin and an Astore to new owners, bringing the total of Argentina based Tecnam aircraft to 70. All three aircraft were assembled at Aerotec's state-of-the-art aircraft maintenance support and service facility.
Diego Cardama, Director, Aerotec Argentina SA said "We are extremely grateful for the support given to Mendoza Vuela by both the Argentine Civil Aviation Authority and also the Argentine Air Force, who displayed five of their eight Tecnam P2002JF aeroplanes, currently based 800km from Mendoza at the School of Military Aviation in Cordoba. We very much look forward to staging Aviation Festival again in 2018"
Walter Da Costa, Tecnam's Global Sales and Marketing Director said "Aerotecs organisation and staging of the Mendoza Vuela was impeccable. It was a special honour to meet with so many of our locally based Tecnam customers and operators. It's good to see that Tecnam is now firmly established as the aircraft of choice amongst the GA community in Argentina"
LOM PRAHA TRADE A.S. AND ENSTROM HELICOPTER SIGN 480B-G HELICOPTER CONTRACT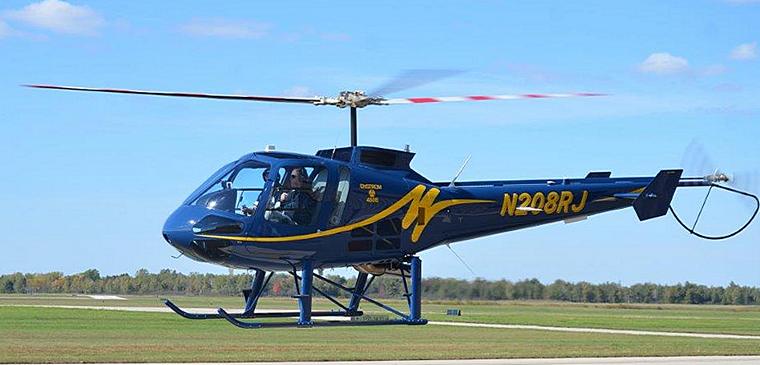 Photo © Enstrom Helicopters


Enstrom Helicopter Corporation signed a contract for six 480B-G turbine helicopters with LOM PRAHA TRADE a.s. in the Czech Republic. The Enstrom Representatives in the Czech Republic, Dan Tucek and Roland VanHees from DSA, provided the coordination for marketing, flight demonstrations, sales support and contract negotiations for this program.
Known as the 480B-G, Enstrom's turbine-powered model is equipped with the Garmin G1000H, offering glass cockpit capability for this helicopter. This equipment, coupled with the stability and easy manoeuvrability of the 480B, makes for the perfect training aircraft. "We looked at several aircraft models prior to deciding on the Enstrom 480B-G. said Miroslav Hejna, CEO of LOM PRAHA TRADE. a.s. We believe the aircraft and the Enstrom team are the best choice for the long term."
The contract plan has 2 480BG helicopters to be delivered in early 2018 followed by 4 later in the year. This also includes spares, tools, and both pilot and maintenance training at the factory. Of the 6 helicopters, LOM PRAHA TRADE will be using 4 of the Enstrom 480B-Gs for training the military pilots. "The Enstrom 480B has proven to be the perfect ship for training in the military setting, said Tracy Biegler, President and CEO of Enstrom. Moving from the 480 to a larger aircraft provides a seamless transition." The remaining two aircraft will be used by LOM PRAHA TRADE a.s. for pilot training.
LOCKHEED MARTIN AWARDED $158.5 MILLION UPGRADE CONTRACT FOR GERMANY P-3C ORION AIRCRAFT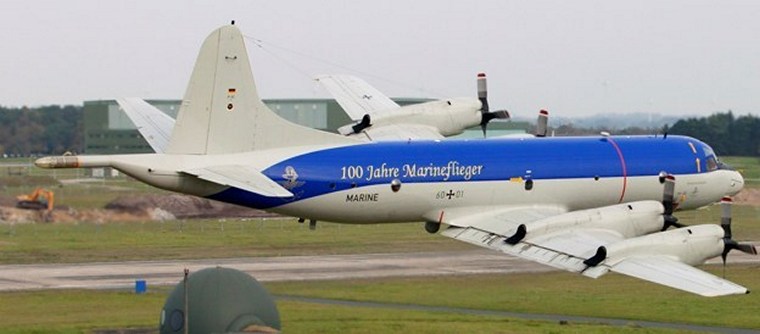 Photo © Lockheed Martin


Lockheed Martin (NYSE: LMT) received a $158.5 million contract for the second phase of the German Navy P-3C Mission System Refresh program. The program will upgrade the mission system processing suites on the fleet of eight P-3C Orion maritime patrol aircraft to support operations through 2035. The Mission System Refresh is part of an overall fleet upgrade that includes structural mid-life upgrades as well as an upgrade to the Instrument Flight Rules (IFR) cockpit capability.
The Germany P-3C Orion Mission System Refresh Program will include the design, development, manufacture, integration, installation and test of the Lockheed Martin Airborne Tactical Mission System. The majority of the hardware and software design, manufacture and upgrades will be performed at Lockheed Martin sites in Owego, New York, Manassas, Virginia and Marietta, Georgia.
"The P-3 Orion has been the world standard in maritime surveillance for over 50 years. Lockheed Martin is dedicated to providing solutions and critical needs that our U.S. Navy and international customers rely on to carry out these critical missions," said Mike McGuire, Lockheed Martin Rotary and Mission Systems Germany P-3 program manager. "The Mission System Refresh provides critical surveillance capabilities, reduces hardware footprint and supports continued future system sustainment."
The Airborne Tactical Mission System is an Open Architecture JAVA-based system that provides state-of-the-art software programs as well as core mission system processing, display and control components. By leveraging Commercial-Off-The-Shelf (COTS) components, future obsolescence costs are reduced thereby supporting the long-term system sustainability for the customer. In addition to the Airborne Tactical Mission System, the Mission System Refresh will include a new acoustic processing system called the Airborne Rack-Mounted Commercial Portable Processor (AR-C2P) that will provide long-term sustainability in the P-3 aircraft.
The Germany P-3 Orion Mission System Refresh Program began in 2016 when the U.S. Navy awarded Lockheed Martin an initial Foreign Military Sales (FMS) contract for $54.9 million for design and development work through Preliminary Design. This current contract award of $158.5 million takes the program from Preliminary Design Review through program completion in 2022. The eight aircraft operated by the German Navy were procured in early 2006 from the Royal Netherlands Navy. The P-3 boasts a number of international customers; a number of whom envision operating their aircraft though 2040.
U.S. AIR FORCE ADDS SIX MORE A-29 AIRCRAFT TO A-29 AFGHANISTAN PROGRAM FLEET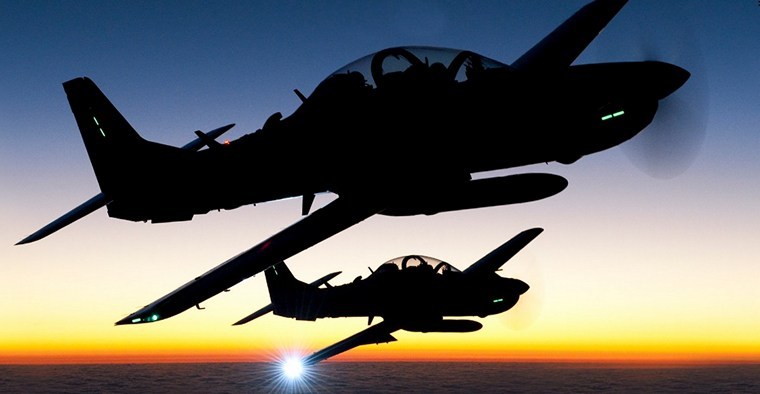 Photo © Embraer

Sierra Nevada Corporation (SNC) and its partner Embraer Defense & Security have received orders from the U.S. Air Force's (USAF) A-29 Afghanistan Program for six more A-29 Super Tucano aircraft. The A-29 is used to conduct advanced flight training, aerial reconnaissance, and other A-29 Afghanistan Program operations. Production of these six new aircraft is to start immediately in Jacksonville, Florida and brings to 26 the total number of aircraft provided to the Program.
"We believe this decision demonstrates that the A-29 Super Tucano is the best aircraft for close air support operations, as well as the most proven, reliable and cost-effective solution for counterinsurgency and irregular warfare scenarios," said Jackson Schneider, president and CEO of Embraer Defense & Security. "We are honored to continue to support the U.S. Government in this critical mission."
To date, the A-29 Super Tucano has been selected by 13 air forces worldwide and holds an excellent performance record: over 320,000 flight hours and 40,000 combat hours. With more than 150 certified load configurations, it is equipped with advanced electronic, electro-optic, infrared and laser system technologies, as well as secure radio systems with data links and unrivalled munitions capacity. The A-29 is the only aircraft of its type with a USAF military type certificate, resulting in both cost and time savings, and a smooth transition into program operations.
"We are proud to continue our support of the Air Force's A-29 Afghanistan Program as it is not only a testament to the capability of the A-29 aircraft, but also to its ease of operation and cost effectiveness," said Taco Gilbert, senior vice president for SNC's ISR business area. "There is no other aircraft like the A-29 in its ability to provide flight training, light attack, and combat pilot seasoning. Its continued demand demonstrates its value to air forces the world over."
The A-29 has been active in Afghanistan since early 2016. Its ability to operate in rugged terrain, extreme climates, and austere locations with a small operational and maintenance footprint has resulted in successful operations from at least four bases in-country. SNC, together with Embraer, developed and delivered the light attack capability from program start to combat capability in just three years, including all supporting equipment and training systems.

Austria, Salzburg: An Enter Air Boeing 737-800 on flight from Frankfurt, Germany to Salzburg, Austria was on approach to Salzburg while a storm system was affecting large parts of Europe. The Salzburg tower reported the surface winds from 270 degrees at 26 knots gusting 46 knots. The aircraft performed a circling approach to Salzburg's runway 33 and was on very short final to runway 33 already in the flare at 10:26L (09:26Z) when a gust caught the aircraft causing the right wing to drop, while the crew counteracted the roll the aircraft touched down hard, the crew initiated a go around and entered the hold at Salzburg VOR. They later landed without incident.
Netherlands, Amsterdam: A Kenya Airways Boeing 787-800, registration 5Y-KZA performing flight KQ-117 from Amsterdam (Netherlands) to Nairobi (Kenya), departed Amsterdam's runway 18L and was climbing through FL210 out of Amsterdam when the crew requested to descend and to return to Amsterdam reporting a cracked windshield. The crew subsequently advised the pressurization was holding, operations therefore were normal, no further assistance was needed. The aircraft landed safely back on Amsterdam's runway 18R about 40 minutes after departure.
USA, Miami: An American Airlines Airbus A319-100 on a flight from Miami, USA to Mexico City was climbing out of Miami when the aircraft levelled off at FL280. Vibrations developed, the crew reduced the thrust and slowed the aircraft, the vibrations ceased. The aircraft subsequently accelerated again, continued the climb and continued to Mexico City without further incident. There had been stormy weather out of Miami and it is suspected that the quick climb through cumulonimbus clouds may have caused icing that, when melting, came loose from the wings and engine and caused the vibrations.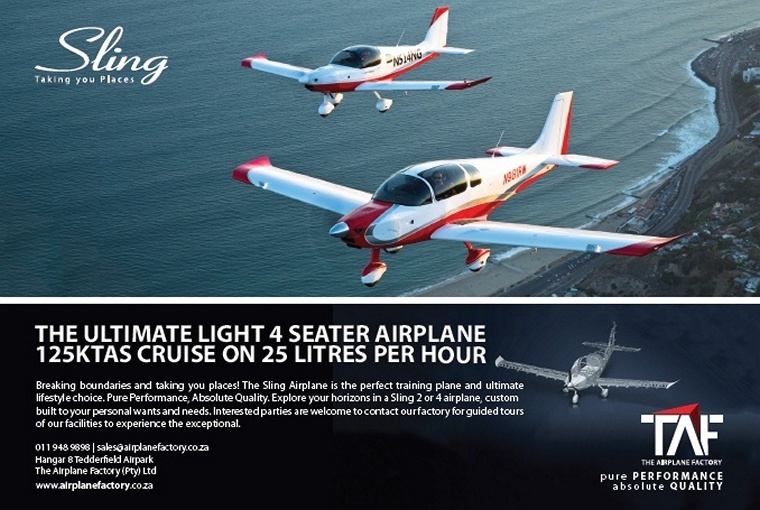 9 NOVEMBER 1961

USAF Major Robert M White takes the X-15 to a height of 30,970 m.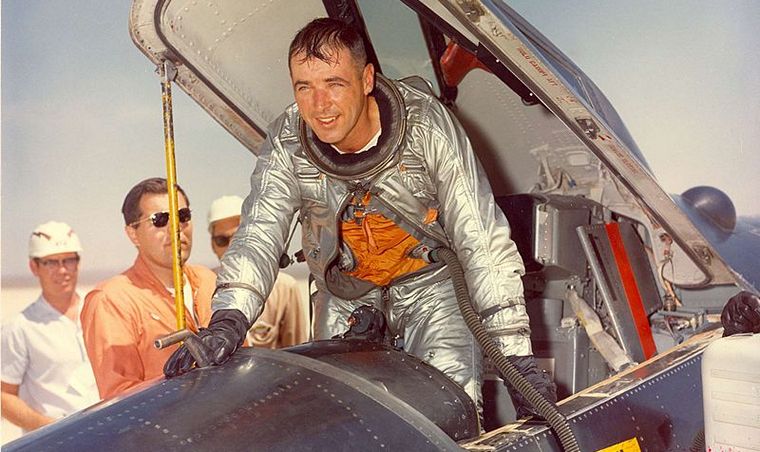 Maj Gen, USAF Robert Michael "Bob" White. Photo commons.wikimedia.org


Maj Gen, USAF Robert Michael "Bob" White (6 July 1924 - 17 March 2010) was an American military aircraft test pilot, fighter pilot and electrical engineer. He entered active military service in November 1942 as an aviation cadet in the United States Army Air Forces, and received his pilot wings and commission as a Second Lieutenant in February 1944.
During World War II he served with the 355th Fighter Group in the European Theater of Operations, where he flew P-51 Mustangs from July 1944 until February 1945 when he was shot down over Germany on his 52nd combat mission. He was captured and remained a prisoner of war until his release in April 1945.
He made his first test flight of the X-15 on April 15, 1960, when the aircraft was fitted with two interim, 16,000 lbf (71 kN) thrust rocket engines. Four months later he flew to an altitude of 136,000 ft (41.5 km), above Rogers Dry Lake. White would have participated in the Air Force's Man in Space Soonest program, had it come to fruition.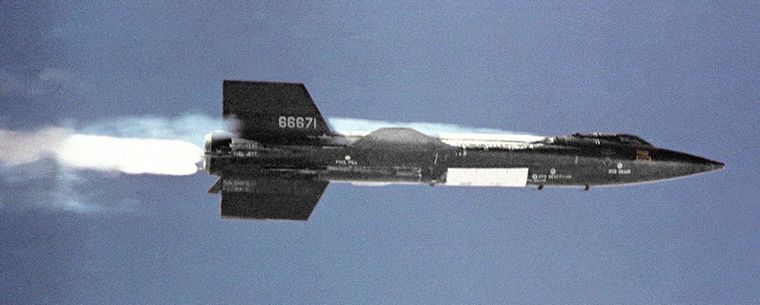 Photo NASA www.dfrc.nasa.gov


In February 1961, White unofficially set a new air speed record when he flew the X-15 at a speed of 2,275 mph (3,660 km/h), following the installation of a 57,000 lbf (254 kN) thrust XLR-99 engine. White was the first human to fly an aircraft at Mach 4 and later Mach 5 over the next eight months.