THIS WEEK IN MIDWEEK UPDATE

Plan Your Weekend……..Forthcoming Events…….Aviation News

Worldwide Incidents and Accidents……This Week in Aviation History



3rd Saturday of every month. Microland. Bring and braai. Fires and bykos provided. Fires start from 09h30. Contact person: Nick Swardt 082 441 8011 or Alan Hussey 072 82 2341
24-25: Nov-25 Springs Club Call OUT Rally Championships. Email
jonty@promptroofing.co.za

2: SAAF Museum AFB Zwartkop open practise day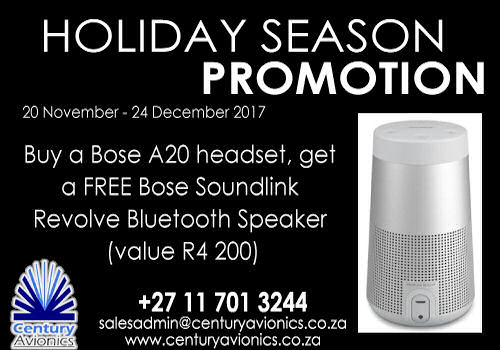 2: Peter Hengst Memorial Adventure Rally Brits. Contact Rob Jonkers 082 804 7032
rob@aerosud.co.za
2-3: SAC Ace of Base Vereeniging. Contact Annie Boon E-mail:
chunge@mweb.co.za
4 to 24: Adamsfontein Badge Fly in. Low cost tugging available for any glider pilot who wants to pop in on their way to the Cape. For more info go to
www.pjaviation.co.za
or phone 083 265 0581
6: EAA Chapter 322 meeting. Dicky Fritz Moth Hall Edenvale. Contact:
editor@afskies.co.za
9: AFB Langebaan Weg and SAAF Silver Falcons 50th anniversary airshow. AFB Langebaanweg, Western Cape. Go to:
www.langebaanwegairshow.co.za
3rd Saturday of every month. Microland. Bring and braai. Fires and bykos provided. Fires start from 09h30. Contact person: Nick Swardt 082 441 8011 or Alan Hussey 072 82 2341
28: FACF Fly in. ST Francis Airpark. Reserve date of 29 December in case of bad weather. All welcome, food and beverages will be available. Contact Barry Culligan
mailto:barry@otto.co.za

4: EAA Chapter 322 meeting. Dicky Fritz Moth Hall Edenvale. Contact:
editor@afskies.co.za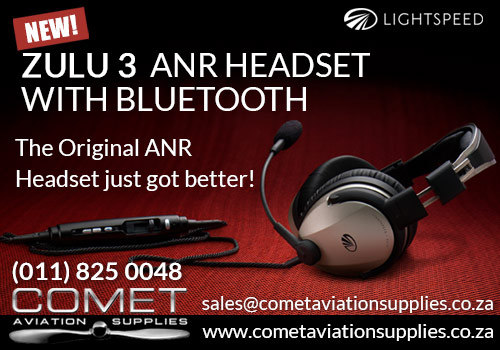 7: SAAF Museum AFB Zwartkop open practise day. Officer Commanding - Museum
oc@saafmuseum.org.za
012 351 2290
20 to 21: Sport Aerobatics Gauteng Regionals. Vereeniging Contact Annie Boon E-mail:
chunge@mweb.co.za
.
3rd Saturday of every month. Microland. Bring and braai. Fires and bykos provided. Fires start from 09h30. Contact person: Nick Swardt 082 441 8011 or Alan Hussey 072 82 2341

3: SAAF Museum AFB Zwartkop open practise day. Officer Commanding - Museum
oc@saafmuseum.org.za
012 351 2290
8: EAA Chapter 322 meeting. Dicky Fritz Moth Hall Edenvale. Contact:
editor@afskies.co.za
3rd Saturday of every month. Microland. Bring and braai. Fires and bykos provided. Fires start from 09h30. Contact person: Nick Swardt 082 441 8011 or Alan Hussey 072 82 2341
21 to25: Armed Forces Day Kimberley.

The Aviation Radio Show; get all your questions answered in one place. To listen to a recording of the live broadcast click on the link:

www.debela.co.za/aviation-radio-show




TEXTRON AVIATION BEGINS DELIVERY OF 10 CESSNA GRAND CARAVAN EX TURBOPROPS TO SUPPORT CHARTER SERVICE IN BOTSWANA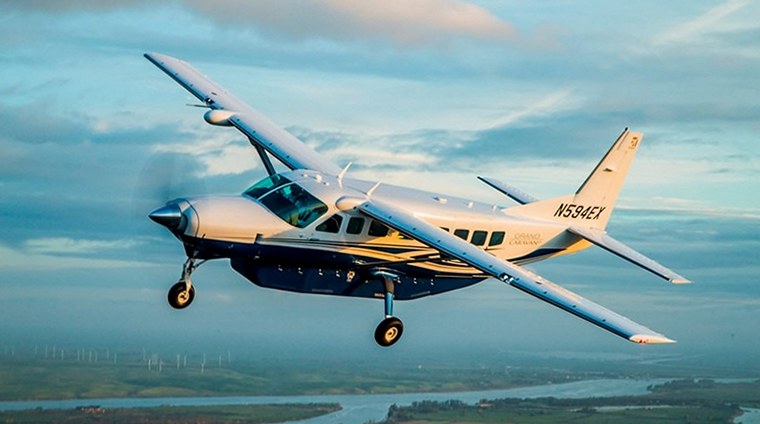 Photo © Cessna Textron

Textron Aviation Inc., a Textron Inc. (NYSE:TXT) company, today announced at Dubai Airshow that it is has begun delivery to Tuareg Aviation Ltd for 10 Cessna Grand Caravan EX turboprops. The aircraft will be operated by Mack Air (Pty) Ltd to provide charter, cargo and logistic services between a network of independently owned bush safari lodges in the popular Okavango Delta and Kalahari Plains regions of Botswana. The aircraft will partially replace Mack Air's current fleet, which currently also includes Grand Caravan turboprops.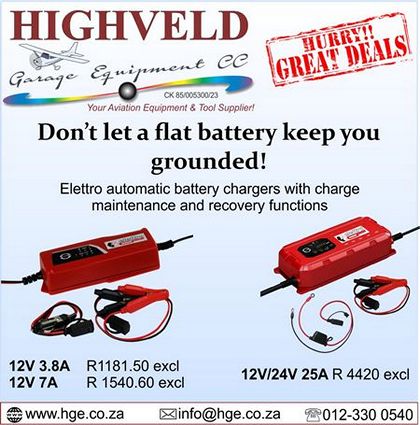 "The Caravan platform continues to prove its incredible performance and reliability in challenging environments," said Lannie O'Bannion, vice president of sales, Africa. "An ideal platform for charter operators like Mack Air, the Caravan offers the performance and impressive cargo capabilities commuter operators desire while providing the comfort and cabin features passengers appreciate."
"Our business relies on versatile aircraft that not only operate in harsh environments, but also transport our passengers comfortably, along with the necessary cargo required to sustain our clients' safari lodges," said Mike Weyl of Mack Air Charter. "The Caravan platform has served us well, and we look forward to enhancing our business with the reliable and modernized fleet of Cessna Grand Caravan EX turboprops."
Textron Aviation's South African based channel partner, Absolute Aviation, will provide maintenance support for the new aircraft at a new maintenance facility in Maun, Botswana. Absolute Aviation's Maun facility is an addition to its existing aircraft parts business established earlier in 2017, and will include a hangar, aircraft engineers and management.
AIRBUS HELICOPTERS COMPLETES FIRST FIRING CAMPAIGN WITH HFORCE-EQUIPPED H145M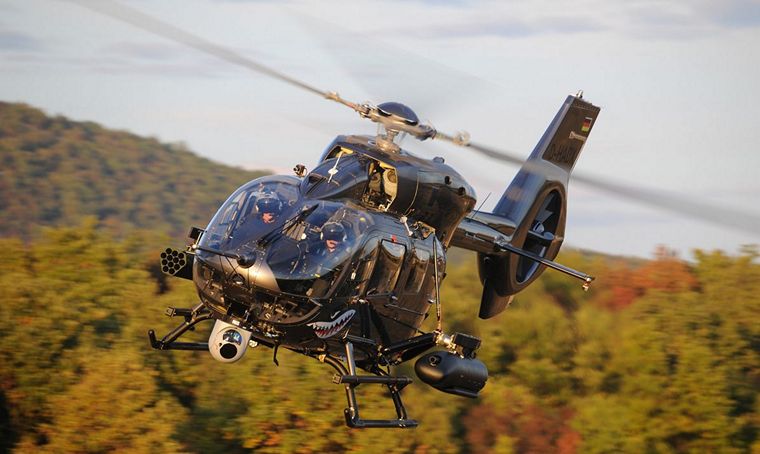 Photo © Airbus

Airbus Helicopters has recently completed a ballistic development test of an HForce weapon system on a H145M on Pápa Airbase in Hungary. The tested system included guns (FN Herstal HMP400), unguided rockets (Thales FZ231) and cannons (Nexter NC621) as well as an electro-optical targeting system by Wescam (MX15) and a helmet mounted sight display by Thales (Scorpion). All planned and required tests were performed in a tight and demanding time schedule.
"This is an important milestone towards the qualification of HForce on the H145M, which is planned for end 2018", said Axel Humpert, Head of H145 Programme. "The positive results of this first ballistic development test are the outcome of a very good and professional cooperation between all parties involved, especially with the Hungarian Ministry of Defence."
Next steps prior to the qualification of HForce on the H145M are the development testing of laser-guided rockets in Sweden before the end of the year as well as additional live-firing trials in summer 2018.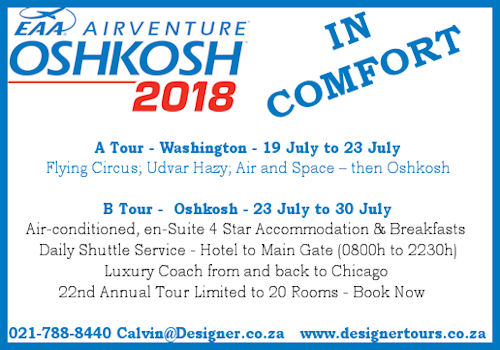 HForce is an innovative, incremental and integrated high performance weapon system that can easily be fitted ("plug and play") into Airbus Helicopter's military platforms such as H125M, H145M and H225M for ambitious and smart military operations where flexibility of mission equipment is a vital criterion. It is designed to meet the requirements of defence agencies seeking light attack mission capabilities or a complement to their existing fleet of specialized attack helicopters. Meanwhile, qualification of the core HForce system is on track for end 2017; following an extensive flight-test campaign carried out on a H225M test bed.
The H145M is a proven military helicopter, derived from the H145, a rugged workhorse and best in its class for rough EMS and police missions. First delivery of the H145 took place in 2014. The entire H145 fleet has now clocked up more than 80,000 flight hours. With a maximum take-off weight of 3.7 tonnes the H145M is an agile light attack helicopter. It perfectly matches the needs of Special Forces, can be used for a wide range of tasks, including armed reconnaissance, ground fire support, anti-tank warfare, escort, tactical transport, MEDEVAC and CASEVAC. Customers for the H145M include Germany - which in June received their 15th and final H145M LUH SOF helicopter on time and on budget - as well as the Republic of Serbia and the Kingdom of Thailand.
PIPER'S DELIVERIES AND REVENUE SOAR IN Q3 2017



Photo © Piper Aircraft


Piper Aircraft, Inc. announced today its aircraft sales and deliveries results for the third quarter of 2017, ending September 30th. Aircraft sales continued to grow in both the Trainer class and M-class product lines with the flagship M600 and the single engine Archer TX trainer leading the sales expansion for the company.
The company delivered 42 aircraft in Q3 worth $48.6M. The 2017 year to date performance also grew over the same period in 2016 with a nearly $45M or 57% increase. Additionally Piper product deliveries have grown by 19 units, when compared to the same period in 2016, which represents a 24% increase. Piper Archer deliveries continue to expand with 55% more units delivered vs. 2016.
"In Q3, our continued investments across all of our products as well as our commitment to a made to order business model has helped drive another quarter of strong growth and sales expansion and has also resulted in the lowest dealer inventory levels that we have seen in 5 years," said President and CEO, Simon Caldecott. "As we look forward to the last quarter of the year, deliveries of our value leading products are expected to continue to increase with deliveries of our robust primary aircraft trainers expected to reach their highest level in 14 years."
VIKING APPOINTS ANSETT AVIATION TRAINING AS FACTORY ENDORSED TRAINING CENTRE FOR CL-415 AERIAL FIREFIGHTING AIRCRAFT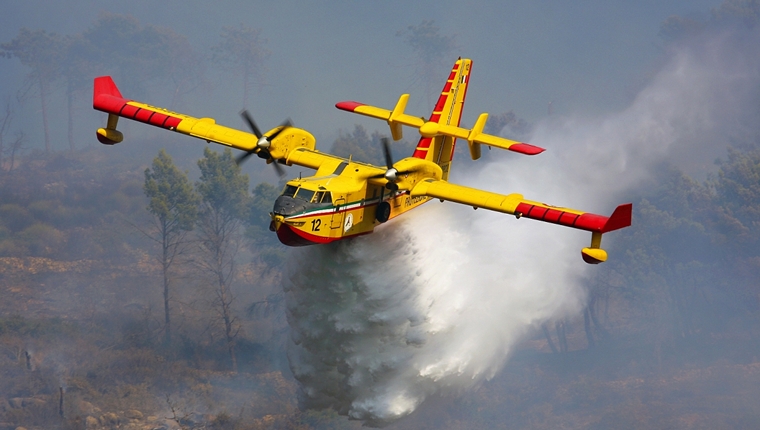 Photo © Viking Aircraft


Viking Air Limited of Victoria, BC, Canada has signed an agreement welcoming Ansett Aviation Training of Melbourne, Australia to the Amphibious Aircraft Division support network, joining Viking's sister-company Pacific Sky Aviation Inc. as the second Factory Endorsed Training Centre ("FETC") for the Viking CL-415 aerial firefighting aircraft.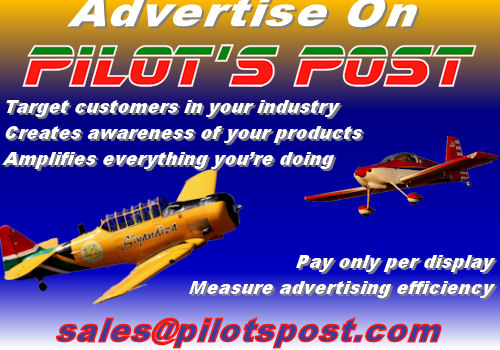 The FETC agreement will create a strategic partnership between Viking and Ansett Aviation Training that will benefit CL-415 operators by ensuring they receive Viking OEM technical support coordinated with the highest level of CL-415 training possible.
As part of the agreement, Ansett will invest in the development of the first-ever Level "D" Full Flight Simulator for the CL-415, to be supplied by TRU Simulation + Training and installed at their new state-of-the-art training centre at Milan-Malpensa Airport, Italy in 2018. Development of the CL-415 flight simulator will leverage the experience gained from TRU Simulation's manufacture of the Level "D" Full Flight Simulator for the Viking Series 400 Twin Otter, including unique seaplane capability.
"Manufacturing the CL-415 simulator to a Level D standard is an exciting and challenging project, but with the combined ability of Viking, Ansett and TRU Simulation, we are confident we will deliver a highly valued training experience to CL-415 operators from our new training centre in Milan by the end of next year," said David Garside, CEO, Ansett Aviation Training.
Ansett Aviation Training was selected as a Viking Factory Endorsed Training Centre due to their experience providing flexible training solutions and global network of world-class training facilities.
BELL BOEING V-22 OSPREY FLEET TOPS 400,000 FLIGHT HOURS




Boeing [NYSE: BA] and Bell Helicopter Textron Inc. [NYSE: TXT] company announced today the Bell Boeing V-22 fleet of tiltrotor aircraft, including both CV-22 and MV-22 variants, has surpassed the 400,000 flight hour milestone.
The V-22 Osprey has been continuously deployed since entering service in 2007 with the United States Marine Corps (USMC) and the Air Force Special Operations Command (AFSOC) in 2009. The aircraft has seen extensive action in Afghanistan as part of Operation Enduring Freedom, in Iraq as part of Operation Iraqi Freedom, and as part of a U.S. Central Command (USCENTCOM) Special Purpose Marine Air Ground Task Force (SPMAGTF) supporting a long-range rapid reaction/crisis response force.
"As the number of flight hours indicate, the V-22 Osprey is a mature platform that projects a versatile mission capability for military operations as well as humanitarian relief efforts," said U.S. Marine Corps Col. Matthew Kelly, V-22 Joint Program manager.
MV-22B Osprey are operating around the globe today, transforming the way the USMC conducts assault support, humanitarian relief operations and the broad spectrum of SPMAGTF missions.
The Bell Boeing V-22 is continuing to achieve outstanding mission success, performing missions only capable with tiltrotor technology. Since entering service, the V-22 has been deployed in numerous missions around the world, including casualty evacuation, tactical recovery of aircraft and personnel, humanitarian assistance/disaster relief, resupply, VIP transport, and theatre security cooperation.
"The versatile V-22 Osprey is in demand and indispensable among commanders worldwide," said Kristin Houston, vice president, Boeing Tiltrotor Programs and deputy director, Bell Boeing V-22 Program. "In order to improve readiness for our servicemen and women, we are significantly investing for the long term through modifications and upgrades to our V-22 factory in Philadelphia. Together with Bell Helicopter, we are proud of achieving this flight hour milestone. Our strategic alliance enables the continued success of this program."
"This 400,000-flight hour milestone is an incredible testament to the V-22's leap-ahead capability and is a tribute to the men and women of Bell Helicopter and Boeing who build and support tiltrotor aircraft," said Vince Tobin, executive vice president of Military Programs at Bell Helicopter. "The Osprey brings unprecedented range, speed and survivability to the war fighter and will continue to excel in combat and in executing some of the most difficult humanitarian operations."
The Bell Boeing V-22 Osprey is a joint-service, multirole combat aircraft that uses tiltrotor technology to combine the vertical performance of a helicopter with the speed and range of a fixed-wing aircraft. With its nacelles and rotors in vertical position, it can take off, land and hover like a helicopter. Once airborne, its nacelles can be rotated to transition the aircraft to a turboprop airplane capable of high-speed, high-altitude flight.
WORKHORSE ANNOUNCES FIRST MANNED FLIGHT OF SUREFLY™ ELECTRIC HYBRID OCTOCOPTER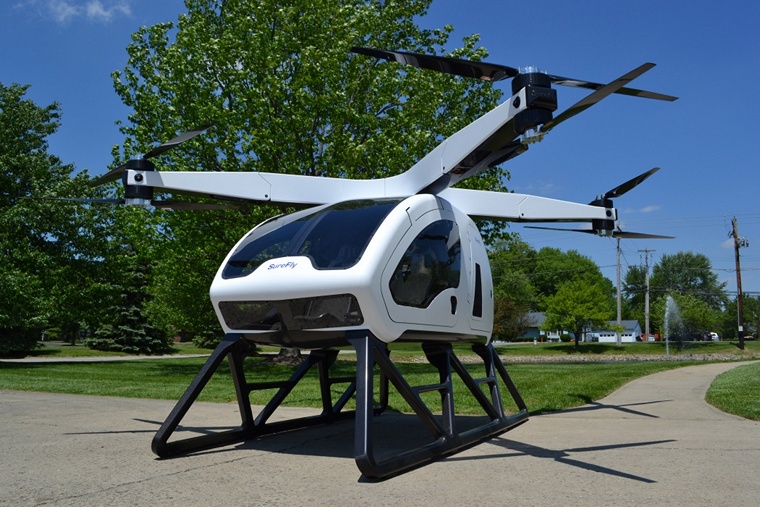 Photo © Surely

Workhorse Group Inc. (NASDAQ: WKHS), an American technology company focused on providing sustainable and cost-effective solutions to the commercial electric transportation sector, today announced it will conduct the first manned flight of its SureFly™ personal hybrid octocopter on January 8 in Las Vegas prior to the start of the 2018 CES. The date is dependent on several factors, including weather, regulatory approval from the Federal Aviation Administration and local municipalities.
"After productive conversations with the Federal Aviation Administration, we're excited to be on a path forward to experimental status for the SureFly," said Stephen Burns, CEO of Workhorse. "The response to SureFly's public displays has been enthusiastic, and while we have much work ahead of us in our march toward certification, this first test flight represents a significant milestone for the project."
SureFly, the world's first personal electric hybrid octocopter, was first unveiled at the Paris Air Show in June. It is scheduled to be statically displayed at CES in Las Vegas, January 9-12, 2018. The Workhorse CES display will be located on the Central Plaza at Booth #31, near the main entrance of the show.
SureFly re-invents the helicopter, making it safer, easier to fly and much more affordable than a conventional helicopter. Its redundant design includes four propeller arms, two fixed contra-rotating propellers on each arm, a backup lithium battery pack to drive the electric motors in the event of engine failure. In addition to the redundant design, a ballistic parachute that safely brings down the craft will be included in the final design.
SureFly's hybrid design leverages Workhorse's battery pack, management systems and controls utilized in its currently commercialized range-extended battery electric road vehicles. It features a gas combustion engine generating electricity and a parallel battery pack offering a redundant backup power source, eliminating the need for long battery charging periods between flights. Pilots who have seen the SureFly like the easy-to-pilot design, as the aircraft is piloted by joystick in a similar fashion to flying a drone. The SureFly is expected to be capable of carrying pilot and passenger or cargo up to 70 miles. After a quick refill, SureFly is ready for the next hop.
Early models will be pilot-operated. Future models will be capable of autonomous flight, with payloads of up to 400 pounds. Anticipated markets for the SureFly are precision agriculture, emergency responders, city commuters and military. The company is working toward full certification of the vehicle in late 2019. The expected price of the SureFly is approximately $200,000, and Workhorse is currently accepting pre-orders for the aircraft at www.workhorse.com.

South Africa, Johannesburg: A Mango Boeing 737-800 with 179 people on board, was climbing out of Johannesburg's runway 03L when a bird impacted the left hand engine causing a dent at the engine inlet. The crew stopped the climb at about FL200 and decided to return to Johannesburg for a safe landing on runway 03L about 25 minutes after departure.
Tanzania, Empakaai: A Cessna 208B Grand Caravan operated by Coastal Aviation was involved in an accident in the Empakaai area in Tanzania. The aircraft was damaged beyond repair and all occupants, ten passengers and one pilot, sustained fatal injuries.
Germany, Frankfurt: An Egypt Air Boeing 737-800 on a flight to Cairo was climbing through FL240 out of Frankfurt when the crew declared Mayday reporting a cracked windshield and initiated a rapid descent to FL100. While on approach to Frankfurt the crew downgraded the Mayday to PAN advising that only the windshield's outer pane had cracked and was completely taken out. The aircraft entered a hold at 5000 feet to burn off fuel and landed safely back on Frankfurt's runway.
Argentina, T Buenos Aires: An Aerolineas Argentinas Boeing 737 was on final approach to Buenos Aires Jorge Newbery Aeroparque Airport's runway at about 220 feet AGL when the crew observed a drone and felt some impact. The aircraft continued the landing without further incident. There were no injuries, the aircraft sustained minor damage.
Ireland, Belfast: One passenger has received hospital treatment after a Bombardier Q400 operated by Flybe landed with retracted nose-gear at Belfast International Airport. There is no immediate indication as to the reason for the nose-gear problem. The UK Air Accidents Investigation Branch has dispatched representatives to Belfast in response.
Belize, Placencia Airport: A Cessna 208B Grand Caravan with seven on board including the countries' acting prime minister and minister of immigration was taking off from Placencia Airport 620 metres long runway in Belize when the undercarriage hit a Subaru SUV on road just outside the airport. The aircraft could not gain altitude and impacted the water. All aboard were able to get out safely. The aircraft suffered substantial damage.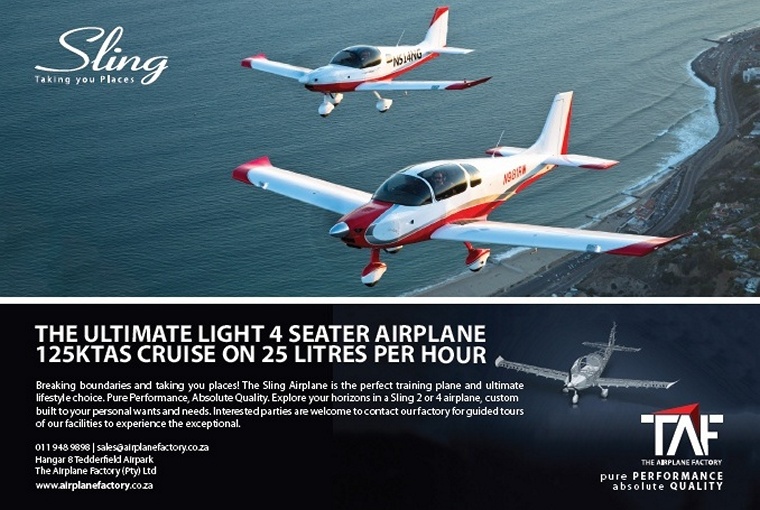 20 NOVEMBER 1783

In a flight lasting 25 min, de Rozier and d'Arlandes take the first untethered ride in a Montgolfière in Paris, the first human passengers carried in free flight by a hot-air balloon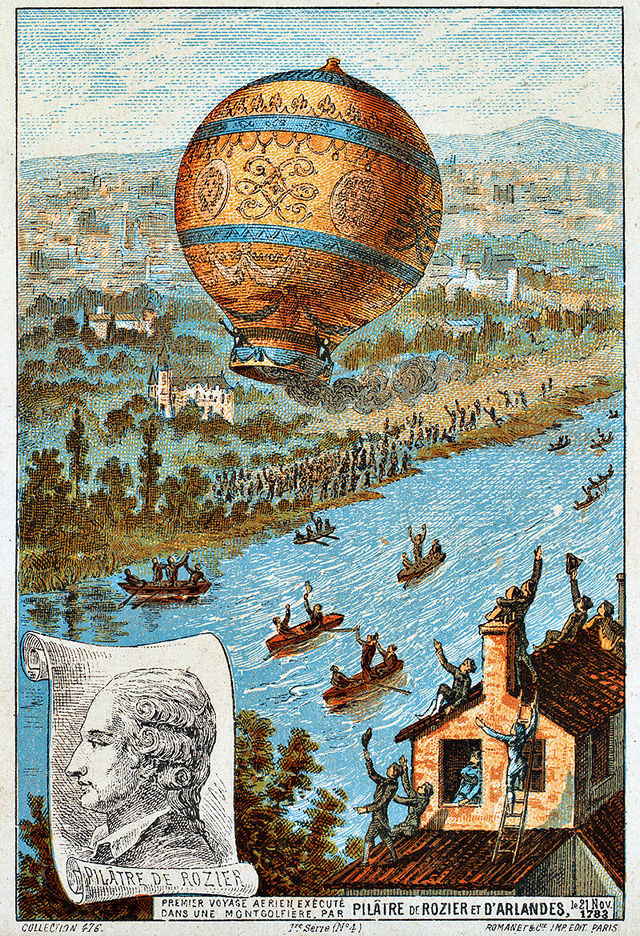 The first public demonstration of a balloon by the Montgolfier brothers took place in June 1783, and was followed by an untethered flight of a sheep, a cockerel and a duck from the front courtyard of the Palace of Versailles on 19 September. The French King Louis XVI decided that the first manned flight would contain two condemned criminals, but de Rozier enlisted the help of the Duchess de Polignac to support his view that the honour of becoming first balloonists should belong to someone of higher status, and d'Arlandes agreed to accompany him. The King was persuaded to permit d'Arlandes and de Rozier to become the first pilots.
After several tethered tests to gain some experience of controlling the balloon, de Rozier and d'Arlandes made their first untethered flight in a Montgolfier hot air balloon on 21 November 1783, taking off at 1:54 p.m. from the garden of the Château de la Muette in the Bois de Boulogne, in the presence of the King. Also watching was U.S. envoy, Benjamin Franklin. Their 25-minute flight travelled slowly about 5½ miles (some 9 km) to the southeast, attaining an altitude of 3,000 feet, before returning to the ground at the Butte-aux-Cailles, then on the outskirts of Paris. After the flight, the pilots drank champagne to celebrate the flight, a tradition carried on by balloonists to this day.
D'Arlandes proposed a flight to cross the English Channel in 1784, but the plan came to nothing.