THIS WEEK IN MIDWEEK UPDATE

Plan Your Weekend……..Forthcoming Events…….Aviation News

Worldwide Incidents and Accidents……This Week in Aviation History



10: EAA Chapter 322 meeting. Dicky Fritz Moth Hall Edenvale. Contact:
editor@afskies.co.za


20 to 21: Sport Aerobatics Gauteng Regionals. Vereeniging Contact Annie Boon E-mail:
chunge@mweb.co.za
.
27: Kittyhawk Air Navigation Race (ANR) Kitty Hawk Aerodrome, 369jr, Boschkop Road, Pretoria East, 0036, South Africa (map). Contact Rob Jonkers e-mail:
rob@aerosud.co.za
Cell:082 804 7032
3rd Saturday of every month. Microland. Bring and braai. Fires and bykos provided. Fires start from 09h30. Contact person: Nick Swardt 082 441 8011 or Alan Hussey 072 82 2341

3: SAAF Museum AFB Zwartkop open practise day. Officer Commanding - Museum
oc@saafmuseum.org.za
012 351 2290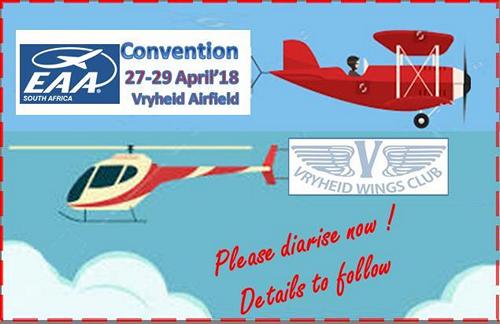 8: EAA Chapter 322 meeting. Dicky Fritz Moth Hall Edenvale. Contact:
editor@afskies.co.za
10: Rand Airport Challenge. Contact Frank Eckard e-mail:
frank.eckard@mweb.co.za
cell: 083 269 1516
10: SAPFA AGM - Rand Airport Saturday. Contact Rob at
rob@aerosud.co.za
15-17: SAPFA Committee Bosberaad - Paddafontein.
3rd Saturday of every month. Microland. Bring and braai. Fires and bykos provided. Fires start from 09h30. Contact person: Nick Swardt 082 441 8011 or Alan Hussey 072 82 2341
21 to25: Armed Forces Day Kimberley.

3 & 4: SAC Western Cape Regionals and annual fly-in Swellendam airfield. Contact Annie Boon E-mail:
chunge@mweb.co.za
or contact Pieter Venter E-mail:
pventer@vgv.co.za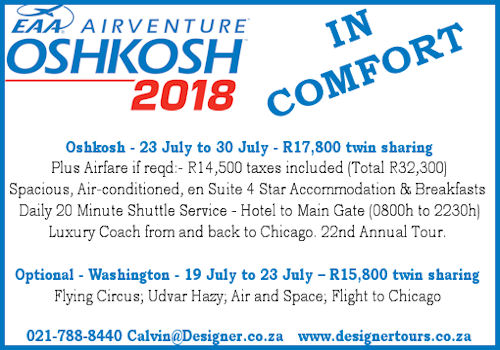 3: SAAF Museum AFB Zwartkop open practise day. Officer Commanding - Museum
oc@saafmuseum.org.za
012 351 2290
3: Durban Wings Club Fun Rally. Virginia Airport, Airport Street, Durban North, 4051, South Africa (map). Contact: Mary de Klerk
maryd@expandingbranding.co.za
8: EAA Chapter 322 meeting. Dicky Fritz Moth Hall Edenvale. Contact:
editor@afskies.co.za
9 to 11:Aero Club of South Africa air week at Middleburg airfield. Contact Alan Evan-Hanes E-mail:
alan@aeroclub.co.za
3rd Saturday of every month. Microland. Bring and braai. Fires and bykos provided. Fires start from 09h30. Contact person: Nick Swardt 082 441 8011 or Alan Hussey 072 82 2341

The Aviation Radio Show; get all your questions answered in one place. To listen to a recording of the live broadcast click on the link:

www.debela.co.za/aviation-radio-show




IT HAS BEEN AN INCREDIBLE YEAR!!! THE ELIXIR AIRCRAFT TEAM WISHES YOU AN EVEN MORE EXTRAORDINARY ONE IN 2018!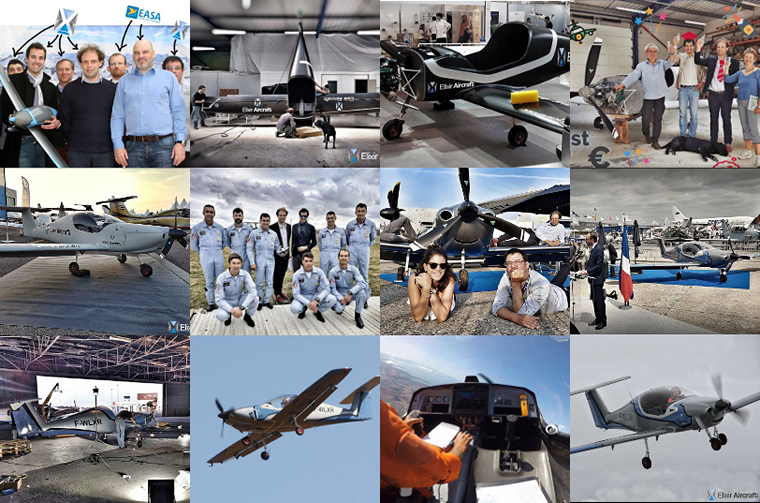 Photo © Exlixer Aircradt

January - EASA certification meeting launch.
February - First worldwide "One Shot" wing delivery!
March - First wing/fuselage assembly.
April - Aero Friedrichshafen, an aircraft taking shape.
May - First pre-order.
June - An almost ready aircraft.
June - The French Prime Minister on our booth at the Paris Airshow
July - Final assembly of the Elixir.
August - First flight.
September/November- Ground Tests.
December - 22 pre-orders!!
WORKHORSE RECEIVES FAA CERTIFICATION FOR TEST FLIGHTS OF SUREFLY ELECTRIC HYBRID HELICOPTER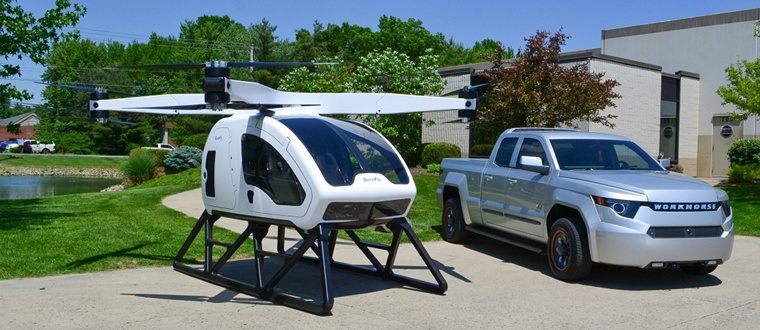 Photo © Surefly


Workhorse Group Inc. (NASDAQ: WKHS), an American technology company focused on providing sustainable and cost-effective electric mobility solutions to the commercial transportation sector, today announced it has received an Experimental Airworthiness Certificate from the Federal Aviation Administration (FAA) that will allow the company to conduct test flights of its SureFly™ electric hybrid helicopter. The first test flight is scheduled for 12:00 p.m. local time in Las Vegas on January 8, 2018, prior to the start of the 2018 Consumer Electronic Show (CES). On December 27, 2017, Workhorse announced that it intends to spin off its SureFly business into a separate publicly traded company called SureFly, Inc.
SureFly, the world's first electric hybrid helicopter, features a drone-like octocopter design, a two-person, 400-pound payload capacity and a range of approximately 70 miles. SureFly was first unveiled at the Paris Air Show in June 2017, and will be on display at the Workhorse CES exhibit, located on the Central Plaza at Booth #31, near the main entrance of the show. The company is currently accepting SureFly pre-orders at www.workhorse.com.
SureFly re-invents the helicopter, making it safer, easier to fly and much more affordable than a conventional helicopter. Its design includes four propeller arms, with two fixed contra-rotating propellers on each arm; a hybrid propulsion system combining gasoline and electric power; and a backup lithium battery pack to drive the electric motors in the event of engine failure. In addition to its redundant safety features, SureFly includes a ballistic parachute that is designed to safely return the aircraft to the ground in emergency situations.
SureFly's hybrid design leverages Workhorse's battery pack, management systems and controls utilized in its currently commercialized range-extended battery electric trucks. SureFly's gasoline combustion engine generates electricity and a parallel battery pack offers a backup power source, eliminating the need for larger batteries or long battery charging periods between flights. Pilots who have inspected SureFly are attracted to its easy-to-pilot design -- the aircraft is piloted by joystick in a similar fashion to flying a drone. The SureFly is expected to be capable of carrying a pilot and passenger or cargo up to 70 miles. After a quick refuelling, SureFly will be ready for the next hop.
Early models will be pilot-operated. Future models are intended to be capable of autonomous flight. Anticipated markets for the SureFly are precision agriculture, surveillance, aerial inspection, emergency response tasks, urban commuting and various military applications. The company is working toward full FAA certification of the helicopter in late 2019. The expected price of the SureFly is approximately $200,000.
KODIAK 100 MILESTONE: QUEST AIRCRAFT CELEBRATES 10 YEARS SINCE FIRST CUSTOMER DELIVERY

December 14, Sandpoint, Idaho - This December marks the tenth anniversary of the first Kodiak 100 delivery for Quest Aircraft, the Idaho-based manufacturer of the 10-seat turbine STOL aircraft. Over the course of the past ten years, the Kodiak has earned a reputation as a highly rugged and technologically advanced single-engine turboprop. By the end of this year, 235 Kodiaks will have been delivered to customers worldwide.
The Kodiak has made considerable advances during the past decade, thanks to a consistent outflow of upgrades and enhancements to each new model year. The mission of the aircraft has evolved as well. Originally designed to be the ultimate humanitarian workhouse, the unique combination of robust construction and remarkable payload capability has resulted in many additional applications for the Kodiak, including float (amphibious and straight) operations, special missions, medevac, skydive and more. The owner-flown segment continues to gain momentum as well, particularly in the North American marketplace.
Company CEO Rob Wells remarked, "The Kodiak design was born out of a passion to do good in the world, and better within our own industry. It is that passion and dedication that has brought us here today, celebrating ten years since our first customer delivery. I'm proud to celebrate alongside our employees, partners and customers as we all look forward to many more years of growth and success."
Over the past decade, Quest Aircraft has grown to employ over 300 workers, and has expanded their facility by 27,000 square feet. Quest honoured the achievement during their annual employee Christmas party event on December 13th at their headquarters in Sandpoint, Idaho.
The Kodiak's rugged aluminium construction combines superior STOL performance and high useful load. It offers proven turbine reliability with the Pratt & Whitney PT6 turbine engine, has the ability to land and take off from unimproved surfaces and is capable of working off floats without structural upgrades. The Kodiak can take off in under 1,000 feet at full gross takeoff weight of 7,255 lbs and climb at over 1,300 feet per minute. Three interior packages are available along with a wide range of factory-installed options.
PIPER M500 AND M350 CERTIFIED WITH GARMIN G1000 NXI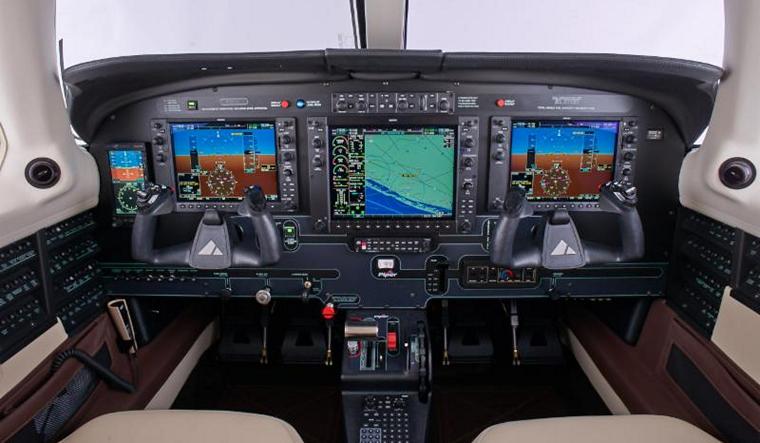 Photo © Piper

Piper Aircraft has announced FAA certification of the G1000 NXi next generation integrated flight deck on both the M500 single engine turboprop and M350 pressurized, single-engine piston and is set to offer it as a retrofit option (via STC) for fielded G1000 equipped Matrix, Mirage (M350), and Meridian (M500) aircraft later this year.
The G1000 NXi system features wireless cockpit connectivity, enhanced situational awareness, visual approaches and map overlay on the horizontal situation indicator, among other items. Additionally, faster processing power supports improved map rendering and smoother panning throughout the displays. Optional features such as SurfaceWatch, Flight Stream 510 and improved ADS-B options like the GTX 345 are now all available in the next generation M350 and M500 Piper products.
In addition to the M-class and trainer products that are now NXi equipped, the Seneca V will be upgraded later this year to the G1000 NXi avionics platform. Piper Aircraft expects to begin deliveries of the Seneca V with the latest in Garmin avionics in Q4 2018.
FIRST PIPISTREL'S ALPHA ELECTRO TOOK FLIGHT IN AUSTRALIA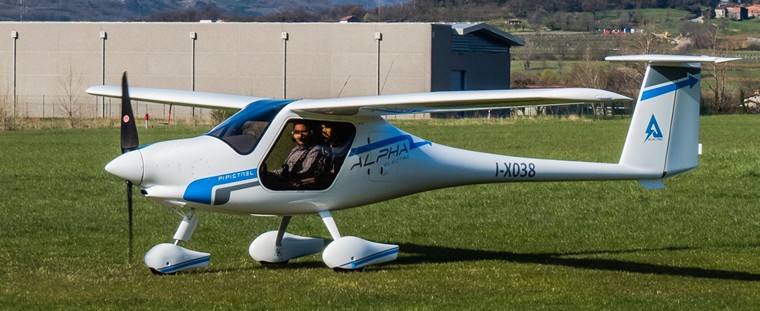 Photo © Pipistrel


On 2. January 2018 the first serially-built Pipistrel Alpha Electro took flight in Australia. The aircraft, which received a Special Certificate of Airworthiness from Australia's Civil Aviation Safety Authority (CASA) in October 2017, took off from Perth's Jandakot Airport and conducted two circuits around Jandakot (the 5th busiest airport in the southern hemisphere with more than 375,000 movements last year). It then went on to complete another seven hours of flying over the following two days before being handed over to Electro.Aero, the aircraft's operator.
The Alpha Electro can be registered in Australia as either a recreational aircraft or with CASA. In both cases it can be used for training, even to obtain PPL. The Pipistrel Alpha Electro is the first electric aircraft that offers the possibility of PPL training.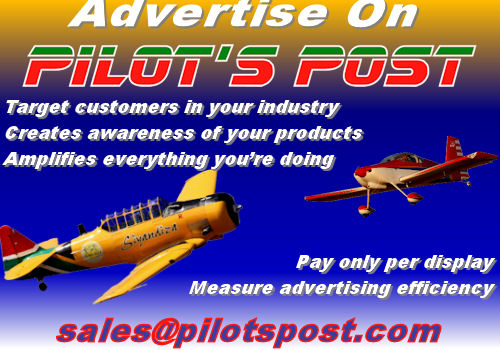 The aircraft was sold and all the paperwork done by our Australian distributor, X-Air Australia and its representative, Mr. Michael Coates. The new owner of the aircraft, Perth-based company Electro.Aero, stated on their Facebook page that they were satisfied with the new aircraft.
Mr. Richard Charlton, the finance director of Electro.Aero said in his statement for Australian Aviation that it was a smooth first flight. "It was very much without drama. We were just in the pattern behind a normal aeroplane and the control tower was very excited. They knew all about what was happening."
Charlton said the aircraft was much quieter and cheaper to operate than equivalent-sized aircraft, powered by piston engines."The main issue with petrol is the maintenance costs of what is a more complex engine," Charlton said. "The electric engine is really simple. It has one moving part, it's a very small piece of equipment and it is a solid-state motor."
"Technologies developed specially for this aircraft cut the cost of ab-initio pilot training by as much as 70 percent, making flying more affordable than ever before," Boscarol said. "The biggest advantage is being able to conduct training on smaller airfields closer to towns with zero CO2 emissions and minimum noise."
For now, the Electro.Aero company is offering trial instructional flights with the Alpha Electro, with a view to eventually offering ab-initio flight training all the way to recreational pilot certificate in the near future.
RUSSIAN POST HAS STARTED TO OPERATE TWO CARGO AIRCRAFT TU-204-100C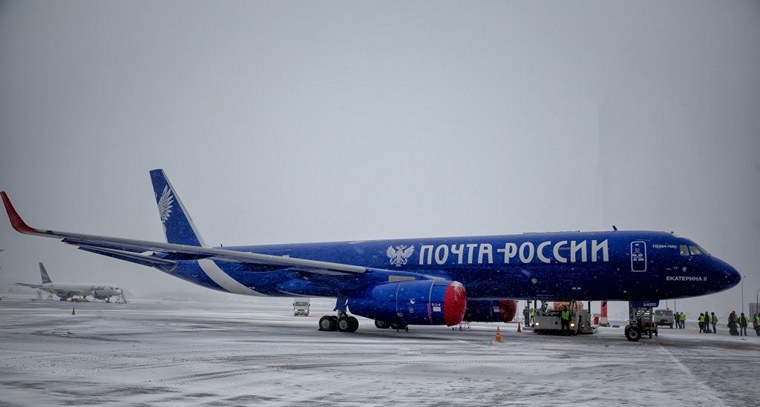 Photo © Tupolev


FSUE Russian Post has started the operation of the first two cargo aircraft Tu-204-100C. These first long-range airplanes owned by Russian Post will deliver mail.
Long-range airplanes Tu-204-100C developed by Tupolev PJSC and manufactured by "Aviastar-SP" JSC that are a part of "UAC" PJSC are equipped with fuel-efficient engine PS-90A and are able to carry up to 30 tons of cargo at a distance of 3800 km.
The airplanes are painted in the corporate colour of Russian Post. Each aircraft has its own name -"Peter the Great" and "Catherine the Great" in honour of the government leaders who greatly contributed to the development of Russian postal communication.
On December 5, 2016 two cargo airplanes Tu-204-100C MSN RA-64051 and RA-64052 conducted the flight along the first mail routes: Moscow-Irkutsk-Anadyr and Moscow-Nizhnevartovsk-Yakutsk.
Airplanes Tu-204-100C will be actively operated for mail delivery to Siberia and Far East. In the future the airplanes are planned to be operated on international routes including states of Asia-Pacific region.
FIRST TIGER HAD RETROFIT DELIVERED TO THE FRENCH ARMY AVIATION


Photo © Airbus Helicopter


Airbus Helicopters has delivered the first Tiger retrofitted into the HAD version to the French Army Aviation, after having previously completed its formal acceptance process with the French Defence Procurement Agency (DGA).
This retrofit from the HAP to the HAD version involves performing over 100 airframe modifications and installing over 1500 new parts and 250 electrical cables.
Compared with the previous HAP version, the HAD Tiger benefits from an increased maximum take-off weight (MTOW), and is equipped with two new enhanced MTR 390 E engines and with a new STRIX roof mounted sight system complete with a laser designator that allows the Hellfire II air-to-ground missile to be fired.
This retrofit is the first of 36 retrofits from HAP to HAD ordered by the French Ministry of Defence.
For this Tiger retrofit program, Airbus Helicopters has set up a new industrial organization, combining both teams from its Military Support Centre France and from its Tiger serial production Final Assembly Line.
The Tiger HAD is Airbus Helicopters' multi-role attack helicopter. It is designed to perform armed reconnaissance, air or ground escort, air-to-air combat, ground firing support, destruction and anti-tank warfare, day or night and in adverse conditions.
The Tiger attack helicopter has proven its capabilities during operational deployments in Afghanistan, the Central African Republic, Libya and Mali. In service with the armed forces of France, Germany, Spain and Australia, the global Tiger fleet has logged over 92,000 flight hours to date.

Greece, Kalamata AFB: A Helenic Air Force North American T-2E Buckeye of 120 Air Training Wing, 363 Squadron crashed soon after take-off after a malfunction of one of the two engines. The two pilots onboard ejected safely. The aircraft however was damaged beyond repair.
India, Mumbai: Jet Airways has grounded two pilots following reports of a fight inside the cockpit of a flight from London to Mumbai. According to Indian media reports, quoting witnesses, the incident occurred after one male pilot allegedly slapped a female pilot. The woman left the cockpit and only returned later. Jet Airways confirmed that a "misunderstanding" occurred between the cockpit crew on the New Year's Day flight. The flight, which was carrying 324 passengers, landed safely in Mumbai.
USA, New York: Two Boeing 777-300 aircraft were damaged in a ground collision at New York-John F. Kennedy International Airport, USA. The right-hand wingtip of a Boeing 777-31BER operated by China Southern Airlines struck the APU in the tail of a Boeing 777-369ER operated by Kuwait Airways. There were no personal injuries.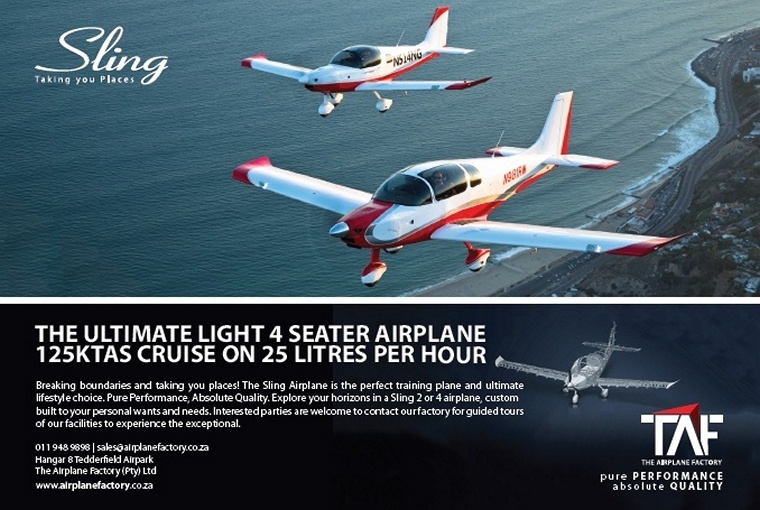 11 JANUARY 1902

Inspiration for many an aviator and plane-spotter, Popular Mechanics magazine is published for the first time.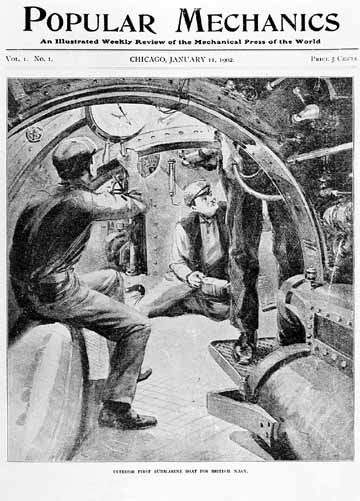 The first issue of Popular Mechanics published by Henry Haven Windsor, appeared on 11 January 1902. The magazine was originally self-published by the Popular Mechanics Company but in 1958 became a subsidiary of the Hearst Corporation.
There are nine international editions, including a now-defunct Latin American version that had been published for decades, and a newer South African edition.
The Russian edition of Popular Mechanics has been issued since 2002. In 2013, the US edition changed from twelve to ten issues per year.
A nearly complete archive of Popular Mechanics issues from 1905 through 2005 is available through Google Books.