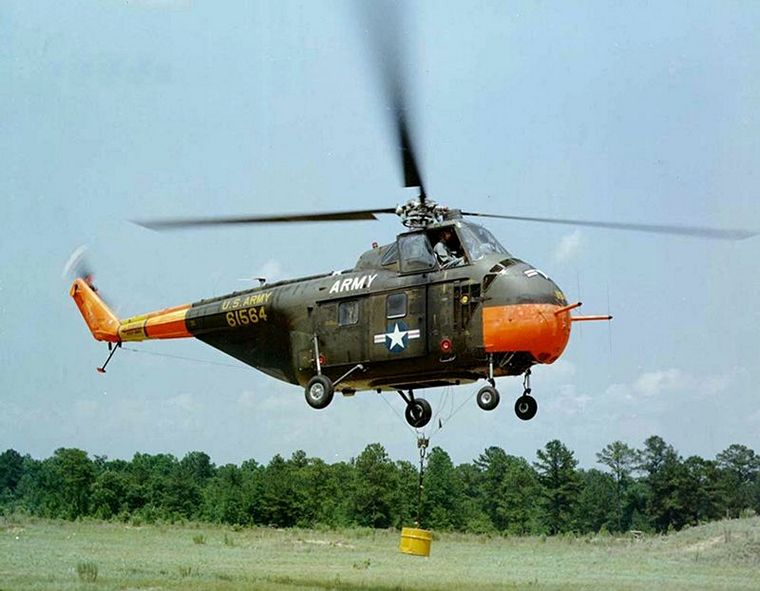 Sikorsky H-19 Chickasaw. Photo © U.S. Army / commons.wikimedia.org

The Sikorsky H-19 Chickasaw, sold commercially under its Sikorsky model number S-55, was a multi-purpose helicopter used by the United States Army and United States Air Force. It was also license-built by Westland Aircraft as the Westland Whirlwind in the United Kingdom.
Development of the H-19 was initiated privately by Sikorsky without government sponsorship. The helicopter was initially designed as a test bed for several novel design concepts intended to provide greater load-carrying ability in combination with easy maintenance.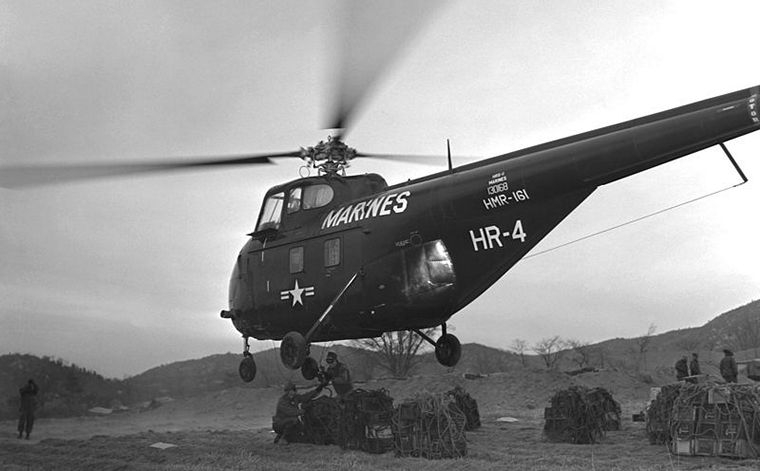 Photo © Sgt. Robert E. Kiser, USMC / commons.wikimedia.org

The first customer was the United States Air Force, which ordered 5 YH-19 aircraft for evaluation; the YH-19's first flight was on 10 November 1949, less than a year after the program start date. This was followed by delivery of first YH-19 to the U.S. Air Force on 16 April 1950 and delivery of the first HO4S-1 helicopter to the U. S. Navy on 31 August 1950. A U.S. Air Force YH-19 was sent to Korea for service trials in March 1951, where it was joined by a second YH-19 in September 1951. On 27 April 1951, the first HRS-1 was delivered to the U.S. Marine Corps, and on 2 May 1951, the first S-55 was delivered to Westland Aircraft.
Based on successful operational testing, the U.S. Air Force ordered 50 production H-19A helicopters. On July 15 1952 two H-19A helicopters named Hop-A-Long and Whirl-O-Way, stripped of all unnecessary equipment and with three 100 gallon auxiliary fuel tanks in the cabin, self-deployed from Westover AFB, Massachusetts to Wiesbaden AFB, Germany. The first transatlantic crossing by helicopter followed a great circle route via Presque Isle, Maine - Goose Bay, Labrador - Narsarsuaq, Greenland - Keflavik, Iceland - Prestwick, Scotland. After welcoming ceremonies in Scotland, the two helicopters continued on to Schiphol, Holland and arrived at Wiesbaden AFB, Germany on 4 August 1952, a 4,220 mile trip. The longest leg of this trip was the 850 mile over water leg from Keflavik, Iceland to Prestwick, Scotland.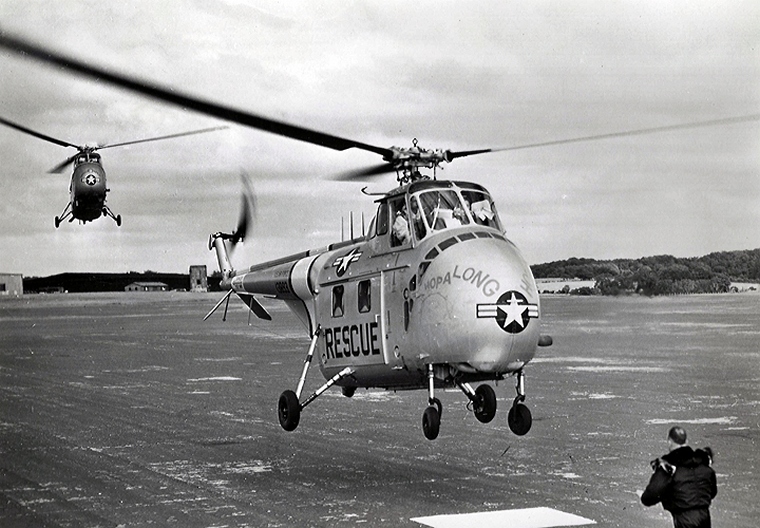 H-19A Air Force Serial No. 51-389 landing at Prestwick, Scotland after first Transatlantic crossing

1,281 of the helicopters were manufactured by Sikorsky in the United States. An additional 447 were manufactured by licensees of the helicopter including Westland Aircraft, the SNCASE in France and Mitsubishi in Japan.