THIS WEEK IN MIDWEEK UPDATE

Plan Your Weekend……..Forthcoming Events…….Aviation News

Worldwide Incidents and Accidents……This Week in Aviation History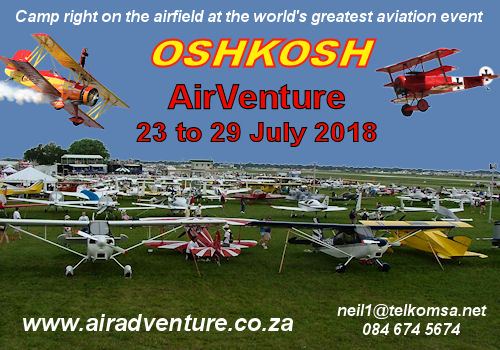 3 & 4: SAC Western Cape Regionals and annual fly-in Swellendam airfield. Contact Annie Boon E-mail:
chunge@mweb.co.za
or contact Pieter Venter E-mail:
pventer@vgv.co.za
3: SAAF Museum AFB Zwartkop open practise day. Officer Commanding - Museum
oc@saafmuseum.org.za
012 351 2290
3: Durban Wings Club Fun Rally. Virginia Airport, Airport Street, Durban North, 4051, South Africa (map). Contact: Mary de Klerk
maryd@expandingbranding.co.za


8: EAA Chapter 322 meeting. Dicky Fritz Moth Hall Edenvale. Contact:
editor@afskies.co.za
9 to 11:Aero Club of South Africa air week at Middleburg airfield. Contact Alan Evan-Hanes E-mail:
alan@aeroclub.co.za
Kindly follow this link and complete the RSVP form, to indicate your intentions to attend the Airweek from 9 to 11 March 2018 at Middelburg.
https://goo.gl/forms/lgvAlo1sUSu2ugjt2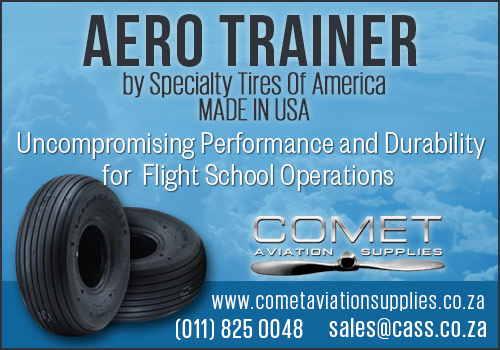 10: Springs Airfield. Aviation Day. Contact
admin@mach1aviation.co.za
3rd Saturday of every month. Microland. Bring and braai. Fires and bykos provided. Fires start from 09h30. Contact person: Nick Swardt 082 441 8011 or Alan Hussey 072 82 2341
25: Piet "Vlieg" Smit Memorial Fly In. Aviators Paradise .
CANCELLED

31: Rand Airport Adventure Fun Rally. E-mail:
rob@aerosud.co.za
cell: 082 804 7032

4: EAA Chapter 322 meeting. Dicky Fritz Moth Hall Edenvale. Contact:
editor@afskies.co.za
4 to 11: Stars of Sandstone at Sandstone Estates Ficksburg .Contact Louise Norton E-mail:
sandstone-Estates-Pty-Ltd@mail.vresp.com
7: Ermelo Airshow Contact Andre van Rooyen E-mail:
tolderia@gmail.com
Cell: 082 417 0174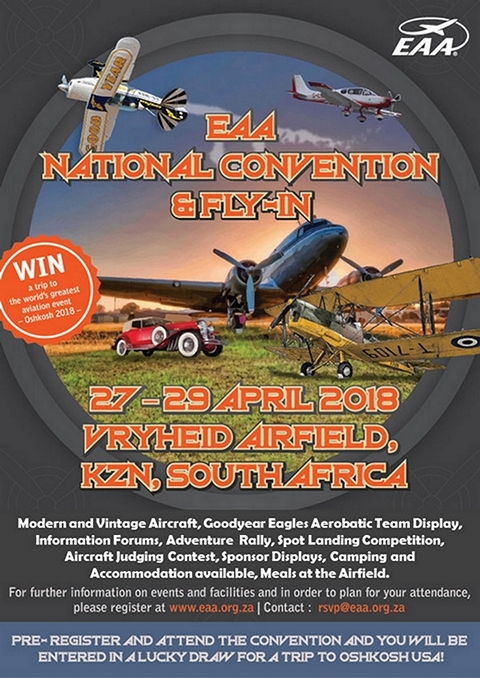 8: SAAF Museum AFB Zwartkop open practise day. Officer Commanding Museum
oc@saafmuseum.org.za
012 351 2290
2-14: SAPFA Rally Nationals and Fun Rally - Brits Airfield. Contact Frank Eckard e-mail:
frank.eckard@mweb.co.za
cell: 083 269 1516
14: Robertson annual Fly-in breakfast. Contact Alwyn du Plessis E-mail:
boeredata@breede.co.za
Cell: 083 270 5888
21 & 22: SAC KNZ regionals - Ladysmith airfield. Contact Annie Boon E-mail:
chunge@mweb.co.za
3rd Saturday of every month. Microland. Bring and braai. Fires and bykos provided. Fires start from 09h30. Contact person: Nick Swardt 082 441 8011 or Alan Hussey 072 82 2341
28 - 28: Uitenhage Wings & Wheels Festival Lourens Kruger
lmk@telkomsa.net
082 320 2615
27 April to 1 May: South African Canopy Piloting National Championship 2018 will be hosted by the CP Committee at Pretoria Skydiving Club in Gauteng from.
27 April - 1 May 2018 NAC Fly Away; the 10th Fly Away to be staged by NAC
Contact Deneys Potgieter
deneys.potgieter@nac.co.za
or Mobile 082 891 4354
27-29: EAA Convention, Vryheid Airfield.
28: EAA Convention Adventure Rally. Contact Rob Jonkers e-mail:
rob@aerosud.co.za
cell: 082 804 7032

2: EAA Chapter 322 meeting. Dicky Fritz Moth Hall Edenvale. Contact:
editor@afskies.co.za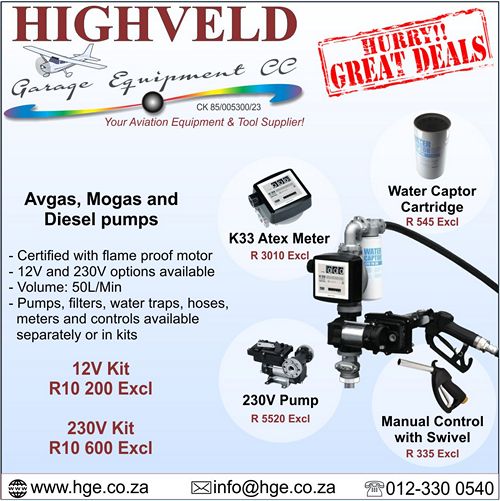 05: Swartkops Airshow Contact Officer Commanding - Museum
oc@saafmuseum.org.za
012 351 2290
12: Sheila Taylor Fun Rally - Krugersdorp Airfield. Contact Frank Eckard e-mail:
frank.eckard@mweb.co.za
cell: 083 269 1516
11 to 13: Battlefields Country Lodge Annual fly-in. Website:
www.battlefieldslodge.co.za
Contact Dave O'Halloran Tel 079 496 5286 E-mail:
gm@battlefieldslodge.co.za
12 : Lowveld Kishuga Airshow Willemien Hodgkinson
willemien.hodgkinson@kishuga.com
079 499 5733 or
monica.fourie@kishugu.com
Cell: 083 619 3597
15 to 18: NAMPO Agricultural Trade Show near Bothaville, Free State. Contact Wim Venter Tel: 086 004 7246 E-mail:
Wim@grainsa.co.za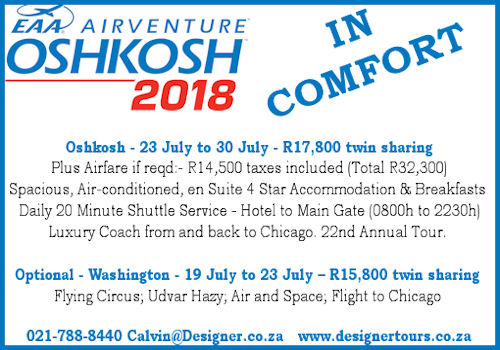 16 to 18: Drone Con 2018 Vodaworld Centre in Midrand. Contact Gisela Kirsten e-mail:
gisela@dronecon.co.za
19: Swellengrebel Flying Club 60th birthday fly-in. Contact Pieter Venter E-mail:
pventer@vgv.co.za
19 & 20: SAC Free State Regionals Tempe airport Bloemfontein. Contact Annie Boon E-mail:
chunge@mweb.co.za
3rd Saturday of every month. Microland. Bring and braai. Fires and bykos provided. Fires start from 09h30. Contact person: Nick Swardt 082 441 8011 or Alan Hussey 072 82 2341
24 - 26: SAPFA President's Air Race. Website:
www.sapfa.org.za
E-mail:
Race@sapfa.org.za
. Race director Robin Spencer-Scarr: E-mail:
robin@stylegroup.com.au
. Contact Robbie Myburgh E-mail:
roblena@mweb.co.za
Cell: 083 377 0925
26: Matsieng Airshow. Contact Riaan van Vuuren E-mail:
riaan@gir.co.bw
Tel: +26 771 66 1201

The Aviation Radio Show; get all your questions answered in one place. To listen to a recording of the live broadcast click on the link:

www.debela.co.za/aviation-radio-show




AERO CLUB AIRWEEK 9 -11 MARCH 2018


You ABSOLUTELY LOVE flying, and so does the Aero Club!
The Aero Club Airweek 2018 is an aviation event just for aviators, just for Aviation enthusiasts, like you, and the Middelburg Aero Club is the host club for this year's event.
Our members love aircraft, and anything that flies. From models to jets, aerobatics, gyrocopters, microlights, light sport aircraft, ultralights, gliders, motor gliders, vintage aircraft, and helicopters; and much more.
Be part of an attempt to make this the biggest SA Fly-In ever!!
Our members have expressed a desire to be amongst all the different types of aircraft coming to Airweek. Be able to engage with pilots and aviators about anything that may catch their eye and have discussions with experts on hand at the field.
If you've ever wanted to find out more about, for example Hot Air Balloons or Self-Sustaining Gliders, this is your opportunity to get up close and personal with knowledgeable experts
Camping on the field is encouraged, Friday to Sunday. A miniature South African Oshkosh. (Lots of Fun). Braai packs for sale, fires will be available Friday and Saturday evening. Beer tent available. Sale of Aviation related goods. Please bring stuff along. Find aircraft parts at our Boot sale. Meet old friends and make plenty of new ones. Don't miss this one, a fun event for passionate Aviators.
Register on-line to indicate your attendance plans and catering needs and if you plan to camp on the field. For those who wish to camp, tent can be arranged just like Oshkosh. No entry fee for members, gate entry of R50 per adult and R20 per child will apply.
To register follow this link https://goo.gl/forms/HgHDdBAIfaqbxzd02

Lots of Showcase events, all in an informal environment. Enter fun rallies, Spot landing competitions. There will be parachuting, aerobatic demonstrations, drone racing, mass Gyro fly-in, large scale and Jet model displays and balloon nightglows.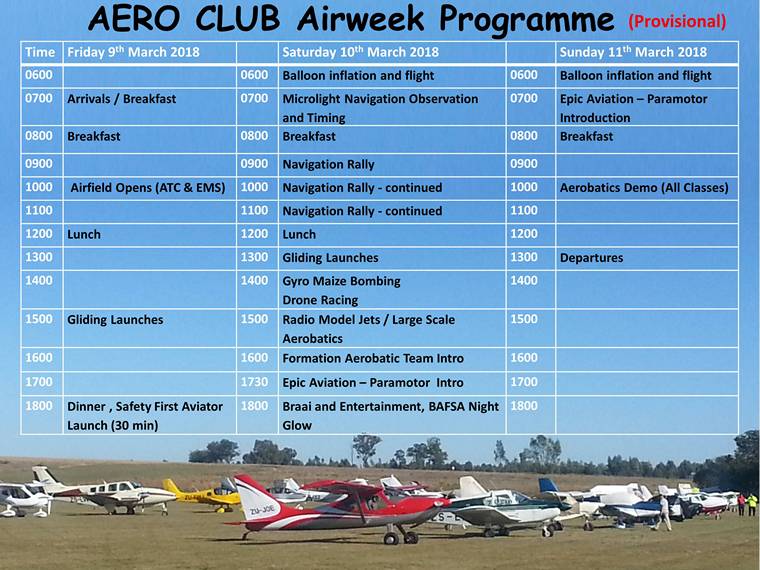 The final programme will be available at registration.

How to get there by Road

Take a drive up the N4, and take the R575 and then the R555, and then the M11 out north of the town.
Exhibitors

All Aviation related suppliers invited to Exhibit at a minimal cost. Commercial price per stand is R1500 for the weekend. Corporate Vendor Sales per stand is R5000 for the weekend. Vendors sales per stand is R500.00 for the weekend. AeCSA member Aicraft Sale stand is R200.00 for the weekend. Non AeCSA member Aircraft Sales is R700.00 for the weekend. Exhibitors committed so far:
• Adventure Air
• Warbirds
• The Airplane Factory
• Century Avionics
• Epic Aviation
• Comav
Sections are encouraged to showcase their section by setting up a Gazebo and to engage with pilots.
Sponsorship Appeal

The goal of the Airweek is to raise awareness of the different recreational aviation activities in South Africa between the section members and to make it a Recreational pilot Gathering.
In order to meet this goal, we request your help in securing sponsorship for various facilities and activities to promote recreational aviation, in this respect support is sought for:
• Beer Tent
• Portable Showers for Camping on the Airfield
• A Marquee Tent to host the various activities
Register your attendance here
https://docs.google.com/forms/d/e/1FAIpQLSe63s54WEPVxbK3-RlPFcIGA-YbdJ1IIvOeIWCdEnHhC7jGrw/alreadyresponded?c=0&w=1

See you there !
The Aero Club of South Africa
011 082 1100
BRONCO II LAUNCHED FOR USA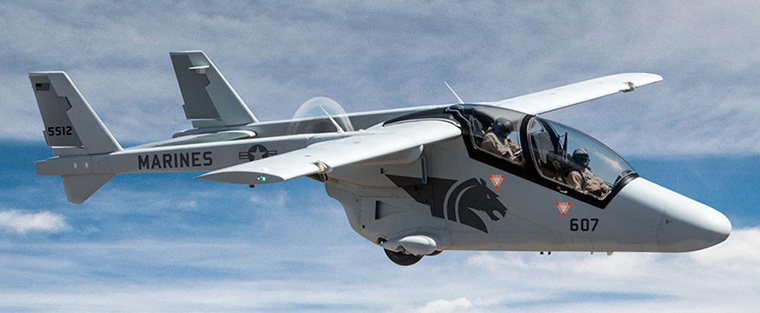 In a move set to revolutionize the light attack and tactical C4ISR aircraft industry, the launch of the BRONCO II aircraft is announced by newly created Bronco Combat Systems (BCS) USA. Photo © Bronco Aircraft.

The original Bronco was renowned for its impressive mission capabilities. The BRONCO II, which is based on the AHRLAC aircraft (Advanced High-Performance Reconnaissance Light Aircraft), is a two-crew C4ISR and precision strike aircraft, capable of carrying a wide range of weapons, sensors and systems in extended airborne mission operations. It is a unique platform that is built for purpose; uses a pusher propeller and has an open system architecture allowing for the rapid incorporation of current and emerging systems, setting a new standard for mission flexibility and adaptability.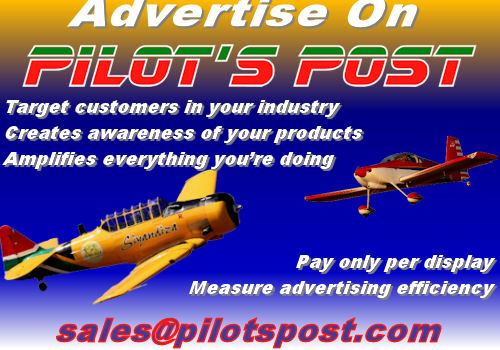 Paramount Group International Chairman Ivor Ichikowitz said, "This aircraft is a real game-changer for the warfighter. It is unique in that it has been designed specifically as a light attack and ISR platform from the onset. This is not simply an armed variant of a civilian crop-duster or a modified training aircraft. Every inch of this aircraft is designed for purpose - specifically for the kind of asymmetrical warfare that sophisticated military forces are now being asked to conduct. These missions demand rapidly deployable, hybrid ISR and close air support capabilities for which no other platform has been specifically designed."
AHRLAC, the platform upon which the BRONCO II is based, is already in production using the latest advanced aerospace manufacturing technologies. The fact that the aircraft is 100% digitally designed makes the ability to industrialize the BRONCO II in its totality in the United States a reality. Work has started on establishing a manufacturing base that will enable the full production of the airframe and mission systems integration in the United States.
The BRONCO II's internal Interchangeable Multi-Mission System Bay (IMSB) allows a single airframe to be easily and rapidly re-configured to perform multiple roles, incorporating high-performance targeting sensors, network communication systems, precision weapons, an electronic self-protection suite, and mission planning systems.
Fulcrum Concepts LLC will lead weapons and system integration for BRONCO II. Fulcrum Concepts Co-Owner and President of Engineering Solutions Scott Richman said, "BRONCO II is the ultimate solution to the F3EA capability, a truly multi-role aircraft with real-time C4ISR perfectly suited to the kind of light attack requirements we are seeing coming out of the U.S. military forces and a number of other programs in the U.S. market. We are excited by the opportunity to be one of the lead partners in bringing this innovative capability to the United States."
Dr. Paul Potgieter, the CEO of the Aerospace Development Corporation which designed the aircraft, stated: "This aircraft is a completely clean-sheet, next-generation design, using the latest CATIA and digital design systems specifically for digital production. Even the factory in which this aircraft is currently being produced embraces the innovative principles of the Fourth Industrial Revolution by emphasizing the use of rapid digital prototyping, laser additive and 3D printing, and a jig-less manufacturing approach."
Bronco Combat Systems has been established as a US based entity which will bring the aircraft to the US end user. The founding partners are Paramount Group USA, Fulcrum Concepts LLC, and ADC, who designed the AHRLAC platform. Bronco Combat Systems are actively engaging with other domestic U.S. partners to scale the entity in both capability and reach.
ST HELENA AIRPORT REPORT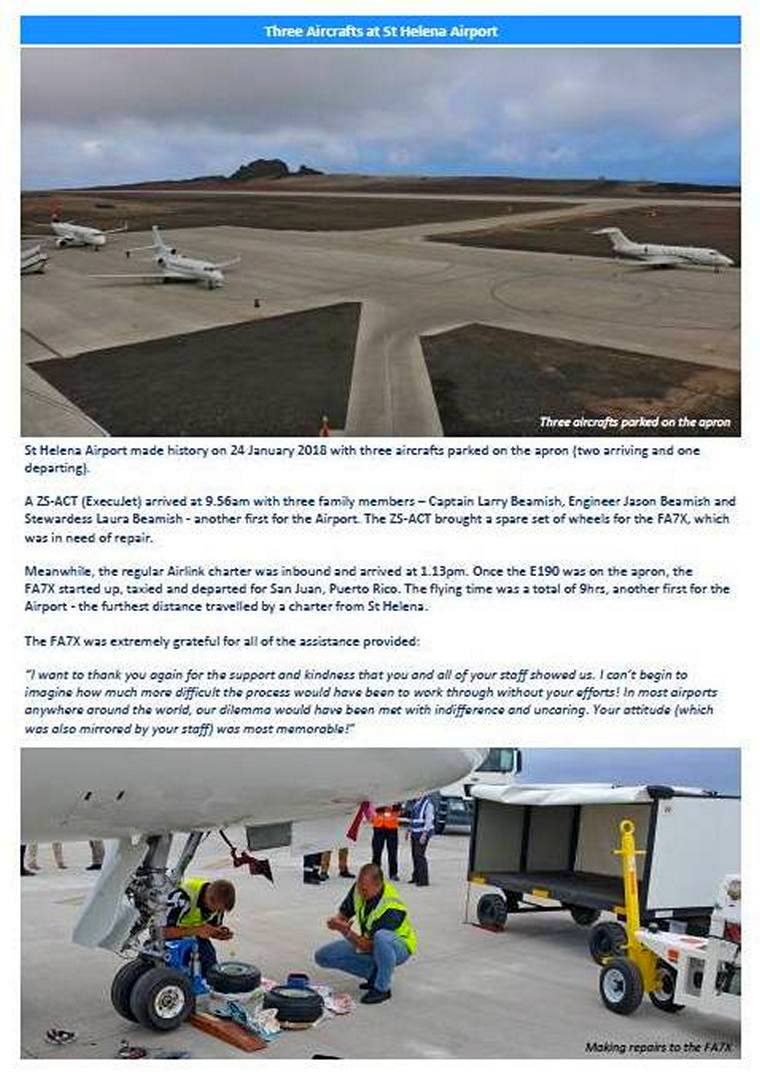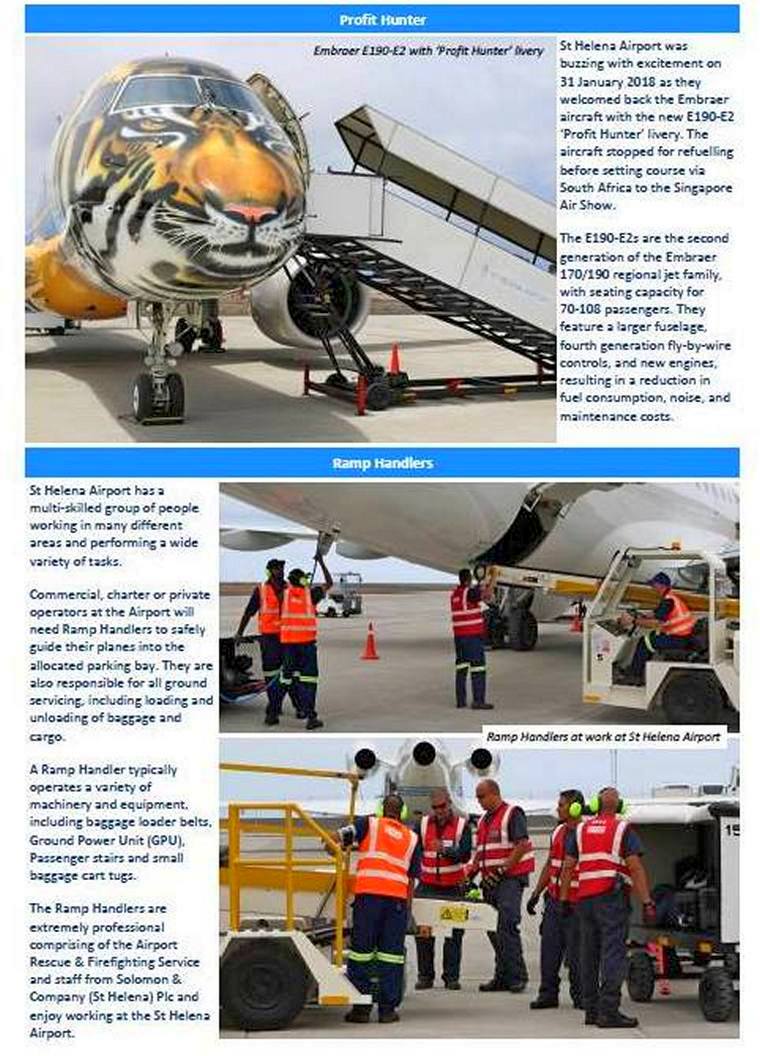 YEAR OF THE TANKER AT AIRVENTURE 2018 BRINGS BIG IRON TO FLIGHTLINE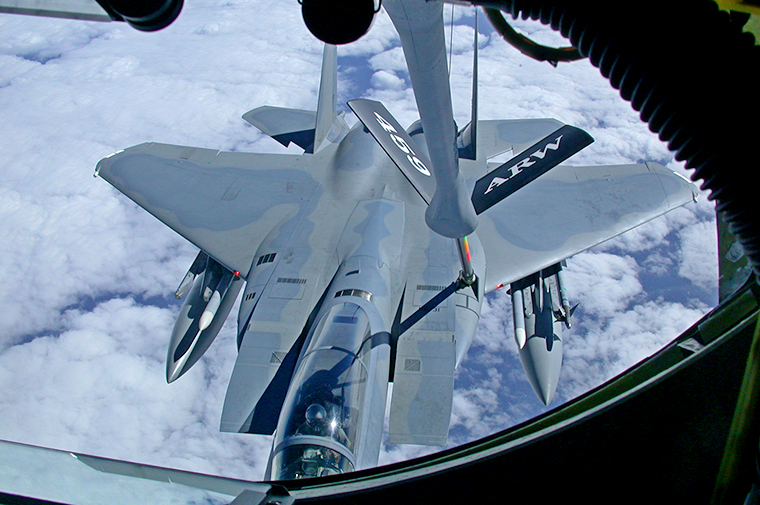 The Air Force Reserve is celebrating its 70th anniversary at EAA AirVenture Oshkosh 2018, bringing part of its impressive fleet of military refuelling aircraft as part of AirVenture's "Year of the Tanker." The 66th annual Experimental Aircraft Association fly-in convention is July 23-29 at Wittman Regional Airport in Oshkosh, Wisconsin. Photo credit: United States Air Force.

The Air Force Reserve Command, which encompasses nearly 70,000 Citizen Airmen, will bring operational aircraft to Oshkosh in 2018 and participate in a unique display showcasing the past, present, and future of tanker aircraft.
"We are honoured that the Air Force Reserve will mark its 70th anniversary at Oshkosh, as it is a perfect place to showcase the Reserve's aircraft and Citizen Airmen," said Rick Larsen, EAA's vice president of communities and member programs, who coordinates AirVenture features and attractions. "Its presence will make the 'Year of the Tanker' possible, but it will feature other aircraft and programs during the week."
Air Force Reserve Command aircraft will participate in the daily air shows at AirVenture 2018, and be displayed on Boeing Plaza throughout the week. Reserve Citizen Airmen will also participate in WomenVenture, creating opportunities for all to meet and connect in an event designed to encourage and inspire the next generation of women in aviation. In addition, there will be special forums and programs highlighting the Reserve's mission around the world in support of military and humanitarian operations.
"The 70th anniversary of the Air Force Reserve is a superb time to tell the story of our Citizen Airmen who provide a tremendous amount of operational experience to the Air Force mission and for aviation fans, there's no better place to demonstrate that than at Oshkosh," said Lt. Gen. Maryanne Miller, Chief of Air Force Reserve, Headquarters U.S. Air Force, Washington, D.C., and Commander of Air Force Reserve Command, Robins Air Force Base, Georgia. "Innovation is in our DNA, and it comes from the diverse experience our Reserve Citizen Airmen brings to the mission from various communities across the nation."
Announcements of specific aircraft and programming during EAA AirVenture 2018 will be made as they are finalized.

VINTAGE AIR RALLY-DUNKIRK TO DOVER



PIPER AIRCRAFT ANNOUNCES 23% GROWTH FOR 2017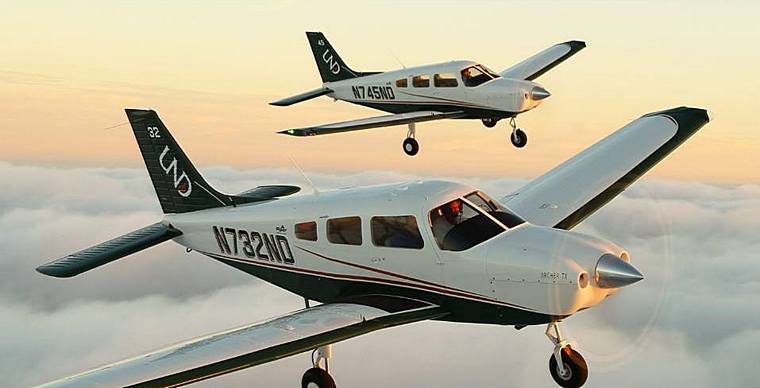 Piper Aircraft, Inc. announced a 23% increase in aircraft deliveries for 2017 as well as a 27% increase in total billings. Photo © Piper.


The substantial growth was driven by a 50% YOY increase of Piper single engine primary trainer aircraft deliveries as well as a 70% increase in deliveries of multiengine trainers. Additionally, sales of Piper's flagship product, the M600, expanded by 59% which helped drive Piper total billings up by nearly $41M vs 2016. International deliveries of Piper products showed moderate growth of 5%, resulting in 25% of Piper products being shipped to countries outside of North America.
In addition to Piper's sales success, the company celebrated 80 years of manufacturing excellence during 2017 as well as the completion of 6 new amended type certificates. The continued rise in demand for Piper trainers has resulted in order backlog into 2019 as well as a 25% increase in workforce.
"Piper's ability to level-load aircraft production has allowed us to meet solid financial growth and performance goals while expanding our worldwide sales visibility and efforts, especially in the pilot training realm," said Piper President and CEO Simon Caldecott. "As we look towards 2018, we are excited about the growth in demand for aircraft trainers and the resulting contracts that we have been awarded, which has helped create a backlog of orders. Additionally working with our full-service Dealers, we look to continue to grow M-class demand and sales," he added.

H55, A TECHNOLOGICAL LEGACY OF SOLAR IMPULSE, COMPLETES ITS FIRST FINANCING ROUND WITH NANODIMENSION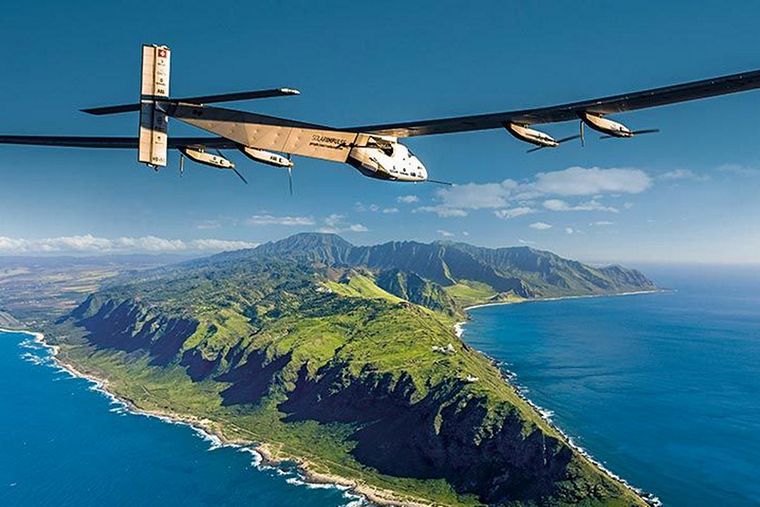 Sion, Switzerland, 20 February 2018. After building the 2 Solar Impulse electric airplanes and flying around the world, covering 42'000 km, Solar Impulse's Co-Founder André Borschberg together with several former colleagues, is now bringing electric propulsion to the world of aviation to make air transport cleaner, quieter, safer and more affordable.


H55 has just completed its first VC financing round with NanoDimension, a Silicon Valley and Swiss based Venture Capital firm, to further develop the potential of electric propulsion for existing airplane designs and new aviation solutions such as flying cars, drones and VTOLs.
H55, a technological legacy from Solar Impulse has been founded by André Borschberg, Executive Chairman, Sébastien Demont, CTO and Gregory Blatt, Head of Business Development.
Electric propulsion will revolutionize aviation as it addresses all the challenges and criticisms of traditional combustion aircrafts: noise, pollution, high operating and maintenance costs, risks and safety. It will also allow the development of completely new aircraft designs. Electric motors react immediately when provided with electric current. They can be used to control the stability of the airplane as well as for its propulsion.
Commenting on the NanoDimension investment and the prospects of electric propulsion, André Borschberg believes "electric air transport will drastically improve the way we live and move. New concepts which are only possible with electric propulsion, will soon allow for aircraft to take-off and land vertically and quietly. Imagine boarding an electric airplane on top of a building which can bring you to the other side of the city in less than 10 minutes, with no impact on the environment, at the KM cost of a car?
As a venture capital firm with a strong record in investing in disruptive technologies, NanoDimension is an ideal partner for H55. Both the company and its founder have received numerous awards in the fields of innovation, entrepreneurship, science and technology. André Borschberg sees NanoDimension's investment "as our window to the Silicon Valley and as an accelerator to H55's strategy in being a key player in changing the way people will travel in the future".
Through the support and contribution of the Swiss Federal Office Civil Aviation and the Ark Foundation of the Canton of Valais, H55 has already developed its first-generation electric propulsion management system. With an experimentally certified electric acrobatic demonstrator aircraft aEro1, has successfully flown more than 50 hours with a battery endurance exceeding more than 1 hour. H55 is now working on electrifying its second aircraft, aiming to fly 2 hours only on batteries which will begin flight tests in the summer of 2018.
THE H160 LANDS IN LAS VEGAS, KICKING OFF AIRBUS' PRESENCE AT HELI-EXPO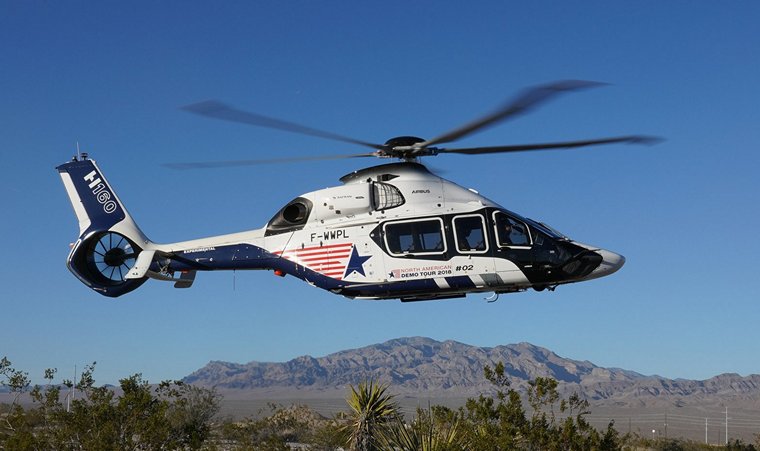 The H160 prototype has landed in Las Vegas and will be headlining Airbus Helicopters' presence for the first time ever at an international airshow at this year's Heli-Expo from 27 Feb - 1 March at the Las Vegas convention centre. Photo © Airbus.

Showgoers will be able see for themselves the #H160ReasonsWhy the H160 is raising the bar in the industry.
"We are proud to be bringing the H160 prototype to Heli-Expo for the first time", said Ben Bridge, Executive Vice President for Global Business. "This aircraft is emblematic of the company's transformation in every domain from concept and design, to the revamped industrial production model enabling enhanced industrial maturity from entry into service, and capitalizing on key digital technologies for greater customer support and maintenance. All of this has been done with our customers' priorities in mind, and we are excited that they will get to experience the H160 shortly with the US demo tour kicking off after the show," he added.
Maintenance demos on the H160 will be performed daily to show how maintenance has been optimized and facilitated thanks to its unique design and new processes like the "Operator Zero" campaign.
Alongside the second prototype of the H160, on booth N1915, Airbus Helicopters will be displaying its HGeneration range of mission enablers including HCare services that allow customers to focus on their operations safely, efficiently and cost-effectively. On display will be an H125 in a law enforcement configuration, the H135 equipped with Helionix, and the H145 in a private and business aviation configuration.
In its on-going commitment to innovation and the future of flight, Airbus Helicopters is incorporating new digital and electrical technologies into products and services alike. A great example of this is CityAirbus, Airbus' self-piloted battery powered aircraft designed with the latest safety standards to transport four passengers for inner-city flights. A mock-up of this innovative project will be showcased at Heli-Expo as the project team is busy maturing technologies that will allow a demonstrator to fly at the end of this year. However Urban Air Mobility for Airbus Helicopters does not stop at the aircraft itself and as part of its new customer services offer, Airbus Helicopters intends to provide travellers with on-demand helicopter services to escape urban congestion by taking to the skies, as the recently integrated Voom project exemplifies.

Iran, Mashad: A Qeshm Air Fokker 100 with 104 people on board was on final approach to Mashad's runway 31R in night conditions when the crew did not receive a down and locked indication for the left main gear and went around. The aircraft entered a hold while the crew was working the related checklists and attempted to resolve the problem without success. The aircraft finally needed to perform a partial gear up landing .The aircraft touched down on right main gear and nose gear. The pilots kept the left wing up as long as practicable. The aircraft subsequently settled on the left wing.
France, T La Grange En Cey: All three French occupants (a woman, a man and a child [10]) of a Beechcraft Baron 55 had died in a crash in wooded mountains. The pilot was an instrument rated flight rules pilot (IFR). The aircraft was (damaged beyond repair.
Nigeria, Port Harcourt Airport: A Dana Air McDonnell Douglas MD-83 with 44 on board suffered a runway excursion after landing at Port Harcourt Airport. Thunderstorms impacted operations at Port Harcourt Airport at the evening of the incident.
Japan, Haneda Airport: An ANA All Nippon Airways Boeing 777-300 with 524 people on board took off from Tokyo Haneda Airport to Okinawa when the crew was alerted to a low oil quantity indication for the right hand engine. The crew shut down the engine down and landed safely back at Haneda about 45 minutes after departure.
Japan, Lake Ogawara: A United States Air Force General Dynamics F-16CJ of the 35th Fighter Wing, USAF, based at Misawa, Japan experienced an engine fire just after take-off from Misawa. The pilot declared an emergency and jettisoned two external fuel tanks over the south part of Lake Ogawara and made a safe landing at Misawa. No personal injuries were reported although at the time of the incident clamming boats were operating on the lake.
USA, Carroll County, Owasco: A Cessna 441 Conquest II operated by Ponderosa Aviation LLC with three on board was destroyed when it impacted rural terrain in Carroll County east of Owasco, Indiana. There were no survivors.
Canada, Abbotsford Airport: A Beech 100 King Air operated by Island Express Air experienced a runway excursion during an apparent aborted take-off attempt at Abbotsford International Airport. The airplane came to rest in a snowy raspberry field and sustained substantial damage. Four of the ten occupants onboard received minor injuries. Six of the occupants onboard the aircraft were not injured. Weather may have been a factor to the incident.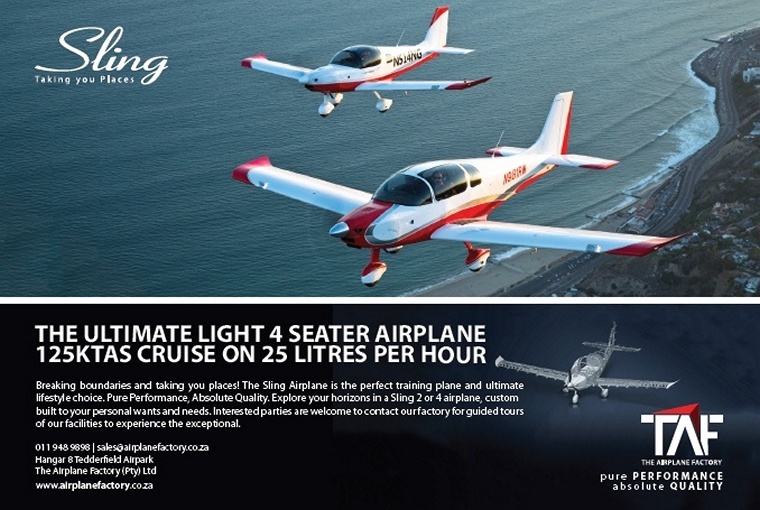 1 MARCH 1956

The International Air Transport Association finalizes a draft of the Radiotelephony spelling alphabet for the International Civil Aviation Organization.


The NATO phonetic alphabet or more formally the international radiotelephony spelling alphabet, is the most commonly used spelling dictionary in the aviation industry.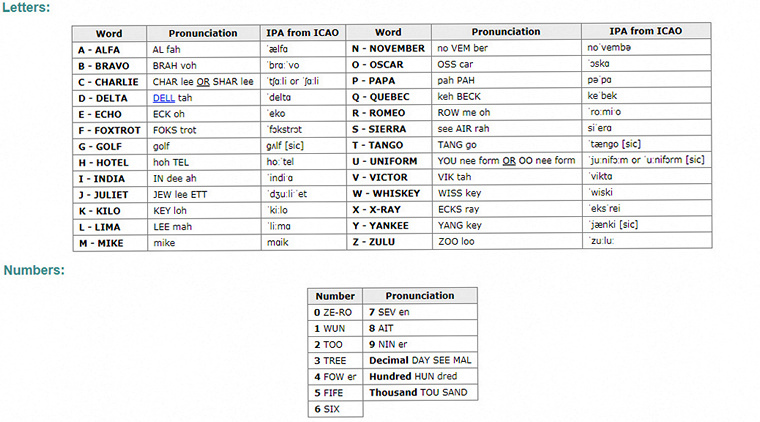 The NATO alphabet assigns code words to all of the letters in the English alphabet so that combinations of letters (and numbers) can be pronounced and understood by those who transmit and receive voice messages by radio or telephone regardless of their native language.
The main reason it is used is so that the message that is trying to be conveyed over the radio can be clearly understood. This alphabet is very important to all pilots as it allows them to transmit messages and radio calls to Air Traffic Controllers (ATC) and other traffic in the area that they are flying.