Wreckage of the United DC-8.

On Friday, 16 December 1960, a United Airlines Douglas DC-8-11, bound for Idlewild Airport in New York City (now John F. Kennedy International Airport), collided with a TWA Lockheed L-1049 Super Constellation descending into the city's LaGuardia Airport. One plane crashed on Staten Island, the other into Park Slope, Brooklyn, killing all 128 people on both aircraft and six people on the ground. At the time the death toll was the highest for a commercial aviation accident, and remained so until 1968.
United Airlines Flight 826, was a DC-8 carrying 84 people en-route from O'Hare International Airport in Chicago to Idlewild Airport New York. The DC-8 was fitted with a "Blackbox" flight recorder and for the first time in the history of aviation accident investigation recorded data that led up to the accident was available to investigators. Trans World Airlines Flight 266, was a Super Constellation carrying 44 people en-route from Dayton and Columbus, Ohio, to LaGuardia Airport.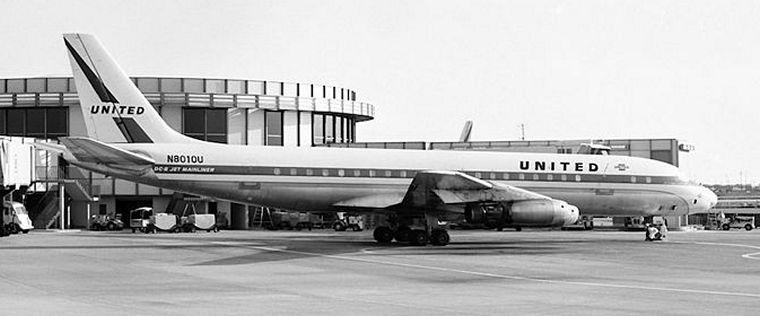 A United Airlines Douglas DC-8-11. Photo Jon Proctor / commons.wikimedia.org

The prevailing conditions on that fateful day were light rain and fog which had been preceded by snowfall. According to information from the United DC-8's flight data recorder at 10:21 A.M. Eastern Time, the United DC-8 advised its company radio operator that one of its VOR receivers had stopped working making it harder to navigate in instrument conditions. Air-traffic controllers thought were not notified of the problem. Four minutes later air traffic control issued a revised clearance for the flight to shorten its course to the Preston holding point by 12 miles (19 km). The United aircraft was supposed to circle the holding point at an altitude of 5,000 ft (1,500 m) at no more than 240 mph (210 kn; 390 km/h), but overshot.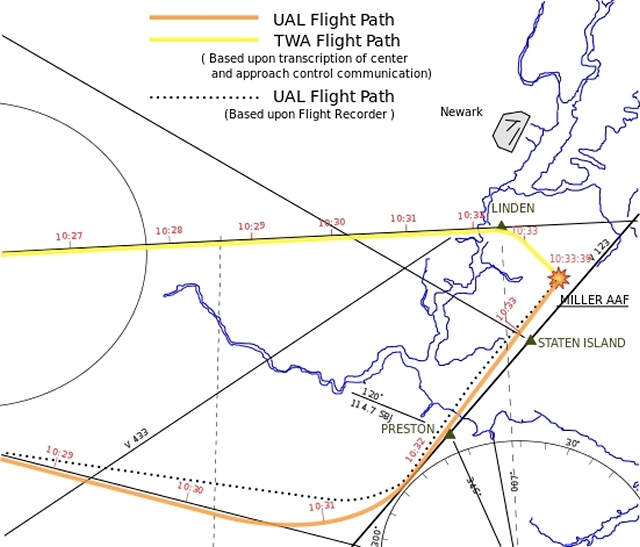 The flight paths of the two aircraft involved. Photo Civil Aeronautics Board / commons.wikimedia.org

The United DC-8 was 12 miles (19 km) off course and had descended at 3,600 feet per minute (18 m/s) when it collided with the TWA Constellation, the right engine of the DC-8 impacting just ahead of the Constellation's wings. The Constellation's fuselage was torn apart violently and the DC-8's colliding engine was torn from its pylon. The Constellation entered a dive, with debris being blasted out of the aircraft as it spiralled to the ground and crashed onto the northwest corner of Miller Field. Some sections of the aircraft landed in New York Harbour. As it spiralled down, it disintegrated and dropped at least one passenger into a tree.


A Trans World Airlines Lockheed L1049H Constellation. Photo Msgt Michael A. Kaplan, USAF


The DC-8, losing one engine and a large part of the right wing, managed to remain in flight for another minute and a half before crashing at the intersection of Seventh Avenue and Sterling Place in Brooklyn. Scattering wreckage it set fire to ten apartment buildings, a Church, Funeral Home, Chinese laundry and a delicatessen. Six people on the ground were killed.
The only survivor of the tragedy was 11-year-old Stephen Lambert Baltz, a passenger on the United flight. Baltz was traveling unaccompanied to meet his mother and sister, who had flown to New York the day before. He was thrown clear and found alive but badly burned in snowdrift.