THIS WEEK IN MIDWEEK UPDATE

Plan Your Weekend……..Forthcoming Events…….Aviation News

Worldwide Incidents and Accidents……This Week in Aviation History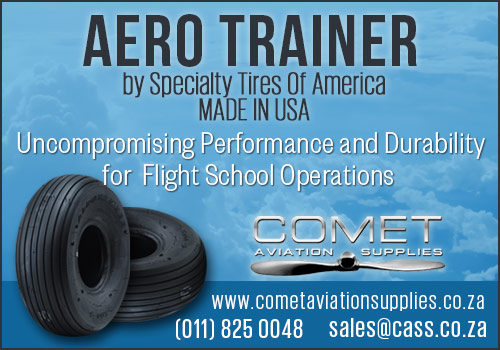 24: Aviators Paradise, Breakfast fly in to Pipers Restaurant. Contact Johan 081 4114 927 or at
pipers@langplaas.co.za
27: This is to advise you of the upcoming 77th Annual General Meeting of the members of The Aero Club of South Africa. The details of this meeting are as follows:
Date : 27 March 2018
Time : 18:00 for 18:30
Place : EAA auditorium, Hurricane Ave, Rand Airport, Germiston
Available on the Aero Club website are the following documents:
• The Agenda
• The Draft Minutes of the last AGM no 76
• Proxy form
• Nomination form
• Board Members Election Process - extracts from the Articles of Association (as part of the nomination form document)
Should you wish to place any items on the Agenda under General, please notify the Aero Club Office at
office@aeroclub.org.za
for inclusion.


3rd Saturday of every month. Microland. Bring and braai. Fires and bykos provided. Fires start from 09h30. Contact person: Nick Swardt 082 441 8011 or Alan Hussey 072 82 2341
30 March to Sunday 1 April: Icarus X Series Race at Skywalk Hartebeespoort Dam. Contact Ronnie Beukes
ronnie@skywalk.co.za
.
31: Rand Airport Adventure Fun Rally. E-mail:
rob@aerosud.co.za
cell: 082 804 7032
31: Witbank Aeronautical Association will be having a fly-in breakfast. Please notify Robert Clark via SMS / WhatsApp (082 463 1372) or email (
Comms@flywaa.co.za
) how many people will be attending the fly-in.

4: EAA Chapter 322 meeting. Dicky Fritz Moth Hall Edenvale. Contact:
editor@afskies.co.za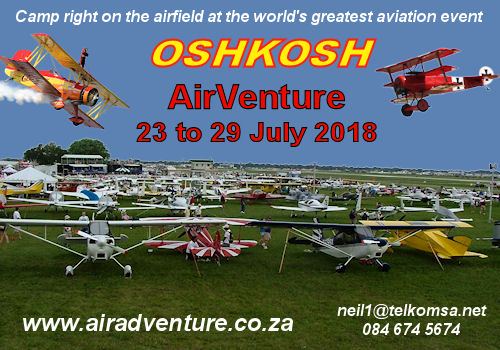 4 to 11: Stars of Sandstone at Sandstone Estates Ficksburg .Contact Louise Norton E-mail:
sandstone-Estates-Pty-Ltd@mail.vresp.com
7: Ermelo Airshow Contact Andre van Rooyen E-mail:
tolderia@gmail.com
Cell: 082 417 0174
8: SAAF Museum AFB Zwartkop open practise day. Officer Commanding Museum
oc@saafmuseum.org.za
012 351 2290
7 to 8: Sport Aerobatics Western Cape Regionals Swellendam. Contact Annie Boon E-mail:
chunge@mweb.co.za
2-14: SAPFA Rally Nationals and Fun Rally - Brits Airfield. Contact Frank Eckard e-mail:
frank.eckard@mweb.co.za
cell: 083 269 1516
14: Microlight Pylon Racing Kliprivier Airfield.
14: Robertson annual Fly-in breakfast. Contact Alwyn du Plessis E-mail:
boeredata@breede.co.za
Cell: 083 270 5888
21 & 22: SAC KNZ regionals - Ladysmith airfield. Contact Annie Boon E-mail:
chunge@mweb.co.za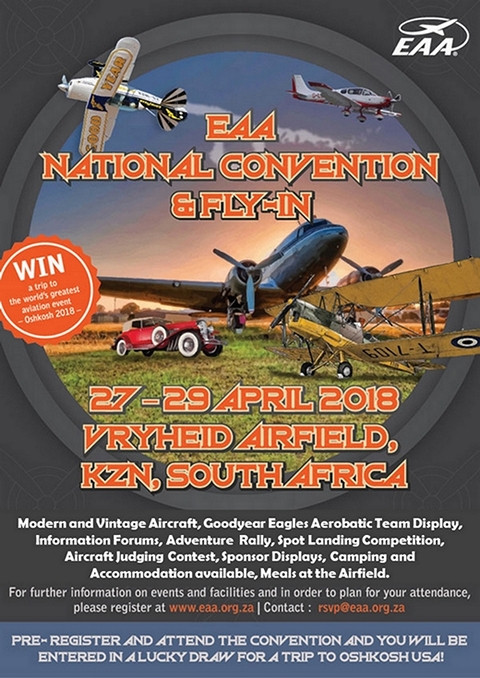 3rd Saturday of every month. Microland. Bring and braai. Fires and bykos provided. Fires start from 09h30. Contact person: Nick Swardt 082 441 8011 or Alan Hussey 072 82 2341
28 - 28: Uitenhage Wings & Wheels Festival Lourens Kruger
lmk@telkomsa.net
082 320 2615
27 April to 1 May: South African Canopy Piloting National Championship 2018 will be hosted by the CP Committee at Pretoria Skydiving Club in Gauteng from.
27 April - 1 May 2018 NAC Fly Away; the 10th Fly Away to be staged by NAC
Contact Deneys Potgieter
deneys.potgieter@nac.co.za
or Mobile 082 891 4354
27-29: EAA Convention, Vryheid Airfield.
28: EAA Convention Adventure Rally. Contact Rob Jonkers e-mail:
rob@aerosud.co.za
cell: 082 804 7032

1: Military Festival. Voortrekker Monument Pretoria.
2: EAA Chapter 322 meeting. Dicky Fritz Moth Hall Edenvale. Contact:
editor@afskies.co.za
05: Swartkops Airshow Contact Officer Commanding - Museum
oc@saafmuseum.org.za
012 351 2290
11 to 13: Battlefields Country Lodge Annual fly-in. Website:
www.battlefieldslodge.co.za
Contact Dave O'Halloran Tel 079 496 5286 E-mail:
gm@battlefieldslodge.co.za
12 : Lowveld Kishuga Airshow Willemien Hodgkinson
willemien.hodgkinson@kishuga.com
079 499 5733 or
monica.fourie@kishugu.com
Cell: 083 619 3597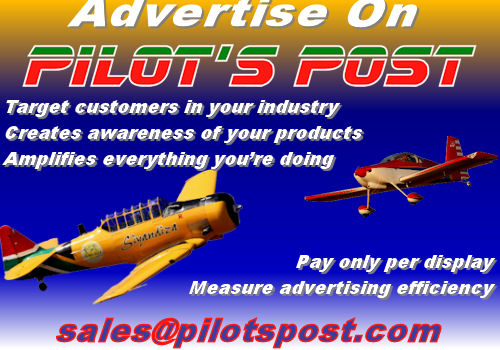 15 to 18: NAMPO Agricultural Trade Show near Bothaville, Free State. Contact Wim Venter Tel: 086 004 7246 E-mail:
Wim@grainsa.co.za
16 to 18: Drone Con 2018 Vodaworld Centre in Midrand. Contact Gisela Kirsten e-mail:
gisela@dronecon.co.za
19: Swellengrebel Flying Club 60th birthday fly-in. Contact Pieter Venter E-mail:
pventer@vgv.co.za
19 & 20: SAC Free State Regionals Tempe airport Bloemfontein. Contact Annie Boon E-mail:
chunge@mweb.co.za
3rd Saturday of every month. Microland. Bring and braai. Fires and bykos provided. Fires start from 09h30. Contact person: Nick Swardt 082 441 8011 or Alan Hussey 072 82 2341
24 - 26: SAPFA President's Air Race Tempe, Bloemfontein. Website:
www.sapfa.org.za
E-mail: Race@sapfa.org.za. Race director Robin Spencer-Scarr: E-mail:
robin@stylegroup.com.au
. Contact Robbie Myburgh E-mail:
roblena@mweb.co.za
Cell: 083 377 0925 or
26: Matsieng Airshow. Contact Riaan van Vuuren E-mail:
riaan@gir.co.bw
Tel: +26 771 66 1201

The Aviation Radio Show; get all your questions answered in one place. To listen to a recording of the live broadcast click on the link:

www.debela.co.za/aviation-radio-show





ENTRIES ARE OPEN FOR RACE FOR RHINOS 2018
28 June to 1 July 2018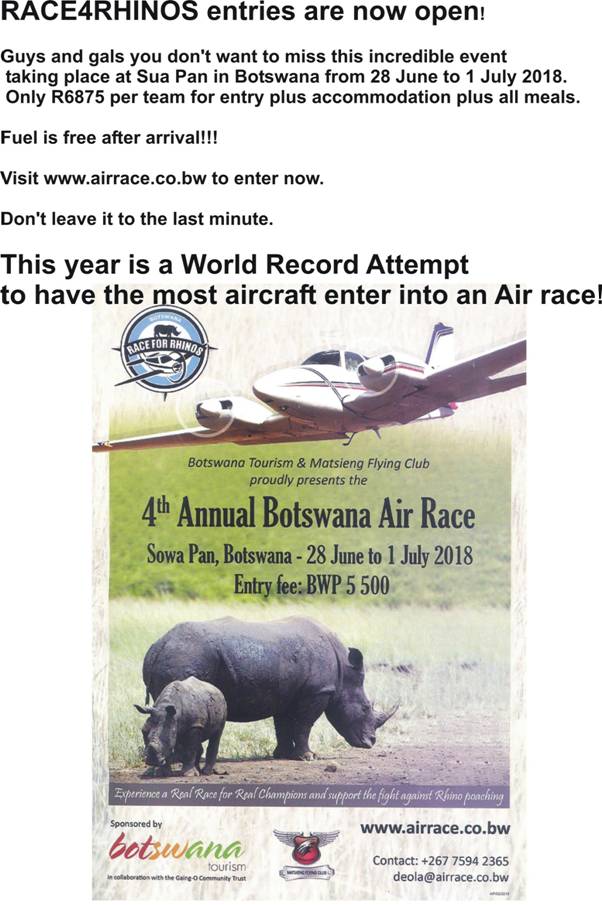 As you know the inaugural Race for Rhinos was a huge success resulting in an overwhelming response by competitors to participate in the 2017 event.
Competitors who participated in the Race for Rhinos in 2017 will have preference when entering the 2018 race. To confirm your entry we need to have your entry form and payment before 16 April 2018 at which time the bookings will open up to a waiting list.
Entrants who did not participate in the 2017 event will be put on the waiting list until 17 April 2018 where after your entry will be confirmed when we receive you payment.
The entry fee will be P5 500 or R6 875 which will include a standard tent for the pilot and navigator, 3 meals per day, the prize giving event as well as race fuel.
NOTE: The fuel that you receive upon arrival is payable by you, thereafter is for the account of the Race.
We hope to see you again at the Race for Rhinos 2018.

Enter now
www.airrace.co.bw/pilot-registration-form

CESSNA SKYCOURIER COMPLETES INITIAL WIND TUNNEL TESTING, FINAL DESIGN TAKES SHAPE




Textron Aviation Inc., a Textron Inc. (NYSE:TXT) company announced that it has completed initial wind tunnel testing of its new twin-engine Cessna SkyCourier turboprop. Results from comprehensive wind tunnel tests will provide performance and aerodynamic characteristics and structural load data, further finalizing the aircraft design. Photo © Textron.

Since Textron Aviation announced the Cessna SkyCourier in November 2017, the company has seen tremendous interest from operators looking for a modern solution in the large twin-utility space. As part of the aircraft's design development, the company is garnering feedback from its Customer Advisory Board - empowering operators to affirm what customers need in this segment.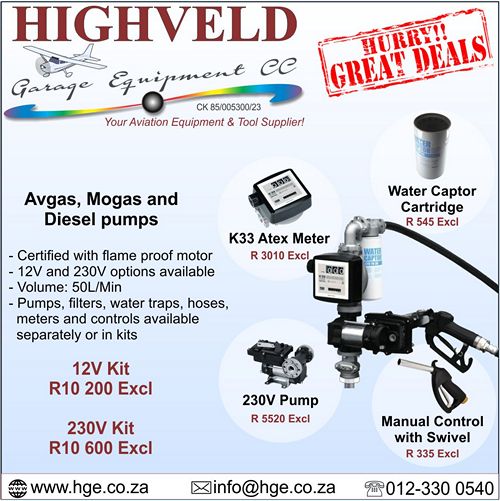 The company is anticipating first flight of the Cessna SkyCourier in 2019 with entry into service in 2020.
About the Cessna SkyCourier
The Cessna SkyCourier is a twin-engine, high-wing, large utility turboprop that will offer a combination of high performance and low operating costs for air freight, commuter and special mission operators. The freighter variant will feature a large cargo door and a flat floor cabin that is sized to handle up to three LD3 shipping containers with an impressive 6,000 pounds of maximum payload capability. The aircraft will also afford a maximum cruise speed of up to 200 ktas and a 900 nautical-mile maximum range.
The efficient 19-passenger variant will include crew and passenger doors for smooth boarding, as well as large cabin windows for great natural light and views. Both configurations will offer single-point pressure refueling to enable faster turnarounds. The aircraft will be powered by two wing-mounted Pratt & Whitney PT6A-65SC turboprop engines, and operated with Garmin G1000 NXi avionics.
The Cessna SkyCourier will be backed by Textron Aviation's service network, a world leader in commuter, cargo and special mission fleet support.
CARBON CUB EX-3 KITS BEGIN SHIPPING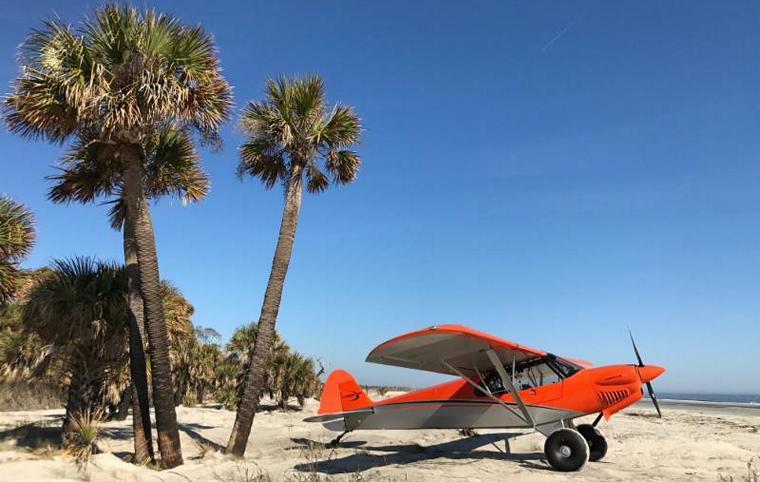 The first of many Carbon Cub EX-3 kits was shipped in November, and we're planning to ship three complete kits each month through the first half of 2018. Photo © Carbon Cub.


Though inspired by the Carbon Cub EX-2, there are many important differences… important improvements over the previous airplane. Some of the big differences you may already know about:
- The EX-3 features an all-new CC363i engine.
- Our new engine allows us to mount a Hartzell Trailblazer constant-speed propeller. The Trailblazer is the same model mounted on our flagship XCub, this time in 80? and 83? lengths. This is the first time a constant speed prop is being offered on a Carbon Cub.
- With the new engine, prop, and XCub-influenced aerodynamic cowl, this is the fastest Carbon Cub yet.
- VNE (never exceed speed) was increased from 139 MPH to 170 MPH.
- The EX-3 gross weight limit has been increased to 2,000! That means that a lightweight build could yield a useful load up to 989 lbs!
Despite these changes, the EX-3 advances the Carbon Cub feel and flight manners even further. Think of the EX-3 as everything you've loved about the Carbon Cub, and more. Read PIREPs about the FX-3 (our Builder Assist version) from the pilots at each of our dealers.

F-16 COMING TO AIRVENTURE 2018 FOR HERITAGE FLIGHTS




The Air Combat Command F-16 Viper Demonstration Team will be coming to EAA AirVenture Oshkosh 2018 to perform in heritage flights throughout the week. Photo credit: Andy Steineke


These flybys, featuring two to four aircraft from different eras, show the different technologies of the various aviation eras and salute the people and aircraft of the military. Among the warbirds that have participated in past heritage flights are the P-51 Mustang, P-47 Thunderbolt, P-38 Lightning, and F-86 Sabre. The F-35 Lightning II, A-10 Thunderbolt II, and P-51 Mustang took part in heritage flights at AirVenture last summer.
More details about this year's heritage flights, including a schedule and participating aircraft, will be announced in the coming months.
ROBINSON'S PRODUCTION PICKED UP STEAM IN 2017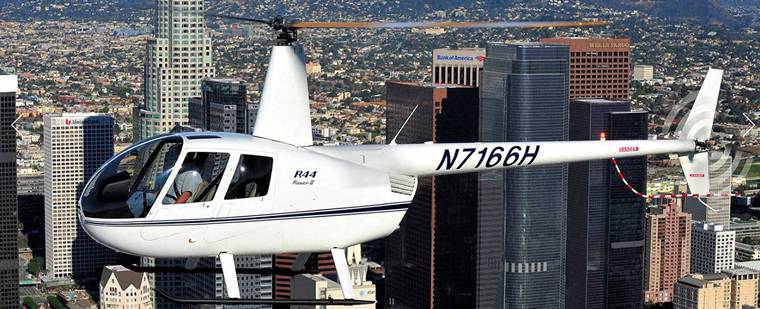 Robinson Helicopter Company produced 305 helicopters in 2017. The R44 led the way with 174, ranking as the world's best-selling helicopter according to GAMA's* General Aviation Aircraft Shipment 2017 Year End Report. Photo © Robinson Helicopters

Seventy-seven R66s came off the line and, according to data supplied by Rolls Royce, the R66 fleet logged approximately 185,000 hours in 2017, bringing its total fleet hours to 735,000. Cadet production was steady at twenty, and the R22 came in at 34.
Robinson is confident the upturn in sales will continue as the company is introducing a multitude of new options for the R44 and R66. In 2017, Robinson added a heavy-duty Inlet Barrier Filter and a light-weight lithium-Ion battery to its R66 options. More recently, the company also announced a wire strike protection system and cargo hook for the R66.
At this year's HAI Heli-Expo convention in Las Vegas, February 27th - March 1st, Robinson will display an R44 Raven II, R44 Cadet, and R66. The R66 will be outfitted with new optional heated seats and a limited-edition paint scheme. The Raven II and R66 will be equipped with Garmin's new TXi display systems and all three helicopters will include a Genesys' HeliSAS Autopilot. Robinson's recently introduced, cargo hook and wire strike protection kit will be installed on an R66 and on display in the static hall.
Founded in 1973, Robinson Helicopter Company is the world's leading manufacturer of civil helicopters.

EMBRAER AND SKYTECH SIGN LETTER OF INTENT FOR UP TO SIX KC-390 MULTI-MISSION AIRCRAFT




Embraer Defence & Security announced at the Singapore Airshow, the signing of a Letter of Intent with aviation services company SkyTech for up to six new KC-390 multi-mission transport aircraft. Photo © Embraer.

The aircraft are earmarked for multiple defence projects and both companies have also agreed on a potential strategic collaboration to jointly explore new business opportunities in training and services.
SkyTech is the result of a partnership between two long-standing players in the field of defence services: aircraft, complete crew, maintenance, and insurance (ACMI) company HiFly, from Portugal, and Australian aviation services and charter provider Adagold Aviation.
"We have been following the KC-390 program since its inception and believe that it will be a game-changer in the medium-sized airlift category as well as a multi-role platform", said Paulo Mirpuri, president of SkyTech. The company has also stated that this is the first of a wide variety of platforms that will fulfil various niche roles and projects that SkyTech is undertaking worldwide.
"Embraer is keen to have SkyTech as a strategic partner for some of our own planned projects, where we see them adding value and enhancements by providing various ongoing solutions to our own defence customer base", said Jackson Schneider, president and CEO of Embraer Defence & Security.
The KC-390 is a tactical transport aircraft developed to establish new standards in its category while presenting the lowest life cycle cost on the market. It is capable of carrying out various missions, such as transporting cargo, troops or paratroopers, aerial refuelling, in addition to supporting humanitarian missions, search and rescue missions, medical evacuation and aerial firefighting. The KC-390 can transport up to 26 metric tons of cargo at a maximum speed of 470 knots (870 km/h), as well as operating in hostile environments, including unprepared or damaged runways.
LOCKHEED MARTIN AWARDED CONTRACT TO TRAIN SPECIAL OPERATIONS AIRMEN