THIS WEEK IN MIDWEEK UPDATE

Plan Your Weekend……..Forthcoming Events…….Aviation News

Worldwide Incidents and Accidents……This Week in Aviation History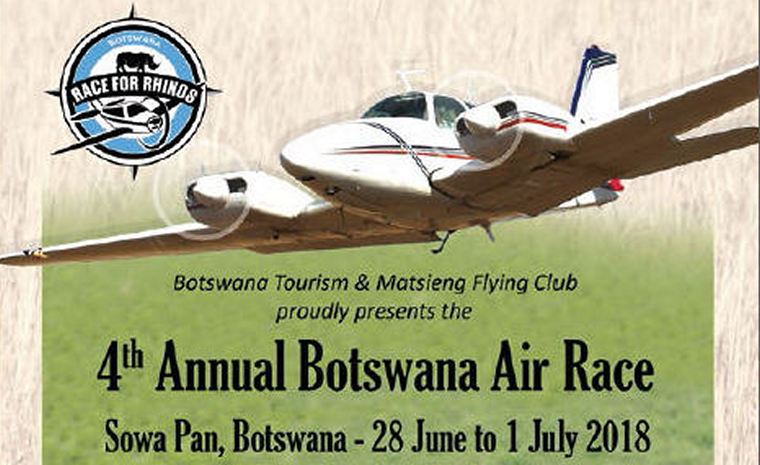 Race4Rhinos entries are now open. Guys and gals you don't want to miss this incredible event taking place at Sua Pan Botswana from 28 June to 1 July 2018. Only R6875 per team for entry plus accommodation and all meals. Fuel is free after arrival!!! Visit
www.airrace.co.bw
to enter now. Don't leave it to the last minute. This year is a world record attempt to have the most aircraft enter into an air race.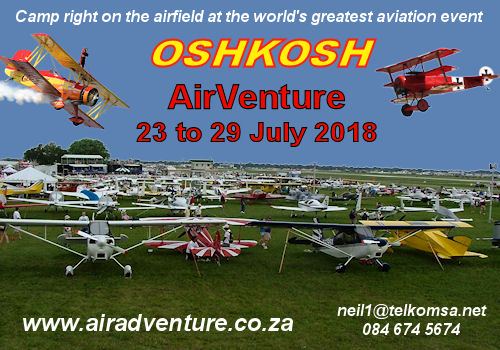 12-14: SAPFA Rally Nationals and Fun Rally - Brits Airfield. Contact Frank Eckard e-mail:
frank.eckard@mweb.co.za
cell: 083 269 1516
14: Microlight Pylon Racing Kliprivier Airfield.
14: Robertson annual Fly-in breakfast. Contact Alwyn du Plessis E-mail:
boeredata@breede.co.za
Cell: 083 270 5888
14: BAFSA AGM at BRPM Offices in Sunninghill. Contact Richard Bovell
richard@bovellross.com


21 & 22: SAC KNZ regionals - Ladysmith airfield. Contact Annie Boon E-mail:
chunge@mweb.co.za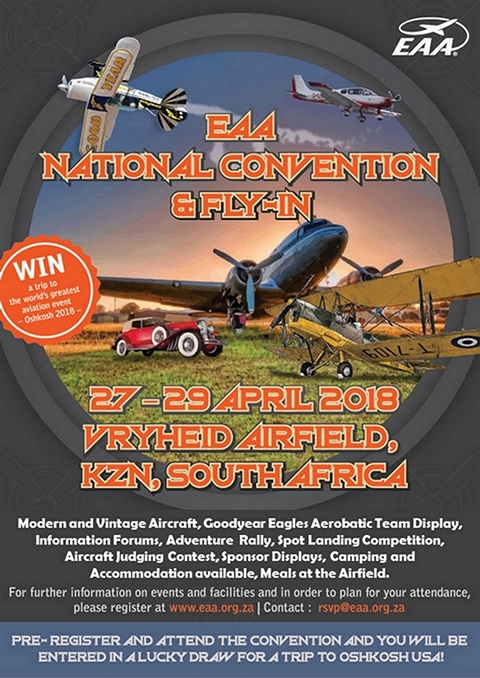 21:The Coves annual fly in. The Coves Estate, Hartbeespoort Dam.
3rd Saturday of every month. Microland. Bring and braai. Fires and bykos provided. Fires start from 09h30. Contact person: Nick Swardt 082 441 8011 or Alan Hussey 072 82 2341
28 - 28: Uitenhage Wings & Wheels Festival Lourens Kruger
lmk@telkomsa.net
082 320 2615
27 April to 1 May: South African Canopy Piloting National Championship 2018 will be hosted by the CP Committee at Pretoria Skydiving Club in Gauteng from.
27 April - 1 May 2018 NAC Fly Away; the 10th Fly Away to be staged by NAC
Contact Deneys Potgieter
deneys.potgieter@nac.co.za
or Mobile 082 891 4354
27-29: EAA Convention, Vryheid Airfield. Besides a great expected turnout of aircraft, a fantastic venue and a superb function being organised by the Vryheid Wings Club, you can also win a trip to the world's greatest aviation event - Oshkosh AirVenture! Would you like to fly to Vryheid on a Douglas DC-3? The price is R1 250 per seat, it will depart from Rand Airport on Friday morning and return to Rand Sunday morning. By making sure you are an EAA (South Africa) member, pre-registering and attending the event, you will stand in line to win this exciting prize! The draw will take place at Vryheid at the awards dinner on the airfield. Contact Marie Reddy E-mail:
marie.reddyy@gmail.com
28: EAA Convention Adventure Rally. Contact Rob Jonkers e-mail:
rob@aerosud.co.za
cell: 082 804 7032

1: Military Festival. Voortrekker Monument Pretoria.
2: EAA Chapter 322 meeting. Dicky Fritz Moth Hall Edenvale. Contact:
editor@afskies.co.za
05: Swartkops Airshow Contact Officer Commanding - Museum
oc@saafmuseum.org.za
012 351 2290
12:Eagle Flight Academy Fly in Hartswater, Nothern Cape. Contact DJ Lubbe 0825576429 or
email info@eagleflight.co.za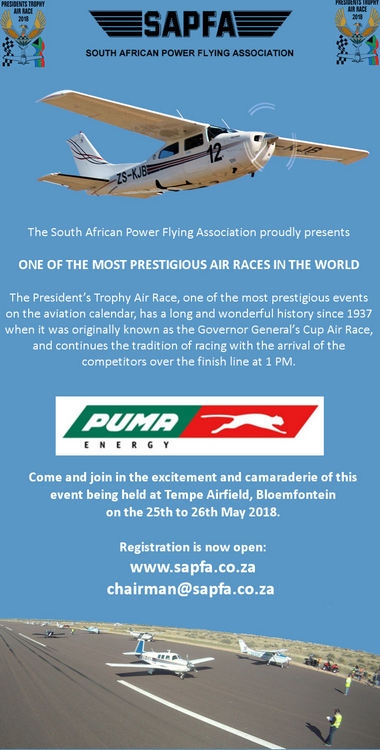 11 to 13: Battlefields Country Lodge Annual fly-in. Website: www.battlefieldslodge.co.za Contact Dave O'Halloran Tel 079 496 5286 E-mail:
gm@battlefieldslodge.co.za
12 : Lowveld Kishuga Airshow Willemien Hodgkinson
willemien.hodgkinson@kishuga.com
079 499 5733 or
monica.fourie@kishugu.com
Cell: 083 619 3597
15 to 18: NAMPO Agricultural Trade Show near Bothaville, Free State. Contact Wim Venter Tel: 086 004 7246 E-mail:
Wim@grainsa.co.za
16 to 18: Drone Con 2018 Vodaworld Centre in Midrand. Contact Gisela Kirsten e-mail:
gisela@dronecon.co.za
19: Swellengrebel Flying Club 60th birthday fly-in. Contact Pieter Venter E-mail:
pventer@vgv.co.za
19 & 20: SAC Free State Regionals Tempe airport Bloemfontein. Contact Annie Boon E-mail:
chunge@mweb.co.za
3rd Saturday of every month. Microland. Bring and braai. Fires and bykos provided. Fires start from 09h30. Contact person: Nick Swardt 082 441 8011 or Alan Hussey 072 82 2341
24 - 26: SAPFA President's Air Race Tempe, Bloemfontein. Rob Jonkers
chairman@sapfa.co.za
082 855 9435. Website:
www.sapfa.org.za
E-mail:
Race@sapfa.org.za.
Race director Robin Spencer-Scarr: E-mail:
robin@stylegroup.com.au
.
26: Matsieng Airshow. Contact Riaan van Vuuren E-mail:
riaan@gir.co.bw
Tel: +26 771 66 1201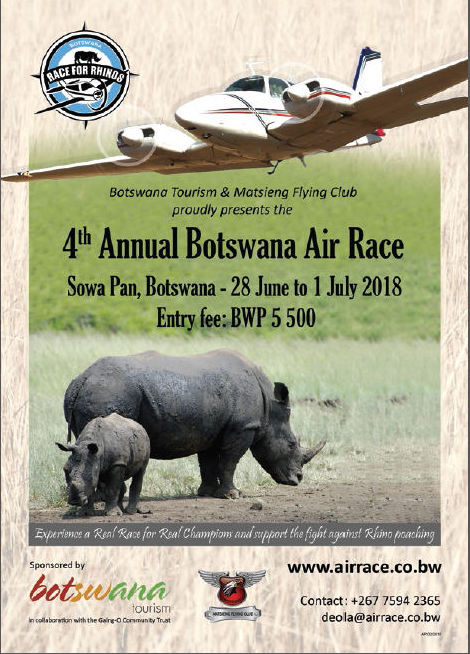 2: SAAF Museum AFB Zwartkop open practise day. Officer Commanding - Museum
oc@saafmuseum.org.za
012 351 2290
6: EAA Chapter 322 meeting. Dicky Fritz Moth Hall Edenvale. Contact:
editor@afskies.co.za
9: Champ Newcastle Airshow.
johan@champ.co.za
082 923 0078
9: Bethlehem Fun Rally - Bethlehem Airfield. Contact Rob Jonkers e-mail:
rob@aerosud.co.za
Cell:082 804 7032
23: Reefsteamers NPC- Krugersdorp Flying Club - Vintage and Veteran Car Club 23 June 2018 event .. RS Train -vintage planes, cars and bikes. Contact Ian Morison
imorison@worldonline.co.za
3rd Saturday of every month. Microland. Bring and braai. Fires and bykos provided. Fires start from 09h30. Contact person: Nick Swardt 082 441 8011 or Alan Hussey 072 82 2341
24-28: South African Hot Air Balloon Championships 2018, Skeerpoort North West Province. Contact Richard Bovell
richard@bovellross.com
28 June- 1 July: Race for Rhinos - Kuba Island - Botswana. Contact Chris Briers e-mail:
chris@airteam.co.za
cell: 082 568 7988

The Aviation Radio Show; get all your questions answered in one place. To listen to a recording of the live broadcast click on the link:

www.debela.co.za/aviation-radio-show




EASA CERTIFICATION FOR XCUB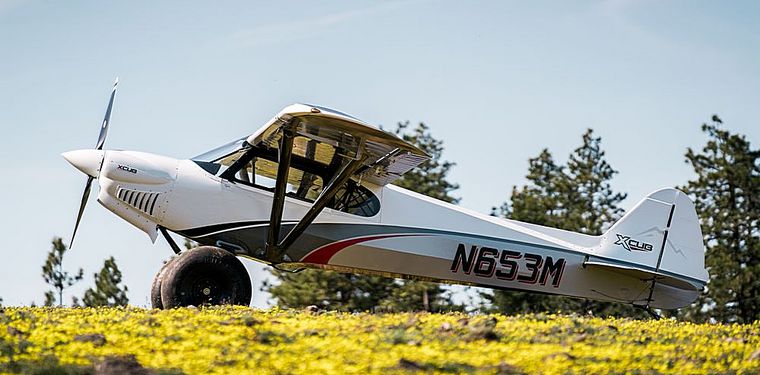 The XCub was recently awarded type certification from the European Aviation Safety Agency (EASA). The certification acknowledges compliance with all EASA airworthiness and environmental requirements, thereby clearing the way for XCub to enter into service on the European register. Photo © Cubcrafters.

"EASA certification is an important step in the continuing expansion of our international markets," said Randy Lervold, president of CubCrafters. "We've received considerable interest from European customers after the XCub's US launch in 2016 and we're pleased to now offer it for sale in Europe."
"The approval from EASA is part of an overall expansion effort at CubCrafters both in terms of products and markets," continued Lervold. "In 2017 the company introduced a ground breaking non-TSO'd EFIS suite option for the XCub in the US market. Then, two new variants of the popular Carbon Cub model were introduced last fall. The market is responding. Delivery positions for new airplanes extend into the first quarter of 2020."
CubCrafters is now making plans to send demo XCub aircraft to Europe. European customers are encouraged to register their interest with CubCrafters Europe (www.cubcrafterseurope.com).
AFRIJET BECOMES LAUNCH CUSTOMER OF CABINSTREAM SYSTEM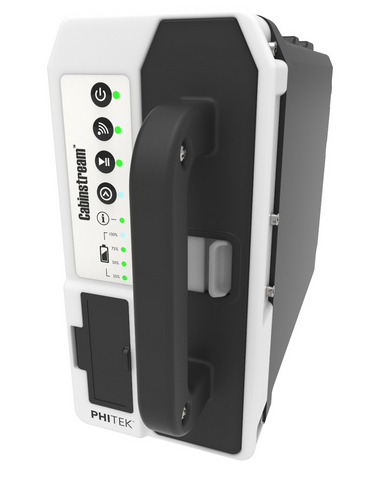 ATR announces Gabon-based carrier Afrijet as the launch customer of Cabinstream, a new wireless In-Flight Entertainment (IFE) solution developed by Phitek. Following a deal inked today at the Aircraft Interiors Expo, the airline will introduce this new streaming system into its fleet of ATR aircraft before the end of the year.
Cabinstream allows passengers to enhance their onboard experience by accessing a variety of multimedia content on their personal electronic devices, such as newspapers, music, films, TV series and even downloadable travel guides. Representing a simple IFE box solution that is easy to install, Cabinstream is an option on all new ATRs and easily retrofittable on existing aircraft.
Marc Gaffajoli, Chief Executive Officer of Afrijet said: "We are pleased to be the launch customer for Cabinstream. Being able to offer an even better onboard experience to our passengers is a key reason for us in choosing this option. We are looking forward to providing great, innovative and easily accessible content. We are proud to show that Africa is a land of innovation."
Chris van der Loo, Director of Marketing at Phitek said: "We welcome Afrijet as the first ATR operator to benefit from the advantages of our Cabinstream system. It enhances the in-flight experience by delivering rich content to passengers whilst opening up new advertising revenue possibilities for operators."
Zuzana Hrnkova, ATR's Vice President Marketing stated "This is a further example of how ATR's culture of continuous development has real and tangible benefits for both passengers and operators. The deal between Afrijet and Phitek introduces another high-tech solution into the ATR cabin."

CIRRUS AIRCRAFT VISION JET WINS PRESTIGIOUS ROBERT J. COLLIER TROPHY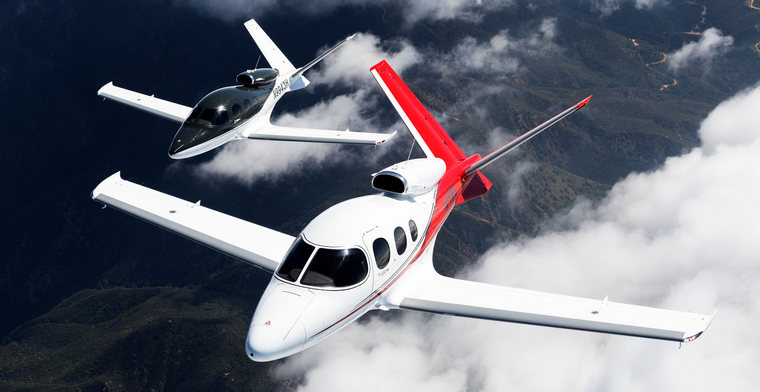 The National Aeronautic Association (NAA) announced that the Cirrus Aircraft Vision® Jet has been awarded the 2017 Robert J. Collier Trophy for developing the world's first single engine Personal Jet™ and implementing the Cirrus Airframe Parachute System® (CAPS®) on the aircraft. Photo © Cirrus.


The Collier Trophy is selected by a committee that includes 25 industry leaders and is awarded annually to recognize "the greatest achievement in aeronautics or astronautics in America, with respect to improving the performance, efficiency, and safety in air or space vehicles, the value of which has been thoroughly demonstrated by actual use during the preceding year." The nine nominees this year included the Edwards Air Force Base F-35 Integrated Test Force, Boeing 737 MAX, NASA/JPL Cassini Project Team and more.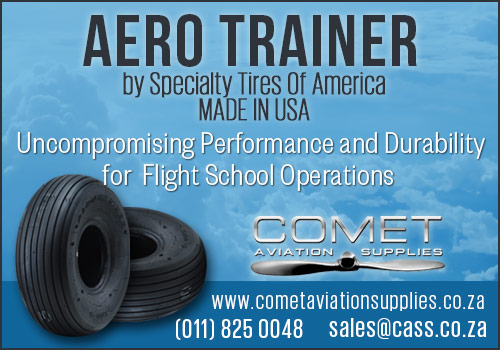 "For more than a century, the Collier Trophy has recognized the greatest achievements in aviation in America," said Greg Principato, NAA President and Chief Executive Officer. "By revolutionizing general and personal aviation, Cirrus Aircraft, with their Vision Jet, has added to a great and historic Collier legacy. We at the National Aeronautic Association congratulate them on their achievement and look forward to the presentation of the Collier Trophy on June 14."
As the world's first single-engine Personal Jet, the Vision Jet created a new category in aviation and further defined its significance with the inclusion of the Cirrus Airframe Parachute System (CAPS). Unique to Cirrus Aircraft since the launch of the first SR Series aircraft in 1999, CAPS is the first FAA-certified whole airframe parachute system included as standard equipment on an aircraft and has continuously redefined safety in aviation. The inclusion of CAPS on the Vision Jet marks a major engineering milestone in the design and development of jet aircraft and signifies the ability to further transform aircraft safety at heights and speeds never before imagined.
The Vision Jet received FAA certification in 2016 and immediately ushered in a new era in personal aviation as the world's first single-engine Personal Jet. The turbine aircraft features a spacious, pilot and passenger-friendly cabin with panoramic windows, reclining seats and comfortable legroom to accommodate five adults and two children. The cabin is complemented by the Cirrus Perspective® Touch™ by Garmin® Flight Deck, which delivers a wide array of sophisticated and intuitive global navigation capabilities and safety features at the touch of a finger.
The Collier Trophy will be formally presented at the Annual Robert J. Collier Trophy Dinner on June 14, 2018 at a location to be announced. It is on permanent display at the National Air and Space Museum in Washington, D.C. For more information, including a full list of past recipients, visit
www.naa.aero
FIRST H160 FOR THE LATIN AMERICAN MARKET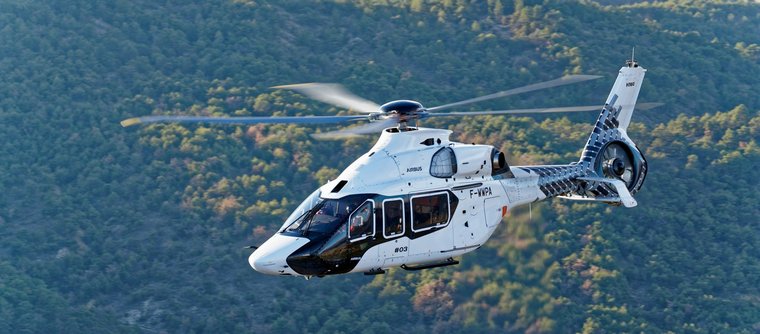 Airbus Helicopters has signed the first order for one H160 with an undisclosed customer in Brazil for private and business aviation operations. This order, the first from a Latin American customer, came after a flight demonstration in Marignane where the customer experienced first-hand the step-change in passenger comfort that the H160 brings to the market. Photo © R. Thierry/Airbus.

The H160 has been designed to offer all its passengers, whether for private and business aviation flights, Oil and Gas passenger transport, emergency medical services, or public services missions, with an exceptional flight experience thanks to the panoramic views provided by the large cabin windows, low sound levels, and smooth flight even at high speeds. External visibility for pilots is also highly prioritized with a large windshield, lateral and floor level windows that allow them to see below the aircraft when landing. This is combined with the visibility provided by the aircrafts' cameras that can be displayed one of the four multi-functional displays in the cockpit. Helionix, Airbus Helicopters' digital avionics suite, further contributes to the aircraft's safety by significantly reducing pilot workload. Presenting the right information at the right time, along with the H160's integrated automatic functions, allows the pilot to concentrate on the mission at hand.
The H160 has also been designed to facilitate maintenance allowing it to reach levels similar to that of a light twin. The aircraft's optimized accessibility has been praised by customers who have recently had the opportunity to fly in the H160 during its North American demo tour.
L 410 NG SERIAL PRODUCTION HAS BEGUN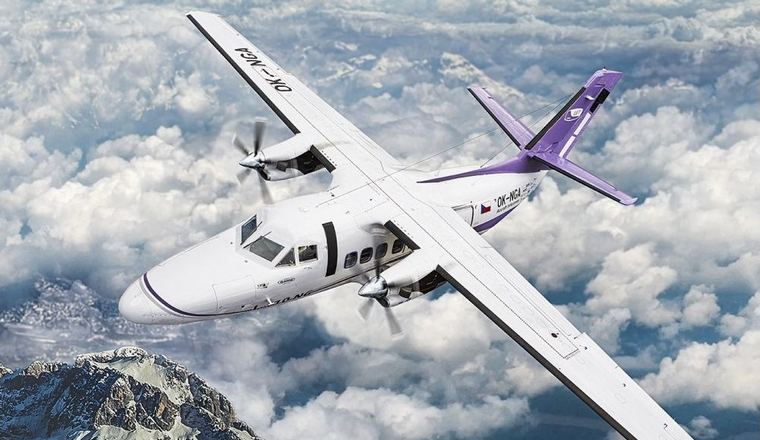 Series production of the L 410 NG (New Generation) aircraft has begun on the basis of certification from the EASA (European Aviation Safety Agency) to Aircraft Industries, a.s. Production started with the construction of the first aircraft, which will be finished by the end of this year. Photo © Let Aircraft.


The certification for the innovated L 410 NG aircraft was issued by the EASA on 19 December 2017 and by the FAA (Federal Aviation Agency) on 10 January 2018.
Development of the innovated model began in April 2010 under the terms of the MOSTA project ("Modernization of small transport aircraft with the aim to increase the effectiveness and economy of operation"). The basic aim of this project was to strengthen improvements of the technical, operational and economical parameters of the aircraft, increase operational safety, decrease the negative impact on the environment and decrease the labour input of the aircraft production.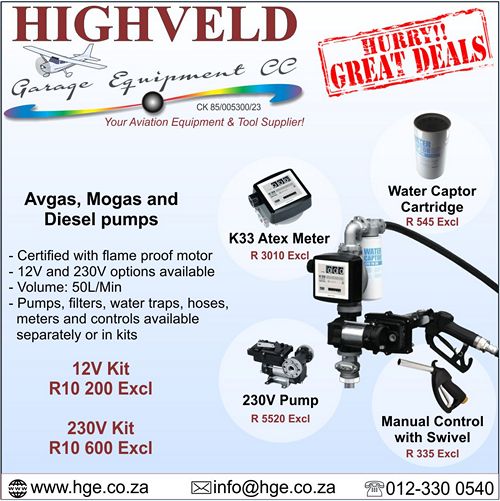 The MOSTA project, which was supported by the Czech Ministry of Industry and Commerce within the TIP programme, enabled cooperation with other Czech companies and institutions: Avia Propeller, s.r.o., EVEKTOR, spol. s r.o., GE Aviation Czech s.r.o, VR Group, a.s., JIHLAVAN, a.s., Jihostroj a.s., MESIT pristroje spol. s r.o., SVUM a.s., UNIS, a.s., Vysoke uceni technicke in Brno (Technical University in Brno), Aero Vodochody, a.s. a VZLU a.s.
The total cost of the project reached over CZK 568 million, inclusive of resources from the Ministry of Industry and Commerce - approx. CZK 237 million. The project was officially completed on 29 March 2017.
"The upgraded L 410 NG will have greater potential for customers requiring long-haul flights or patrol flights," explained Aircraft Industries General Director Ilona Plskova, adding: "Due to better airplane characteristics and higher comfort compared to the previous model, we expect greater interest from customers all over the world". The use of the L 410 NG is also especially anticipated in island states such as Indonesia, Papua New Guinea and Japan, where refuelling on remote islands is problematic and a long range is thereby one of the most important parameters. Further potential resulting from remote routes without the possibility to refuel at the destination airport is, for example, also expected in India and Mongolia, where the aircraft can be used by mining companies to transport workers and freight to inaccessible mining areas.
LOCKHEED MARTIN DELIVERS FIRST HC-130J COMBAT KING II TO CALIFORNIA AIR NATIONAL GUARD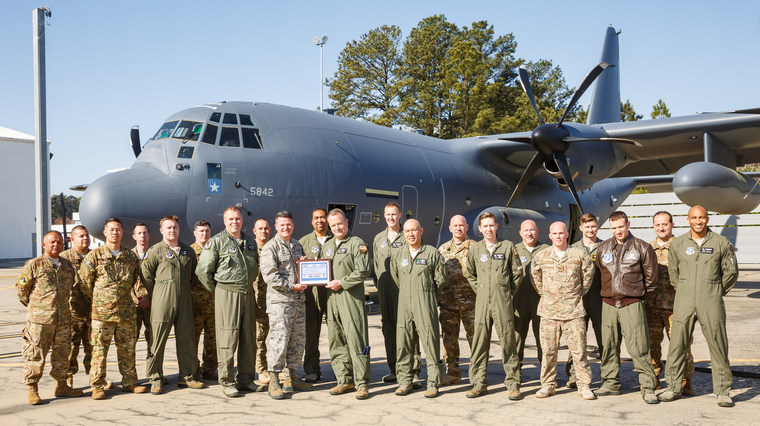 Lockheed Martin (NYSE: LMT) delivered the first HC-130J Combat King II combat search and rescue tanker to the California Air National Guard on April 5 at the company's site here. Photo © Lockheed Martin.

This HC-130J will be operated by the 129th Rescue Wing (RQW) at Moffett Air National Guard Base, California. The 129th RQW currently operates a fleet of MC-130P Combat Shadow aircraft, which will be replaced by four new HC-130Js, and a fleet of HH-60G Pave Hawk rescue helicopters, which are built by Lockheed Martin's Sikorsky business in Stratford, Connecticut.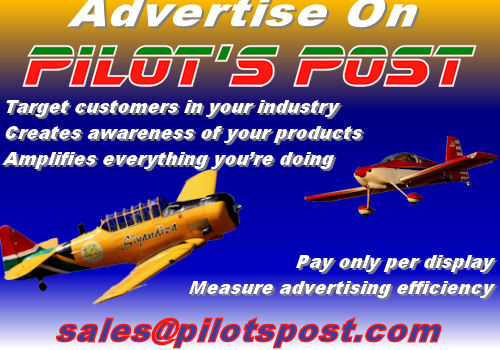 Like others in the U.S. Air Force Rescue community, the 129th RQW lives by the motto, "These Things We Do, That Others May Live," which reflects its mission of supporting combat search and rescue anywhere in the world. The 129th also performs a wide variety of civilian search and rescue missions, including distressed persons aboard ships, lost or injured hikers, and medical evacuations.
"The 129th Rescue Wing has long relied on its MC-130Ps to exemplify the National Guard's commitment to being, 'Always Ready, Always There,'" said George Shultz, vice president and general manager, Air Mobility & Maritime Missions at Lockheed Martin. "The arrival of these new HC-130Js ensure these Airmen will have the increased power, enhanced capabilities and proven performance that will continue to help save lives - in California, throughout the Pacific region and around the world."
The HC-130J is the only dedicated fixed-wing personnel recovery platform in the Air Force and Air National Guard inventory. The HC-130J supports missions in all-weather and geographic environments, including reaching austere locations. The HC-130J is also tasked for airdrop, airland, and helicopter air-to-air refuelling and forward-area ground refuelling missions. It also supports humanitarian aid operations, disaster response, security cooperation/aviation advisory, and emergency aeromedical evacuation and non-combatant evacuation operations.
The HC-130J is one of eight production variants of the C-130J Super Hercules, the current production model of the legendary C-130 Hercules aircraft. With more than 400 aircraft delivered, the C-130J is the airlifter of choice for 18 nations, with more than 1.7 million flight hours of experience supporting almost any mission requirement - any time, any place.
The U.S. government operates the largest C-130J Super Hercules fleet in the world. This delivery continues the U.S. government's transition to the C-130J as the common platform across Air Mobility Command, Air Force Special Operations Command, Air Combat Command, U.S. Coast Guard and U.S. Marine Corps. The Air National Guard and Air Force Reserve Command currently operate a mixed fleet of C-130J and older Hercules aircraft.
NASA SELECTS LOCKHEED MARTIN SKUNK WORKS® TO BUILD X-PLANE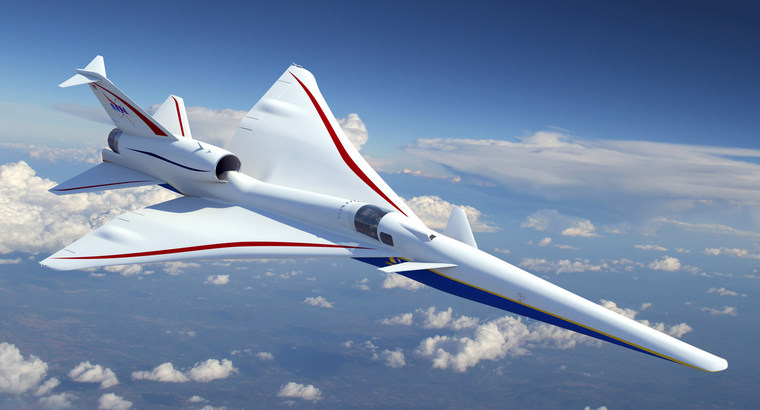 Supersonic commercial travel is on the horizon. Today NASA awarded Lockheed Martin (NYSE: LMT) Skunk Works® a contract to design, build and flight test the Low-Boom Flight Demonstrator, an X-plane designed to make supersonic passenger air travel a reality. Photo © Lockheed Martin.

"It is super exciting to be back designing and flying X-planes at this scale," said Jaiwon Shin, NASA's associate administrator for aeronautics. "Our long tradition of solving the technical barriers of supersonic flight to benefit everyone continues."
Lockheed Martin Skunk Works will build a full-scale experimental aircraft, known as an X-plane, of its preliminary design developed under NASA's Quiet Supersonic Technology (QueSST) effort. The X-plane will help NASA establish an acceptable commercial supersonic noise standard to overturn current regulations banning commercial supersonic travel over land.
"We're honoured to continue our partnership with NASA to enable a new generation of supersonic travel," said Peter Iosifidis, Low-Boom Flight Demonstrator program manager, Lockheed Martin Skunk Works. "We look forward to applying the extensive work completed under QueSST to the design, build and flight test of the X-plane, providing NASA with a demonstrator to make supersonic commercial travel possible for passengers around the globe."
Lockheed Martin Skunk Works and NASA have partnered for more than a decade to enable the next generation of commercial supersonic aircraft. NASA awarded Lockheed Martin Skunk Works a contract in February 2016 for the preliminary design of the supersonic X-plane flight demonstrator.
The aircraft will be built at the Lockheed Martin Skunk Works facility in Palmdale, California, and will conduct its first flight in 2021.

USA, Marion Municipal Airport: Two aircraft, a Cessna 150 and a Cessna 525 Citation collided with two confirmed fatalities in Grant County at Marion Municipal Airport, Marion, Indiana. The Cessna 150 was partially consumed by the post-impact fire and the two occupants were fatally injured. The Cessna Citation sustained substantial damage and the five occupants on board were apparently not injured.
Netherlands, Amsterdam: A KLM Boeing 777-200 from Atlanta USA to was en-route over the Atlantic Ocean when the aircraft suffered severe turbulence causing injuries to two passengers and two flight attendants. After assessment of the injuries the crew decided to continue the flight to Amsterdam. The aircraft landed safely in Amsterdam. The injured were provided with medical care at Amsterdam.
USA, California: A US Marine Corps CH-53E Super Stallion helicopter crashed under unknown circumstances. There are said to be four fatalities. The helicopter was with the 3rd Marine Aircraft Wing out of the Miramar air station in San Diego.
Djibouti, Camp Lemonnier: A United States Marine Corps AV-8B Harrier II jet crashed in Djibouti, in East Africa. The pilot was able to eject and is in a stable condition. The jet was supporting Alligator Dagger, a training exercise in international waters off the coast of Djibouti. The United States has a large military presence in Djibouti based at Camp Lemonnier where some 4,000 US personnel are stationed.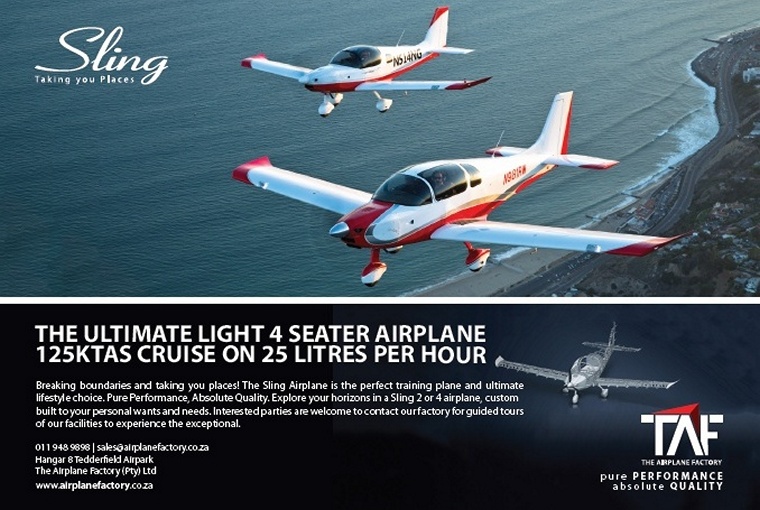 10 MARCH 1918

Günther Rall, German ace fighter pilot, was born. Rall is the third most successful fighter ace in history, and the most successful ace still living. He achieved a total of 275 victories: 272 on the Eastern Front, of which 241 were against Soviet fighters. He flew a total of 621 combat missions, was shot down 8 times and was wounded 3 times. He scored his victories in the Messerschmitt Bf 109 'Black 13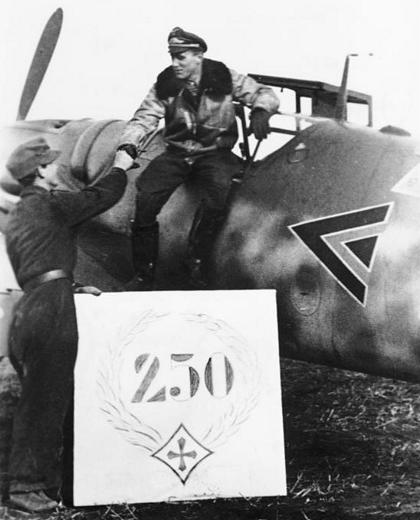 After the war and whilst in a prisoner of war camp, Rall was approached by the Americans who were recruiting Luftwaffe pilots who had experience with the Messerschmitt Me 262 fighter. He was transferred to Bovingdon near Hemel Hempstead.
Rall rejoined the newly established West German military in 1956, after meeting a wartime friend and Luftwaffe pilot who encouraged him to return to flying. He joined the new German Air Force. One of his tasks was to oversee modifications to the F-104 fighter to comply with the requirement of the Bundeswehr, leading to the F-104G version. He insisted on the replacement of the ejection seat due to safety concerns. From 1 January 1971 to 31 March 1974, he held the position of Inspector of the Air Force and from 1 April 1974 to 13 October 1975, he was a military attaché with NATO.
His enforced retirement in 1975 was as a result of a controversial three-week visit to South Africa, where he hosted meetings with South African politicians, of which his Air Force superiors claimed to be unaware. The "private" nature of this visit was later publicised by German weekly magazine Stern. South Africa, despite its policy of apartheid, was seen as strategically important to NATO and, although the visit was thought to be officially sanctioned, the political embarrassment following the concerted press campaign meant Defence Minister Georg Leber was forced to retire Rall in October 1975. By the end of his career, he attained the rank of Generalleutnant.
Rall died at his home in Bad Reichenhall on 4 October 2009, aged 91, after suffering a heart attack two days earlier.