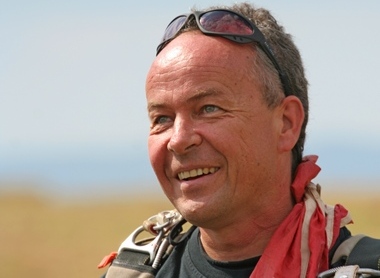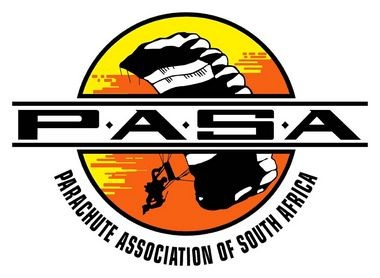 On behalf of the PASA Management Council and members, I am pleased to report as follows:
National Competition
South African National Skydiving Championships, 26 April-1 May 2017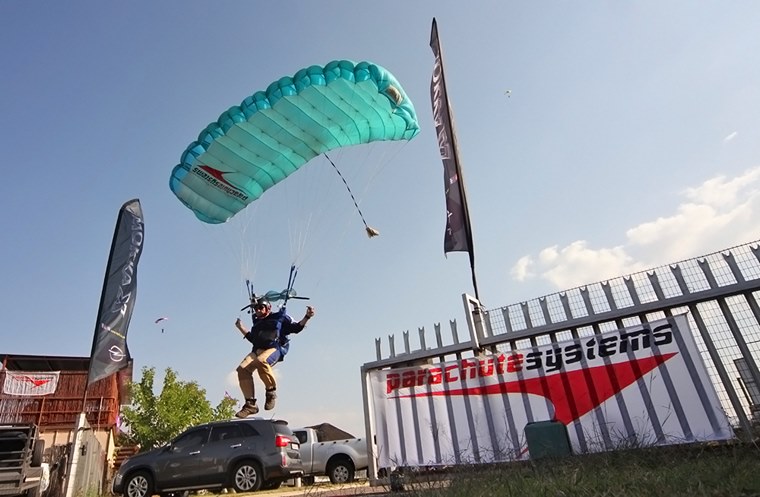 The PASA 2017 South African National Skydiving Championships in Formation Skydiving, Artistic Events, Canopy Formation, Style & Accuracy and Wingsuiting was hosted by Skydive Rustenburg in the North West Province from 26 April to 1 May 2017.
Three Teams competed in Artistic Events. Nine rounds of Wingsuit Performance were completed. Two teams vied for honours in the Formation Skydiving 4-way Novice category. In Formation Skydiving 4-Way Open, Team SAVOLO led throughout the entire competition finishing with a 16.5 average.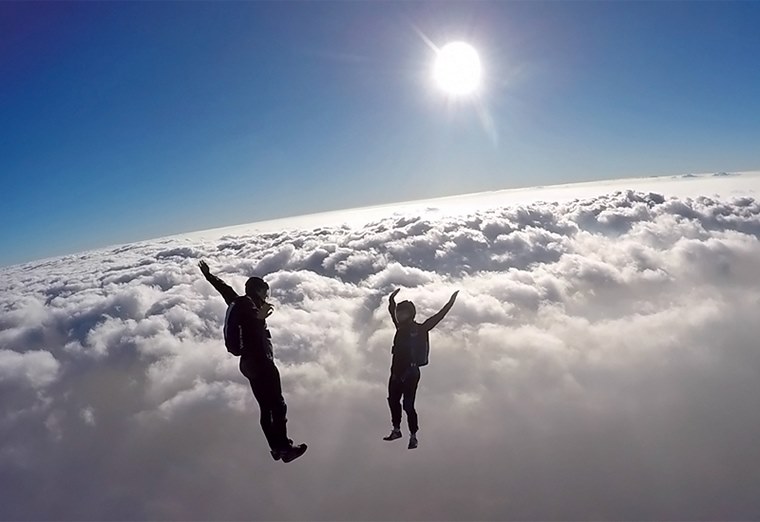 SA Nationals Atistic.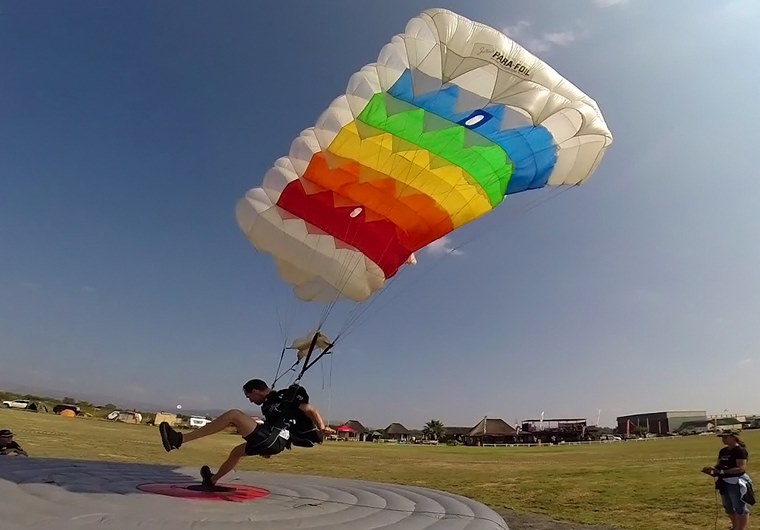 SA Nationals Classic accuracy.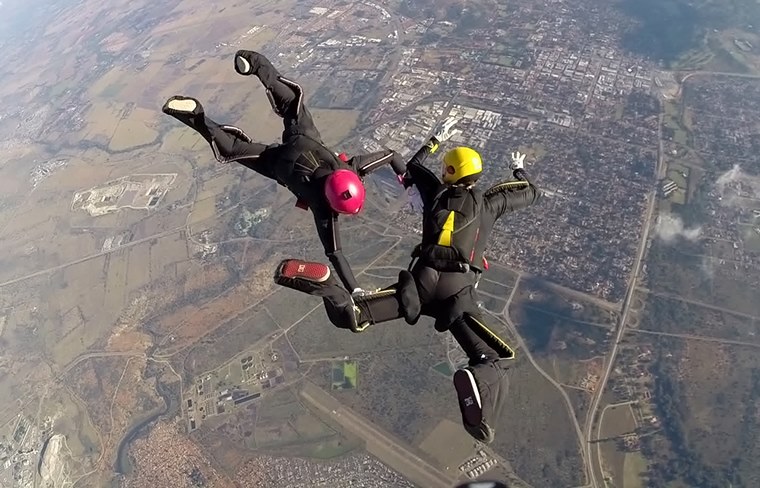 SA Nationals 2 way formation.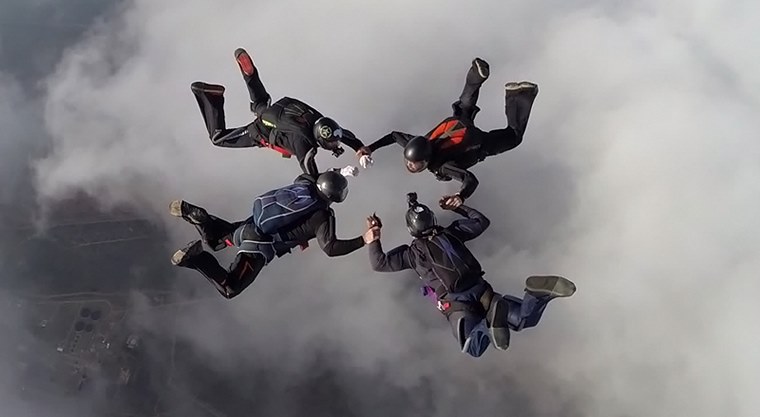 SA Nationals 4 way formation.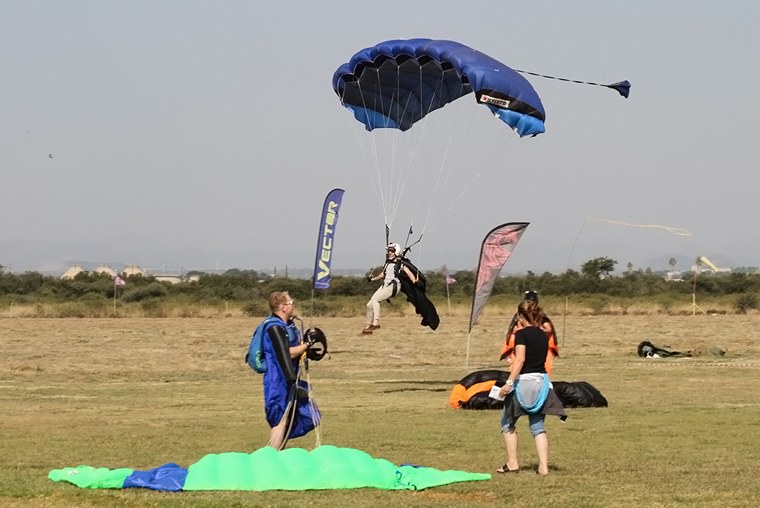 SA Nationals Wingsuit landings.

Formation Skydiving 2-way Open had a bumper 13 Teams competing this year with Team 'Pinky & The Brain' taking honours with a 27.6 average. 3 new competitors joined Simba and Graham in Classic Accuracy this year. After 10 rounds of competition, Paul Simba Marcellin took first place, followed by Graham Field in second and Chris Grosch in third.
With the weather on our side, we managed to smoothly finish the competition in just short of 4 days with the closing ceremony held on Sunday.
South African National Canopy Piloting Championships, 23-25 September 2017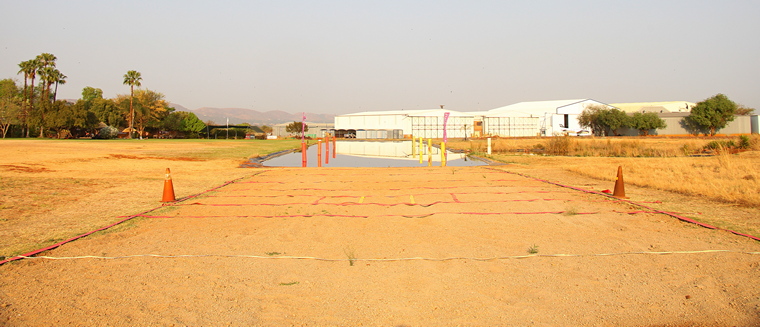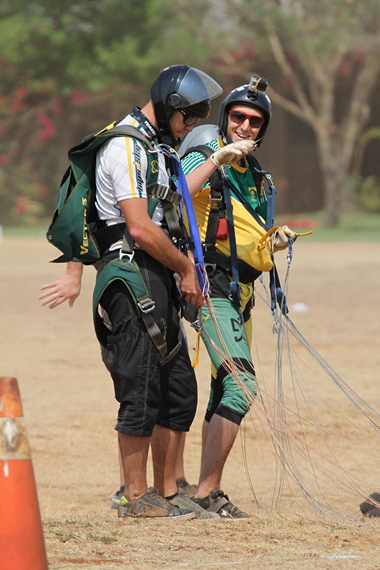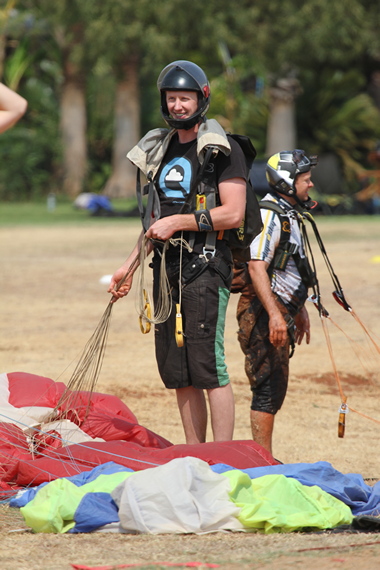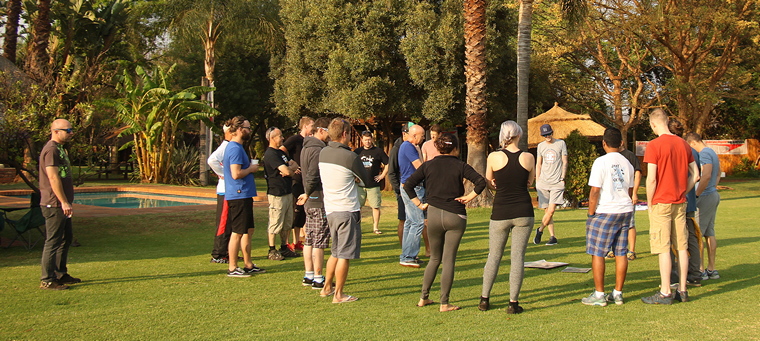 Local Canopy Piloting is experience something of a revival. We had 5 competitors in the Open and 3 competitors in the Intermediate category. In the Open category overall, Christopher Teague took 1st place, Matteo Pagani 2nd place and Warren Hitchchock 3rd place.
In the Intermediate category, Graham Field placed 1st, DeWet Davel 2nd and Quinton Henning 3rd.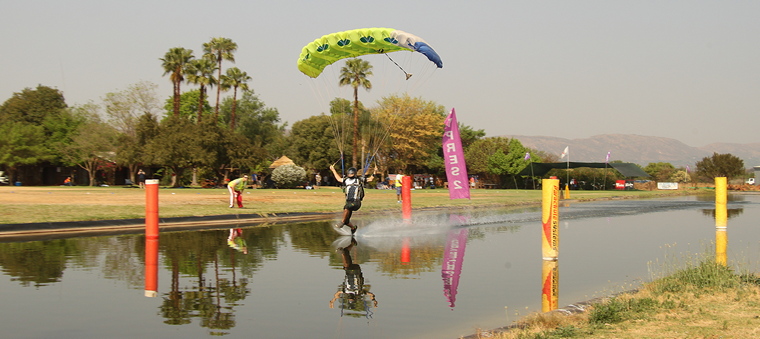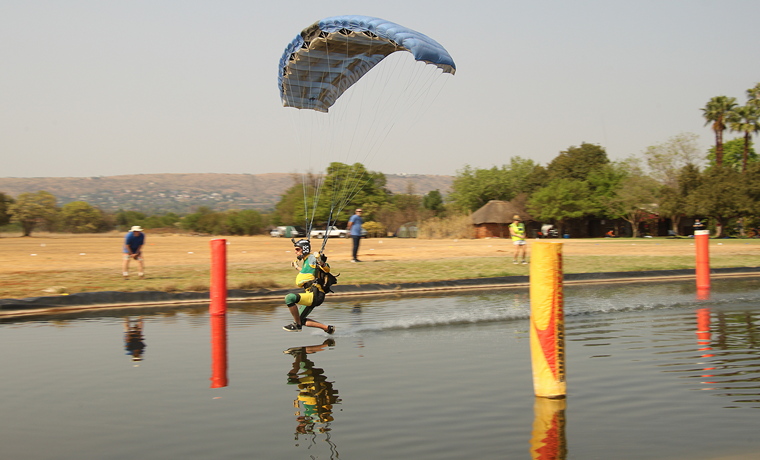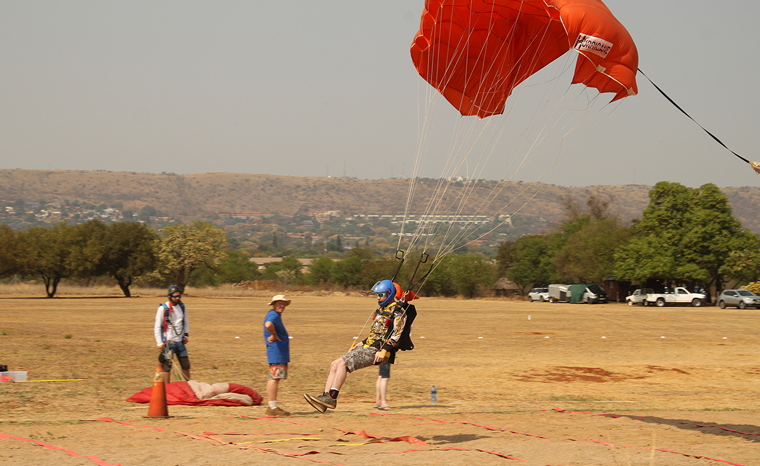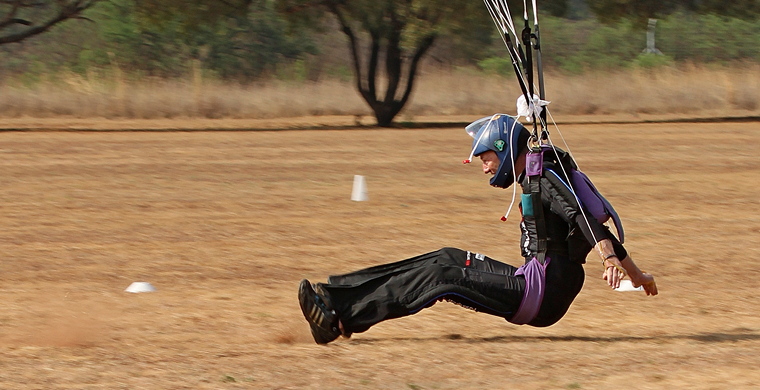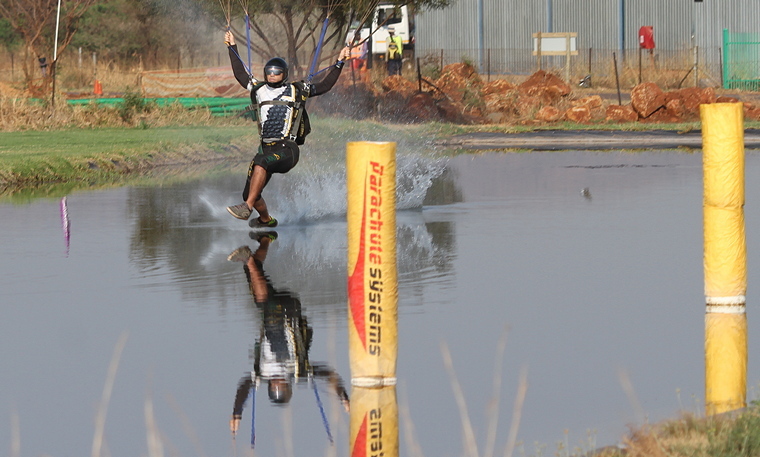 Local Canopy Piloting is experience something of a revival.


A new South African National speed record of 2.285 seconds was set by Christopher Teague in round 3 of the Speed competition. Notably, Christopher Teague won all 9 rounds of the competition. Unfortunately we were not able to secure the necessary FAI judges for this event denying Christopher of a further 2 African Records which could have been set.
International Competition
World Games, Wroclaw, Poland, 20-30 July 2017

The event hosted over 4500 competitors from 111 countries and 30 different sports. Canopy Piloting was the only discipline representing Skydiving at the Games. Matteo Pagani was selected to compete against the top 36 athletes in the World.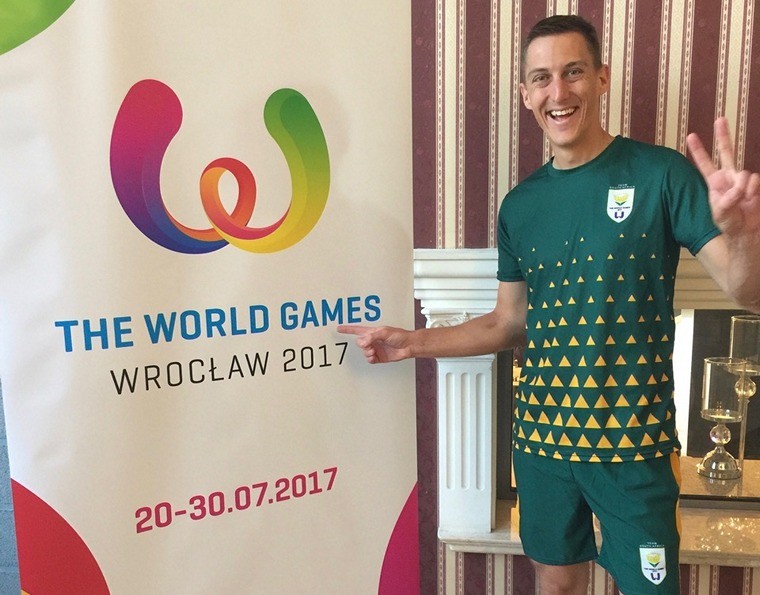 Matteo, managed a to achieve a continental record of 136m in no drag distance Max Distance, and achieved a position of 30th out of 36. Matteo's best round he placed 12th during round 3 of Freestyle.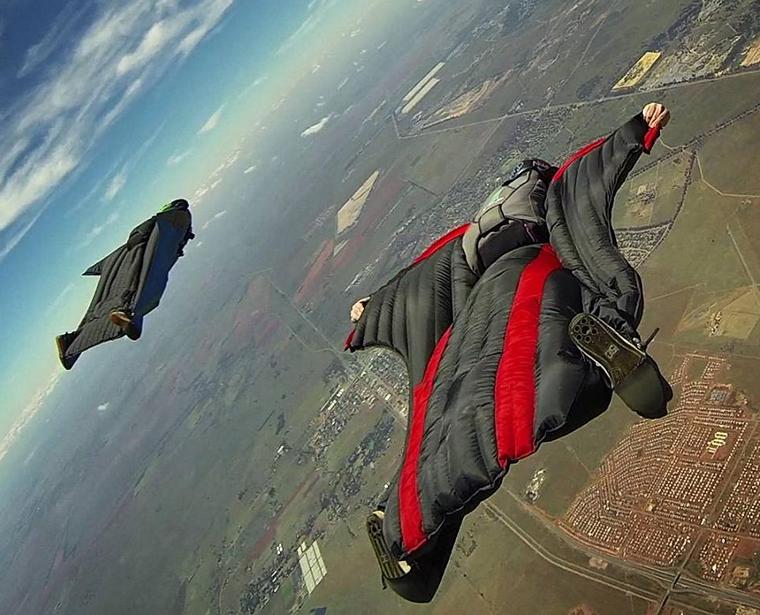 Personal best's during a Category 1 event were achieved in Distance, Speed and Freestyle.
Special thanks to Jean Kelly and her team at SASCOC for their kind assistance and support to Matteo in the lead up to and throughout this event.
9th FAI World Cup in Canopy Piloting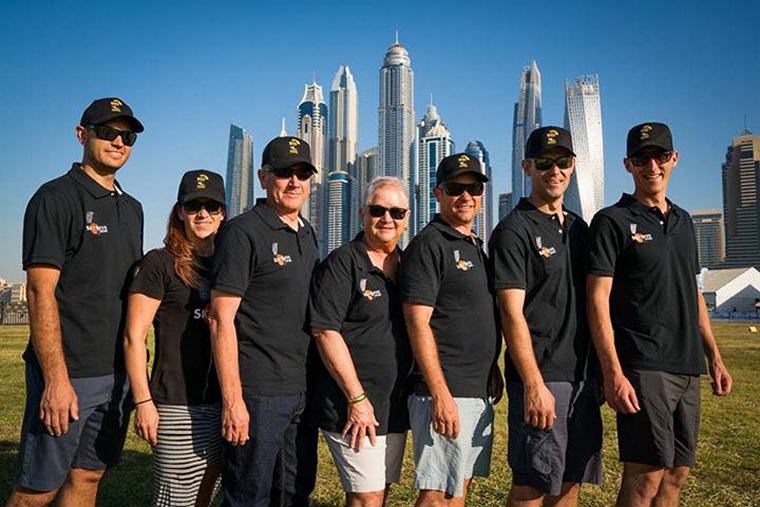 The event hosted over 94 competitors from 24 countries and featured 3 official FAI disciplines (Speed, Distance and Zone Accuracy) and 1 unofficial discipline (Freestyle). Team South Africa comprised of 4 competitors, Warren Hitchcock, Christopher Teague, Billy Sharman and Matteo Pagani. Unfortunately, due to an injury sustained during training, Billy was unable to compete.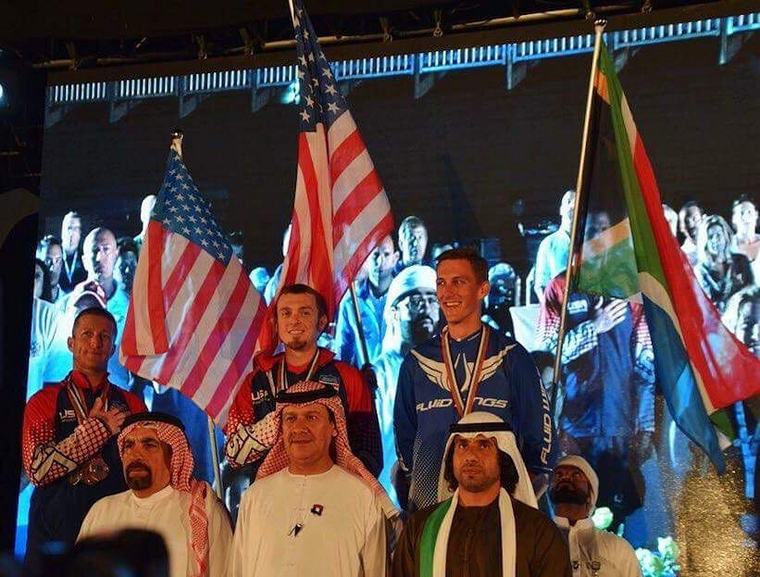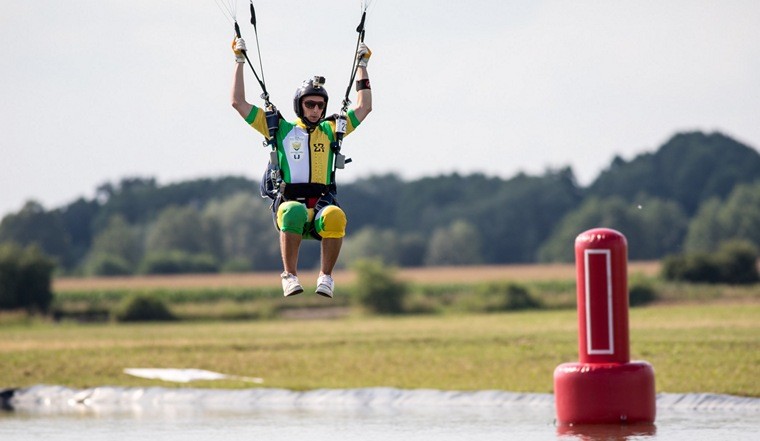 After the first discipline, Speed, Team South Africa was in 11th place in the team standing but after a consistent performance by the three competitors in Distance and Zone Accuracy, team South Africa placed 6th overall. In individual Overall results, Chris ended in 19th position with Matteo and Warren in 52nd and 55th respectively.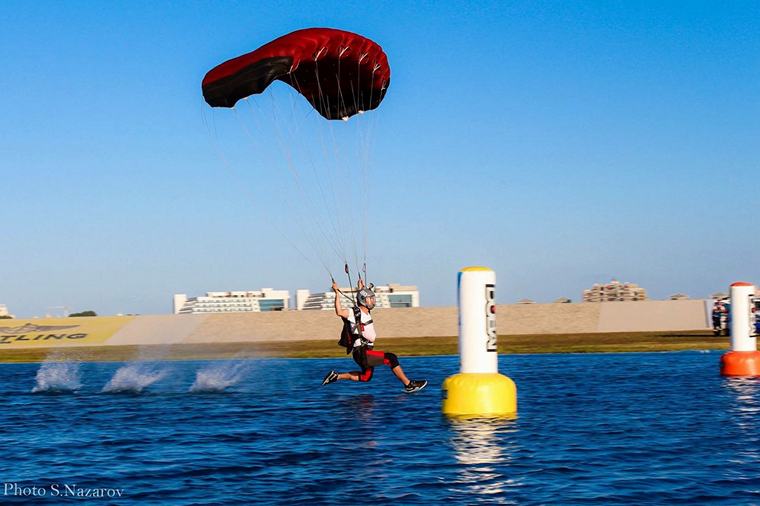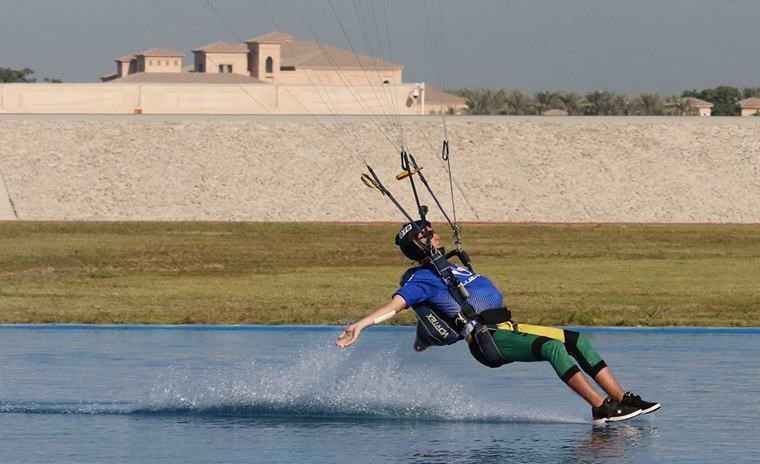 Many personal bests were achieved during this competition, and we are thrilled that Matteo Pagani took the bronze medal in the Freestyle event.
Overall, Team SA was very happy with the results and looks forward to the World Championships in Wroclaw in July next year.
Proudly self-sponsored, the team looked great in matching caps and shirts throughout training and competition. Given that they are among only a handful of competitors who don't skydive for a living, their 6th place overall is a commendable achievement.
Events

There are too many wonderful competitive and skills development events organised by drop zones and the Sport Skydivers Association to list them all. However, the past year saw a few worth highlighting:
Virtual Competition

In March, 4 clubs participated in a FS 2-Way Club Clash virtual competition. The competition comprised of 3 rounds of 2-Way FS with the draw having been published the night before.
All rounds were uploaded once they were jumped and were available to follow via live streaming.
The virtual competition was a huge success and is a great way to connect teams nationally and to give them an idea of how well they are doing vs teams elsewhere. It is also great practice for Nationals.
Adrenaline Air Show

The Adrenaline Airshow was held on the 10th and 11th of June at Wonderboom Airport. PASA was requested to support the Airshow with some Wingsuit display jumps.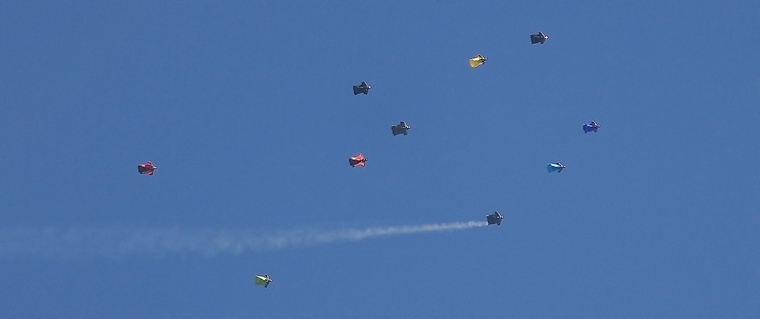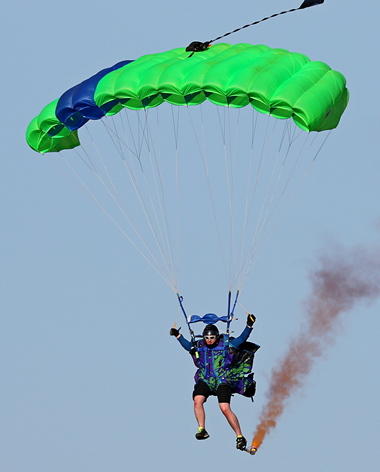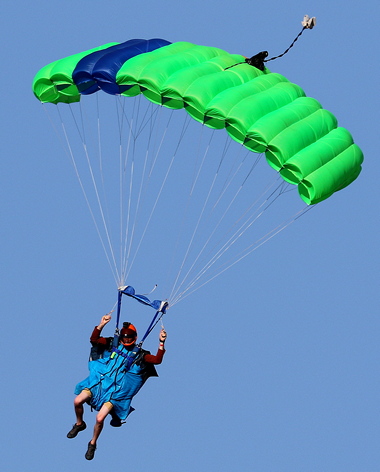 A group of 11 Wingsuit pilots participated and, with the help of Graham Field of AerialFX and Peter Lawson from Pretoria Skydiving Club, set up wingsuit formations with smoke for the demonstration jumps from 11000ft. They landed in front of the crowd at Wonderboom Airport and packed their parachutes in front of the spectators while answering questions about skydiving and wingsuiting.
tonto Boogie

The annual tonto boogie is hosted by the Johannesburg Skydiving Club in honour of legendary skydiver, instructor and mentor, Eric 'tonto' Stephenson, who passed away in 2007. This event attracts skydivers from all over South Africa who come to enjoy the mix of larger aircraft, different jump ships and get to be on load organised jumps that they would not normally experience at their home dropzone.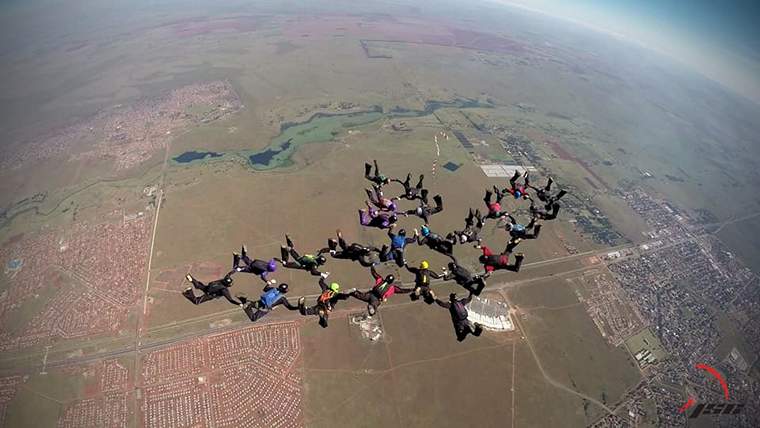 A bird formation of 24 skydivers was planned to mark 10 years since his passing and was successfully built on the second attempt. This was achieved with the skilled formation flying of Johno Gouws, Grant Timms, Justin Van As and Cyril Pierce. Excellent controlled flying contributed to the overall success of the skydive.
The final outcome was an official PASA recognised record of 24 South African Skydivers and 2 camera flyers.
In keeping with tonto's charitable work, food donations were collected and distributed to the SAFW Carletonville, an old age home in the area that is battling financially.
Season's Boogies
Every skydiver loves a boogie (a special multi-day gathering of skydivers, involving different aircraft, visiting load organisers, evening parties and focused on fun rather than competition).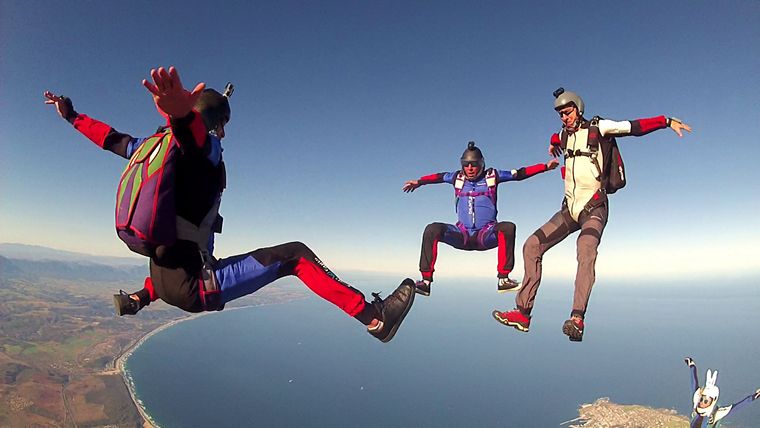 Local skydivers were spoiled for choice over the holidays with the Diaz Beach Boogie taking place in Mossel Bay from 16 to 31 December, utilising a King Air, the J Bay Boogie in Jeffreys Bay from 20 December to 3 January 2018 utilising an Atlas Angel and the Lekker Gauteng Summer Jol at Wonderboom from 26 to 31 December utilising a PAC750XL.
Housekeeping
Three new drop zones were approved - Skydive Kruger in Mpumalanga, EP Skydivers Jeffreys Bay and Skydive Two Oceans in Wellington.
The PASA administration system has received further upgrades during the year and has enabled PASA to be almost 100% paperless.
Drop zones are now able to complete all reporting on activity and students trained online.
A new records management facility has been added to the PASA Administration system, keeping our records safer, more organised and easy to access via the PASA website. Records can be registered, stored, managed and displayed in a structured and standardised format. When records are beaten, or categories retired, the history remains and old records stay visible.
Nearly 60 000 parachute descents were performed around the country in 2017 of which 346 were demonstration jumps at public venues to showcase our sport. PASA issued 79 new A licences, 41 B licences, 21 C licences and 14 D licences as well as 13 Jumpmaster ratings, 9 Coach ratings, 20 Professional exhibition (Pro) ratings, 3 Parachute Technician ratings, 4 Tandem Master ratings, 1 Tandem Evaluator rating, 1 Static Line Instructor rating and 4 Accelerated Freefall (AFF) Instructor ratings.
The Chairman would like to thank Mark Bellingan, PASA's National Safety and Training Officer since 2003 for his past and ongoing commitment to his role in promoting the safe operations and oversight of skydiving in South Africa.
In addition to our NSTO, PASA is supported by an excellent and efficient Administration Office led by Neeve Oosthuizen. The Chair and PASA thanks Neeve for maintaining our office administration, records and paperwork to an enviable standard.
Graham Field
Chairman